Pennsylvania Hot Tub Suites & Romantic In-Room Whirlpool Tubs
Pennsylvania
FTC: This page uses affiliate links. More. 

Pennsylvania getaways get even better when you reserve a hotel suite with a JACUZZI® Tub or a cabin with a private hot tub. Our listings cover Central, Eastern and Western PA, including Amish Country, with everything from luxury resorts to private cabins and romantic bed and breakfast whirlpool suites.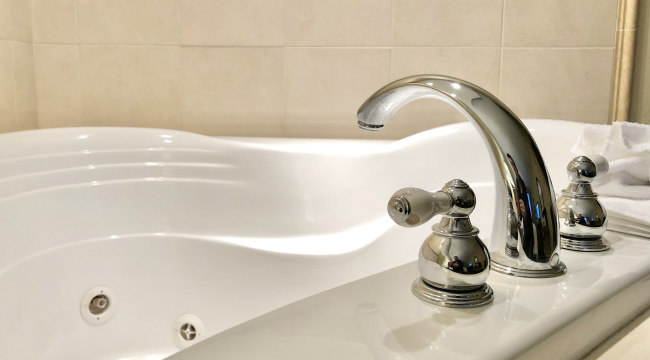 Book a Romantic Hot Tub Hotel Room for Your Pennsylvania Getaway
By: Greg Mattson, ERV Editor - Updated: Jan 23, 2021  

About this Guide to Pennsylvania Hot Tub Suites: These listing are hand-picked to include only romantic suites with Whirlpool tubs (jetted, not just soaking) right in the room. So you get the privacy and romance when you check in!  
Disclaimer: JACUZZI® is a registered trademark owned by Jacuzzi Inc. The use of the JACUZZI® trademark on this website is for informational purposes only. There is no relationship, connection or affiliation between this website and Jacuzzi Inc. or its related companies. As hotel rooms and amenities can change, please check with each individual accommodation property before making travel plans. Please Note: rooms and tubs described may not be exactly as shown.
---
Featured Pennsylvania Suites With a JACUZZI
® 

Tub
Hershey PA
Spa Tub at Inn at Westwynd Farm
The Inn at Westwynd Farm - couples escape to this romantic Hershey PA Inn and rave about the delicious breakfasts, wonderful hosts, and the luxury King Rooms with Spa Bath Tubs. 2021 ERV Rating* for Pennsylvania Suites With an In-Room Spa Tubs: 96%

 - Excellent. 

(1620 Sand Beach Rd, Hummelstown PA  717-533-6764) 
Pocono Mountains
JACUZZI® Tub - Crescent Lodge, Poconos, PA
Crescent Lodge & Country Inn - in the heart of Pennsylvania's Pocono Mountains, with a selection of rooms and cottages with fireplaces and romantic JACUZZI® Tubs. 2021 ERV Rating* for Romantic Poconos PA Hotel Rooms With a JACUZZI® Tub: 80% - Very Good. (5854 Paradise Valley Rd, Cresco PA  570-595-7486) 
---
Whirlpool Suites in New Hope, PA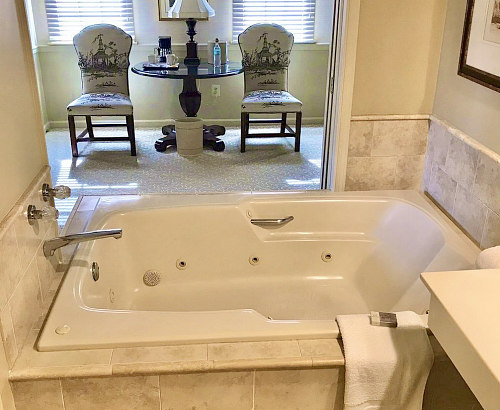 JACUZZI® Tub for 2 - Golden Plough Inn
Golden Plough Inn at Peddler's Village

- selected suites in this romantic New Hope, PA inn come with spacious JACUZZI® Tubs large enough for 2 people. Gas fireplace, Wi-Fi and spa services are just some of the amenities. Located among the shops and specialty boutiques of quaint Peddler's Village in Buck's County, just 40 minutes drive from Philadelphia. 2021 ERV Rating*: 82%

 

- Very Good.

 

(5883 Lower York Rd, New Hope PA  215-794-4004)
Whirlpool Suite - Inn at Bowman's Hill
Hotel Hot Tub Suites in Philadelphia, Pa
Jetted Tub - Hotel Palomar, Philadelphia PA
Downtown Luxury:
Hotel Palomar Philadelphia

- Hotels + Jetted Tub Suite = a great romantic getaway in Philadelphia! In addition to their deep soaking Fuji tubs, you'll enjoy the plush robes, complimentary bicycle rentals and famous Kimpton wine hour. 2021 ERV Rating* for Romantic Philadelphia Spa Tub Suites: 92% - Excellent. (117 South 17th St at Sansom, Philadelphia PA  888-725-1778)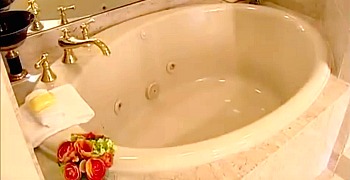 Philadelphia Hot Tub Suite at the Rittenhouse
Top-Rated Historic:
Rittenhouse Hotel Philadelphia Jetted Tub Suites - classic feel of a 5-star hotel in downtown

 

Philadelphia, with selected suites featuring jetted tubs

. 

2021 ERV Rating* for Luxury Philadelphia Jetted Tub Suites: 92% - Excellent. (210 W. Rittenhouse Sq, Philadelphia PA  215-546-9000)
Affordable Waterfront:
Holiday Inn Express Philadelphia/Penns Landing

- romantic and budget-friendly hotel on the waterfront in Philadelphia's

Historic

 District. Enjoy the bubbles in a King Deluxe Whirlpool Room, and take advantage of the fitness center and complimentary hot breakfast buffet.

2021 ERV Rating* for Philadelphia, PA Whirlpool Suites: 74% - Good. (100 N. Columbus Blvd, Philadelphia PA  215-627-7900)
Historic Boutique Hotel:
Penn's View Hotel - this historic boutique hotel in Old City Philadelphia offers couples romantic hot tub suites, fireplaces and complimentary WiFi. 2021 ERV Rating* for Philadelphia, PA Hot Tub Suites: 90%

 - Very Good. 

(Front & Market Streets, Philadelphia PA  800-331-7634)
More Philadelphia Spa Tubs:
Pittsburgh & Western PA Whirlpool Suites
Courtyard Pittsburgh Whirlpool Suite
Courtyard Pittsburgh Shadyside - a great mix of affordable price and attractive hot tubs in newly-refreshed hotel rooms in Pittsburgh. Amenities include plush bedding, free Wi-Fi, indoor pool and both an on-site bistro restaurant and Starbucks Coffee. 2021 ERV Rating* for Pittsburgh, PA Spa Tub Suites: 78%

 - Good. 

(5308 Liberty Ave, Pittsburgh PA  412-683-3113)
Hampton Inn Pittsburgh Hot Tub
Near Pittsburgh:
monaca, pa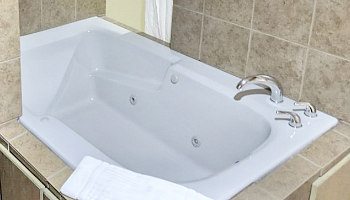 Jetted Tub - Comfort Suites, Monaca PA
Comfort Suites Monaca  - checks off all the boxes for a romantic and budget-friendly hot tub getaway near Pittsburgh. King Bed Suites include a 2-person jetted spa tub, and the hotel is close to the Ohio River and Beaver Valley Mall. 2021 ERV Rating* for Budget-Friendly Spa Tub Suites: 86% - Very Good. (1523 Old Brodhead Rd, Monaca PA 724-987-5558)
Butler, pA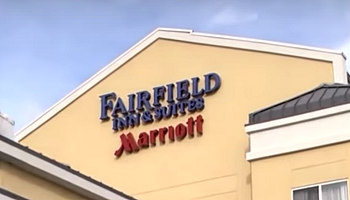 Book a Fairfield Inn & Suites Hot Tub Getaway
Fairfield Inn & Suites Butler 

- King Whirlpool suites at this Fairfield Inn are a fun & inexpensive option for a romantic night or two in Western Pennsylvania, about 35 miles north of Pittsburgh. You're gonna love not only the in-room tub, but the free hot breakfast (make sure to try the "pancake and sausage on a stick"!) 

2021 ERV Rating* for Western Pennsylvania Jetted Tub Suites:

 

80%

 - Very Good. 

(200 Fairfield Lane, Butler PA  724-283-0009)
---
Hotel Whirlpool Suites in Eastern & Southeast PA
Gettysburg, pa
Gettysburg PA Whirlpool Suite
Federal Pointe Inn - romantic King Suites in this historic hotel come complete with a 2-person Whirlpool tub. You'll love the downstairs pub, and lots of Gettysburg shops and restaurants are all within walking distance. 2021 ERV Rating* for Gettysburg, Pennsylvania Hot Tub Suites:

 

92%

 - Excellent. 

(75 Springs Ave, Gettysburg PA  717-334-7800)
Reading, pa
Holiday Inn, Reading PA Jetted Tub
Holiday Inn Express Hotel & Suites Reading - close to the airport in Reading, PA with Whirlpool suites in King and Queen rooms. Fitness center, free internet, HBO and hot breakfast. 2021 ERV Rating* for Whirlpool Suites in Reading PA:

 

78%

 - Good. 

(2389 Bernville Rd, Reading PA  610-372-0700)
Allentown, PA

Holiday Inn Express & Suites Allentown West

-

 check into this inexpensive hotel and discover their spacious and updated King Rooms with Whirlpool tub. The hotel is located in a quiet spot but close to lots of area attractions, and 

just right for your getaway from Philadelphia or New York City. 

2021 ERV Rating* for Allentown PA Hotel Whirlpool Suites: 84%

 - Very Good. 

(5630 West Tilghman St, Allentown PA . 610-530-5545)
York, PA:

Harrisburg, PA:

Best Western Harrisburg Hershey Hotel - arrive at this recently renovated Best Western and discover their friendly staff, free breakfast, and comfortable suites with a Whirlpool tub and King bed. 2021 ERV Rating* for Harrisburg, Pennsylvania Whirlpool Suites: 74%

 - Good. 

(7500 Allentown Blvd, Harrisburg PA  717-652-0101)
quakertown, pa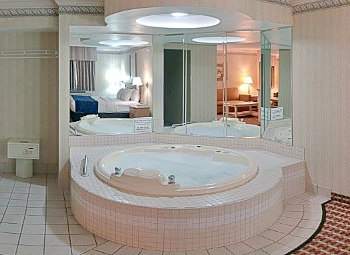 Spa Tub Suite at the Quality Inn, Quakertown PA
Quality Inn & Suites Quakertown - Budget-friendly Bucks County hotel offering King Bed Rooms with Whirlpool Tubs for 2. Pet-friendly, with free parking, Wi-Fi, and hot breakfast. 2021 ERV Rating* for Quakertown, Pennsylvania Whirlpool Suites: 80%

 - Very Good. 

(1905 John Fries Hwy, Quakertown PA  215-538-3000)
Pennsylvania Amish Country Hot Tub Suites
Lancaster PA Hot Tub Suite - Walkabout Inn
Lancaster County, PA:

Australia Walkabout Inn Bed & Breakfast - it sounds like it belongs down under, but this very romantic lodging is located in Pennsylvania's Dutch Country, close to Amish communities of Intercourse and Bird-in-Hand, PA. Tired of tiny spa tubs? Their Outback Cottage has a fireplace and a large 2-person hot tub with plenty of room! 2021 ERV Rating* for Lancaster PA Hot Tub Suites: 98%

 - Excellent 

(837 Village Rd, Lancaster PA  717-464-0707)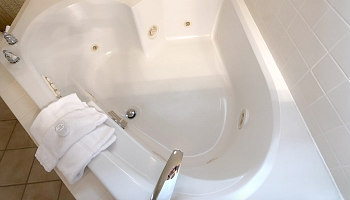 Amish Country JACUZZI® Tub, Intercourse PA
Intercourse, PA:
More Hotel Hot Tub Getaways Close to PA:
Romantic Poconos Hot Tub Suites - Wilkes Barre PA
Host Inn All Suites PA Hotel with Romantic Spa Tubs 

- 

in Wilkes Barre, at the foothills of the beautiful Pocono Mountains. They have studio and full size suites with 2 person Jetted tubs. 2021 ERV Rating* for Wilkes Barre PA Hotel Rooms with Whirlpool Tubs: 77% - 

Good. 

(860 Kidder St, Wilkes-Barre PA  570-270-4678)

 
---
Northern Pennsylvania Spa Suites
Erie, PA: 

Hilton Garden Inn Erie PA Whirlpool Suites

 -

close to downtown Erie and the Lake Erie waterfront (6 miles away), featuring luxury beds and 2-room King Suites with romantic Whirlpool tubs. 2021 ERV Rating* for Erie PA Whirlpool Suites: 80%

 - Very Good. 

(2225 Downs Dr, Erie PA  814-866-1390)

 

 
NW Pennsylvania B&B Jetted Tub Suite:

Spencer House Bed and Breakfast - this romantic B&B with hot tub suites is located in downtown Erie, PA. Victorian rooms feature Queen and King canopy beds, and a choice of both claw footed and spa tubs. Other amenities include fireplaces in the rooms and free coffee, tea and snacks. 2021 ERV Rating* for Erie PA Spa Tub Suites: 94%

 - Excellent. 

(519 West Sixth Street, Erie PA  800-890-7263)
Scranton, PA:
Hampton Inn Scranton - this inexpensive Hilton-chain hotel gets high marks for value, and excellent reviews for their King suites with in-room Whirlpool tub. 2021 ERV Rating* for Scranton PA Spa Tub Suites: 82%

 - Very Good.

(22 Montage Mountain Rd, Scranton PA  570-342-7002)
Central Pennsylvania Hot Tub Rooms
State College, PA: 

*ERV Rating: our unique, non-scientific ratings for romantic accommodation include:
Amenities: including Whirlpool bath or 

JACUZZI

®

Tub

,

scenic view, fireplace, lounge, etc
Location: proximity of hotel to restaurants, pubs, downtown, etc
Clientele: demographic the hotel attracts (couples, families, business travelers, etc)
Popularity: based on social media & crowd-sourced reviews 
Value: product offered compared to room rate 
Please Note: percentage ratings are not absolute but for comparative use only.  
Excellent Romantic Vacations - Top Pages
---