Philadelphia Hot Tub Suites - Private Hotel Spa Tub Suites for a great Getaway
Philadelphia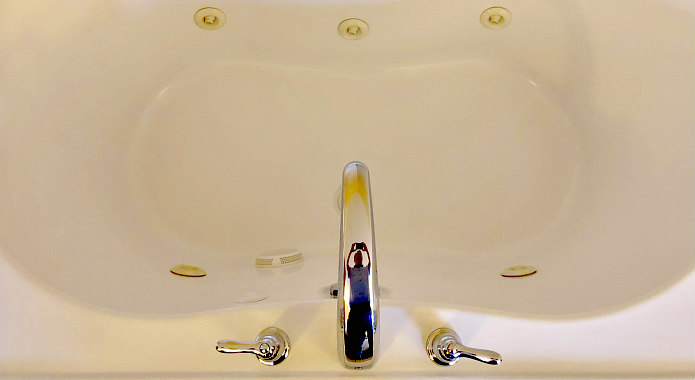 Reserve an In-Room Hot Tub Suite in a Romantic Philadelphia Hotel for a Great Weekend Getaway
By: Greg Mattson, ERV Editor - Posted Apr 13, 2019
FTC: This page uses affiliate links. More. 

Seeking a memorable few nights in Philadelphia, Pennsylvania for your getaway or honeymoon? May we suggest a hotel suite with a private in-room Whirlpool or JACUZZI® tub. For the best choices and rates, check out these hotels, inns and B&B's for the maximum bubbly fun in Philly...
What Makes Our Guide to Philadelphia Hot Tub Suites Better: Rather than just pull down a software-generated list of hotels which may also include hot tubs for all guests by the pool, we have created this custom listing of Philadelphia accommodation that only includes romantic hotels with private jetted tubs right inside the room. 
Disclaimer: JACUZZI® is a registered trademark owned by Jacuzzi Inc. The use of the JACUZZI® trademark on this website is for informational purposes only. There is no relationship, connection or affiliation between this website and Jacuzzi Inc. or its related companies. As hotel rooms and amenities can change, please check with each individual accommodation property before making travel plans to ensure that the hotel room you have booked includes an authentic JACUZZI® brand hot tub. Please Note: rooms and tubs described may not be exactly as shown.
---
Downtown Philadelphia Hot Tub Suites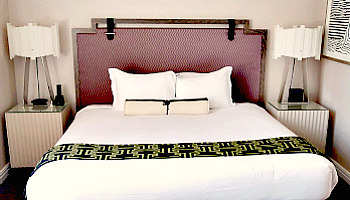 Romantic Room - Kimpton Palomar Philadelphia
Hotel Palomar Philadelphia Spa Tub Suite
Downtown Boutique Hotel:
Historic Waterfront:
Penn's View Hotel - 

Not only is Penn's View on the waterfront, it's also very close to Elfreth's Alley, a National Historic Landmark. Discover the marble jetted tubs available in the King Spa Bath suites and enjoy the complimentary continental breakfast and free Wi-Fi. 

What Other Couples Liked: On-Site Italian Restaurant and Wine Bar...Close to Market Street Shops & Restaurants...Cozy Gas Fireplaces. 2019 ERV Rating* for Jetted Tub Suites in Philadelphia PA: 90% - Excellent. (14 North Front St, Philadelphia PA  215-922-7600)
Cornerstone B&B, Philadelphia PA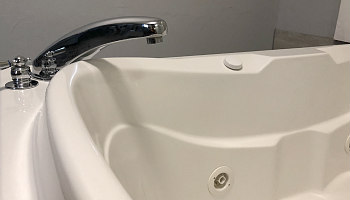 Relax in a Philadelphia B&B Jetted Tub Suite
Cozy B&B:
Cornerstone B&B - Book the Deluxe Suite on the 3rd floor of this restored Victorian B&B and get treated to a jetted spa tub and walk-in shower. What Other Couples Liked: Delicious Homemade Breakfast...Very Friendly Hosts...Close to the Philadelphia Train Station and Art Museum.

 

2019 ERV Rating* for Whirlpool Suites in Philadelphia:

 

97%

 - Excellent. 

(3300 Baring St,  Philadelphia PA  215-387-6065)
Philadelphia Honeymoon Suite with Jetted Tub: 
The Logan Hotel Philadelphia Whirlpool Tub Suite - Just a mile from the Philadelphia Museum of Art, The Logan has a rooftop lounge with views of the city. The Presidential Suite would be a prefect anniversary or honeymoon suite with it's huge jetted tub and private balcony. What Other Couples Liked: Excellent Rooftop Bar and On-Site Restaurant...Luxury Hotel with Room Service...Just a Few Blocks to Many Philadelphia Attractions. 2019 ERV Rating* for Philadelphia Honeymoon Jetted Tub Suites: 83% - Very Good. (1 Logan Square, Philadelphia PA 215-963-1500)  
---
More Hotel Bubbles:
---
More Spa Tub Suites Near Philadelphia
Feather Nest Inn

- Speaking of hotel hot tub suites close to Philadelphia, this inn has got 15 fantasy and romance suites with jetted tubs, and it's just 7 miles from downtown Philadelphia. Check out the "King for a Night" suite, "Treehouse Suite" and other unique and romantic theme rooms. What Other Couples Liked: Fun Fantasy Suites...Clean & Comfortable Rooms...Close to Restaurants. 2019 ERV Rating* for Whirlpool Suites Close to Philadelphia: 70% - Good. (703 Hampton Road, Cherry Hill NJ  856-663-0411) 
Northeast Philadelphia/Bensalem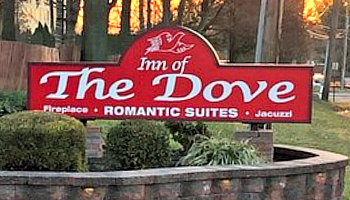 Romantic Inn of the Dove, Bensalem PA
Theme Hot Tub Suite only 10 Miles from Philadelphia
Inn of the Dove Spa Tub Suites - You'll be in theme suite heaven inside one of the "Doves" romantic rooms with spa tubs, located 

only 20 miles north of downtown Philadelphia in Bensalem, PA. They've even got a swimming pool suite, complete with fireplace and 2-person jetted tub. 

What Other Couples Liked: Honeymoon Suite with an Awesome Hot Tub...Private Entrance to Rooms...Champagne & Roses for Anniversaries.

 

2019 ERV Rating* for Spa Tub Suites Close to Philadelphia:

 

88%

 - Very Good. 

(3901 Old Street Rd, Bensalem PA  215-638-3683) 
Budget Hotel:
Best Western Plus Philadelphia Bensalem - Choose the Whirlpool Suite with King Bed at this Buck's County hotel. You get a free hot breakfast and wifi, and there's a heated salt water indoor pool. What Other Couples Liked: Nice Lobby Area...Friendly Staff...Pet Friendly Hotel. 2019 ERV Rating* for Bensalem, PA Hot Tub Suites: 55% - Fair. (3499 Street Rd, Bensalem PA 215-638-1500)
Holiday Inn Express Philadelphia NE Bensalem - Find these inexpensive King Whirlpool Rooms just 15 miles NE of Philadelphia in beautiful Bucks County. What Other Couples Liked: Easy Access to I-95...Close to Fast Food and a Grocery Store...Free Breakfast Very Good. 2019 ERV Rating* for Philadelphia Hotel Jetted Tub Suites: 80% - Very Good. (1329 Bristol Pike, Bensalem PA  215-245-5222)
Best Western Fort Washington Inn

- 

T

his Best Western is a short 18 mile/20 minute drive north from downtown Philadelphia and can offer you overnights in one of their King Bed Whirlpool Suites. Wi-Fi and breakfast are included, and there are two large malls nearby to keep you busy shopping. What Other Couples Liked: Breakfast Buffet...Fitness Center and Pool...Easy Interstate Access. 2019 ERV Rating* for Philadelphia Area Hotel Whirlpool Suites: 65% - Fair. (285 Commerce Drive, Fort Washington PA 215-542-7930)
Whirlpool Suites South of Philadelphia
The Hampton Inn Turnersville Hotel Has In-Room Whirlpool Tub Suites Just 19 Miles South of Philadelphia, PA.
Hampton Inn Turnersville - Hampton Inn quality, comfortable jetted tubs, free Wi-Fi and complimentary breakfast are what you can expect at this affordable hotel just 25 minutes from Philly. What Other Couples Liked: Spacious Rooms...Easy to Get to PHL Airport...Close to Restaurants and Movie Theaters. 2019 ERV Rating* for Philadelphia Hotel Jetted Tub Suites: 75% - Good. (5800 Rte 42, Blackwood NJ  856-228-4200)
*ERV Rating: our unique, non-scientific rating formula for romantic hotels which includes:
Romantic Amenities: suites with an in-room Whirlpool bath or 

JACUZZI

®

Tub

,

scenic view, fireplace, lounge, etc
Location: proximity of hotel to restaurants, pubs, downtown, etc
Clientele: demographic the hotel attracts (couples, families with kids, business travelers, etc)
Popularity with Couples & Honeymooners: based on variety of social media & crowd-sourced reviews.   
Excellent Romantic Vacations - Top Pages
---