Finger Lakes
Finger Lakes NY hot tub suites - romantic hotels & Inns with jetted tubs
FTC: This page uses affiliate links. More. 

---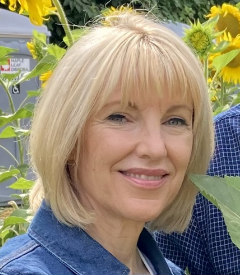 By: Maureen Mattson, ERV Asst Editor - Updated Oct 22, 2021
Interested in the most romantic Finger Lakes NY hotels and inns with in-suite Whirlpool Tubs? We've got some great options for a fun and bubbly getaway in this most attractive area of Upstate New York...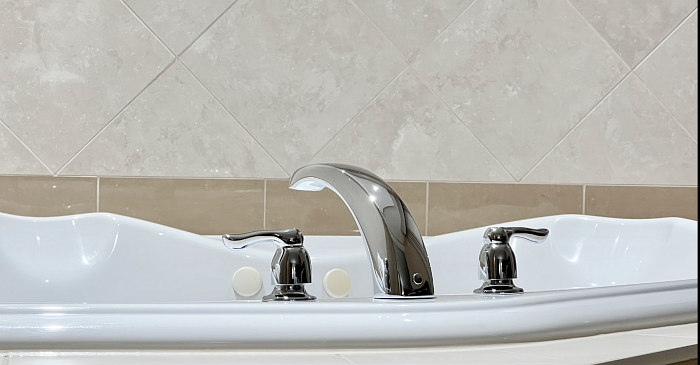 A Romantic Spa Tub Suite Getaway Awaits You in Finger Lakes, NY
About This Page: We only feature hotels and inns that have jetted Whirlpool and JACUZZI® Tubs right in the room for maximum privacy and enjoyment.  
Disclaimer: JACUZZI® is a registered trademark owned by Jacuzzi Inc. The use of the JACUZZI® trademark on this website is for informational purposes only. There is no relationship, connection or affiliation between this website and Jacuzzi Inc. or its related companies. Rates shown are approximate only and subject to change. Hotel rooms, jetted tubs and amenities can change, and may not be exactly as shown, so please contact the hotel or inn before making travel plans.
watkins glen NY spa tub suites
watkins glen harbor hotel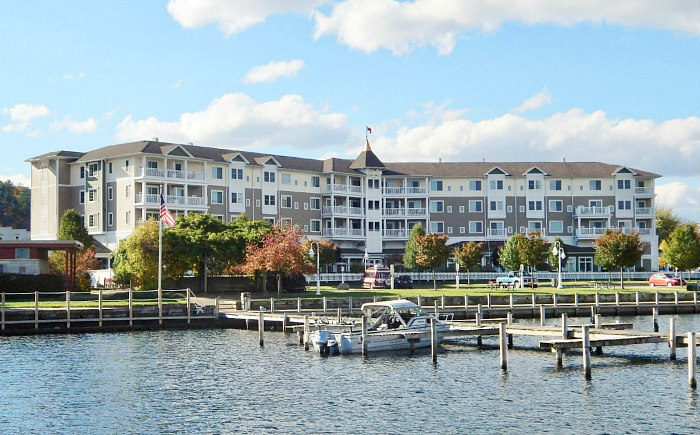 Watkins Glen Harbor Hotel
Watkins Glen Harbor Hotel - Spa Tub
---
geneseo, ny HOt Tub Suites
Oak Valley Inn & Suites

- Originally built in 1868 as a poor house, this inn is located on 8 acres in a beautiful historic community. With 13 guest rooms, some of which feature fireplaces and jetted tubs, guests can have a romantic getaway in a peaceful setting. Daily fresh-prepared breakfast included. 2021 ERV Rating*: 96% - Excellent. (4562 Millennium Dr, Geneseo NY 585-243-5570) √ COVID Safety Plan: 

Yes
hampton inn spa tubs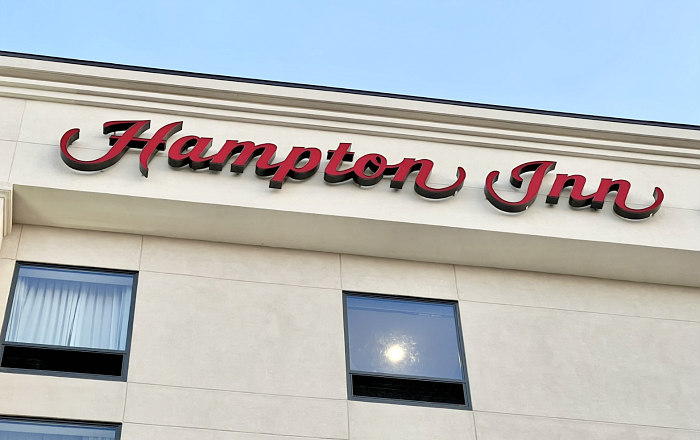 Book a Hampton Inn Finger Lakes Spa Tub Suite
Hampton Inn Geneseo - Relaxing and quiet hotel nestled among the Finger Lakes. Free WI-FI, pool, breakfast and parking. Look for the King Room with Spa Bath when you book. Neighbourhood shopping and dining are within 5 minutes of the front door. 2021 ERV Rating*: 96% - Excellent. (4250 Lakeville Rd, Geneseo NY 585-447-9040) √ COVID Safety Plan: 

Yes 
honeymoon inn
Temple Hill Geneseo NY B&B with Jetted Tubs
Temple Hill Bed & Breakfast - Historic inn set on 3 acres of secluded grounds. 4 elegant guest rooms, including the Queen Room with Spa Bath. Common areas include dining room, covered veranda, and sitting area. A full breakfast is served daily. Shopping, Letchworth State Park, and Finger Lakes Wine Country are all nearby. 2021 ERV Rating*: 96% - Excellent. (114 Temple Hill St, Geneseo NY 585-243-0180) 
---
penn yan, ny
best western finger lakes spa tub suites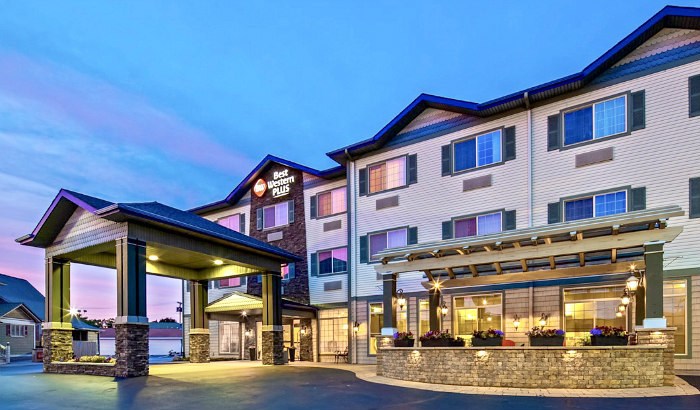 BW Plus Vineyard Inn & Suites
Best Western Plus Vineyard Inn & Suites

- This charming Best Western is within walking distance to historic downtown Penn Yann, Keuka Lake, and area wine trails. Fitness centre, heated indoor pool and fire pit are great bonuses, and breakfast is complimentary. King Rooms with Jetted Tubs are available. 2021 ERV Rating*: 94% - Excellent. (142 Lake St, Penn Yan NY 315-536-8473) √ COVID Safety Plan: 

Yes
More NY State getaways on erv:
---
skaneateles, ny
Skaneateles Suites - Whirlpool Tub
Skaneateles Finger Lakes Hot Tub Suites - The peaceful lakeside town of Skaneateles is home to this private cottage style accommodation. Choose the honeymoon-ish Superior Bungalow with double jetted spa tub and private patio for a truly romantic stay. Each private building is separated by pathways, landscaping and privacy fencing over 7 acres. 2021 ERV Rating*: 96% - Excellent. (4114 E Genesee Street Rd, Skaneateles NY 315-685-7568)
auburn, NY
Springside Inn

- Originally built in 1854, this beautifully restored inn offers 7 unique rooms. Choose either #23 or #32 to have your own private Whirlpool tub, canopy or 4-poster bed and kitchenette. Breakfast is included, and can be eaten on the veranda in warm weather or inn front of the fireplace when it's cool. The onsite restaurant offers locally-grown and organic food and micro-brews. 2021 ERV Rating*: 86% - Very Good. (6141 W Lake Rd, Auburn NY 315-252-7247)
---
geneva ny suites with JACUZZI® TUbs
Reserve a Holiday Inn Express Whirlpool Suite
Holiday Inn Express & Suites Geneva Finger Lakes - An indoor pool and fitness centre, plus free breakfast, parking and Wi-Fi are just some of the perks at this affordable Finger Lakes hotel. And the King Bed Suite with JACUZZI® Tub takes things up a notch. You get a microwave, refrigerator, coffee maker, and wet bar and 377 square feet to stretch out and relax. 2021 ERV Rating*: 90% - Excellent. (530 Hamilton St, Geneva NY 315-787-0530) √ COVID Safety Plan: 

Yes
Microtel Inn & Suites by Wyndham Geneva

- Conveniently located close to the boardwalk, and near Seneca Lake State Park, wineries and historic sites, this property offers complimentary WiFi and breakfast. There's also a guest laundry and fitness centre, and plenty of restaurants nearby. The Queen Studio Suite includes a private hot tub, sitting area, mini-fridge and more. 2021 ERV Rating*: 78% - Good. (550 Hamilton St, Geneva NY 315-878-8055) √ COVID Safety Plan: 

Yes
Geneva on the Lake Boutique Resort Hotel

- Ideal for a romantic getaway at any time of year, this Italianate villa offers 29 guest suites and villas on 10 acres overlooking Seneca Lake. Think breathtaking views, chandeliers, canopy beds, fireplaces and cathedral ceilings. Enjoy a candlelight dinner at the restaurant onsite, and stroll the manicured gardens. The Chapel Suite and Loft Suite feature private Whirlpool Tubs. 2021 ERV Rating*: 74% - Good. (1001 Lochland Rd, Geneva NY 315-789-7190)
Belhurst Castle - This property consists of three hotels, including the 1880s Stone castle known as Belhurst. The Vinifera Inn features amenities such as King size beds, JACUZZI

® Tubs, 

fireplaces and walk-in showers. History, beauty, breathtaking views and a little romance….2021 ERV Rating*: 62% - Fair. (4069 West Lake Road, Geneva NY 315-232-6701) √ COVID Safety Plan: 

Yes
---
waterloo, NY
The Gridley Inn - This grand Victorian home built in 1869 is nestled in the heart of the Finger Lakes Wine Trail. Full service, three course breakfasts are prepared daily and complimentary snacks and drinks are offered. It's the Harmony Room you'll want at this location: jetted tub, canopy bed, high ceilings and comfortable sitting area. 2021 ERV Rating*: 92% - Excellent (36 W Main St, Waterloo NY 315-539-5192)
Phelps, ny
Yorkshire Inn

- Be sure to select the Bolero Room at this charming colonial inn. It's got an oversized bath with two-person JACUZZI® Tub and cozy furnishings. There are no stairs to navigate here, and the location is quiet and tranquil. A patio heater and outdoor fire pit mean you can do a little star-gazing at night. Home cooked breakfasts are very good. 2021 ERV Rating*: 94% - Excellent. (1135 State Route 96, Phelps NY 315-548-9675)
---
ithaca NY & Area spa tub suites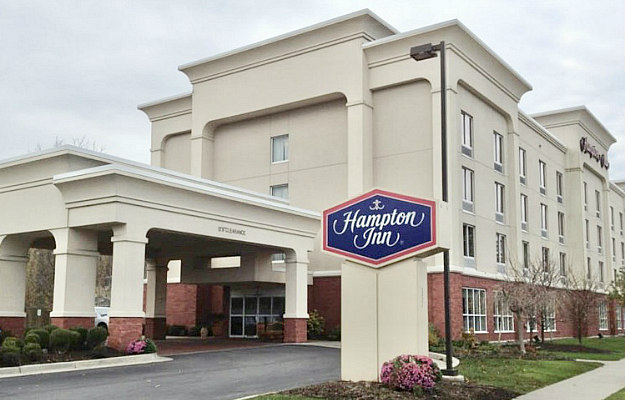 The Hampton Inn Hotel in Ithaca, NY has Jetted Tub Suites
Hampton Inn Ithaca - So much to love: Free Wi-Fi, daily breakfast and parking, pool and fitness room, plus spacious King Rooms with Whirlpool Tubs. Buttermilk Falls State Park is less than a mile away, and the Science Center Planet Walk is just over a mile. 2021 ERV Rating*: 86% - Very Good (337 Elmira Rd, Ithaca NY 607-277-5500) √ COVID Safety Plan: 

Yes
The William Henry Miller Inn

- This award-winning inn is located in the heart of downtown Ithaca and within walking distance of restaurants, shops, Cornell University, Ithaca Falls, and Cascadilla Gorge. A full breakfast, evening dessert buffet, parking and wireless internet are included. The Sanctuary Suite, Dane's Room and Garner Suite feature Whirlpool tubs. 2021 ERV Rating*: 96% - Excellent. (303 N Aurora St, Ithaca NY 607-251-0863) √ COVID Safety Plan: 

Yes
Budget-friendly ithaca ny spa tub suites:
Affordable Country Inn & Suites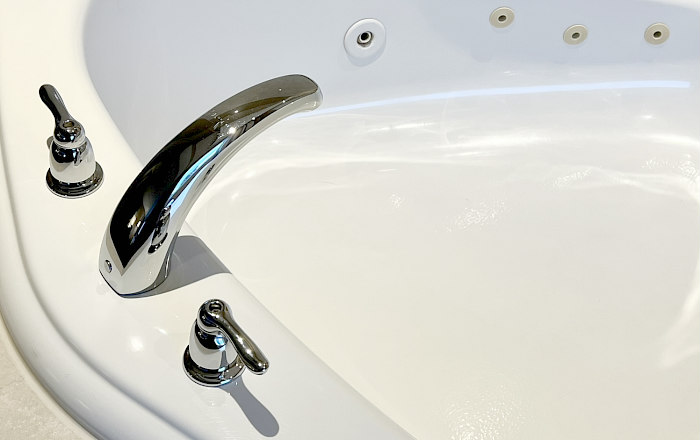 Book a Country Inn & Suites Whirlpool Suite
Country Inn & Suites by Radisson Ithaca - Choose the inviting King Suite with Whirlpool at this affordable Ithaca hotel, which is close to many of the area's top attractions. Free Wi-Fi, parking and breakfast enhance your stay, and there is also a pool, fitness room and 24-hour check-in. 2021 ERV Rating*: 78% - Good. (1100 Danby Rd, Ithaca NY 607-256-1100) √ COVID Safety Plan: 

Yes
La Tourelle Hotel, Bistro, Spa

- Nestled on 70 acres right in the Finger Lakes wine region, this deluxe accommodation offers a blazing fireplace in the lobby, plus a custom bar. The onsite dining and destination spa are second-to-none, and the hike to Buttermilk Falls is right out back. Executive Fireplace rooms (Paris and St. Tropez) are corner rooms with amazing views, balconies, and jetted tubs. 2021 ERV Rating*: 88% - Very Good. (1150 Danby Rd Route 96B, Ithaca NY 607-275-5754) √ COVID Safety Plan: 

Yes

 
---
canandaigua, ny inn with jetted tubs
1840 Inn on the Main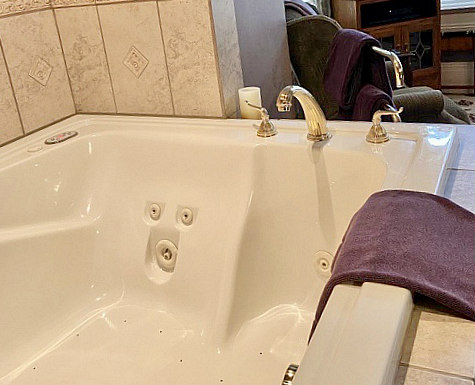 Whirlpool Suite - 1840 Inn on the Main
1840 Inn on the Main Bed and Breakfast

- "Best of the Best" award winner, this Victorian building is beautifully restored and decorated in romantic period furnishings.  Daily breakfast and afternoon baked goods, as well as non-alcoholic beverages are available, and luxurious robes, toiletries and chocolate treats are provided. Gifford and Burrell Suites feature Whirlpool Tubs and fireplaces. You may even book an in-room massage. 2021 ERV Rating*: 96% - Excellent. (176 N Main St Across from Howell St, Canandaigua NY 585-394-0139) √ COVID Safety Plan: 

Yes

 
Sutherland House Victorian Bed & Breakfast

- Another Victorian home dating to 1885 located on five tranquil acres near the north end of Canandaigua Lake. Five rooms feature gas fireplaces and private baths, some with Whirlpool tubs and chandeliers. An old fashioned parlour, patios and a gazebo are great places to relax. Three-course gourmet breakfast is included. 2021 ERV Rating*: 96% - Excellent. (3179 State Route 21 Bristol Street Extension, Canandaigua NY 585-326-8475) √ COVID Safety Plan: 

Yes
---
seneca falls ny B&B Spa Tub Suite
Barrister's Bed & Breakfast - An easy drive to three popular wine trails and several parks, this award-winning B&B makes the perfect base to anchor your Finger Lakes getaway. Five guest rooms are stocked with quality bedding and towels, as well as refrigerator, microwave and beverage maker. Look for the Deluxe Double or King Rooms with Spa Tub. 2021 ERV Rating*: 96% - Excellent. (56 Cayuga St, Seneca Falls NY 315-568-0145) √ COVID Safety Plan: 

Yes
---
aurora, ny
Hampton Inn East Aurora - Lots of Hampton conveniences: free Wi-Fi, convenience store and gift shop, pool, fitness room, and free breakfast and parking. Easy walking distance to tourist spots, and the boutiques and restaurants on Main Street. Some King 1 Bedroom suites feature Whirlpool tubs. 2021 ERV Rating*: 94% - Excellent. (9 Olean St, East Aurora NY 716-655-3300) √ COVID Safety Plan: 

Yes 
Roycroft Inn

- Opening in 1905, the Roycroft now enjoys National Historic Landmark status, and has been returned to its original splendour. There's an on-site restaurant, free parking and WiFi, and several restaurants a short walk away. Select suites, including the Honeymoon Suite, offer jetted tubs. 2021 ERV Rating*: 86% - Very Good. (40 S Grove St, East Aurora NY 716-652-5552) √ COVID Safety Plan: 

Yes
---
corning, NY hilton garden inn spa tub suites
Hilton Garden Inn Corning Downtown

- Plan that romantic Finger Lakes getaway in the King Bedroom Suite with Sofabed here in Corning. It includes a jetted tub, mini-fridge and free WiFi. Other freebies include indoor pool, fitness centre, and parking. There's an on-site restaurant and bar, and it's all within walking distance to downtown. 2021 ERV Rating*: 94% - Excellent. (23 Riverside Dr, Corning NY 607-438-1400) √ COVID Safety Plan: 

Yes
*ERV Rating: our unique, non-scientific ratings for romantic accommodation include:
Amenities: including Whirlpool bath or 

JACUZZI

®

Tub

,

scenic view, fireplace, lounge, etc
Location: proximity of hotel to restaurants, pubs, downtown, etc
Clientele: demographic the hotel attracts (couples, families, business travelers, etc)
Popularity: based on social media & crowd-sourced reviews 
Value: product offered compared to room rate 
Please Note: percentage ratings are not absolute but for comparative use only  
top hotels, getaways & packages on ERV
---