Niagara Falls NY
Niagara Falls NY Hot Tub Suites - honeymoon hotel rooms with whirlpool tubs
FTC: This page uses affiliate links. More. 

---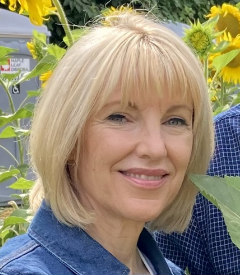 By: Maureen Mattson, ERV Asst Editor - Updated: Oct 1, 2022
Niagara Falls NY is still undisputed honeymoon capital of America. Check in to one of our picks below for a hotel with in-suite jetted tub and then prepare to be amazed by the majestic falls, Niagara Reservation State Park, or Old Fort Niagara. Indulge in a couple's spa treatment, sample local wines, ride the famous Maid of the Mist, catch a live show….you get the idea.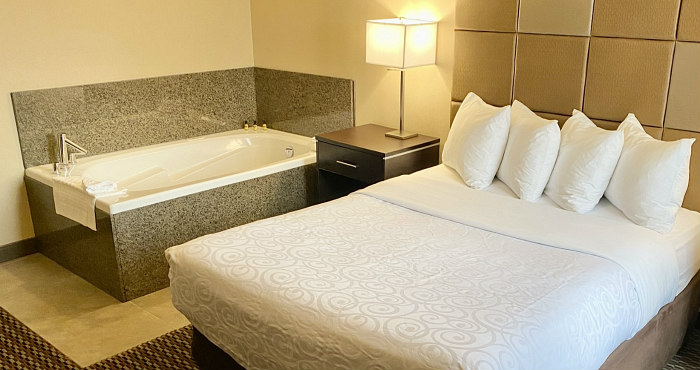 Whirlpool Suite - Perfect for Your Getaway or Honeymoon in Niagara Falls NY
Please Note: We've selected these Niagara Falls hotels in New York State because of their in-room jetted spa tubs (not hot tubs by the pool used by all guests). Perfect for comfort and privacy! 
Disclaimer: JACUZZI® is a registered trademark owned by Jacuzzi Inc. The use of the JACUZZI® trademark on this website is for informational purposes only. There is no relationship, connection or affiliation between this website and Jacuzzi Inc. or its related companies. Rates shown are approximate only and subject to change. Hotel rooms, jetted tubs and amenities can change, and may not be exactly as shown, so please contact the hotel or inn before making travel plans.
downtown niagara falls ny hot tub suites
giacomo Hotel
Giacomo Hotel, Niagara Falls NY ©TripAdvisor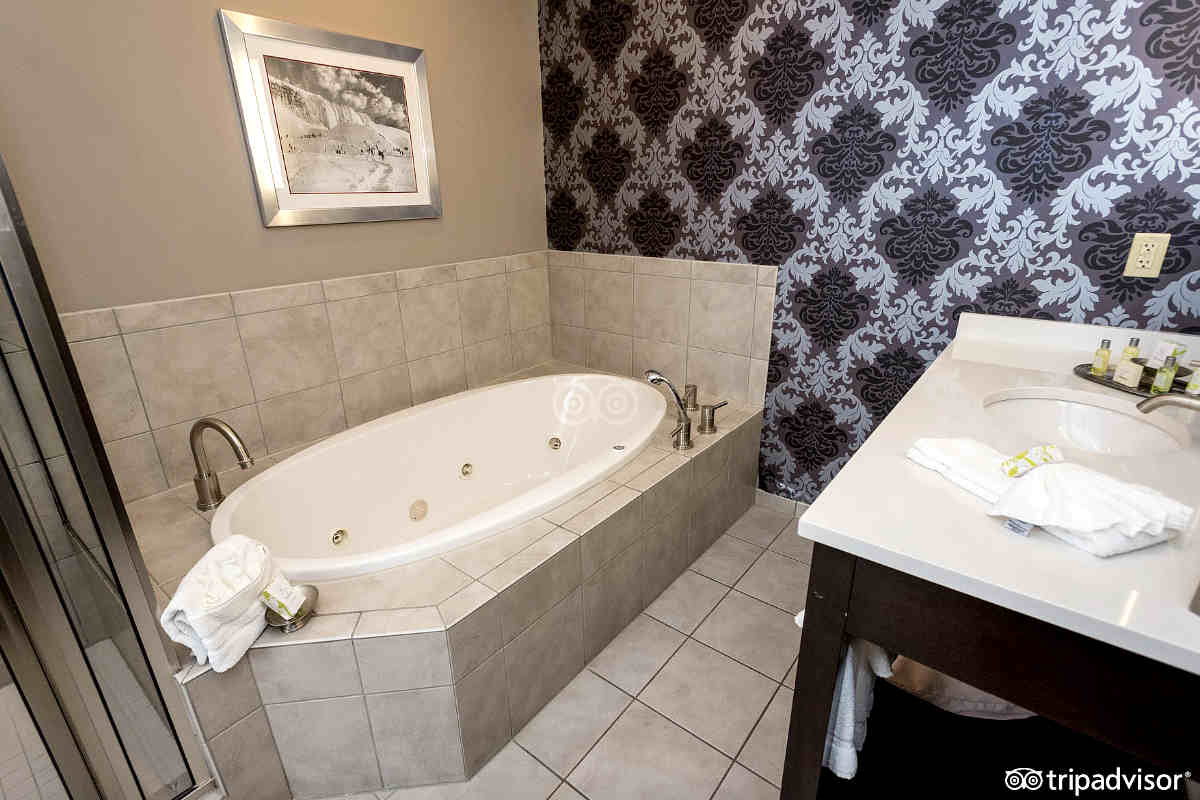 Spa Tub Suite, Giacomo Hotel ©TripAdvisor
The Giacomo Hotel - An Art Deco and nationally-registered historical building, The Giacomo is a boutique hotel within an 8-minute walk from the Falls. Certain suites offer fireplace or Whirlpool Tub, and a European Style Continental Breakfast, concierge, and valet service are complimentary. The 19th floor Skyview Room, full lounge and gym are nice too. 2021 ERV Rating*: 88% - Very Good. (222 1st St, Niagara Falls NY 716-299-0200) √ COVID Safety Plan: 

Yes
Hampton Inn
Book a Hampton Inn Whirlpool Suite
Hampton Inn Niagara Falls/Blvd – Outlet shopping, dining and the Falls are all close to this highly-rated Hampton Inn. Their King Whirlpool Suites have comfortable jetted tubs but sell out often so be sure to book early. 2022 ERV Rating* for Niagara Falls NY Whirlpool Suites: 84% - Very Good. (6501 Niagara Falls Boulevard, Niagara Falls NY  716-283-0601) √ COVID Safety Plan: 

Yes
red coach inn B&B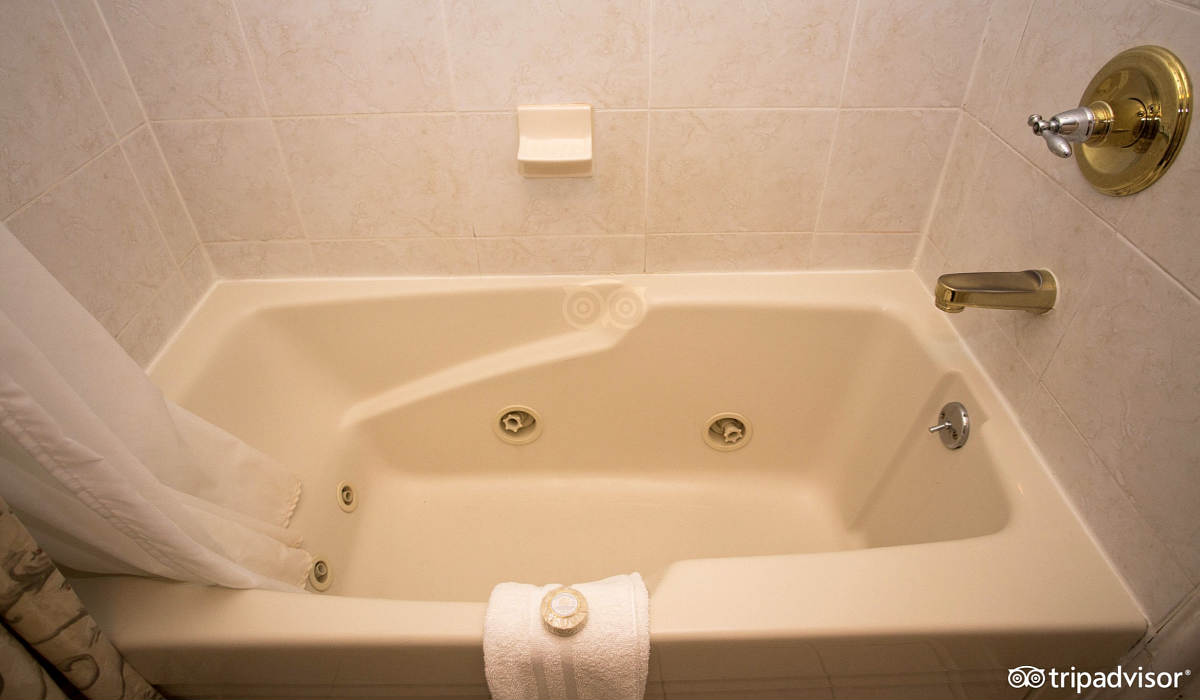 Red Coach Inn Whirlpool Tub ©TripAdvisor
The Red Coach Inn Historic Bed and Breakfast Hotel - Distinctive English Tudor building overlooks the Upper Rapids just 500 yards from the Falls. Champagne and snacks are provided on arrival, and sit-down breakfast at the onsite restaurant is complimentary. Select suites offer fireplaces, kitchens and comfortable in-room Whirlpool tubs. 2021 ERV Rating*: 80% - Very Good. (2 Buffalo Ave, Niagara Falls NY  716 229-5119) √ COVID Safety Plan: 

Yes
Marriott Niagara Falls NY Whirlpool Suites
Marriott Courtyard Niagara Falls NY: One Bedroom Suite w/Whirlpool Tub
Courtyard by Marriott Niagara Falls Whirlpool Suites - Conveniently close to the Falls, attractions and dining options. Free Wi-Fi throughout, plus fitness centre and indoor pool. Scenic views, premium movie channels and stylish rooms make for a romantic stay. The One Bedroom Suite with Whirlpool Tub makes it even better! 2021 ERV Rating*: 80% - Very Good. (900 Buffalo Avenue, Niagara Falls NY 716-284-2222) √ COVID Safety Plan: 

Yes
doubletree niagara falls
DoubleTree Niagara Falls Hotel, NY
DoubleTree Niagara Falls Hotel - Located in downtown Niagara Falls, along the river, the falls are within walking distance from this DoubleTree. Heated indoor pool, fitness centre, and on-site dining also make it a good option for your romantic getaway. Select King and Executive Suites offer Whirlpool Spa Tubs and spectacular Upper Niagara River views. 2021 ERV Rating*: 76% - Good. (401 Buffalo Ave, Niagara Falls NY 716-524-3333) √ COVID Safety Plan: 

Yes
Holiday Inn express Jetted Tubs:
Holiday Inn Express & Suites Niagara Falls

- Premium amenities like indoor pool, fitness centre and free hot breakfast make this Holiday Inn Express a good place to stay in Niagara Falls, NY. Close to the International Airport, dining and shopping. Up the romance factor a bit by booking the King Suite with Jetted Tub; it's got a microwave and refrigerator as well. 2021 ERV Rating*: 76% - Good. (10111 Niagara Falls Blvd, Niagara Falls NY 716-298-4500) √ COVID Safety Plan: 

Yes
---
Niagara Falls NY Resort with Jacuzzi® Tubs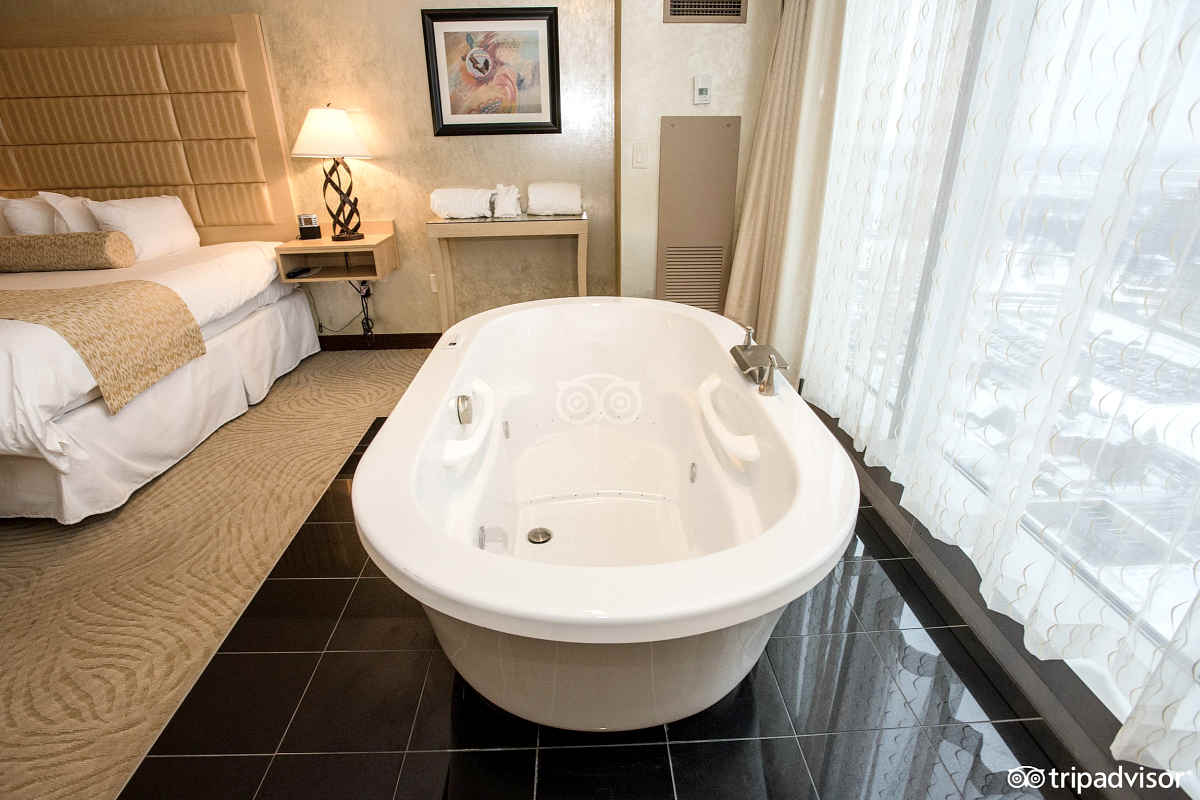 Seneca Niagara King Bed Corner Suite with JACUZZI® Tub ©TripAdvisor
Seneca Niagara Resort & Casino - Just steps from Niagara Falls, the King Suite with JACUZZI® Tub at Seneca is a 642 square foot corner suite with great views, oversized shower, jetted JACUZZI® Tub and entertainment centre. The hotel offers a salon, sauna, spa, indoor pool, fitness centre, 10 restaurants, and 7 shops. And be sure to check out the live entertainment! 2021 ERV Rating*: 76% - Good. (310 4th St, Niagara Falls NY 877-873-6322) √ COVID Safety Plan: 

Yes
More Spa tub suites in & Near NY State:
In-Room Hot Tub at the Wyndham Garden Hotel
Wyndham Garden at Niagara Falls

- Skyline Suites feature amazing views, fireplaces and 2-person Whirlpool tubs in the living area. The Falls, aquarium and State Park are all a 5-minute walk away, and outlet shopping is a just a short drive. Onsite laundry, fitness centre, heated indoor pool, and gastropub-style restaurant are super convenient. 2021 ERV Rating*: 72% - Good. (443 Main St, Niagara Falls NY 716-284-8801) √ COVID Safety Plan: 

Yes
---
budget niagara falls whirlpool suites
Microtel Inn & Suites by Wyndham Niagara Falls

- Close to all the action and wonder of Niagara Falls and wine trails, this property offers free breakfast, parking and Wi-Fi, as well as a business centre, gym and guest laundry. Suites with jetted hot tubs include microwave, refrigerator and coffee maker. 2021 ERV Rating*: 72% - Good. (7726 Niagara Falls Blvd, Niagara Falls NY 716-283-5000) √ COVID Safety Plan: 

Yes
Super 8 by Wyndham Niagara Falls NY

- A completely non-smoking hotel, centrally located in Niagara Falls. Select Studio Suites with King beds feature comfortable in-room jetted tubs and sitting area. A free breakfast is offered daily, and complimentary seasonal pool and shuttle to various locations is a nice touch. 2021 ERV Rating*: 66% - Fair (7680 Niagara Falls Blvd, Niagara Falls NY) √ COVID Safety Plan: 

Yes
The Cadence

- just steps away from Niagara Falls, this modern hotel holds 68 rooms and 9 "BubbleMassage" suites (AKA jetted tubs!) Elegant onsite restaurant, outdoor patio and 24-hour front desk are great too. 2021 ERV Rating*: N/A (200 Rainbow Blvd, Niagara Falls NY 716-804-7444) √ COVID Safety Plan: 

Yes
Niagara Riverside Resort

- Amazing location right on the Niagara River, with an on-site restaurant offering breakfast, lunch and dinner. Both City and River View Suites are available with in-room jetted tubs, and there's an indoor pool and fitness room as well. 2021 ERV Rating*: 80% - Very Good. (

7001 Buffalo Ave, 

Niagara Falls NY 

716-299-0344) 

√ COVID Safety Plan: 

Yes
---
spa tub Inns near the falls in lewiston ny: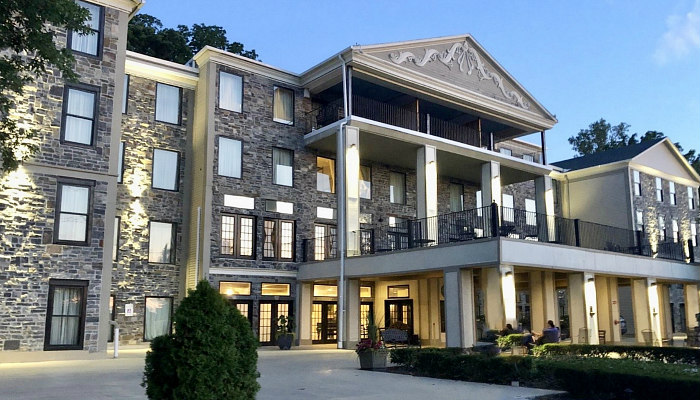 Beautiful Niagara Crossing Hotel & Spa
Niagara Crossing Hotel & Spa

- This boutique hotel is just 20 minutes from Niagara Falls, and the Niagara Wine Trail. There's a full-service spa, free parking and Wi-Fi, and pet-friendly rooms. Each room comes with an electric fireplace, and the Majestic Whirlpool Suite includes a jetted tub and separate shower. 2021 ERV Rating*: 68% - Fair. (100 Center St, Lewiston NY 716-754-9070)
*ERV Rating: our unique, non-scientific ratings for romantic accommodation include:
Amenities: including Whirlpool bath or 

JACUZZI

®

Tub

,

scenic view, fireplace, lounge, etc
Location: proximity of hotel to restaurants, pubs, downtown, etc
Clientele: demographic the hotel attracts (couples, families, business travelers, etc)
Popularity: based on social media & crowd-sourced reviews 
Value: product offered compared to room rate 
Please Note: percentage ratings are not absolute but for comparative use only  
top hotels, getaways & packages on ERV
---