Colorado Hot Tub Suites - Hotels, B&B's and Cabins with In-Room Jetted Tubs in the Rockies
FTC: This page uses affiliate links. More. 

Colorado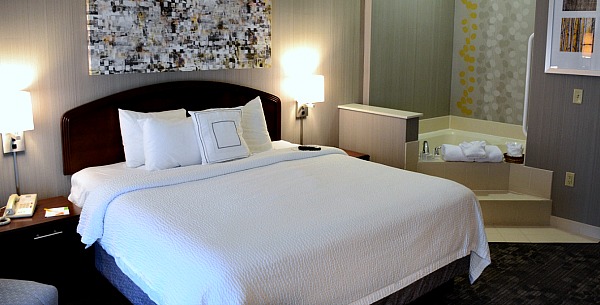 Colorado Springs. CO Whirlpool Tub Suite - Marriott Courtyard
By: Greg Mattson, ERV Editor - Updated: Nov 10, 2017   

Romantic travelers in Colorado appreciate a nice hotel room with a JACUZZI® tub. And not just hotel rooms, but vacation rentals, honeymoon cabins and romantic B&B's with Whirlpool tubs. We've located lots of them here for you, in all the best spots in Colorado, including cities, ski resorts and scenic areas.
What Makes Our Guide to Colorado Hot Tub Suites Unique? Because we do many of our own hotel stays and always our own research on these spa tub suites, you can be sure that theses listings are private and in-room, not just a hot tub out by the pool.
Enjoy your bubbly Colorado getaway!
Disclaimer: JACUZZI® is a registered trademark owned by Jacuzzi Inc. The use of the JACUZZI® trademark on this website is for informational purposes only. There is no relationship, connection or affiliation between this website and Jacuzzi Inc. or its related companies. As hotel rooms and amenities can change, please check with each individual accommodation property before making travel plans to ensure that the hotel room you have booked includes an authentic JACUZZI® brand hot tub. 
---
Colorado Springs Suites With a JACUZZI® Tub

Romantic In-Room Whirlpool Suite at the Marriott Courtyard Hotel, Colorado Springs CO
Marriott Courtyard Colorado Springs South Whirlpool Suites - after a day in the Rockies touring Garden of the Gods, a spa tub Suite in nearby Colorado Springs is perfect to check into. This Marriott hotel was spotless, the units up to date, Wi-Fi very fast, and the in-room heart-shaped JACUZZI

® 

tub was fantastic! We were able to relax, enjoy the room more and not have to worry about going out to eat, because there's a nice restaurant in the hotel lobby serving drinks, dinners and breakfast. 2016 Rating* for Colorado Springs, Colorado Suites with a JACUZZI® Tub: 80% - Very Good. (2570 Tenderfoot Hill St, Colorado Springs, CO  719-226-5006)
Marriott Courtyard Colorado Springs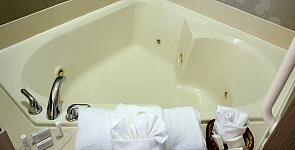 Heart-Shaped Tub - Colorado Springs
Northern & Central Colorado Hotels with In-Room Hot Tub
Boulder, CO
The Hilltop Inn - our best pick for a Jetted tub suite here is not actually in Boulder, but about 15 minutes drive SE of the city in this totally charming B&B. It's worth the drive, because in addition to Deluxe and Honeymoon Jetted Tub Suites, the Hilltop has a British Pub and Tea Room for a truly memorable weekend escape. 2016 Rating* for Romantic Inns with Spa Tubs Near Boulder CO: 88% - Very Good. (9009 Metro Airport Ave, Broomfield, CO  303-469-3900)
Estes Park, CO

Stonebrook Resort on Fall River - the clientele here is overwhelmingly couples, and no wonder: many of these Rocky Mountain honeymoon cottages are fully decked out with fireplaces, kitchenette, and in-room jetted tubs. 2016 Rating* for Romantic Estes Park Cabins with Hot Tubs

: 

95% - Excellent. (1710 Fall River Rd, Estes Park, CO  800-225-9313)
Denver Airport / Aurora, CO Whirlpool Suites:
Quality Inn Hot Tub Suites near Denver Airport
Quality Inn & Suites Denver International Airport Gateway Park -  one of the few hotels offering hot tub suites (look for the King 1 Bedroom Suite) in the Aurora CO / DEN Airport area. Quality Inns are suited to travellers on a budget, and the best feature of this hotel is the location (close to the airport ) and the price, which starts in/around an inexpensive rate of $139/night. 2016 Rating* for Romantic Estes Park Cabins with Jetted Tubs

: 

74%

 - Good.

 (

3300 N. Ouray St, Aurora, CO  303-340-3800)
---
Manitou Springs, CO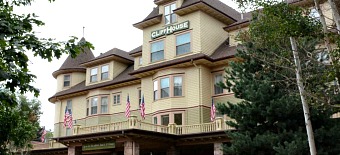 Cliff House - Hot Tub Suites, Manitou Springs CO
The Cliff House at Pikes Peak - this award-winning small hotel is one of Colorado's most romantic places to stay. Reasons why: themed suites with heated towel racks, heated toilet seats (!), gas fireplaces, and bubbly 2-person spa tubs. 2016 Rating* for Manitou Springs Hotels with Hot Tubs: 89% - Very Good. (306 Canon Ave, Manitou Springs, CO  877-505-4062)
---
Fort Collins, CO: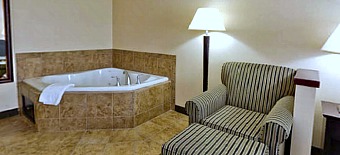 Ft Collins CO Hot Tub Suite - Holiday Inn Express
Holiday Inn Express & Suites Fort Collins - just like many other Holiday Inn Express hotels, this Fort Collins inn is dependably clean and up to date with a good location. Many travelling couples speak highly of their large suites with the spa tub in the corner. 2016 Rating* for Fort Collins, Colorado Hot Tub Suites: 83% - Very Good. (1426 Oakridge Dr, Fort Collins, CO  877-859-5095)
---
More "Colorado for Couples" on Excellent Romantic Vacations:
Southern & Western Colorado Spa Tub Suites
Pueblo, CO
Quality Inn & Suites West - part of the Choice Hotels budget chain, this Quality Inn would suit couples on a romantic vacation in Southern Colorado who need an inexpensive room with a 

Whirlpool 

tub. Rates can start as low as $106/night for these suites. 2016 Rating* for Pueblo CO Whirlpool Suites:

 

70%

 - Good. 

(77 South Radnor Dr, Pueblo West, CO  719-547-9400)
Durango, CO
Best Western Plus Rio Grande - this Best Western hotel has a location close to the Durango & Silverton Train rides in SW Colorado, and selected rooms have bathrooms outfitted with jetted spa tubs. 2016 Rating* for Durango CO Hotels with Hot Tub: 82% - Very Good. (400 E. 2nd Ave, Durango, CO  970-385-4980)
Grand Junction, CO
DoubleTree by Hilton Grand Junction - book a King Junior Suite at this DoubleTree Hilton, and you'll get not only a spotless room, good WiFi and bathroom with spa bath tub, but a warm cookie at check-in! 2016 Rating* for Grand Junction CO Hotels with In-Room Jetted Tub: 78% - Good. (743 Horizon Dr, Grand Junction, CO  970-241-8888)
Colorado Ski Resort Accommodation with Private Hot Tub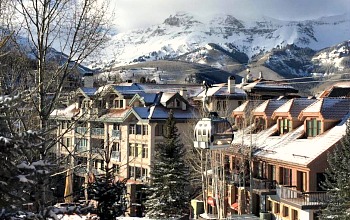 Inn at Lost Creek, Telluride CO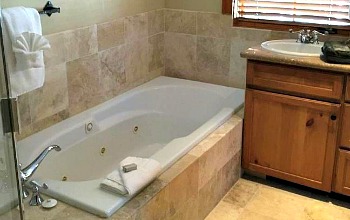 Spa Tub Suite, Inn at Lost Creek - Telluride CO
Telluride, CO
The Inn at Lost Creek - Telluride's top-rated Hotel get's an almost perfect rating from couples and honeymooners for their luxury suites which feature timber and stone accents, fireplaces, steam showers and relaxing jetted tubs. 2016 Rating* for Hotels with Private Jetted Tubs in Telluride CO: 97%

 - 

Excellent. 

(119 Lost Creek Lane, Mountain Village, CO  888-601-5678)
Vail, CO
The Minturn Inn: Colorado Hot Tub Suites near Vail - not actually in Vail, but just a 10 minute drive away in the charming small town of Minturn, CO (in the Vail Valley between Vail and Beaver Creek). Their River Lodge units are perched on the edge of Eagle River, and besides the sounds of the rushing river, you're going to love the rock fireplaces and private 2-person jetted tubs. 2016 Rating* for Hot Tub Suites near Vail CO: 80%

- 

Very Good. 

(442 Main St, Minturn, CO  800-646-8876) 
Steamboat, CO
Fairfield Inn & Suites Steamboat Springs - romantic ski vacations can be expensive, so this Fairfield Inn is a cheaper option for a dependable and comfortable hotel room that includes a King bed and a private 

Whirlpool 

tub for two. 2016 Rating* for Steamboat Colorado Spa Tub Suites: 70%

- 

Good. 

(3200 South Lincoln Ave, Steamboat Springs, CO  970-870-9000)

 

 
Breckenridge, CO
Marriott's Mountain Valley Lodge at Breckenridge - experience the fresh air and mountain scenery from the private balcony, and just around the corner in the bathroom is a 

Whirlpool 

tub, available in both the studio and 1 bedroom villas. 2016 Rating* for Breckenridge Hot Tub Suites: 83%

- 

Very Good. 

(655 Columbine Rd, Breckenridge, CO  970-453-8500)

 

 

Aspen/Snowmass, CO
The Innsbruck - not only one of the most romantic lodges in Aspen, The Innsbruck is one of the highest rated downtown Aspen hotels with jetted tubs, outdoor pool & hot tub, and free parking. 2016 Rating* for Aspen CO Hotel Rooms with Spa Tubs: 94%

- 

Excellent. 

(233 W. Main St, Aspen, CO  866-925-2980)

 

  

Colorado Honeymoon Log Cabin with Hot Tubs Inside & Out
Colorado Honeymoon Cabin with Hot Tub near Breckenridge CO - this gorgeous 3 bedroom log cabin rental near Breckenridge CO has a lovely great room, wood stove, radiant floor heating, and features both a jetted tub in the master bath as well as a private hot tub outside on the deck for some stargazing late at night. 

Very few log cabin rentals in Colorado include both a hot tub on an outside deck

and

a jetted tub inside, making this romantic Colorado rental the perfect summer or winter honeymoon cabin!
*ERV Rating: our unique, non-scientific rating formula for romantic hotels which includes:
Romantic Amenities: suites with an in-room Whirlpool bath or 

JACUZZI

®

Tub

,

scenic view, fireplace, lounge, etc
Location: proximity of hotel to restaurants, pubs, downtown, etc
Clientele: demographic the hotel attracts (couples, families with kids, business travelers, etc)
Popularity with Couples & Honeymooners: based on variety of social media & crowd-sourced reviews.   
Excellent Romantic Vacations - Top Pages
---