Utah Whirlpool Suites
Utah Hot Tub suites - hotels with private jetted tubs
FTC: This page uses affiliate links. More. 

---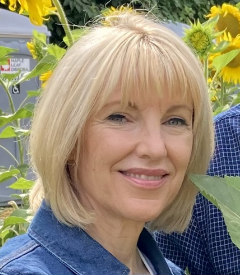 By: Maureen Mattson, Asst Editor - Updated: Aug 23, 2021
Utah has amazing sights, so we've carefully curated some romantic hotels that feature in-room jetted tubs to make your adventure even better. Why not grab that bottle of bubbly and get ready for some serious hot tub soaking in Salt Lake, Park City, Provo and more!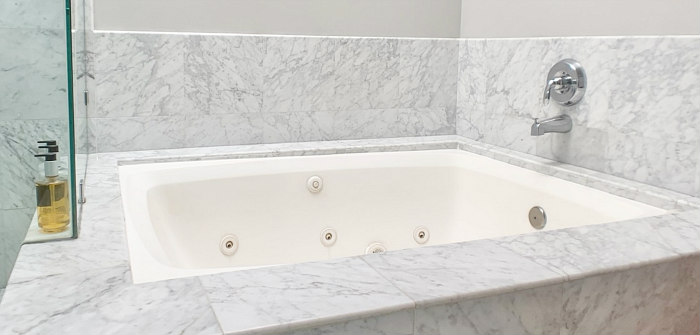 Find the Perfect Utah Hotel In-Room Jetted Spa Tub
Disclaimer: JACUZZI® is a registered trademark owned by Jacuzzi Inc. The use of the JACUZZI® trademark on this website is for informational purposes only. There is no relationship, connection or affiliation between this website and Jacuzzi Inc. or its related companies. Rates shown are approximate only and subject to change. Hotel rooms, jetted tubs and amenities can change, and may not be exactly as shown, so please contact the hotel or inn before making travel plans.
Salt lake city whirlpool suites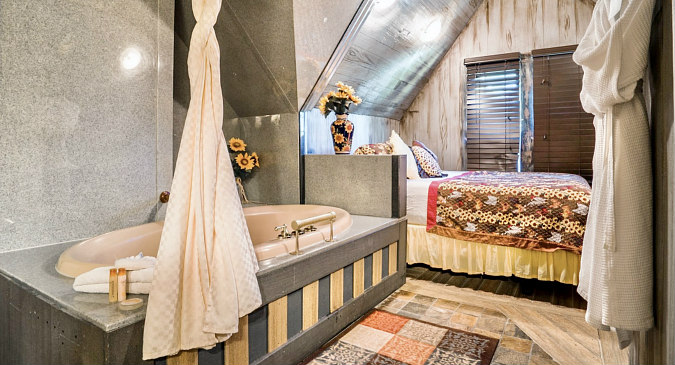 Themed Whirlpool Suite at the Anniversary Inn, Salt Lake City UT
Anniversary Inn B&B - Each of the 36 rooms is designed around a theme (Log Cabin, French Connection, Hay Loft etc) and each one incorporates a large jetted tub into the decor.  Some even include waterfalls! Try the Mysteries of Egypt Suite or the Arabian Night's Suite. Sleep in a treehouse in the Swiss Family Robinson Suite. Or splurge on the two storey Juliet's Balcony or Romeo and Juliet Suites. Sleeping Beauty's Castle and Aphrodite's Court are super romantic too! 2021 ERV Rating*: 70% - Good. (460 S 1000 E, Salt Lake City UT) √ COVID Safety Plan: 

Yes
Hilton Garden Inn Salt Lake City / Sandy - With it's easy access to the freeway and walking distance to shopping and restaurants, this Hilton Garden Inn is a great choice for your SLC getaway. Free Wi-Fi, free parking, an onsite restaurant, indoor pool and fitness center are convenient too. The King Bedroom Whirlpool Suite includes microwave, refrigerator and coffee maker. 2021 ERV Rating*: 88% - Very Good. (277 W Sego Lily Dr, Sandy UT 801-352-9400) √ COVID Safety Plan: 

Yes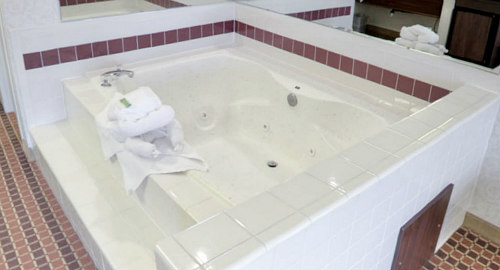 Downtown Salt Lake City Whirlpool Suite
Crystal Inn Hotel & Suites Salt Lake City Downtown - Just one mile from the Historic Temple Square and all the downtown culture. The King Jetted Tub Suite and King Executive Jetted Tub suite enhance the intimate vibe. Free breakfast, indoor pool, Wi-Fi, airport shuttle and parking are all included. 2021 ERV Rating*: 88% - Very Good. (230 W 500, Salt Lake City UT 800-366-4466) √ COVID Safety Plan: 

Yes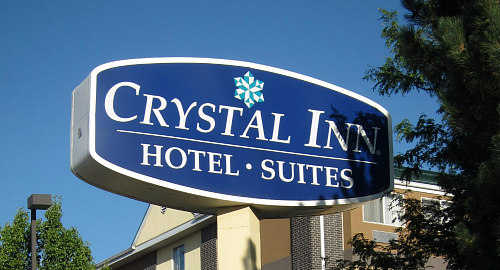 Crystal Inn, Murray Utah
Crystal Inn Hotel & Suites Midvalley/Murray - great location with Alta, Brighton, Snowbird, and Solitude ski resorts all just minutes away. Lots of freebies here: hot breakfast, light dinner, airport shuttle, Wi-Fi, indoor pool and fitness room. King Executive Jetted Tub Suites include mini-fridge, microwave and coffee maker. 2021 ERV Rating*: 88% - Very Good. (818 E Winchester St, Murray UT  888-685-9300) √ COVID Safety Plan: 

Yes

 
The Park Inn by Radisson Salt Lake City/Midvale - Just off Interstate 15, the Park Inn by Radisson is on the edge of Salt Lake City and close to other Utah tourist spots, plus eight well-known ski and summer resorts. Free hot breakfast outdoor pool and hot tub, fitness centre and more. The Whirlpool Suite has a jetted tub big enough for two, a refrigerator, microwave and free WiFi. 2021 ERV Rating*: 62% - Fair. (280 W 7200 S, Midvale UT 801-566-4141) √ COVID Safety Plan: 

Yes
Crystal Inn Hotel & Suites West Valley City

- Check out the 528 square foot Executive Jetted Tub Suite for a comfortable romantic stay: Free Wi-Fi, microwave, refrigerator and coffee maker plus spacious sitting area. The hotel also features a pool, complimentary breakfast, parking, and airport shuttle. Cafes are a short distance away. 2021 ERV Rating*: 78% - Good. (2254 W City Center Ct I-215, Exit 18, West Valley City, UT 888-977-9400) √ COVID Safety Plan: 

Yes
Hilton Garden Inn Salt Lake City/Sandy

- Just off the I-15, the Hilton Garden Inn Salt Lake/Sandy is within walking distance of shopping, restaurants, Hale Center Theatre, and more. It's also just 14 miles north of Salt Lake City. Breakfast and dinner are available at the onsite restaurant and there's an indoor heated pool. The King Bedroom Whirlpool Suite is a great choice for a memorable vacation. 2021 ERV Rating*: 88% - Very Good. (277 W Sego Lily Dr, Sandy, UT 801-352-9400) √ COVID Safety Plan: 

Yes
Jetted Tub Suites Near Salt lake city: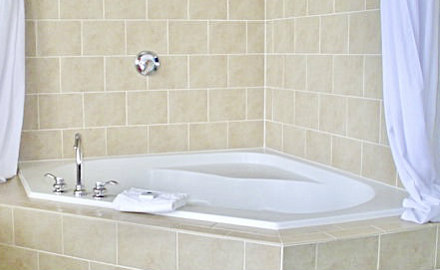 Hampton Inn Whirlpool Tub, Ogden UT
Hampton Inn & Suites Ogden - Lots of freebies: breakfast, newspaper, parking, luggage storage, Wi-Fi and more. You're also in the heart of downtown Ogden, and close to Ogden Botanical Gardens, theatres, restaurants and shopping. The King One Bedroom Suite has the romantic Whirlpool Tub you're looking for. 2021 ERV Rating*: 84% - Very Good. (2401 Washington Blvd, Ogden, UT 801-394-9400) √ COVID Safety Plan: 

Yes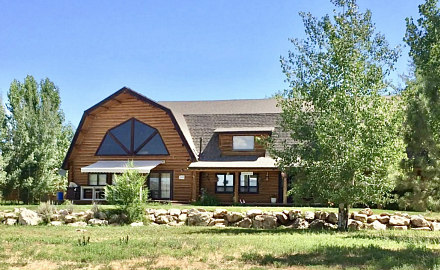 Snowberry Inn B&B, Eden Utah
Snowberry Inn Bed & Breakfast

- Escape to a peaceful 8-suite cabin in the mountains of Utah. Incredible views, full gourmet breakfast and free Wi-Fi make it a cozy and restful stay. Just cross the street to find hiking and biking trails, or drive to nearby ski resorts, golfing and boating. The Monte Cristo Suite features tall ceilings, beautiful mountain views, fluffy robes and a jetted tub. 2021 ERV Rating*: 96% - Excellent. (1315 Ut-158, Eden, UT 385-238-1214)
Country Inn & Suites by Radisson, Bountiful UT - Only 10 miles north of Salt Lake City and 15 minute's drive from the airport. The Premium Suites and Whirlpool Suites here include jetted tubs, and the Premium Suite also has a fireplace. WiFi, newspaper, and breakfast are complimentary, and rooms come with refrigerator, microwave, and coffee makers. Make use of the indoor pool, fitness centre and laundry facilities. 2021 ERV Rating*: 82% - Very Good. (999 N 500 W, Bountiful, UT 801-292-8100) √ COVID Safety Plan: 

Yes
Park City, Utah Hot Tub suites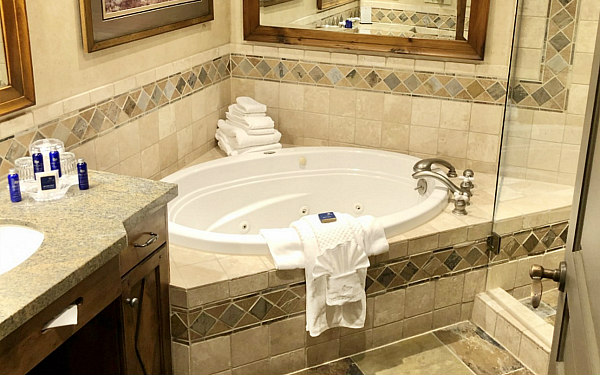 Deep-Soaking Jetted tub - Hotel Park City
Hotel Park City, Autograph Collection - All luxurious suites at this resort feature fireplaces, private balcony or patio, great views, triple-headed showers and jetted tubs. If you ever decide to leave that cozy tub, there's an outdoor heated pool and hot tub, complimentary Starbucks in the lobby and fine dining at the on-site restaurant. 2021 ERV Rating*: 90% - Excellent. (2001 Park Ave, Park City, UT 435-940-5000) √ COVID Safety Plan: 

Yes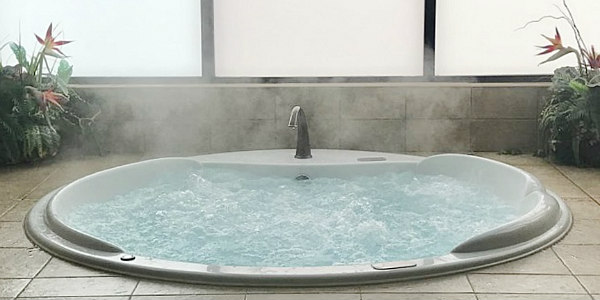 Hot Tub Suite - BW Plus Landmark Inn, Park City UT
Best Western Plus Landmark Inn - Their honeymoon-ready Hot Tub Suite is the one you want here: A glass enclosed sunny nook complete with a Whirlpool tub, gas fireplace, living room and bedroom with king-sized bed. The suite includes a refrigerator and microwave for your convenience. Within walking distance of restaurants and an outlet mall. Great summer and winter activities nearby. 2021 ERV Rating*: 84% - Very Good. (6560 N Landmark Dr, Park City, UT 435-649-7300) √ COVID Safety Plan: 

Yes
Westgate Park City Resort & Spa

- Ski-in-ski-out resort for wintertime and close to lots of great year 'round seasonal activities too. Take advantage of the full service spa, sports bar and steakhouse. There are 3 pools (one is for adults only) The Westgate offers free shuttle service to downtown so you can also check out local shopping. Fully furnished For Bedroom Villas feature kitchens, fireplaces and Whirlpool Tubs! 2021 ERV Rating*: 76% - Good. (3000 Canyons Resort Drive, Park City UT  435-655-2240) √ COVID Safety Plan: 

Yes
Sheraton Park City

- Newly renovated, the Sheraton Park City is just 40 minute's drive from Salt Lake International Airport. Find easy access to the historic downtown Main Street as well as great restaurants, shops and galleries. Full service spa, fitness room, pool and restaurant are good too. The Concierge Level One Bedroom Presidential Suite comes equipped with a Whirlpool Tub for that special romantic trip. 2021 ERV Rating*: 78% - Good. (1895 Sidewinder Dr, Park City, UT 435-649-2900) √ COVID Safety Plan: 

Yes
provo, UT jetted Tub Suites
Baymont by Wyndham Provo River - Get free WiFi, breakfast and parking while indulging in the jetted tub found in the King Bed Studio Suite. There's a fitness centre and pool, and you'll find restaurants and popular attractions a short walk away. Although it's in the city centre, it's a fairly quiet location. All 80 rooms come with fridges, microwaves and coffee makers. 2021 ERV Rating*: 66% - Fair. (2230 N University Pkwy, Provo, UT 801-921-5071) √ COVID Safety Plan: 

Yes
Best Western Mountain View Inn - A great location near the art museum and a short drive from Sundance Ski Resort, Spanish Fork Fairgrounds and Seven Peaks Amusement Park, the Springville Best Western is also just 6 miles south of  Provo. All you'd expect of a Best Western: outdoor pool, free breakfast and daily paper, free parking and WiFi. The Whirlpool Suite has a kingsize bed and fits the bill for your special romantic escape. 2021 ERV Rating*: 64% - Fair. (1455 North 1750 West, Springville, UT 801-489-3641) √ COVID Safety Plan: 

Yes

  
orem, UT
La Quinta Inn & Suites by Wyndham North Orem

- The Jetted Tub Suite with kingsized bed features a pillow-top mattress, flat-screen HDTV, microwave, refrigerator, coffee maker and more. High-speed wireless internet is complimentary, and so is breakfast. There's a fitness centre and  indoor pool. The shops at Riverwoods are close by as are the entertainment, shopping and dining sites at Thanksgiving Point. 2021 ERV Rating*: 66% - Fair. (1100 W 780 N, Orem, UT 800-642-4241) √ COVID Safety Plan: 

Yes
More Whirlpool and 
JACUZZI® Tubs Near Utah:
Eastern Utah Whirlpool Suites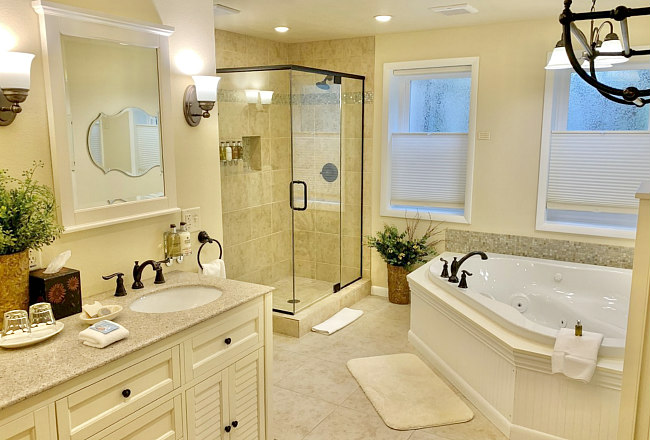 Luxury Whirlpool Suite - Sunflower Inn, Moab Utah
Sunflower Hill Luxury Whirlpool Suites

- A garden oasis in the midst of a barren dessert! With two beautifully restored buildings- the historic Ranch House and Garden Cottage- Sunflower Hill is on a quiet residential street, surrounded by trees, flowers and a swimming pool. Each of the 12 guest rooms is unique and seven of them offer jetted tubs. French doors, private balconies, vaulted ceilings, lavish king or queen beds and garden views are common features. Delicious and healthy breakfasts are made from scratch daily. 2021 ERV Rating*: 96% - Excellent. (147 N 300 E, Moab UT 435-259-2974) √ COVID Safety Plan: 

Yes
spa tub suites close to Bryce canyon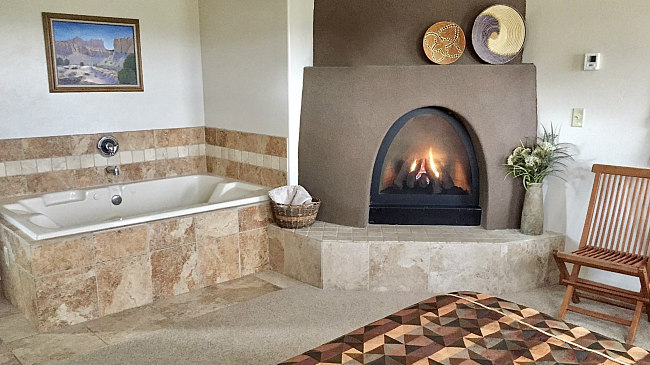 Book a Slot Canyons Whirlpool Suite for Your Bruce Canyon Getaway
Slot Canyons Inn - This B&B sits between Bryce Canyon and Capitol Reef National Parks. The 160-acre property is right next to the Grand Staircase National Monument and includes the Escalante River and a 2-tired waterfall, private canyon and lovely clear waters. There are six single King or Queen rooms with fireplace, balcony, breath-taking views of the canyon and cliffs, as well as jetted tubs. Breakfast is included. 2021 ERV Rating*: 94% - Excellent. (3680 W State Highway 12, Escalante, UT 435-826-4901) √ COVID Safety Plan: 

Yes
Best Western Plus Ruby's Inn - The closest accommodation to Bryce Canyon National Park, Ruby's Inn has indoor and outdoor swimming pools, satellite TV, free WiFi, microwaves and refrigerators in every room. Breakfast and parking are complimentary, and mountain bike rentals are available. Suites with large jetted tubs make your stay extra relaxing and romantic. 2021 ERV Rating*: 60% - Fair. (26 South Main Street, Bryce Canyon City, UT 435-834-5341) √ COVID Safety Plan: 

Yes
spa Tub suites near zion National park
Cable Mountain Lodge - Cable Mountain Lodge is literally across the street from Zion National Park. But the location in Springdale also means shipping, dining and entertainment are close by. The hotel offers luxury suites with private furnished balconies, canyon views, fully equipped Kitchens, master bedrooms with fireplaces, and jetted soaker tubs. (Ask about the Judy Ann Suite) Wi-Fi is complimentary, and a convenience store, picnic area and private beach are also provided for guests. 2021 ERV Rating*: 96% - Excellent. (147 Zion Park Blvd, Springdale 435-772-3366) √ COVID Safety Plan: 

Yes
Canyons Boutique Hotel - A Canyons Collection Property - A luxurious inn with complimentary breakfast, WiFi, and parking. There are two outdoor pools and three fire areas, and you may use the cruiser bikes to see the area. Live entertainment is offered from mid-May through September. Supreme rooms include spa tubs and many also feature gas fireplaces. 2021 ERV Rating*: 90% - Excellent. (90 N 300 W, Kanab, UT 435-644-8660) √ COVID Safety Plan: 

Yes
Red Lion Hotel & Conference Center St. George

- St. George, near Zion National Park, has a majestic beauty and plenty of options for experiencing it. The Red Lion Hotel makes a good starting point with complimentary shuttle and breakfast, indoor pool and laundry facilities. It's pet friendly too. The 320-square foot King Jetted Tub Suite adds a little romance to your sight-seeing adventures in Utah. 2021 ERV Rating*: 62% - Fair. (850 Bluff Street, St. George, UT 435-628-4235) √ COVID Safety Plan: 

Yes
Northern Utah spa Tub suites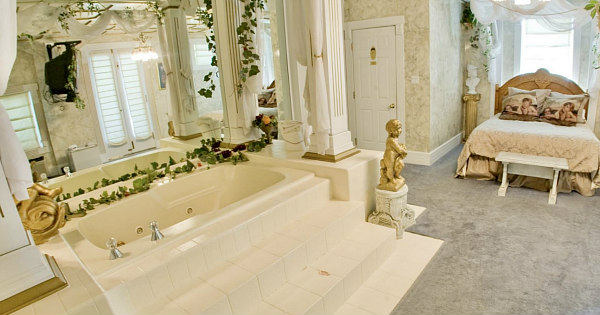 Logan Anniversary Inn Whirlpool Suites

 - What a fun and romantic place to stay! Each of the 21 rooms has a theme: Arabian Night, Grand Bridal Suite, King Arthur's Castle, or The Victorian. All feature large jetted tubs for 2 and mini-fridges. Breakfast is included. 2021 ERV Rating*: 80% - Very Good. (169 E Center St, Logan, UT 435-752-3443) √ COVID Safety Plan: 

Yes
Days Inn by Wyndham Vernal - There's so much to see and do in the Vernal area, so why not check into the Days Inn and stay in a romantic King Studio Suite with jetted tub? Free parking, WiFi  and breakfast, along with an indoor heated pool, and laundry facilities provide good value. There's a microwave and mini-fridge in each room. 2021 ERV Rating*: 72% - Good. (1092 W Highway 40 US Highway 40/ US Highway 191, Vernal, UT 800-329-7466) √ COVID Safety Plan: 

Yes
*ERV Rating: our unique, non-scientific ratings for romantic accommodation include:
Amenities: including Whirlpool bath or 

JACUZZI

®

Tub

,

scenic view, fireplace, lounge, etc
Location: proximity of hotel to restaurants, pubs, downtown, etc
Clientele: demographic the hotel attracts (couples, families, business travelers, etc)
Popularity: based on social media & crowd-sourced reviews 
Value: product offered compared to room rate 
Please Note: percentage ratings are not absolute but for comparative use only  
top hotels, getaways & packages on ERV
---