Las Vegas Spa Tub Suites
Las Vegas Hot Tub Suites - Top 20 Picks: Budget to ultra- Romantic
FTC: This page uses affiliate links. More. 

---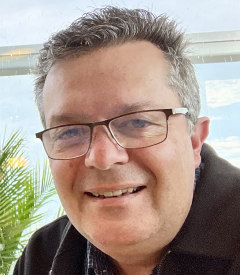 By: Greg Mattson, ERV Editor - Updated Mar 5, 2023.
Las Vegas just has to be the Hot Tub Suite Capital of America! The challenge here is not in finding a spa tub suite, but rather finding the right one for your getaway, honeymoon or anniversary (and budget!)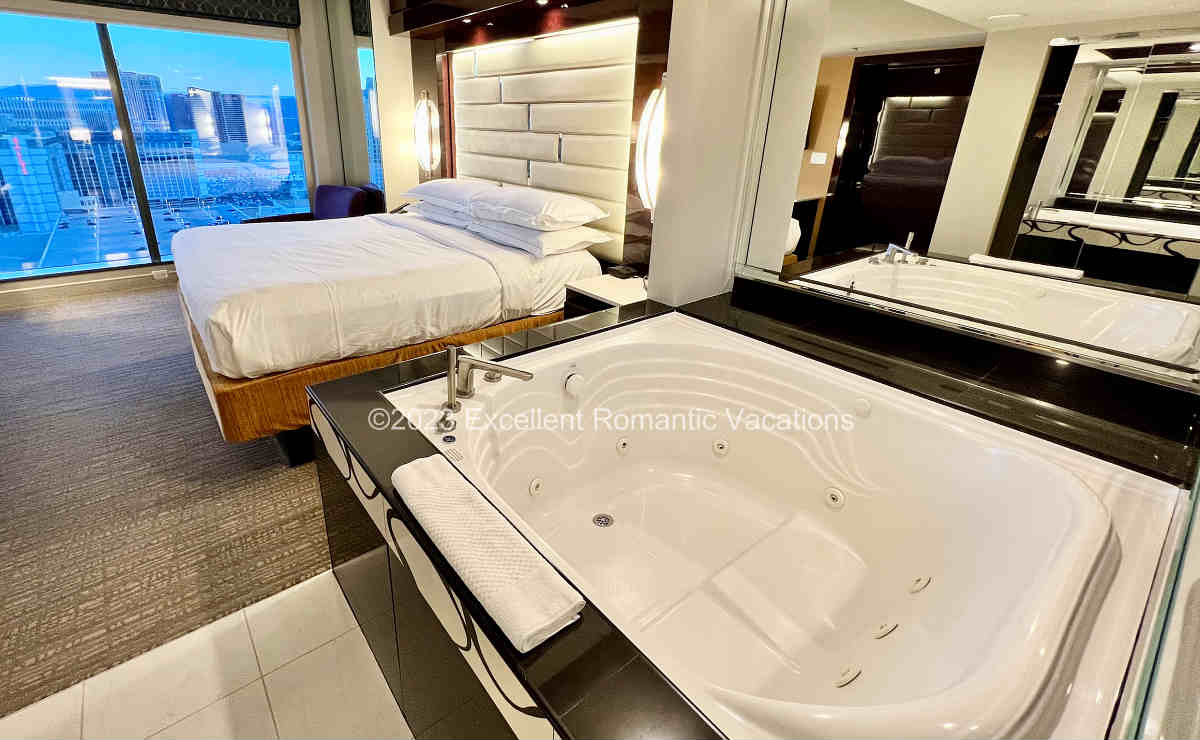 Hilton Elara Las Vegas Spa Tub Suite with View of the Strip
So, after much research (and hotel stays in LNV), we're happy to present to you our extensive guide to the 20 best hotel and resort rooms in Vegas with a JACUZZI® or Whirlpool tub. Everything from Budget Rooms with hot tubs in Chain Hotels to Luxury Stays in High-Rise Penthouse-Style Resort Suites with stunning views of the Strip right right from inside your tub. Enjoy!
Why Our Guide to Las Vegas Whirlpool Suites is Unique: We've been there, we've done the research, visited and stayed in numerous resorts, and then carefully reviewed and selected these 20 in-room hot tub suites as our best picks in all of Las Vegas! And we only show hotel suites with private in-room jetted tubs - not simply soaker tubs with no jets, and not large hot tubs outside by the pool.
Please Note: Prices for spa tub suites on this page are approximate and for comparison purposes only, do not include resort fees and taxes, and are subject to change at any time due to seasonality, demand and other factors. 
Disclaimer: JACUZZI® is a registered trademark owned by Jacuzzi Inc. The use of the JACUZZI® trademark on this website is for informational purposes only. There is no relationship, connection or affiliation between this website and Jacuzzi Inc. or its related companies. Rates shown are approximate only and subject to change. Hotel rooms, jetted tubs and amenities can change, and may not be exactly as shown, so please contact the hotel or inn before making travel plans.
ERV's Top 10 Las Vegas Jetted Tub Suites:

1. Elara by hilton las vegas strip whirlpool suites
Elara by Hilton Las Vegas Strip - We spent 4 nights at the Elara recently, and have no hesitation giving this Hilton resort our vote as the No. 1 Hot Tub Suite Getaway in Vegas. Connected to the Miracle Mile shops & restaurants, their 1 bedroom King Suites have what are perhaps the biggest and most attractive 2-person-plus in-room Whirlpool tubs we have seen in Las Vegas. Loads of other amenities as well, including full kitchens equipped with everything, and an amazing HD projector TV on a descending 8 foot screen. Check out our video above for a closer look at this romantic spa tub suite. What We Liked: Awesome location, good value, fantastic jetted tub experience, Starbucks in the lobby. Worth Knowing: Self-Parking can be a little confusing, and pool umbrellas and shade are limited so get down there early. 2023 ERV Rating* for Las Vegas Suites with 2 Person Jetted Tubs: 94% - Excellent. Whirlpool Tub Size: 2 persons +. Prices from $220/night. (80 E. Harmon Ave, Las Vegas NV 702-669-6700)
Elara Suite's HD Theater 8 Foot Screen
Pool at the Hilton Elara Resort Las Vegas
2. Aria tower suites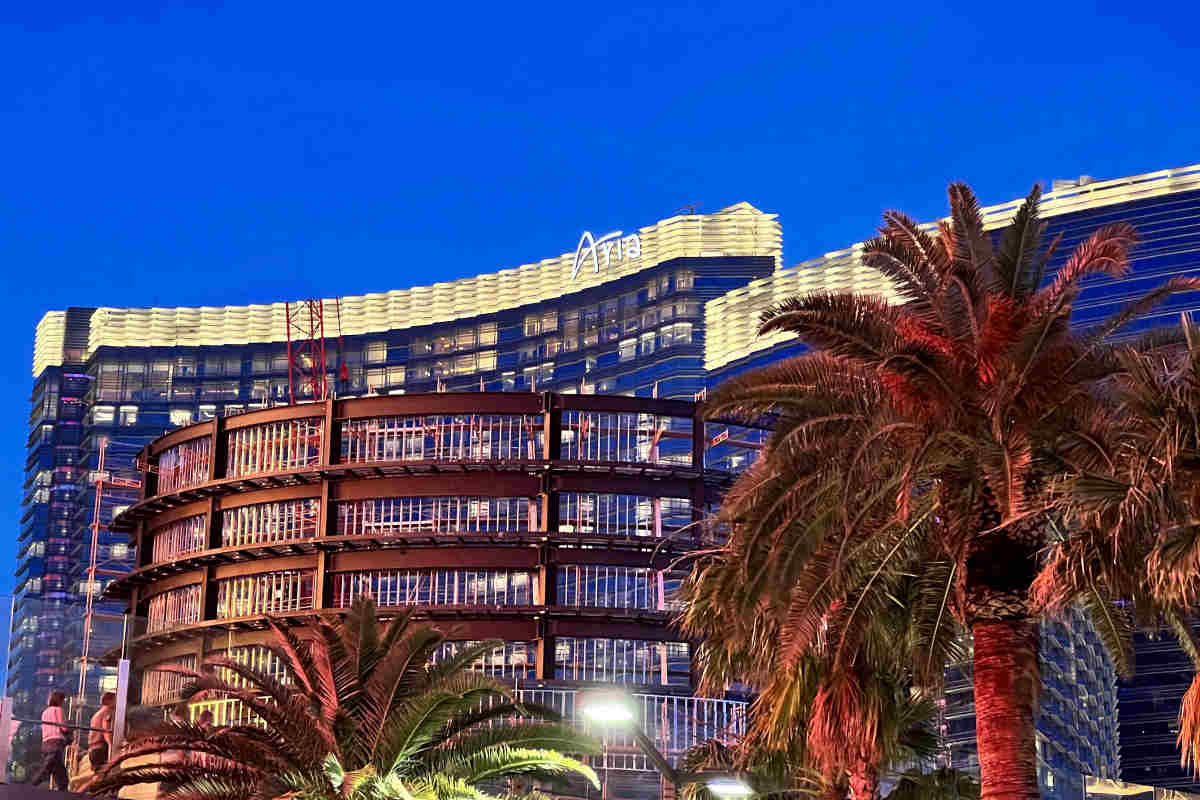 ARIA Resort Las Vegas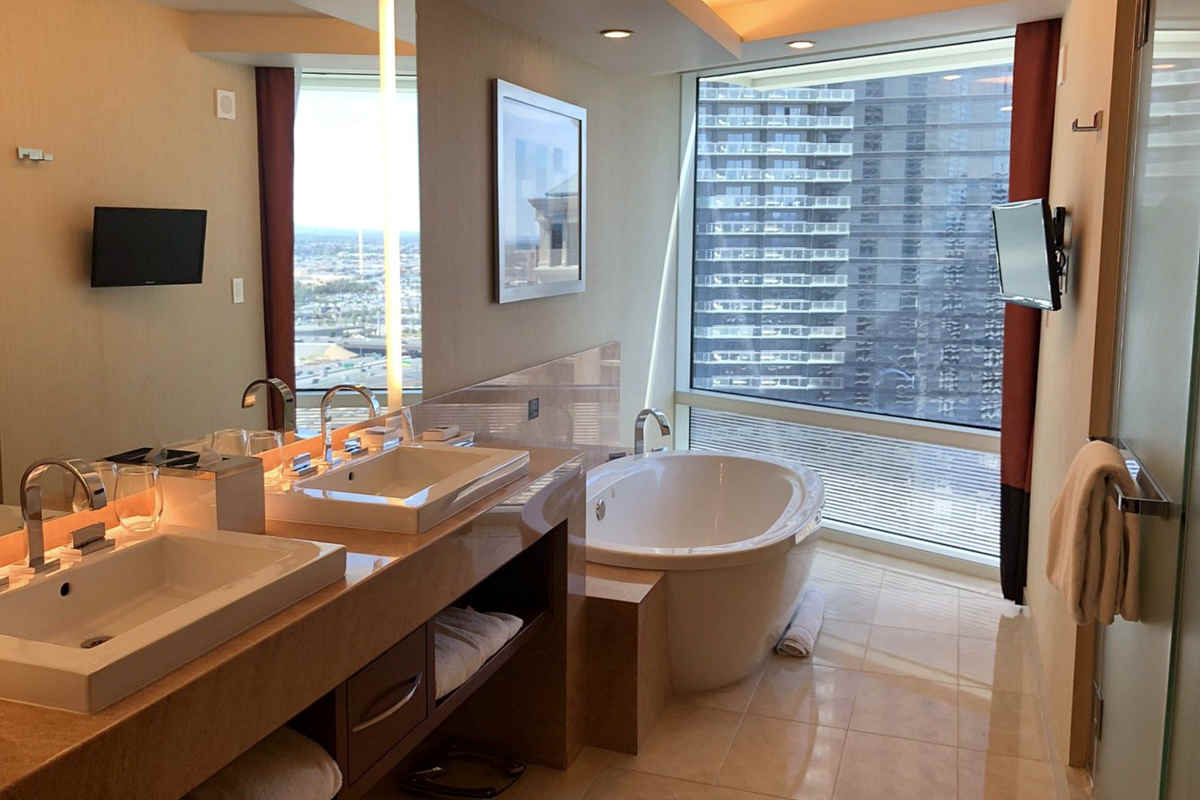 ARIA Suite with Whirlpool Bath
ARIA Tower Suites

- Luxury without stuffiness is how we can describe the ARIA. Head straight over to their Tower Suites with their floor-to-ceiling windows and fabulous views, especially at night (you'll gaze in amazement at the other Las Vegas resorts all lit up - from right inside the jetted tub!) What We Liked: Beautiful deep soaking jetted spa tub, interesting dining options, great vibe. Worth Knowing: We found their in-room mini-bar prices, as usual for luxury hotels, outrageous. 2023 ERV Rating*: 92% - Excellent. Spa Tub Size: 2 Persons. Spa Suite Prices from $395/night. (3730 South Las Vegas Blvd, Las Vegas NV 866-359-7757)
3. skylofts at mgm grand spa suites
Skylofts at MGM Grand ©TripAdvisor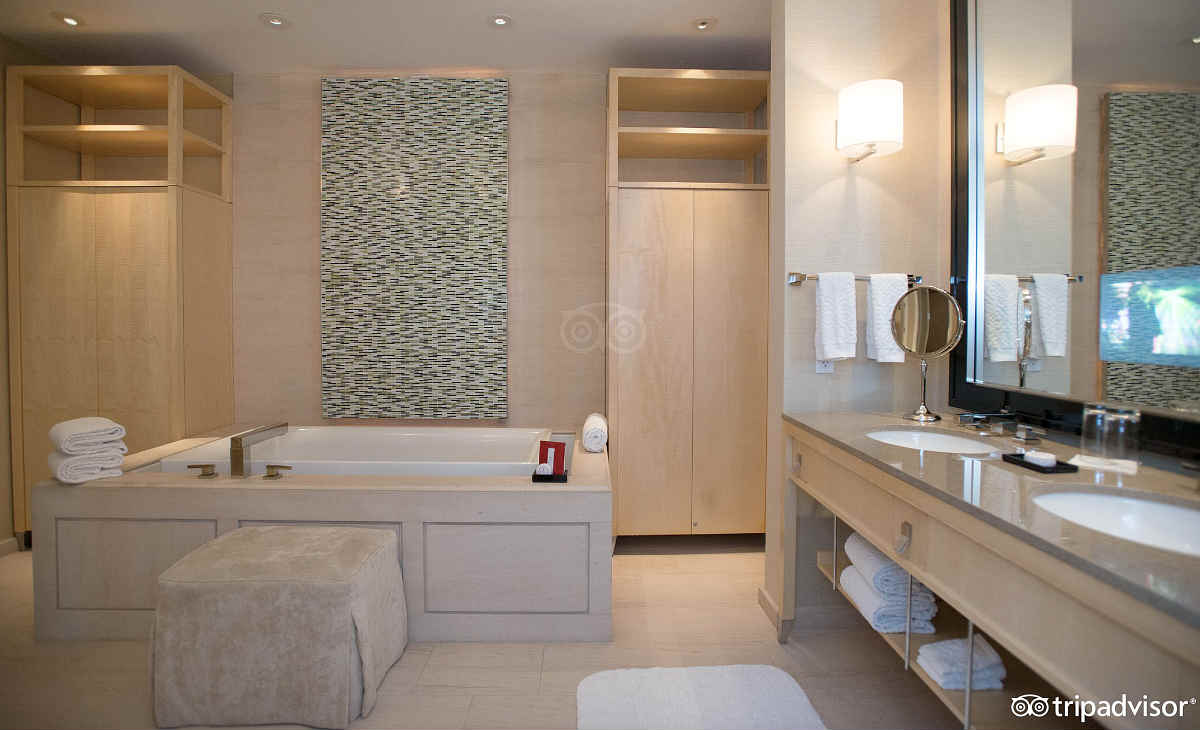 Skyloft MGM Grand Spa Suite ©TripAdvisor
Skylofts at MGM Grand

- Long sought after as THE place to stay in town. Luxury extras include personal butler, turndown service and Bvlgari bath products. The Infinity Edge Spa Tubs are as exquisite as they sound, and nicely paired along with their Immersion Steam Showers. What Other Guests Liked: Impeccable service, VIP Lounge and SkyLounge. Worth Knowing: Very expensive. 2023 ERV Rating* for Las Vegas Luxury Whirlpool Suites: 90% - Excellent. Spa Tub Size: 2 Persons. Spa Suite Prices from $850/night. (3799 Las Vegas Blvd South, Las Vegas NV 877-646-5638)
4. cosmopolitan
Terrace Suite, Cosmopolitan Hotel ©TripAdvisor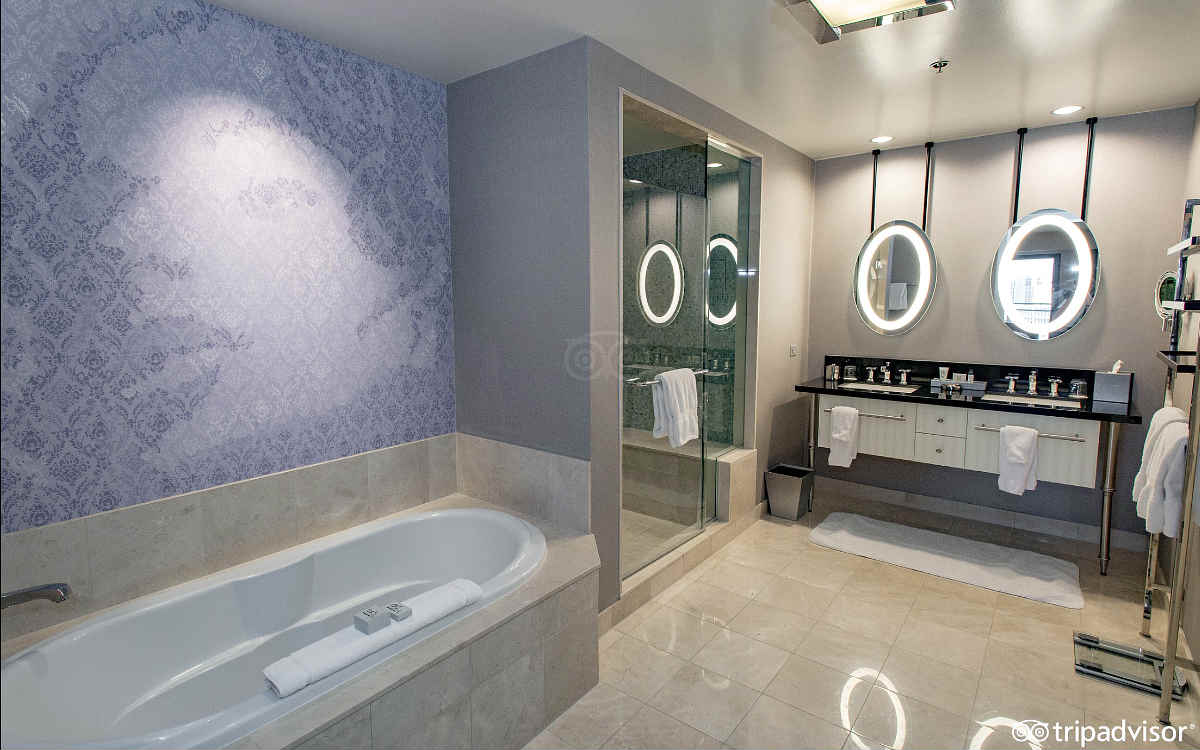 Cosmopolitan Bubbler Bath Tub ©TripAdvisor
The Cosmopolitan

- Attractions galore at this resort, including 26 restaurants and 7 lounges. Their Terrace Suite Fountain View Rooms not only have stunning views of the Strip and Bellagio Fountains but also come with "Bubbler Bath" jetted tubs in the master bath. What We Liked: Fantastic views of Bellagio Fountains…Their incredible Wicked Spoon Buffet. Worth Knowing: Request a room away from the Dayclub if you're sensitive to music noise during the day. 2023 ERV Rating*: 88% - Very Good. Spa Tub Size: 1-2 Persons. Spa Suite Prices from $240/night. (3708 Las Vegas Blvd S, 702-698-7000)
5. signature at Mgm grand
Signature MGM Grand Suite ©TripAdvisor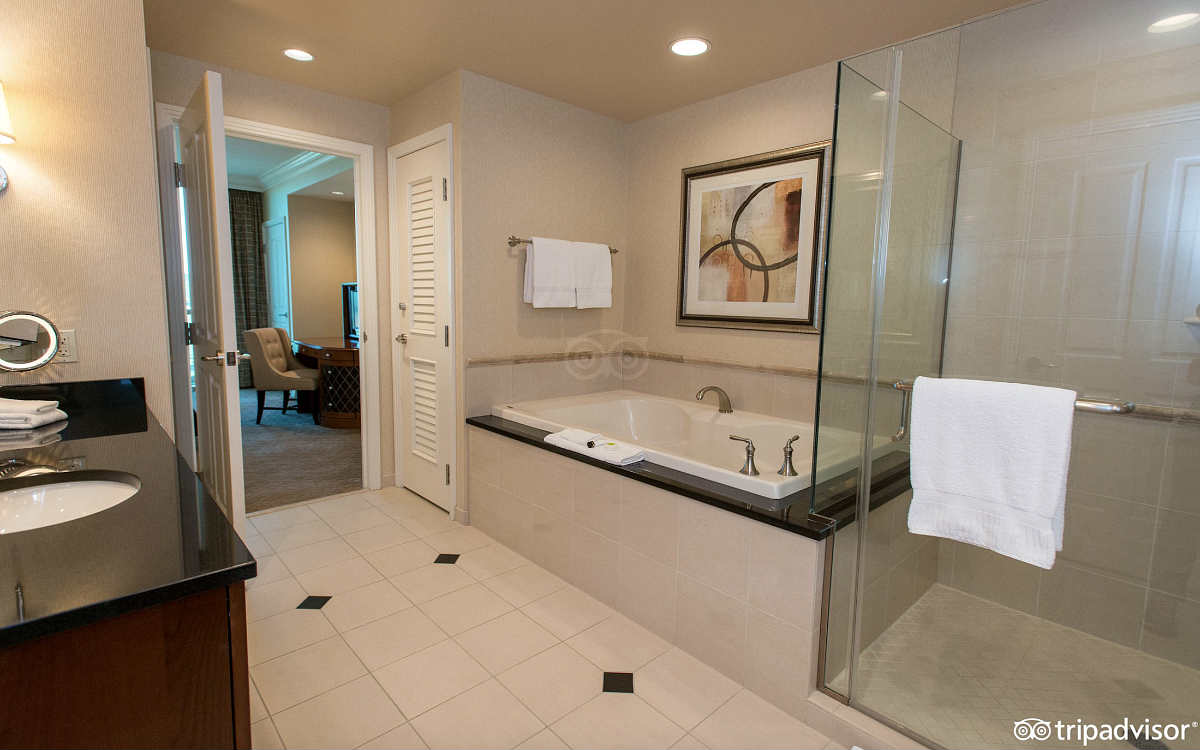 Master Bath with Spa Tub ©TripAdvisor
Signature at MGM Grand

- Located just off the Strip, with 3 pools, private balconies with views, and full kitchens in each unit. One of the advantages of The Signature is that you're basically connected to the MGM Grand and with an easy walk can access the great amenities there, including all the restaurants and their fabulous Lazy River. For jetted tub fun, the master bath in these suites are outfitted with a very nice jetted spa bath easily big enough for 2. What We Liked: Quiet & relaxed vibe, excellent value, great strip view from units facing northwest. Worth Knowing: Some "thumping" music noise noticeable in our south facing unit when Wet Republic had a pool party next door at MGM. 2023 ERV Rating*: 88% - Very Good. Whirlpool Tub Size: 2 Persons. Prices from $99/night. (145 E Harmon Ave, Las Vegas NV  877-727-0007)
FAQ: Comparing MGM Grand & Signature Resorts:
Q: How do MGM Grand and Signature at MGM Grand Compare for a jetted tub stay? 
A: If you don't mind walking and want the Lazy River, entertainment, restaurants, and access to the Strip, choose one of the MGM Grand's Tower Spa Suites (see below). However, if you prefer a quieter non-casino resort with easy access to smaller pools, and a nicer master bath with large Whirlpool tub, go with Signature at MGM Grand.
6. trump international suites with jetted tub
Trump Hotel Pool, Las Vegas ©TripAdvisor
JACUZZI® Tub, Trump Hotel ©TripAdvisor
Trump International Hotel

- Lots of hotels have views of the Strip, but pretty much everyone agrees that the view here is extra special. Upgrade to a suite and not only does the view get even better, but you can add a JACUZZI® Tub to the whole experience. What Other Guests Liked: Classy, non-casino property. Worth Knowing: Bit of a walk to the Strip, although you can cut through the Fashion Show Mall across the street in air conditioned comfort. 2023 ERV Rating*: 88%  - Very Good. JACUZZI® Tub Size: 2 Persons. Spa Suite Prices from $195/night. (2000 Fashion Show Dr, Las Vegas NV 866-939-8786)
7. the venetian resort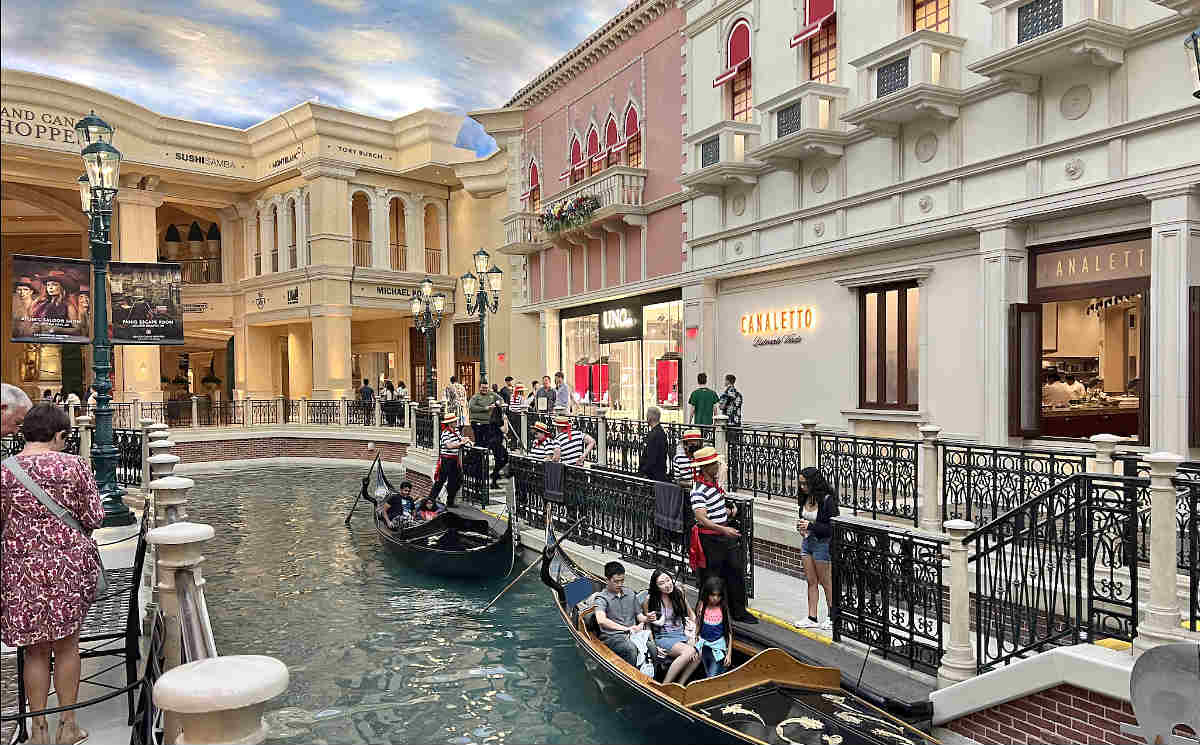 Venetian Resort Grand Canal & Gondolas
Venetian Jetted Spa Bath ©TripAdvisor
The Venetian

- Another taste of Italy, this one with the amazing Grand Canal, almost a reason in itself to spend your Las Vegas honeymoon or anniversary getaway here. Grand King Suites and above include jetted spa tubs, and if you opt for the Prestige Club Lounge package, you'll get private check in with Prosecco, daily breakfast, cocktail receptions and more. What Other Guests Liked: Budget-friendly food court eateries, unforgettable gondola rides. Worth Knowing: Get to the pool areas early for lounge chairs. 2023 ERV Rating*: 86% - Very Good. Spa Tub Size: 1-2 Persons. Spa Suite Prices from $175/night. (3355 Las Vegas Blvd S, Las Vegas NV 866-659-9643)
8. the Palazoo las vegas executive spa suites
Romantic Suite at the Palazoo ©TripAdvisor
Palazoo Spa Tub Suite ©TripAdvisor
The Palazoo Las Vegas

 - Sister property to the Venetian, and also offering wonderfully tasteful Italian-themed accommodation, including their Executive Suites with jetted tub. What Other Guests Liked: Large bathrooms with private toilets, security at the elevators. Worth Knowing: $45/night resort fee, no in-room coffee makers. 2023 ERV Rating*: 86% - Very Good. Spa Tub Size: 1-2 Persons. Spa Suite Prices from $153/night. (3325 South Las Vegas Blvd, Las Vegas NV 866-659-9643)
9. caesars palace spa tub suites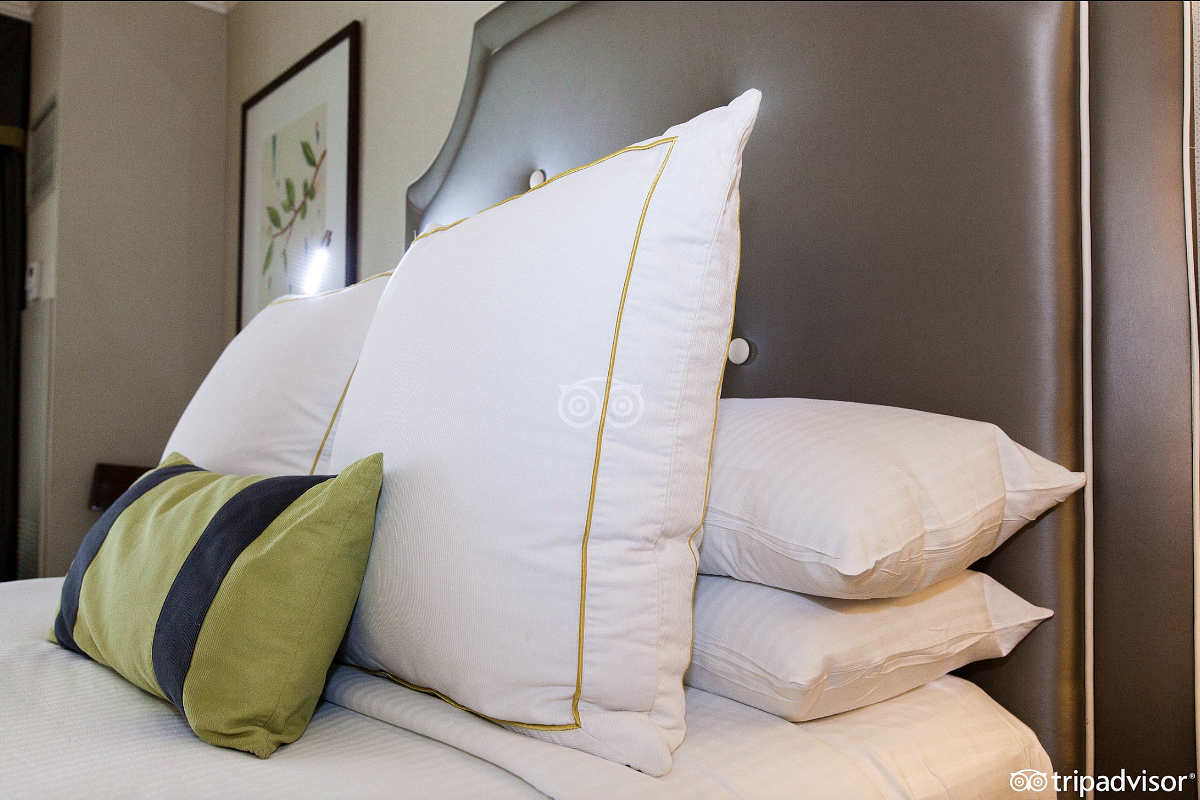 Premium Suite, Caesars Palace ©TripAdvisor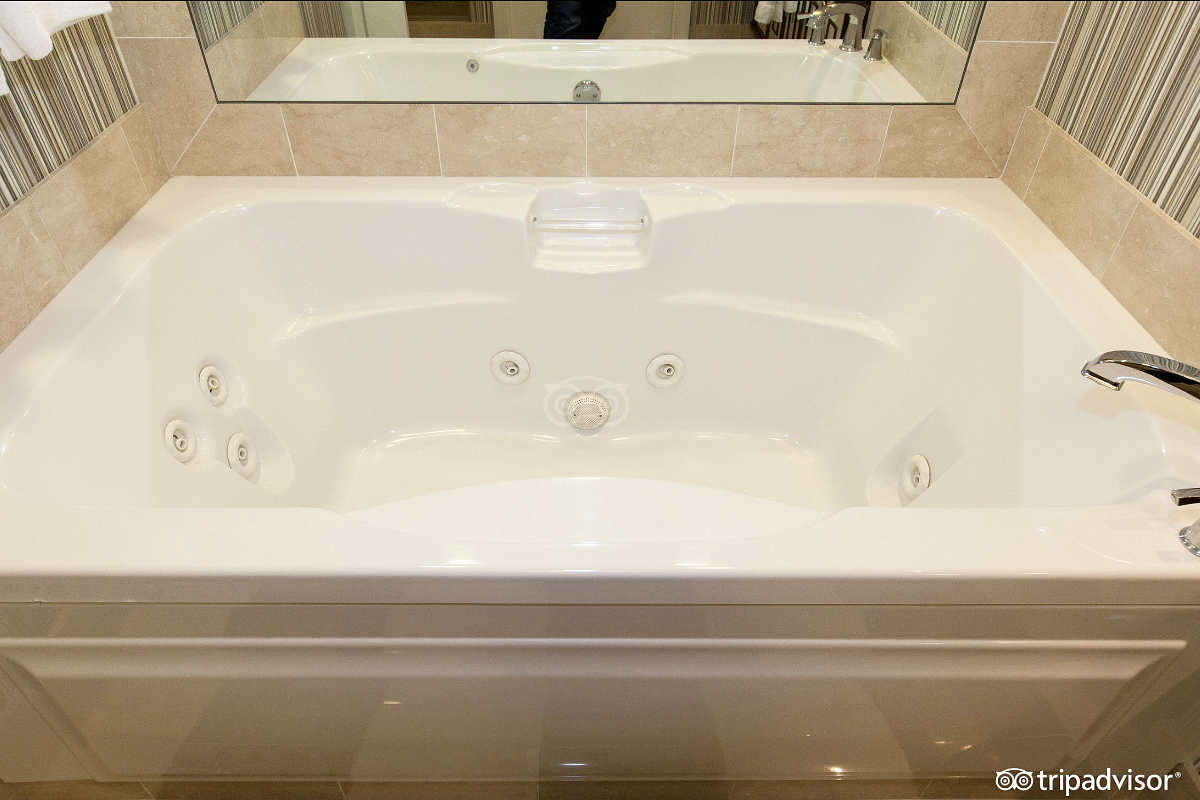 In-Room Jetted Tub at Caesars ©TripAdvisor
Caesars Palace

- An absolute legacy resort here in LV, with their Premium Suites and View Rooms offering an oversized spa bath tub. What Other Guests Liked: Easy self-parking, friendly accommodating staff. Worth Knowing: Huge maze-like property, rooms well worn but clean, some issues with spa tubs reported. 2023 ERV Rating*: 80% - Very Good. Spa Tub Size: 2 Persons. Spa Suite Prices from $129/night. (3570 South Las Vegas Blvd, Las Vegas NV 800-223-7277)
10. JW marriott las vegas resort
JW Marriott Resort Las Vegas ©TripAdvisor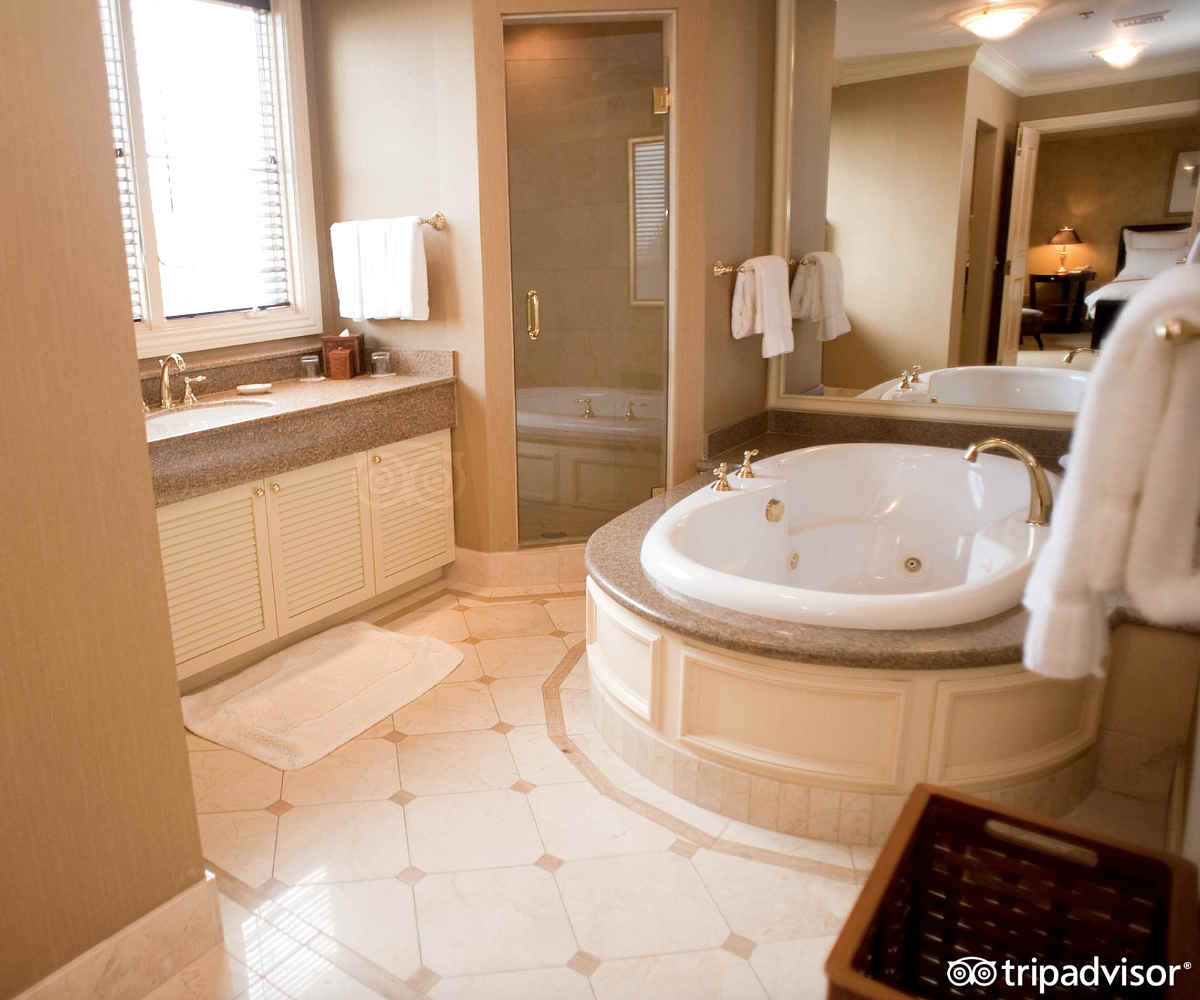 Marriott Las Vegas Spa Suite ©TripAdvisor
JW Marriott Las Vegas Resort

- Don't worry about room selection here, because all rooms and suites here at this luxurious Summerlin resort offer marble master baths with jetted spa tubs. What Other Guests Liked: Waterfall Pool, 10 restaurants and Starbucks on site. Worth Knowing: Located 20 minutes Northeast of the Strip. 2023 ERV Rating*: 80% - Very Good. Spa Tub Size: 2 Persons. Spa Suite Prices from $/night. (221 North Rampart Blvd, Las Vegas NV 702-869-7777)
las vegas & Nevada Romantic excursions on erv:
---
more las vegas whirlpool suites: 11-20
11. delano Las vegas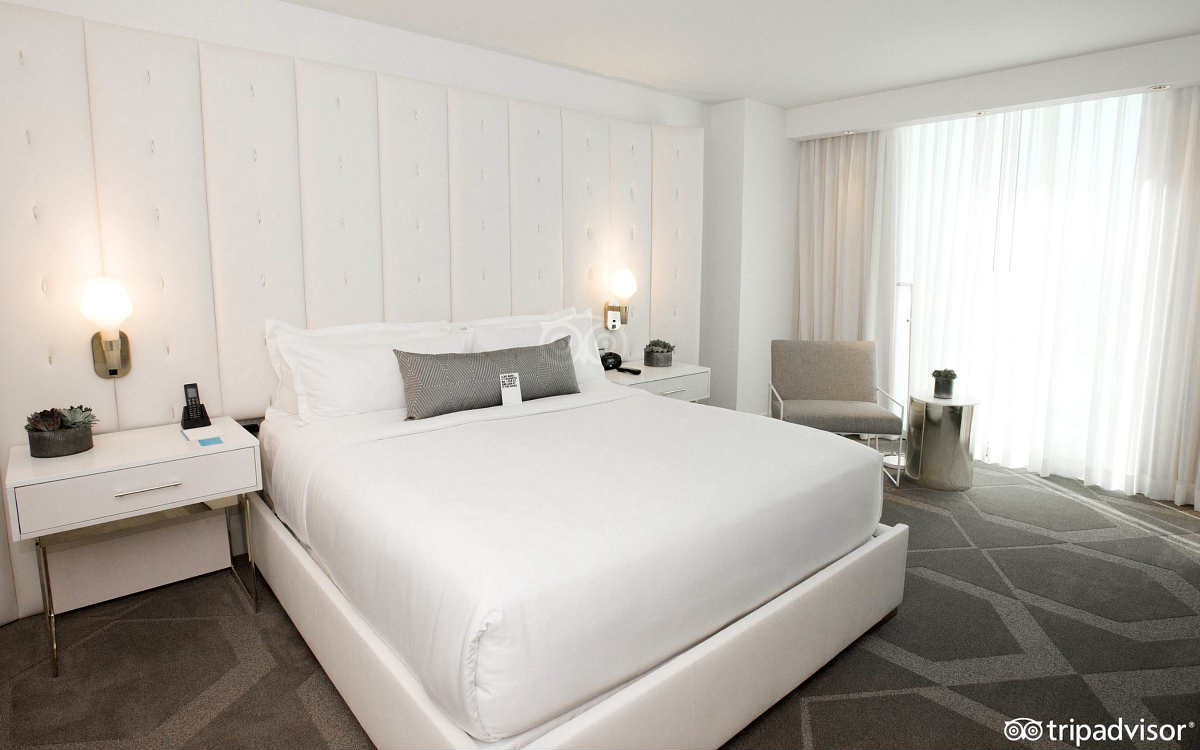 Delano King Suite ©TripAdvisor
Spa Style Tub, Delano Las Vegas
Delano

- All-Suite hotel situated next to Mandalay Bay. When you're ready to soak, we recommend the 725 square foot Delano Strip View King Suite with floor-to-ceiling windows, where you can view the lights of Las Vegas and soak in a spa-style tub! What Other Guests Liked: Easy parking, 2 bathrooms, views of Las Vegas from the Skyfall Bar. Worth Knowing: Fairly long walk to other resorts and Strip restaurants, etc. 2023 ERV Rating*: 76% - Good. Jetted Tub Size: 2 Persons. Spa Suite Prices from $132/night. (3940 S. Las Vegas Blvd, Las Vegas NV 877-632-5400)
12. paris las vegas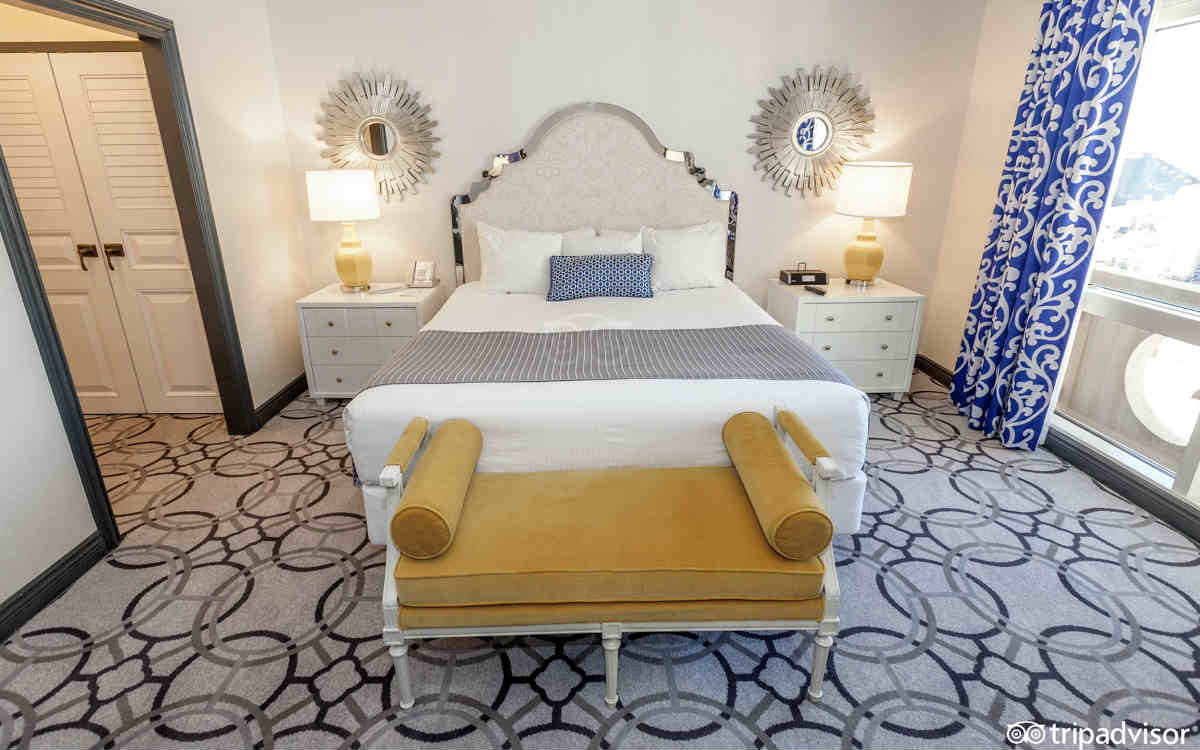 Paris Las Vegas King Bed Suite ©TripAdvisor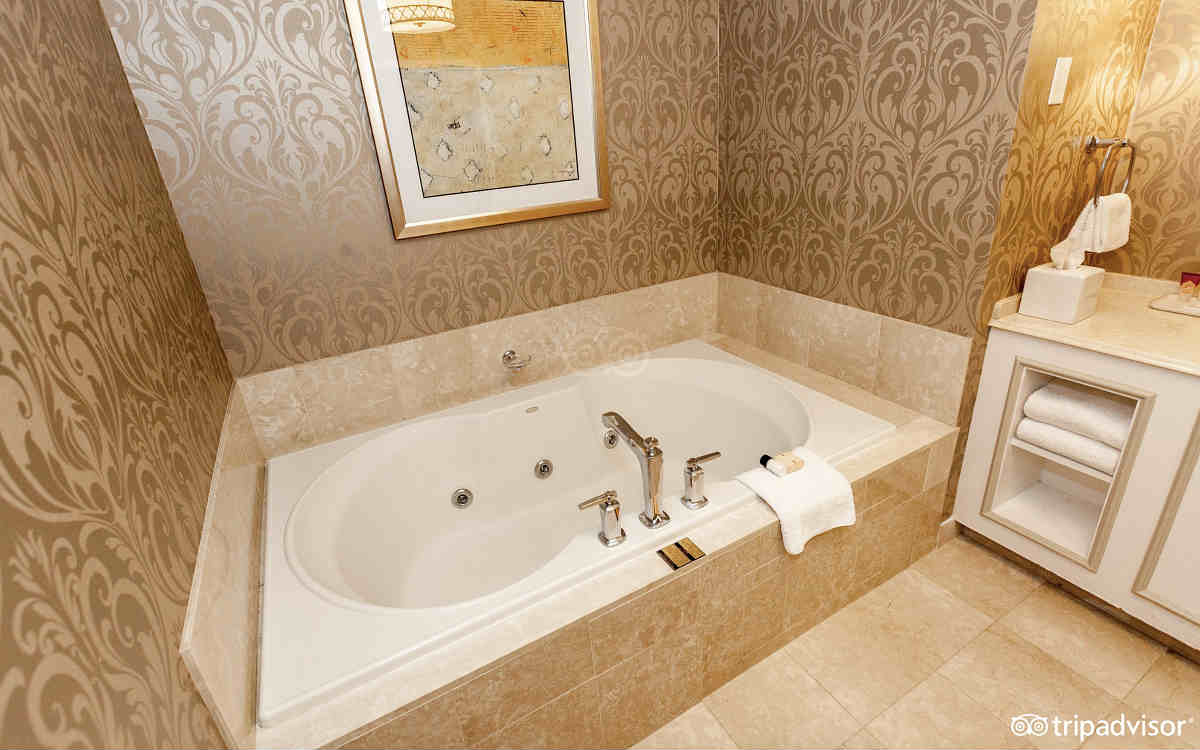 Whirlpool Tub, Paris Las Vegas ©TripAdvisor
Paris Las Vegas

- Still one of the most romantic hotels in Vegas. French-themed rooms are spacious and the Burgundy Petite Suite contains a Whirlpool tub and separate walk-in shower. What We Liked: Romantic restaurants like the Eiffel Tower Restaurant and Mon Ami Gabi perfect for honeymoons and anniversaries. Worth Knowing: Crowding at the pool can be an issue. 2023 ERV Rating*: 74% - Good. Spa Tub Size: 2 Persons. Spa Suite Prices from $179/night. (3655 Las Vegas Blvd S, Las Vegas NV 877-796-2096)
13. bellagio spa suites
The Beautiful Bellagio Resort at Night
Bellagio Suite with Jetted Spa Tub
Bellagio Las Vegas Spa Tub Suites

 - The original home of Italian elegance is on the Strip here at this luxury resort. Numerous suites here include Whirlpool Tubs, and the pool area is known for relaxation and superb drinks. What We Liked: Bellagio Fountains have to be the best free entertainment in all of Las Vegas. Worth Knowing: No coffee/tea makers included in the room. 2023 ERV Rating*: 74% - Good. Whirlpool Tub Size: 2 Persons. Spa Suite Prices from $349/night. (3600 South Las Vegas Blvd, Las Vegas NV 888-987-6667)
14. new york new york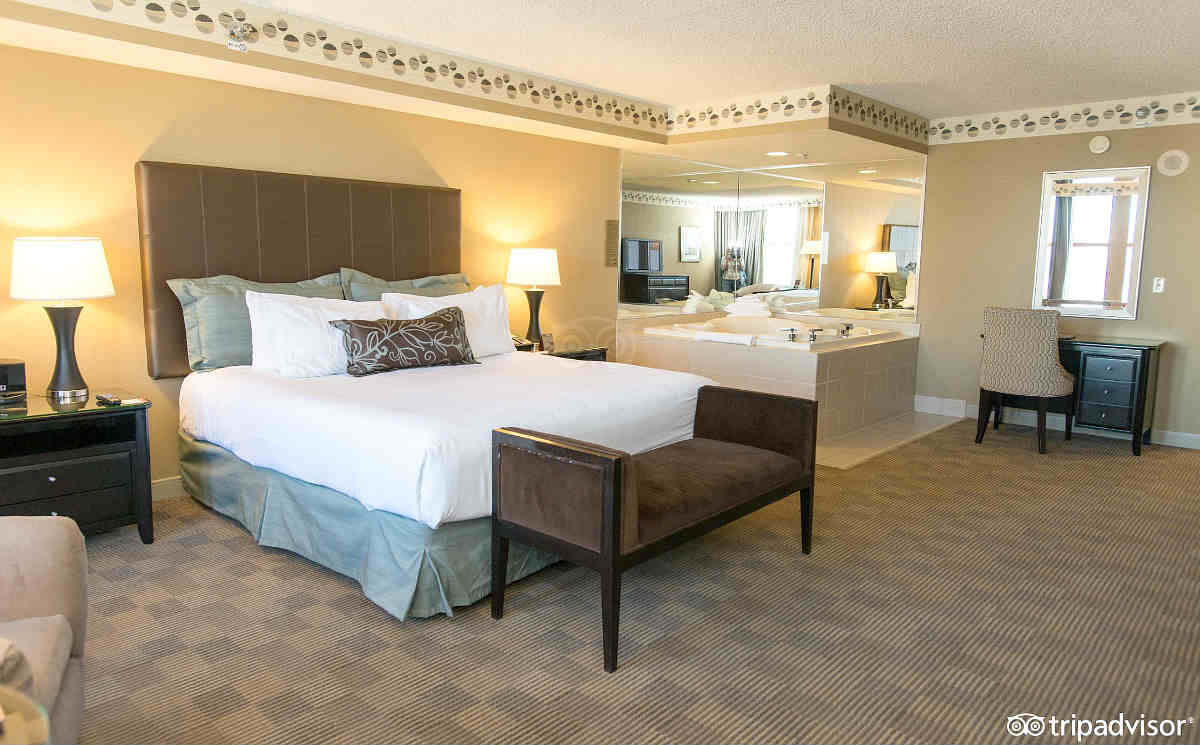 New York New York Suite in Las Vegas with a Clover-Shaped Whirlpool Tub ©TripAdvisor
New York New York

- A rollercoaster, the Statue of Liberty, extensive food options and a duelling piano bar are just some of the pull that this tribute to NYC resort has for travellers to Las Vegas. When it comes to room choices, the Spa Suite has what you're looking for with a beautiful clover-shaped jetted tub. What Other Guests Liked: Lots of live entertainment, NYC-themed eateries. Worth Knowing: Rooms could use a refresh. 2023 ERV Rating*: 74% - Good. Spa Tub Size: 2 Persons. Spa Suite Prices from $/night. (3790 South Las Vegas Blvd, Las Vegas NV 866-815-4365)
15. westgate flamingo bay resort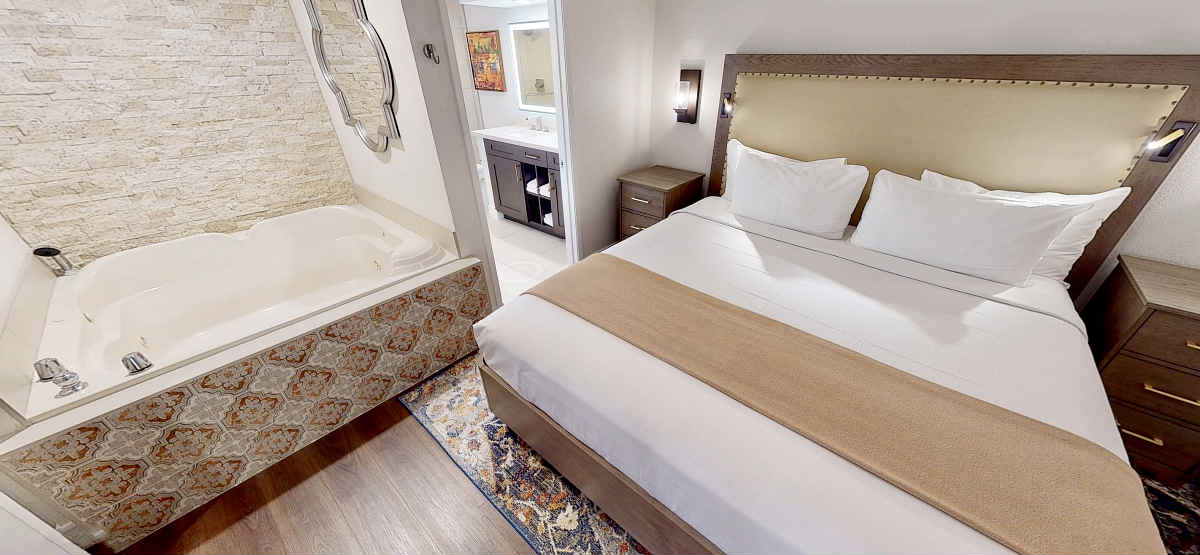 Westgate Flamingo Bay Resort One-Bedroom Villa with In-Room Jetted Tub
Westgate Flamingo Bay Resort

- Both 1 and 2 bedroom Villas are outfitted with kitchens, fireplace and 2-person jetted spa tubs. Loads of amenities too, like basketball court, pool and hot tub, mini-golf and more. Very good choice for a budget-friendly honeymoon or anniversary jetted tub suite stay in Las Vegas. What Other Guests Liked: Easy on-site parking, free shuttle service to the Strip. Worth Knowing: About 3 miles east of the Strip, Uber is about $12. 2023 ERV Rating* 74% - Very Good. Spa Tub Size: 2 Persons. Spa Suite Prices from $104/night. (5625 West Flamingo Rd, Las Vegas NV 702-252-6000)
16. Palms Place hotel
Pool at Palms Place Hotel, Las Vegas
Palms Place Spa Tub Master Bath ©TripAdvisor
Palms Place Hotel

- Right beside the Palms you'll find this quieter and peaceful retreat. Both Studio and Suite accommodation have very nice jetted spa baths, and amenities like kitchens, Italian bedding and hardwood floors. What Other Guests Liked: 2 Bedroom Penthouse Suites feature a JACUZZI® Tub on the balcony. Worth Knowing: Located 1.5 miles (20 min walk, 5 min drive) east of the Strip. 2023 ERV Rating*: 72% - Good. Jetted Tub Size: 2 Persons. Spa Suite Prices from $/night. (4321 W. Flamingo Rd, Las Vegas NV 866-752-2236)
17. treasure island whirlpool suites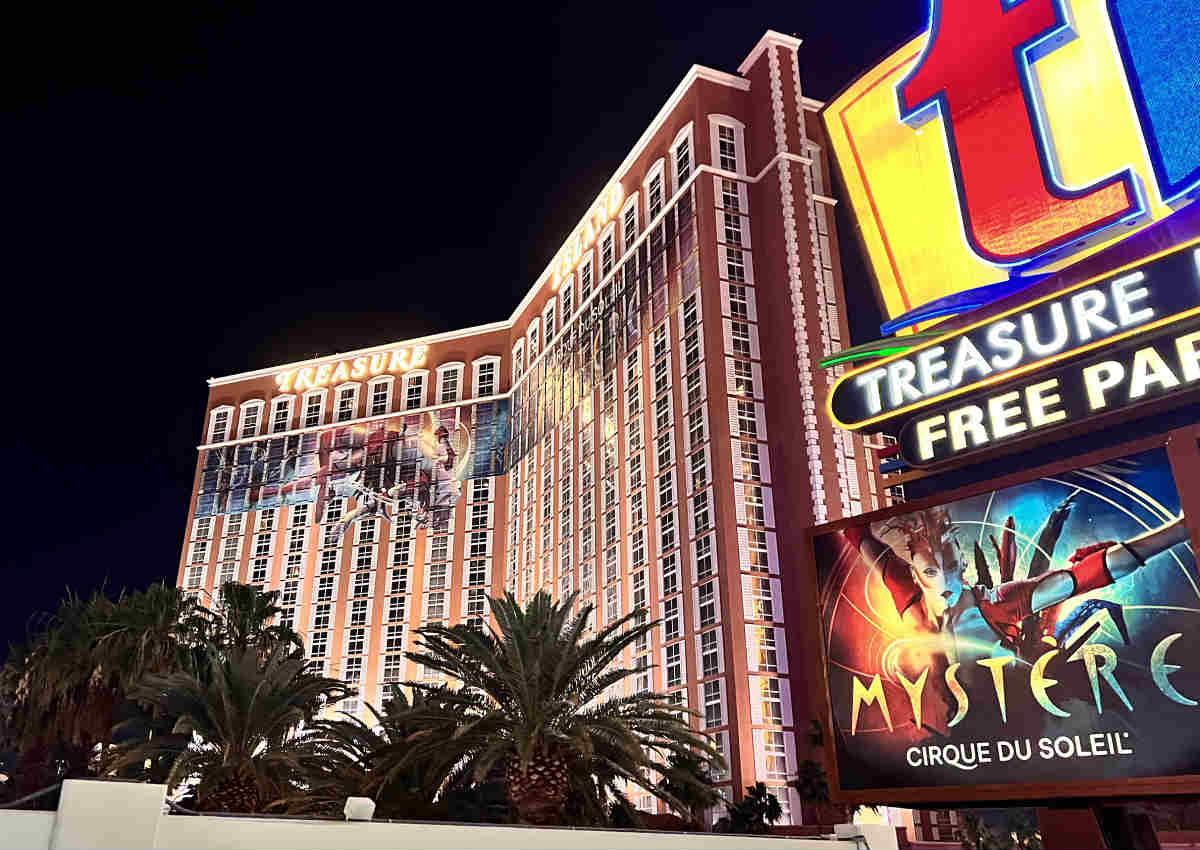 Treasure Island at Night on the Strip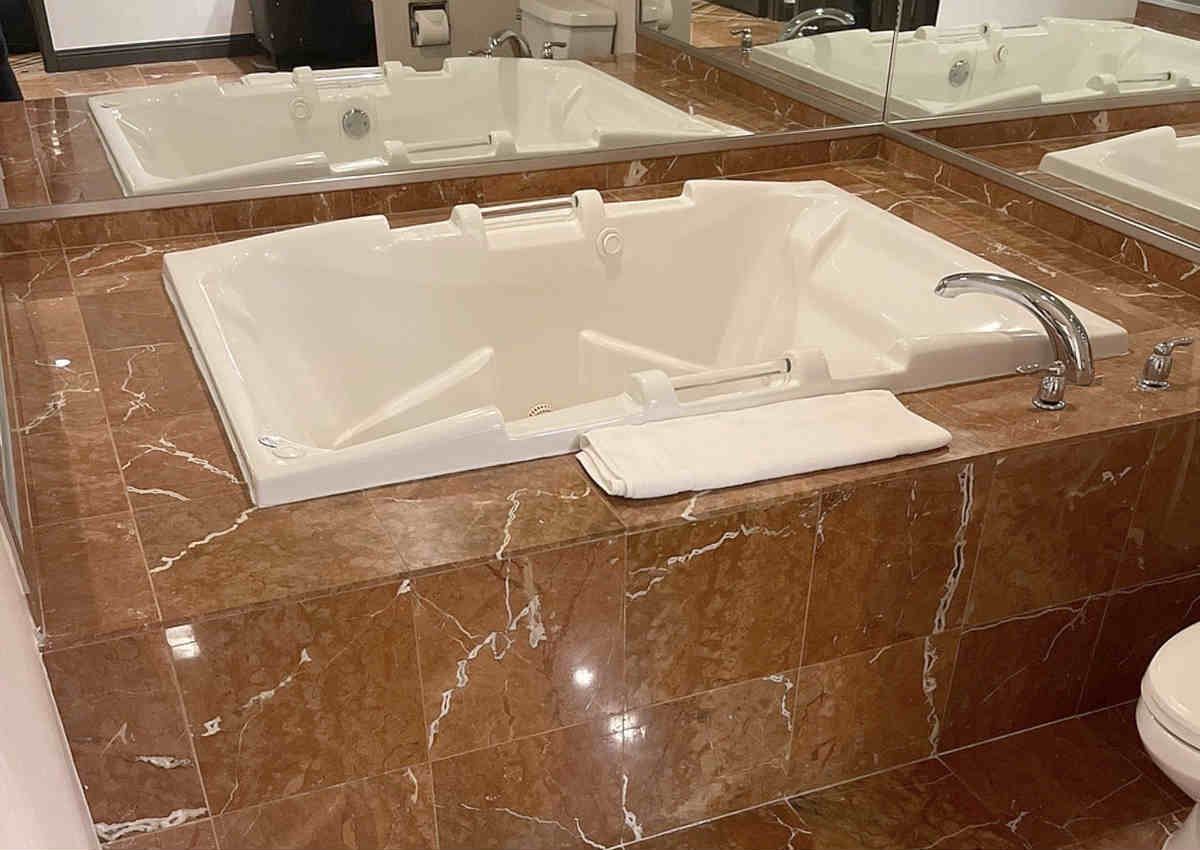 Treasure Island In-Room Whirlpool Tub
Treasure Island

- A long time affordable favorite of families, and recently renovated. Book one of their suites (Tower or Petite) and slide into a comfortable Whirlpool tub of generous size. What Other Guests Liked: Steps from the Fashion Show Mall, Starbucks on-site. Worth Knowing: $39 nightly resort fee includes valet or self-parking. 2023 ERV Rating*: 72% - Good. Spa Tub Size: 2 Persons. Spa Suite Prices from $135/night. (3300 Las Vegas Blvd S, Las Vegas NV 800-288-7206)
18. red rock resort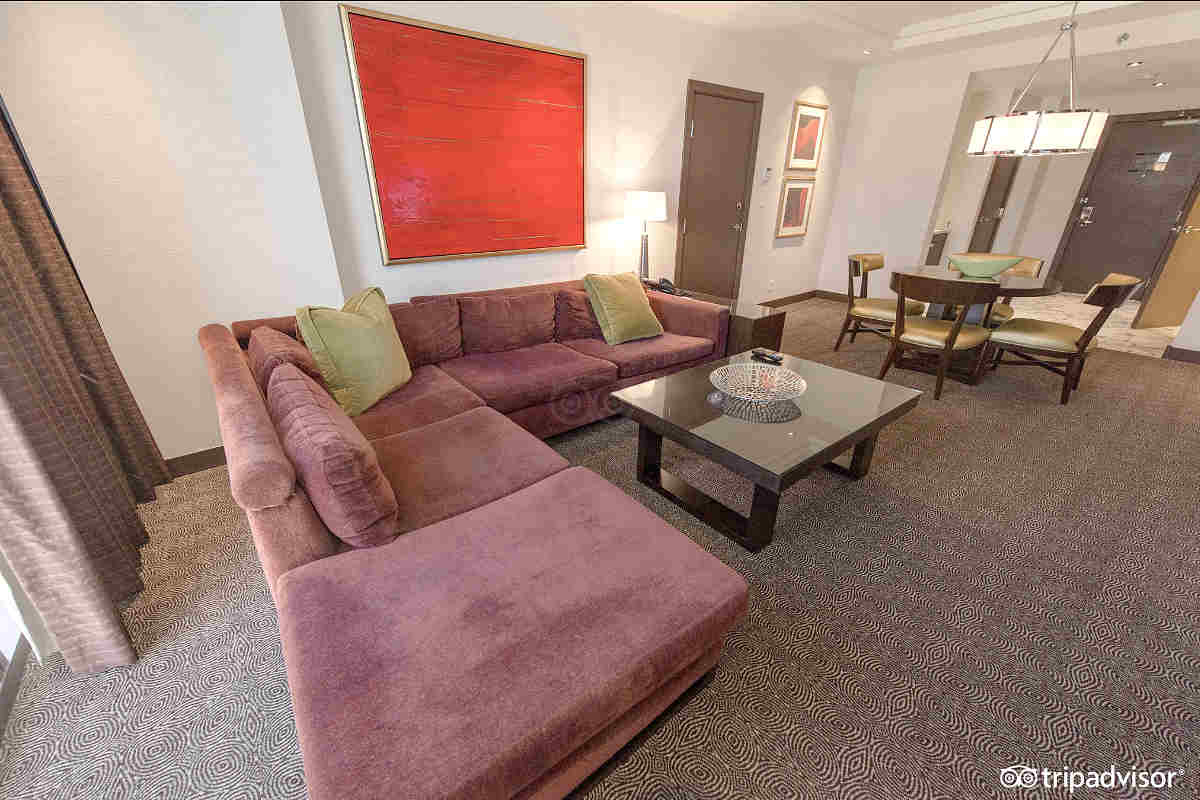 Red Rock Resort ©TripAdvisor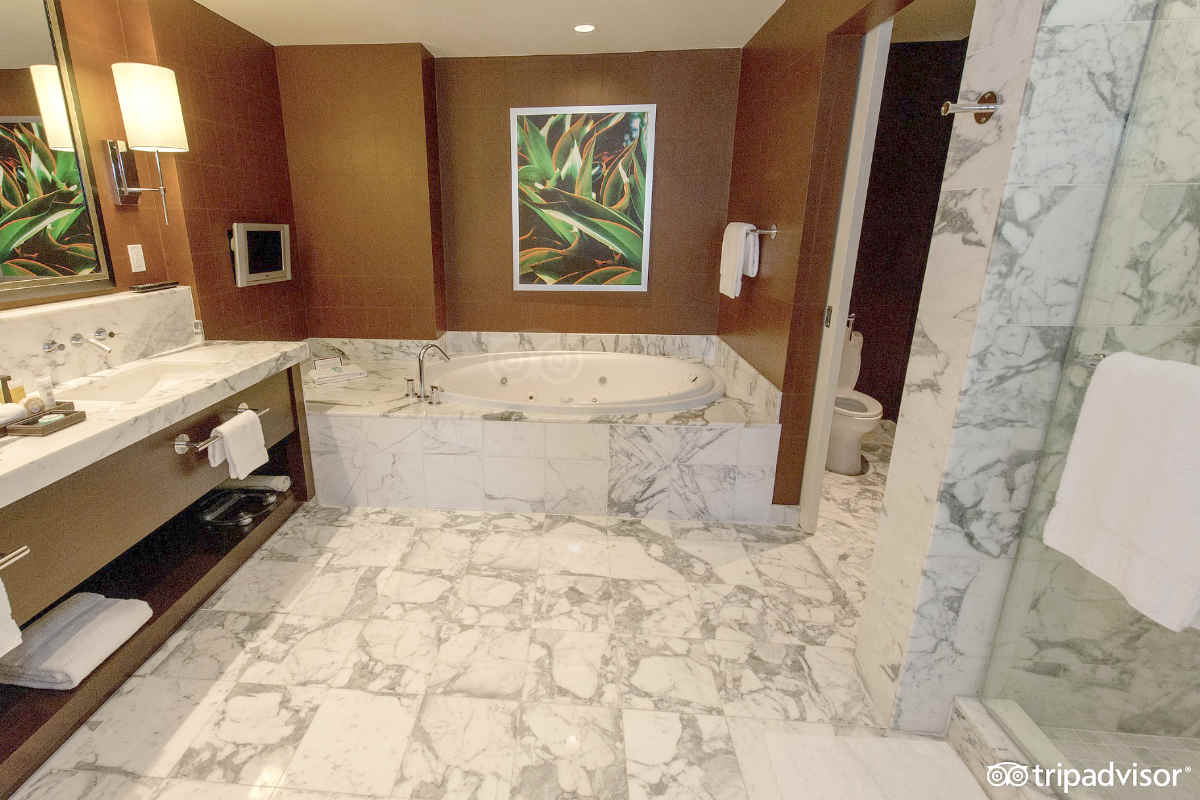 Signature Suite Spa Bath ©TripAdvisor
Red Rock Resort

- For Vegas Off-Strip romantic resorts with hot tub suites, you can't go wrong with the Red Rock. The amenities list here almost reads like a mall, and includes a food court, movie theater and bowling alley. There's other excursions closer to nature as well, like rock climbing, kayaking and horseback rides. Both their Signature and Presidential Suites have jetted spa tubs. What Other Guests Liked: Starbucks and Fatburger on site. Worth Knowing: Located in Summerlin about 12 miles west of The Strip. 2023 ERV Rating*: 72% - Very Good. Spa Tub Size: 2 Persons. Spa Suite Prices from $407/night. (11011 W. Charleston Blvd, Las Vegas NV 702-797-7777)
19. Tropicana
Tropicana Resort, Las Vegas ©TripAdvisor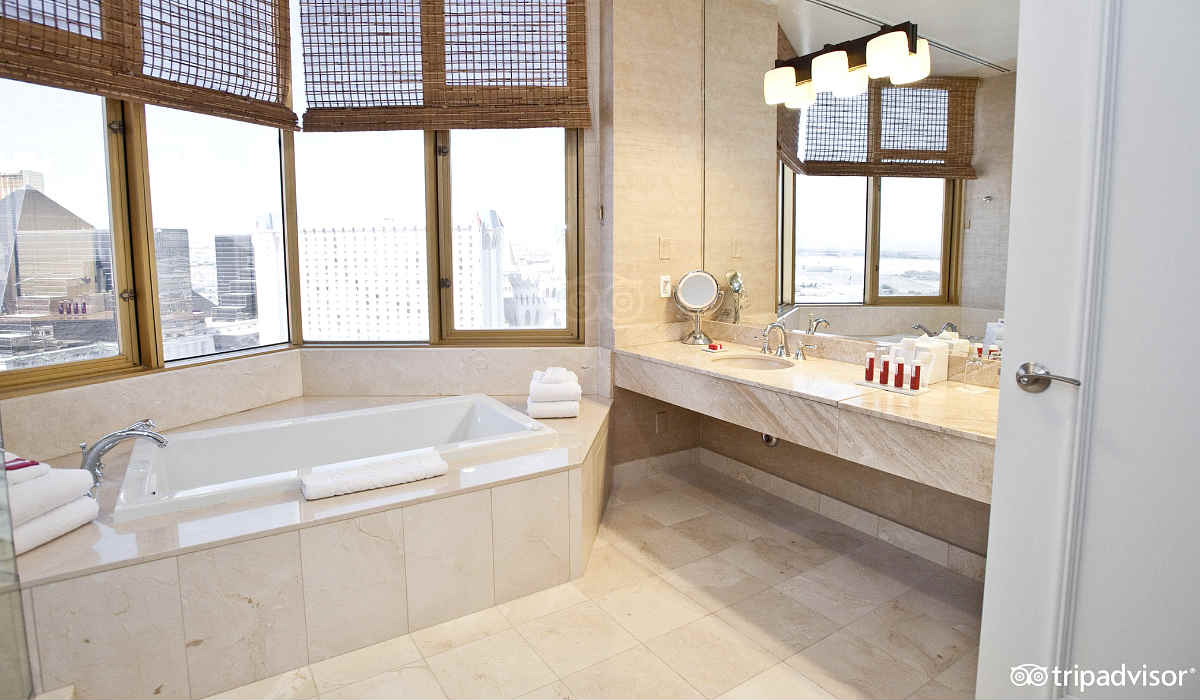 Penthouse Suite, Tropicana ©TripAdvisor
Tropicana

- King Rooms with Spa Bath and Penthouse Suites are some of the highlights of this veteran Las Vegas hotel, which has been refreshed with a sort-of Miami Beach look and feel. What Other Guests Liked: Rooms quite spacious, close to the airport, Breakfast/brunch at Bacio's. Worth Knowing: One of the older hotels on the Strip, rooms feel a bit dated. 2023 ERV Rating* 68% - Fair. Spa Tub Size: 2 Persons. Spa Suite Prices from: Contact Hotel. (3801 South Las Vegas Blvd, Las Vegas NV 888-381-8767)
20. mgm grand tower spa suites
Lazy River at the MGM Grand, Las Vegas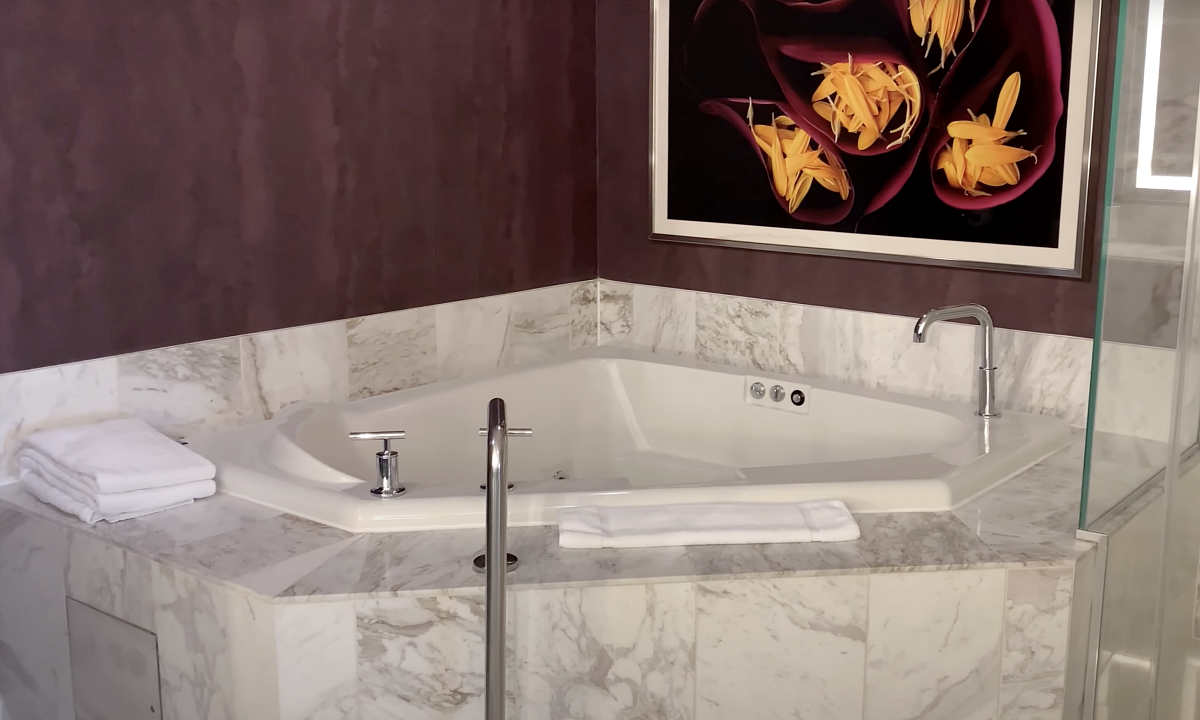 MGM Grand Tower Spa Suite
MGM Grand Tower Spa Suites

- Another MGM Grand set of suites which makes our top 20. 2-person jetted Whirlpool tubs are the signature feature in the marble master baths at these very spacious suites. Pool-wise we love their Lazy River, which has to be one of the best pool experiences in the city. What We Liked: Huge resort with so many entertainment and dining choices. Worth Knowing: Tower Suites could probably use a renovation. 2023 ERV Rating*: 64% - Fair. Spa Tub Size: 2 Persons. Spa Suite Prices from $234/night. (3799 South Las Vegas Blvd, Las Vegas NV 877-880-0880)
*ERV Rating: our unique, non-scientific ratings for romantic accommodation include:
Amenities: including Whirlpool bath or 

JACUZZI

®

Tub

,

scenic view, fireplace, lounge, etc
Location: proximity of hotel to restaurants, pubs, downtown, etc
Clientele: demographic the hotel attracts (couples, families, business travelers, etc)
Popularity: based on social media & crowd-sourced reviews 
Value: product offered compared to room rate 
Please Note: percentage ratings are not absolute but for comparative use only  
top hotels, getaways & packages on ERV
---