Arizona Hot Tub Suites in Phoenix, Tucson & more  
FTC: This page uses affiliate links. More. 

Arizona
By: Greg Mattson, ERV Editor - Updated: May 26, 2021   

Got Arizona in your romantic travel plans for 2021? Here's what you need to book a hotel room with a romantic JACUZZI® Brand tub in it. Or an in-room Whirlpool® tub suite in Arizona's best destinations, including the Phoenix-Scottsdale area, as well as Tucson, Sedona, The Grand Canyon and Lake Havasu, AZ.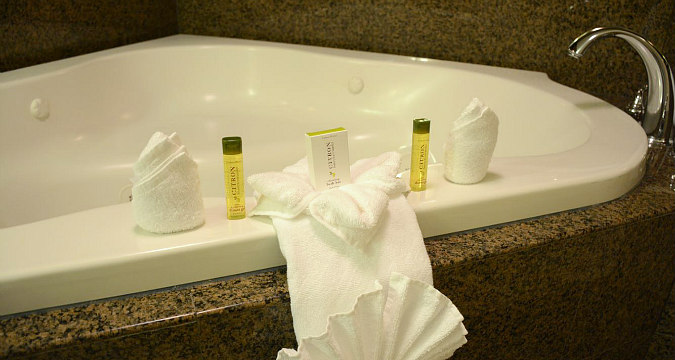 Book a Romantic Hotel Hot Tub Suite for Your Next Getaway in Arizona
About This Guide to Arizona Hot Tub Suites: we don't list accommodation with outside hot tubs. This page will direct you only to hotel suites with a JACUZZI® Brand Tub, a Whirlpool tub suite, or a jetted tub in-room, for the most privacy and romance! 
Disclaimer: JACUZZI® is a registered trademark owned by Jacuzzi Inc. The use of the JACUZZI® trademark on this website is for informational purposes only. There is no relationship, connection or affiliation between this website and Jacuzzi Inc. or its related companies. As hotel rooms and amenities can change, please check with each individual accommodation property before making travel plans. Please Note: rooms and tubs described may not be exactly as shown.
---
Whirlpool & Spa Tub Suites in the Phoenix/Scottsdale Area
scottsdale, az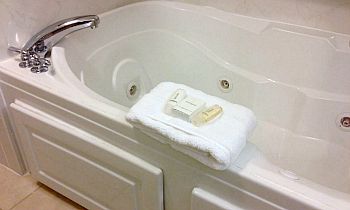 Hilton Garden Inn Hot Tub, Scottsdale
Hilton Garden Inn Scottsdale North/Perimeter Center - perfect for a romantic getaway within your budget, these Scottsdale suites with Spa Bath tubs also include an outdoor pool and Hilton's Garden Grille & Bar. 2021 ERV Rating* for Scottsdale Hotel Hot Tub Suites: 84%

 - Very Good. 

(8550 East Princess Dr, Scottsdale, AZ 480-515-4944)
mesa, AZ
Book a Country Inn & Suites Mesa Hot Tub
Country Inn & Suites by Radisson Mesa - you can book their King Suite with Whirlpool, which comes with both fireplace and a balcony. They've also got complimentary breakfast buffet and shuttle to PHX Airport, just 5 miles away.  2021 ERV Rating* for Mesa AZ hotels with In-Room Spa Tubs: 72% - Good. (6650 East Superstition Blvd, Mesa AZ)
Phoenix
Hampton Inn Phoenix-Biltmore - spend the evening relaxing in one of their King rooms with a spacious Whirlpool

 

tub in the bathroom, and swim in their outdoor pool or check out the shops and restaurants at nearby Biltmore Fashion Park and Old Town Scottsdale during the daytime. 2021 ERV Rating* for Phoenix Hotel Hot Tub Suites: 88% - Very Good. (2310 E. Highland Ave, Phoenix AZ 602-956-5221)
More Phoenix hot Tubs on erv:
Glendale, AZ
Romantic Whirlpool® Tub in Glendale AZ
Renaissance Phoenix Glendale Hotel & Spa - look for their King Suites when you book, which have Whirlpool

 

suites with tubs large enough for 2 people. The Hotel is just steps way from Westgate Entertainment Center. 2021 ERV Rating* for Glendale AZ Hotel Rooms with Hot Tubs: 82% - Very Good. (9495 W. Coyotes Blvd, Glendale AZ  623-937-3700) 
---
more Arizona Hotels with a JACUZZI® Tub
Sedona, AZ: 
The Southwest Inn at Sedona

 - located in one of Arizona's most romantic destinations, the Southwest Inn

advertises

 both King Rooms outfitted with a JACUZZI® T

ub and separate showers in the bathroom. 2021 ERV Rating* for Sedona AZ Spa Tub Suites: 86% - Very Good. (3250 State Route 89A, Sedona AZ 928-282-3344)
Kingman, AZ:
Best Western Plus A Wayfarer's Inn & Suites Kingman - a top-rated, pet-friendly motel located very close to I-40, this Best Western advertises a suite offering free Wi-Fi and a JACUZZI

® Tub. There's also

 complimentary hot breakfast, pool and fitness room. 2021 ERV Rating* for Kingman AZ Hotel Spa Tub Suites: 94% - Excellent. (2815 E Andy Devine Ave, Kingman AZ  928-753-6271)
Spa Tub & Whirlpool
 

Tub Suites Near Grand Canyon & Northern Arizona

Grand Canyon, AZ:
Best Western Premier Grand Canyon Squire Inn - see the spectacular sights at the nearby Grand Canyon, and then check in to this AAA 3-Diamond Best Western hotel with Spa Tub suites just 2 miles from the entrance to the park. 2021 ERV Rating* for Grand Canyon Hot Tub Suites: 76% - Good. (74 State Route 64, Grand Canyon, AZ 800-622-6966)
Flagstaff, AZ:

Hampton Inn & Suites Flagstaff - you'll be glad you made a reservation at a reliably comfortable Hampton Inn as you arrive in Flagstaff. Whirlpool suites here are non-smoking with complimentary Wi-Fi, and the hotel has been awarded the TripAdvisor Certificate of Excellence. 2021 ERV Rating* for Flagstaff AZ Jetted Tub Suites: 78% - Good. (2400 South Beulah Blvd, Flagstaff AZ 928-913-0900)
Prescott, AZ: 
Springhill Suites Prescott

- close to all the shops and dining in Prescott's famous Whiskey Row, this Marriott hotel's 1 bedroom Whirlpool suites have jetted tubs for 2 people, and in the morning a deluxe deli-style buffet breakfast.

2021 ERV Rating* for Las Vegas Hotel Hot Tub Suites: 90%

 - Excellent.

(200 East Sheldon St, Prescott, AZ 928-776-0998)
More Romantic getaways in & near Arizona:
---
Southern Arizona Jetted Tub Suites
Tucson, AZ:

Fairfield Inn & Suites Tucson North/Oro Valley - this Marriott hotel is close to restaurants and shopping, enjoys a nice view of the mountains from Oro Valley, and comes with several room choices, including Studio King rooms with Whirlpool tub. Complimentary Wi-Fi and free hot breakfast are included. 2021 ERV Rating* for Tucson AZ Whirlpool Suites: 70% - Good. (10150 N. Oracle Rd, Oro Valley AZ 520-202-4000)
---
Western Arizona Hotel Hot Tub Suites
Jetted Spa Tub - Hampton Inn Lake Havasu City, AZ
Lake Havasu City:

Hampton Inn Lake Havasu City - romantic travellers at this popular Western Arizona destination can check into the Hampton Inn, next to beautiful Lake Havasu. Amenities include complimentary Wi-Fi, pool, breakfast, HDTV and a spacious Whirlpool

® 

tub in the main bathroom. 2021 ERV Rating* for Lake Havasu, Arizona Whirlpool® Suites: 74% - Good. (245 London Bridge Rd, Lake Havasu City, AZ 928-855-4071)
Yuma, AZ:

Best Western Inn Suites Yuma - perfectly located for romantic travelers looking to book a hot tub hotel suite near the Arizona-California border. In addition to their spa tub honeymoon suites, this Best Western's amenities include an outdoor heated pool, free buffet breakfast and an on-site Cafe & bar. 2021 ERV Rating* for Yuma AZ Jetted Tub Suites: 76% - Good. (1450 S. Castle Dome Ave, Yuma AZ 928-783-8341)
Bullhead City:
Our research into honeymoon suites with a JACUZZI® Tub in this area of Western Arizona leads us to recommend that you consider driving just across the river and checking into a hot tub suite in Laughlin, NV. See our special page on Nevada Hot Tub Suites for more.
*ERV Rating: our unique, non-scientific ratings for romantic accommodation include:
Amenities: including Whirlpool bath or 

JACUZZI

®

Tub

,

scenic view, fireplace, lounge, etc
Location: proximity of hotel to restaurants, pubs, downtown, etc
Clientele: demographic the hotel attracts (couples, families, business travelers, etc)
Popularity: based on social media & crowd-sourced reviews 
Value: product offered compared to room rate 
Please Note: percentage ratings are not absolute but for comparative use only.  
Excellent Romantic Vacations - Top Pages
---