Colorado Springs Whirlpool Suites 
Colorado Springs, CO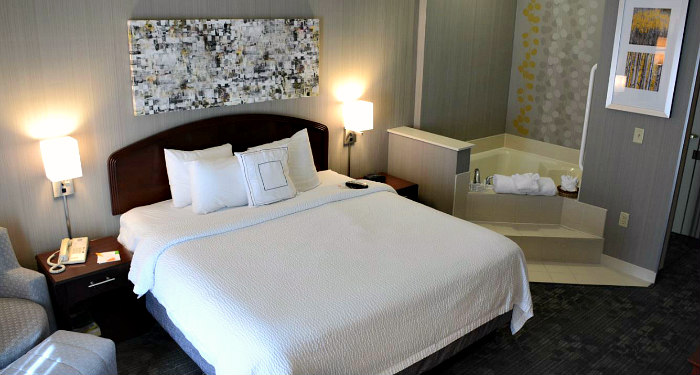 King Whirlpool Suite at the Courtyard Colorado Springs South
By: Greg Mattson, ERV Editor - Updated: Apr 10, 2018   

Here's a feature on a very nice hotel hot tub suite we had the privilege of enjoying for 2 nights in Colorado Springs, Colorado. It's the Courtyard by Marriott Colorado Springs South, and if you're looking to book a hotel suite with a spacious 2-person JACUZZI® tub near the Rocky Mountains in Central Colorado, this is a fine choice.  
Disclaimer: JACUZZI® is a registered trademark owned by Jacuzzi Inc. The use of the JACUZZI® trademark on this website is for informational purposes only. There is no relationship, connection or affiliation between this website and Jacuzzi Inc. or its related companies. As hotel rooms and amenities can change, please check with each individual accommodation property before making travel plans to ensure that the hotel room you have booked includes an authentic JACUZZI® brand hot tub. Please Note: rooms and tubs described may not be exactly as shown.
FTC: This page uses affiliate links. More. 

Hotel Front Entry & Lobby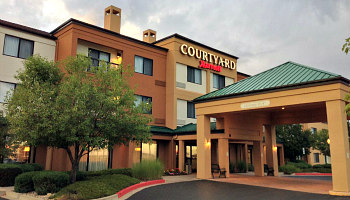 Hotel Front Entry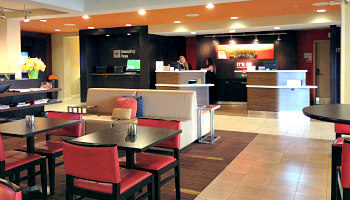 Hotel Lobby & Check-In
King Whirlpool Suite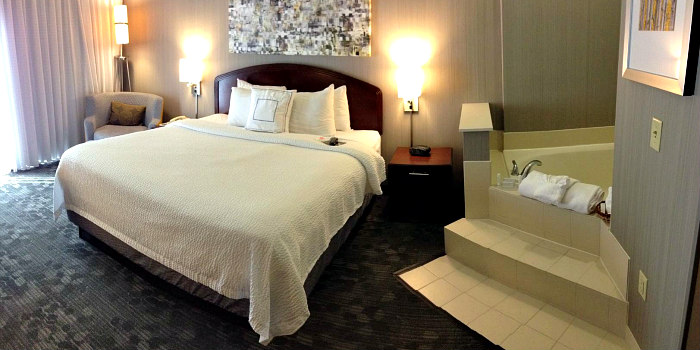 KIng Bed and Corner JACUZZI® Tub at the Courtyard Colorado Springs South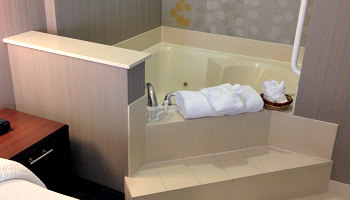 Corner Tub Near the King Bed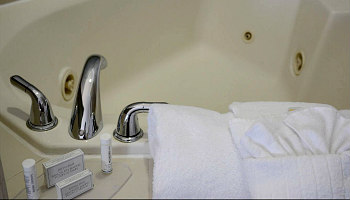 Jetted Tub and Towels
What Other Couples Like About The Courtyard Colorado Springs South: 

indoor pool and hot tub - 

Well lit parking lot - comfortable beds - good location - affordable rates - friendly and considerate staff. 

2018 Rating* for Colorado Springs, Colorado Whirlpool Suites:

 

80%

 - Very Good.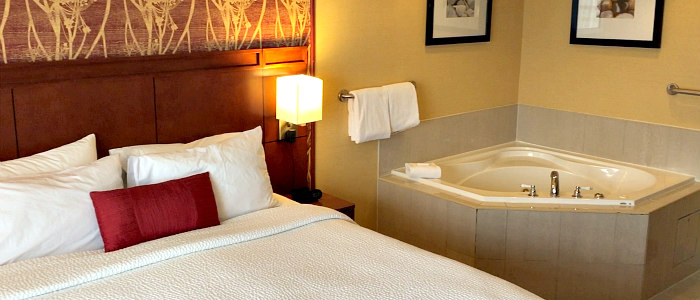 King Bed with Private JACUZZI® Tub Big Enough for 2 Persons
Courtyard Colorado Springs South - FAQ:
Where is the Courtyard Colorado Springs South Located?
The Hotel's address is 2570 Tenderfoot Hill St, Colorado Springs, CO 80906  719-226-5006
What is the Hotel Close to?  
It's location is on the south side of the city, and it's about 4 miles from Downtown Colorado Springs. It's just a short drive to Peterson Air Force Base, Pikes Peak and Seven Mountain Zoo.
How Much Per Night Do Rooms with Hot Tubs Here Cost?
Prices for this Colorado Springs, CO Suite with a JACUZZI® tub start at around $180/night. Non-hot tub rooms cost around $141/night. (Sample room rates from April 2018, rates vary throughout the year)
Can You Pay With Marriott Points Here?
Yes, you can.
How Big is the JACUZZI® Tub?  
Big enough for 2 people. It's located in the room (not in the bathroom), in the corner near the bed.
Is there a Fireplace in the Room?
No, not at this hotel.
Yes, complimentary.
Are the Rooms and Hotel Location Quiet?
We enjoyed our stay here and did not notice any noise problems.
Free, and lots of spaces.
Does This Marriott Hotel Have a Restaurant?
Yes, Marriott's Bistro restaurant, with both breakfast and dinner choices, as well as Starbucks coffee available. 
Hotel Pool & Fitness Room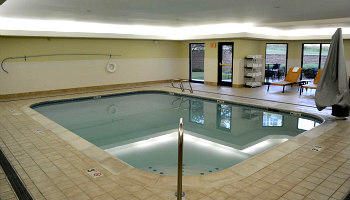 Courtyard South Indoor Pool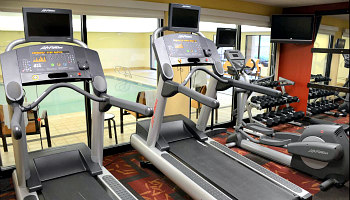 Fitness Room
*ERV Rating: our unique, non-scientific rating formula for romantic hotels which includes:
Romantic Amenities: suites with an in-room Whirlpool bath or 

JACUZZI

®

Tub

,

scenic view, fireplace, lounge, etc
Location: proximity of hotel to restaurants, pubs, downtown, etc
Clientele: demographic the hotel attracts (couples, families with kids, business travelers, etc)
Popularity with Couples & Honeymooners: based on variety of social media & crowd-sourced reviews.   
Video: Courtyard Colorado Springs Whirlpool Suite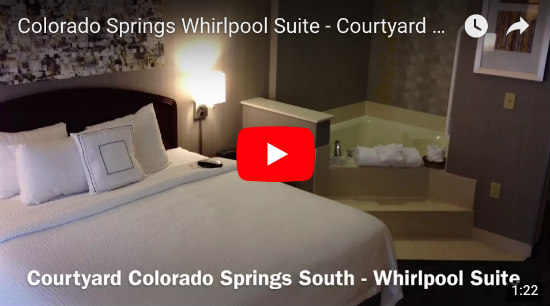 Excellent Romantic Vacations - Top Pages
---