Denver
Denver hot tub suites - whirlpool suites in Romantic hotels & Inns
FTC: This page uses affiliate links. More. 

---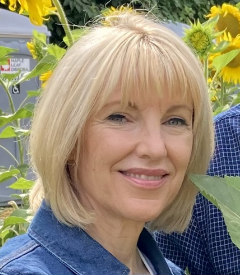 By: Maureen Mattson, ERV Asst Editor - Updated Jul 22, 2022
Looking for a romantic hotel suite with private jetted tub in Denver, Colorado? We've got the lowdown on where to stay in the downtown section of the Mile High City, as well as nearby Broomfield, Englewood, Aurora and Golden. 

Book a Romantic Denver Spa Tub Suite Getaway
With plenty of outdoor activities and unforgettable Rocky Mountain views, you can't go wrong with Denver for your next getaway.

Disclaimer: JACUZZI® is a registered trademark owned by Jacuzzi Inc. The use of the JACUZZI® trademark on this website is for informational purposes only. There is no relationship, connection or affiliation between this website and Jacuzzi Inc. or its related companies. Rates shown are approximate only and subject to change. Hotel rooms, jetted tubs and amenities can change, and may not be exactly as shown, so please contact the hotel or inn before making travel plans.
---
denver CO hotel rooms Jetted tubs
capitol Hill Inn
Capitol Hill Mansion, Denver
Capitol Hill Inn Denver

 - Right in the heart of Denver, this historic B&B features private balconies, gas fireplaces and turret windows. The Gold Banner Suite has a triangular Whirlpool tub, brass bed and beautiful views of the Rockies. The Shooting Star Balcony room is a romantic retreat with a Whirlpool tub and unique floral mural. What Other Guests Liked: Located in the heart of the Museum district, and a short walk to restaurants, theatres and shopping. Brunch in the garden. Worth Knowing: No elevator. 2022 ERV Rating*: 96% - Very Good. Whirlpool Tub Size: 2 Persons. Whirlpool Suite Prices: From $279/night. (1207 N Pennsylvania Street Denver CO 303-839-5221) 
patterson inn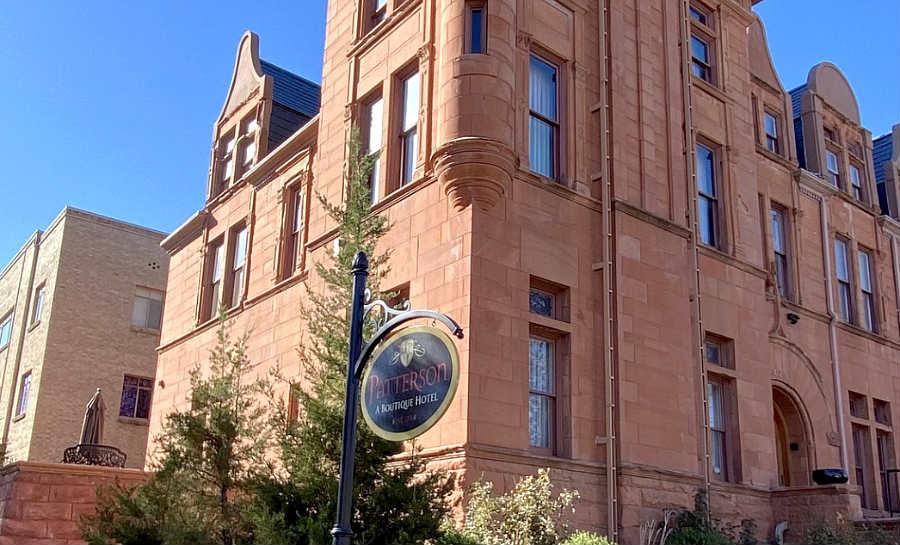 Historic Patterson Inn, with Jetted Tub Suites, in Denver's Capitol Hill
Patterson Inn

- This intriguing mansion and National Landmark in one of Denver's original neighbourhoods is also a luxury romantic hotel on exquisitely landscaped grounds. Cozy rooms include The Biltmore and Library Suites, with both offering jetted tubs and four-poster beds. What Other Guests Liked: Check out the charming "reading room" and onsite pub. Free parking and Wi-Fi. Complimentary made-to-order breakfast. Worth Knowing: There are only 3 parking spots at the inn. Additional parking is a block away. 2022 ERV Rating*: 92% - Excellent. Whirlpool Tub Size: 1 Person. Whirlpool Suite Prices: From $265/night. (420 E 11th Ave, Denver CO 303-955-5142)
queen anne B&B hot tub suites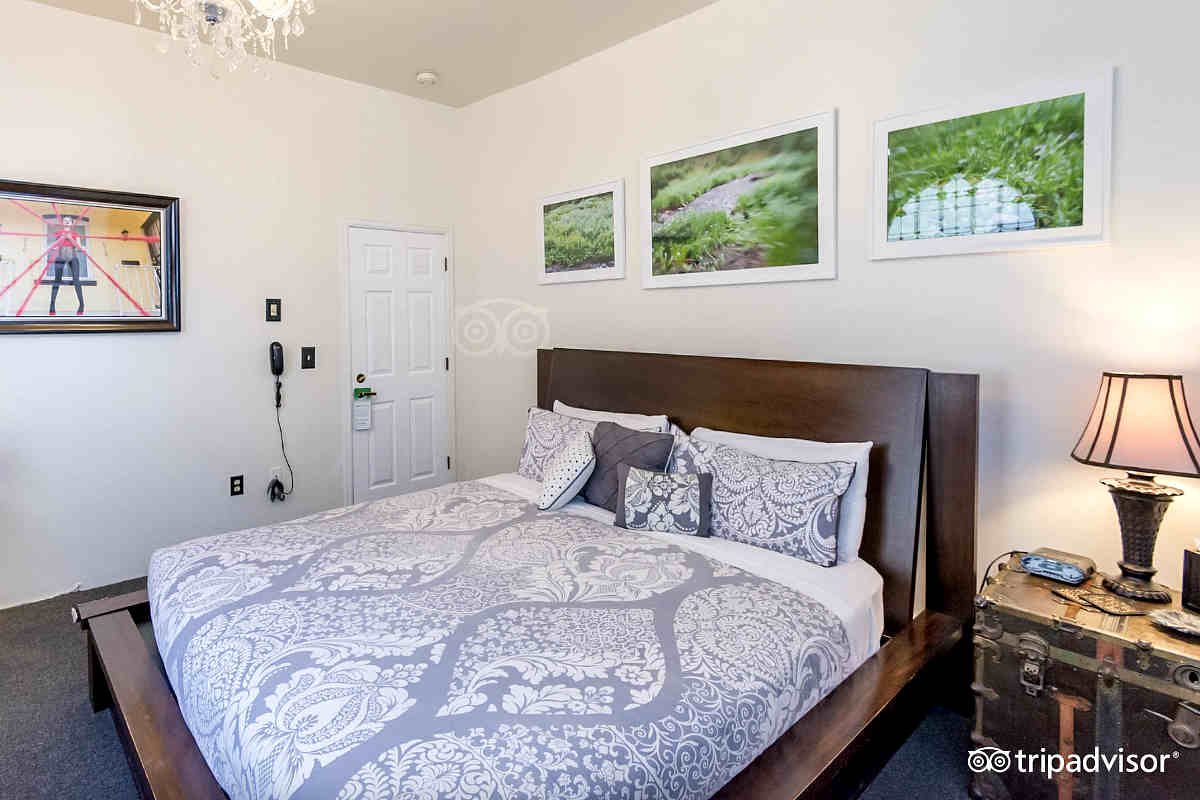 Queen Anne Local Artist Suite #2 ©TripAdvisor
Spa Tub, Local Artist Suite #2 ©TripAdvisor
Queen Anne B&B

- 1879 Victorian mansion which boasts unique rooms for every personality, daily breakfast, serene gardens, and evening happy hour featuring complimentary Colorado wines, cheeses and other snacks. Just across the street, you'll find the lovely Benedict Fountain Park. Check out one of their Local Artist Suites, particularly #2, with its deep jetted hot tub for 2. What Other Guests Liked: Friendly staff; delicious breakfast and cookies. Willing to accommodate dietary restrictions. Worth Knowing: Light sleepers may find the creaking floorboards a bit noisy at night. 2022 ERV Rating*: 94% - Excellent. Whirlpool Tub Size: 2 Persons. Whirlpool Suite Price: From $170/night. (2147-51 Tremont Place, Denver CO 303-296-6666)
warwick Denver Hotel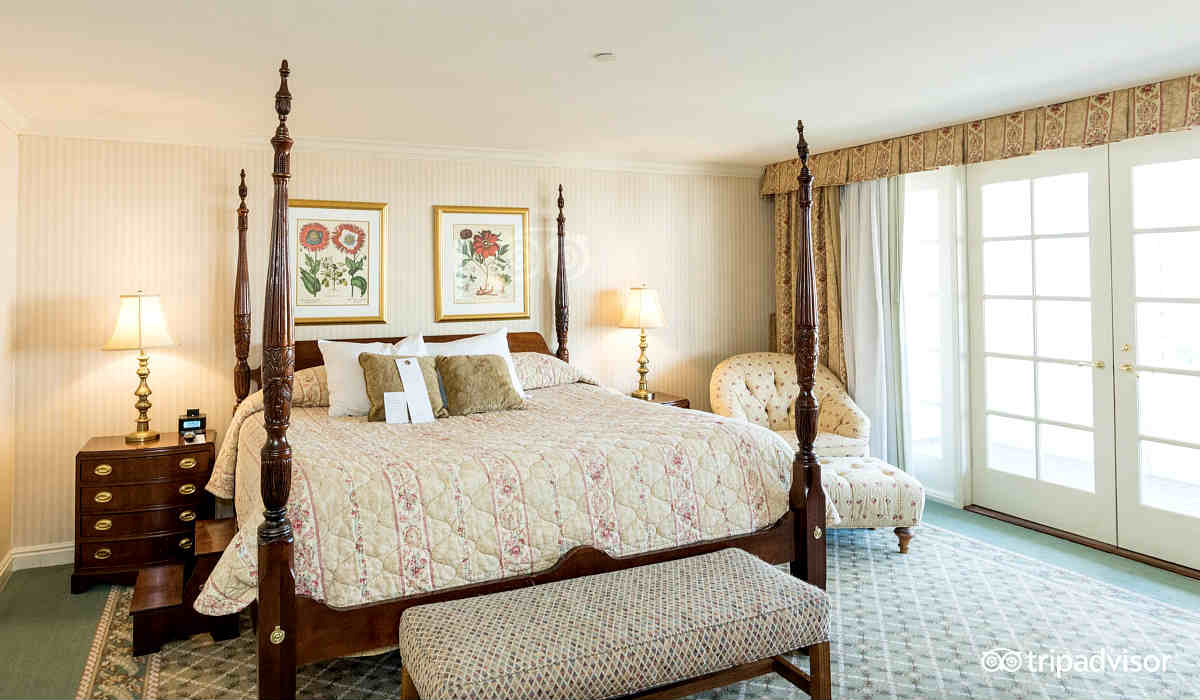 Presidential Suite, Warwick Hotel ©TripAdvisor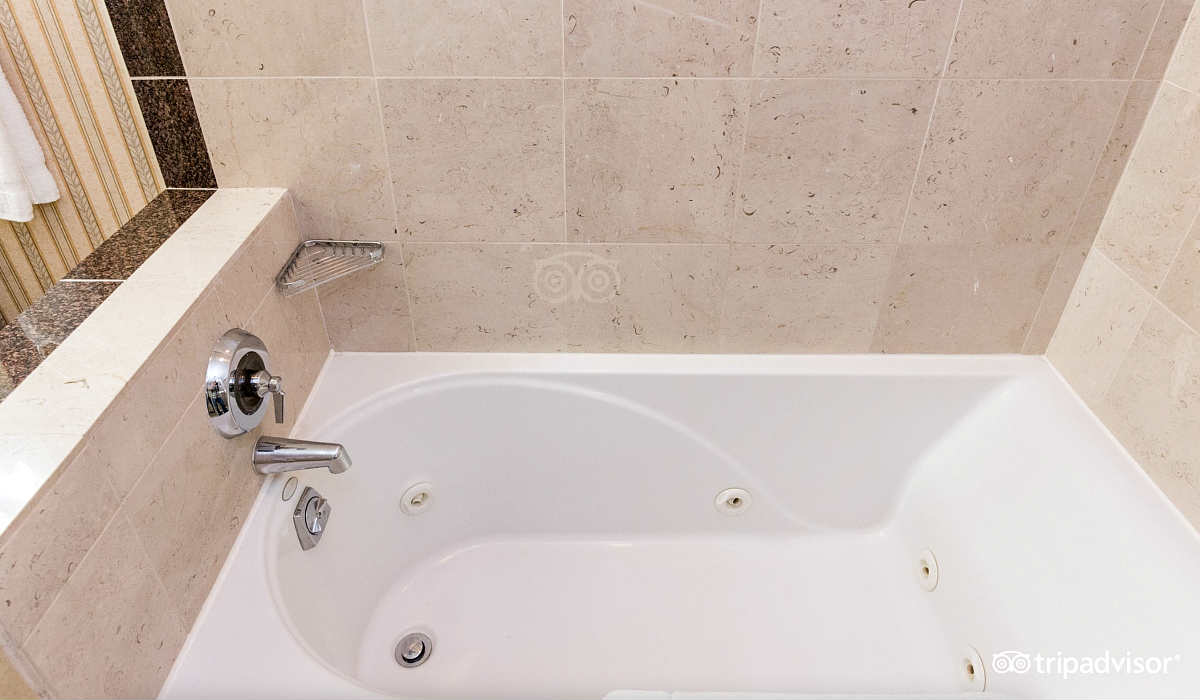 Presidential Suite Whirlpool Tub ©TripAdvisor
Warwick Denver Hotel

- Convenient location in the trendy Uptown neighbourhood of Denver, the Warwick is within walking distance of a pedestrian mall, the State Capitol building, and Union Station. The Presidential Suite has a private balcony with French doors and fantastic panoramic views of the city skyline. The marble tiled bathroom is fitted with a whirlpool tub and cozy robes. What Other Guests Liked: Turndown service, onsite restaurant and year 'round outdoor rooftop pool. Worth Knowing: There are only 2 Presidential Suites, so book early. There's an $18/day Urban Retreat Fee, and parking is $32/day. 2022 ERV Rating*: 78% — Good. Whirlpool Tub Size: 1 Person. Whirlpool Suite Price: From $315/night. (1776 Grant Street, Denver CO 303-861-2000)
---
spa tub suites near denver airport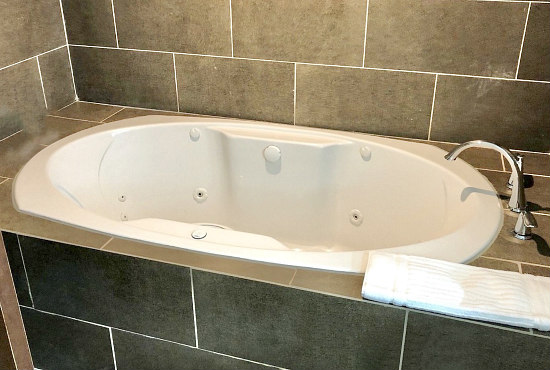 Spa Bath Tub, Comfort Suites DEN Airport
Comfort Suites Denver International Airport

- Just minutes from the Denver airport, with comfortable King Suites that include Spa Bath. Enjoy complimentary shuttle, breakfast, fitness centre and indoor pool. What Other Guests Liked: Rooms are equipped with microwaves and refrigerators so you're able to eat on your own schedule. Guest laundry is convenient. Worth Knowing: Some guests find the pool a bit on the cool side. 2022 ERV Rating*: 80% - Very Good. Whirlpool Tub Size: 2 Persons. Whirlpool Suite Price: From $123/night. (5940 Tower Rd, Denver CO 720-535-9110) √ COVID Safety Plan: Yes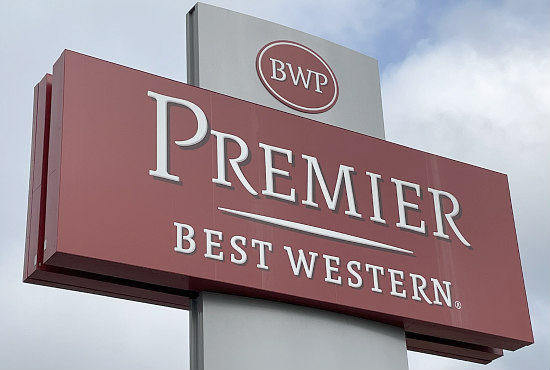 Book the BW Premier Hotel in Denver East
Best Western Premier Denver East

- Great full-service hotel with lots to offer: snack shop, fitness centre, guest laundry, and outdoor pool. Spacious rooms and suites come with mini-fridges, microwaves, safes, plus free Wi-Fi and parking. Most have either patio or balcony as well. Certain suites with King-sized beds have jetted tubs. What Other Guests Liked: Located just 3 miles from mall shopping and 13 miles from the airport. Worth Knowing: Some guests report feeling unsafe in surrounding area. 2022 ERV Rating*: 78% - Good. Whirlpool Tub Size: 2 Persons. Whirlpool Suite Prices: From $ 215/night. (4411 Peoria St, Denver CO 303-373-1444) √ COVID Safety Plan: Yes
See Also:
broomfield, CO
Whirlpool Suite - Hilltop Inn, Broomfield CO
Hilltop Inn Broomfield Denver

- This charming inn's 16 rooms all come with fireplace, kitchenette and Wi-Fi. There's an onsite restaurant and Scottish-style pub, as well as outside patio with great views of downtown Denver and the Rocky Mountains. Four of the suites have jetted tubs, some of which include a full kitchen and private deck. What Other Guests Liked: Good location off the highway with a Starbucks at the end of the road. Cozy, with beautiful views. Worth Knowing: This is a 2-storey building with no elevator. Book early to get a suite on the ground floor. 2022 ERV Rating*: 86% - Very Good. Whirlpool Tub Size: 2 Persons. Whirlpool Suite Prices: From $169/night. (9009 Metro Airport Ave, Broomfield CO 303-469-3900)
Englewood, co
Comfort Suites Denver Tech Center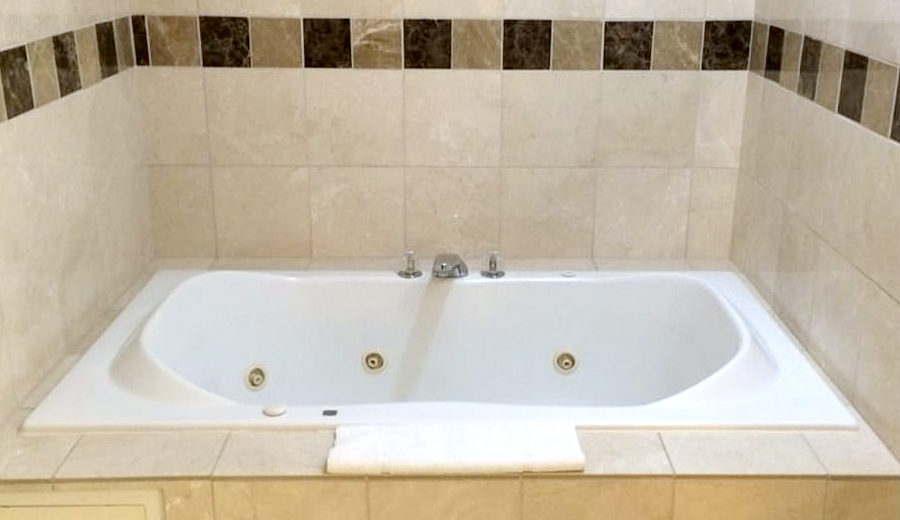 King Whirlpool Suite - Comfort Suites
Comfort Suites Denver Tech Center/Englewood

- Englewood is less than 30-minutes from downtown Denver, and this all-suite hotel has you covered for a great vacation: nearby lakes and jogging trails, free Wi-Fi and hot breakfast, heated indoor pool and fitness centre. Evening receptions include free drinks and snacks. King Whirlpool Suite and King Whirlpool Suite with Living Room offer an even more relaxing experience. What Other Guests Liked: In-room microwave, refrigerator and coffee maker. Restaurants and bars nearby. Worth Knowing: Some airplane or freeway noise may be noticeable. 2022 ERV Rating*: 86% - Very Good. Whirlpool Tub Size: 2 Persons. Whirlpool Suite Prices: From $160/night. (7374 S Clinton St, Englewood CO 303-858-0700) √ COVID Safety Plan: Yes
---
Aurora, CO Hotel In-Room Jetted Tubs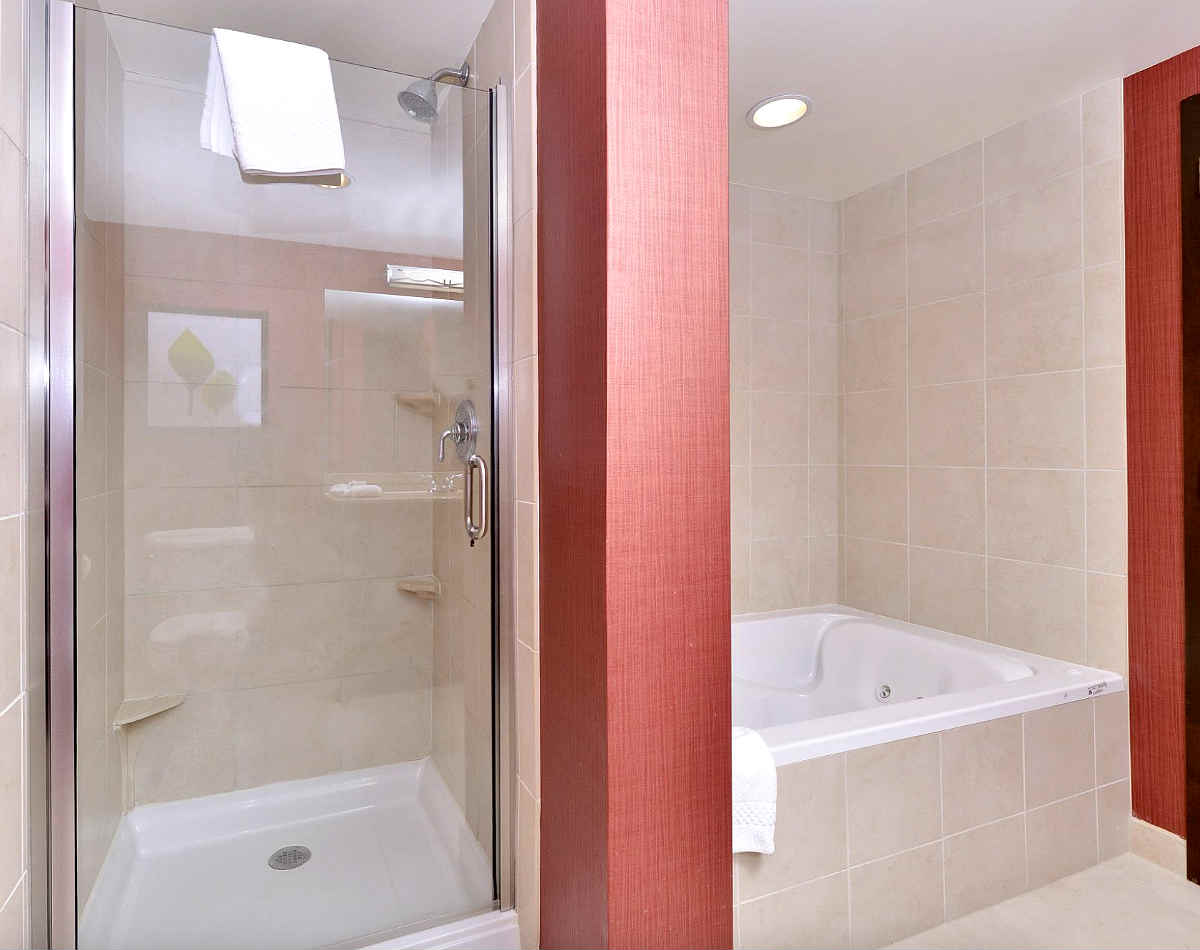 Walk-In Shower & Jetted Tub at the Fairfield Inn, Aurora CO
Fairfield Inn & Suites Denver Aurora/Parker

- Choose from five room styles, all with refrigerator, microwave and free Wi-Fi. Breakfast is included and there's an indoor pool, fitness centre and sun deck for guests to enjoy. Southlands Mall begins right at the front door and stretches a full mile, offering fashion, dining and entertainment options. Get the bubbles going with a 1 Bedroom Suite with Whirlpool tub. What Other Guests Liked: Checkout is at noon. Easy access to the highway. Worth Knowing: Some guests find the beds a bit on the firm side. 2022 ERV Rating*: 68% - Fair. Whirlpool Tub Size: 2 Persons. Whirlpool Suite Price: From $195/night. (24192 East Prospect Avenue, Aurora CO 303-928-7500) √ COVID Safety Plan: Yes
---
Golden, CO Spa tUb Suites
The Golden Hotel

- Just 12 miles west of Denver, this mountain-lodge style hotel is nestled in the heart of historic Golden and overlooks the Rocky Mountain foothills and Clear Creek. With plenty of cultural, shopping, and recreational activities nearby, the Golden Hotel makes a perfect home base. The Creekside Suite includes kitchenette, gas fireplace and Whirlpool Tub. What Other Guests Liked: Pet friendly. Onsite restaurant with deck overlooking the creek. Worth Knowing: No pool or free breakfast. 2022 ERV Rating*: 92% - Excellent. Whirlpool Tub Size: 2 Persons. Whirlpool Suite Price: From $256/night. (800 11th St, Golden CO 720-619-8340) √ COVID Safety Plan: Yes
*ERV Rating: our unique, non-scientific ratings for romantic accommodation include:
Amenities: including Whirlpool bath or 

JACUZZI

®

Tub

,

scenic view, fireplace, lounge, etc
Location: proximity of hotel to restaurants, pubs, downtown, etc
Clientele: demographic the hotel attracts (couples, families, business travelers, etc)
Popularity: based on social media & crowd-sourced reviews 
Value: product offered compared to room rate 
Please Note: percentage ratings are not absolute but for comparative use only  
top hotels, getaways & packages on ERV
---