Florida Whirlpool Suites
Florida Hot Tub Suites in Miami, Orlando & Gulf Coast Hotels
FTC: This page uses affiliate links. More. 

---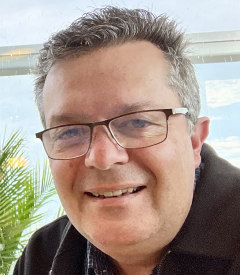 By: Greg Mattson, ERV Editor - Updated: Dec 27, 2022  

Here's a handy guide to Florida hotel rooms with a JACUZZI® Tub inside, or a private Whirlpool suite in Miami and Key West, and Northern Florida resort areas along the Atlantic and Gulf Coast, including Destin and Daytona Beach, FL.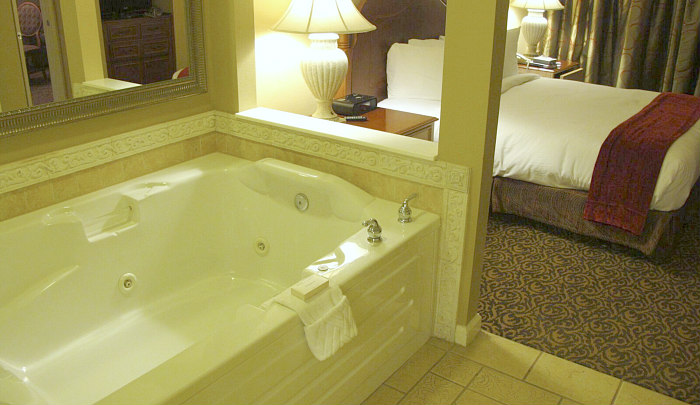 Book a Romantic Florida Hot Tub Suite like This Hilton Resort in Orlando
Why Our Guide to Florida Spa Tub Suites is Different: We don't show & describe hotels with hot tubs by the pool - this page is all about romantic hotels and rentals with a private spa bath, JACUZZI® Tub or Whirlpool tub right in the room.
---
on our site: guides to florida hotel hot tub suites in:
On this page: ERv's picks - 20 romantic florida hotels with in-room jetted tubs:
1. marriott cypress harbor villas orlando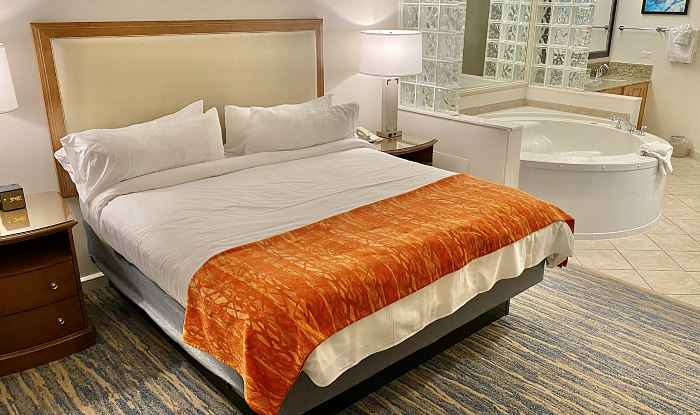 Jetted Spa Tub Suite at Orlando's Marriott Cypress Harbour Villas
Marriott Cypress Harbour Villas - this luxury resort near WDW gets so many things right, including the spacious, bubbly & relaxing 2-person jetted spa tubs in their 2 bedroom suites. The pools are super nice and well-equipped, and there's a whole range of activities throughout the days and evenings, as well as easy to find romantic spots overlooking the lake. 2021 ERV Rating* for Orlando Whirlpool Suites: 94%

 - Excellent. 

(11251 Harbour Villa Rd, Orlando FL 407-238-1300) √ COVID Safety Plan: 

Yes

 *See Our Video of this Marriott Orlando Spa Tub Suite Here
2. hilton tuscany village orlando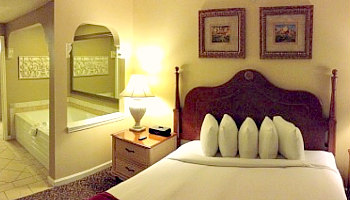 Hilton Orlando Suite with Jetted Tub
Hilton Grand Vacation Suites at Tuscany Village

 - beautifully spacious, large and fully equipped suites await at this romantic Hilton Resort just off of International Drive in Orlando, FL. 

The in-room Whirlpool tubs (in the 1 and 2 bedroom suites) are big enough for 2, and a full kitchen and living room are just around the corner, along with a large screened patio. 

2021 ERV Rating*: 86% - Very Good. (8122 Arrezzo Way, Orlando FL  407-465-2600) √ COVID Safety Plan: Yes
3. courtyard Orlando downtown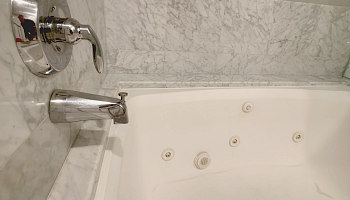 Book a Marriott Spa Tub in Orlando
4. grand bohemian orlando Downtown spa tub suites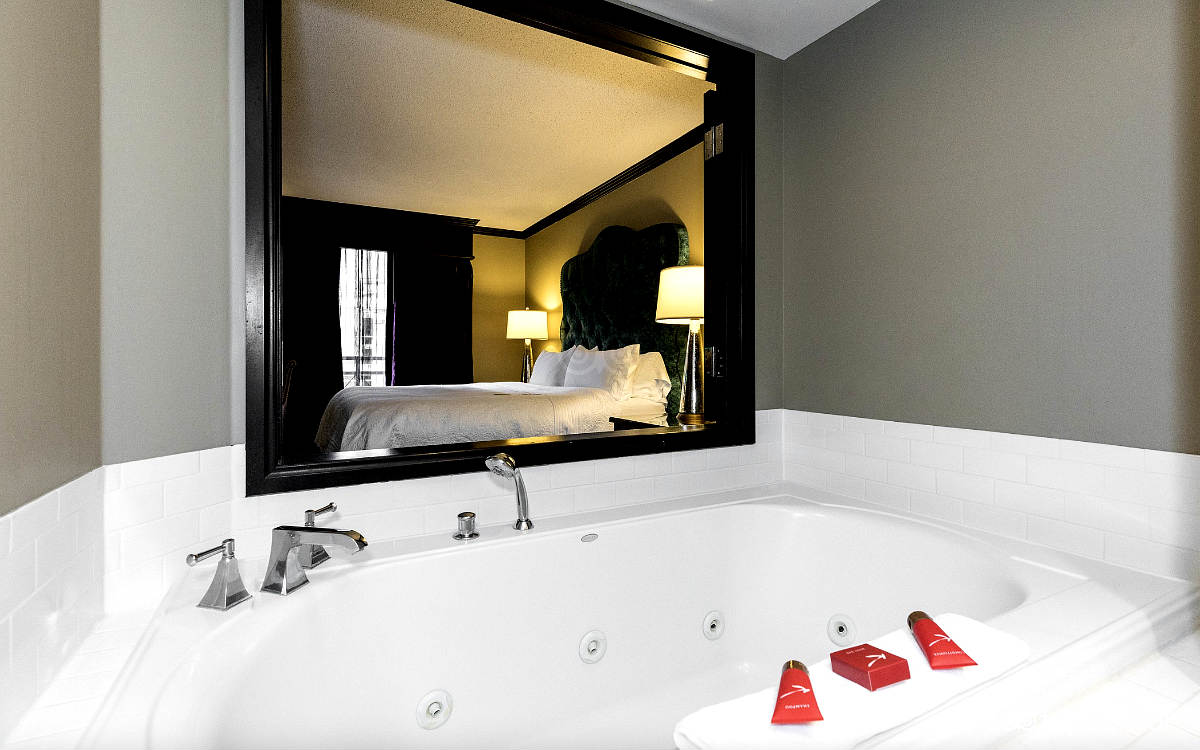 Whirlpool Tub - Grand Bohemian Orlando ©TripAdvisor
Grand Bohemian Hotel Orlando - vaulted ceilings and Italian art set the tone for your honeymoon or anniversary getaway in this romantic Orlando resort. King Suites with Spa

 Bath

 for 2 include a separate living area, plus there's an on-site spa, restaurant and lounge with live music. 2021 ERV Rating*: 84%

 - Very Good.

(325 S. Orange Ave, Orlando FL  407-313-9000) √ COVID Safety Plan: Yes
*See More Orlando Hot Tub Suites Here*
5. wingate by wyndham Tampa jetted tub suites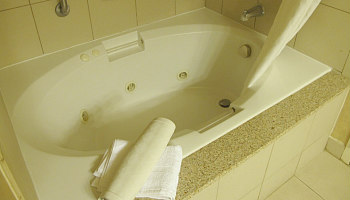 Hot Tub Suite - Tampa Wingate
Wingate by Wyndham Tampa/At USF - an inexpensive option for honeymoons or anniversary getaways in the Tampa/St.Petersburg area. Their hot tub suites include a separate bedroom and living areas, along with a free hot breakfast and outdoor pool. 2021 ERV Rating* for Tampa FL Hot Tub Hotel Suites: 74% - Good.  (3751 E. Fowler Ave, Tampa, FL  813-979-2828) √ COVID Safety Plan: Yes
6. carlisle inn sarasota suites with JACuzzi® tubs
Carlisle Inn Sarasota - JACUZZI® Tub
Carlisle Inn Sarasota

- this hotel in Sarasota's Amish District gets raves reviews from couples for it's spotless rooms, delicious breakfasts, and very comfortable King Suites with a JACUZZI

® 

tub. 2021 ERV Rating* for Sarasota Hotel Suites with a JACUZZI® Tub: 96% - Excellent. (3727 Bahia Vista St, Sarasota FL 941-955-8007) √ COVID Safety Plan: 

Yes

 
Disclaimer: JACUZZI® is a registered trademark owned by Jacuzzi Inc. The use of the JACUZZI® trademark on this website is for informational purposes only. There is no relationship, connection or affiliation between this website and Jacuzzi Inc. or its related companies. Rates shown are approximate only and subject to change. Hotel rooms, jetted tubs and amenities can change, and may not be exactly as shown, so please contact the hotel or inn before making travel plans.
7. hampton inn & Suites clearwater Beach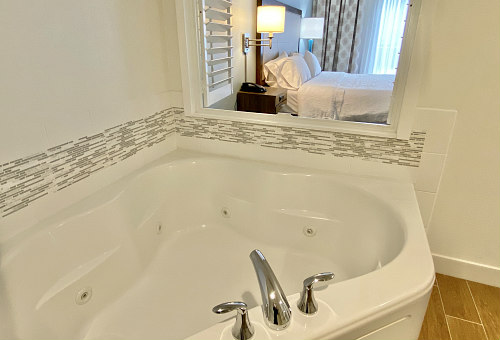 Clearwater Beach King Whirlpool Suite
Hampton Inn & Suites Clearwater Beach - right on the beach with gorgeous sunsets nightly, this Hampton Inn high-rise has spacious King Bed Suites with Whirlpool tubs, along with private balconies and free hot breakfast in the morning. 2021 ERV Rating* for Clearwater Beach FL Whirlpool Suites - 86% - Very Good. (635 S. Gulfview Blvd, Clearwater Beach FL 727-451-1111) √ COVID Safety Plan: 

Yes

   
8. Holiday inn express & suites lakeland, fl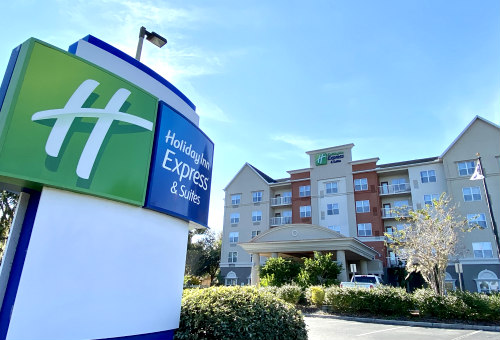 Holiday Inn Express & Suites Lakeland FL
Holiday Inn Express & Suites Lakeland North I4 - this top-rated Holiday Inn Express has all the finishings of an upscale hotel, including complimentary snacks, hot breakfast, pool, and extremely clean and comfortable King Suites with a JACUZZI

®

Tub. The hotel is close to I-4, restaurants and shopping. 2021 ERV Rating* for Lakeland FL Hotel ROOMS with a JACUZZI Tub: 90% - Excellent. (4500 Lakeland Park Dr, Lakeland FL 863-595-4500) √ COVID Safety Plan: Yes
9. Gullwing beach resort ft. myers beach
Gullwing Resort Spa Tub Suite ©TripAdvisor
Gullwing Beach Resort - a romantic oceanfront resort on Fort Myers Beach with views of the Gulf of Mexico. Suites come with luxurious spa tubs tubs, private balcony, full kitchen & wet bar. 2021 ERV Rating* for Fort Myers Beach Spa Tub Suites: 92% - Excellent. (6620 Estero Blvd, Ft Myers Beach FL  877-247-5250) √ COVID Safety Plan: Yes
10. bellasera resort Naples, FL spa tub suites
Spa Tub, Bellasera Resort, Naples ©TripAdvisor
Bellasera Resort

- Studio Suites here at this award-winning Downtown Naples FL boutique resort include a King bed and a luxurious jetted spa tub in the master bath. Check out their bike rentals, and don't miss happy hour by the pool every afternoon. 2021 ERV Rating* for Whirlpool Suites in Naples, Florida: 94%

 - Excellent. 

(221 9th Street South, Naples FL  844-898-4184) √ COVID Safety Plan: Yes
---
South Florida In-Room JACUZZI® Tubs
11. hotel victor Miami south beach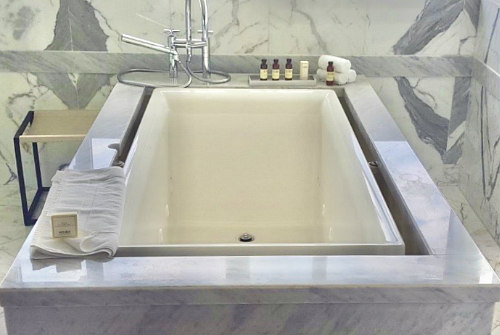 JACUZZI® Tub - Hotel Victor South Beach
Hotel Victor South Beach -

soak up the best of South Beach in

spacious suites with ocean views, including their King Suite with a JACUZZI® Tub. Amenities include rain-shower heads, luxury bath products, free bike rentals, and more. 

2021 ERV Rating* for Miami FL Hotels with an In-Room JACUZZI® Tub 72% - Good. (1144 Ocean Dr, Miami Beach FL 305-779-8700) √ COVID Safety Plan: Yes
12. Marseilles hotel miami South beach
Marseilles Hotel in South Beach, Miami
Marseilles Hotel

- located in the heart of South Beach's Art Deco District, offering King Suites with a JACUZZI® Tub

, and a host of amenities including a private beach area, pool deck, sun beds and hammocks, happy hour cocktails and much more.

2021 ERV Rating* for Miami South Beach Hotel Suites with a JACUZZI® Tub: 70% - Good. (1741 Collins Ave, Miami Beach FL 305-538-5711) 
13. doubletree hotel west palm beach airport
Book a West Palm Beach Jetted Tub Suite
Doubletree Hotel Hilton West Palm Beach Airport - this romantic hotel near Palm Beach Airport offers King Executive Whirlpool Suites that also include pay-per-view movies and free wireless internet. These honeymoon suites are located in West Palm Beach, Florida, and are less than 3 KM from South Ocean Blvd in Palm Beach, FL. 2021 ERV Rating* for West Palm Beach FL Spa Tub Suites: 76% - Good. (1808 South Australian Ave, West Palm Beach, FL  855-277-4931) √ COVID Safety Plan: 

Yes

 
14. atlantis house key west hot tubs suites
Whirlpool Suite at Atlantis House, Key West ©TripAdvisor
Atlantis House Key West - This romantic guesthouse is a quiet retreat set in tropical gardens only 40 yards from the beach in Key West, FL. Rooms enjoy a private deck, wet bar, and a large hot tub. 2021 ERV Rating* for Key West Hot Tub Suites: 96%

 - Excellent.

(1401 Atlantic Boulevard, Key West FL 305-292-1532)  
More Florida Romantic Getaways & Honeymoons:
---
Honeymoon Hot Tub Suites in Northern Florida
15. St. Augustine inn with 2-person whirlpool tubs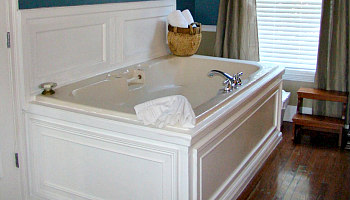 St. Augustine Whirlpool Suite - Bayfront Inn
Bayfront Marin House - romantic, laid-back, oceanfront, top-rated: that sums up this wonderful historic St. Augustine inn. Oh, and also their rooms and beach cottages outfitted with attractive 2-person JACUZZI

®

 Tubs. 2021 ERV Rating* for St. Augustine, FL Suites with a JACUZZI Tub: 96%

 - Excellent. 

(142 Avenida Menendez, St. Augustine FL  904-824-4301) √ COVID Safety Plan: Yes
16. hampton inn & suites Jacksonville
Jacksonville FL Hampton Inn Whirlpool Suite
Hampton Inn & Suites Jacksonville South - trustworthy Hilton quality at a budget-friendly price, along with free hot breakfast, outdoor pool, and spacious King Whirlpool Suites. 2021 ERV Rating* for Jacksonville, FL Suites with a JACUZZI Tub: 88%

 - Very Good. 

(13950 Village Lake CIrcle, Jacksonville FL  904-268-6264) √ COVID Safety Plan: Yes
17. henderson park inn destin
Spacious Spa Tub Suite - Henderson Park Inn, Destin FL ©TripAdvisor
Henderson Park Inn

 - these adult-only suites are a very romantic choice for your getaway in the Destin area. Rooms include Wi-Fi, and some offer Whirlpool tubs, fireplaces and ocean views. 

2021 ERV Rating* for Destin Florida Whirlpool Suites: 94%

 - Excellent.

(2700 Scenic Highway 98, Destin FL  888-836-1105) √ COVID Safety Plan: 

Yes
18. courtyard by marriott sandestin
Courtyard by Marriott in Sandestin FL ©TripAdvisor
Courtyard by Marriott Sandestin Grand Boulevard

- book the one-bedroom Presidential Suite here and enjoy a spa tub-equipped master bathroom, as well as a great location just minutes from beaches, outlet shopping and more. 2021 ERV Rating* for Sandestin FL Hotel Rooms with Jetted Tubs: 90% - Excellent. (100 Grand Blvd, Destin/Miramar Beach FL  850-650-7411) √ COVID Safety Plan: Yes
19. holiday inn daytona beach oceanfront spa tub suites
Jetted Tub Suite, Holiday Inn Oceanfront Resort, Daytona Beach, FL ©TripAdvisor
Holiday Inn Resort Daytona Beach Oceanfront - this romantic beachfront hotel is located on Atlantic Ave in Daytona Beach. You'll want to check out their Oceanfront Spa Suite which has a hot tub and private balcony with ocean view. 2021 ERV Rating* for Daytona Beach FL Spa Tub Suites: 89% - Very Good. (1615 South Atlantic Ave, Daytona Beach, FL  877-508-1786) √ COVID Safety Plan: Yes
More florida coast hot tub getaways:
20. hampton Inn & Suites Amelia Island
Hampton Inn, Amelia Island ©TripAdvisor
Amelia Island Spa Tub Suite ©TripAdvisor
Hampton Inn & Suites Amelia Island

 - Set in a Victorian-era Seaport, this Hampton Inn near Fenandina Beach overlooks the marina. Located a half-mile from shops, bars and restaurants, you can also easily get to the Amelia Island Lighthouse or Museum of History. Whirlpool Suites have fireplaces, kitchens, separate living areas, and jetted tubs. Breakfast, parking and Wi-Fi are on the house, and there's an outdoor pool, patio, and fitness room for guest use. What Other Guests Liked: Park the car and walk all around downtown. Worth Knowing: Water view rooms hear occasional train sounds. 2023 ERV Rating*: 90% - Excellent. Whirlpool Tub Size: 2 Persons. Whirlpool Suite Price: From $253/night. (19 South 2nd Street, Fernandina Beach, Amelia Island FL 904-491-4911)
21. Amelia hotel at the beach
Amelia Hotel at the Beach ©TripAdvisor
Amelia Hotel Spa Bath Suite ©TripAdvisor
Amelia Hotel at the Beach

- A boutique-style hotel centrally located on Amelia Island. Outdoor pool, complimentary hot breakfast and Wi-Fi are just some of the perks of booking your beach getaway here. It's literally across from the beach, and walking distance to restaurants and shops. The Terrace Suite features a jetted tub, fireplace and full ocean view from a private balcony. Partial Ocean View Balcony King Rooms also include jetted tubs. What Other Guests Liked: Convenient to the state park and historic downtown Fernandina. Worth Knowing: Some complaints about Wi-Fi reliability and speed. 2023 ERV Rating*: 74% - Good. Whirlpool Tub Size: 1 or 2 Persons. Whirlpool Suite Prices: From $199/night. (1997 South Fletcher Avenue, Fernandina Beach, Amelia Island FL 904-206-5600)
*ERV Rating: our unique, non-scientific ratings for romantic accommodation include:
Amenities: including Whirlpool bath or 

JACUZZI

®

Tub

,

scenic view, fireplace, lounge, etc
Location: proximity of hotel to restaurants, pubs, downtown, etc
Clientele: demographic the hotel attracts (couples, families, business travelers, etc)
Popularity: based on social media & crowd-sourced reviews 
Value: product offered compared to room rate 
Please Note: percentage ratings are not absolute but for comparative use only  
top hotels, getaways & packages on ERV
---