Fort Lauderdale
Fort Lauderdale Hot Tub Suites - Romantic Hotel Rooms with Private Hot Tubs
---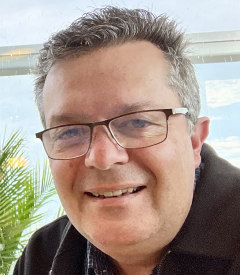 By: Greg Mattson, ERV Editor - Updated: Sep 10, 2021   

FTC: This page uses affiliate links. More. 

Romantic escapes to Fort Lauderdale get even better when your hotel or beach resort room includes a jetted spa or JACUZZI® Tub. They can be tricky to find though, so ERV takes the guess work out with our handy guide to Ft. Lauderdale hot tub suites.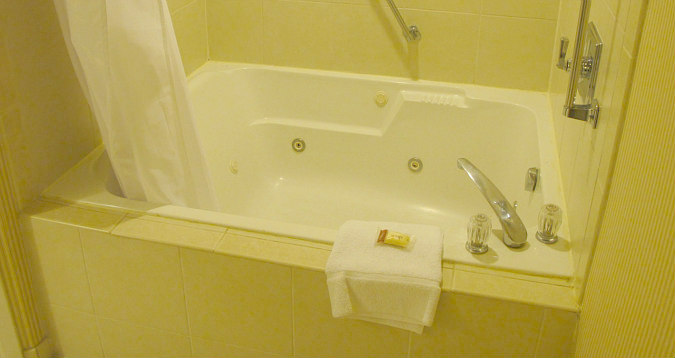 Spacious Hot Tub Suite at the Sheraton Suites Fort Lauderdale Plantation
And, if your South Florida hot tub getaway is either before or after a cruise vacation, we include distance information from the hotel to Port Everglades Cruise Ship Terminals after each review. Have a fun stay in Fort Lauderdale!

Disclaimer: JACUZZI® is a registered trademark owned by Jacuzzi Inc. The use of the JACUZZI® trademark on this website is for informational purposes only. There is no relationship, connection or affiliation between this website and Jacuzzi Inc. or its related companies. Rates shown are approximate only. Hotel rooms, jetted tubs and amenities can change, and may not be exactly as shown, so please contact the hotel or inn before making travel plans.
---
Sheraton Suites Fort Lauderdale
Whirlpool Tub Suite - Sheraton Ft. Lauderdale
Sheraton King Bed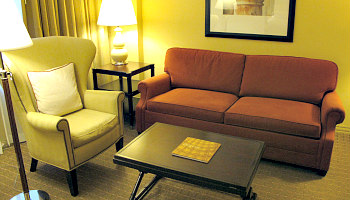 Lounge Area, Sheraton Suites Ft. Lauderdale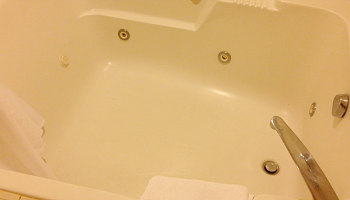 Jetted Tub at the Sheraton Suites
Sheraton Suites Fort Lauderdale Hot Tub Suites

 -

dependable Sheraton Suites quality for your stay, with Deluxe King Whirlpool Suites, in-room Starbucks coffee, and affordable Park & Cruise packages. What Other Couples Liked: Beautiful Lobby & Atrium Area...Rooftop Pool & Hot Tub...Free Parking. 2021 ERV Rating* for Fort Lauderdale FL Hot Tub Suites: 60% - Fair. (311 North University Dr, Plantation FL  954-424-3300) Distance to Cruise Ship Terminals: approx 15 miles.
Sheraton Suites Plantation - Spacious Living Area with Couch, Table & Desk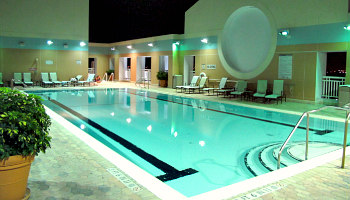 Rooftop Pool - Sheraton Suites Fort Lauderdale
Front of the Hotel
---
More Whirlpool Suites in the Fort Lauderdale Area:
Victoria Park Hotel
Room with King Bed, Victoria Park Hotel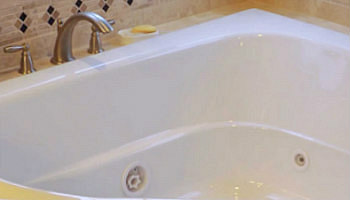 Victoria Park Whirlpool Suite, Ft. Lauderdale
Victoria Park Hotel - a jetted tub hotel room in South Florida doesn't have to be expensive, and the spacious King Whirlpool Suites here at the Victoria Park are just perfect for your pre or post-cruise vacation or honeymoon in Fort Lauderdale. What Other Couples Liked: Reasonably Priced Retro-Boutique Hotel...Quiet Courtyard with Lounge Chairs...Old Florida Charm in an Historic Location. 2021 ERV Rating*: 96% - Excellent. (855 NE 20th Ave, Fort Lauderdale FL 754-888-5002) Distance to Cruise Ships: about 2.5 miles. 
---
Ocean Beach Palace - Honeymoon Suites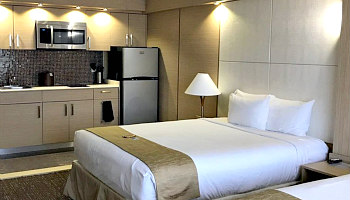 Room at the Ocean Beach Palace Hotel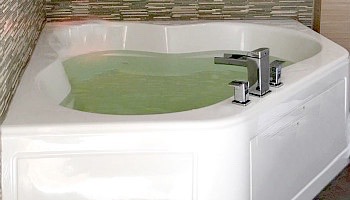 JACUZZI® Tub - Ocean Beach Palace
More Romantic South Florida:
---
Marriott's Beach Place Towers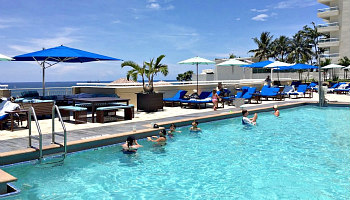 Marriott BeachPlace Towers Pool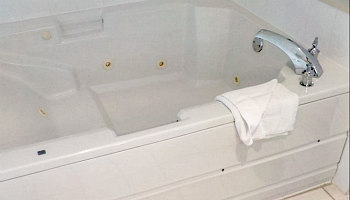 In-Room Spa Tub, Marriott BeachPlace Towers
Marriott's BeachPlace Towers - fully equipped vacation rental suites lose to Las Olas Boulevard, with romantic Whirlpool tubs, and a great location close to restaurants, shops and the beach. What Other Couples Liked: Inter Coastal View Rooms Nice, Ocean View Great...Excellent Pool, Marketplace Near the Lobby...Beach Across the Street. 2018 ERV* Rating for Ft. Lauderdale Spa Tub Suites: 74% - Good. (21 S. Fort Lauderdale Beach Blvd, Fort Lauderdale FL 954-525-4440) Distance from Hotel to Cruise Ship Terminals: Approx 3 miles to Port Everglades.
Budget-Friendly Jetted Tub Suites: Best Western Plus Oceanside Inn
Pool at the Best Western Plus Oceanside Inn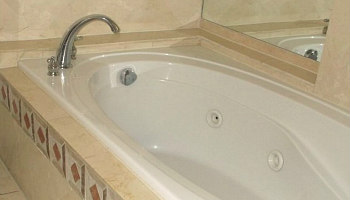 Jetted Tub, Best Western Plus, Fort Lauderdale
*ERV Rating: our unique, non-scientific ratings for romantic accommodation include:
Amenities: including Whirlpool bath or 

JACUZZI

®

Tub

,

scenic view, fireplace, lounge, etc
Location: proximity of hotel to restaurants, pubs, downtown, etc
Clientele: demographic the hotel attracts (couples, families, business travelers, etc)
Popularity: based on social media & crowd-sourced reviews 
Value: product offered compared to room rate 
Please Note: percentage ratings are not absolute but for comparative use only  
√ COVID Safety Plan: identifies hotels and inns that clearly indicate they are taking measures to prevent the spread of COVID-19.
top hotels, getaways & packages on ERV
---