Jacksonville
Jacksonville Hot Tub Suites - Hotel Rooms with Private Jetted Tubs for 2
FTC: This page uses affiliate links. More. 

---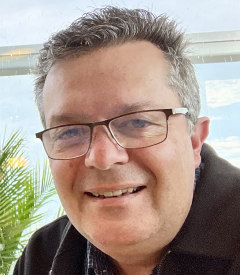 By: Greg Mattson, ERV Editor - Updated: May 9, 2022
Jacksonville, FL is a great getaway and honeymoon destination, and can be even better when you book a hotel suite with your own private jetted tub.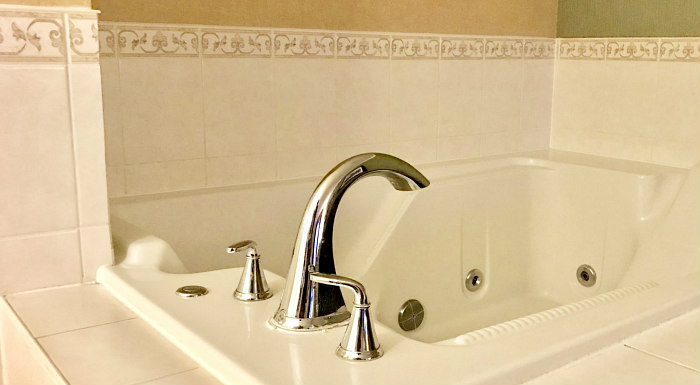 Jacksonville Has Some Great Hot Tub Hotels for Your Next Getaway
So no matter what your budget, from inexpensive to luxury, here's 13 romantic hotel hot tub suites for a great stay in Jacksonville.

Disclaimer: JACUZZI® is a registered trademark owned by Jacuzzi Inc. The use of the JACUZZI® trademark on this website is for informational purposes only. There is no relationship, connection or affiliation between this website and Jacuzzi Inc. or its related companies. Rates shown are approximate only and subject to change. Hotel rooms, jetted tubs and amenities can change, and may not be exactly as shown, so please contact the hotel or inn before making travel plans.
Jacksonville Hot Tub Suites
hampton inn Jacksonville king whirlpool suites
Hampton Inn Jacksonville Deerwood Park
Spa Bath - Hampton Inn Jacksonville
Hampton Inn & Suites Jacksonville Deerwood Park - Beautiful King Studio & 1 Bedroom King Suites with Spa Bath are the highlight here, and you'll appreciate their free hot breakfast, outdoor pool and fire pit. What Other Guests Liked: Only 3 miles from St John Town Center Mall, free parking, variety of restaurants nearby. Worth Knowing: Rooms due for an update. 2022 ERV Rating* for Jacksonville FL Whirlpool Suites: 90% - Excellent. Whirlpool Tub Size: 1 Person. Whirlpool Suite Price: 

From

$224/night. (4415 South Side Blvd, Jacksonville FL 904-997-9100) √ COVID Safety Plan: Yes
comfort suites jacksonville hot tub rooms
King Suite 2-Person Whirlpool Tub - Comfort Suites
Comfort Suites Baymeadows Near Butler Blvd

- Save money on your Jacksonville gateway, and enjoy their clean and updated rooms, including a King Bed Suite with a Whirlpool Tub for 2 People. What Other Guests Liked: Friendly, accommodating staff, complimentary breakfast, walk to nearby restaurants, outdoor pool. Worth Knowing: 

T

his is an older hotel that has been quite well maintained. 2022 ERV Rating*: 88% - Very Good. Whirlpool Tub Size: 2 Persons. Whirlpool Suite Price: 

From

$130/night (8277 Western Way Circle, Jacksonville FL 904-900-7001) √ COVID Safety Plan: Yes
budget-friendly Sleep Inn spa tub Suites:
Sleep Inn & Suites Jacksonville - Make sure to look for and book the King Bed room with microwave and 2-person Whirlpool tub at this budget-friendly Jacksonville hotel. Other extras include free grab and go breakfast, Wi-Fi and outdoor pool. What Other Guests Liked: Located close to Jacksonville Zoo and Adventure Landing, with plenty of dining options nearby. Worth Knowing: only 1 Whirlpool Suite, so it's essential to book well in advance. 2022 ERV Rating*: 80% - Very Good Whirlpool Tub Size: 2 Persons. Whirlpool Suite Price: From $124/night. (6535 Ramona Blvd, Jacksonville FL 904-378-9779) √ COVID Safety Plan: Yes
country inn & Suites Jacksonville
Country Inn & Suites by Radisson Jacksonville

- The Whirlpool Suites at this affordable inn not only have heart-shaped hot tubs, but premium Serta mattresses for a good night's sleep. There's also a fitness centre and outdoor pool and you will be within a 45-minute drive of 4 popular beaches. What Other Guests Liked: Wine and snacks reception each weekday evening from 5PM to 7PM. Free hot breakfast. Worth Knowing: Location can be a challenge to navigate at rush hour. 2022 ERV Rating*: 84% - Very Good. Whirlpool Tub Size: 2 Persons. Whirlpool Suite Price: From $167/night (5945 Youngerman Circle East, Jacksonville FL 904-772-7771) √ COVID Safety Plan: Yes
Holiday Inn Express Jacksonville/Mayport Beach
Holiday Inn Express Hotel & Suites Jacksonville/Mayport Beach - This smoke-free and pet-friendly hotel is conveniently located in Atlantic Beach, just 5 minutes from beaches and 2 minutes from Mayport Waterfront. Their King Suite with Jetted Tub has a King bed with a Whirlpool tub nearby in the corner. What Other Guests Liked: Free hot breakfast, free parking, outdoor pool, fitness centre. Worth Knowing: No onsite restaurant, no shuttle. 2022 ERV Rating*: 82% - Very Good Whirlpool Tub Size: 2 Persons. Whirlpool Suite Price: From $85/night (2040 Mayport Rd, Jacksonville FL 904-435-0700) √ COVID Safety Plan: Yes
More florida Spa Tub Suite getaways on ERV:
Honeymoon B&B with Hot Tub Suite - Riverdale Inn, Jacksonville
The Riverdale Inn - This top-rated inn calls their Windsor Suite the most romantic room they have. It's tucked away on the 3rd floor and includes a JACUZZI® Tub large enough for 2 people, plus a separate walk-in shower, refrigerator, Keurig machine, and mini bar. What Other Guests Liked:  Gourmet breakfasts each morning, and an awesome location too: just a block from Memorial Park, walk to 5 Points shops and dining. Worth Knowing: There is no elevator. 2022 ERV Rating*: 94% - Excellent. Whirlpool Tub Size: 2 Persons. Whirlpool Suite/Windsor Suite Price: From $225/night + "Bed Tax" and sales tax. (1521 Riverside Ave, Jacksonville FL 904-354-5080) √ COVID Safety Plan: Yes
Club Continental Suites

- Select 1 & 2 bedroom River Suites at this resort offer a 2-person JACUZZI® Tub for your relaxation, and have views of the St. John's River. What Other Guests Liked:  complimentary breakfast, 3 pools and a Cabana Bar, Sunday brunch. Worth Knowing: Since this is also a wedding venue, it's not always quiet and wedding parties may be using the grounds for photographs. 2022 ERV Rating*: 82% - Very Good. Whirlpool Tub Size: 2 Persons. Whirlpool Suite Price: 

From

$170/night. (2143 Astor St, Orange Park FL 904-264-6070) √ COVID Safety Plan: Yes
holiday inn Express & Suites Jacksonville Airport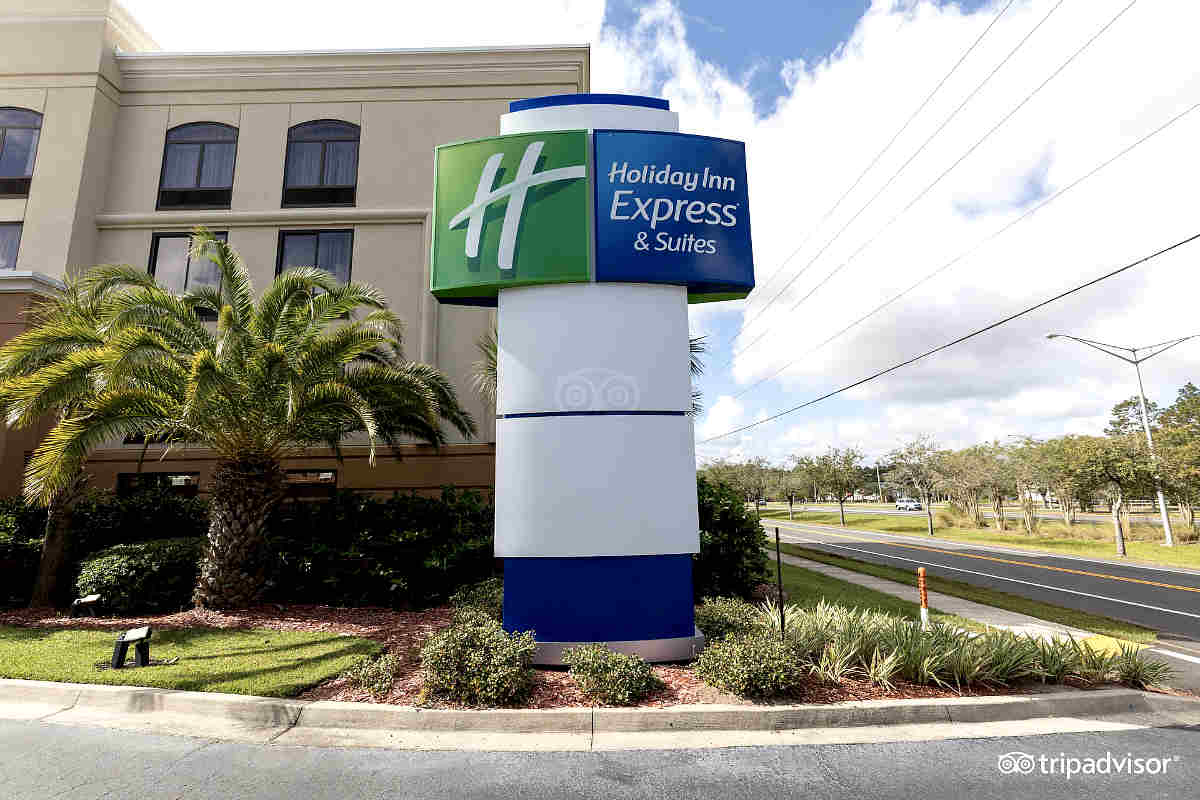 Holiday Inn Express & Suites Jacksonville Airport ©TripAdvisor
Holiday Inn Express & Suites Jacksonville Airport

- You'll save money with Holiday Inn Express, and you can celebrate that while soaking up the bubbles in one of their King Suites with Jetted Tub. Close to the airport and River City Marketplace. What Other Guests Liked: Free breakfast, parking, WiFi, and airport shuttle. Pool and fitness room. Worth Knowing: Some guests report Breakfast items not always well stocked. 2022 ERV Rating*: 78% - Good. Whirlpool Tub Size: N/A. Whirlpool Suite Price: From $180/night. (1200 Airport Rd, Jacksonville FL 904-421-5000) √ COVID Safety Plan: Yes
Jetted tub suites near Jacksonville Airport:
Hilton Garden Inn Jacksonville Airport - A perfect Florida Coast getaways start here at this Hilton hotel with their 1 bedroom King Suite w/ Whirlpool Tub. Other in-room amenities include HDTV, microwave, fridge, and Keurig coffee machines. What Other Guests Liked: On-site restaurant open for breakfast and dinner, free airport shuttle, outdoor pool. Worth Knowing: Pool closes at sunset for safety reasons. 2022 ERV Rating*: 74% - Good. Whirlpool Tub Size: 1 Person. Whirlpool Suite Price: From $276/night. (13503 Ranch Rd, Jacksonville FL 904-421-2700) √ COVID Safety Plan: Yes
jacksonville beach whirlpool suites:
Fairfield Inn Whirlpool Suite, Jacksonville
Fairfield Inn & Suites Jacksonville Beach - A nice choice for a mid-range property in the Jacksonville Beach area. Amenities include high-speed Wi-Fi, complimentary hot breakfast, and heated outdoor pool. The room you want is a King with Whirlpool Tub. What Other Guests Liked: It's just a block away from Jacksonville Beach. Free parking and guest laundry. Worth Knowing: Furnishings are not new or high end. 2022 ERV Rating*: 80% - Very Good. Whirlpool Tub Size: 2 Persons. Whirlpool Suite Price: From $171/night. (1616 N. First St, Jacksonville FL 904-435-0100 ) √ COVID Safety Plan: Yes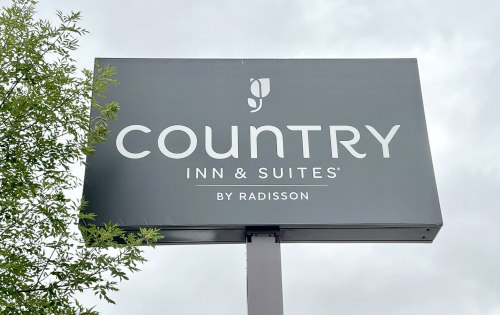 Book a Country Inn & Suites Jetted Tub Room
Country Inn & Suites by Radisson Jacksonville West

- A great choice for an inexpensive spa tub suite in West Jacksonville. Complimentary coffee & cookies on arrival, plus free breakfast, outdoor pool, all with downtown just 20 minutes away. What Other Guests Liked: EV charging stations, refrigerator and microwave in each room. Worth Knowing: Uncarpeted floors in rooms sometimes amplify sounds. 2022 ERV Rating*: 70% - Good. Whirlpool Tub Size: 2 Persons. Whirlpool Suite Price: 

From

$234/night. (7035 Commonwealth Ave, Jacksonville FL  904-786-0388) √ COVID Safety Plan: Yes
Best Western Southside Hotel & Suites

- The King Bed suite with Whirlpool Tub fits the bill very nicely for your Jacksonville hot tub suite getaway. In the morning there's a hot breakfast and a location close to I-295 to get you on your way quickly and easily. What Other Guests Liked: Free WiFi, newspaper and parking. Outdoor pool. Worth Knowing: Occasional issues with water pressure and temperature.  2022 ERV Rating*: 68% - Fair. Whirlpool Tub Size: 2 Persons. Whirlpool Suite Price: From $112/night.  (4580 Collins Rd, Jacksonville FL 904-264-4466) √ COVID Safety Plan: Yes
*ERV Rating: our unique, non-scientific ratings for romantic accommodation include:
Amenities: including Whirlpool bath or 

JACUZZI

®

Tub

,

scenic view, fireplace, lounge, etc
Location: proximity of hotel to restaurants, pubs, downtown, etc
Clientele: demographic the hotel attracts (couples, families, business travelers, etc)
Popularity: based on social media & crowd-sourced reviews 
Value: product offered compared to room rate 
Please Note: percentage ratings are not absolute but for comparative use only  
top hotels, getaways & packages on ERV
---