Virginia Whirlpool Suites
Virginia Hot Tub Suites & In-Room hotel Whirlpool Tubs
---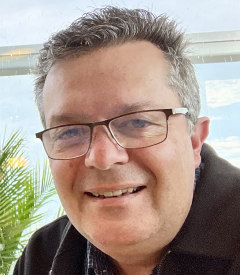 By: Greg Mattson, ERV Editor - Updated: Jul 14, 2023   

FTC: This page uses affiliate links. More. 

A hotel suite with a JACUZZI® Tub or Whirlpool bath right in the room will make your Virginia getaway something special. 

Hotels With In-Room Jetted Tubs in Virginia Beach, Norfolk, Roanoke VA and more
Enjoy this guide to hot tub suites in hotels, B&B's and vacation rentals in Virginia Beach, Norfolk, Richmond and Alexandria VA, as well as near the Shenandoah Mountains in Western Virginia.

Disclaimer: JACUZZI® is a registered trademark owned by Jacuzzi Inc. The use of the JACUZZI® trademark on this website is for informational purposes only. There is no relationship, connection or affiliation between this website and Jacuzzi Inc. or its related companies. Rates shown are approximate only and subject to change. Hotel rooms, jetted tubs and amenities can change, and may not be exactly as shown, so please contact the hotel or inn before making travel plans.
---
Virginia Beach Whirlpool

 

Suites
hilton garden inn virginia beach town center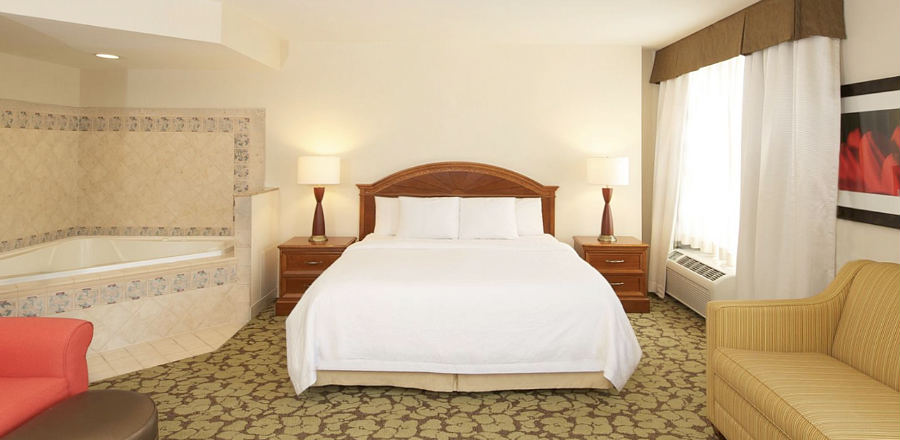 King Room with Jetted Tub at Hilton Garden Inn Virginia Beach
Hilton Garden Inn Virginia Beach Town Center - This Hilton Garden Inn is close to downtown Virginia Beach. Besides a lovely soak in their King Room with Jetted Tub, you get a flat screen TV, free WiFi, a spacious living area, and their Serta Suite Dreams bed. 2023 ERV Rating* for Virginia Beach Whirlpool Suites: 80% - Very Good. (252 Town Center Dr, Virginia Beach, VA.  855-277-5057) √ COVID Safety Plan: Yes
Four Sails resort
Four Sails Resort Oceanview ©TripAdvisor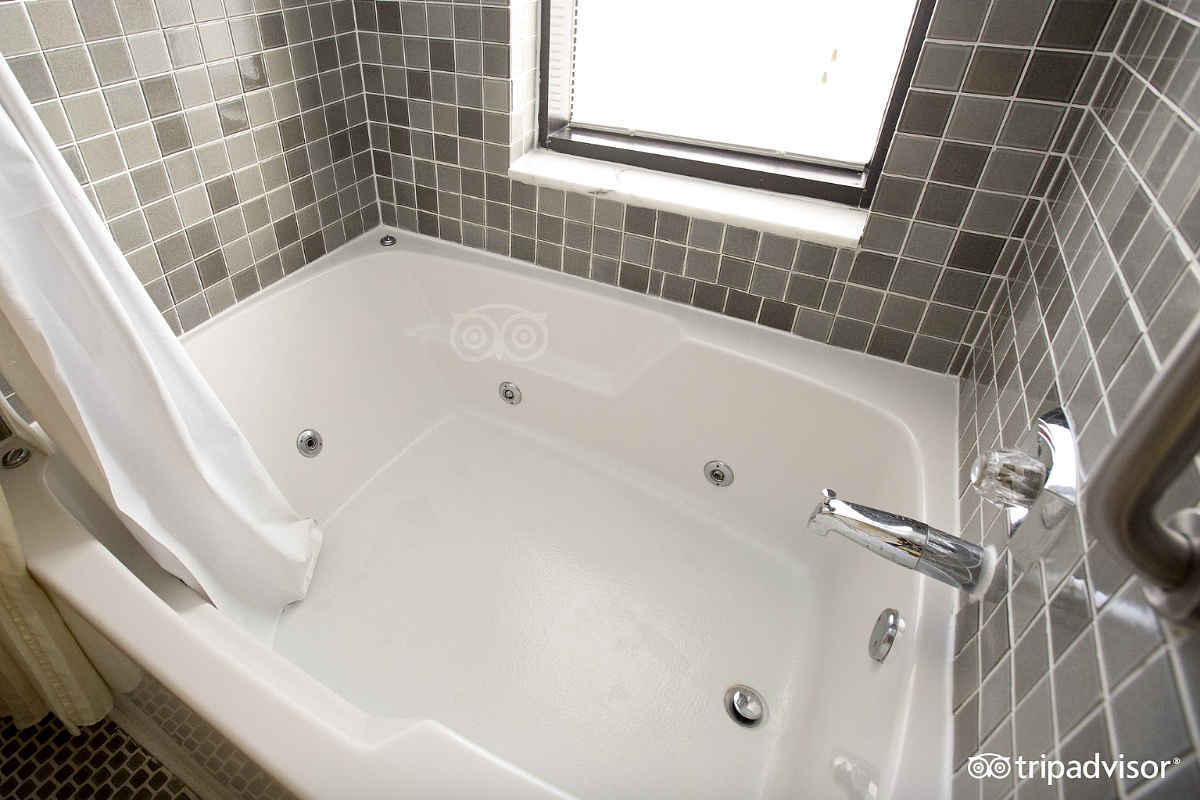 Four Sails Spa Bath Suite ©TripAdvisor
Four Sails Resort - Y

ou're in Virginia Beach, and of course you want an ocean view hot tub suite for your getaway! Both the Queen and King Rooms with Spa Bath have private balcony, full kitchen and free Wi-Fi.

2023 ERV Rating* for Virginia Beach Oceanfront Spa Tub Suites: 86% - Very Good. (3301 Atlantic Ave, Virginia Beach VA  757-491-8100) √ COVID Safety Plan: Yes
breakers resort inn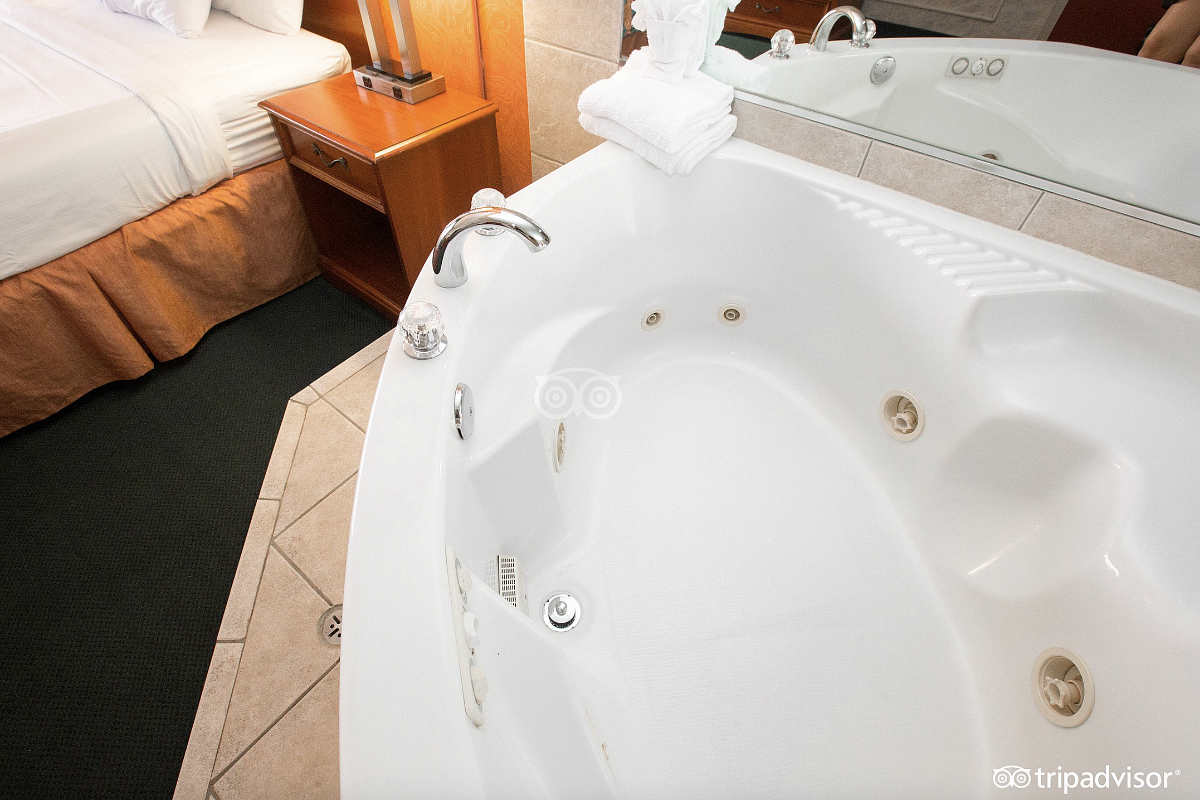 In-Room Whirlpool Tub for 2 - Breakers Resort Virginia Beach ©TripAdvisor
Breakers Resort Inn

- The Breakers has got a great oceanfront location next to the pier, plus a heated outdoor pool and on-site dining. Make sure to book their King Room with Whirlpool Tub for an extra relaxing Virginia Beach getaway. 2023 ERV Rating*: 80% - Very Good. Rates from $/204night. (1503 Atlantic Ave, Virginia Beach VA 757-428-1821)
northern virginia
alexandria VA - Holiday Inn Express
Holiday Inn Express Alexandria - Fort Belvoir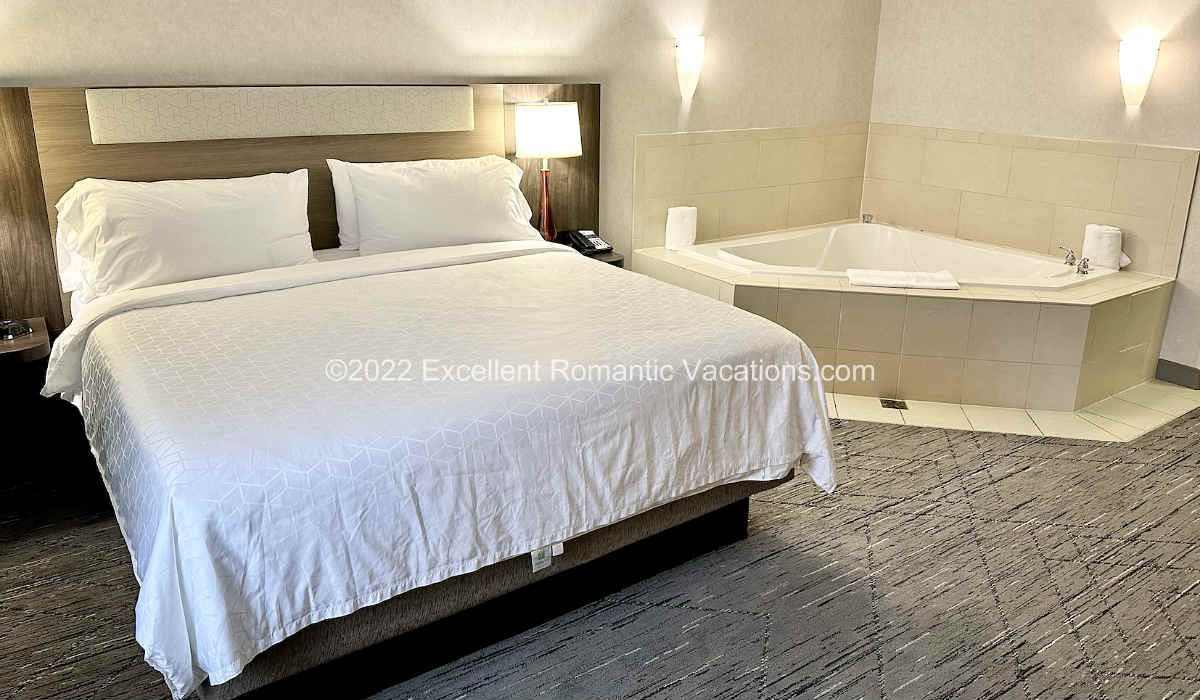 Holiday Inn Express Alexandria Whirlpool Suite
Holiday Inn Express Alexandria Fort Belvoir

- Northern Virginia jetted tub suites don't get much better (and affordable) than this Holiday Inn Express in beautiful Alexandria, just 10 miles from downtown DC. We spent a couple nights in one of their King Jetted Tub Suites, and can report that it's great value. The room was clean and quiet, the tub is big enough for 2 persons, and there's a free breakfast each morning, as well as plenty of free parking. 2023 ERV Rating* for Alexandria VA Whirlpool Suites: 90% - Excellent. (6055 Richmond Hwy, Alexandria VA 571-257-9555)  
ashburn, VA NEAR DULLES AIRPORT
Suite with a JACUZZI® Tub - Hilton Garden Inn, Ashburn VA
Hilton Garden Inn Dulles North

- We flew into Dulles Airport (IAD) and stayed a night at this Hilton JACUZZI® Tub suite before visiting more of Virginia. The King Suite with 2-person jetted tub is very comfortable, and downstairs you'll find an indoor pool, Garden Grill restaurant and bar, and some very friendly staff. 2023 ERV Rating*: 80% - Very Good. (22400 Flagstaff Plaza, Ashburn VA 703-723-8989)
Virginia B&B Suites With a JACUZZI

®

Tub
garden & Sea inn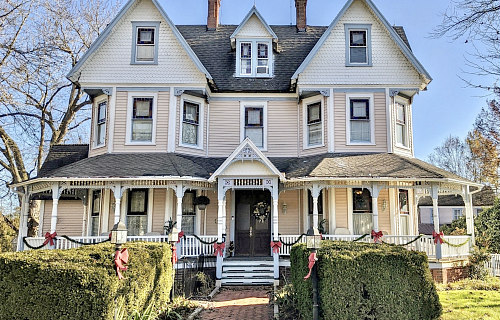 Garden and Sea Inn, Virginia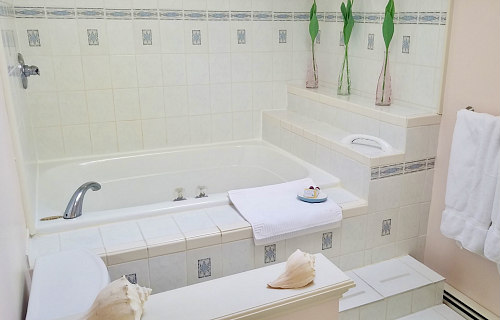 JACUZZI® Tub - Garden and Sea Inn
Garden and Sea Inn - Gorgeous pet-friendly inn close to Chincoteague Island, with Victorian-style rooms offering four-poster beds, fireplaces and JACUZZI

®

Tubs

. You'll also enjoy the fire pits, outdoor pool and delicious hot breakfast. 2023 ERV Rating* for Eastern Shore Virginia B&B's With an In-Room JACUZZI® Tub: 96% - Excellent. (4188 Nelson Rd, New Church VA  757-824-4123) 
Norfolk & Chesapeake VA Spa Suites
Hilton Garden Inn Chesapeake/Greenbrier

- 

Book your anniversary or honeymoon in one of their King Whirlpool Suites large enough for two! You can expect not only a spacious and spotless room, but indoor pool and complimentary Wi-Fi as well. 2023 ERV Rating* for Chesapeake VA Spa Tub Suites: 72% - Good. (1565 Crossways Blvd, Chesapeake VA  757-420-1212) √ COVID Safety Plan: Yes
Springhill Suites Norfolk Old Dominion University - Lots of things to like about this Marriott hotel, especially their VIP Suite which comes with a bubbly spa tub in the master bath large enough for tow people. 2023 ERV Rating* for Norfolk, Virginia Whirlpool Suites: 72% - Good. (4500 Hampton Blvd, Norfolk, VA.  757-423-4100) √ COVID Safety Plan: Yes
Newport News/Hampton VA Jetted Tub Suites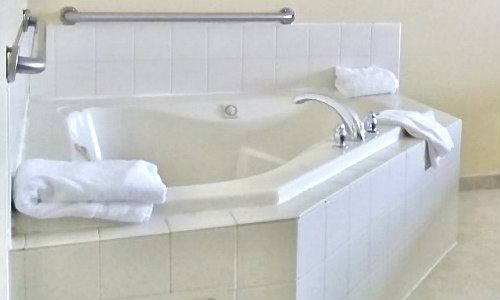 Hampton VA Spa Tub Suite
Country Inn & Suites by Radisson Hampton VA

- This Country Inn in the heart of Hampton Roads gets high marks for it's free breakfast, friendly staff and King Whirlpool Suites. 2023 ERV Rating* for Hampton, VA Whirlpool Tub Suites: 64% - Good. (1551 Hardy Cash Dr, Hampton VA  757-224-9994) √ COVID Safety Plan: Yes
Newport News VA Hot Tub Suite
Country Inn & Suites by Radisson Newport News South - Affordable hotel hot tub rooms in the Newport News, VA area. Enjoy free breakfast, indoor pool and a nice fireside lobby. 2023 ERV Rating* for Hampton VA Jetted Tub Suites: 62% - Fair. (1069 J Clyde Morris Blvd, Newport News, VA.  800-596-2375) √ COVID Safety Plan: Yes
Embassy Suites Hampton Roads Hotel, Spa & Convention Center - Their beautiful 2 room Presidential Suite with jetted tub wins high marks for honeymoons and anniversary stays in Eastern Virginia. And if you've never stayed a night at an Embassy Suites before, you're in for a treat come morning: one of the best "included hot breakfasts" of any major hotel chain. 2023 ERV Rating* for Hampton VA Whirlpool Suites: 78% - Good. (1700 Coliseum Dr, Hampton, VA.  855-277-4940) √ COVID Safety Plan: Yes
chincoteague island
hampton inn & suites chincoteague waterfront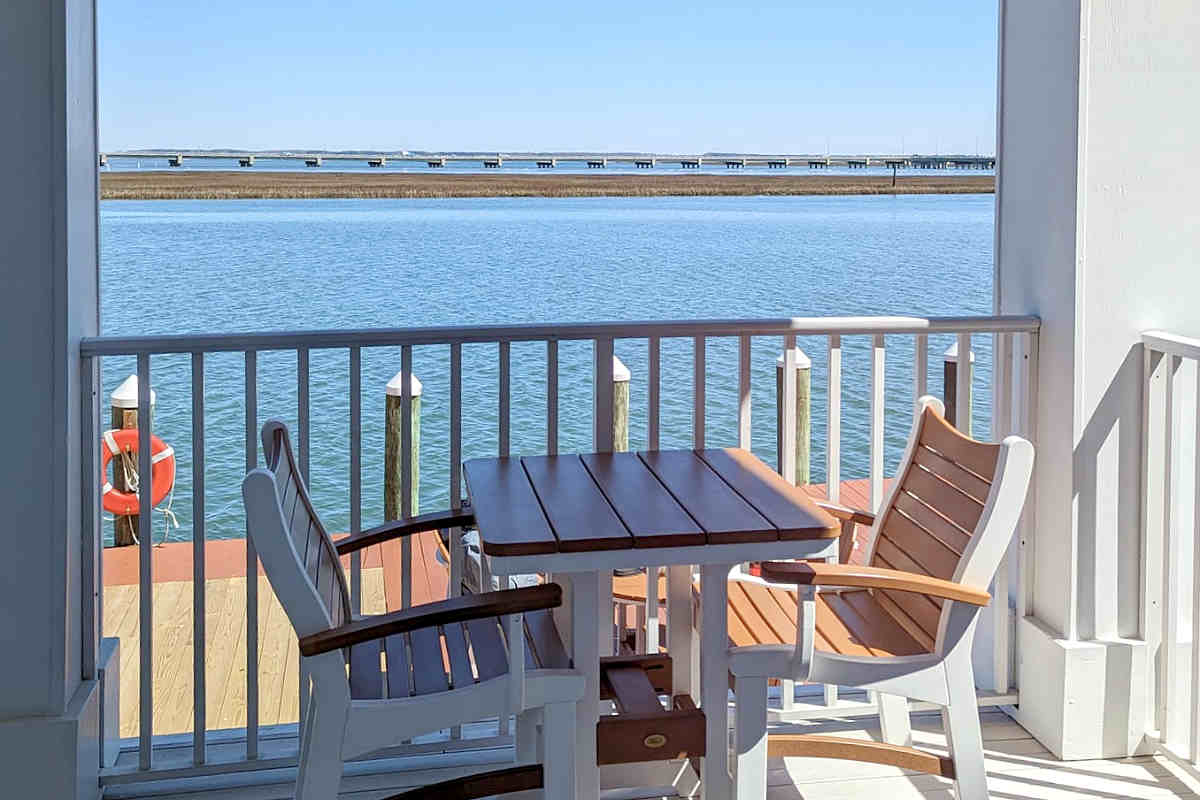 Hampton Inn Chincoteague Waterfront VA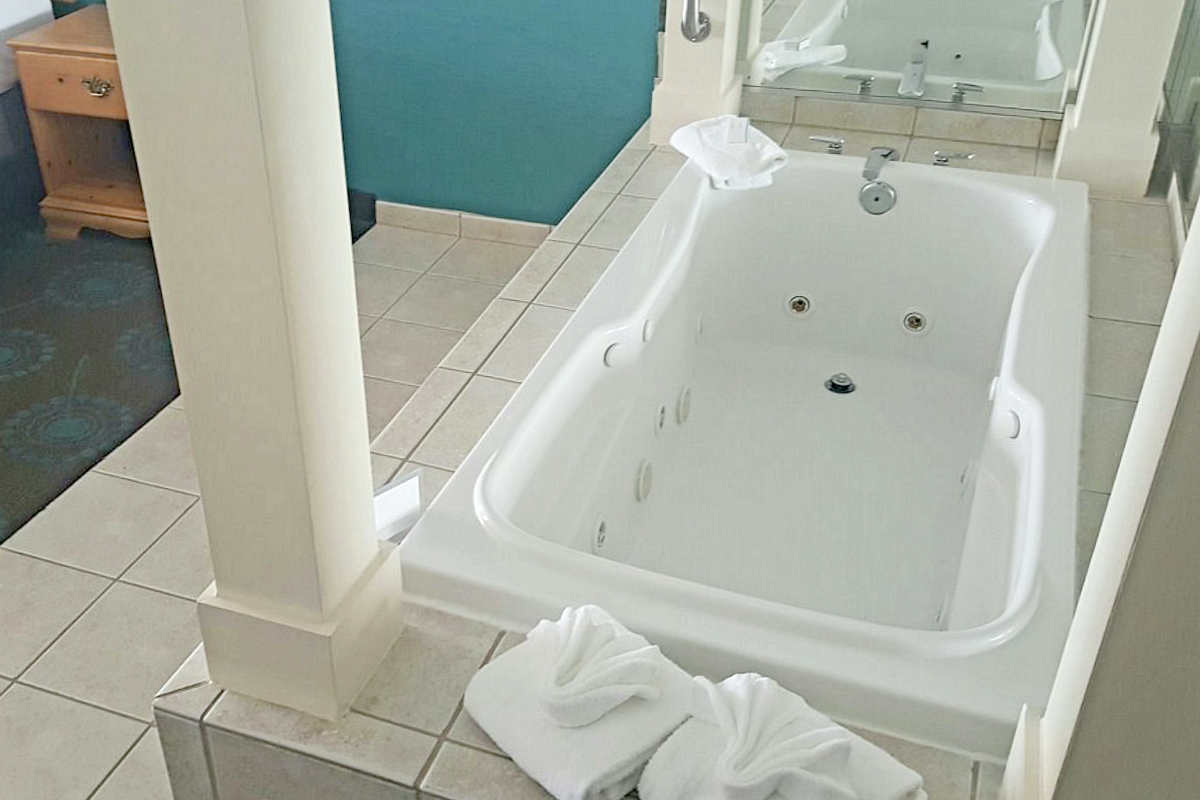 Hampton Chincoteague VA Whirlpool Suite
Hampton Inn & Suites Chincoteague Waterfront

- As the name says, oceanfront on Chincoteague Island, which is a mighty fine place to be! To make things even better, this top-rated Hilton offers their King Whirlpool Waterfront Suites, with a spacious jetted tub for 2, complimentary Wi-Fi, and balcony. 2023 ERV Rating*: 94% - Excellent. (4179 Main St, Chincoteague VA 757-336-1616)
comfort suites chincoteague
Comfort Suites Chincoteague Island Honeymoon Suite w/Jetted Tub
Comfort Suites Chincoteague

 - Here's our pick for one of the top honeymoon suites in Virginia: the Presidential Suite at this Comfort Inn, with it's fantastic 2-person jetted tub and panoramic ocean views. 2023 ERV Rating*: 94% - Excellent. (4195 Main St, Chincoteague Island VA 757-336-3700)
---
Western VA Whirlpool Suites
Roanoke, VA:
Fairfield Inn & Suites Roanoke North - Enjoy views of the Blue Ridge Mountains from this Marriott hotel close to Interstate 81. In addition to their King Whirlpool rooms, you'll appreciate the free hot breakfast and outdoor pool. 2023 ERV Rating* for Roanoke Virginia Hotel Rooms With Whirlpool Tubs: 78% - Good. (7944 Plantation Rd, Roanoke VA  540-362-4200) √ COVID Safety Plan: Yes
Central Virginia Hot Tub Suites
Lynchburg, VA:
Hilton Garden Inn Lynchburg

 - Have a look at their King 1 Bedroom Suite here which includes a large in-room jetted hydro spa tub. Only 6 miles from downtown Lynchburg, with indoor pool and fitness room. 2023 ERV Rating* for Lynchburg VA Whirlpool Suites: 80% - Very Good. (4025 Wards Rd, Lynchburg VA 434-239-3006) √ COVID Safety Plan: Yes
Richmond, VA:

Holiday Inn Express Downtown Richmond, VA - Live it up in one of this Holiday Inn Express's in-room jetted tub suites, with King beds, free Wi-Fi and hot breakfast, all close to Richmond's dining and entertainment areas of Shockoe Bottom & Shockoe Slip (free shuttle available). 2023 ERV Rating* for Hampton VA Hot Tub Suites: 62% - Fair. (201 E. Cary St, Richmond, VA.  877-859-5095) √ COVID Safety Plan: Yes
Virginia Vacation Rental Cabins with Hot Tubs
Hot Tub Heaven - Just had to include these romantic rentals near Virginia's Shenandoah Valley. Not in-room tubs, but these vacation cabins have large hot tubs just outside on the deck, superb for settling back with a glass of wine under the stars and moonlight. (Near Linden, VA  540-636-1522)
Secluded Spring Creek Cabin - Spacious and luxurious log cabin with not one but 2 hot tubs: an extra large one outside on the deck, and a jetted Whirlpool tub inside in the master bath. All sorts of extra amenities come included with this cabin, like outside dining area with outdoor grill and fire pit, air conditioning, high-speed internet, satellite HDTV and more. (Near Farmville/Lynchburg, Virginia)     
*ERV Rating: our unique, non-scientific ratings for romantic accommodation include:
Amenities: including Whirlpool bath or 

JACUZZI

®

Tub

,

scenic view, fireplace, lounge, etc
Location: proximity of hotel to restaurants, pubs, downtown, etc
Clientele: demographic the hotel attracts (couples, families, business travelers, etc)
Popularity: based on social media & crowd-sourced reviews 
Value: product offered compared to room rate 
Please Note: percentage ratings are not absolute but for comparative use only  
top hotels, getaways & packages on ERV
---