Washington State Whirlpool Suites
Washington State Hot Tub Suites & Hotel Rooms with Whirlpool Tubs

FTC: This page uses affiliate links. More. 

---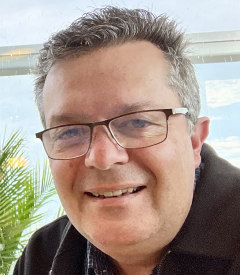 By: Greg Mattson, ERV Editor - Updated: Dec 1, 2022   

Got a getaway planned in beautiful Washington State? Make it more romantic in one of these inns and hotels with jetted in-room spa tubs. 

For Your NW Washington Honeymoon - JACUZZI® Tub Suite at the Wild Iris Inn, La Conner, WA
How This Washington State Hot Tub Suites Guide is Different: simply put, it's carefully collected and reviewed by us, not software! So you can rest assured that each of these romantic rooms in Washington State hotels and inns has a hot tub right in the room. 
Disclaimer: JACUZZI® is a registered trademark owned by Jacuzzi Inc. The use of the JACUZZI® trademark on this website is for informational purposes only. There is no relationship, connection or affiliation between this website and Jacuzzi Inc. or its related companies. Rates shown are approximate only. Hotel rooms, jetted tubs and amenities can change, and may not be exactly as shown, so please contact the hotel or inn before making travel plans.
---
Seattle Hotel Rooms With a JACUZZI® 
Tub
silver cloud inn lake union
Silver Cloud Inn Seattle Lake Union
JACUZZI® Tub - Silver Cloud Inn Seattle
Silver Cloud Inn Seattle Lake Union - couples looking for a downtown Seattle hot tub suite that offers some peace and quiet will love this Silver Cloud Inn. Romantic suites are complete with fireplace, King bed and JACUZZI

® 

tubs for 2, and there's free parking on-site as well. What Other Couples Liked: Views of Lake Union from the Breakfast Lounge…Easy Walk to Waterfront Restaurants…Free Shuttle to Space Needle and Pike Place Market. 2021 ERV Rating* for Seattle, WA Hotel Suites with a JACUZZI® Tub: 92% - Excellent. (1150 Fairview Ave N, Seattle WA  206-447-9500) √ COVID Safety Plan: 

Yes
silver cloud inn seattle broadway
Beautiful Suite with JACUZZI® Tub - Silver Cloud Inn Seattle Broadway ©TripAdvisor
Silver Cloud Hotel Seattle/Broadway - this hotel in the heart of Seattle's vibrant Capitol Hill district is easy to recommend for a romantic night or two in one of their King Rooms with a JACUZZI

® T

ub. Some rooms offer views of the Space Needle and lake, there's an indoor pool you can take a dip in, and their on-site "Jimmy's on Broadway" restaurant & bar is known for their selection of local craft beer & wines. 

2021 ERV Rating*: 86%

 - Very Good.

(1100 Broadway, Seattle WA  800-590-1801) √ COVID Safety Plan: 

Yes
Tacoma, WA Suites with JACUZZI
® 

Tubs
Silver Cloud Inn Tacoma Waterfront
Tacoma Oceanfront JACUZZI® Tub
Silver Cloud Inn Tacoma Waterfront - enjoy these suites with a 2-person JACUZZI® Tub which have a perfect waterfront location close to Tacoma's Old Town. What Other Couples Liked: Waterfront Walking Paths Nearby…Free Shuttle to Tacoma Attractions…Great Views of Puget Sound from the Room. 2020 ERV Rating* for Tacoma, WA Hotel Rooms with a JACUZZI® Tub: 90% - Excellent. (2317 Ruston Way, Tacoma WA  253-272-1300) √ COVID Safety Plan: 

Yes
---
Northwest Washington State Suites With a JACUZZI® Tub

wild iris inn
2-Person In-Room JACUZZI® Tub at the Wild Iris Inn, La Conner, Washington
Wild Iris Inn - you'll find several photos of the Wild Iris's Deluxe King Suites on ERV, including above and the top of this page. That's because it has to be one of the nicest Washington State inns offering rooms with a JACUZZI®

tub right in the 

suite.

The breakfasts are awesome, the staff are great, and the inn backs onto quiet farm land, ensuring a relaxing stay. 2021 ERV Rating* for NW Washington Suites with a JACUZZI

® 

Tub: 96%

 - Excellent.

(121 Maple Ave, La Conner WA  800-477-1400) √ COVID Safety Plan: 

Yes
Bellingham, WA
The Chrysallis Inn, Bellingham WA has Waterfront Hot Tub Suites
The Chrysalis Inn & Spa - this boutique inn has been a favorite of couples for several years now, and the room windows open up to exquisite views of the boats and mountains around Bellingham Bay. Be sure to book one of their Luxury King or Corner Suites which include the 2-person jetted tubs. 2021 ERV Rating* for Bellingham WA Jetted Tub Suites:

 

82%

 - Very Good. 

(

804 10th St, Bellingham WA  888-808-0005

) 

√ COVID Safety Plan: 

Yes
Mt. Vernon/Burlington, WA
Fairfield Inn & Suites Burlington - if you're travelling the I-5 north of Seattle, this Marriott-chain hotel is a good place to unwind and relax in their rooms equipped with Wi-Fi and bubbly, in-room Whirlpool tubs for two. There's an indoor pool as well, and Bob's Burgers & Brew next door serves some pretty good pub food and drinks. 2021 ERV Rating* for NW Washington Whirlpool Suites: 82%

- Very 

Good. (9384 Old Hwy 99 North, 

Burlington WA  360-757-2717) 

√ COVID Safety Plan: 

Yes
Port Angeles, WA
Book a Whirlpool Suite at the Olympic Lodge, Port Angeles WA
Olympic Lodge - in addition to luxury mattresses and bedding, the Olympic Suite here offers both a jetted tub and panoramic views of the Washington State's Olympic Mountains. This romantic lodge is 2 miles from the entrance to Olympic National Park, and 17 miles from world-famous Hurricane Ridge. 2021 ERV Rating* for Port Angeles Lodge with Spa Suites:90%

 - Excellent. 

(140 Del Guzzi Dr, Port Angeles WA  360-452-2993)
Oak Harbor: the coachman inn
2-Person In-Room Spa Tub at the Coachman Inn, Oak Harbor WA
Whidby Island, WA
Country Cottage of Langley

- luxury B&B with great views of the Cascade Mountains and Puget Sound. Gourmet breakfasts are served each morning, and both the Cabernet Cottage and Captain's Cove are outfitted with JACUZZI

® 

Tubs. 2021 ERV Rating: 92% - Excellent. (215 6th St, Langley WA 800-713-3860)  
---
San Juan Islands Jetted Tub Suites
Bedroom at the Bird Rock Hotel
2-Person Whirlpool Tub at the Bird Rock Hotel
Bird Rock Hotel - we checked out this small boutique hotel in Friday Harbor, and found the Lopez suite with separate bedroom, wet bar, flat screen TV and a spacious, 2-person Whirlpool tub. The location of this small inn is perfect, within walking distance of shops and dining in Friday Harbor, WA. 2021 ERV Rating* for Romantic San Juan Islands Hot Tub Suites: 86%

 - Very Good.

(35 First St, Friday Harbor WA  360-378-5848) √ COVID Safety Plan: 

Yes
---
West Coast Washington state Cottages with Hot Tubs
Harbor View, Westport Marina Cottages
Spa Tub Cottage, Westport Marina Cottages
Westport Marina Cottages - attractive ocean or harbor view cottages, with select units outfitted with with a small kitchen, flat screen TV, and jetted spa tub right in the room. What Other Couples Liked: Free Ice Cream Bars & Pop on Check-In...Fully Stocked Kitchen Units...Sights and Sounds from the Waterfront. 2021 ERV Rating* for Washington Coast Suites with a JACUZZI Tub: 94% - Excellent. (481 East Neddie Rose Dr, Westport WA  360-268-7680) 
Central & Eastern Washington State Spa Tub Suites
Leavenworth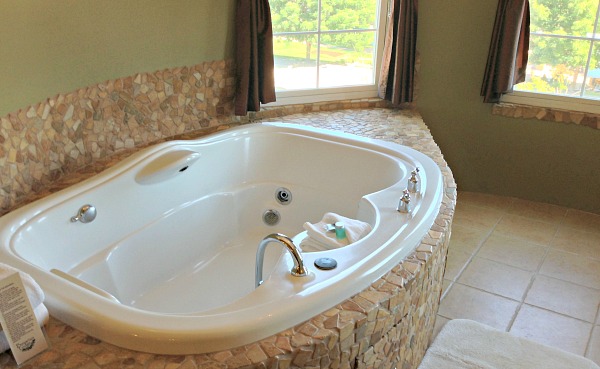 One of the Most Romantic Washington State Hot Tub Suites - Bavarian Lodge in Leavenworth, WA
Bavarian Lodge - you can find lots of Jetted Tub

 

Suite accommodation in this Central Washington State tourist hot spot, but few will have the scenic views and German castle-esque decor of the Bavarian Lodge's Turret Suite. Gas fireplace and comfy robes add to the experience, and there's a hot buffet breakfast and outdoor pool heated year-round as well. 

2021 ERV Rating* for Leavenworth WA Spa Tub

 

Suites:

 

96%

 - Excellent.

(810 US Hwy 1, Leavenworth WA  888-717-7878)
Spokane, WA
Hampton Inn Spokane - romantic travelers

 in the Spokane Valley will enjoy this Hampton Inn located near Riverfront Park and just a 5 minute drive from downtown Spokane. Their 1 bedroom Whirpool suites have a 

separate

 bedroom with a king bed and in-room jetted spa tub big enough for 2 people. 

2021 ERV Rating* for Spokane Hotels with Spa Tub Suites: 90% - Excellent. (2010 S. Assembly Rd, Spokane WA  509-747-1100

) 

√ COVID Safety Plan: 

Yes
Wenatchee, WA
Holiday Inn Express Wenatchee - IHG Rewards members will be happy collecting points for their stay at this Holiday Inn Express with affordable Whirlpool suites on the city's north side. Besides reliably clean and comfortable rooms, this Holiday Inn treats it's guests to a light dinner with drinks every Monday to Wednesday night, and cookies and milk nightly at 7 PM. 2021 ERV Rating* Wenatchee WA Whirlpool Suites: 82% - Very Good. (1921 N. Wenatchee Ave, Wenatchee WA 509-663-6355

) 

√ COVID Safety Plan: 

Yes
Yakima, WA
Fairfield Inn & Suites Yakima - plenty of reasons to choose this Fairfield Inn for your next getaway to Yakima, Washington Wine Country: free hot breakfast, complimentary Wi-Fi, King Spa Guestrooms with 2-person jetted tubs, and choices of Greek, Italian and American dining with 5 minutes drive of the hotel. 2021 ERV Rating* for Yakima WA Hot Tub Suites: 76% - Good. (137 N Fair Ave, Yakima WA  509-452-3100

) 

√ COVID Safety Plan: 

Yes
---
Budget-Friendly Hot Tub Suites in Southern Washington State
Best Western Plus Vancouver Mall Drive
Whirlpool Suite in Vancouver WA
Best Western Plus Vancouver Mall Drive - inexpensive and impressive Best Western Plus quality, plus spacious Whirlpool suites in this newer hotel close to shopping, dining and PDX Airport. Great for budget hot tub hotel stays in Southern Washington state. What Other Couples Liked: Spacious Suites, Comfy Beds…Nice Indoor Pool and Hot Tub…Easy Access to I-5. 2020 ERV Rating* for Southern Washington State Whirlpool Suites: 80% - Very Good. (9420 NE Vancouver Mall Dr, Vancouver WA 360-256-0707) √ COVID Safety Plan: 

Yes
Carson, WA
Carson Ridge Honeymoon Cabins
Carson, WA Romantic Whirlpool Suite
Carson Ridge Luxury Cabins - Ten beautiful and unique luxury cabins set on 9 acres of landscaped gardens with private seating areas.  Think private porch swings, sun sets, jetted tubs, and cozy robes. Indulge in a fireside couple's massage, hike the nearby trails, and check out the romance packages and add-ons offered. 2021 ERV Rating*: 96% - Excellent. (1261 Wind River Hwy, Carson WA 509-427-7777)
Kennewick, WA
Best Western Plus Kennewick Inn - this top-rated Best Western's King Whirlpool rooms are romance-ready with over-sized jetted tubs, fireplace and complimentary sparkling wine. Location-wise, you'll be situated within 15 minutes drive to several wineries, shopping and Columbia River cruises. 2021 ERV Rating* for Kennewick, WA Jetted Tub Suites: 94%

 - Excellent.

(4001 W 27th Ave, 

Kennewick WA  509-586-1332

) 

√ COVID Safety Plan: 

Yes
*ERV Rating: our unique, non-scientific ratings for romantic accommodation include:
Amenities: including Whirlpool bath or 

JACUZZI

®

Tub

,

scenic view, fireplace, lounge, etc
Location: proximity of hotel to restaurants, pubs, downtown, etc
Clientele: demographic the hotel attracts (couples, families, business travelers, etc)
Popularity: based on social media & crowd-sourced reviews 
Value: product offered compared to room rate 
Please Note: percentage ratings are not absolute but for comparative use only  
top hotels, getaways & packages on ERV
---