Seattle Hot Tub Suites & Hotel Rooms with Romantic Whirlpool Tubs 
Romantic Overnights in Seattle, WA Area Hotels with In-Room Hot Tubs
Romantic Vacations Home › Hotel Hot Tub Suites › Seattle WA

Book a Whirlpool Suite for Your Next Romantic Getaway in Seattle
By Greg Mattson, ERV Editor - Updated: Jan 7, 2018
Got a special Seattle getaway that needs a hotel suite with a JACUZZI® tub? Enjoy this guide to romantic spa tub and Whirlpool suites in the greater Seattle area. 
What's Different About This Guide to Seattle Hot Tub Suites? Some other travel and hotel sites online have "automated" listings that show hotels with just one hot tub beside the pool, or rooms with only a soaker tub - which is not a jetted bath! We're different - you can trust the listings on Excellent Romantic Vacations to guide you only to hotel rooms in the Seattle area with in-room JACUZZI® tub or Whirlpool tub. Have a fun getaway!
Disclaimer: JACUZZI® is a registered trademark owned by Jacuzzi Inc. The use of the JACUZZI® trademark on this website is for informational purposes only. There is no relationship, connection or affiliation between this website and Jacuzzi Inc. or its related companies. As hotel rooms and amenities can change, please check with each individual accommodation property before making travel plans to ensure that the hotel room you have booked includes an authentic JACUZZI® brand hot tub. 
Downtown Seattle Hot Tub Suites
The Arctic Club Seattle - a DoubleTree by Hilton Hotel - wow, what a superb Seattle honeymoon the Denali Suite has in store: scenic views, rainfall shower, Sweet Dreams King bed, and a lovely whirlpool tub. 2017 ERV Rating* for Couples - Seattle Spa Tub Suites: 88%

 - Very Good.

(700 3rd Ave, Seattle, WA  206-340-0340)
---
SeaTac Airport Hot Tub Suites 
SeaTac Hot Tub Suites - finding a decent hotel with an in-room hot tub near SEA (or any airport) can be a real challenge, as most airport hotels do not see this as a priority. But if you're starting your honeymoon by flying away the next morning, it's only natural that you might want an pre-trip overnight in one. We'd say the 2 nicest hot tub suites you'll find in a hotel close to SeaTac Airport are:
Fairfield Inn Seattle SeaTac Airport - about 2.5 miles from the airport, free shuttle, park n'fly packages available. 2017 ERV Rating* for Couples - SeaTac Hotel Rooms with Whirlpool Tubs: 66% - Fair. (19631 International Blvd, Seattle, WA  206-824-9909) 
Courtyard by Marriott Seattle SeaTac - about 4 miles from the airport, free shuttle, park n'fly packages available. 2017 ERV Rating* for Couples - Hot Tub Suites Close to SeaTac:  70% - Good. 16038 West Valley Hwy, Tukwila, WA  425-255-0300)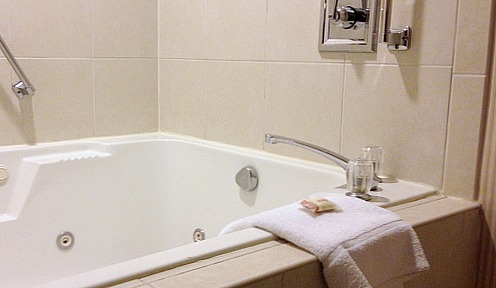 Reserve a Romantic Hot Tub Suite Near SeaTac Before Your Next Trip
Tacoma, WA
Holiday Inn Express Hotel & Suites Tacoma - if you're romantic travels take you to or through Tacoma, there's the Holiday Inn Express, a cheaper option with jetted tub suites and complimentary breakfast buffet every morning. 2017 ERV Rating* for Couples - Tacoma Hotel Hot Tub Suites: 82%

 - Very Good.

8601 S. Hosmer St, Tacoma, WA  253-539-2020)
Hotel Hot Tub Suites in Federal Way, WA
Quality Inn & Suites Federal Way - booking a room on a budget? This Quality Inn in Federal Way has some of the cheapest hotel rooms with 2-person Whirlpool tubs in the metro Seattle area. 2017 ERV Rating* for Couples - Federal Way WA Hot Tub Suites:

 

82% - Very Good. (1400 S 348 St, Federal Way, WA  253-835-4141) 
Bellevue, WA
Courtyard Seattle/Bellevue Downtown - make reservations for a King Guestroom with Whirlpool tub, and you're all set for a romantic getaway in attractive Bellevue. 2017 ERV Rating* for Couples - Bellevue WA Whirlpool Suites:

 

92% - Excellent. (11010 NE 8th Street  Bellevue  WA  425-454-5888)
Everett, WA Hotel Hot Tub Suites
Attractive and Affordable Whirlpool Suite - Hilton Garden Inn, Everett, WA
Hilton Garden Inn Seattle North/Everett - Boeings and Bubbles! If you're looking for a hot tub suite near the Boeing Tour Center, this Hilton is an obvious choice. Enjoy drinks and meals at the on-site Garden Grill & Bar, Mountain & aircraft views, and of course, their comfortable Whirlpool Spa Suites. 2017 ERV Rating* for Couples - Mukilteo WA Whirlpool Suites: 84% - Excellent. (8401 Paine Field Blvd, Mukilteo WA  425-423-9000) 
Best Western Inn Navigator Inn & Suites - don't just expect an average jetted tub suite in this North Seattle hotel, but rather, they're described as including a Japanese Bubble Tub for 2! 2017 ERV Rating* for Couples - Everett WA Jetted Tub Suites: 93% - Excellent. (10210 Evergreen Way, Everett, WA  425-347-2555) 
*ERV Rating for Couples: our unique, non-scientific rating formula for romantic hotels which includes:
Romantic Amenities: such as an in-suite 

JACUZZI

®

tub or Whirlpool bath, scenic view, lounge, etc
Location: proximity of hotel to restaurants, pubs, downtown, etc
Clientele: demographic the hotel attracts (couples, families with kids, business travelers, etc)
Popularity with Couples & Honeymooners: based on variety of social media & crowd-sourced reviews.   
Excellent Romantic Vacations - Top Pages
---