Alaska Hot Tub Suites
alaska hot tub suites - wonderful whirlpool tubs in cozy lodges & hotels
FTC: This page uses affiliate links. More. 

---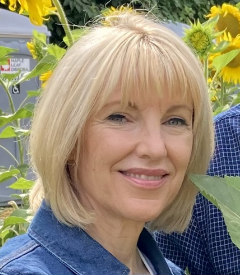 By: Maureen Mattson, Asst ERV Editor - Posted Apr 2, 2022
Alaska - aurora borealis, glaciers, incredible scenery & wildlife, and so much more. Experience this fascinating northern corner of the U.S. and keep the romance going by staying at lodges, hotels and inns with in-room Whirlpool or JACUZZI® Tubs. Here are a few of our recommendations...

Disclaimer: JACUZZI® is a registered trademark owned by Jacuzzi Inc. The use of the JACUZZI® trademark on this website is for informational purposes only. There is no relationship, connection or affiliation between this website and Jacuzzi Inc. or its related companies. Rates shown are approximate only and subject to change. Hotel rooms, jetted tubs and amenities can change, and may not be exactly as shown, so please contact the hotel or inn before making travel plans.
Anchorage hotels with in-room jetted tubs
Jetted Tub Suite in Anchorage, AK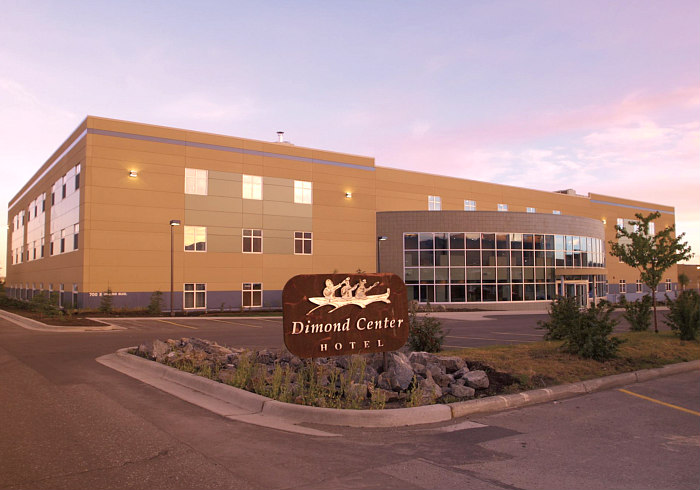 Dimond Center Hotel
Dimond Center Hotel - This one is in the heart of the shopping district and 15 minutes from downtown Anchorage. Coffee maker, refrigerator and microwave in each room, plus complimentary airport shuttle and breakfast, onsite laundry and restaurant. The "King Nonsmoking Jetted Tub" room is what you'll want for a romantic getaway. What Other Guests Liked: On-site restaurant & bar get high marks, rooms clean and updated. Worth Knowing: a few issues with Wi-Fi have been reported. 2022 ERV Rating*: 88% - Very Good. Whirlpool Tub Size: 2 persons. King Jetted Tub Room prices from $166/night. (700 E Dimond Blvd, Anchorage AK 907-308-2003)
anchorage B&B Spa Tub Suites
Alaska House of Jade Bed and Breakfast

- Five spacious rooms to choose from, plus free parking, WiFi, and snacks. Breakfast is included with each room package. The Denali Suite features a jetted tub, and the Master Suite offers over 900 square feet on two levels, as well as an oversized Whirlpool tub. Terrace, garden and picnic areas available. What Other Guests Liked: Terrific hospitality from the hosts, beautiful rooms, excellent breakfasts. Worth Knowing: located about 6 miles from downtown Anchorage. 2022 ERV Rating*: 90% - Excellent. Whirlpool Tub Size: 1 or 2 persons depending on suite. Hot Tub Room prices from $189/night. (3800 Delwood Pl, Anchorage 907-337-3400)
Luxury B&B Jetted Tubs Near Anchorage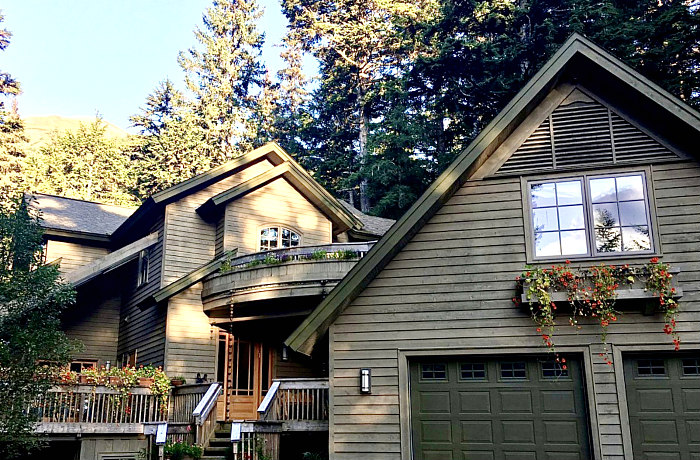 Hidden Creek B&B, Anchorage AK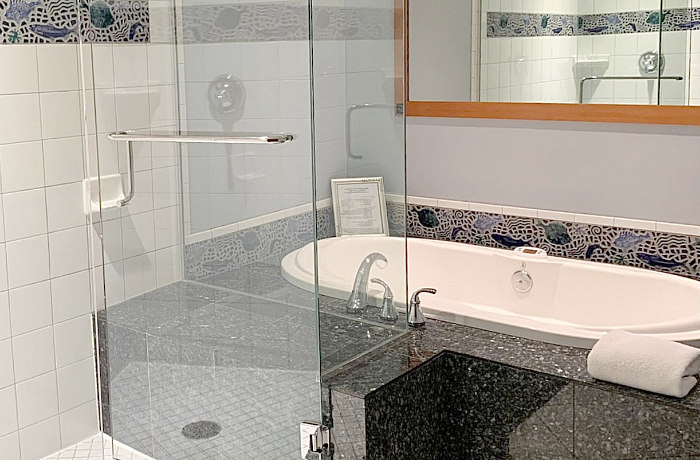 Creekside Suite Whirlpool Tub
Hidden Creek Bed and Breakfast

- Surround yourself with nature just 40 miles south of Anchorage. This luxurious craftsman home and surrounding area will let your senses come alive as you escape the city. The Creekside Suite features a deep Whirlpool tub and many luxurious amenities. What Other Guests Liked: Spectacular breakfasts, large, comfortable, clean and quiet rooms. Worth Knowing: B&B is a 50 minute drive southeast of Anchorage. 2022 ERV Rating*: 90% - Excellent. Jetted Tub Size: 1 person. Creekside Suite prices from $275/night. (739 Vail Drive PO Box 1398, Girdwood Anchorage 907-350-1484)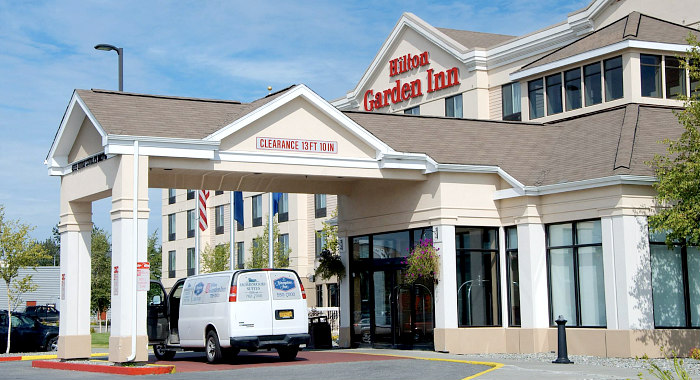 Hilton Garden Inn, Anchorage AK
Hilton Garden Inn Anchorage - Free Wi-Fi , shuttle, and parking, 24-hour front desk, pool and breakfast are a few of the perks here. Close to some of the most popular landmarks you'll want to see, including a history museum that is within walking distance. On-site restaurant and bar. Their King Room with Whirlpool will make things romantic and relaxing. What Other Guests Liked: good hot breakfast, friendly staff. Worth Knowing: some guests reported that housekeeping could improve. 2022 ERV Rating*: 76% - Good. Whirlpool Tub Size: 2 persons. Spa Tub Room prices from $177/night. (4555 Union Square Drive, Anchorage AK 907-729-7000)
anchorage crown plaza jetted tub suites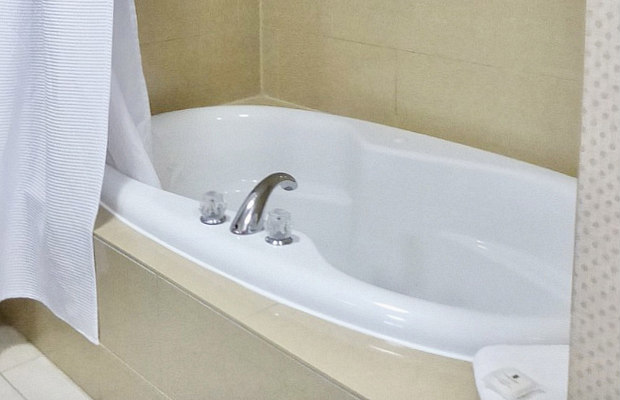 Whirlpool Tub - Crowne Plaza Anchorage
Crowne Plaza Anchorage Midtown

- Located just minutes from downtown shopping and attractions, the Crowne Plaza is just 2 miles from the Anchorage International Airport, and offers a complimentary shuttle service. There's also an onsite restaurant, and internet access is free. Upgrade to the King Spa Suite to relax in an oversized jetted tub. What Other Guests Liked: Friendly and helpful staff, clean and well kept rooms. Worth Knowing: Some complaints about noisy A/C units. 2022 ERV Rating*: 74% - Good. Jetted Tub Size: 1 person. Spa Tub Suite prices from $215/night. (109 W. International Airport Road, Anchorage AK 907-433-4100)
Holiday Inn Express Anchorage

- Just one mile from the airport and 10-minutes from the historic downtown area, this comfortable hotel puts you in the centre of the action. Rooms come with microwaves and refrigerators, as well as free Wi-Fi, airport shuttle service, and breakfast bar is included. There's a pool and workout room too. Ask about the One King Bed with Whirlpool for a romantic upgrade. What Other Guests Liked: clean and bright rooms, nice indoor pool. Worth Knowing: close to the airport but about 4 miles from downtown. 2022 ERV Rating*: 76% - Good. Jetted Tub Size: 2 persons. Whirlpool Suite Prices from $183/night. (4411 Spenard Rd, Anchorage AK 907-248-8848)
Comfort inn Whirlpool Suites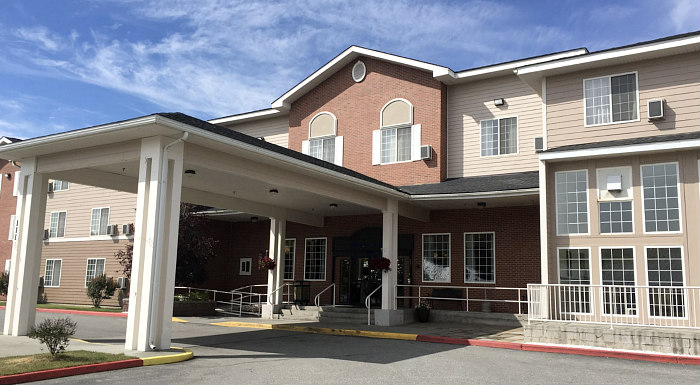 The Comfort Inn Ship Creek Has Whirlpool Suites
Fairfield Inn & Suites Anchorage Midtown

- Wi-Fi, breakfast and parking are included in the price at this Fairfield Inn, and there's a free airport shuttle. Popular Beluga Point is only 3km away. Fitness centre and pool are available for guest use, and there are several restaurants nearby. Book for the Larger King Room with 2-person Whirlpool Tub. What Other Guests Liked: TV's with Netflix, good location near downtown eateries, etc. Worth Knowing: some issues with room A/C reported. 2022 ERV Rating*: 72% - Good. Whirlpool Tub Size: 2 persons. Whirlpool Suite prices from $197/night. (5060 A St, Anchorage AK 907-222-9000)
Highland Glen Lodge

- Five spacious suites set in the peaceful Hillside area. Full gourmet breakfast, panoramic views, and a guest lounge. Just a short distance to downtown or the airport. The Honeymoon Suite, also known as the Highlander Room, features a double JACUZZI® Tub and steam shower. What Other Guests Liked: lovely hosts, immaculately kept, nice walks in the hills around the lodge. Worth Knowing: coffee & tea available only in common room. 2022 ERV Rating*: 92% - Excellent. JACUZZI® Tub Size: 2 persons. Highlander Suite Prices from $195/night. (11651 Hillside Dr, Anchorage AK 907-336-2312)
Deals Bed and Breakfast Inn

- Five rooms with private baths, fridge, microwave, cable TV and more. One features a jetted tub. Conveniently located 1 mile from the airport and 3 miles from downtown Anchorage. Sit out on the deck and let the quiet relaxed atmosphere enhance your stay. What Other Guests Liked: Close to the Anchorage Airport but quiet, friendly hosts. Worth Knowing: 4 miles from downtown. 2022 ERV Rating*: 82% - Very Good. Jetted Tub Size: 1 person. Hot Tub Suite Prices from $100/night. (2910 W 35th Ave, Anchorage AK 907-248-0331)
Alaska Chalet Bed & Breakfast - Wow! The Alaska Chalet Suite is 800 square feet, and furnished with private entrance, sunny sitting room and wood stove. It can accommodate 4 people, but it's also perfect for that romantic getaway for two. The large master bedroom includes a private bath with oversize JACUZZI® Tub. And the mountain views from the wrap-around deck are second to none! What Other Guests Liked: Relaxing stay, gracious host, clean and quiet. Worth Knowing: 3 night minimum stay. Located 16 miles northeast of Anchorage. 2022 ERV Rating*: 88% - Very Good. JACUZZI® Tub Size: 2 Persons. Spa Bath Suite prices from $75/night. (11031 Gulkana Cir, Eagle River Anchorage AK 907-694-1528)
Juneau suites with whirlpool Tubs
Romantic Suite - Pearson's Pond, Juneau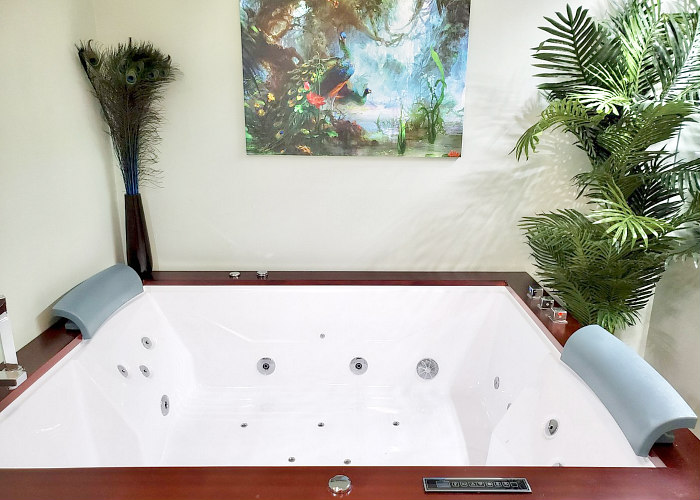 Hot Tub Suite in Juneau, Alaska
Pearson's Pond Luxury Juneau Spa Tub Suites - Get away from the cruise ship crowds and relax in Juneau's most desirable locations. All suites include kitchen, private entrances, and 1 or 2 bathrooms. The luxurious Eagle's Nest Luxury Suite 2-bedroom is a great choice for your Alaskan honeymoon, and includes a flowing wall of water, zero gravity full body massage chair, fireplace, fitness area, and private balcony oasis. Ensuite bathroom features a 2-person Whirlpool tub. What Other Guests Liked: Quiet location close to Mendenhall Glacier, great hosts, delicious breakfasts. Worth Knowing: Renovations in progress (March 2022). 2022 ERV Rating*: 94% - Excellent. Whirlpool Tub Size: Single and 2 person. Eagle's Nest Prices from $399/night. (9633 Kelly Ct Ste 1, Juneau AK 907-789-3772)
best western Juneau jetted tub suites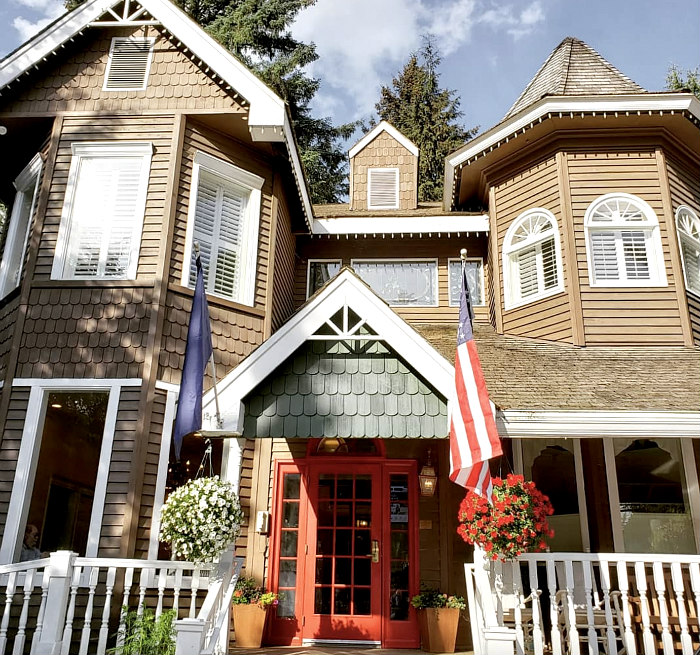 Best Western Grandma's Feather Bed
Whirlpool Suite - Best Western, Juneau
Best Western Grandma's Feather Bed - Perfect for a romantic weekend in Juneau! 14 guest rooms with feather beds and plenty of historic charm. Courtesy airport shuttle, guest laundry, and complimentary breakfast, as well as passes to the local gym. Onsite restaurant serves home-style dishes. Both Queen and King Whirlpool suites includes high-speed internet, microwave and refrigerator, and jetted tub. What Other Guests Liked: Very good breakfasts and on-site restaurant, quiet location. Worth Knowing: Located in Mendenhall Valley, about a 15 minute drive from Juneau. 2022 ERV Rating*: 92% - Excellent. Whirlpool Tub Size: 2 Persons. Spa Tub Suite Prices from $144/night. (2358 Mendenhall Loop Rd, Juneau AK 907-789-5566)
juneau, alaska B&B spa tub suite
Juneau's Capital Inn B&B Spa Tub Suite ©TripAdvisor
Alaska's Capital Inn Bed and Breakfast

- A beautifully restored 1906 mansion set high on a hillside overlooking the town and waterfront. Furnished in period antiques, and with a lovely outdoor garden area, there's also a covered outdoor hot tub, and breakfast includes fresh seafood. Deluxe King and King with Sofa Bed Rooms have Whirlpool tubs. What Other Guests Liked: Excellent breakfast, coffee and snacks during the day, great hosts with lots of local tips. Worth Knowing: Inn located at the top of a hill close to downtown Juneau. 2022 ERV Rating*: 94% - Excellent. Jetted Tub Size: 2 Persons. King Suite Prices from $269/night. (113 W 5th St, Juneau AK 907-586-6507)
Juneau Hotel

- Rooms offer flat screen TV, kitchenette, refrigerator, and WiFi. Parking is free, and you may make use of the fitness room and picnic area. Close to popular attractions and restaurants, the Juneau Hotel also provides a free shuttle to the airport and ferry terminal. The Two Bedroom Queen Suite with JACUZZI® Tub comes equipped with full size kitchen, and a washer and dryer. What Other Guests Liked: Clean rooms, easy walk to downtown. Worth Knowing: Some street noise reported. 2022 ERV Rating*: 74% - Very Good. JACUZZI® Tub Size: 1 Person. Jetted Tub Suite Prices from $209/night. (1200 W 9th St, Juneau AK 907-586-5666)
Frontier Suites Airport Hotel

- Located near the breathtaking Mendenhall Glacier, the Frontier Suites offers rooms and suites with full kitchens, airport and ferry shuttle, fitness centre, laundromat services, free parking, onsite restaurant, and 24-hour front desk. Ask about the King Whirlpool Room or Suite. What Other Guests Liked: Clean, comfy rooms, free & easy parking. Worth Knowing: Issues with unreliable Wi-Fi reported. 2022 ERV Rating*: 60% - Fair. Whirlpool Suites Rates from $134/night. (9400 Glacier Hwy, Juneau AK 907-790-6600)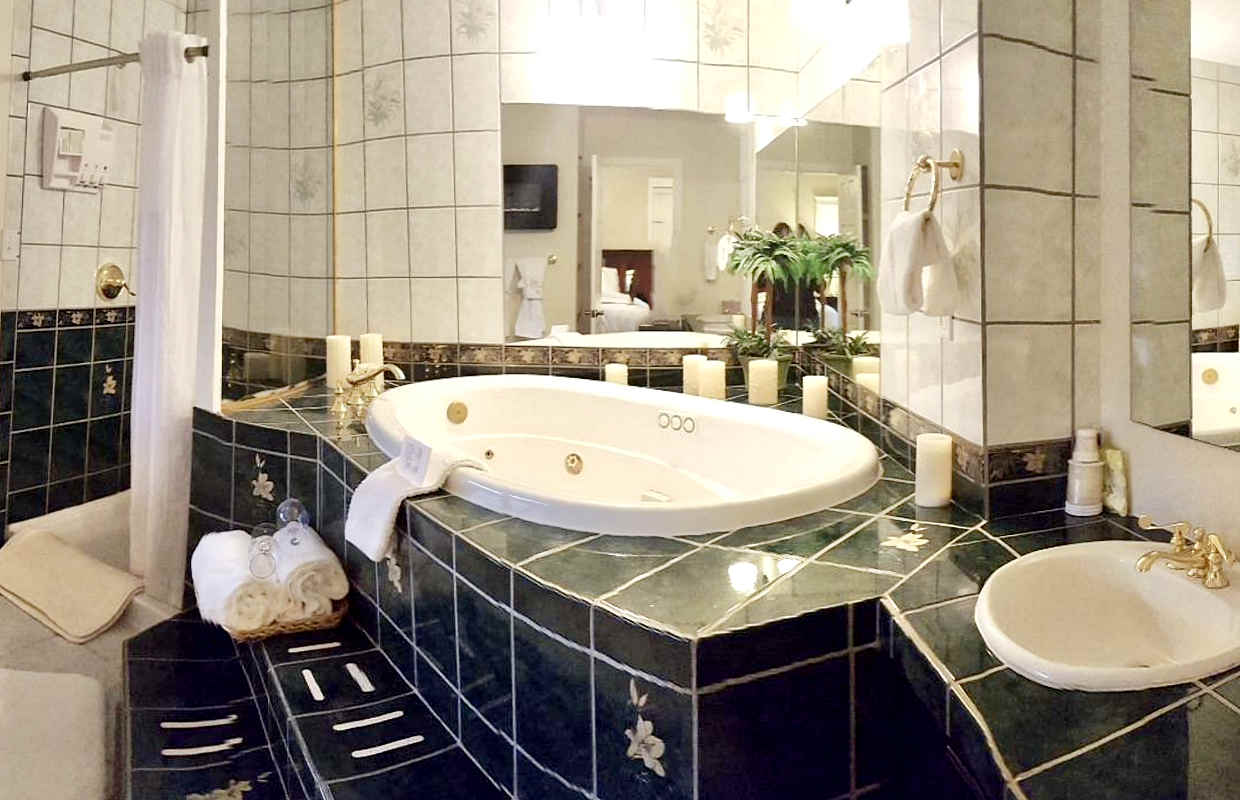 JACUZZI® Tub - Beachside Villa Luxury Inn
Beachside Villa Luxury Inn

- Charming waterfront inn with great views of Mt. Juneau and Mt. Roberts as well as the city and cruise ships. Six guest rooms with fireplaces, private balconies, and unique amenities. The Grande Suite features a 2-person JACUZZI® Tub and complete kitchen, while the Penthouse Honeymoon suite offers a waterfall-filled double JACUZZI® Tub tub and 2-headed shower. What Other Guests Liked: Very clean rooms, great views of Juneau. Worth Knowing: Some noise reported between floors. 2022 ERV Rating*: 82% - Very Good. Room Rates from: N/A. (3120 Douglas Hwy, Juneau AK 907-500-7008)
---
fairbanks hotel rooms with JAcuzzi® tubs
Sophie Station Room ©TripAdvisor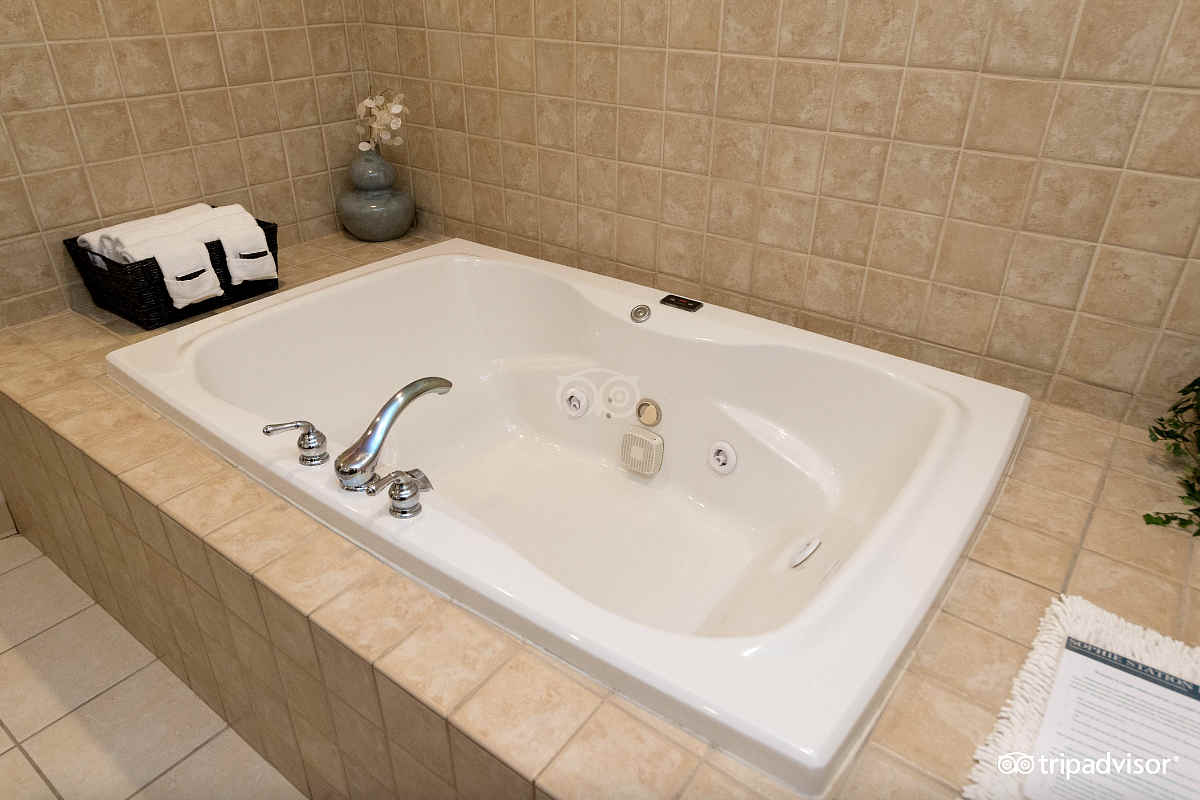 Sophie Station JACUZZI® Tub ©TripAdvisor
Sophie Station Suites

- Great dining options, a beautifully landscaped flower garden, and convenient location close to downtown shopping and the Fairbanks airport - all these things make Sophie Station Suites a popular choice for romantic getaways. Their JACUZZI® Tub Suite features a 72-inch TV, galley kitchen and private balcony, as well as double-headed shower and tub for 2. What Other Guests Liked: Hotel clean and comfortable, spacious rooms. Worth Knowing: Could use a few updates. 2022 ERV Rating*: 88% - Very Good. JACUZZI® Tub Size: 2 Persons. Hot Tub Room Rates from $199/night. (1717 University Ave S, Fairbanks 907-479-3650)
romantic alaska lodge with in-room spa tubs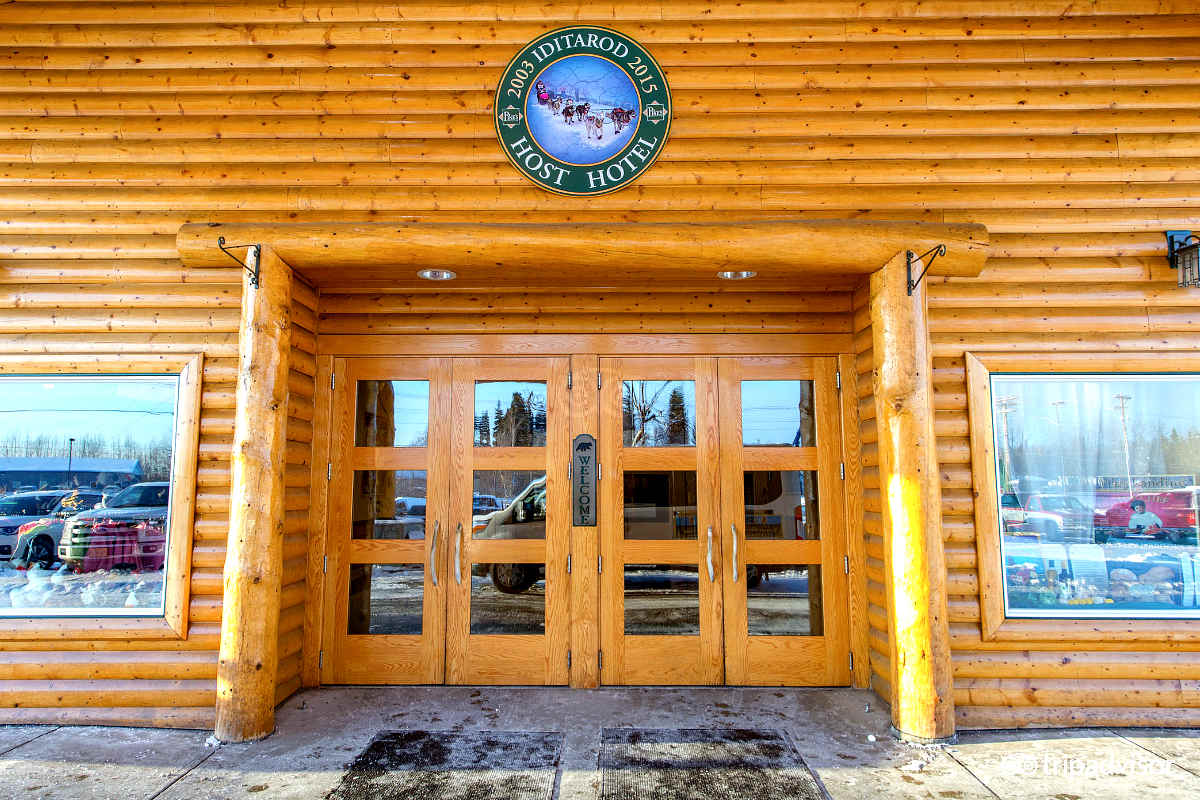 Pikes Waterfront Lodge ©TripAdvisor
Pikes Lodge In-Room Spa Tub ©TripAdvisor
Pike's Waterfront Lodge - Located on the Chena River, you'll find rooms and cabins with scenic views, riverside decks, restaurant and lounge, as well as a steam room that utilizes aromatherapy. Rooms have refrigerators and microwaves as well as Wi-Fi. Jetted tub rooms are available and include balconies that overlook the river. Northern Lights Wake-Up calls available in winter! What Other Guests Liked: Relaxing with views of the river, free coffee & cookies at check-in. Worth Knowing: Some found Wi-Fi speed hit-and-miss. 2022 ERV Rating*: 84% - Very Good. Jetted Tub Size: 2 Persons. Spa Tub Suite Prices from $199/night. (1850 Hoselton Rd, Fairbanks AK 877-774-2400)
Westmark Fairbanks Hotel w/In-Room Whirlpool Tubs ©TripAdvisor
Westmark Fairbanks Hotel and Conference Center

- 400 rooms in a convenient downtown location, with state-of-the-art fitness centre, complimentary wireless Internet, and 2 in-house restaurants. The Bear and Seal Suite in the North Tower features an Italian marble "Chromotherapy" tub with lights and bubbles as well as an 11-point shower system. What Other Guests Liked: Clean hotel with a professional ambience, walk to museums and restaurants. Worth Knowing: Room TV's not high-def. 2022 ERV Rating*: 60% - Fair. Spa Tub Suite prices from $233/night. (813 Noble St, Fairbanks AK 907-456-7722)
---
ketchikan spa tub suite hotels
Inn at Creek Street, Ketchikan AK
Inn at Creek Street

- A collection of restored historic properties, consisting of 26 unique rooms in 8 different buildings. Each unit is in the heart of downtown and most have small kitchens. Rooms overlook areas of frequent wildlife sightings. The quaint and romantic Star Room features a 2-person JACUZZI® Tub and creek views. Creekside Lofted Suites have balconies, loft bedrooms and JACUZZI® Tubs. What Other Guests Liked: Watching Sea Lions and Eagles from your room, friendly staff, walk to restaurants and attractions. Worth Knowing: Loft units bedrooms are accessed by a spiral staircase. 2022 ERV Rating*: 90% - Excellent. JACUZZI® Tub Size: 1 & 2 Persons. Jetted Tub Suite Prices from $139/night. (133 Stedman Street, Ketchikan AK 907-917-3089)
Cape Fox Lodge

- Think of a mountain cabin in downtown Ketchikan. Each room has a mountain or sea view, and parking, Wi-Fi, mini-fridge and microwave are included. The Blue Heron and Thunderbird suites, located on the third floor of the main lodge, offer large living area and oversized bathroom with spa tub. What Other Guests Liked: Quiet hotel, great views of Ketchikan. Worth Knowing: Cable car connecting the lodge to shops below not always operating. 2022 ERV Rating*: 86% - Very Good. Spa Tub Size: 1 person. Room Rates: N/A. (800 Venetia Way, Ketchikan AK 907-225-8001)
near denali national park
Denali Lakeview Inn

- A locally owned family retreat on Otto Lake, just 10 miles north of Denali National Park. Spectacular views from the private deck of every suite. Several of their themed rooms include a combo JACUZZI® Tub and shower. What Other Guests Liked: Very clean and comfortable rooms, spectacular lake and mountain views, lots of wildlife nearby. Worth Knowing: remote location requiring a car to visit. 2022 ERV Rating*: 88% - Very Good. JACUZZI® Tub Size: 1 person. Room Rates from $125/night. (Mile 1.2 Otto Lake Road PO Box 14, Healy, Denali National Park and Preserve,AK 907-683-4035)
talkeetna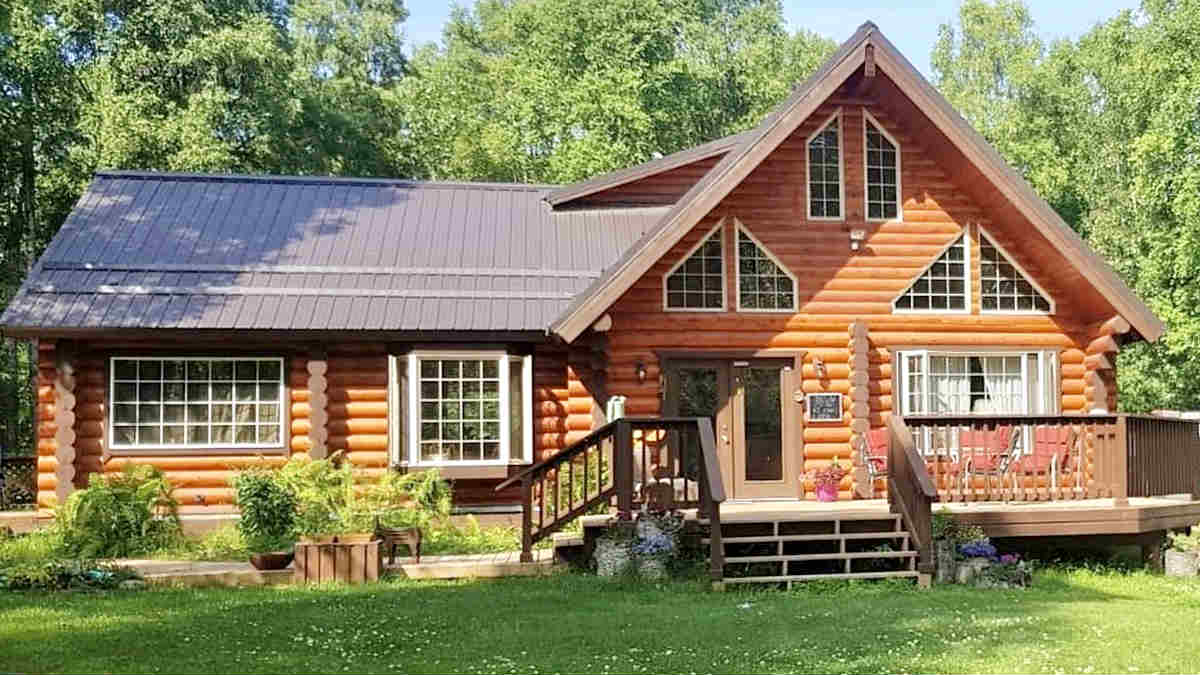 Meandering Moose Lodge has a Whirlpool Tub Suite in Talkeetna, Alaska
Meandering Moose Lodging

- A perfect vacation rental with private cabins and B&Bs within a mile of Talkeetna. Breakfast is offered in the main lodge and dogs are allowed. The Master Suite in the lodge takes up the full upstairs, and features a private bath with Whirlpool tub, satellite TV and plenty of natural light. What Other Guests Liked: Friendly and welcoming hosts, downtown Talkeetna just a 5 minute drive away. Worth Knowing: Don't expect fast internet speeds. 2022 ERV Rating*: 90% - Excellent. Whirlpool Tub Size: 1 Person. Suite Prices from $135/night. (14677 E Cabin Spike Avenue, Talkeetna AK 907-733-1000)
valdez, AK spa bath hotel suites
Best Western Valdez Harbor Inn

- A quiet hotel with stunning mountain views and lots of amenities. Each room has free Wi-Fi, flat screen TV and refrigerator. Breakfast is complimentary, and there is a fitness centre, free parking, on-site restaurant and free airport shuttle. The Ocean View Queen Suite includes a Whirlpool Tub. What Other Guests Liked: good hot breakfast, beautiful view of the harbor. Worth Knowing: No elevator to the second floor. 2022 ERV Rating*: 66% - Fair. Whirlpool Tub Size: 2 Persons. Queen Hot Tub Suite Rates from $126/night. (100 Harbor Drive P.O.Box 468 Valdez 907-835-3434)
Denali Primrose Bed & Breakfast

- A secluded escape that is close to the best of Denali National Park. The upstairs suite includes three bedrooms and one bathroom with JACUZZI® Tub, handmade quilts, French doors, TV with DVD player, phone and wireless network. Open kitchen on the middle floor is shared with the second suite downstairs. What Other Guests Liked: Lots of natural light in the rooms, friendly and informative host, very generous continental breakfast. Worth Knowing: Follow directions from the B&B rather than a GPS. 2022 ERV Rating*: 90% - Excellent. JACUZZI® Tub Size: 1 Person. Room Rates Start at $215/night. (#1 Stoney Creek Drive, Healy, Denali National Park and Preserve AK 208-596-9054)
Whittier, alaska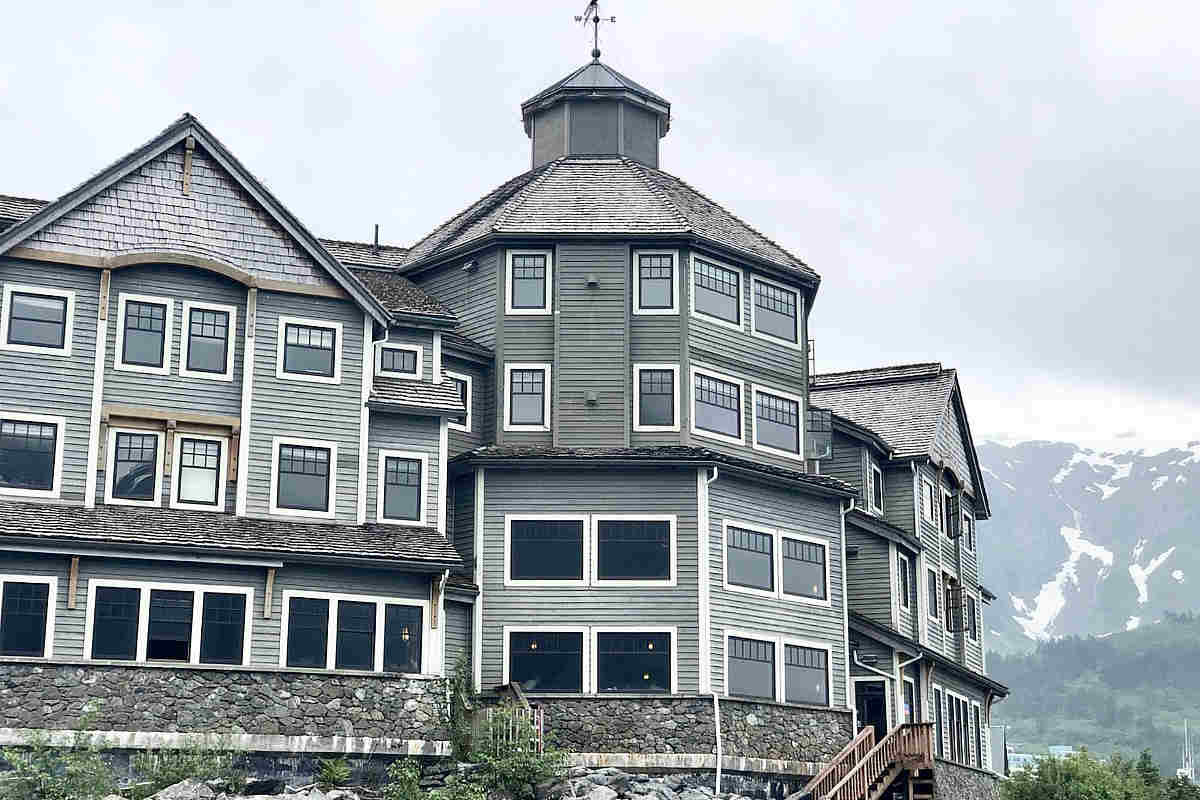 Inn at Whittier, Alaska
Inn At Whittier

- The landmark of this unspoiled wilderness town, the Inn at Whittier is located at the mouth of the harbour and has amazing views of Prince William Sound. Amenities include onsite restaurant and lounge, free Wi-Fi and parking. The King Ocean JACUZZI® Tub Suite is what you'll want for the most romantic experience here. What Other Guests Liked: Food and views from the restaurant, comfortable beds. Worth Knowing: Some noise reported from rooms near live music in the tavern. 2022 ERV Rating*: 80% - Very Good. JACUZZI® Tub Size: 1 Person. King Ocean Suite Prices from $189/night. (5a Harbor Loop, Whittier AK 907-472-3200)
*ERV Rating: our unique, non-scientific ratings for romantic accommodation include:
Amenities: including Whirlpool bath or 

JACUZZI

®

Tub

,

scenic view, fireplace, lounge, etc
Location: proximity of hotel to restaurants, pubs, downtown, etc
Clientele: demographic the hotel attracts (couples, families, business travelers, etc)
Popularity: based on social media & crowd-sourced reviews 
Value: product offered compared to room rate 
Please Note: percentage ratings are not absolute but for comparative use only  
top hotels, getaways & packages on ERV
---