Atlanta
Atlanta Hot Tub Suites - Find a Great hotel room Jacuzzi® tub in atl
FTC: This page uses affiliate links. More. 

---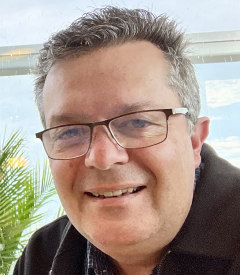 By: Greg Mattson, ERV Editor - Updated Jan 14, 2022
Spend your romantic hotel getaway in Atlanta in the comfort of a relaxing and private in-room jetted tub for two. Our guide includes both hotels and B&B's, and ranges from cheaper budget-friendly inns to luxury hotels. Have a fun hot tub stay in ATL! 

Reserve A Spacious Whirlpool or JACUZZI® Tub for Your Atlanta Hotel Stay
About These Atlanta Suites with Whirlpool and JACUZZI® Tubs: ERV always makes sure that our listings only feature hotels that offer jetted tubs right inside the hotel room, for your privacy and enjoyment.
Disclaimer: JACUZZI® is a registered trademark owned by Jacuzzi Inc. The use of the JACUZZI® trademark on this website is for informational purposes only. There is no relationship, connection or affiliation between this website and Jacuzzi Inc. or its related companies. Rates shown are approximate only and subject to change. Hotel rooms, jetted tubs and amenities can change, and may not be exactly as shown, so please contact the hotel or inn before making travel plans.
quick compare: 2022 Atlanta Hot Tub Suites
Compare Atlanta Hotel Room Spa Tubs At a Glance With Our New Quick Guide for 2022
erv video: Atlanta's Best hotel Whirlpool Suites
atlanta downtown jetted tub suites
hilton garden Inn Atlanta Downtown
Hilton Garden Inn Atlanta ©TripAdvisor
Atlanta Hilton In-Room Spa Tub ©TripAdvisor
Hilton Garden Inn Atlanta Downtown - need an in-room hot tub and an EV charge station? This Hilton has both! The King Bed Rooms with Whirlpool include their comfortable Garden Sleep System bed, as well as a Keurig® coffee maker. What Other Guests Liked: Located close to the Aquarium, World of Coca-Cola...2 pools and 2 restaurants on-site. Worth Knowing: Breakfast not included in room price, and self-parking is $36/night. 2022 ERV Rating* for Atlanta Hot Tub Suites: 80% - Very Good. Spa Tub Size: 1 person. Room prices from $218/night. (275 Baker St NW, Atlanta GA 404-577-2001) √ COVID Safety Plan: Yes
fairfield Inn & suites atlanta downtown
Fairfield Inn & Suites Atlanta Downtown - newly renovated Marriott hotel close to lots of Atlanta attractions. Their Junior Suites have marble bathrooms with Whirlpool tubs. What Other Guests Liked: Free Wi-Fi and buffet breakfast each morning. Worth Knowing: some guests report feeling unsafe in certain areas outside near the hotel. 2022 ERV Rating*: 64% - Fair. Whirlpool Tub Size: 1 person. Suite prices from $934/night. (54 Peachtree St SW, Atlanta GA 678-702-8600) √ COVID Safety Plan: Yes
---
Midtown atlanta whirlpool suites
stonehurst place
Stonehurst Place B&B Air Jet Spa Tub
Stonehurst Place - beautiful 19th-century Midtown mansion is perfect for a honeymoon or anniversary getaway in Atlanta. Make sure to book their Hinman King Suite, which is certainly one of the nicest suites with an in-room spa tub in all of Atlanta. What Other Guests Liked: Luxury bathrooms...truly outstanding gourmet breakfasts. Worth Knowing: off-street parking available & included in room price. 2022 ERV Rating*: 96% - Excellent. Jetted Spa Tub Size: 1 person. Suite prices from $399/night. (923 Piedmont Ave, Atlanta GA . 404-881-0722) √ COVID Safety Plan: Yes
hilton garden inn
Spa Tub - Hilton Garden Inn Midtown Atlanta
Hilton Garden Inn Atlanta Midtown - reliable Hilton quality, with King bed rooms fitted with spacious Whirlpool tubs. What Other Guests Liked: Garden Grill and Bar serves breakfast, dinner and drinks...you can walk to midtown MARTA station. Worth Knowing: no self-parking, only valet parking at $45/night. 2022 ERV Rating*: 72% - Good. Whirlpool Tub Size: 2 persons. Room prices from $158/night. (97 10th St NW, Atlanta GA  404-524-4006) √ COVID Safety Plan: Yes
---
In-Room Hot Tubs Near ATL Airport
best western plus airport south
Best Western Plus Hotel & Suites Airport South - King Bed Jetted Tub Suites are the rooms you want here at this Best Western hotel near ATL Airport. What Other Guests Liked: Free breakfast, Wi-Fi and airport shuttle all included in the room rate. Worth Knowing: No restaurants close to the hotel except fast food. 2022 ERV Rating* for Atlanta Airport Hotels with Jetted Spa Tubs: 60% - Fair. Jetted Tub Size: 2 persons. Suite prices from $178/night. (1556 Phoenix Blvd, College Park GA 770-996-5800) √ COVID Safety Plan: Yes
---
spa Tub suites - Atlanta Suburbs
hilton garden inn atlanta west lithia springs
King Whirlpool Suite - Hilton Garden Inn Atlanta West Lithia Springs
Hilton Garden Inn Atlanta West/Lithia Springs - expect a full service bar, on-site dining, pool and 24 hr Pantry at this Hilton Garden Inn. What Other Guests Liked: King Whirlpool Suites are decorated with 2 beautiful pillars...very clean rooms and hotel. Worth Knowing: breakfast not included in room rate. 2022 ERV Rating*: 86% - Very Good. Whirlpool Tub Size: 2 persons. Suite prices from $185/night. (110 Interstate West Pkwy, Lithia Springs GA) √ COVID Safety Plan: Yes
country Inn & Suites Hiram ga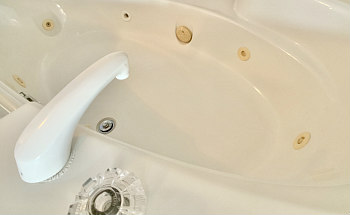 Relax in a Country Inn & Suites Hot Tub
Country Inn & Suites by Radisson Hiram - enjoy a relaxing weekend getaway in this Radisson chain hotel with their King Whirlpool Suites. What Other Guests Liked: extras like free cookies, complimentary breakfast and a Read It & Return Library. Worth Knowing: hotel is 30 miles from downtown Atlanta. 2022 ERV Rating*: 76% - Good. Whirlpool Tub Size: 2 persons. Suite prices from $168/night. (70 Enterprise Path, Hiram GA 770-222-0456) √ COVID Safety Plan: Yes
hilton atlanta perimeter suites
Hilton Atlanta Perimeter Suites - every room's a suite at this Hilton hotel close to downtown Atlanta, and their King Bed Suites with Whirlpool tub come with HDTV and free Wi-Fi. What Other Guests Liked: nice room balconies, French doors open to the bedroom. Worth Knowing: not many dining options within walking distance. 2022 ERV Rating*: 72% - Good. Whirlpool Tub Size: 2 persons. Suite prices from $179/night. (6120 Peachtree Dunwoody Rd, Atlanta GA 770-668-0808) √ COVID Safety Plan: Yes
---
More Romantic suites on erv:
---
country inn & suites smyrna ga
Country Inn & Suites by Radisson Smyrna - got plans for a Six Flags Over Georgia getaway? Then this Smyrna GA hot tub hotel with fit in nicely with their Whirlpool suites. What Other Guests Liked: Friendly Staff, 3 tasty Thai restaurants nearby. Worth Knowing: Swimming pool smaller than other hotel pools. 2022 ERV Rating*: 72% - Good. Whirlpool Tub Size: 2 Persons. Whirlpool Suites prices from $140/night. (2175 Church Rd SE, Smyrna GA 404-564-1105) √ COVID Safety Plan: Yes
comfort inn & suites fairburn ga
Comfort Inn & Suites Fairburn - located in the southwest Atlanta suburb of Fairburn, just 15 minutes from Atlanta International Airport. Book a King Bed Whirlpool Suite here for a relaxing getaway. What Other Guests Liked: 

Comfortable beds, free hot breakfast 

in the morning. Worth Knowing:

 a few cleanliness issues have been reported.

2022 ERV Rating*: 66%

- Fair.

Whirlpool Tub Size:

2 persons. Suite prices from

$124/night

. 

(7815 Senoia Rd, Fairburn GA 678-782-4900) √ COVID Safety Plan: 

Yes
comfort inn & suites morrow/atlanta south
Comfort Suites Morrow/Atlanta South - Free hot breakfast and indoor pool top the amenity list, and for an inexpensive getaway, reserve a night or 2 in one of their King Suites with In-Room Whirlpool tub. What Other Guests Liked: smoke-free and close to I-75 and ATL Airport. Worth Knowing: some guests would have liked more TV channels. 2022 ERV Rating*: 62% - Fair. Whirlpool Tub Size: 2 persons. Suite prices from $110/night. (1444 Southlake Plaza Dr, Morrow GA 678-674-1300) √ COVID Safety Plan: Yes
*ERV Rating: our unique, non-scientific ratings for romantic accommodation include:
Amenities: including Whirlpool bath or 

JACUZZI

®

Tub

,

scenic view, fireplace, lounge, etc
Location: proximity of hotel to restaurants, pubs, downtown, etc
Clientele: demographic the hotel attracts (couples, families, business travelers, etc)
Popularity: based on social media & crowd-sourced reviews 
Value: product offered compared to room rate 
Please Note: percentage ratings are not absolute but for comparative use only  
top hotels, getaways & packages on ERV
---