South Carolina Whirlpool Suites
south carolina hot tub suites - charleston, myrtle beach, hilton head & more
FTC: This page uses affiliate links. More. 

---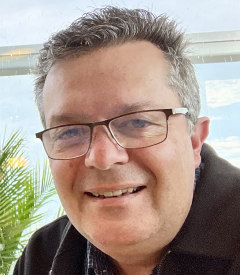 By: Greg Mattson, ERV Editor - Updated Sep 5, 2021
South Carolina is a great destination, so you need a hot tub suite stay at one of the state's romantic hotels!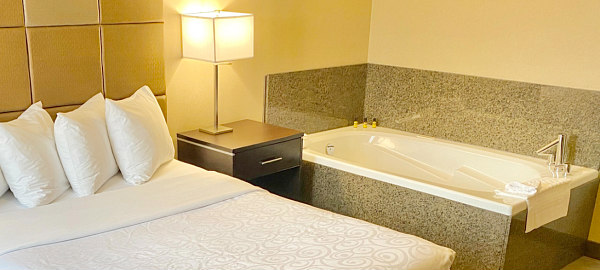 Reserve Your South Carolina Hotel Room with Private Spa Tub
Our accommodation guide here lists only hotels, inns and B&B's with private in-room jetted tubs. We hope this will help you find the hot tub suite that's best for you. Have a terrific getaway in SC! 

Disclaimer: JACUZZI® is a registered trademark owned by Jacuzzi Inc. The use of the JACUZZI® trademark on this website is for informational purposes only. There is no relationship, connection or affiliation between this website and Jacuzzi Inc. or its related companies. Rates shown are approximate only and subject to change. Hotel rooms, jetted tubs and amenities can change, and may not be exactly as shown, so please contact the hotel or inn before making travel plans.
charleston, South carolina hot Tub Suites
fulton lane inn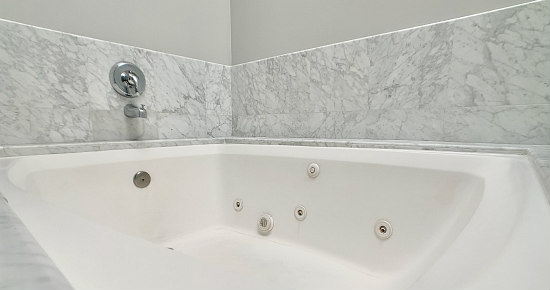 Book a Romantic Spa Tub Suite Stay at the Fulton Lane Inn
Fulton Lane Inn

- romantic King St Inn with gorgeous suites offering fireplaces and two-person Whirlpool Tubs. A continental breakfast is delivered to your door each morning, and don't miss their nightly wine and cheese reception. 2022 ERV Rating*: 88% - Very Good. (202 King St, Charleston SC 843-720-2600) √ COVID Safety Plan: 

Yes
town & country inn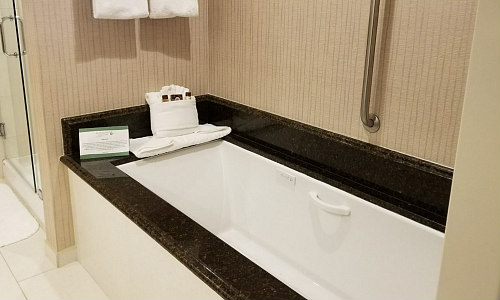 Town & Country Inn Jetted Tub Suite
Town and Country Inn & Suites

- newly-refreshed inn with Air Bath Tubs for your comfort and relaxation. Additional extras include Keurig coffee machines, blackout curtains for a good night's rest, and a late check-out time of 12:00 PM. 2021 ERV Rating: 96% - Excellent. (2008 Savannah Highway, Charleston SC 843-766-9444)
wentworth mansion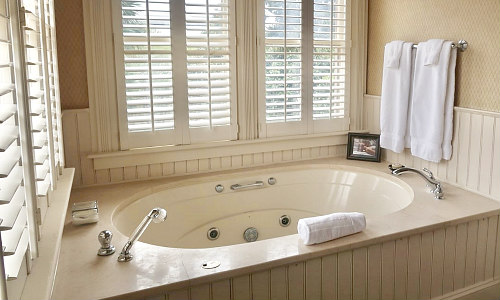 Spa Tub Suite - Wentworth Mansion
Wentworth Mansion - suites here all include jetted spa tubs for 2, as well as Wi-Fi, bathrobes and evening turn-down service. They've also got a very nice evening social with wine and hors d'oeuvres, plus a glass of port before you retire for the night. 2021 ERV Rating*: 96% - Excellent. (149 Wentworth St, Charleston SC 843-853-1886) √ COVID Safety Plan: 

Yes
comfort suites west of the ashley
Comfort Suites Charleston Whirlpool Suite ©TripAdvisor
Comfort Suites West of the Ashley - a short drive from the Historic District, with an indoor pool, fitness room and grab n' go breakfast. Book one of their 1 Bedroom Suites with 2 Queen Beds and a Whirlpool Tub big enough for 2 persons. 2021 ERV Rating: 88% - Very Good. (2080 Savannah Hwy, Charleston SC 843-769-9850) √ COVID Safety Plan: 

Yes
hot tub suites near charleston
hilton Garden Inn
Hilton Garden Inn Jetted Tub
Hilton Garden Inn Charleston/Mt Pleasant

- you need to book this Hilton's King 1 Bedroom Suite for their large Whirlpool tub for 2. Just 5 miles from downtown Charleston, with a terrace and fire pit, as well as on-site dining offering breakfast, dinner and drinks. 2021 ERV Rating*: 94% - Excellent. (300 Wingo Way, Mount Pleasant SC 843-606-4600) √ COVID Safety Plan: 

Yes
bw plus airport inn
Reserve a Spa Tub Near Charleston Airport
BW Plus Airport Inn & Suites - excellent choice for a Charleston hot tub hotel if your plans include a cruise or flights in/out of Charleston Airport. Their Whirlpool Suites are nice and large and come with a King bed, jetted tub and breakfast each morning. 2021 ERV Rating*: 72% - Good. (2470 Prospect Drive North, North Charleston SC 843-574-0911) √ COVID Safety Plan: 

Yes
country Inn & Suites Charleston north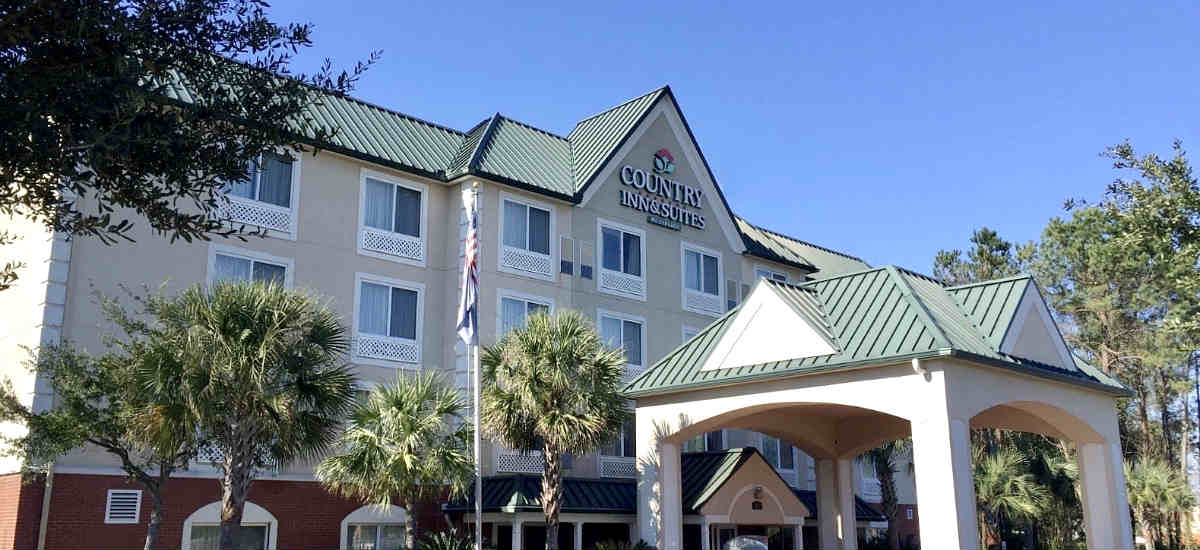 Country Inn & Suites Charleston North
Country Inn & Suites Charleston North

- check in, grab a free cookie, and then check out one of their budget-friendly King Whirlpool Suites for a stress-free stay. The hotel also has a fitness center and indoor pool, and a location near I-26, about 7 miles from CHS Airport. 2021 ERV Rating*: 58% - Fair. (7429 Stafford Rd, North Charleston SC 843-572-0083) √ COVID Safety Plan: 

Yes
best western magnolia Inn & suites
Best Western Magnolia Inn & Suites

- their King Whirlpool Suite is the one you want here, with a spacious jetted spa tub for 2. Includes complimentary breakfast, and located near golf, Whirling Waters Waterpark, Magnolia Gardens and much more. Only 1/2 hr drive from downtown Charleston. 2021 ERV Rating*: 74% - Good. (747 Treeland Dr, Ladson SC 843-553-8888) √ COVID Safety Plan: 

Yes
---
folly beach, sc - water's edge inn
Water's Edge Inn, Folly Beach SC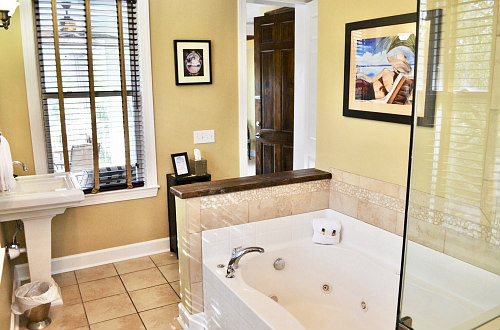 Theme Room with Spa Tub, Folly Beach
Water's Edge Inn

- set among lush gardens just a short distance from dining and the waterfront. Several theme suites here, including The Hemingway, The Floridian or Mrs. Rhodes Room, all come with Whirlpool tubs, and extras like fireplace, rain shower heads, bathrobes and a private balcony or terrace. 2021 ERV Rating*: 94% - Excellent. (79 2nd St West, Folly Beach SC 843-588-9800) √ COVID Safety Plan: 

Yes
seabrook Island
Seabrook Condo - while there may not be any hot tub suite hotels on Kiawah Island, there's no need to endure a bubble-less stay in this part of SC. Check out Seabrook Island right next door and this romantic 2-bedroom vacation rental condo with a jetted tub in the master bath. Unit also comes with private porch and is within walking distance to the beach. (Longbend Dr, Seabrook Island SC)
more on erv:
---
Myrtle Beach Jetted Tub Suites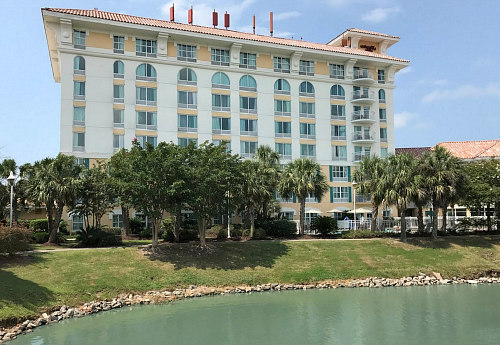 Hampton Inn Myrtle Beach Broadway
Hampton Inn Myrtle Beach Broadway at the Beach - soak away in a large Whirlpool tub, and drift off for a great night's sleep in one of their Hampton King Beds. There's 2 pools, free breakfast, and shopping and dining next door at Broadway at the Beach. 2021 ERV Rating*: 92% - Excellent. (7100 North Ocean Blvd, Myrtle Beach SC 855-571-0904) √ COVID Safety Plan: 

Yes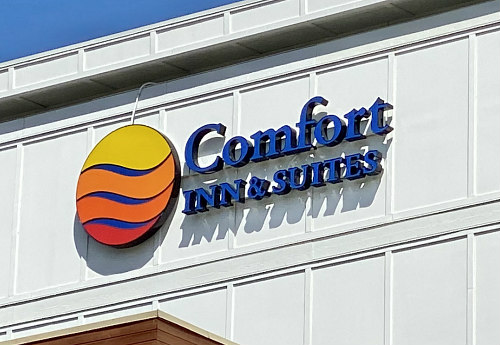 Enjoy a Comfort Suites Hot Tub Getaway
Comfort Suites Myrtle Beach SC Whirlpool Suites - interested in a quality Myrtle Beach hot tub suite for a cheap price? How about this Comfort Suites with their 1-Room King Bed Suites with Whirlpool Tub. Rates include outdoor pool and free Wi-Fi and breakfast. 2021 ERV Rating*: 86% - Very Good. (710 Frontage Rd East, Myrtle Beach SC) √ COVID Safety Plan: 

Yes
Hilton Garden Inn Myrtle Beach/Coastal Grand Mall

- great location next to the mall, and just 2 miles from Myrtle Beach Airport. Book a King Bed room with private Whirlpool tub, and take advantage of their Garden Grille restaurant downstairs for breakfast in the morning. 2021 ERV Rating*: 90% - Excellent. (2383 Coastal Grand Circle, Myrtle Beach SC 843-839-1200) √ COVID Safety Plan: 

Yes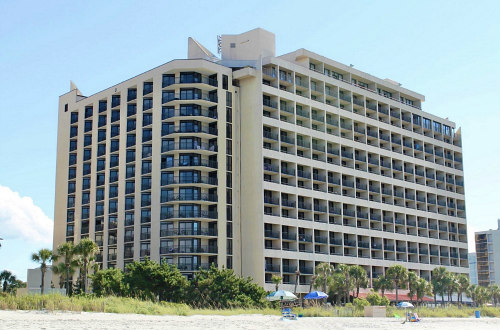 Ocean Reef Resort, Myrtle Beach SC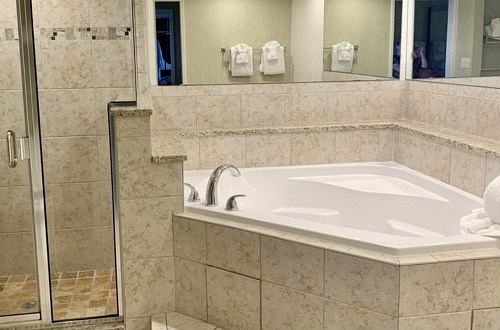 JACUZZI® Tub - Ocean Reef, Myrtle Beach
Ocean Reef Resort - 1-bedroom Executive King Spa Suites give you beautiful ocean views from the 17th floor, private balcony and a JACUZZI

® 

Tub. There's on-site dining, fitness facilities, indoor & outdoor pools and much more. 2021 ERV Rating*: 80% - Very Good. (7100 North Ocean Blvd, Myrtle Beach SC 855-571-0904)
The Caravelle Resort

- Oceanfront resort boasts a block-long pool area, and dining options that include a pool bar and breakfast each morning. For a romantic stay, select one of their ocean view suites with a JACUZZI® Tub. 2021 ERV Rating*: 70% - Good. (7100 North Ocean Blvd, Myrtle Beach SC 855-571-0904) √ COVID Safety Plan: 

Yes
surfside beach
Grand Palms Resort

- many of their one and two bedroom villas come outfitted with a spa bath tub. 2 pools, a lazy river, fitness centre and beach shuttle are just a few of the extras at this resort about 1/2 way between Pawley's Island and Myrtle Beach. 2020 ERV Rating*: 62% - Fair. (1250 US Hwy 17 North, Surfside Beach SC 888-913-4477) √ COVID Safety Plan: 

Yes
---
hilton head island Whirlpool Suites
Pool at the Marriott Grand Ocean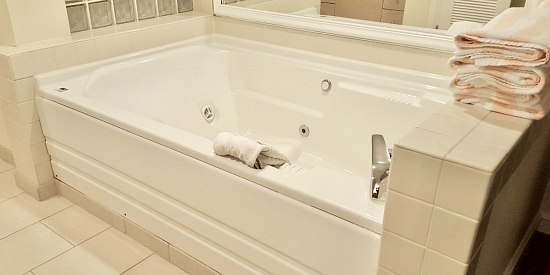 Jetted Tub Suite - Marriott's Grand Ocean
Marriott's Grand Ocean - oversized jetted tubs are included in this Marriott's 2 bedroom villa units. Beautiful oceanfront location, along with full kitchens, 4 pools and bike rentals make this resort a top-pick for Hilton Head Hot Tub hotels. 2021 ERV Rating*: 92% - Excellent. (51 S. Forest Beach Dr, Hilton Head SC 843-686-7343) √ COVID Safety Plan: 

Yes
Marriott's Harbour Point and Sunset Pointe at Shelter Cove - both the Harbour Pointe and Sunset Pointe 2 bedroom villas at this romantic resort have jetted tubs in the master bath. Fully-equipped kitchens, two pools, fire pit and barbecue grills are just of the amenities. 2021 ERV Rating*: 82% - Very Good. (4 Shelter Cove Lane, Hilton Head SC 843-686-7070) √ COVID Safety Plan: 

Yes
Beaufort, South Carolina Rooms with JACUZZI® Tubs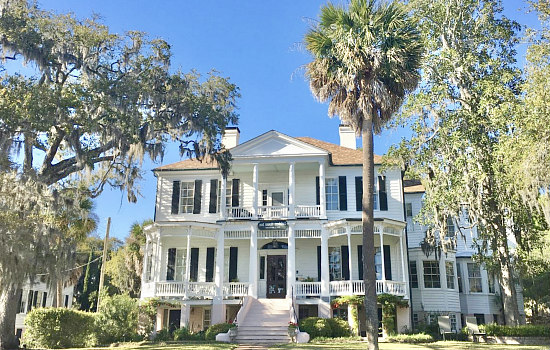 Cuthbert House Inn, Beaufort SC
Cuthbert House Inn

- relax on your private balcony and feel the refreshing ocean breeze at this romantic Beaufort SC inn. The Mariner Suite looks perfect for honeymoons here with it's two-person JACUZZI

® T

ub and water views. Evening social hour and a full hot breakfast in the morning included. 2021 ERV Rating*: 96% - Excellent. (1203 Bay St, Beaufort SC 843-521-1315) √ COVID Safety Plan: 

Yes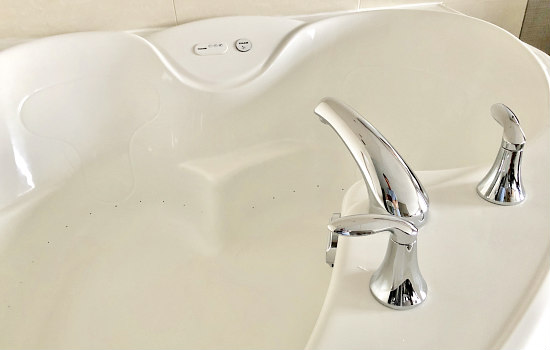 Comfort Suites Whirlpool Tub
Comfort Suites Near MCAS Beaufort

- Budget-friendly hotel just minutes from historic downtown Beaufort. Reserve a Suite with King or 2 Queen beds with a Whirlpool Tub for 2, and enjoy the premium bedding as well as complimentary breakfast next morning. 2021 ERV Rating*: 78% - Good. (131 Big John Rd, Beaufort SC 843-353-2149) √ COVID Safety Plan: 

Yes
---
SC Spa Tub suites - Midlands & upstate
columbia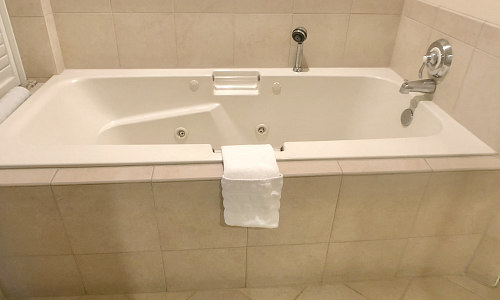 Book a Hilton Hot Tub Suite in Columbia SC
Hilton Garden Inn Columbia/Harbison

- selected King Suites come with HDTV, Keurig Coffee makers and a Whirlpool tub. Dine at your choice of restaurants nearby, or at on-site Garden Grille, with breakfast, dinner and drinks available. 2021 ERV Rating*: 94% - Excellent. (434 Columbiana Dr, Columbia SC 803-407-6640) √ COVID Safety Plan: 

Yes
Check Out the Hampton Inn, Columbia SC
Hampton Inn Columbia Downtown Historic District - great location with easy access to local bars, restaurants and shops. King Bed Rooms with a Whirlpool Tub include free Wi-Fi. Complimentary breakfast and outdoor pool too. 2021 ERV Rating*: 90% - Excellent. (822 Gervais St, Columbia SC 803-231-2000) √ COVID Safety Plan: 

Yes
Spartanburg
Hampton Inn Spartanburg North I-85

- relax in an oversized jetted spa tub in one of this Hampton's King Whirlpool Suites. Just off I-85 and close to Morgan Square, with breakfast and Wi-Fi included. 2021 ERV Rating*: 80% - Very Good. (121 Traveller Dr, Spartanburg SC 864-577-9080) √ COVID Safety Plan: 

Yes
greenville
clemson
Comfort Inn & Suites Clemson University Area

- very affordable choice, with King One Bedroom Suites with a 2-person Whirlpool tub, and amenities like free Wi-Fi, flat-screen TV's, USB ports, free breakfast and outdoor pool. 2021 ERV Rating*: 76% - Good. (1305 Tiger Blvd, Clemson SC 864-643-2226) √ COVID Safety Plan: 

Yes
Rock Hill, SC
Whirlpool Suite - Hilton Garden Inn, Rock Hill SC
Hilton Garden Inn Rock Hill - comfort you can count on, with King Rooms offering comfortable Hilton beds and a spacious Whirlpool tub. On-site dining is open for breakfast, dinner and drinks daily, with shopping, restaurants and a movie theatre nearby. 2021 ERV Rating*: 86% - Very Good. (650 Tinsley Way, Rock Hill SC 803-325-2800) √ COVID Safety Plan: 

Yes
Aiken
*ERV Rating: our unique, non-scientific ratings for romantic accommodation include:
Amenities: including Whirlpool bath or 

JACUZZI

®

Tub

,

scenic view, fireplace, lounge, etc
Location: proximity of hotel to restaurants, pubs, downtown, etc
Clientele: demographic the hotel attracts (couples, families, business travelers, etc)
Popularity: based on social media & crowd-sourced reviews 
Value: product offered compared to room rate 
Please Note: percentage ratings are not absolute but for comparative use only  
top hotels, getaways & packages on ERV
---