Las Vegas Honeymoons - Hotel Suites & Packages, Things to Do 

FTC: This page uses affiliate links. More. 

Las Vegas, NV
By: Maureen Mattson, ERV Asst Editor - Updated: Oct 1, 2019  

It only makes sense that Las Vegas, the wedding capital of USA, is also one of America's top honeymoon spots. 

The choice of honeymoon attractions and things to do in Las Vegas for newlyweds is unmatched anywhere in the USA. The sheer number of high rise resorts here also ensures that you'll have a great choice of honeymoon hotels and suites, whether it's affordable, mid-range or luxurious. Best of all, the weather in Las Vegas makes a great honeymoon possible just about anytime of the year. 

While you might not think of Las Vegas as the no. 1 choice for a peaceful quiet honeymoon spot, with some careful planning, you can give your romantic vacation here a nice balance of adventure along with some luxury and a little bit of relaxation.

Our selection of things to do in Las Vegas honeymoon can be done by any couple regardless of which hotel they are staying at. Have a great honeymoon...
---
Our Pick: Top 5 Vegas Honeymoon Hotels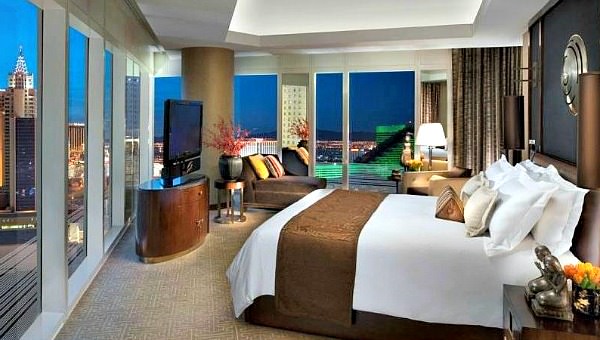 Waldorf Astoria - an Romantic Honeymoon Suite in Las Vegas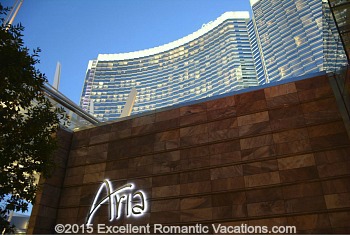 Aria Hotel Las Vegas
Aria - scanning the Strip's skyline, you can't help but notice the shining sleek silver architecture of the Aria hotel's towers. What Other Honeymooners Liked: Standard Rooms are Luxurious...Great Restaurants, Quiet Rooms...Turn Down Service Outstanding. 2019 ERV Rating* for Las Vegas Honeymoon Hotels: 84% - Very Good. (3730 Las Vegas Blvd South, 702-960-1997)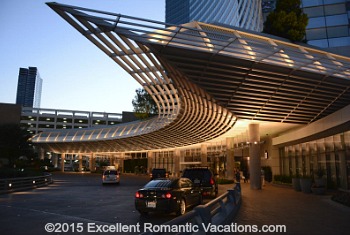 Vdara Hotel & Spa
Vdara

- tucked away discreetly just a block or so off the Strip, the Vdara is another example of the newer, more sophisticated Vegas resorts. What Other Couples Liked: Free Honeymoon Champagne...Beautiful Tranquil, Scented Lobby...Close to the Action but Quiet and Comfortable. 2019 ERV Rating* for Las Vegas Honeymoon Hotels: 88% - Very Good. (2600 W.Harmon Ave, 866-745-7767)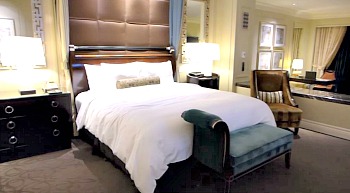 Suite at the Palazzo Hotel
The Palazoo

- the Venetian hotel is very nice, but this even more upscale Italian palace will take your breath away. What Other Guests Liked: Amazing Pools, Rooms & Service...Beautiful Hotel, First Class Amenities, Excellent Wi-Fi...Spacious Rooms at a Good End of the Strip. 2019 ERV Rating* for Las Vegas Honeymoon Resorts: 90% - Excellent. (3325 Las Vegas Blvd South, 866-263-3001)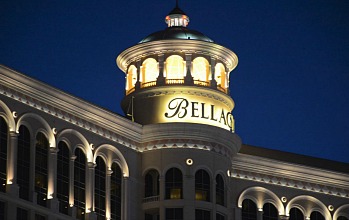 The Magnificent Bellagio Hotel
Bellagio

- recently renovated, the Bellagio still can lay claim to being one of most romantic resorts on the Strip. Both the Dancing Fountains and the indoor Botanical conservatory make it a destination for many non-guests. What Other Guests Liked: Calm Luxury in an Old World Way...Romantic Fountain View Rooms...Fresh Flowers and Chocolates for Villa Stay. 2019 ERV Rating* for Las Vegas Honeymoon Resorts: 80% - Very Good. (3600 Las Vegas Blvd South, 888-987-6667)
Las Vegas Honeymoon Packages
Paris Las Vegas Honeymoon Package - priced at $5000, includes 4 nights accommodation in their Calais honeymoon suite with a wine & cheese welcome plate, plus couples massage, a limousine tour, Eiffel Tower tour, turn down service each night, champagne breakfast in bed and much, much more. 
las vegas honeymoon whirlpool suites
Before the honeymoon...
10 Things to Do on Your Las Vegas Honeymoon
1. Take a Helicopter Tour of the Grand Canyon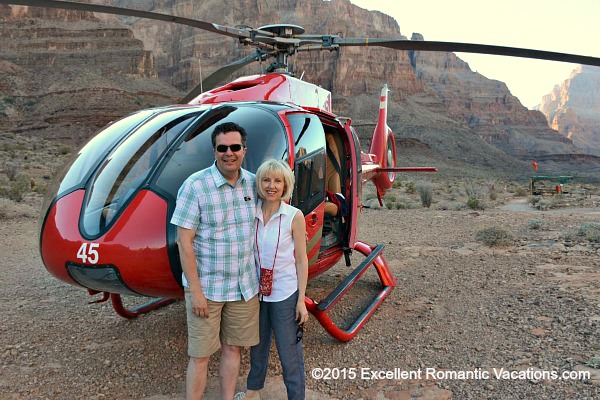 Arrival from Las Vegas by Helicopter at the Bottom of the Grand Canyon
Grand Canyon Helicopter Tour w/Champagne Picnic - we did this on our 2015 anniversary getaway in Vegas, and it easily rates as one of our top 5 experiences anywhere in the world! We went online and booked a 4 hour package ($450 each) that included:
Limousine pick up and drop off at our hotel
Flight in a modern 7-passenger touring helicopter with huge windows
Commentary by the Pilot
Sightseeing en route over the Hoover Dam and Lake Mead
Descent and landing at the bottom of the Grand Canyon
A Champagne Picnic by the Colorado River
Return Flight back, including an aerial tour of the Las Vegas Strip at Sunset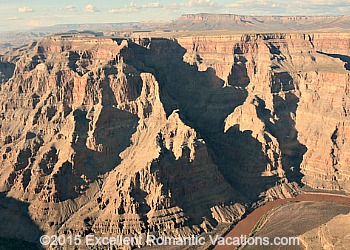 Incredible Colors of the Grand Canyon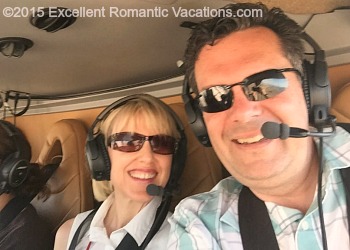 Helicopter Touring in Style
The French-built helicopter was new and very comfortable, our pilot Curtis was a true professional, and the ride was super-smooth all the way out and back. It was the perfect way to celebrate an anniversary, and we believe it would make any Las Vegas honeymoon truly memorable. If you splurge on just one thing in Vegas, this tour is highly recommended!

---
2. Ride a Gondola at the Venetian Grand Canal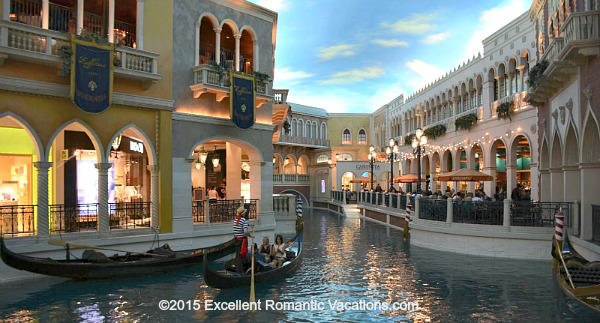 Gondola Gliding Through the Grand Canal at the Venetian Hotel in Las Vegas
Venetian Gondola Ride - while this is has become the norm for couples in recent years, it's still one of the most romantic things to do in Las Vegas. You can take gondola tours all across America, but none of them can recreate the Italian experience quite as well as the Venetian Hotel. It's your honeymoon, so go for the private 2 person gondola with the singing gondolier. (702-414-4300)

---
3. See a Cirque du Soleil Show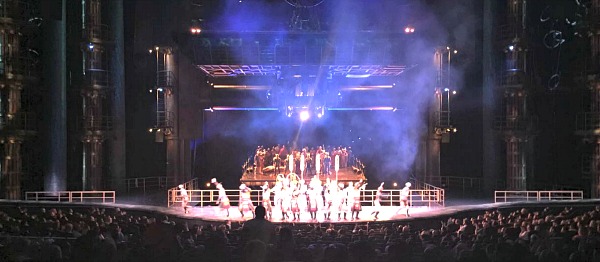 Grand Finale of KA, a Cirque du Soleil Show at the MGM Grand
Cirque de Soleil - KA - they're spectacular displays of choreography and special effects that you'll remember for a long time. We recently saw "KA", and it is simply one of the most amazing productions we have ever seen. Even in this era of high-tech we live in, some of the scenes will still just leave you speechless. (702-531-3826)

---
4. Plan Your Pool Time Perfectly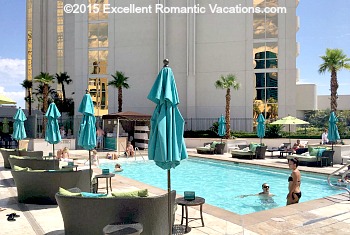 The Adults-Only Quiet Pool at Signature MGM
Las Vegas Pool Day Bed
Las Vegas Resorts with Pools Open Year-Round: if you're booking your Las Vegas honeymoon for the winter months, here's some hotels and resorts on or near the Strip with heated pools open throughout the year:

Aria
Bellagio
Caesars Palace
Elara
Encore
Mandalay Bay

Palazoo
Paris Las Vegas
Stratosphere
Trump International
Venetian
Wynn
Look for Resorts with Quiet & Adult-Only Pools - many Vegas honeymooners will appreciate a quieter resort pool with no kids. But many of the adult-only pools in Vegas are party central with DJ's, loud music and alcohol galore. When looking to book honeymoon accommodation, consider some resorts with quieter pools, like the Jupiter Pool at Caesars, the Adult Pool (Tower 1) at Signature MGM Grand, and the Bellagio Pools.   
Rent a Poolside Cabana or Day Bed - it's your honeymoon, so pick a nice sunny day, get out the credit card, and treat each other to the luxury of a day bed or cabana, available during pool season at most major Vegas resort pools. Actually, there's some value for the money, considering that at many resorts the rental fee can be used as a food and drink credit for you to use that day.   

---
5. Splurge on a Really Romantic Dinner
Paris Las Vegas Eiffel Tower Restaurant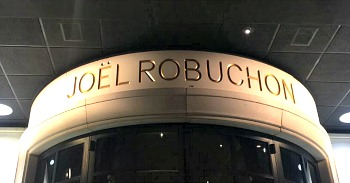 Joel Robuchon Restaurant in Las Vegas
Eiffel Tower Restaurant - for "run of the mill" romantic Vegas getaways, we might suggest other dining establishments, but our honeymoon recommendation is to go for it and experience this classic Vegas honeymoon restaurant. It's probably seen a record number of proposals over the years, and if you want the utmost in romance, look up sunset times in Vegas during your honeymoon and make a reservation well in advance for around that time.
Also worth noting: the Bellagio Fountains (which are visible from many tables) show times are every 15 minutes after 8 PM on weeknights, and every half hour on weekends and holidays. And be sure to include a ride up to the top of the tower after desert. (702-948-6937)
Joel Robuchon Restaurant - deep inside the MGM Grand, this romantic French restaurant it's widely regarded as one of Las Vegas' finest places to dine. It's not cheap at all (Las Vegas' only Michelin 3-Star establishment), but most newlyweds agree it's worth it. Everything from the ambiance to the service to the way your meal is prepared and presented to the actual meal itself is unforgettable. (702-891-7925) 
---
6. Lounge Around These Lounges
Evening at the Mandarin Bar in Las Vegas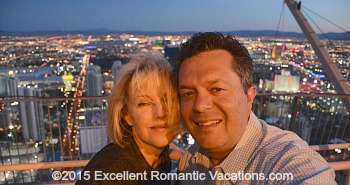 View from the Stratosphere Hotel
Mandarin Bar at the Mandarin Oriental Hotel - newlyweds looking for a break from the party crowds will appreciate the quiet sophistication of the Mandarin Oriental hotel. On the 21st floor is a terrific Cocktail lounge called the Mandarin Bar. You'll have access to a drink menu with appetizers, some great views of the Vegas Strip, and live music later in the evening on weekends. (888-881-9367)

The Strat 108 Drinks - rising way way up on the north end of the Las Vegas Strip, the Stratosphere Hotel's upper levels house a restaurant, lounges, observation deck and a couple of thrill rides. Ride the elevator up to the SkyPod and 108 Drinks, and relax with a cocktail and the views. Just a few steps away is the outdoor observation deck, with fresh air added to the panoramic views of the entire Strip and city (again, best just after sunset. 702-380-7777)

---
7. Get Airborne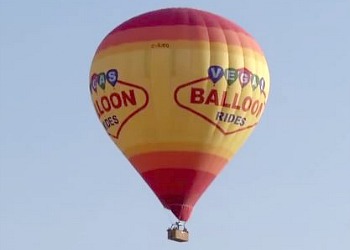 Hot Air Balloon over Las Vegas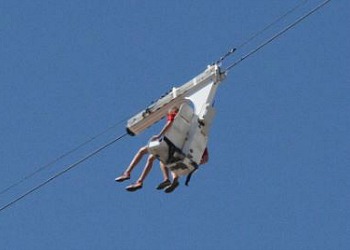 Couple on the Voodoo ZipLine
Vegas Balloon Rides -  see the city and beautiful Las Vegas Valley from the comfort and serenity of a hot air balloon. Tours usually start early in the morning, with the ride itself lasting about an hour. The pilots are very friendly and provide commentary on the sights, and will help you get the perfect Vegas honeymoon balloon portrait photo from 800 ft high! (702-553-3039) 

Rio Hotel Voodoo Zip Line - there's 2 Zip lines in Las Vegas, but honeymooners will no doubt enjoy this high altitude ride at the Rio. You can zoom thru the air (and back again!) between the resort's 2 towers side-by-side in a special 2 seat tram. (702-388-0477)   

---
8. Go for Lunch at Bacchanal Buffet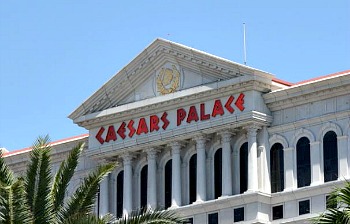 Caesars Palace on the Las Vegas Strip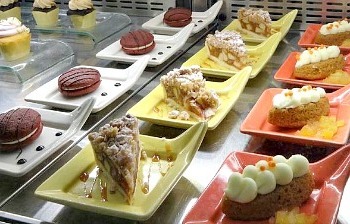 Deserts at the Bacchanal Buffet at Caesars
Bacchanal Buffet - every few years, a certain resort creates the buffet in Las Vegas. Right now, Caesars Palace has done it with it's Bacchanal Buffet. This exceptional feast is worthy of even visits by honeymooners! The seafood and Asian selections are particularly well done, while the atmosphere and presentation in our opinion is elevated somewhat from the typical Strip Buffet, making it a fine choice for couples. Note: Their Champagne Brunch is on weekends from 8 AM to 3 PM.   
---
9. Book a Pivate Limo Tour
Las Vegas Private Limo Tour - your Vegas honeymoon needs to experience a ride in a limousine. But not with 12 other people, so splurge and book a private tour, and you'll be sipping champagne in the back while your driver takes you on a personal tour of all the best places along the Strip and Freemont Street. Presidential Limousine includes stops at must-see places (Bellagio Fountains, Mirage Volcano Show) on their 3.5 hour tour. (702-438-5466)
10. See the Valley of Fire
Valley of Fire Day Tour - break free from the Strip for about 6 hours and see this spectacular State Park. An air conditioned touring van gets you there quickly and comfortably, and you'll get up close to the fiery red rock formations of Fire Canyon and Rainbow Vista, and enjoy a a scenic drive by Lake Mead. 

---
*ERV Rating: our unique, non-scientific ratings for romantic accommodation include:
Amenities: including Whirlpool bath or 

JACUZZI

®

Tub

,

scenic view, fireplace, lounge, etc
Location: proximity of hotel to restaurants, pubs, downtown, etc
Clientele: demographic the hotel attracts (couples, families, business travelers, etc)
Popularity: based on social media & crowd-sourced reviews 
Value: product offered compared to room rate 
Please Note: percentage ratings are not absolute but for comparative use only  
top hotels, getaways & packages on ERV
---