Las Vegas Vacation Ideas & Romantic Things to Do for Couples
FTC: This page uses affiliate links. More. 

Las Vegas, NV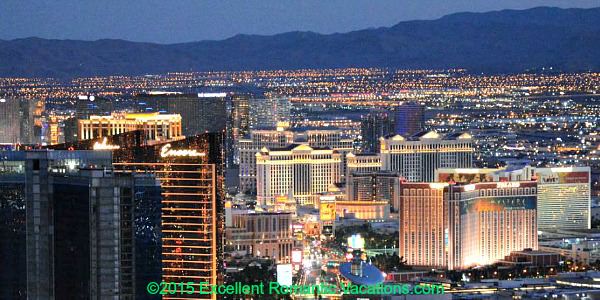 The Strip's Sparkling Resort Hotels are a Highlight of Any Las Vegas Vacation
By: Greg Mattson, ERV Editor - Updated: Dec 14, 2019   

Las Vegas can be a really fun romantic vacation. Even though it's still marketed as a "party till-you-drop" destination, the city has actually grown up a lot in recent years. There's a lot for couples to do here in 2021, including everyone from newlyweds to those on a second honeymoon or a 40th anniversary trip.
Many of the resorts along the Strip are, as you've no doubt heard, huge and spectacular. If you holiday in Vegas during the low season (June to August) or come during the odd slow week, it's possible to stay in a very nice room in a high-rise luxury resort for far less than you would pay just about anywhere else.
For getting up and down the Strip, you don't really need a car (ours just ended up staying in the hotel parking garage!) There's hotel trolley buses, taxis, shuttles, and the Las Vegas Monorail. The Monorail is an especially easy way to get all the way from the MGM Grand Resort on the South to the SLS Las Vegas Hotel on the north end. It's great for seeing the all the lights at night too.

Las Vegas is ideal for romantic travelers and honeymooners who love dining, live entertainment and a bit of shopping (although depending on your income level, it may be more like window shopping). If you hate crowds of any type and enjoy natural scenery more than man-made, we say skip Vegas and think more about other destinations in the southwest U.S. (Arizona) and coastal Central & Northern California.   
Las Vegas Vacation Weather: Las Vegas gets warm around April, and bakes in scorching heat from June through September. These are the months where your outdoor activities will involve either laying by the hotel pool and ordering a drink, or spending time indoors at a resort or shopping complex. The rest of the year can be pleasant, although winter can bring cool temps and wind, and is the season for indoor entertainment.
---
10 Romantic Things to Do in Las Vegas:
1. Visit the Venetian Hotel & Resort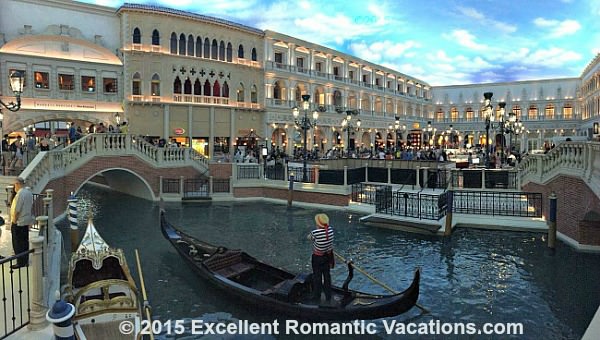 Romantic Gondola Ride at the Venetian Resort - One of Las Vegas' Most Romantic Things to Do
Venetian Hotel & Resort - If this is your first time to Vegas, make the Venetian one of your first stops. You will be blown away by what they've created: a replica of Venice, Italy! Complete with romantic Gondolas sailing down the Grand Canal, with singing gondoliers! 

If you don't think you'll make it to

Venice Italy

in your life, splurge for the ride here, which is certainly one of the most romantic things to do in Las Vegas.. The "budget, less romantic, share the boat excursion with others" price is $19.95/person (2015 rates), but honeymooners will require the private 2-person ride for $79.80.
2. Dine at the Romantic Mon Ami Gabi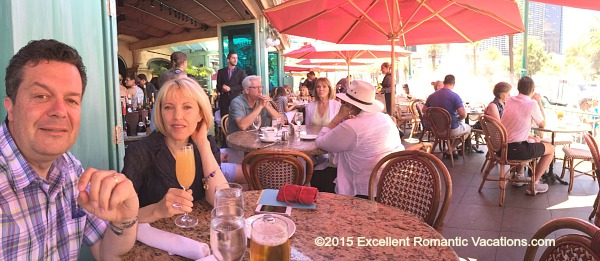 Time for Lunch on the Strip at Mon Ami Gabi, Paris Las Vegas Resort
3. Get to the Top of the Eiffel Tower at Paris Las Vegas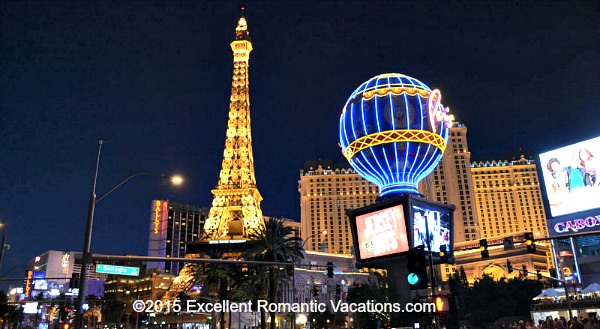 Paris Las Vegas at Night - One of Vegas' Most Romantic Spots
Eiffel Tower at Paris Las Vegas - While it can't quite match Paris France, Las Vegas' Eiffel Tower's will still reward you with a splendid view of the Strip from 50 stories up. Evening rides up are a bit more expensive (2015 rates: $16.50 evening vs $11.50 daytime), but then again it's twice as spectacular at night when you can take in all the lights of the Las Vegas Strip. 

Romantic Restaurant: the 11th floor

Eiffel Tower Restaurant

is right there for before/after dining.
While you're up there in the evening, face west and look down... 

4. See the Fountains of Bellagio at Night
Bellagio Fountains, Viewed at Night from the Top of the Eiffel Tower, Paris Las Vegas
Bellagio Hotel Fountains - You'll have to look far and wide for a better free light and water show than the Fountains of Bellagio. The Bellagio's Botanic Gardens & Fountains are the perfect place for a romantic after dinner stroll (nightly shows every 15 min after 7 PM). Romantic Dinner at the Bellagio Hotel: Prime Steakhouse

and

Picasso

have good views of the fountains. We dined at 

Olives which

 also has some lakefront seating. It's recommended that you reserve

well

in advance for a later evening dinner to enjoy the fountain & light show in all it's glory. 
5. Book a Vegas Hotel Jetted Tub Suite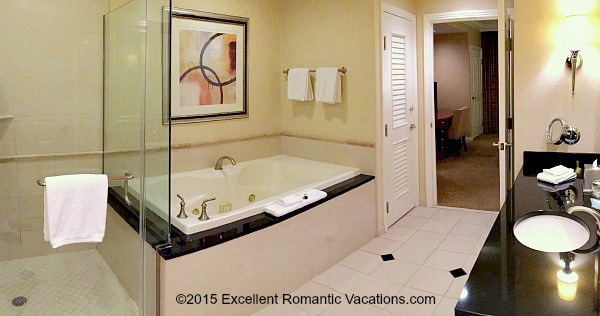 Hot Tub Suite in Las Vegas at the Signature at MGM Grand
6. Take a Romantic Walk Along Las Vegas Blvd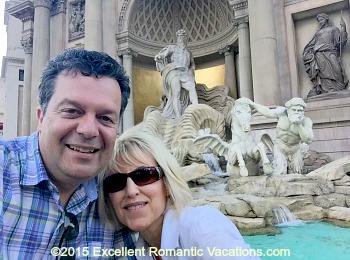 Not Rome, but Outside Caesars Palace on the Strip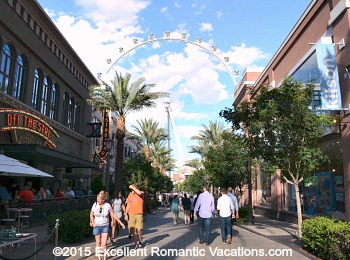 Walking Along the LineQ Hotel Shopping District
Walking Along Las Vegas Blvd

- Not the whole Strip (would take you a few hours!), but just small pieces of it, including the many smaller pedestrian shopping malls and walkways that connect to it, like the LineQ Hotel's Shopping District and the fabulous area around the Venetian and Palazoo resorts. 

One early evening on our last Las Vegas vacation getaway, we rode the Las Vegas Monorail from the MGM Grand up to Harrah's, and then walked the Strip all the way back

. Pleasant temperatures, all the lights, people watching, and always something going on.
7. Check Out Las Vegas From Above: 3 Choices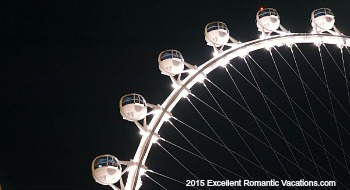 The Las Vegas High Roller Ferris Wheel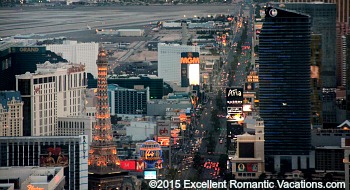 Early Evening Helicopter Tour Above Las Vegas
A) High Roller Ferris Wheel - There's several choices when it comes to high-altitude scenic views of the Las Vegas Strip, but for romantic Vegas vacationers, this 550 ft high newcomer to the Strip's skyline is a classy option. It's not just another ride, but it's the highest Ferris Wheel in the world! Of note: they have a deal called "The Happiest Half Hour in Vegas" which is a 30 minute ride that comes with an open bar inside.
If the Ferris Wheel is just not high enough for you...
B) Stratosphere Tower - A quick elevator ride over 800 ft straight up brings you to the Air Bar at this resort at the north end of Las Vegas Blvd. Happy Hour usually lasts from 4 to 7, so hang around for the spectacular views of the Strip at sunset. The outside observation deck is just 1 floor up, so you can even step outside and take in the fresh desert breeze along with the views. 
And if you need to go even higher than the Stratosphere...
C) Helicopter Flight Over the Vegas Strip at Night - This is a great way to surprise/impress your spouse! If you've never been on a helicopter before, Vegas is a terrific place to start. Helicopter tour companies are competitive, so prices are cheap, and most will pick you up right at your hotel or resort. 
8. Go for Drinks at the Mandarin Oriental Hotel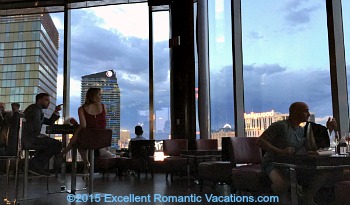 Mandarin Bar - Drinks at Sunset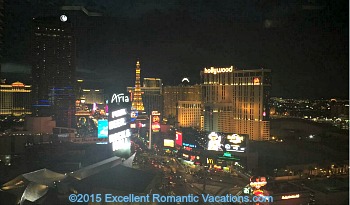 View from the Bar at Mandarin Oriental Hotel in Vegas
Mandarin Bar at the Mandarin Oriental Hotel - 

Right in the middle of the hustle and party atmosphere of the Las Vegas Strip is the Mandarin Oriental hotel. It's one of the more

 exclusive hotels here, and probably too expensive for your Las Vegas vacation stay. 

But that doesn't mean that

every part

of it is out of reach. The hotel has a terrific lounge called the Mandarin Bar, and it's got 2 essentials for your romantic getaway: great views of the Strip, and a cocktail and appetizer list that, while not cheap, is certainly within reach of most couple's travel budget. Spend an hour or so here around sunset and you might agree with us that it's certainly one of Las Vegas' most romantic bars. When you walk into the hotel lobby, turn right to enter the elevators and proceed up to the 23rd floor.
9. Rent a Poolside Lounger or Day Bed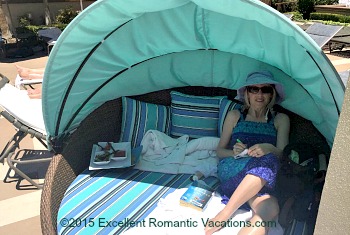 Day Bed at the MGM Grand Pool
Poolside Lounger at the Signature
Las Vegas Resort Pools- I

f you travel to Vegas from a cooler climate at home (like we do), you really look forward to sun, heat and a pool. Many Las Vegas resort pools are outstanding, and 

some of our best Vegas vacation memories come from time spent by the pool, like the 

MGM Grand's

 Lazy River, or the Pool at the 

Encore

. 

Before you begin the search for a couple of open recliners, we suggest renting a poolside lounger or daybed. They're cheaper than a full Cabana, and some of them are "pod-like" (like the one we got above at the MGM Grand). They provide you with a good amount of shade, which allows you to relax and easily spend 4 or 5 hours poolside, even in the 100 F+ heat of a Vegas summer. Many of them operate on a resort credit basis, so while the charge might be $100, it gives you up to a $100 credit on food and drinks. Really, if you were going to go out for lunch instead and spend $50 or $60, it's quite reasonable, and rather romantic! 
10. Fly Above Freemont Street on the Slotzilla Zip Line 
Slotzilla Zip Line - OK, I admit, we were too chicken to try it, but for adventurous, thrill seeking couples, side-by-side zip lining the entire length of the Freemont Street experience seems like a blast! Have a look at the video we shot below...
---
Romantic Resorts & Hotels on the Las Vegas Strip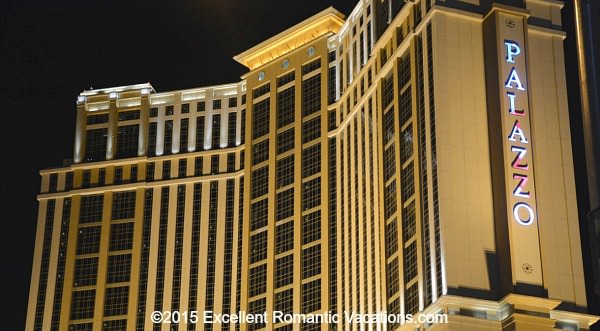 The Very Romantic Palazoo Hotel is a Favorite of Couples on Vacation in Las Vegas
Here's an idea of how other romantic travelers on Las Vegas vacation getaways rate some of the best resort hotels on Las Vegas Blvd for romance:
1. Bellagio Hotel
2020 ERV Rating* for Romantic Las Vegas Hotels: 90% - Excellent
2. Venetian Hotel Resort
2020 ERV Rating* for Romantic Las Vegas Resorts: 92% - Excellent 
3. The Palazoo Resort
2020 ERV Rating* for Romantic Las Vegas Resorts: 92% - Excellent
4. Vdara
2020 ERV Rating* for Romantic Las Vegas Resorts: 90% - Excellent
5. Aria Resort
2020 ERV Rating* for Romantic Las Vegas Resorts: 88% - Very Good
*ERV Rating: our unique, non-scientific ratings for romantic accommodation include:
Amenities: including Whirlpool bath or 

JACUZZI

®

Tub

,

scenic view, fireplace, lounge, etc
Location: proximity of hotel to restaurants, pubs, downtown, etc
Clientele: demographic the hotel attracts (couples, families, business travelers, etc)
Popularity: based on social media & crowd-sourced reviews 
Value: product offered compared to room rate 
Please Note: percentage ratings are not absolute but for comparative use only  
top hotels, getaways & packages on ERV
---