Orlando
orlando hot tub suites with in-room jetted tubs - downtown & near wdw
FTC: This page uses affiliate links. More. 

---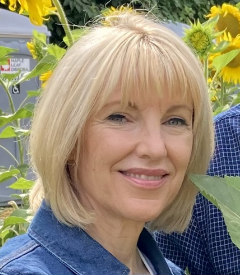 By: Maureen Mattson, ERV Asst Editor - Updated May 14, 2022
Although the Orlando area is full of family resorts orbiting "The Happiest Place on Earth," a romantic getaway can still be found in hotel suites with a private in-room spa tub.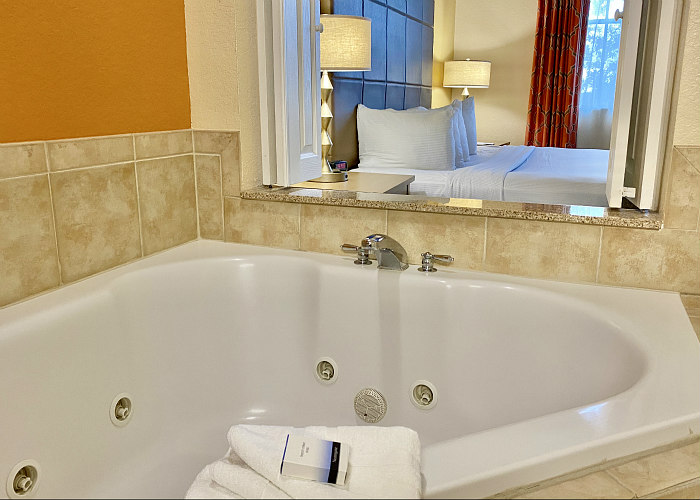 Orlando Spa Tub Suite at the Floridays Resort
So, if you've got the kids on your Central Florida getaway, get their favorite aunt or babysitter to take them to the park, hang back, pour some bubbly, and enjoy a relaxing soak in one of the jetted tubs in the following hotels or resorts…

Disclaimer: JACUZZI® is a registered trademark owned by Jacuzzi Inc. The use of the JACUZZI® trademark on this website is for informational purposes only. There is no relationship, connection or affiliation between this website and Jacuzzi Inc. or its related companies. Rates shown are approximate only and subject to change. Hotel rooms, jetted tubs and amenities can change, and may not be exactly as shown, so please contact the hotel or inn before making travel plans.
quick compare: Orlando in-room spa tubs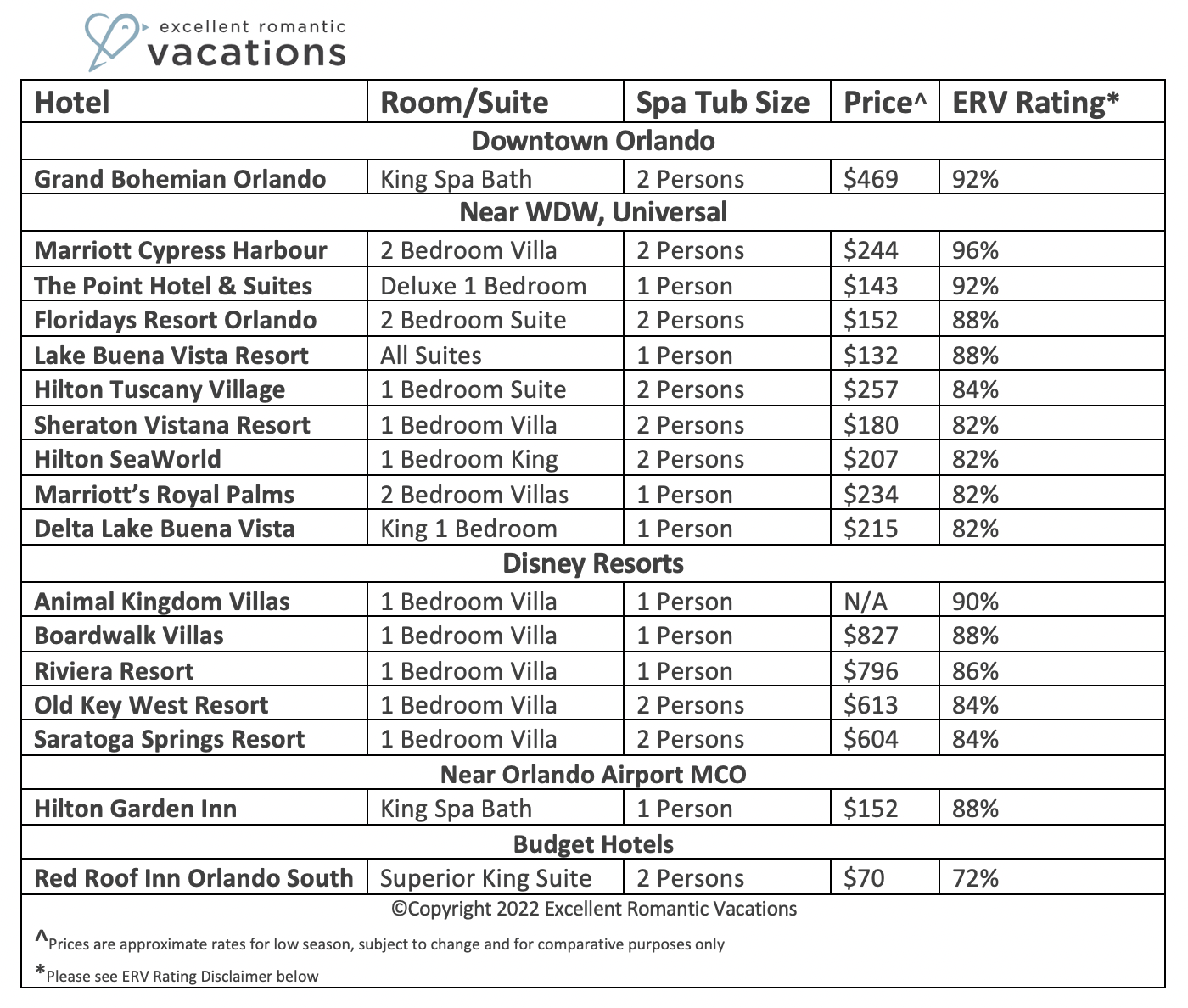 ---
downtown Orlando JACUZZI® Tub suites 
grand bohemian hotel orlando
Pool at the Grand Bohemian Hotel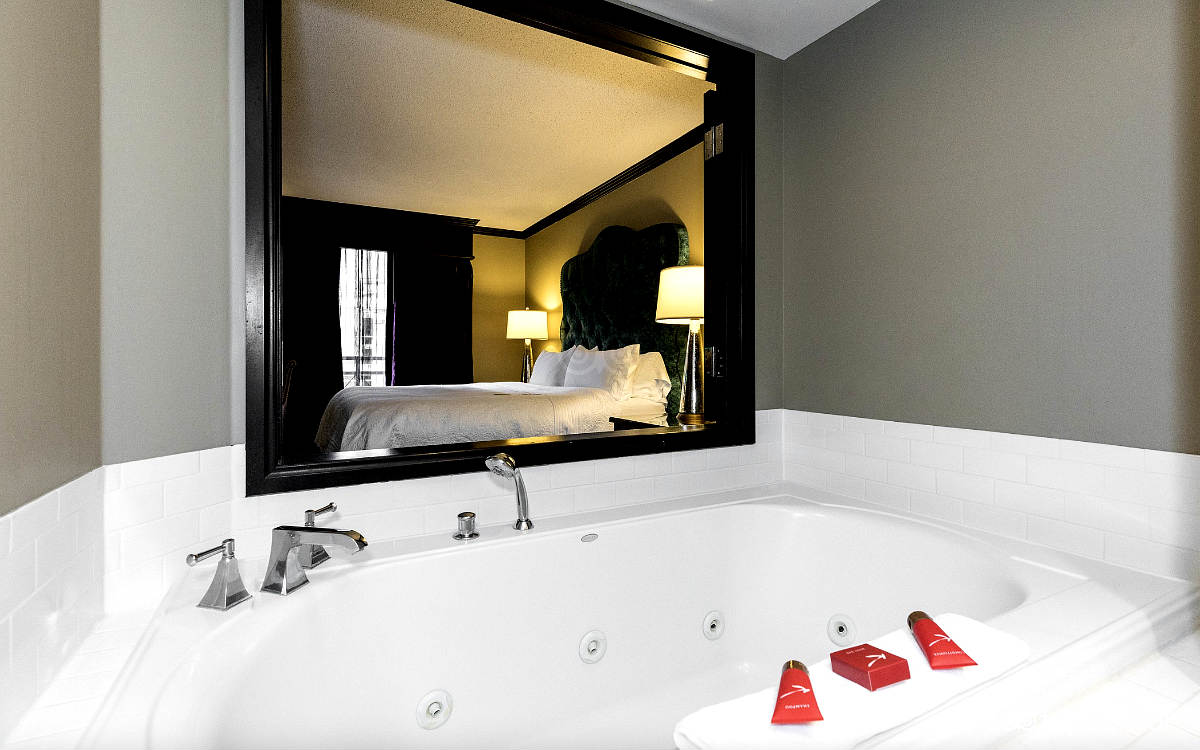 Grand Bohemian JACUZZI® Tub ©TripAdvisor
Grand Bohemian Hotel Orlando Autograph Collection - Book the opulent King Suite with 

JACUZZI

® Tub at this boutique hotel for a special getaway. This suite is quite spacious, and the lush decor, 37-inch TVs and Bose stereo system will make you feel like a king or queen. What Other Guests Liked: Convenient location in downtown Orlando, Sunday Jazz brunch at the Boheme restaurant, onsite spa, and rooftop pool. Worth Knowing: Hotel does not offer a free breakfast. 2022 ERV Rating*: 92% - Excellent. Whirlpool Tub Size: 2 persons. Spa Tub Suite rates from $469/night. (325 Orange Ave, Orlando FL 407-313-9000) √ COVID Safety Plan: Yes
Orlando whirlpool suites near WDW
Marriott Cypress Harbour Spa Tub Suites
Marriott Cypress Harbour Villas
Marriott Cypress Harbour Villas Jetted Tub
Marriott's Cypress Harbour Villas - The 1345 square foot 2-bedroom villas include roomy jetted tubs, large balconies, sitting and dining areas, as well as a full kitchen. What We Liked: Close to WDW, SeaWorld and Universal Studios, lots of outdoor activity options, lakefront property, no resort fees. Worth Knowing: Room service ends at 9pm. 2022 ERV Rating*: 96% - Excellent. Whirlpool Tub Size: 2 persons. Spa Tub Villa rates from $244/night. (11251 Harbour Villa Rd, Orlando FL 407-238-1300) √ COVID Safety Plan: Yes 
Video: Marriott Orlando 2 Bedroom hot Tub Suite
Floridays Resort - JACUZZI® Tub 2 Bdrm Suite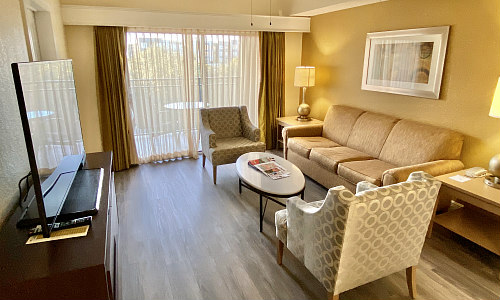 2 Bedroom Suite - Floridays Resort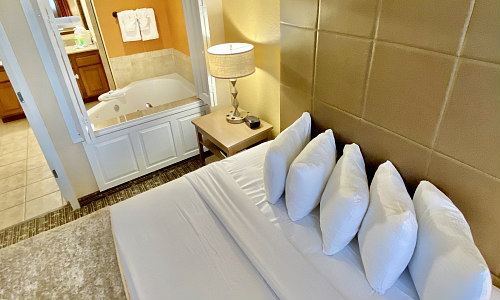 JACUZZI® Tub - Floridays Resort
Floridays Resort Orlando - All two and three bedroom suites are all over 1000 square feet, and feature JACUZZI® Tubs and walk-in showers in the master bathroom. What We Liked: Full kitchens, washing machine and dryer, plus large balconies with a view. Worth Knowing: A refresh of the suites would be great. 2022 ERV Rating*: 88% - Very Good. JACUZZI® Tub Size: 2 persons. Rates for the suites: from $152/night. (12562 International Dr, Orlando FL 877-821-3018)√ COVID Safety Plan: Yes
Hilton Grand Vacations Tuscany Village
Jetted Tub - Hilton Grand Vacations, Orlando
Hilton Grand Vacations at Tuscany Village - Jetted tubs are found in 1, 2 and 3 bedroom suites at this Italian-inspired resort. Full kitchens, washer and dryer, as well as balconies make you feel right at home. What We Liked: Lush grounds on 34 acres. Close to an outlet mall, grocery store, and the Parks. Worth Knowing: $25/day resort fee, and parking near your unit can be a challenge at times. 2022 ERV Rating*: 84% - Very Good. Whirlpool Tub Size: 2 persons. Whirlpool Suites prices from $257/night. (8122 Arrezzo Way, Orlando FL 407-465-2600) √ COVID Safety Plan: Yes 
---
More florida hot tub getaways on erv:
Lake buena vista resort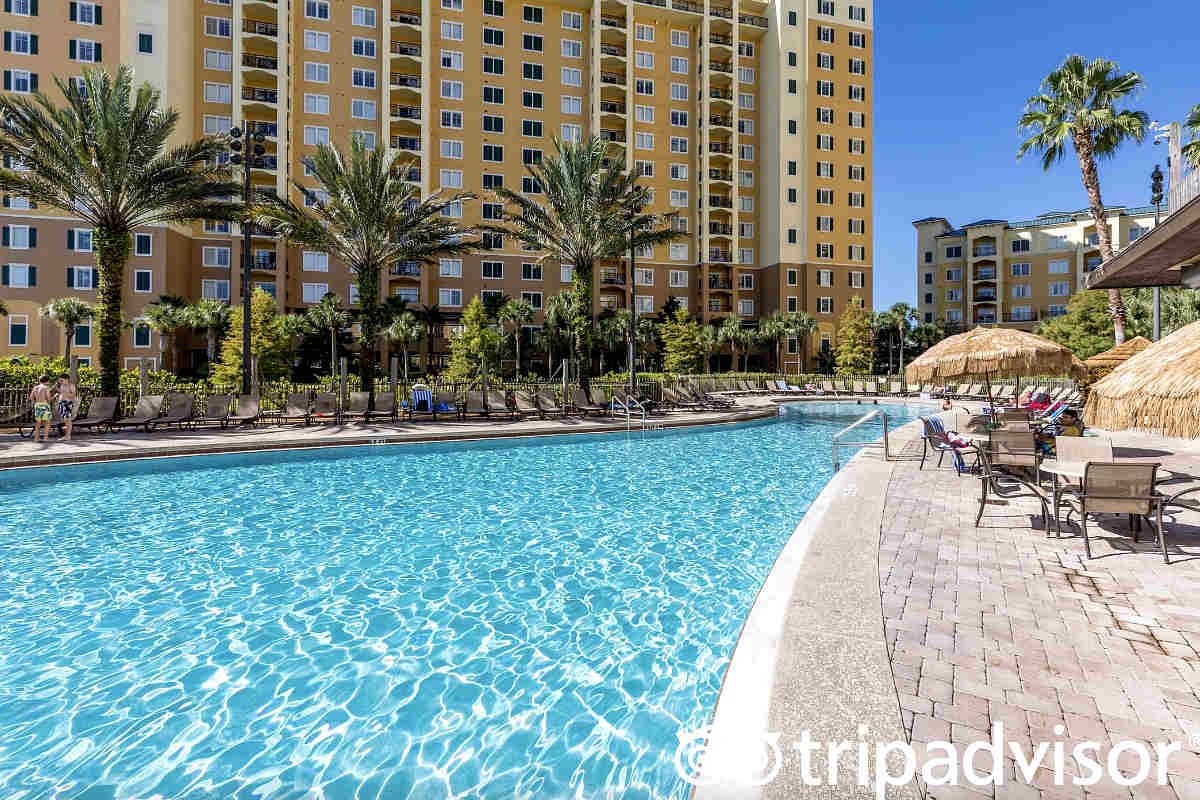 Pool - Lake Buena Vista Resort ©TripAdvisor
Lake Buena Vista Resort Spa Tub ©TripAdvisor
Lake Buena Vista Resort Village and Spa - 

Each suite has a JACUZZI

® Tub in the Master Bath, and private balcony. What Other Guests Liked: Friendly staff, short walk to factory outlet stores or to Lake Buena Vista itself. Worth Knowing: Some quality control issues reported with rooms and common areas. 2022 ERV Rating*: 88% - Very Good. JACUZZI® Tub Size: 1 person. Suite prices from $132 /night. (8113 Resort Village Dr, Orlando FL 866-401-2699) √ COVID Safety Plan: Yes
marriott's royal palms
2-Bedroom Villa Jetted Tub Suite at Marriott Royal Palms, Orlando FL
Marriott's Royal Palms - 2-bedroom villas have jetted tubs, full kitchens, and furnished balconies. What Other Guests Liked: Pool, fitness centre and onsite activities. 10 to 15 minute drive to the Parks. Worth Knowing: Located between 3 major highways, so some traffic sounds reported. 2022 ERV Rating*: 82% - Very Good. Whirlpool Tub Size: 1 person. Whirlpool Suite prices from $234/night (8404 Vacation Way, Orlando FL 407-238-6200) √ COVID Safety Plan: Yes
point hotel & Suites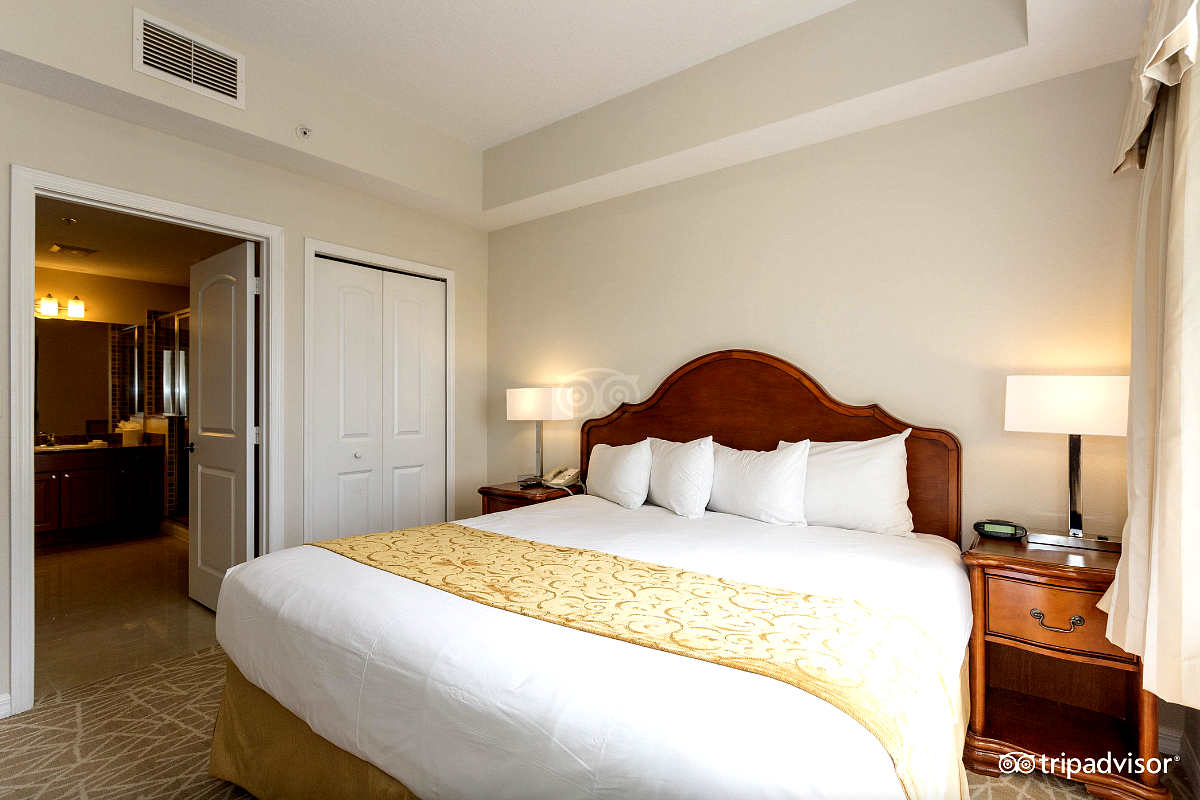 Point Grand One Bedroom ©TripAdvisor
Point Hotel Whirlpool Tub Suite ©TripAdvisor
The Point Hotel & Suites - Grand One Bedroom Suites in this boutique hotel are a spacious 716 square feet and have Whirlpool Hot Tubs plus separate shower. What Other Guests Liked: Fully-equipped kitchen, private balcony, and gel-infused King Bed. Worth Knowing: $11.50 per night hotel service fee, plus $50 per night deposit for incidentals is required. 2022 ERV Rating*: 92% - Excellent Whirlpool Tub Size: 1 person. Whirlpool Suite prices from $143/night. (7389 Universal Blvd, Orlando FL 407-956-2000) √ COVID Safety Plan: Yes
orlando Sheraton with in-room Jetted Tubs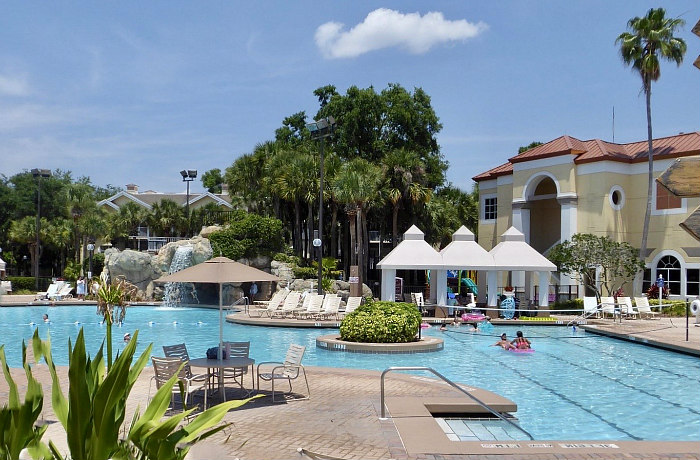 Pool at the Sheraton Vistana Resort
Sheraton Vistana Villa Whirlpool Tub
Sheraton Vistana Resort Villas, Lake Buena Vista/Orlando - A large resort in a commercial area, this Sheraton property features one and two bedroom villas with large Whirlpool tubs. Each villa has its own entrance and includes a full kitchen and living room. Some villas provided furnished balconies or terraces. What Other Guests Liked: Seven outdoor pools, 3 onsite restaurants and bars, and all theme parks and Gatorland within 20 min drive. Worth Knowing: Shuttle service to the parks is not complimentary. 2022 ERV Rating*: 82% - Very Good. Whirlpool Tub Size: 2 persons. Villa prices from $180/night. (8800 Vistana Centre Drive, Orlando FL 407-239-3100) √ COVID Safety Plan: Yes
hilton Grand vacations seaworld
Spacious Whirlpool Tub at Hilton Grand Vacations SeaWorld
Hilton Grand Vacations SeaWorld - A 33-acre Bermuda-style resort close to Disney World, and just across the street from SeaWorld Orlando. The One Bedroom King Suite includes a large jetted tub and full kitchen. What Other Guests Liked: Excellent swimming pools, recreation programs and complimentary scheduled shuttle to several attractions. Worth Knowing: $25/day resort fee. 2022 ERV Rating* 82% - Very Good. Whirlpool Tub Size: 2 persons. One Bedroom King Suite prices from $207/night. (6924 Grand Vacations Way, Orlando FL 407-214-9175) √ COVID Safety Plan: Yes
Delta HOtels By Marriott Orlando Lake Buena Vista
Delta Hotels Lake Buena Vista ©TripAdvisor
Delta Hotels by Marriott Orlando Lake Buena Vista - Luxurious accommodation with outdoor pool, and within walking distance to Disney Springs. The 1 King Bed 1 Bedroom Suite includes a bathtub with spray jets, separate living area and bedroom, and mini-fridge. What Other Guests Liked: Onsite dining, and 24-hour gym, plus free shuttle service to Disney parks. Worth Knowing: This suite does not include a microwave oven. 2022 ERV Rating*: 82% - Very Good. Whirlpool Tub Size: 1 person. Whirlpool Suite prices from $215/night. (12490 Apopka Vineland Road, Orlando FL 407-387-9999) √ COVID Safety Plan: Yes
Hot tub suites Close to Orlando airport
Hilton Garden Inn Hot Tub Suite Hotel Close to MCO Airport
Hilton Garden Inn Orlando Airport - This deluxe accommodation is within a 30-minute drive of SeaWorld, Universal Studios, and Orlando Premium Outlet shopping. The 1 King Bed Suite with Jetted Tub also features a microwave, refrigerator and coffee maker. What Other Guests Liked: Free airport shuttle, outdoor heated pool and fitness room. Worth Knowing: Light sleepers may notice some plane noise from nearby MCO Airport. 2022 ERV Rating*: 88% - Very Good. Whirlpool Tub Size: 1 person. Whirlpool Suite prices from $152/night. (7300 Augusta National Drive, Orlando FL 407-240-3725) √ COVID Safety Plan: Yes
---
Red Roof Inn Budget Orlando Spa Tub Rooms
Red Roof Inn Orlando South ©TripAdvisor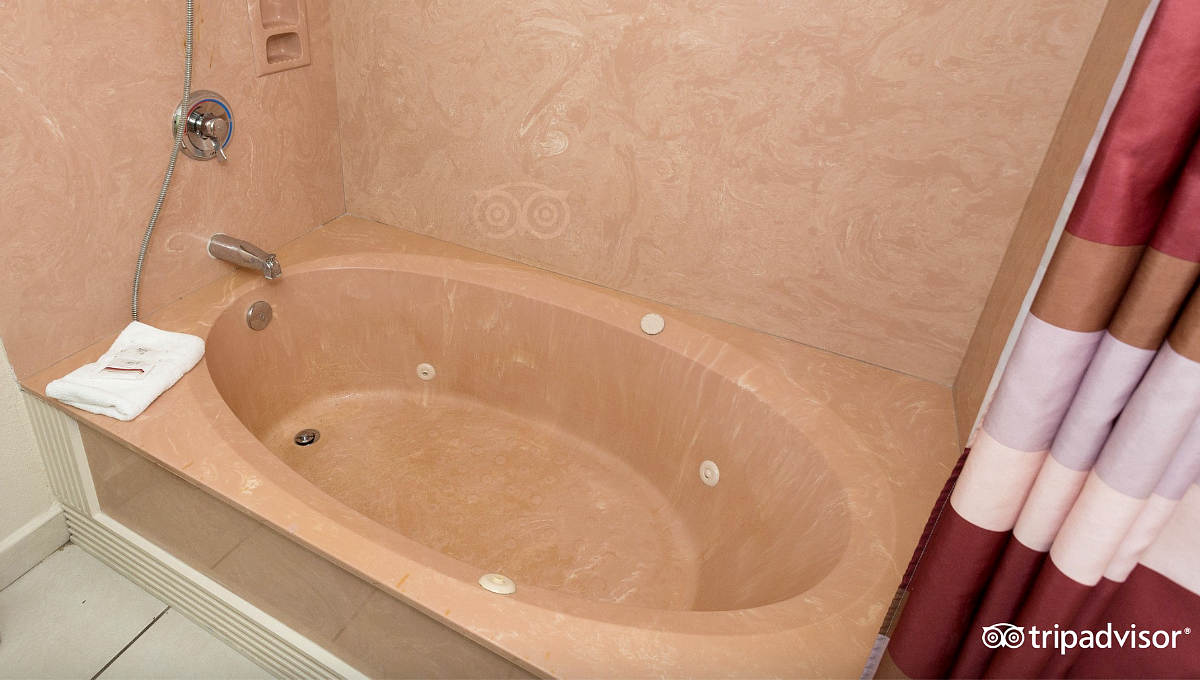 Red Roof Inn Spa Tub Suite ©TripAdvisor
Red Roof Inn Orlando South - Florida Mall - An informal budget hotel close to Florida Mall, Universal Studios, and Orlando Airport. Superior King Suites with Jetted Tubs include microwaves and fridges. What Other Guests Liked: Free coffee in the lobby, free parking and an outdoor pool. Worth Knowing: Furnishings could be considered a bit dated. 2022 ERV Rating*: 72% - Good. Whirlpool Tub Size: 2 persons. Whirlpool Suite prices from $70/night (8296 S Orange Blossom Trail, Orlando FL 407-240-0570) √ COVID Safety Plan: Yes
Disney resorts in-room spa tubs
disney old key west resort
Disney Saratoga Springs ©TripAdvisor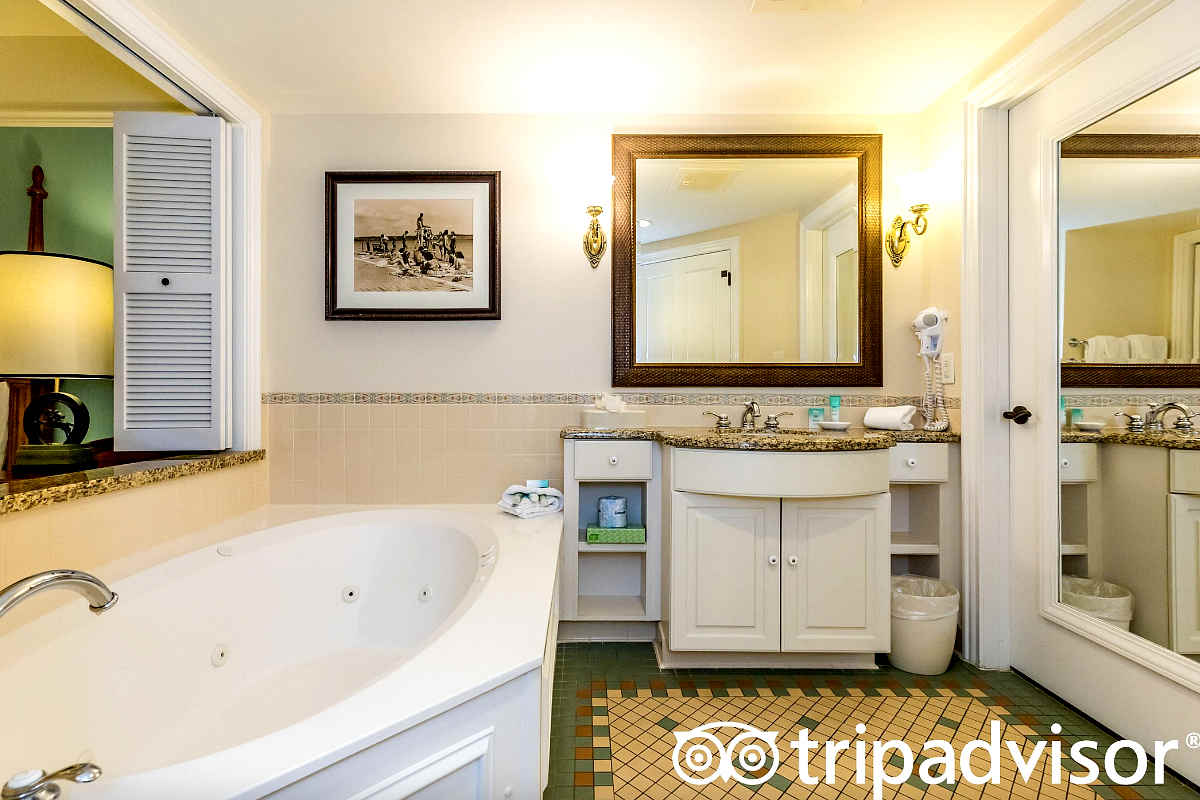 Villa Whirlpool Tub ©TripAdvisor
Disney's Saratoga Springs Resort & Spa - A Victorian-style resort located inside Disney World, with villas offering Whirlpool tubs and full kitchens. What Other Guests Liked: Lots of open space and only a 15-minute walk to Disney Springs. Pools and day spa are refreshing. Worth Knowing: Resort is spread out and may require walking longer distances. 2022 ERV Rating*: 84% - Very Good. Whirlpool Tub Size: 2 persons. Whirlpool suite prices from $604/night (1960 Broadway, Lake Buena Vista FL 407-827-1100) √ COVID Safety Plan: Yes
Disney's old key west resort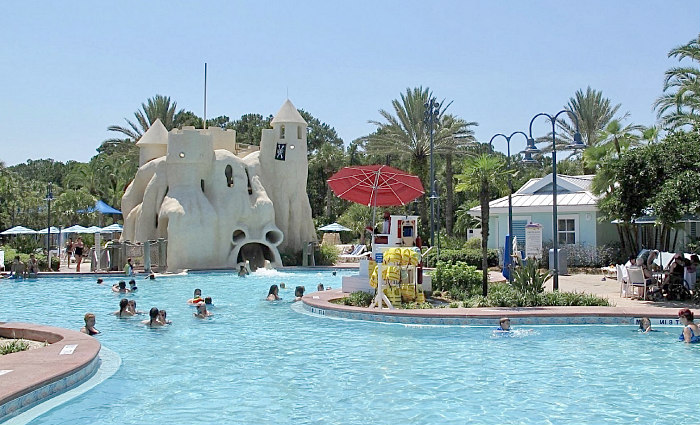 Disney Old Key West Resort Pool
Whirlpool Suite - Old Key West Resort
Disney's Old Key West Resort - The signature architectural style of homes in Key West make up this little island hamlet resort with golf course, pools and palm trees. One bedroom villas include full kitchen, laundry facilities and Whirlpool tub. What Other Guests Liked: Just a boat ride away from Downtown Disney. Complimentary night time outdoor movie screenings, and bike or surrey rentals available. Worth Knowing: Some guests reported unreliable bus schedule. 2022 ERV Rating*: 84% - Very Good. Whirlpool Tub Size: 2 persons. Villa prices from $613/night. (1510 North Cove Road Lake Buena Vista, Orlando FL 407-939-2829) √ COVID Safety Plan: Yes
disney boardwalk villas in-room spa tubs
Pool at Disney's Boardwalk Villas ©TripAdvisor
Boardwalk Villas Spa Tub Suite ©TripAdvisor
Disney's Boardwalk Villas - Charming lakeside resort with cottages, private courtyards and gardens, as well as a boardwalk. One bedroom villas include full kitchen, washer and dryer, as well as jetted tubs. What Other Guests Liked: Walking distance to Epcot and Disney's Hollywood Studios. Carnival-themed pool, plus quiet pools for a more tranquil experience. Worth Knowing: Parking lot is quite a distance from the villas. 2022 ERV Rating*: 88% - Very Good. Whirlpool Tub Size: 1 person. One Bedroom Villa prices from $827/night. (2101 Epcot Resorts Blvd Lake Buena Vista, Orlando FL 407-939-4284) √ COVID Safety Plan: Yes
disney's riviera resort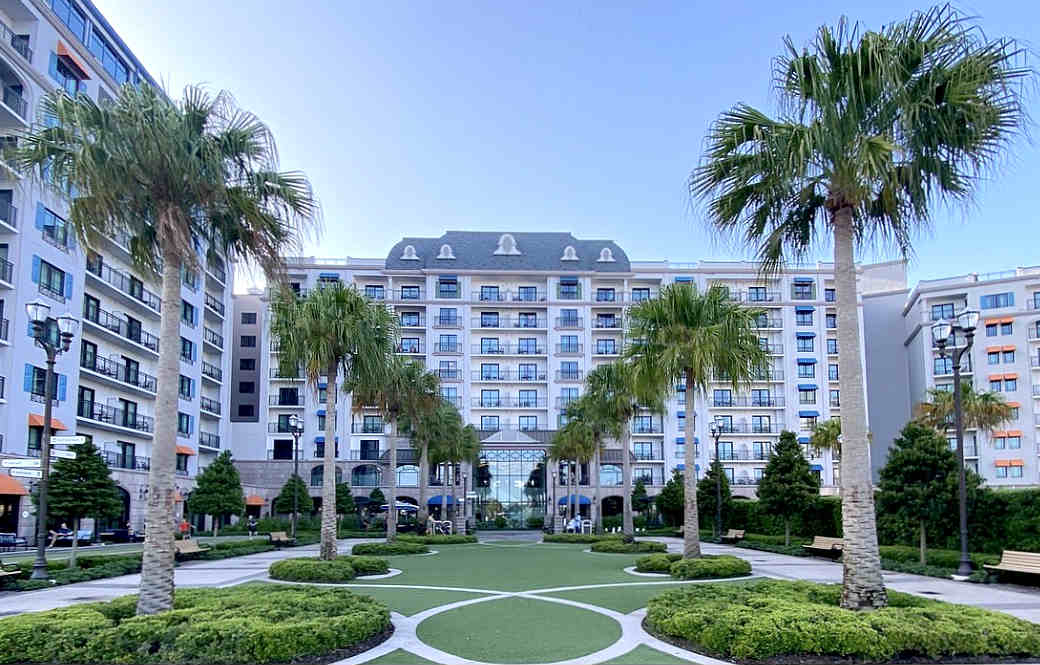 Disney's Riviera Resort has 1-Bedroom Villas with Jetted Tubs
Disney's Riviera Resort - This European resort opened a few years ago and features one bedroom villas with fully-equipped kitchens and jetted tubs. What Other Guests Liked: A smaller Disney resort with beautiful grounds. The Skyliner Gondola picks up and drops off here. Worth Knowing: small lobby area, and some guests reported wait times for transport bus to the parks. 2022 ERV Rating*: 86% - Very Good. Whirlpool Tub Size: 1 person. One Bedroom Villa prices from $796/night. (1080 Esplanade Ave Lake Buena Vista, Orlando FL  407-828-7030) √ COVID Safety Plan: Yes
disney's animal kingdom villas jambo house
Disney's Animal Kingdom Villas Jambo House - A fun African safari resort on 4 lush savannahs where you can see over 200 animals and birds. For a spa tub suite, book their One Bedroom Villa. What Other Guests Liked: Villas have full kitchens and laundry facilities. Worth Knowing: Animal sightings can't be guaranteed. 2022 ERV Rating*: 90% - Excellent. Whirlpool Tub Size: 1 person. Villa prices per night unavailable. (2901 Osceola Pkwy, Orlando FL 407-939-2755) √ COVID Safety Plan: Yes
*ERV Rating: our unique, non-scientific ratings for romantic accommodation include:
Amenities: including Whirlpool bath or 

JACUZZI

®

Tub

,

scenic view, fireplace, lounge, etc
Location: proximity of hotel to restaurants, pubs, downtown, etc
Clientele: demographic the hotel attracts (couples, families, business travelers, etc)
Popularity: based on social media & crowd-sourced reviews 
Value: product offered compared to room rate 
Please Note: percentage ratings are not absolute but for comparative use only  
top hotels, getaways & packages on ERV
---