Atlanta, GA
Romantic Getaways in Atlanta GA - Fun Weekends for 2 in The ATL  
FTC: This page uses affiliate links. More. 

---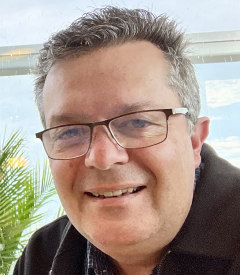 By: Greg Mattson, ERV Editor - Updated Jul 19, 2020

Surprisingly sophisticated Atlanta, Georgia is an excellent spot for a romantic weekend away, or a starting point for honeymoons in the South.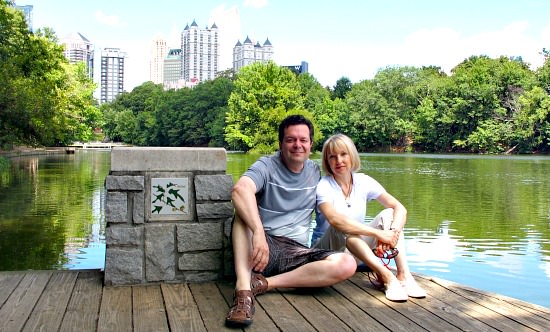 The city has a vibrant mix of cutting-edge new restaurants sharing the same side of the street with traditional southern fare and boutique hotels. There are some unique downtown attractions, and wonderful parks & rivers to explore.

Our experience pretty much confirmed the old saying about Southern hospitality – we found everyone in Atlanta from waiters to parking lot attendants to retail clerks exceptionally friendly and helpful.
Best Time for an Atlanta Vacation or Honeymoon - We visited Atlanta in the middle of July ("Hotlanta"!) and found it a bit hot & humid, but still quite enjoyable. For the best mix of sun & temps, try April, May & October.

---
Romantic Things to Do in Atlanta
Romantic Walk thru Piedmont Park– what a great park for relaxing in! On a walking path that circles the small lake, you'll find porch swings for couples, local wildlife, and on Saturday mornings, the Piedmont Park Green Market with local fruits, cheeses and baked goods to tempt you. (2 miles NE of downtown Atlanta along Piedmont Ave & 10th St.)
Drinks with a View at the Sun Dial Restaurant – head over to the Westin Peachtree & take the ride up over 700 ft to the revolving restaurant & cocktail lounge (dinner menu is a bit pricy so just enjoy a drink & the view). (210 Peachtree St, Atlanta)
World of Coca-Cola

 – find out what makes the coke part of your rum & coke taste so good! We spent a fun afternoon here sampling soft drinks from all over the world, and getting our photo taken with the Coca Cola Polar Bear! 

(121 Baker St. NW, Atlanta)

Lunch at Mary Mac's Tea Room – if you're a visitor to the city, don't miss this famous Atlanta landmark serving classic Southern food, like fried green tomatoes, Louisiana "mudbugs" and grilled liver & onions. Noontime can get very busy here, so we opted for a late lunch at 2:00 PM with no line-ups and quick service. (224 Ponce de Leon Ave, Atlanta)
Explore Virginia Highland - funky shops, restaurants, bakeries, and cool sidewalk cafes make this strip along North Highland Ave one of Atlanta's most fun districts to walk around.
---
Romantic Places to Stay in Atlanta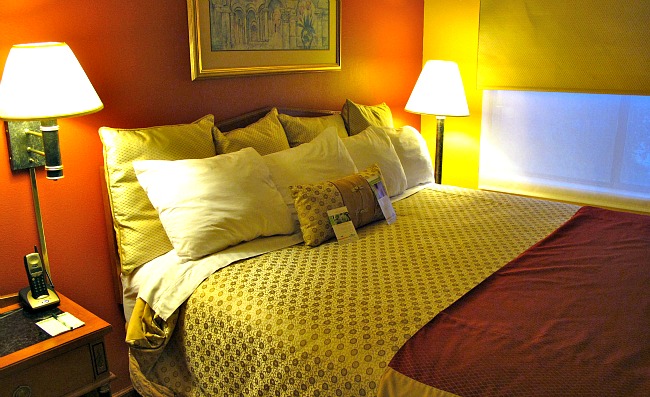 King Suite - The Burgess Hotel, Atlanta
Affordable Atlanta Hotel:

The Burgess Hotel - located in Atlanta's excellent Buckhead area, the Burgess has suites with great amenities and is a fine base for your Atlanta getaway. Check out one of their King suites, and enjoy the spacious room, hot breakfast each morning, and a dip in the pool after a long day taking in the sights of the area and city. 2020 ERV Rating* for Romantic Atlanta Hotels:

 

90%

 - Excellent.

 (3600 Piedmont Rd NE, Atlanta GA 404-869-1100)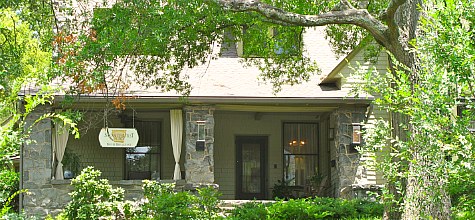 Stonehurst Place Atlanta B&B
Romantic B&B:

Stonehurst Place Bed & Breakfast – a gorgeous, historic inn on a leafy property in Atlanta's Midtown. Luxury rooms and suites include plush robes, flat-screens and gourmet breakfasts. Close to fine dining, plus they can arrange anniversary & elopement packages perfect for romantic getaways in Atlanta. What Other Couples Liked: Gables Suite with 6 Shower Heads...Breakfasts Beyond Compare. 2015 ERV Rating* for Romantic Atlanta B&B's: 99%

 - Excellent.

(923 Piedmont Ave NE, Atlanta GA 404-881-0722)
Luxury Atlanta Buckhead Hotel:

Waldorf Astoria Atlanta Buckhead – a luxury romantic 5-star hotel in Atlanta's Buckhead neighborhood. Opulent rooms and suites with soaker tubs, deluxe robes, twice a day housekeeping and amazing city views. Very convenient but serene location close to MART. A stay at the Waldorf is a truly memorable experience perfect for honeymoon and special occasion vacations in Atlanta. What Other Couples Liked: True Luxury, Awesome Views and Service...Lovely Pool and Relaxing Sauna...Most Comfortable Beds Ever.

2015 ERV Rating* for Romantic Atlanta Hotels:

94%

 - Excellent.

(3375 Peachtree RD NE, Atlanta GA  404-995-7500)  
More Romantic Atlanta Accommodation on ERV:
---
Atlanta Romance & Honeymoon Packages
If you're starting your honeymoon in Atlanta, planning a special anniversary trip, or just searching for some Romantic Atlanta ideas, check out these travel packages:
Ellis Hotel Atlanta Romantic Package

 - another option for Atlanta honeymooners is the Ellis Hotel and it's romantic package which combines a King room with champagne, strawberries and a rose petal turndown service. The next morning, enjoy breakfast in bed and a 1 PM late check-out.
---
Suggested Itineraries for Romantic Getaways in Atlanta
1 Day in Atlanta: After arriving, a leisurely walk around Olympic park, followed by a downtown attraction nearby like CNN or World of Coca Cola. Dinner in the early evening at a downtown romantic restaurant, like Truva or thePeasant Bistro.
2 Days & 1 Night in Atlanta: Arrive in the late morning, take in the Dekalb Farmer's market, then explore Virginia Heights and enjoy a romantic dinner and movie downtown. Next day: sleep in and enjoy a late breakfast at your hotel or B&B, and then set off and relaxing walk around Olympic Park downtown followed by some fun at World of Coca Cola, and finish off by grabbing dinner before heading home.
Romantic Atlanta GA Hotels - This Week's Best Deals Here 

3 Day/2 Night Atlanta Weekend: Friday: arrive late afternoon, catch dinner and a show. Saturday: romantic stroll through Piedmont Park & take in Saturday morning market. In the afternoon, see a major downtown attraction like the Aquarium or CNN, followed by a romantic dinner in the North Metro area at Canoe. Sunday: breakfast at your B&B or hotel, then followed by a late lunch at Mary Mac's Tea Room, with sightseeing and cocktails high up at Sun Dial before returning home in the evening.
Extend Your Getaway - See Our Guide to Romantic Getaways in Georgia 
---
Romantic Atlanta Dining
Romantic restaurants in Atlanta offer much more than Southern Fried - the city is on the cutting edge of dining in the South...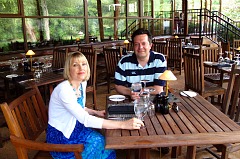 Canoe – one of Atlanta's most romantic restaurants with a terrific setting right along the Chattahoochee River. We followed the suggestion from CNN's Robin Meade (Her Atlanta Travel Tips) and found the Canoe's organic & beautifully presented dishes (grown right in their own garden!) excellent, and the relaxing river views from their expansive patio amazing.
Canoe is located in the North Metro area, so a car is recommended (4199 Places Ferry Rd, NW Atlanta, 770-432-2663)
More Romantic Places to Eat in Atlanta GA - couples staying in downtown Atlanta for a honeymoon or vacation can book a table at Truva (60 Andrew Young International Blvd, 404-577-8788) and try some of their Mediterranean-fusion dishes from the comfort of a nice tree-covered outdoor patio.
The Peasant Bistro (250 Park Ave W, 404-230-1724) is another good choice for a romantic night out, and combines a great view of the city with bistro specialties with a French flair.
*ERV Rating: our unique, non-scientific ratings for romantic accommodation include:
Amenities: including Whirlpool bath or 

JACUZZI

®

Tub

,

scenic view, fireplace, lounge, etc
Location: proximity of hotel to restaurants, pubs, downtown, etc
Clientele: demographic the hotel attracts (couples, families, business travelers, etc)
Popularity: based on social media & crowd-sourced reviews 
Value: product offered compared to room rate 
Please Note: percentage ratings are not absolute but for comparative use only  
top hotels, getaways & packages on ERV
---