San Francisco
San Francisco Hot Tub Suites - Bay Area Hotels With Private In-Room Whirlpool Tubs
FTC: This page uses affiliate links. More. 

---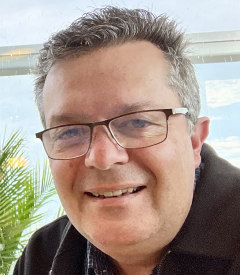 By: Greg Mattson, ERV Editor - Updated: Sep 25, 2023
San Francisco is one of the top romantic destinations in the U.S., and if you're searching for a accommodation for your weekend away, we have some very "bubbly" hotel ideas to check out...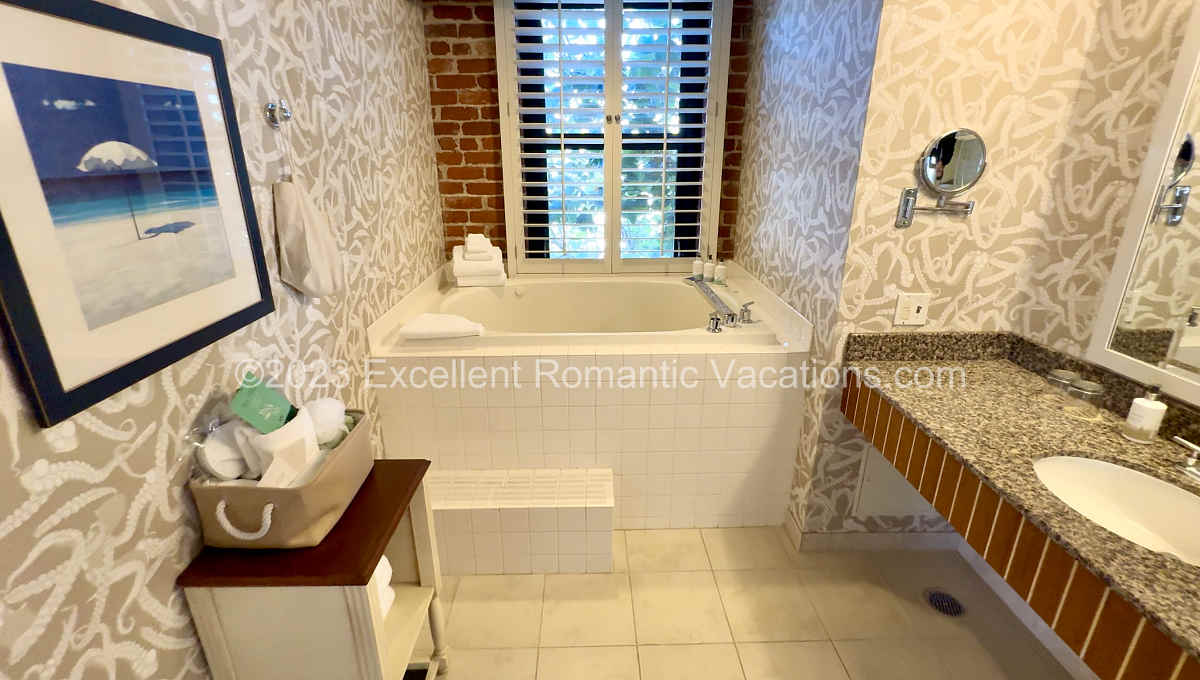 Luxury Whirlpool Suite at the Argonaut Hotel in San Francisco
What's Special About This Guide to San Francisco Hotel Hot Tub Suites: Unlike other websites, we actually stay in lots of Whirlpool suites ourselves every year (like the Argonaut Hotel pictured above) and check out these in-room tubs in-person. We do this to provide you with accurate and exclusive listings of San Francisco and Bay area hotel suites with private jetted spa tubs right in the room - not by the pool or anywhere else. Have a Great Hot Tub Getaway in the Bay Area! 
Disclaimer: JACUZZI® is a registered trademark owned by Jacuzzi Inc. The use of the JACUZZI® trademark on this website is for informational purposes only. There is no relationship, connection or affiliation between this website and Jacuzzi Inc. or its related companies. Rates shown are approximate only and subject to change. Hotel rooms, jetted tubs and amenities can change, and may not be exactly as shown, so please contact the hotel or inn before making travel plans.
---
Downtown San Francisco Jetted Hot Tubs Suites
Argonaut hotel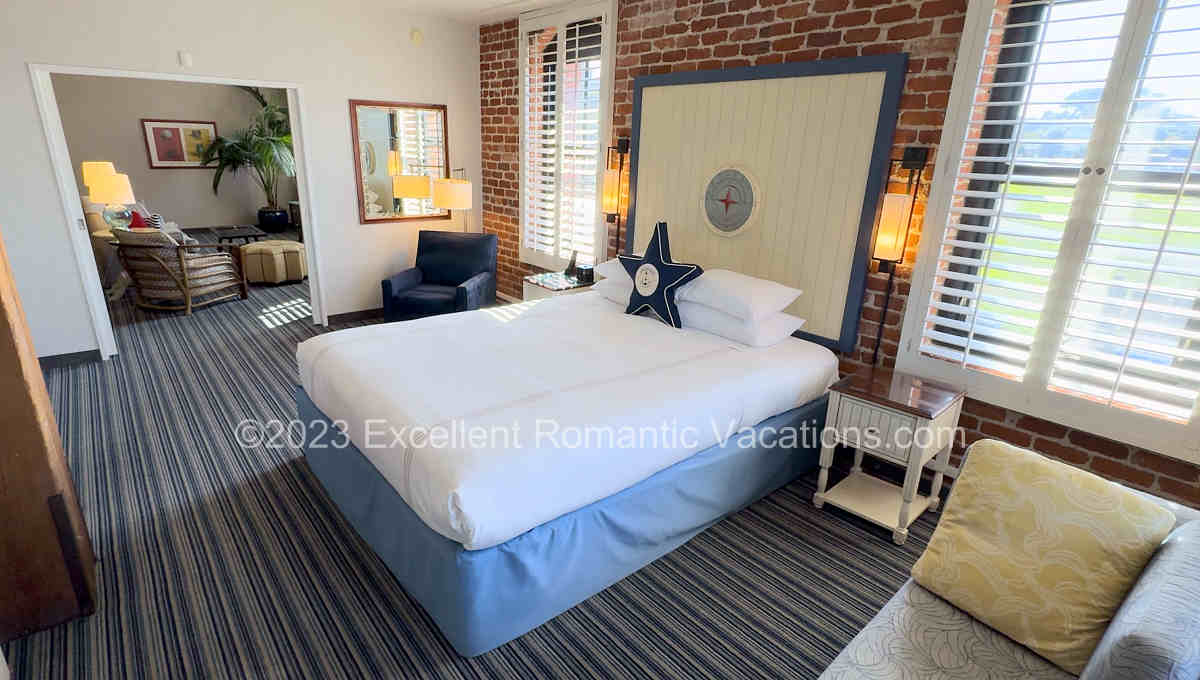 Bayview One Bedroom Suite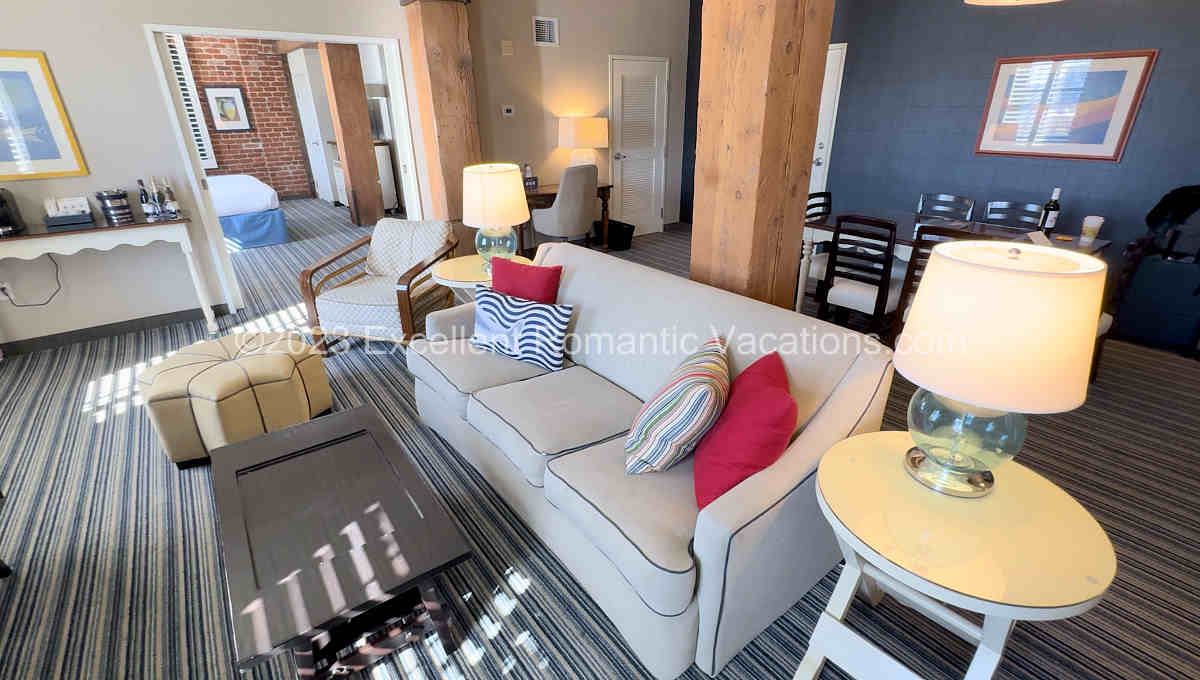 Bayview Suite Living Area
Argonaut Hotel Whirlpool Suite
Argonaut Hotel - We spent a night in their Bay-View One Bedroom Suite, and like several other rooms at this romantic inn, it's got a luxurious 2-person jetted tub. What surprised us was that it has to be the deepest spa tub in San Francisco we have ever soaked in! What We Liked: Huge room with space to relax...Check in time of 3 PM and a check out time of 12 Noon...Free coffee every morn at downstairs restaurant. Worth Knowing: Some noise noticeable from rooms facing Hyde St...$30/day guest amenity fee...Most restaurants in the immediate area are seafood or sushi. 2023 ERV Rating* for San Francisco Hotel Jetted Tub Suites: 90% - Excellent. Whirlpool Tub Size: 2 Persons. Whirlpool Tub Suite prices from $445/night. (495 Jefferson St, San Francisco CA 415-563-0800) Close to:

 Fisherman's Wharf.
B&B spa Tub Suites: inn san francisco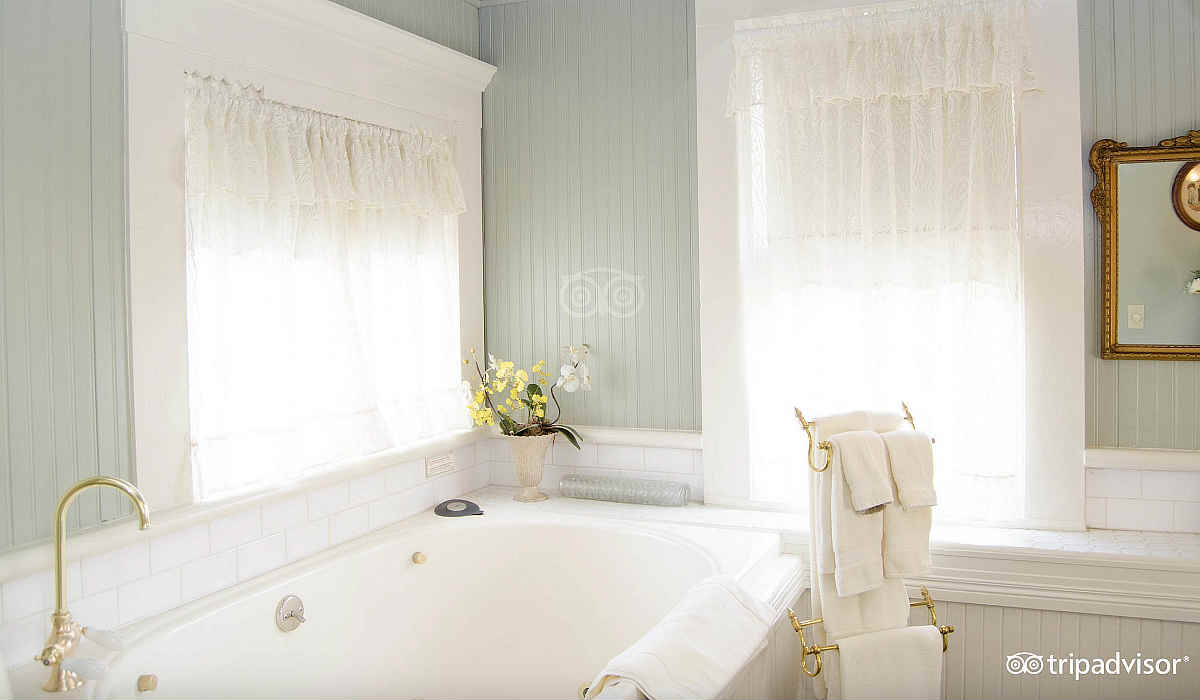 The Inn San Francisco Hot Tub Suites - A 3-level Victorian B&B mansion with rooftop deck and separate cottage. The cottage features a deep spa tub, as do rooms #24, 36, 37, 41, 44, and 45. What Other Guests Liked: Elegant antique furnishings, modern conveniences...Walk to BART Station...Good Breakfast with Fresh Fruit, Baked Goods. Worth Knowing: Parking is across the street, $30/night and must be reserved when booking your room...As this is a restored heritage building, no elevators. 2023 ERV Rating*: 94% - Excellent. Whirlpool Tub Size: 1 Person. Whirlpool Tub Suite prices from $205/night. (943 South Van Ness Ave, San Francisco CA 415-641-0188) Close to: Mission District. 
intercontinental hotel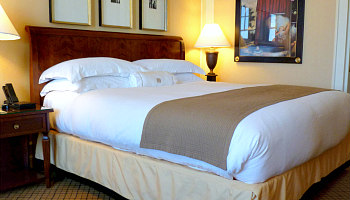 Suite at the Intercontinental, San Francisco
Hot Tub - Intercontinental Hotel, San Francisco
The Intercontinental Mark Hopkins

- The Whirlpool Suites here are outfitted with marble fireplaces, luxury four poster beds, and panoramic views of the Golden Gate Bridge from the outdoor terrace. What Other Guests Liked: Cable Cars in Front of the Hotel...Great Views from the Hotel Bar...Delicious Breakfast Buffet. Worth Knowing:  Valet parking is $76/night, and there is no pool. 2022 ERV Rating*: 76% - Good. Whirlpool Tub Size: 1 Person. Whirlpool Suite prices from $939/night. (999 California St, San Francisco CA 415-392-3434) Close to: Nob Hill, Union Square. √ COVID Safety Plan: Yes 
More Romantic Escapes in California:
Palo Alto Whirlpool Tubs
Pool at Dinah's Garden Hotel
Palo Alto JACUZZI® Tub - Dinah's Garden
Dinah's Garden Hotel - The themed King Suites in this hotel feature marble baths and a JACUZZI® Tub. Choose from Southwestern, European, Latin American, or African themes. What Other Guests Liked: The JACUZZI® Tub suites include kitchens. There's also a poolside restaurant and tropical gardens. Worth Knowing: Fitness Centre is closed until further notice. 2022 ERV Rating* for Hotels in Palo Alto with Private Spa Tub Suites: 90% - Excellent. Whirlpool Tub Size: 1 Person. JACUZZI® Tub Suite prices from $305/night. (4261 El Camino Real, Palo Alto CA  650-493-2844) √ COVID Safety Plan: Yes
El Prado Hotel

 - Recently renovated boutique hotel right in the center of Palo Alto. Their Grand Deluxe Suite features an Air Jet Spa Tub and separate rain shower. What Other Guests Liked: Floor to ceiling windows, French doors, and views of lovely downtown Palo Alto. Worth Knowing: Additional flee for parking. 2022 ERV Rating*: 94% - Excellent. Whirlpool Tub Size: 1 Person. Whirlpool Suite prices from $611/night. (520 Cowper St, Palo Alto CA 650-322-9000) √ COVID Safety Plan: Yes
---
San Jose, CA Spa Tub Suites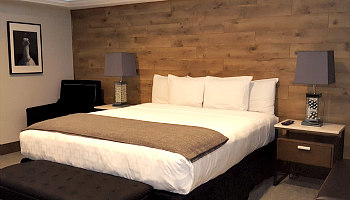 Romantic Room at the Row Hotel, San Jose CA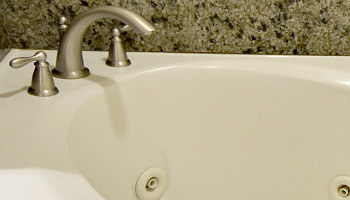 Reserve Your San Jose CA Spa Tub Suite
The Row Hotel

 - A conveniently located boutique hotel with free parking. Deluxe King Rooms have relaxing Whirlpool spa tubs. What Other Guests Liked: Comfortable King beds…6 Blocks from Santana Row…Hotel Recently Updated. Worth Knowing: No onsite restaurant or pool. 2022 ERV Rating* for Downtown San Jose CA Whirlpool Suites: 60% - Fair. Whirlpool Tub Size: 1 Person. Whirlpool Suite prices from $187/night. (2404 Stevens Creek Blvd, San Jose CA 408-293-5000) √ COVID Safety Plan:

 Yes
San Jose Romantic 2-Bedroom w/Whirlpool Tub

  - you'll love this cozy Vrbo rental with Victorian decor in a great South Bay location close to downtown San Jose, Silicon Valley & more. Includes King bed, master bath with a luxurious jetted tub, and amenities like A/C, full kitchen, fluffy towels and filtered water. What Other Guests Liked: Lovely gardens with 2 patios, a gazebo and long mosaic pathway. Worth Knowing: 2 night minimum stay; extra charges include cleaning free, service fee, extra guest fee, pet fee and refundable damage deposit. 2022 ERV Rating*: 92% - Excellent. Whirlpool Tub Size: 2 Persons. Rate for this vacation rental with Whirlpool tub: From $199/night. (Campbell, CA)
Hilton Garden Inn San Jose/Milpitas

 - check out this Hilton property which has Whirlpool Tub suites including mini fridge and microwave. What Other Guests Liked: Located just 8 miles from downtown San Jose, CA, and only 10 minutes drive from Silicon Valley. Worth Knowing: Some guests noticed bathrooms in need of better cleaning. 2022 ERV Rating*: 70% - Good. Whirlpool Tub Size: 1 Person. Whirlpool Suite prices from $182/night. (30 Ranch Dr, Milpitas CA 408-719-1313) √ COVID Safety Plan: Ye

s
more san Jose, ca Whirlpool tubs:
---
Oakland, CA Jetted Tub Hotel Suites  
Holiday Inn Express Castro Valley

 - Some King Rooms offer a JACUZZI® Tub. Located close to BART station with easy access to East Bay attractions. What Other Guests Liked: Large, Comfortable Rooms...Free Hot Breakfast...Wonderful Staff. Worth Knowing: Some guests mentioned traffic noise. 2022 ERV Rating* for Oakland CA Hotel Rooms with a JACUZZI® Tub: 92% - Excellent. Whirlpool Tub Size: 1 Person. Whirlpool Suite prices from $233/night. (2419 Castro Valley Blvd, Castro Valley CA  510-889-9300) √ COVID Safety Plan: Yes
---
Marin County - Sausalito, Corte Madera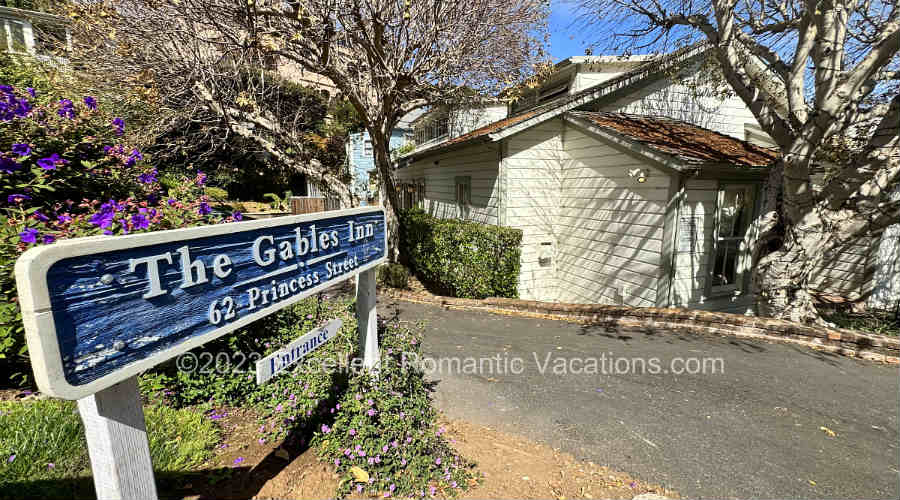 The Gables Inn, Sausalito CA has Jetted Spa Tub Suites
The Gables Inn

 - Constructed back in 1869, this was the first hotel in Sausalito. Today it's a romantic and historic inn with great views and amenities. Several of the rooms include oversized jetted spa tubs, so ask for one when booking. Amenities include a fresh buffet breakfast and evening wine and cheese. What Other Guests Liked: Views of the Bay...Perfect Location for Exploring Sausalito. 5-minute walk from the ferry terminal. Worth Knowing: No air conditioning and no elevator. 2022 ERV Rating* for Sausalito, CA Hot Tub Suites: 88% - Very Good. Whirlpool Tub Size: 1 person. Jetted Tub Suite prices from $275/night. (62 Princess St, Sausalito CA  415-289-1100) √ COVID Safety Plan: Yes
Best Western Corte Madera Inn

 - This is a 5-acre resort-like hotel that includes a complementary breakfast. Whirlpool Suites include fireplace, and on-site amenities include ping-pong and basketball. What Other Guests Liked: Nice Courtyard & Pool...Free Shuttle to San Francisco Ferry...Mall Right Across the Street. Worth Knowing: No elevator to the second floor. 2022 ERV Rating* for Marin County Jetted Tub Suites: 82% - Very Good. Whirlpool Tub Size: 1 person. Whirlpool Suite prices from $189/night. (56 Madera Blvd, Corte Madera CA  415-924-1502) √ COVID Safety Plan: Yes
*ERV Rating: our unique, non-scientific ratings for romantic accommodation include:
Amenities: including Whirlpool bath or 

JACUZZI

®

Tub

,

scenic view, fireplace, lounge, etc
Location: proximity of hotel to restaurants, pubs, downtown, etc
Clientele: demographic the hotel attracts (couples, families, business travelers, etc)
Popularity: based on social media & crowd-sourced reviews 
Value: product offered compared to room rate 
Please Note: percentage ratings are not absolute but for comparative use only  
top hotels, getaways & packages on ERV
---