Romantic Theme Rooms in Hotels & B&B's Across the USA and Canada 
FTC: This page uses affiliate links. More. 

Theme Rooms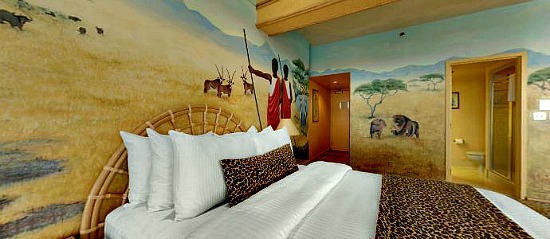 African Themed Room at Fantasyland Hotel, West Edmonton Mall, Alberta.
By: Greg Mattson, ERV Editor - Updated: Dec 16, 2016   

We're proud to present our unique and thoroughly researched guide to theme rooms in hotels, inns and bed and breakfasts across the U.S. and Canada. 

Many hotels and B&B's today have taken on the theme room approach in an upscale way, aiming for the romantic travel market. Amenities in today's hotel theme rooms can often include whirlpool suites, flat-screen TV's, fireplaces and more.  

Some popular theme room themes include Arabian, Polynesian, Roman, Western, Caribbean, Fantasy and 50's style rooms. Some are designed for kids, but our listings feature the more adult-oriented theme suites available today.

About Excellent Romantic Vacations Guide to Theme Rooms in Hotels: We include theme suites in not only hotels, but smaller inns and B&B's as well. Generally, they tend to fall into 3 categories: 
Loud and Bold Fantasy Suites with theme rooms that can be very "in your face", neon and tacky. But they're done this way on purpose, with nothing left to the imagination. 
More Subdued Designs often found in boutique hotels, which usually have a little more class for discerning travelers.
Very Subtle Themed Suites

and rooms

, usually seen in both established hotels and bed and breakfasts. They can be rooms with art and decor centered on an historical era or geographic theme.
(Please Note: Hotels/Inns and their rooms and amenities are subject to change, so please confirm first with the hotel before making firm travel arrangements. All rates listed are approximate only and also subject to change. As these inns are chosen primarily for their theme rooms, quality can vary, so it's important to research the property thoroughly before making reservations.)
Theme Rooms in Hotels Across the USA & Canada
New York, New Jersey & Pennsylvania Theme Suites
New York City: Themed Rooms at the Library Hotel - not every place you stay in has to have 20 different themes. This top-rated NYC boutique hotel has designed it's rooms around a common theme: the Dewey Decimal number category of that particular floor! Priced from $480/night. (299 Madison Ave, New York, NY  212-983-4500)
Upstate NY: The Roxbury Motel - just a first glance at their website tells you what's in store at this self-proclaimed "boutique motel resort": Studio, King Rooms and Suites all inspired by 60's and 70's TV and culture. Room rates start at $99/night. (2258 County Highway 41, Roxbury, NY  607-326-7200)  
Pennsylvania: Radisson Hotel Valley Forge - located just 20 miles from downtown Philadelphia. This hotel has a variety of themed rooms and fantasy Suites: Egyptian, Russian, Hollywood, Cave, Cottage and Tropical Island just to name a few. (1160 First Ave, King of Prussia, PA 800-967-9033)
Miami & Florida Hotels w/ Theme Rooms 
Miami FL: Pelican Hotel

- 

some of the nicest t

heme rooms by the beach

 that we know of anywhere are in this fabulous Art Deco Hotel in South Beach, FL. More then 25 of their romantic rooms are designed after themes as diverse as Caribbean, 50's, Jungle, Psychedelic and more. The Pelican is one of the best-rated places to stay for honeymooners in Miami. Prices start at $269/night. (826 Ocean Dr, Miami, FL  305-673-3373)
Orlando FL Theme Rooms in Resorts - many to choose from, but we found that they are all designed for families with children. To get a romantic theme room in Central or Northern Florida, we suggest downsizing from a hotel/resort to a bed and breakfast-style inn, and heading upstate...
St. Augustine FL: At Journey's End B&B Theme Rooms - in lovely St. Augustine FL, this small romantic inn has 5 theme rooms, including their very romantic Key West Suite. Room Cost: Starting at $159/night. (89 Cedar St, St. Augustine, FL  904-829-0076)
North Carolina, Georgia, Tennessee, Virginia & D.C. 
North Carolina: Calhoun House Inn & Suites

- deep in NC's Smokey Mountains you'll find this romantic Inn and their 4 uniquely themed vacation rental units with Whirlpool tubs, kitchens and mountain views. Room Rates from $155/night. (110 Bryson Ave, Bryson City, NC 828-788-0505)
Georgia: Atlantis Inn

-

just steps from the beach in Tybee Island, GA, the inexpensive Atlantis Inn offers both standard and romance-themed rooms, as well as honeymoon suites with spa tubs. It has some of the cheapest theme rooms of any hotel on this page, starting at only $49/night. (20 Silver Ave, Tybee Island, GA  912-786-8558)
Tennessee: The Guest House at Graceland 

- 

if you're coming to Memphis and visiting Graceland, why not complete the experience with a night at the Graceland Guest House. Check out their suites, all themed around different periods of Elvis' Career. 

 Rates start at $129/night. (3600 Elvis Presley Blvd, Memphis, TN  901-443-3000)  
Virginia: The Inn at Onancock - very highly-rated by couples, with lovely rooms decorated on several themes, including New England, French & Italian designs. Priced from $170/night. (30 North St, Onancock, VA  757-789-7711) 
Washington D.C.: The Mansion on O Street

-

one of the quirkiest and coolest places you may ever stay in! An up-scale boutique hotel near Embassy Row with specialty rooms and themed suites of almost all descriptions starting at $350/night. (2020 O St NW, Washington, DC  202-496-2000)   
Theme Rooms in Chicago & Illinois Hotels & Inns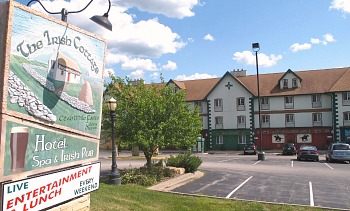 Irish Cottages - Themed Suites in Galena, IL
Chicago Area: Sybaris Themed Suites

-

just 25 miles from downtown Chicago gets you to either one of 3 of these adult-only theme suites. Accommodation is "romantic & aquatic" in design with both whirlpool and swimming pool suites. Overnight Rates start at $179. (600 Downers Grove Ave, Ogden IL  630-960-4000, 7500 W. Lincoln Hwy, Frankfort IL  815-464-5000 & 3350 Milwaukee Ave, Northbrook IL  847-298-5000) 
More Midwest Hotel Theme Rooms
Indiana: Old Northside Inn

 - near downtown Indianapolis you'll find some of the most uniquely furnished theme suites in Indiana with hot tubs and canopy beds. Room Rates: from $135/night. (1340 North Alabama St, Indianapolis, IN  317-635-9123)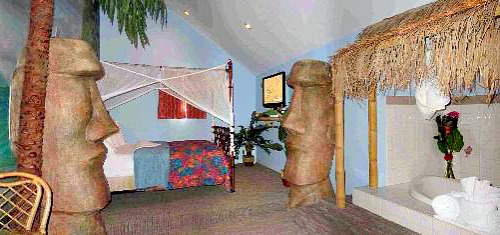 Kansas Tahitian Suite - Chateau Avalon
Kansas City, KS: Chateau Avalon Hotel & Spa - no less than 62 romantic theme rooms here! Many of them include whirlpool tubs for two, and the inn also features a wine bar as well as a full menu of add-on packages for anniversaries, honeymoons and more. Rates from $175/night. (701 Village West Parkway, Kansas City, KS  913-596-6000)  
Michigan: Grand Hotel Theme Rooms, Mackinac Island

-

 we were pleasantly surprised to discover that this beautifully grand old hotel on splendid Mackinac contains over 30 theme suites decorations based on U.S. history, Presidents and First Ladies. Rooms from $550/night. (286 Grand Ave, Mackinac Island, MI  800-334-7263)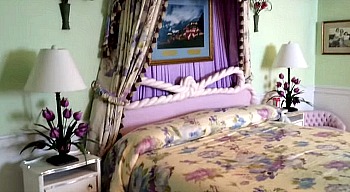 Michigan Theme Suite - Grand Hotel
Minnesota: Stone Mill Hotel & Suites - a couple hours drive SE of Minneapolis is the very attractive small town of Lanesboro, MN, also known as the B&B capital of the state. The Stone Mill Hotel & Suites here has theme rooms with rural flavor like their Amish Room, Fishing Room & Hen House. Rooms are affordable, starting at just $80/night. (100 Beacon St East, Lanesboro, MN  507-467-8663)   
Missouri: The Stone Castle Hotel - if you're shopping for a theme room hotel in Branson MO, you'll discover a choice of 35 themed whirlpool fantasy suites here for your affordable honeymoon or anniversary getaway. Inexpensive Rates from $79/night.(3050 Green Mountain Dr, Branson, MO  800-677-6906)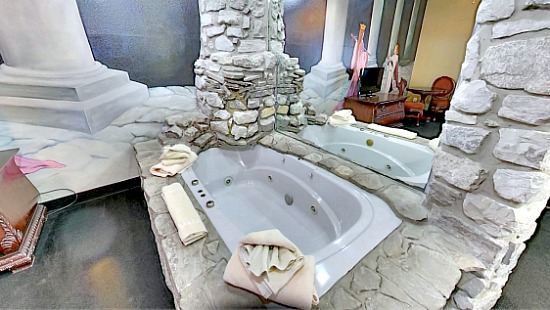 Fantasy Suite at the Stone Castle Hotel, MO
Ohio: 1830 Hallauer House Bed and Breakfast - there's a number of choice in Ohio, but some of the inns with themed rooms we've have difficulty recommending. Not so with the 3 romantic suites in this B&B, all designed with a civil-war era theme. FYI, this inn is smoke-free and pet-free with only children over the age of 13 accommodated. Rates from $125/night. (14945 Hallauer Rd, Oberlin, OH  877-774-3406) 
Wisconsin: Delton Grand Resort Theme Rooms

-

London, Morocco, Italy and Hollywood are some of the exotic themes you can check in to when you book a room at this romantic hotel in the Wisconsin Dells. Room rates start at $209/night. 

(670 East Lake Ave, Wisconsin Dells, WI  608-253-6049) 
Western & Southwestern U.S. Theme Rooms - California, Texas & more
Texas: Hotel ZaZa - this high-end chain offers excellent accommodation for couples, and their Dallas hotel has the added features of theme rooms like Crouching Tiger, Rock Star and Da Vinci. Theme Rooms Rates start at $599/night. (2332 Leonard St, Dallas TX  888-880-3244) 
Colorado: Capitol Hill Mansion - one of Denver's most romantic Bed and Breakfast inns has 8 beautiful rooms with very tasteful themes. Of note is the Snowlover Balcony Room with it's wall-sized mural of an alpine forest. Rates from $144/night. (1207 Pennsylvania St, Denver, CO  800-839-9329)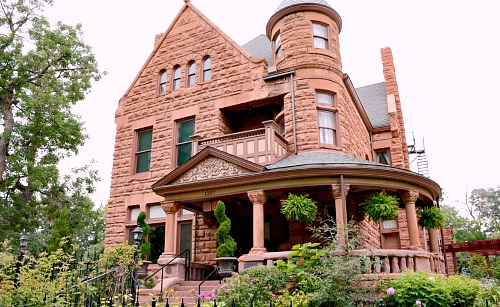 Capitol Hill Mansion, Denver, CO
Las Vegas: Paris Las Vegas

 - so many theme rooms in Las Vegas to choose from on the Strip, but our choice would be to skip the tacky and go for the elegant Red Rooms at the romantic Paris Las Vegas. Room Rates from $120/night. (3655 Las Vegas Blvd, Las Vegas, NV  877-242-7724)
California: Madonna Inn - if you're travelling the coast between Northern and Southern California, don't miss the chance to spend a night in one of their 100+ theme rooms, an experience you'll never forget. Just listen to these suite names: "Yahoo" "Krazy Dazy" "Country Gentleman" and "Old Mexico". Rooms rates from $189/night. (100 Madonna Rd, San Luis Obispo, CA  800-543-9666) 
Washington State: Cameo Heights Mansion - it's not easy finding theme hotel rooms anywhere near Seattle (is the Pacific Northwest too hip for such things?). But if you make the drive to the Southeast corner of the state near Walla Walla, you can be rewarded with a few nights at this highly-rated luxury inn with it's Spanish, Greek, German and Asian themed suites. Rates: from $179/night.(1072 Oasis Rd, Touchet, WA  509-394-0211) 
Canadian Hotels with Themed Rooms 
Toronto, ON: Gladstone Hotel

-

check in to the 

Gladstone and it's 37 artist-designed theme rooms, ranging from "Biker" to "Canadiana" to "Parlour of Twilight". Located in the heart of downtown Toronto's arts district. Room Prices from $189/night. (1214 Queen St West, Toronto, ON  416-531-4635)    
Edmonton, Alberta: Fantasyland Hotel

 - one of Canada's best known collections of themed hotel rooms is attached to the huge West Edmonton Mall. Shop and visit the Water Park, have a romantic dinner on Bourbon Street, and then come home and relax in the Igloo or Canadian Rail Luxury Suite. Theme Room Prices Start at $198/night. (17700 87 Ave, Edmonton, AB  800-737-3783) 
Excellent Romantic Vacations - Top Pages
---