Washington State
Washington State romantic getaways for 2 
FTC: This page uses affiliate links. More. 

---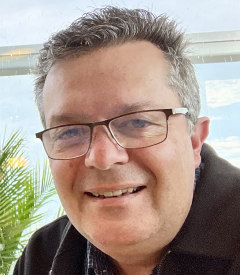 By: Greg Mattson, ERV Editor - Updated: May 1, 2022  

Look around every corner of Washington State, and you're going to find plenty of romantic travel destinations perfect for a week or weekend away. Check out our suggestions for cozy inns and lodges, things to do, and great food experiences.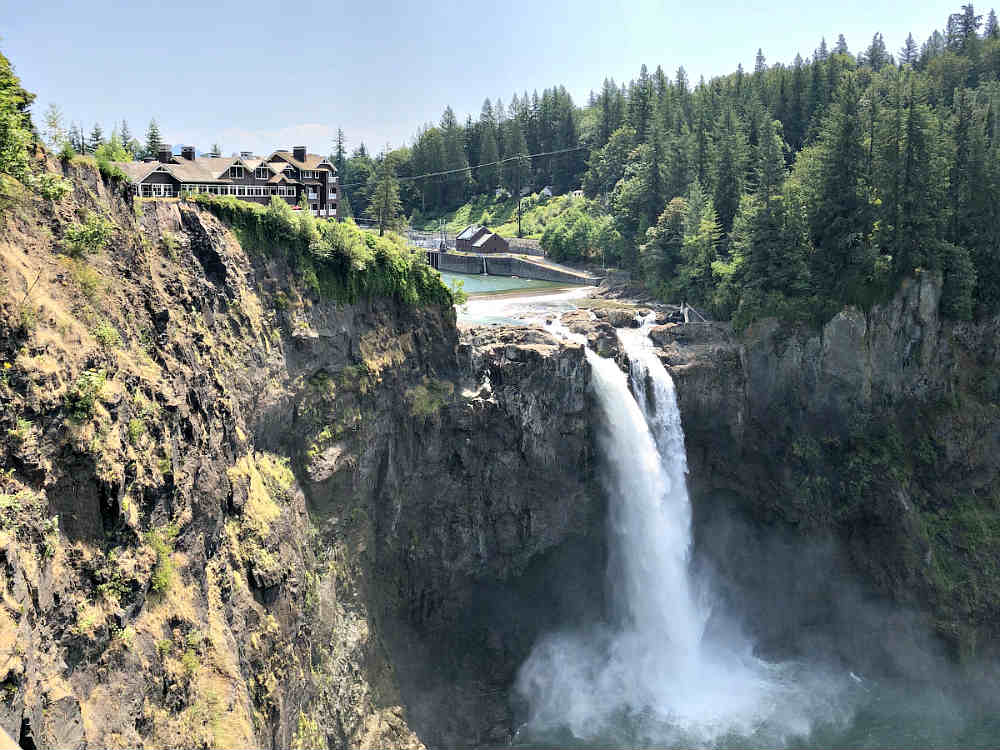 Romantic Salish Lodge & Spa at Snoqualmie Falls, WA
Best Time for Travel in Washington State: Mid April through the end of September is best. Winter months from November to February will most likely mean rain and/or snow to many parts of the state, but with the right preparation, this can also be a great time to be along the coast or higher up in a romantic lodge.  
featured romantic washington state getaway: salish Lodge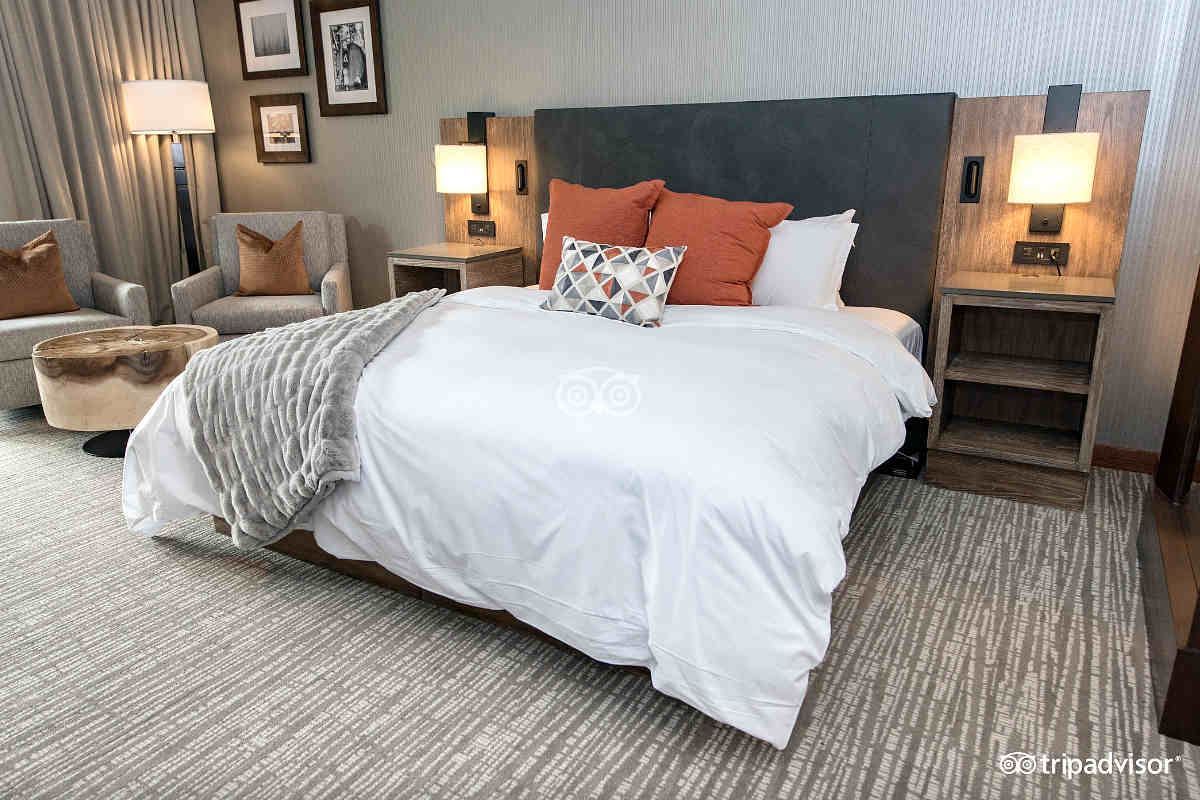 Romantic Room - Salish Lodge ©TripAdvisor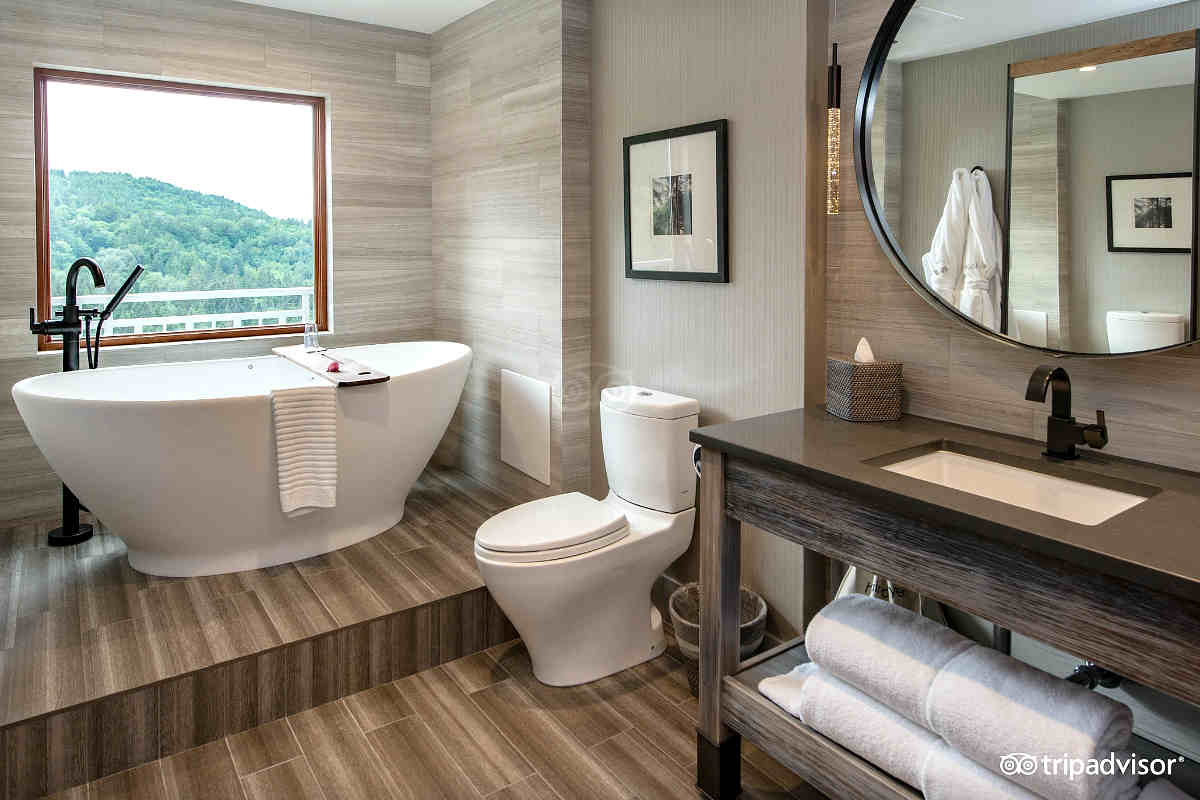 Salish Lodge Spa Style Bath ©TripAdvisor
Salish Lodge & Spa - As you may have noticed in the photo header on this page, the Salish Lodge & Spa is blessed with a rather romantic location, perched on the edge of gorgeous Snoqualmie Falls, and only a 30 mile/30 minute drive east of Seattle. Accommodations come equipped with gas fireplaces, deep soaking tubs and dual shower heads, with River View Rooms offering extra special displays of the falls. What Other Guests Liked: Delicious Weekend Brunch...Sipping Champagne by the Fireplace...Spa Pools & Couples Massage. 2022 ERV Rating* for Romantic Washington State Inns: 90% - Excellent. (6501 Railroad Ave SE, Snoqualmie WA 425-888-2556)   
---
Northwest Washington State romantic getaway Spots
bellingham, WA
You'll love Bellingham's heritage-style downtown with it's one-of-a-kind shops, pubs and cafes. Don't let the odd rain shower dissuade you from checking out the surrounding area, including beautiful Whatcom Falls Park.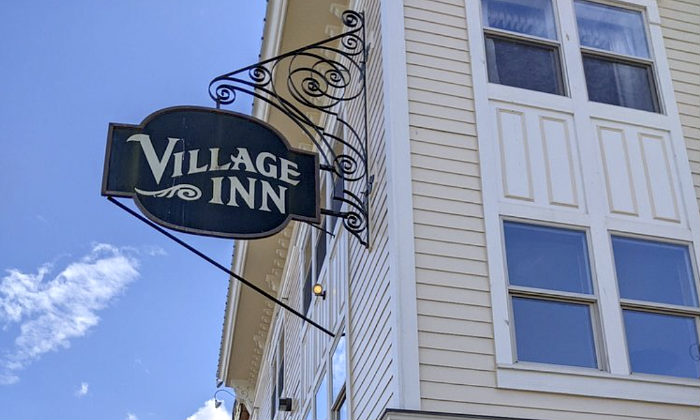 Fairhaven Village Inn, Bellingham WA
Fairhaven Village Inn -

a small heritage hotel just a minute's walk on the cobblestone streets to the attractive Old Fairhaven District of downtown Bellingham. Romantic rooms have fireplace and king beds, and some of the 22 suites include spa tubs. 

2022 ERV Rating* for Romantic Bellingham Inns: 92% - Excellent. (1200 10th St, Bellingham, WA 877-733-1100)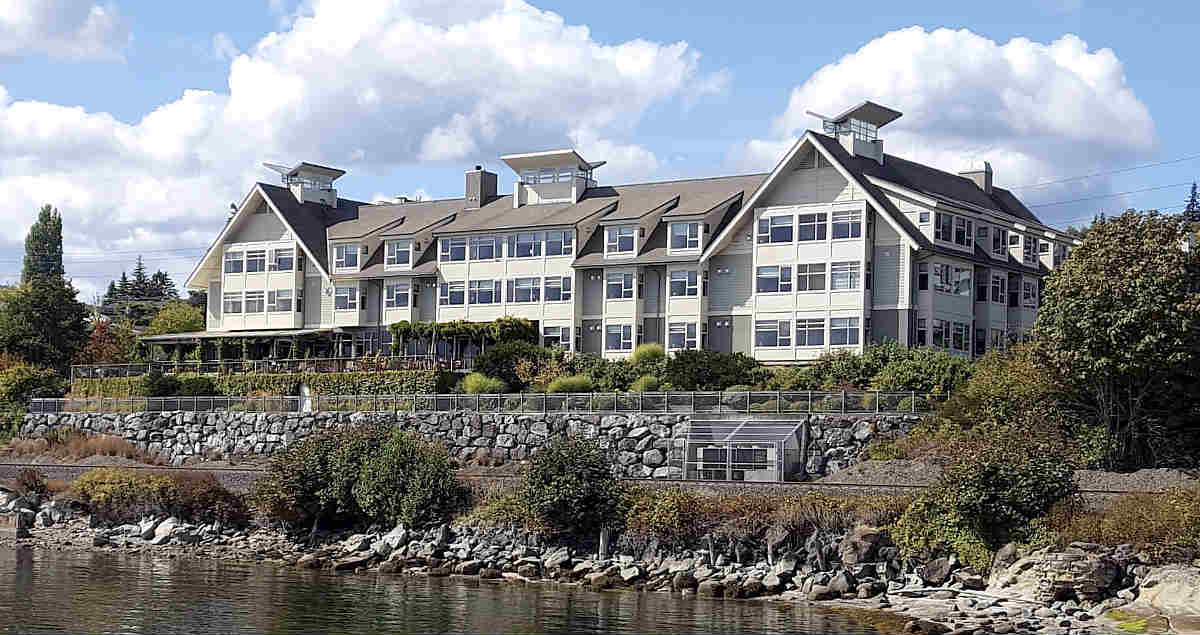 Beautiful Chrysalis Inn on the Waterfront in Bellingham, WA
Chrysalis Inn & Spa - top rated Bellingham, WA place to stay for couples, right on the waterfront, luxury rooms with jetted spa tubs, gas fireplaces and romantic dining on-site at Keenan's at the Pier. 2022 ERV Rating*: 80% - Very Good. (804 10th St, Bellingham, WA 888-808-0005)
La Conner, WA
This corner of Skagit County comes alive each year in April for the Tulip festival, but we suggest that you plan your visit here during other times of the year to avoid the traffic and crowds and experience this gem of a small town the right way. A relaxed visit here is a must, with its 1800's shop fronts, pubs, boutique stores and B&B's. 
Romantic NW Washington B&B: Wild Iris Inn

Romantic Hot Tub Suite - Wild Iris Inn, La Conner
Wild Iris Inn -

if Northwest Washington State is your honeymoon or weekend getaway destination, we highly recommend the Wild Iris Inn in beautiful La Conner, WA. It's located close to downtown La Conner, and only a 5 minute walk to 1st Street shops and pubs. 

The Deluxe King Suites provide a large in-room jetted

 

tub, gas fireplace, private balcony, a very quiet nights rest (these units overlook peaceful farmland), and a delicious breakfast at your own table for two in the morning. 2022 ERV Rating* for Romantic NW Washington State Hotels: 96% - Excellent. (121 Maple Ave, LaConner, WA 360-466-1400)
Video: Wild Iris Inn
HD Video Tour of a Romantic Hot Tub Suite at the Wild Iris Inn, LaConner, WA.
more places to see:
Mt.Vernon - pretty rural area famous for the nearby Skagit Valley Tulip Festival, usually in the first few weeks of April each year.
Scenic Route 11 -

a

 scenic route we like is Chuckanut Drive, just southwest of Bellingham, as it winds along the coast with views of the San Juan Islands off to the west. Along this route look for a 

restaurant called The Oyster Bar (2578 Chuckanut Dr, Bow, WA) tucked away in a secluded spot. You dine in a romantic lodge that has an awesome wine list and spectacular ocean views!
Olympic National Park - famous for Hurricane Ridge, a high altitude road with breathtaking vistas of meadows, glaciers, peaks, and valleys. You can hike and take eco tours here through the rain forest. Incredibly beautiful, but come prepared for some rain along the way.
Port Townsend, WA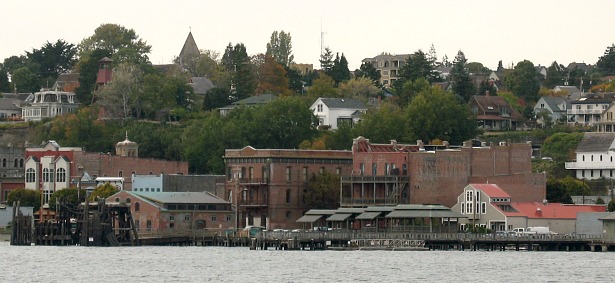 Historic Downtown of Port Townsend, WA Viewed from the Waterfront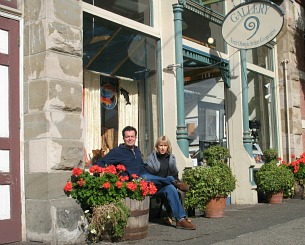 Sunshine in Downtown Port Townsend, WA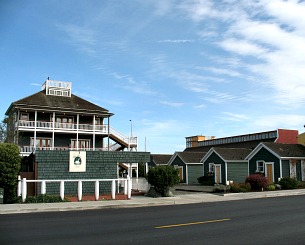 Swan Hotel & Cottages, Port Townsend WA
Port Townsend, WA

 - this well preserved 

seaport is

 great place for smelling the sea, hearing the seagulls, and cup of clam chowder. Lots of couples come here to kayak, with lots of rentals around town. For romantic Port Townsend inns and hotels, try the

Swan Hotel (222 Monroe St, Port Townsend, WA 360-385-1718)

 and it's collection of studios, suites and cottages with mountain and ocean views.
San Juan Islands - one of the most romantic Washington State vacation spots is actually off shore. The San Juan's reward the ferry cost and time with scenic and secluded coves, beach combing  old growth forests and marine parks. Wildlife watchers love these islands for eagle and whale watching. The San Juans tend to get more sun than other Pacific Northwest locations.  
whidby Island - Saratoga Inn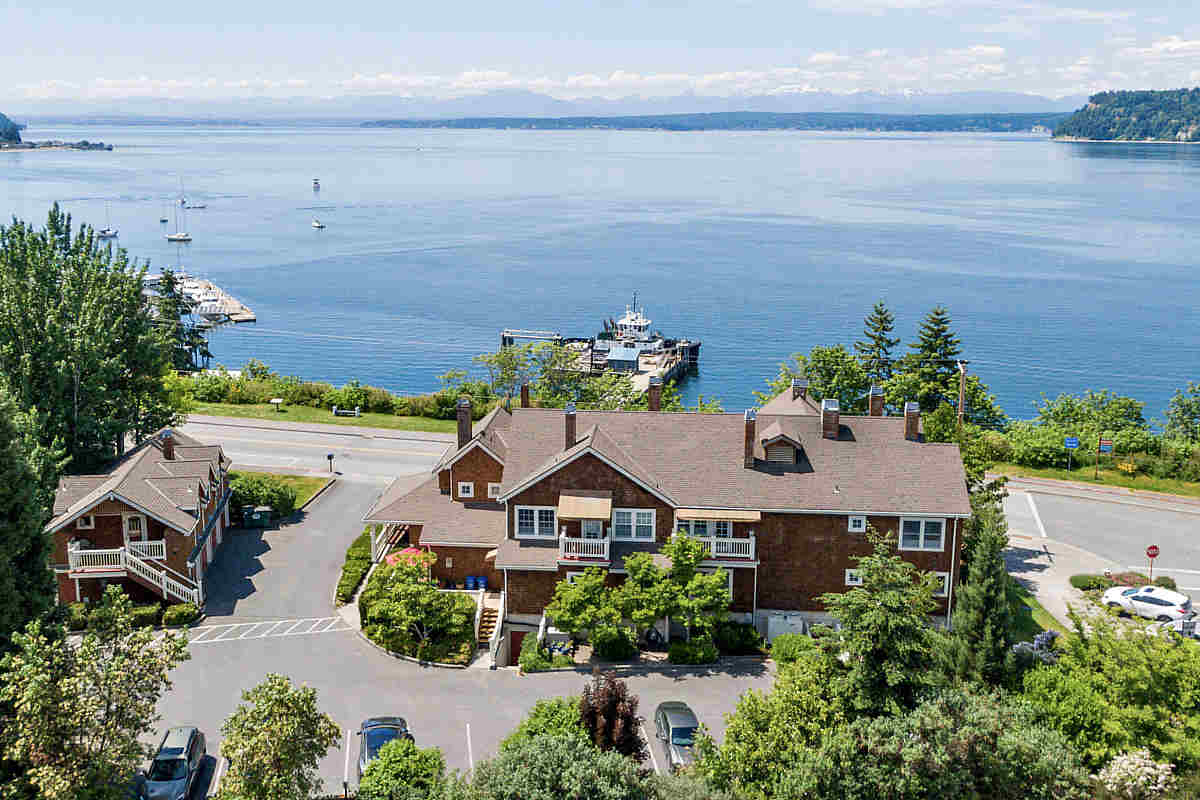 Saratoga Inn, Whidby Island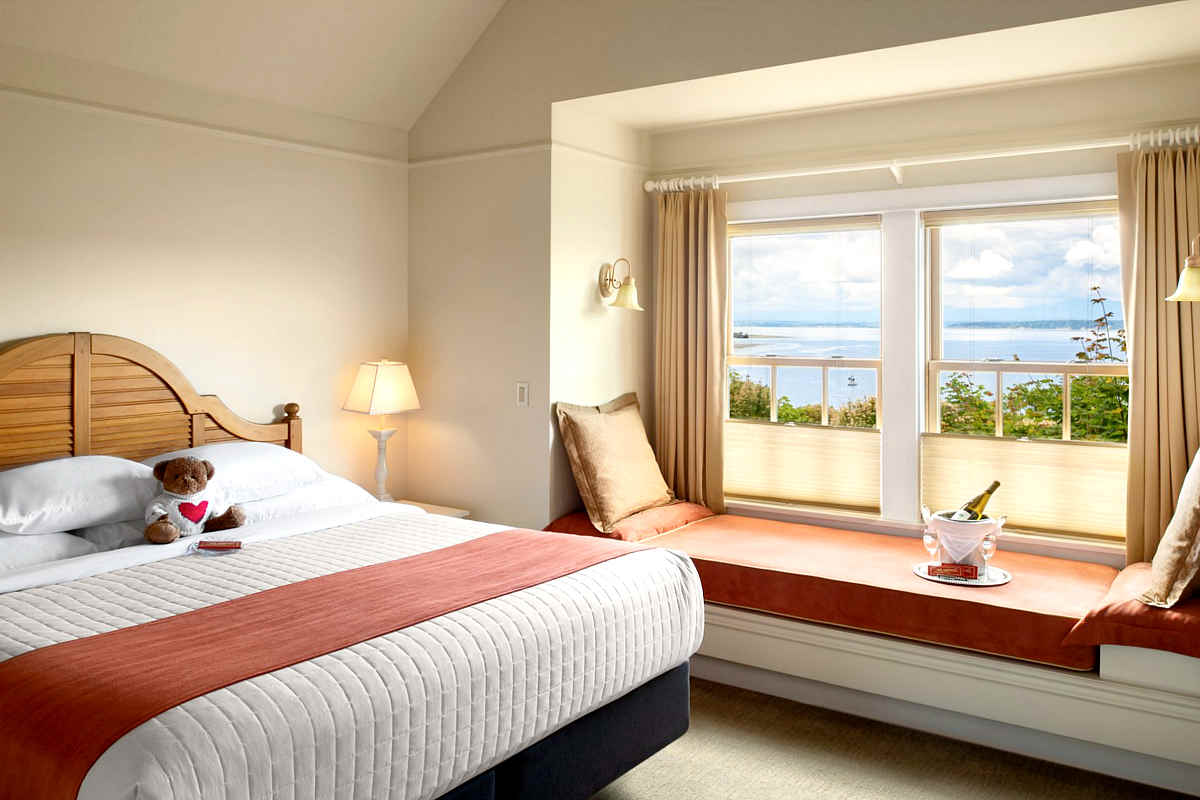 King Suite with Water View, Saratoga Inn
Saratoga Inn

- situated up high with views of Puget Sound and the Cascade Mountains, the Saratoga Inn is a great base for exploring wonderful Whidby Island. Rooms come nicely outfitted with gas fireplace and HDTV, with deluxe King Rooms including private decks with water view. In the mornings, wake up to a vegetarian buffet breakfast. There's fresh baked cookies on arrival, and even a Tesla charging station on site. 2022 ERV Rating* for Romantic Whidby Island Inns: 94% - Excellent. (201 Cascade Ave, Langley WA 360-221-5801)
See Also:
Romantic San Juan Islands Lodging - you'll want to settle into a bed and breakfast or secluded cabin near the water for a couple days to really get the feel for the islands. There's some very romantic B&B's and cottages on San Juan and Orcas Islands that are perfect for a weekend getaway.
Tacoma, WA - long considered Seattle's poor little brother, Tacoma is starting to attract more Washington State vacation visitors. Prices can be more reasonable than other Puget Sound locales, and there's some very good seafood found in the local restaurants and brew pubs. Check out Point Defiance Park for some beautiful gardens, walks and secluded beach coves.
3 Romantic Washington State Hotels Close to The I-5 Freeway
Travel for any length of time on a Western Washington State vacation, and you know that the I-5 is a part of daily life. So if you find yourself freeway bound and looking for a romantic hotel or honeymoon suite close to the I-5 freeway, here's 3 options that are very close (under 5 minutes drive time, but still far enough away so you can sleep at night!):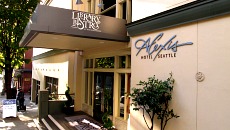 Alexis Hotel, Seattle, WA
I-5 Exit 164A Madison St
Rates and Bookings Here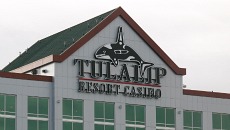 Tulalip Resort, Marysville, WA
I-5 Exit 200 or 202
Rates & Bookings Here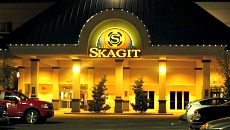 Skagit Valley Resort, Bow, WA
I-5 Exit 236
Rates & Bookings Here
Central & Eastern Washington State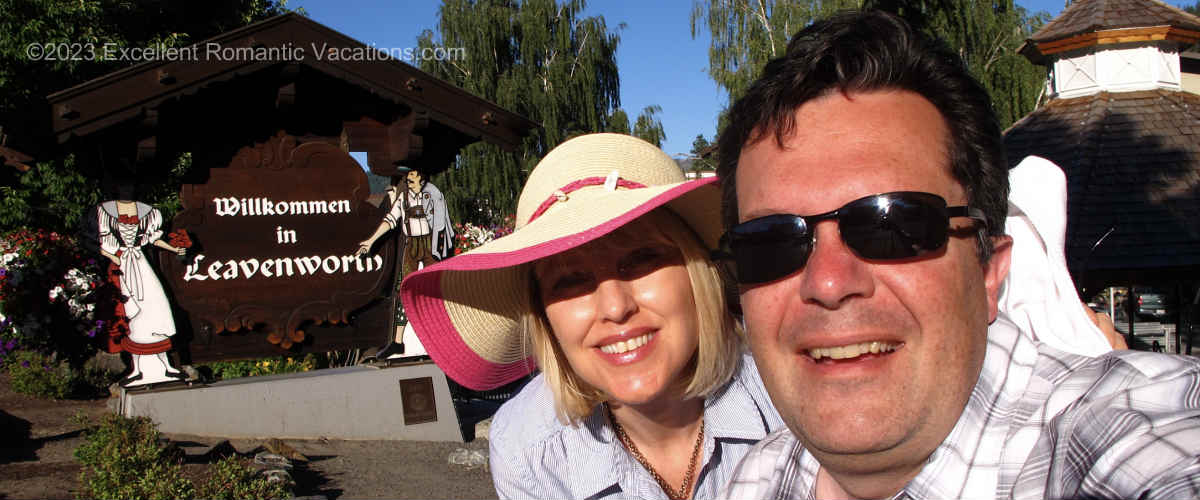 Leavenworth is a Fun Place to Explore in Central Washington
Leavenworth – a more "touristy" Washington State vacation spot, but still a quaint Bavarian-themed town. Good opportunity for a German meal-for-two (dine on schnitzel as an oom-pah band warms up down the street!) Activity wise there's rock climbing and white water rafting.
bavarian lodge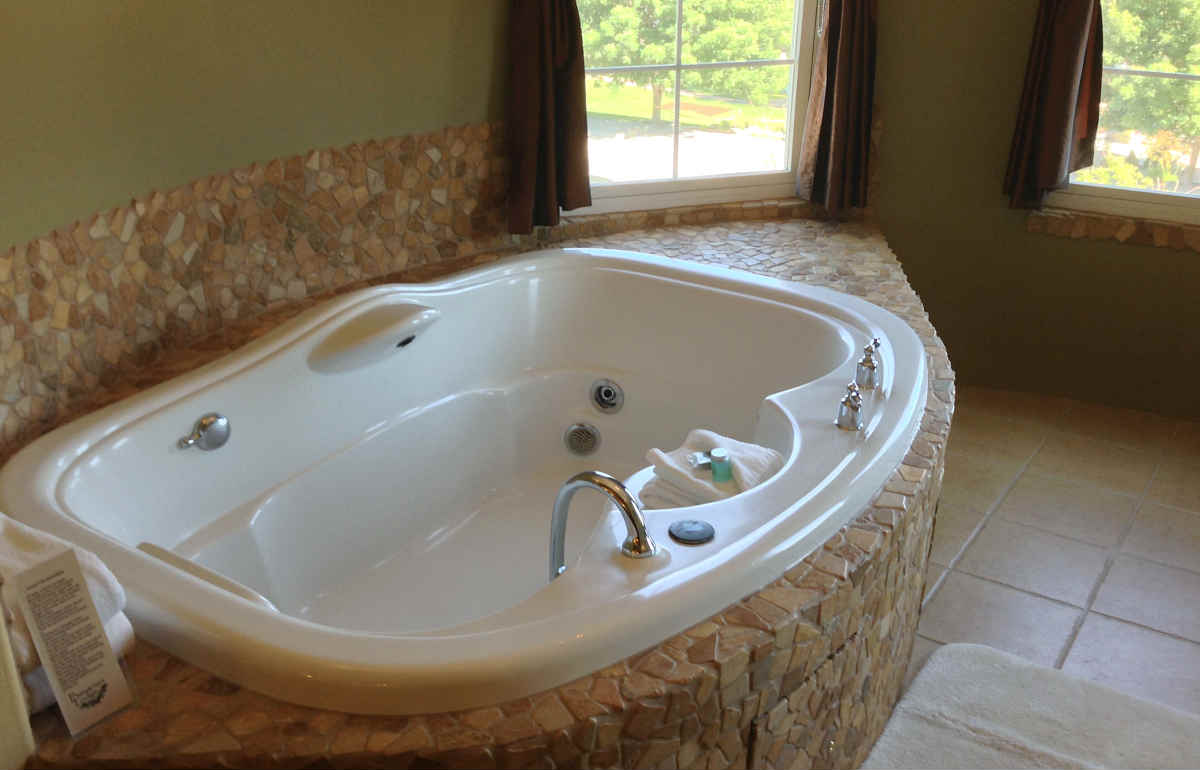 Spa Tub Suite at the Bavarian Lodge in Leavenworth, WA
Bavarian Lodge

- going right along with the theme of the town, this romantic lodge has long been a favorite getaway spot in central Wahington. Great location in downtown Leavenworth, and selected rooms are nicely outfitted with gas fireplaces and 2-person in-room jetted tubs. On-site restaurant, complimentary breakfast and heated pool round out the amenities at this top-rated inn. 2023 ERV Rating: 94% - Excellent. (810 US Hwy 2, Leavenworth WA 888-717-7878)
Romantic B&B in Leavenworth:
One of the most romantic B&B's in Leavenworth, Washington is the Run of the River Inn (9308 E. Leavenworth Rd, Leavenworth, WA  509-548-7171). Surrounded by apple trees, wildlife and great hiking trails, the lodge is located on the banks of the Icicle River, about a 1/2 mile from Leavenworth. Their Washington State romance packages come with pamper baskets, fresh fruit and locally roasted coffee.
Yakima Valley Wine Country – just follow the Yakima Valley Highway (parallel to I-82) through Sunnyside and Prosser, WA for a casual drive past vineyards, wineries and road side fruit stands. Quench your thirst with some cider on hot and dry summer days!
Southern Washington State
Mount St. Helens - where were you when the volcano blew? Coming south on I-5 from the Seattle/Tacoma area, the best way to reach the Mount St. Helens National Volcanic Monument and the visitors centers is to turn east at Castle Rock onto the Spirit Lake Hwy, no. 504. The info and displays on the eruption are sobering. The Johnston Ridge Observatory has fine views of the blast area and nearby hiking trails.
*ERV Rating: our unique, non-scientific ratings for romantic accommodation include:
Amenities: including Whirlpool bath or 

JACUZZI

®

Tub

,

scenic view, fireplace, lounge, etc
Location: proximity of hotel to restaurants, pubs, downtown, etc
Clientele: demographic the hotel attracts (couples, families, business travelers, etc)
Popularity: based on social media & crowd-sourced reviews 
Value: product offered compared to room rate 
Please Note: percentage ratings are not absolute but for comparative use only  
top hotels, getaways & packages on ERV
---