Alberta
Alberta Hot Tub Suites - Calgary, Edmonton & more
FTC: This page uses affiliate links. More. 

---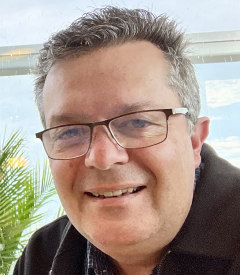 By: Greg Mattson, ERV Editor - Updated: Sep 29, 2022   

Travel in Alberta in your plans? We've done our research (and a few hotel stays!) so that we can recommend some of the best hotel suites with in-room Whirlpool tubs in the province's best spots, including Calgary, Edmonton, as well as Banff & Jasper in Western Canada's wonderful Canadian Rockies.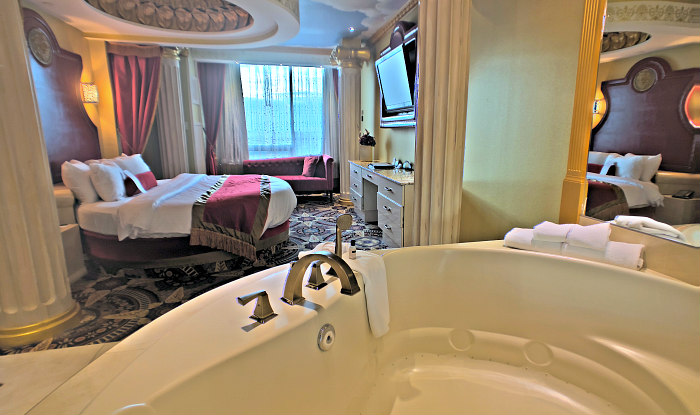 Roman Theme Suite with Jetted Tub - Fantasyland Hotel, Edmonton, Alberta
About This Guide to Spa Tub Suites in Alberta: we list and feature only hotels which offer private jetted tubs right in the room - unless otherwise stated. 
Disclaimer: JACUZZI® is a registered trademark owned by Jacuzzi Inc. The use of the JACUZZI® trademark on this website is for informational purposes only. There is no relationship, connection or affiliation between this website and Jacuzzi Inc. or its related companies. Rates shown are approximate only and subject to change. Hotel rooms, jetted tubs and amenities can change, and may not be exactly as shown, so please contact the hotel or inn before making travel plans.
---
calgary, alberta whirlpool suites
King Suite w/Spa Bath - BW Premier Freeport Inn & Suites
Best Western Premier Freeport Inn & Suites - selected King Rooms here include a jetted tub close to the bed. High-speed Wi-Fi, indoor pool and free parking are included. 2021 ERV Rating* for Calgary, Alberta Whirlpool Suites: 92% - Excellent. (86 Freeport Blvd, Calgary AB 403-264-9650) √ COVID Safety Plan: 

Yes
Video: Calgary Best Western Spa Tub suite
Check Out Our Video of the Best Western Premier Spa Tub Suite 
Wingate by Wyndham Calgary South - this affordable Wyndham with it's King Spa Suites is an excellent hotel to book when you need a quick start to your morning drive to the Rocky Mountains. 2021 ERV Rating*: 74% - Good. (400 Midpark Way SE, Calgary AB 403-770-9073) √ COVID Safety Plan: 

Yes
Best Western Plus Whirlpool Suites Downtown Calgary - lots of suites to choose from at this downtown Calgary hotel, but the Spa Queen Suite on the 16th floor is the one you'll love, with it's spacious hot tub, HD TV, living room and kitchen. 2021 ERV Rating*: 82% - Very Good. (1330 8 St SW, Calgary AB 403-228-6900) √ COVID Safety Plan: 

Yes
---
edmonton, AB Hot Tub Suites
West edmonton: Hilton Garden Inn
Bedroom - Hilton Garden Inn West Edmonton
Hilton Garden Inn West Edmonton Jetted Tub
Hilton Garden Inn West Edmonton -  one of the top-rated Edmonton hotels, with King 1 bedroom suites outfitted with a Whirlpool tub in the master bath. Other amenities include an indoor pool, restaurant, lounge and outdoor patio area. Located in West Edmonton just 3 km's north of West Edmonton Mall. 2021 ERV Rating* for Edmonton, AB Whirlpool Suites: 88% - Very Good. (17610 Stony Plain Rd, Edmonton AB  780-443-2233) √ COVID Safety Plan: 

Yes
Fantasyland Hotel, WEM
Roman Theme Honeymoon Suite
Large JACUZZI® Tub - Fantasyland Hotel
Fantasyland Hotel

- High-Rise destination resort inside West Edmonton Mall featuring both contemporary and themed suites with huge 2-person JACUZZI

® T

ubs, making it a great spot for anniversary getaways and Alberta honeymoons year-round. 2021 ERV Rating* for West Edmonton Hotel Suites with a JACUZZI® Tub: 70% - Good. (17700 87 Ave NW, Edmonton AB 800-737-3783) √ COVID Safety Plan: 

Yes
downtown edmonton: Union Bank Inn
Union Bank Inn, Edmonton AB
Jetted Tub Suite, Union Bank Inn
Union Bank Inn

- unique downtown Edmonton boutique hotel, with amenities like daily wine & cheese, romantic dining on-site, and jetted tubs available in several of their Contemporary Wing Suites. 2021 ERV Rating*: 88% - Very Good. (10053 Jasper Ave, Edmonton AB 780-423-3600) √ COVID Safety Plan: 

Yes
Courtyard by Marriott Downtown Edmonton - experience the newly revitalized Downtown Edmonton & base yourself at this affordable Marriott with in-room Whirlpool tubs and great views of the city and River Valley. 2021 ERV Rating*: 70% - Good. (1 Thornton Ct, 99 St & Jasper Ave, Edmonton AB 780-423-9999) √ COVID Safety Plan: 

Yes
Comfort Inn & Suites - A cheap getaway in downtown Edmonton hot tub suite isn't hard to find in one the Comfort Inn's King Suites with jetted tub. Within walking distance of the both the Legislature and University of Alberta. 2021 ERV Rating*: 57% - Fair. (10425 100 Ave, Edmonton AB 888-384-6835) √ COVID Safety Plan: 

Yes
Matrix Hotel

- Another downtown option, look here for their Platinum Suites, which include fireplace, deluxe bathroom with a jetted tub and body spray showers, and free breakfast as well as wine reception each evening. 2021 ERV Rating*: 90% - Excellent. (10640 100 Ave NW, Edmonton AB 780-429-2861) √ COVID Safety Plan: 

Yes
Holiday Inn Express Edmonton Downtown - In the heart of the Downtown, this Holiday Inn offers convenient access to Rogers Place and the LRT, and can check you into suites with a JACUZZI

® Tub

, private balcony, HDTV and more. 2021 ERV Rating*: 70% - Good. (10010 104 St NW, Edmonton AB 780-423-2450) √ COVID Safety Plan: 

Yes
Best Western Plus City Center Inn - A Downtown Edmonton hotel with free parking! The amenities don't end there - there's a 24 hr Tim Hortons Coffee Shop next to the lobby, cocktail lounge with city views, indoor pool, and King Suites with a relaxing JACUZZI

® 

Tub. 2021 ERV Rating*: 80% - Very Good. (11310 - 109 St, Edmonton AB 780-479-2042) √ COVID Safety Plan: 

Yes
southside
Sawridge Inn - Edmonton JACUZZI® Tubs
Sawridge Inn & Conference Centre Edmonton South - This popular Inn is just minutes from all the shopping and restaurants at South Edmonton Common. Master JACUZZI

® 

Tub Suites include free Wi-Fi and a Keurig Coffee machine. 2021 ERV Rating*: 80% - Very Good. (4235 Gateway Blvd, Edmonton AB 780-438-1222) √ COVID Safety Plan: 

Yes
Best Western Cedar Park Inn
Best Western Cedar Park Inn - Close to the U of A, completely renovated for 2109, and offering Queen Whirlpool Suites, indoor pool, free hot buffet breakfast and free parking. 2021 ERV Rating: 60% - Fair. (5116 Gateway Blvd NW, Edmonton AB 780-434-7411) √ COVID Safety Plan: 

Yes
Metterra Hotel on Whyte - Edmonton's most romantic hotel is ideal for your honeymoon in one of their Fire and Water rooms, with jetted tub and fireplace. Located on Whyte Ave, in the city's Strathcona arts and entertainment district. 2021 ERV Rating*: 90% - Excellent. (10454 82 Ave, Edmonton, AB 780-465-8150) √ COVID Safety Plan: 

Yes
Four Points by Sheraton Edmonton Gateway

- Nice King Bed Suites with Whirlpool tubs available here, and the hotel's location is perfect for exploring Southwest Edmonton attractions like the Valley Zoo and Muttart Conservatory. 2021 ERV Rating*: 88% - Very Good. (10010 12 Ave SW, Edmonton AB 780-801-4000) √ COVID Safety Plan: 

Yes
East Side
Radisson Hotel & Convention Center

- looking for a spacious hotel room with a hot tub in Edmonton? You'll appreciate the Radisson's Whirlpool Suites with tubs big enough for 2 people. 2021 ERV Rating*: 80% - Very Good. (4520 76 Ave NW, Edmonton AB 780-468-5400) √ COVID Safety Plan: 

Yes
Leduc, Alberta Hot Tub Suites Near Edmonton International Airport (YEG):
Quality Inn & Suites Edmonton International Airport - comfort, convenience and affordability is what this Choice Hotel specializes in. Close to Edmonton International Airport, with roomy suites outfitted with Whirlpool Tubs and free wireless internet. 2021 ERV Rating* for Leduc, Alberta Jetted Tub Suites: 90% - Excellent. (8340 Sparrow Cres, Leduc AB 780-980-0986) √ COVID Safety Plan: 

Yes
---
Red Deer, AB Whirlpool suites
Radisson Hotel Red Deer - you're looking to reserve their 450 sq ft Whirlpool Suite, one of Red Deer's most romantic hotel rooms. You can also enjoy the Radisson's fitness center and day spa, and take advantage of the continental breakfast, free parking and Wi-Fi. 2021 ERV Rating* for Red Deer Alberta Whirlpool Suites: 84% - Very Good. (6500 67 St, Red Deer AB 403-342-6567) √ COVID Safety Plan: 

Yes
Best Western Plus Red Deer Inn & Suites - close to shopping and downtown Red Deer, with a complimentary hot breakfast awaiting you after a great night in one of their Whirlpool suites. 2021 ERV Rating*: 96% - Excellent. (6839 66 St, Red Deer AB 403-346-3555) √ COVID Safety Plan: 

Yes
---
Banff & Canadian Rockies Suites with JACUZZI
®

 Tubs
Cascade Loft at Rundlestone Lodge
Rundlestone Lodge Suite - JACUZZI® Tub
Banff, AB:
Rundlestone Lodge - we had the pleasure of 2 nights in one of their Cascade Loft Suites with a romantic JACUZZI

®

 tub, and it was just excellent. The 2-person tub is spacious, and there's a gas fireplace and mini-kitchen as well. 2021 ERV Rating* for Banff, Alberta Hotel Suites With a JACUZZI® Tub: 80% - Very Good. (537 Banff Ave, Banff AB 403-762-2201) √ COVID Safety Plan: 

Yes
Canadian Rockies Hot Tub Suites - Jasper, AB
Jasper, AB
Best Western Jasper Inn & Suites - going on a romantic ski getaway in the Canadian Rockies? This Best Western's Junior Executive suites have 2-person Whirlpool baths, flat screen TV and wet bar. Marmot Basin ski resort is just 30 minutes away. 2021 ERV Rating* for Jasper, AB Whirlpool Suites: 72% - Good. (98 Geikie St, Jasper AB 780-852-4461) √ COVID Safety Plan: 

Yes
---
Northern & Central Alberta Jetted Tub Suites
Fort McMurray
Merit Hotel & Suites - this Northeastern Alberta hotel makes romantic getaways possible with their theme rooms outfitted with jetted tubs. Heated underground parking, onsite restaurant/lounge and indoor pool will make your stay very comfortable. 2021 ERV Rating for Fort McMurray Hot Tub Suites: 92% - Excellent. (8200 Franklin Ave, Fort McMurray AB 866-650-3678) √ COVID Safety Plan: 

Yes
Grand Prairie
Holiday Inn & Suites Grand Prairie

 - turn any weekend in Grand Prairie into a romantic getaway with a stay in one of the 

Holiday

 Inn's Whirlpool suites. The on-site Seasons on Forty restaurant serves a nice buffet breakfast, and they have a free airport shuttle as well.

2021 ERV Rating* for Northern Alberta Jetted Tub Suites: 70%

 - Good.

(9816 107 St, Grand Prairie AB  780-402-6886) √ COVID Safety Plan: 

Yes
Lloydminster
Best Western Plus Meridian Hotel -

close to Hwy 17, this Best Western is ready to welcome you with a free hot buffet breakfast and King Whirlpool suites with a fireplace. 

2021 ERV Rating* for Lloydminster, Alberta Hotel Suites with a Jetted Tub: 96%

 - Excellent.

 (1402 50 Ave, Lloydminster AB  780-875-8884) √ COVID Safety Plan: 

Yes
Camrose
Hotel Camrose Resort & Casino - Hot tub suites in this Best Western hotel offer a separate bedroom with an in-room tub in the living area. Indoor pool, fitness center and 2 restaurants round out the amenities at this resort in Central Alberta. 2021 ERV Rating* for Camrose, AB Hot Tub Suites: 90% - Excellent. (3201 48 Ave, Camrose AB 780-679-2376) √ COVID Safety Plan: 

Yes
Wetaskiwin 

2-Person JACUZZI® Tub - Siding 16 Lodge, Wetaskiwin
Siding 16 Lodge - those looking for a romantic night or weekend in Wetaskiwin can check into this hotel with it's King JACUZZI® Tub suites. Located close to shops and dining (and the excellent Huckleberry's Restaurant), just off Highway 2A on the Auto Mile. 2022 ERV Rating* for Central Alberta Jetted Tub Suites: 70% - Good. (3806 56 St, Wetaskiwin AB 780-361-3808) √ COVID Safety Plan: 

Yes
---
Southern Alberta Spa Tub Suites
Medicine Hat
Holiday Inn Express & Suites Medicine Hat - with an excellent location just off Trans-Canada Highway 1, these hot tub suites can provide a bit of romance to your southern Alberta getaway. 2021 ERV Rating* for Medicine Hat Suites with Jetted Tubs: 80% - Very Good. (9 Strachan Bay SE, Medicine Hat AB 403-504-5151) √ COVID Safety Plan: 

Yes
Lethbridge
Hampton Inn & Suites by Hilton Lethbridge - located perfectly for shopping, dining and sightseeing in southern Alberta. Inside, you'll enjoy this Hampton's complimentary hot breakfast, Wi-Fi, and of course their wonderful suites with a Whirlpool tub near the King bed. 2021 ERV Rating* for Lethbridge, AB Whirlpool Suites: 90% - Excellent. (4073 2nd Ave South, Lethbridge AB 403-942-2142) √ COVID Safety Plan: 

Yes
*ERV Rating: our unique, non-scientific ratings for romantic accommodation include:
Amenities: including Whirlpool bath or 

JACUZZI

®

Tub

,

scenic view, fireplace, lounge, etc
Location: proximity of hotel to restaurants, pubs, downtown, etc
Clientele: demographic the hotel attracts (couples, families, business travelers, etc)
Popularity: based on social media & crowd-sourced reviews 
Value: product offered compared to room rate 
Please Note: percentage ratings are not absolute but for comparative use only  
top hotels, getaways & packages on ERV
---