Vancouver Island Hot Tub Suites & Honeymoon Hotel Rooms with Spa Tubs
FTC: This page uses affiliate links. More. 

Vancouver Island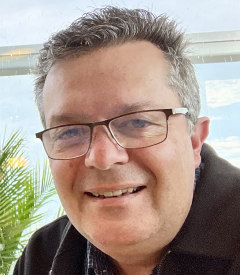 By: Greg Mattson, ERV Editor - Updated: Nov 17, 2023   

Vancouver Island BC is the top destination in Western Canada for honeymoons and romantic vacations. A hotel room with a spa tub can help you max out the romantic part of your journey here on "The Island". 
Honeymoon Whirlpool Suite at the Coast Bastion Hotel in Nanaimo BC
Here's our picks and unique photos for the most romantic Vancouver Island hot tub suites and hotels with in-room spa tubs in Victoria, Nanaimo, Tofino and more. Enjoy, and have a great getaway in this fantastic part of British Columbia.
FYI About These Vancouver Island Hot Tub Suites: Unlike some other sites, these rooms are hand-picked by us for having jetted tubs right in the room. 

Disclaimer: JACUZZI® is a registered trademark owned by Jacuzzi Inc. The use of the JACUZZI® trademark on this website is for informational purposes only. There is no relationship, connection or affiliation between this website and Jacuzzi Inc. or its related companies. Rates shown are approximate only and subject to change. Hotel rooms, jetted tubs and amenities can change, and may not be exactly as shown, so please contact the hotel or inn before making travel plans.
---
Whirlpool Suites - Victoria BC & Area
sidney waterfront inn & suites
Whirlpool Suite at Sidney Waterfront Inn & Suites
Sidney Waterfront Inn & Suites - want a cozy Vancouver Island waterfront suite with jetted tub and a stay that won't break your budget? This inn is located in Sidney BC, about 20 minutes north of Victoria, and just a short 5 minute drive to the ferry terminal in Schwartz Bay. We spent a night in their Pender Island Room, one of the suites located in their romantic Cannery Building. It's got a relaxing 2-person spa tub, King bed, fireplace, small kitchenette with mini-fridge and microwave, along with a beautiful view of the ocean and San Juan Islands. There's a lovely walk along the water's edge down front, and numerous dining options and the very attractive downtown of Sidney is just a short stroll away. 2023 ERV Rating*: 80% - Very Good. (9775 First St, Sidney, BC  250-656-1131) 
brentwood bay inn & spa
Deluxe OceanSuite With a JACUZZI® Tub, Brentwood Bay Resort & Spa on Vancouver Island
Brentwood Bay Inn & Spa - a terrific inn overlooking beautiful Brentwood Bay. The suites here are set up so you can enjoy the waterfront view of the harbour right from inside the JACUZZI® Tub. Easily one of the most romantic places we have stayed in on Vancouver Island, or in Canada. Besides the excellent accommodation, there's an on-site spa, heated outdoor pool with hot tub, and on-site dining: a romantic waterfront restaurant as well as a pub with a sushi bar. 2020 ERV Rating*: 90% - Excellent. (849 Verdier Ave, Brentwood Bay, BC  888-544-2079. Distance from Brentwood Bay Resort to Swartz Bay Terminal - Ferry to Vancouver:

 18 km's/12 miles, about a 20 minute drive.

)   
| | |
| --- | --- |
| Vancouver Island Suite With a JACUZZI® Tub | Pool at the Brentwood Bay Resort & Spa |
---
Victoria Regent Waterfront Hotel & Suites
Victoria Regent Waterfront Hotel
Victoria Waterfront Suite with JACUZZI® Tub
Victoria Regent Waterfront Hotel & Suites

- prime waterfront location right on Victoria's beautiful Inner Harbor, with floor-to-ceiling windows, free breakfast and free parking. Selected Executive & Penthouse Suites have a JACUZZI® Tub. 2020 ERV Rating*: 94% - Excellent. (1234 Wharf St, Victoria BC 250-386-2211)
Abigail's Hotel
Suite with Jetted Tub at Abigails Hotel in Victoria, BC
Abigail's Hotel - Abigail's has been the no.1 destination for honeymoons and romantic escapes on Vancouver Island for many years, and their deluxe suites with jetted spa tubs are one of the reasons. These hot tub suites are also very close to downtown Victoria, making them well suited to romantic getaways without a car.

 

2020 ERV Rating*:

 

96%

 - Excellent. 

(906 McClure St, Victoria BC.  800-561-6565 Distance from Abigail's Hotel to Vancouver Ferry: 18 km's/12 miles, about a 20 minute drive.) 
| | |
| --- | --- |
| Front of Abigail's Hotel | Opal Room, Abigail's Hotel |
---
Inn at Laurel Point
Inn at Laurel Point, Victoria BC
Jetted Tub for 2 - Inn at Laurel Point, Victoria
Inn at Laurel Point - if you're thinking Victoria + waterfront + Whirlpool suite, the Inn at Laurel Point is your place. Rooms here include specialty suites which come with deluxe spa tubs big enough for 2 people. Another high point of this hotel is the balconies, many of which have outstanding views of Victoria Harbor. 2020 ERV Rating*: 88%

 - Very Good. 

(680 Montreal St, Victoria, BC  250-386-8721)
More romantic vancouver island & bc on erv:
The Best Vancouver Island Spa Resorts
Getaways for Two in Victoria, BC
Vancouver Island Romantic Vacations
Vancouver BC Hotel Spa Tub Suites
Romantic British Columbia Hotels With Whirlpool Suites
---
Jacuzzi® Tub suite - Duncan BC
Best Western Cowichan Inn
JACUZZI® Tub - Best Western, Duncan BC
Best Western Cowichan Valley Inn

 - We checked into Room 302 here at this Best Western in Duncan BC recently, and were quite impressed with the quality of the jetted JACUZZI® Tub and the updated and spacious living space. The tub was large and easily fit 2 persons, and there's a free breakfast on the morning. In our opinion this Best Western is an obvious choice for a budget-friendly spa tub getaway in Southern Vancouver Island. What We Liked: Huge tub, jets worked great, room included large sofa and living area, good value for the money. Worth Knowing: Restaurants within walking distance limited to fast food. 2023 ERV Rating*: 80% - Very Good. (6457 Norcross Rd, Duncan BC 250-748-2722)     
Nanaimo BC Hotel Suites With a JACUZZI
® 

Tub
coast bastion hotel
Coast Bastion Hotel Nanaimo BC
JACUZZI® Tub with a View of Nanaimo Harbor
Coast Bastion Hotel

- many consider the Coast Bastion to be the nicest hotel in Nanaimo. On the top floor with expansive views of Nanaimo Harbor is the Premium Suite with a JACUZZI

® Tub

. Vancouver Island honeymooners take note: you can find cheaper suites in Nanaimo, but none come close to matching the romance and luxury of the Coast Bastion.

 2020 ERV Rating*: 90%

 - Excellent. 

(11 Bastion St, Nanaimo, BC  800-663-1144) 
best western northgate inn
Romantic Balcony Suite with Whirlpool Tub - Best Western Northgate Inn, Nanaimo BC
Best Western Northgate Inn

- Nanaimo's top-rated hotel just also happens to have some of the most attractive hotel Whirlpool suites in Central Vancouver Island. Check into a Balcony Suite and you'll get a jetted tub for 2 in the bedroom, as well as free breakfast and parking, and a location close to shopping, dining, and Highway 19. 2020 ERV Rating*: 90% - Excellent. (6450 Metral Dr, Nanaimo BC 250-390-2222)  
parksville bc hot tub suites
tigh-na-mara resort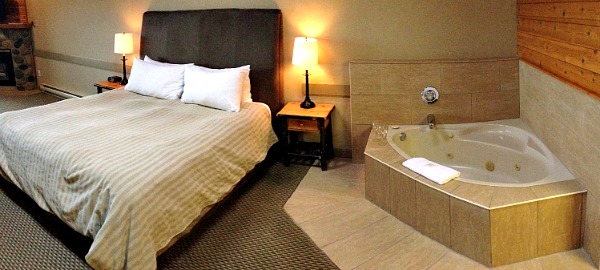 King Bed and a JACUZZI® Tub in one of the Tigh-Na-Mara's Oceanview Deluxe Studio Rooms
Tigh-Na-Mara Seaside Spa Resort - seclusion and the Spa is what this Vancouver Island resort with

in-room hot tubs

is all about. Go for a swim in the Tigh-Na-Mara's Grotto Spa, or a soak in one of their suites with an in-room JACUZZI

® T

ub. R

ooms here tend to be more rustic than luxury, and the hot tub sizes are best suited for one person. 

This Central Vancouver spa resort is just north of Nanaimo in Parksville, with full kitchen units available. 

2020 ERV Rating*: 70%

 - Good. 

(1155 Resort Dr, Parksville, BC  800-663-7373. Distance from Tigh-Na-Mara to Nanaimo Departure Bay Ferry to Vancouver:

 28 km/17 miles, 25 minutes

)   
---
Courtenay - Comox Valley Suites with a JACUZZI
® 

Tub
kingfisher oceanside resort & spa
Kingfisher Oceanside Resort & Spa
Adult-Only Suite With a JACUZZI® Tub
Kingfisher Oceanside Resort & Spa

- certainly one of the most romantic oceanfront resorts on Vancouver Island. Their adult-only Romance Suites have an in-room 2-person 

JACUZZI

® Tub, as well as a 2-person shower with dual shower heads. There's a pool and spa, Bistro and Wine bar, and beautiful courtyard gardens, outfitted with fire pits, Adirondack chairs and ocean views. 

2020 ERV Rating*: 84%

 - Very Good. 

(4330 Island Hwy South, Courtenay BC  250-338-1323) 
old house hotel & spa
Old House Hotel & Spa, Courtenay BC
Loft Suite with JACUZZI® Tub - Old House Hotel
Old House Hotel & Spa

- the gorgeous Penthouse Loft Suite at this cozy inn is easily one of the nicest spa tub suites on Vancouver Island. It's got a beautiful JACUZZI® Tub large enough for 2 people, plus a master bath with rain shower head & body jets. Enjoy a full kitchen and 2 fireplaces, as well an on-site spa, heated outdoor pool and hot tub. 2022 ERV Rating*: 90% - Excellent. (1730 Riverside Lane, Courtenay BC 250-703-0202)
bayview hotel
Bayview Hotel, Courtenay BC
JACUZZI® Tub - Bayview Hotel, Courtenay BC
---
Campbell River, BC
coast discovery inn
JACUZZI® Tub - Coast Discovery Inn, Campbell River BC
Coast Discovery Inn

- comfortable, budget-friendly, and located right in downtown Campbell River. That describes this Coast Hotel, and you're looking to reserve the Premium King Bed Suite with JACUZZI

® 

Tub here. 2020 ERV Rating*: 78% - Good. (975 Shoppers Row, Campbell River BC 250-287-7155)
Hot Tub Suites in Tofino, West Coast of Vancouver Island
best western tin wis resort
Best Western Tin Wis Resort, Tofino BC
Tin Wis Resort Jetted Tub Suite
Best Western Tin Wis Resort Lodge

 - just a short distance south of Tofino BC, but right on MacKenzie Beach facing west you'll come to the Best Western Tin Wis Resort. Several of their King Executive Suites are spectacularly set up so you can enjoy the crashing waves right from inside the 

Whirlpool tub

. 2020 ERV Rating*:

 

84%

 - Very Good. 

(1119 Pacific Rim Highway, Tofino, BC  800-568-8520)    
*ERV Rating: our unique, non-scientific ratings for romantic accommodation include:
Amenities: including Whirlpool bath or 

JACUZZI

®

Tub

,

scenic view, fireplace, lounge, etc
Location: proximity of hotel to restaurants, pubs, downtown, etc
Clientele: demographic the hotel attracts (couples, families, business travelers, etc)
Popularity: based on social media & crowd-sourced reviews 
Value: product offered compared to room rate 
Please Note: percentage ratings are not absolute but for comparative use only  
top hotels, getaways & packages on ERV
---