British Columbia hot tub suites - bubbly baths in beautiful bc hotels
British Columbia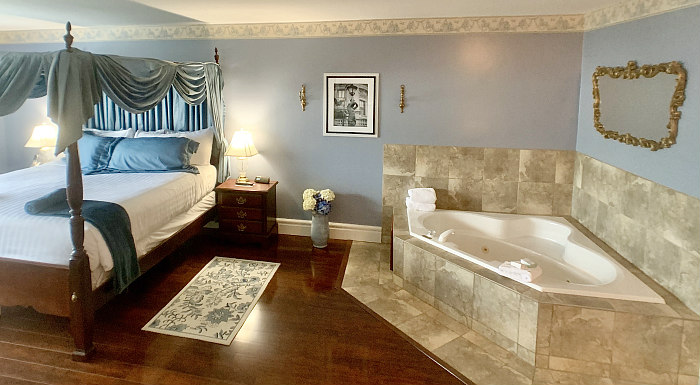 Themed Hot Tub Suite at the Prestige Rocky Mountain Resort in Cranbrook, BC
FTC: This page uses affiliate links. More. 

By: Greg Mattson, ERV Editor - Posted Feb 5, 2020
Canada's most rugged and mountainous province is the ideal setting for a romantic getaway in a hotel suite with a Whirlpool or JACUZZI® Tub.

B.C. has it all, from oceanfront inns and alpine lodges to lakefront resorts and city hotels, and many with cozy jetted tubs. Pick from cities like Vancouver and Victoria, as well as in destinations like Whistler, the Okanagan, Kootenays, and BC's beautiful Rocky Mountain destinations.

Disclaimer: JACUZZI® is a registered trademark owned by Jacuzzi Inc. The use of the JACUZZI® trademark on this website is for informational purposes only. There is no relationship, connection or affiliation between this website and Jacuzzi Inc. or its related companies. As hotel rooms and amenities can change, please check with each individual accommodation property before making travel plans to ensure that the hotel room you have booked includes an authentic JACUZZI® brand hot tub. Please Note: rooms and tubs described may not be exactly as shown.
Vancouver & Lower Mainland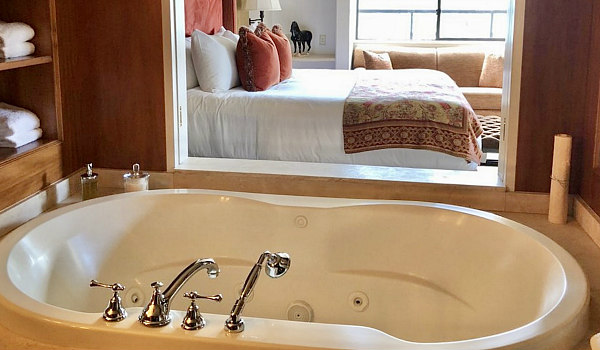 Beautiful Whirlpool Suite at the Wedgewood Hotel in Downtown Vancouver BC
Wedgwood Hotel & Spa

 - lovely boutique hotel that's been a favourite for honeymoons and romantic getaways in Vancouver. You'll find luxury spa tubs in several suites here (Terrace, Wedgewood and the Penthouse Honeymoon Suite). The on-site Bacchus restaurant is excellent as well. 2020 ERV Rating* for Vancouver BC Hotel Jetted Tub Suites: 96% - Excellent. (845 Hornby St, Vancouver BC 604-689-7777) 
Executive Hotel Vintage Park Vancouver

 - choose a a Deluxe King Room with a JACUZZI® Tub at the Executive Hotel, and you'll get the added benefits of a complimentary nightly wine reception, and a great location near Granville Island and Robeson Street. 2020 ERV Rating for Suites with a JACUZZI® Tub in Downtown Vancouver: 70% - Good. (1379 Howe St, Vancouver BC 604-688-7678)
abbotsford, bc
Best Western Plus Regency Inn

- You can enjoy a romantic hotel hot tub suite getaway in the Fraser Valley at this award-winning Best Western. Book a King Bed Suite with a JACUZZI® Tub here, which includes a full hot breakfast, 2 indoor pools and free Wi-Fi. 2020 ERV Rating* for Abbotsford BC Hotel JACUZZI® Tub Suites: 82% - Very Good. (32110 Marshall Rd, Abbotsford British Columbia 604-853-3111)
---
victoria & Vancouver Island
Inn at Laurel Point 

- great waterfront location on Victoria Harbour, plus selected suites which come with a comfortable JACUZZI® Tub. They've also got charge stations for your EV, along with a pool and fitness center. 2020 ERV Rating* for Victoria BC Oceanfront Hot Tub Suites: 88% - Very Good. (680 Montreal St, Victoria, BC  250-386-8721)
Nanaimo, BC
Spacious Whirlpool Suite - Best Western Northgate Inn, Nanaimo BC
---
Whistler, BC
Whistler Sundial Hotel - Private Hot Tub
Sundial Boutique Hotel - ever wanted a romantic stay in an Alpine village with your very own private outdoor hot tub? That's exactly what the Sundial offers, along with a long list of perks including heated bathroom floors, free rentals of bikes, paddle boards and GoPro, seasonal outdoor pool and much more. 2020 ERV Rating* for Hot Tub Suites in Whistler Village: 92% - Excellent. (4340 Sundial Crescent, Whistler BC 604-932-2321) 
Pinnacle Hotel Suite with JACUZZI® Tub
Pinnacle Hotel Whistler Village

- perfect location right inside Whistler Village. Queen Suites here include gas log fireplace, full kitchen and Wi-Fi. There's 2 on-site restaurants (including the Italian Quattro), and Queen suites with a JACUZZI

® T

ub. 2020 ERV Rating* for Whistler BC Hotel Spa Tub Suites: 84% - Very Good. (4319 Main Street, Whistler, BC 1-604-938-3218)
---
okanagan jetted tub suites
Kelowna, BC
Beautiful Deep-Soaking Jetted Tub at the Lakefront Hotel Eldorado, Kelowna BC
Hotel Eldorado

 - lots to love at this lakeside boutique hotel, including their Luxury Lake View Suites, with a deep-soaking jetted spa tub where you can take in views of the lake while enjoying the bubbles. Extra amenities include a fireplace and body spray jets in the shower. 2020 ERV Rating* for Kelowna BC Whirlpool Suites: 90% - Excellent. (500 Cook Rd, Kelowna BC 250-763-7500)
Kelowna
Delta Grand Resort Okanagan - Hot Tub
Delta Marriott Grand Okanagan Resort

- gorgeous lakefront resort close to downtown Kelowna, with indoor and outdoor pools, full service spa, dining, and 1 Bedroom Suites with Whirlpool tubs. 2020 ERV Rating* for Okanagan Hot Tub Suites: 84% - Very Good. (1310 Water St, Kelowna BC 250-763-4500)
Penticton
Ramada Penticton BC Jetted Tub Suite
Ramada by Wyndham Penticton Hotel & Suites

- freshly renovated, the jetted tub suites at this Okanagan resort are spacious, include a fireplace and of course a spa tub big enough for 2. 2020 ERV Rating* for Penticton BC Jetted Tub Suites: 80% - Very Good. (1050 Eckhardt Ave West, Penticton BC 250-492-8926)
Osoyoos, BC
Best Western Plus Sunrise Inn - getaway to the beautiful South Okanagan in this Best Western Plus Inn with free hot breakfast and Honeymoon Suites with JACUZZI® Tubs. 2020 ERV Rating* for Osoyoos Hotel Suites with a JACUZZI® Tub: 82% - Very Good. (5506 Main St, Osoyoos BC 250-495-4000)
vernon, BC
Jetted Tub - Fairfield Inn & Suites, Vernon
Fairfield Inn & Suites by Marriott Vernon - make your reservation for a Deluxe King Studio w/ Spa Bath, and enjoy the indoor pool, free breakfast, and spacious jetted tub in the master bath. This Fairfield Inn has a superb location close to Hwy 97 as well as shopping, restaurants, cafes and more. 2020 ERV Rating* for Vernon BC Hotels with In-Room Whirlpool Tubs: 86% - Very Good. (5300 Anderson Way, Vernon BC 250-260-7829) 
Holiday Inn Express & Suites, Vernon BC
Holiday Inn Express & Suites Vernon

- affordable BC honeymoons need this Holiday Inn's Presidential Suite, with King bed, gas fireplace and private JACUZZI

® TUB

. Just over 2 KM from downtown Vernon, with complimentary breakfast in the morning, and offering 2 EV charging stations as well. 2020 ERV Rating* for Vernon BC Suites with a JACUZZI® Tub: 72% - Good. (4716-34 St, Vernon BC 250-550-7777)
Predator Ridge Resort

- one of the most popular resorts in BC's Okanagan. Their large Superior Lodge 2-bedroom King Suites include a deep jetted soaker tub, and there's a gas fireplace and walk-out patio to enjoy as well. 2020 ERV Rating* for BC Resorts with Jetted Tub Suites: 80% - Very Good. (301 Village Centre Place, Vernon BC 250-542-3436)
Prestige Vernon Lodge

- guests here at this recently refreshed property love the calming sounds of the creek running through the hotel atrium. Look for the Signature Suite which comes with a comfortable spa tub in the living room. 2020 ERV Rating* for Okanagan Lodges with Spa Tub Suites: 70% - Good. (3914-32 St, Vernon BC 250-545-3385)
Kamloops
Room with a Whirlpool Tub at the Hampton Inn by Hilton, Kamloops BC
Hampton Inn by Hilton Kamloops

- located just a short walk to Aberdeen Mall, this Hampton Inn offers King Bed Suites with an in-room Whirlpool tub, and the usual Hampton amenities including an indoor pool, free Wi-Fi and a free hot breakfast every morning. 2020 ERV Rating* for Kamloops BC Jetted Tub Suites: 86% - Very Good. (245 Rogers Way, Kamloops BC 1-250-571-7897)
Salmon Arm
Prestige Harbourfront Resort

- make your vacation in BC's interior romantic with a couple night in one of the Prestige's Victorian or Roman-era themed suites with Whirlpool tubs. Resort has a French Bistro cafe on-site, as well as beautiful views of Shuswap Lake. 2020 ERV Rating* for Salmon Arm Jetted Tub Hotel Suites: 80% - Very Good. (251 Harbourfront Dr NE, Salmon Arm BC 250-833-5800)
---
kootenays & BC Rockies
Golden, BC
Spa Tub Suite at the Prestige Inn, Deep in the Canadian Rockies in Golden BC
Prestige Inn Golden - located deep in the Canadian Rockies just 15 minutes from Kicking Horse Mountain. After a day of white-water rafting or snowmobiling, relax in one of their King Suites with a Spa Bath, which also have premium linens and complimentary Wi-Fi. 2020 ERV Rating* for Golden BC Whirlpool Tub Suites: 76% - Good. (1049 Trans Canada Hwy North, Golden BC 250-344-7990)
Radium hot springs
Book a Prestige Radium Resort Hot Tub Suite
Prestige Radium Hot Springs Resort

- recently refreshed and updated, the Prestige in Radium has a variety of extras for your mountain getaway, including a full-service spa, free bike rentals, and  a restaurant and lounge. Book the 1 Bedroom King suite for the added pleasure of an in-room jetted tub. 2020 ERV Rating* for Radium BC Resorts with a Spa Tub Suite: 74% - Good. (7493 Main Street West, Radium Hot Springs BC 250-347-2300)
revelstoke, BC
JACUZZI® Tub - Coast Hillcrest, Revelstoke BC
Coast Hillcrest Hotel - in the heart of B.C.'s Rocky Mountains! After a day of sightseeing or snowmobiling, soak away those tired muscles inn one of the Coast's JACUZZI

® Tubs. 

On-site, there's 2 restaurants, as well as a fitness center and outdoor hot tub. 2020 ERV Rating* for Revelstoke BC Hotels with In-Room JACUZZI® Tubs: 92% - Excellent. (2100 Oak Dr, Revelstoke BC 250-837-3322)
Cranbrook, BC
Prestige Rocky Mountain Resort Cranbrook

- Premier Suites at this luxury Rocky Mountain Resort offer modern decor and a taste of luxury for your overnight in Cranbrook. Designer Suites here are some of the most attractive theme rooms anywhere in BC, and offer amenities like 4-poster beds (like the one we enjoyed in the King Louis XIV Suite) and a JACUZZI

® Tub

. You can even book a themed hot tub suite in a converted railway car! 2020 ERV Rating* for Cranbrook BC Suites with a JACUZZI® Tub: 82% - Very Good. (209 Van Horne Street S, Cranbrook BC  250-417-0444)
Rossland, BC
Prestige Mountain Resort

- start your Rossland hiking or ski vacation with a stay in one of the Designer Suites here. They're styled with attractive African and French themes, and outfitted with jetted spa tubs, luxury linens and HD TV. 2020 ERV Rating* for Rossland BC Hotels with Hot Tub Suites: 82% - Very Good. (1919 Columbia Ave, Rossland BC 250-362-7375)
Nelson, BC
Prestige Lakeside Resort Nelson

- you're looking for the Designer Suites here, with their luxury bedding, bathrobes, themed decor and romantic jetted spa tubs. Enjoy views of the lake from your private balcony, and take advantage of several dining choices at the resort, or downtown which is only a short walk away. 2020 ERV Rating* for Romantic Nelson BC Hotel Suites with Whirlpool Tubs: 88% - Very Good. (701 Lakeside Dr, Nelson BC 250-352-7222)
---
Northern BC
Prince George, BC
Sandman Signature Prince George

- if your travels take you to Prince George, make the most of your hotel stay with a night or two in one of the Sandman Signature's rooms with a JACUZZI

® 

Tub. 2020 ERV Rating* for Prince George BC Hotel Room with a JACUZZI® Tub: 72% - Good. (2990 Recreation Place, Prince George BC 250-645-7263)
*ERV Rating: our unique, non-scientific rating formula for romantic hotels which includes:
Romantic Amenities: suites with an in-room Whirlpool bath or 

JACUZZI

®

Tub

,

scenic view, fireplace, lounge, etc
Location: proximity of hotel to restaurants, pubs, downtown, etc
Clientele: demographic the hotel attracts (couples, families with kids, business travelers, etc)
Popularity with Couples & Honeymooners: based on variety of social media & crowd-sourced reviews.   
Excellent Romantic Vacations - Top Pages
---