Babymoons
Romantic Babymoons & Getaway Packages for Expecting Couples
FTC: This page uses affiliate links. More. 

---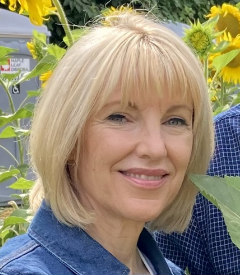 By: Maureen Mattson, ERV Asst Editor - Updated: Jan 11, 2023   

What is a Babymoon? It's a romantic getaway for expectant couples (it can also refer to a getaway for a couple and their newborn).

A Babymoon is a Great Way to Combine Prenatal Travel & Relaxation
Babymoon vacations have become popular for parents-to-be that have the urge for one more romantic vacation before the children come along. They can feature a number of extras, including a couples massage and spa treatments, gifts for the baby, a parenting class, walking tours and pre-natal fitness sessions.

Some hotels even cater to late-night cravings (like french fries or ice cream) and offer them with room-service delivery!
Notable Celebrity Babymoon Getaways
Brad Pitt and Angelina Jolie's vacation in Namibia, Mariah Carey and Nick Cannon in California, and Britney Spears babymoon with Kevin Federline in Arizona. More recently, Prince William and Duchess Kate, Hillary Duff & Mike Comrie, and Kate Hudson with Matt Bellamy are just a few celebrity couples that have gone on R&R getaways before giving birth.



Best Places for a Babymoon: The most popular destinations are Florida and the Caribbean, followed closely by Hawaii and California.
Best Time to Take a Babymoon: experts say travelling during the second trimester lowers the risk of miscarriage.
Romantic Babymoons & Packages in the USA
Arizona
Westin Kierland Phoenix Scottsdale Babymoon Package - perfect for a prenatal getaway in the Ariziona desert. Comes with a couple's massage at their spa, $25 shopping gift card, 24 hr room service customized for your particular cravings, in-room movie, organic skin-care basket and more. 6902 E. Greenway Pkwy, Scottsdale AZ  800-354-5892
Sheridan House Inn

- A perfect pre-baby escape to the Mountains and pine forests of Northern Arizona! The Sheridan House Inn staff love special occasions, and are happy to help you plan a wonderful baby- moon at one of their 8 unique and romantic suites. Gourmet breakfast and "Stay In the Inn" dinners (served 4 nights per week) will keep you fuelled up between hikes and snuggles by the fireplace. (460 E Sheridan Ave, Williams AZ 928-635-8991)
California Babymoons: L.A., San Diego & more 
Paradise Point San Diego Island Resort

 - enjoy your babymoon in sunny San Diego sparkling cider on welcome, $25 in-room dining credit, spa manicure & pedicure, massage and free parking. 

1404 Vacation Rd, San Diego, CA 800-344-2626 
The Cliffs Resort Babymoon Package -in Central California (on a private oceanfront setting in Pismo Beach, between San Francisco and Los Angeles) offers a romantic and inexpensive babymoon getaway. They call it "And Baby Makes Three", and it comes with his and her massages, dinner, movie with ice cream, and breakfast in bed. 2757 Shell Beach Rd, Pismo Beach, CA 800-826-7827
Laguna Beach Babymoons - check out reviews by expecting couples of the Casa Laguna Hotel & Spa in beautiful Laguna Beach, CA.
Florida
Four Seasons Resort Palm Beach, FL Babymoon Package - relax by the beach at this south Florida 5-star resort. Their package includes accommodation, meals & snacks, plus a prenatal pillow, spa gift and special massage. 2800 South Ocean Blvd, Palm Beach, FL 561-582-2800
Georgia
Lucille's Mountain Top Inn & Spa Babymoon Package - North Georgia's Blue Ridge Mountain's provide the setting for this package, which comes with early check-in, a bodycare arrivals basket, 1 night in a whirlpool room, and a 30 minute spa treatment. 964 Rabun Rd, Sautee Nacoochee, GA 866-245-4777
Illinois
B&B Babymoon in Oak Park, IL - fresh cookies, hot chocolate, plus a delicious breakfast. Find out what couples loved about their relaxing babymoon getaway here, just 10 minutes from downtown Chicago.
Massachusetts
High Pointe Inn Cape Cod 2-Night Babymoon Package - selected as one of the most fabulous babymoon destinations by Pregnancy & Newborn Magazine, the High Pointe Inn welcomes expecting parents-to-be with 2 nights in your choice of deluxe or ocean view rooms, breakfast each morning, a gourmet dinner, his n' her massages, plus coffee, tea and a selection of their delicious home baked treats. 70 High Street, West Barnstable, MA   888-362-4441
Michigan
Kingsley House Lake Michigan Babymoons - located in Saugatuck, MI, this romantic B&B has put together one pf the best babymoon packages we have seen in the Midwest. It's available as an add-on to any 2-night stay at the inn, and it consists of sparkling juice, chocolate covered strawberries, massages for 2, a pedicure for her, movie tickets, breakfast in bed, and a jar of pickles of course! 626 West Main St, Fennville MI  866-561-6425   
Minnesota
Firelight Inn Duluth, MN Babymoon Package - includes a relaxing massage for each of the parents-to-be, a gift basket on arrival, and a delicious delivered-to-your-suite chicken & wild rice soup dinner with desert ice cream. 2211 East 3rd St, 

Duluth MN  218-724-0272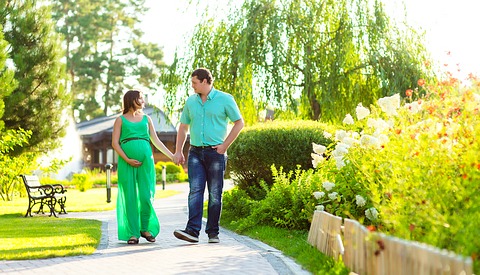 New Jersey
Whistling Swan Inn New Jersey Babymoon - a simple add-on to your stay at the inn, and it comes with flowers, sparkling cider and chocolate strawberries for your arrival, as well as massages for you both and a gift basket to take home. 110 Main St, Stanhope NJ  973-347-6369  
New York
Trump New York Babymoon - 2 nights in a luxury room, his n' hers massages, pre-natal pillows and breakfast for two at the opulent Trump New York Central Park. One Central Park West, New York, NY 212-299-1000
North Carolina
White Doe Inn NC Outer Banks Babymoon Package -  cider, chocolate strawberries and flowers on arrival, 2 massages, gifts for the baby, and a maternity portrait to keep the memories of your romantic babymoon on the North Carolina shore. 319 Sir Walter Raleigh St, Manteo NC 800-473-6091
Ohio
Ohio Romantic Cabin Babymoons - privacy, pampering, and total relaxation. See what couples love about babymoon getaways and anniversary stays at the Inn & Spa at Cedar Falls, OH.
White Oak Inn Ohio Babymoon Package

 - this Amish Country B&B offers expecting couples 2 nights in a romantic cottage w/ whirlpool tub, dinner delivered to your door, 2 massages, plus an assortment of snacks, cookies, fruit, and a jar of pickles. 29683 Walhonding Rd, Danville, OH 877-908-5923
Pennsylvania
Pennsylvania Babymoon Weekend at the Mercersburg Inn - in-room salon treatment and massage, flowers and cider for your arrival, 3-course breakfast and 4-course dinner are just some of the features of this affordable B&B babymoon in PA. 405 South Main St, Mercersburg, PA 717-328-5231
Texas
Blisswood Texas B&B Babymoons - strawberries and cider, rose petals on your bed, chilled champagne and a lakeside picnic for 2 at nearby Enchanted Lake. 13300 Lehmann Legacy Lane, Cat Spring, TX 713-301-3235 
Virginia
Barclay Cottage B&B

  - for a delightful pre-baby vacation, this historic beach cottage offers chocolate-dipped clementines with sparkling cider and a couple's massage (Prenatal for mom-to-be, and Swedish for Dad-to-be). There's also a $75 gift certificate to a top restaurant that's within walking distance of the inn. And you can sleep in the next day (enjoy it while you can!) with a 1pm checkout time. 400 16 St, Virginia Beach, VA 757-422-1956
Washington State
Salish Lodge & Spa Babymoon - Seattle area expecting couples can check out the latest babymoon package from this romantic lodge just 30 minutes east of Seattle at the gorgeous Snowqualmie Falls. Expect rose petals and sparkling cider for your 1-night stay, plus massages for 2, a gift for the baby, and a $50 dining certificate for their romantic restaurant on-site, The Attic. 6501 Railroad Ave SE, Snoqualmie WA  800-272-5474  
---
Romantic Hotels For Any Babymoon Budget:
New York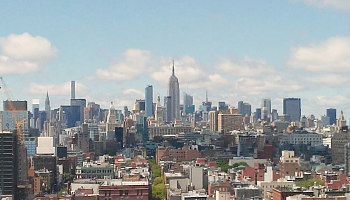 Chicago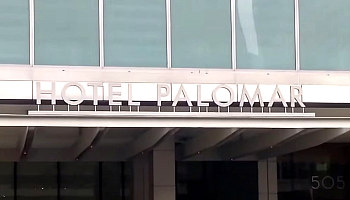 Los Angeles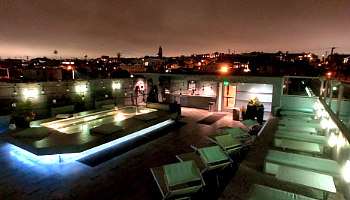 ---
Washington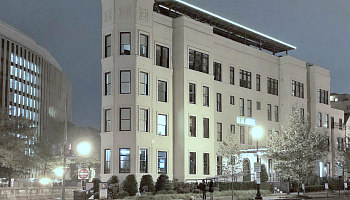 Dallas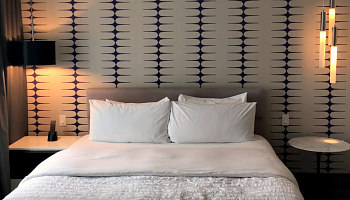 Atlanta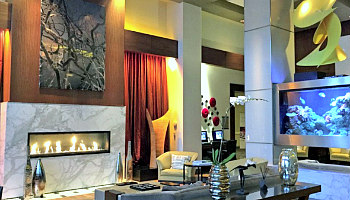 ---
Houston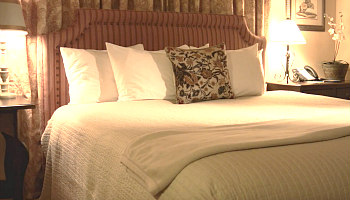 Boston
San Francisco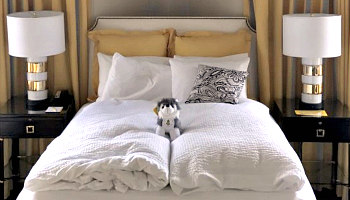 ---
Babymoon Cruise
One last romantic cruise could be the perfect farewell to your childless travel years! Cruises can be easier on mothers-to-be, with a relaxed, do-what-you-want pace, buffets to satisfy almost any craving, and smooth sailing in the sunshine without all the bumps and grinds of long road trips.
Some of our readers have had very good things to say about CruiseCompete.com, where over 80 cruise agencies compete to offer the lowest price on the cruise of your choice.
(Please Note: Many cruise lines have a policy about not accepting passengers on a cruise who are entering or beyond the 24th week of pregnancy. A cruise babymoon should therefore only be considered for a 1st or 2nd trimester pregnancy)
top hotels, getaways & packages on ERV
---