Branson
Branson Missouri Hot Tub Suites - Here's the Top 15
FTC: This page uses affiliate links. More. 

---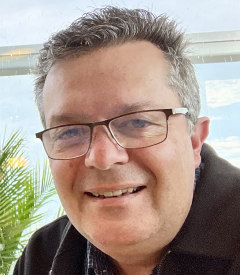 By: Greg Mattson, ERV Editor - Updated Nov 12, 2022
Branson, Missouri has tons of hotels, motels and inns with jetted tub suites. Which one is the best for your romantic getaway? Read on as we pick the top 15 in-room Whirlpool & JACUZZI® Tubs from top to bottom, all freshly checked out and rated for 2022 so you can choose the one that's right for you!

Use our Guide to Find the Best Whirlpool Suite for Your Next Branson Getaway
Please Note: Ratings for this page are focused on the hot tub suite, rather than the entire hotel. Where possible, we try to list only suites with in-room jetted tubs big enough for 2 people.

Disclaimer: JACUZZI® is a registered trademark owned by Jacuzzi Inc. The use of the JACUZZI® trademark on this website is for informational purposes only. There is no relationship, connection or affiliation between this website and Jacuzzi Inc. or its related companies. Rates shown are approximate only and subject to change. Hotel rooms, jetted tubs and amenities can change, and may not be exactly as shown, so please contact the hotel or inn before making travel plans.
Our Pick: Top 5 Branson MO Whirlpool Suites
1. Savannah House HOtel
Beautiful Jetted Spa Tub - Savannah House Hotel
Savannah House Hotel - this top-rated Branson hotel checks off all the boxes nicely: convenient location, indoor corridors, pool, fitness room, and super-comfortable King Suites with Spa Bath. Plus, there's free coffee all day and complimentary hot cobbler, ice cream and cookies in the evening. 2022 ERV Rating*: 96% - Excellent. (165 Expressway Ln, Branson, MO 417-336-3132)
2. Holiday Inn Express Branson Green Mountain Drive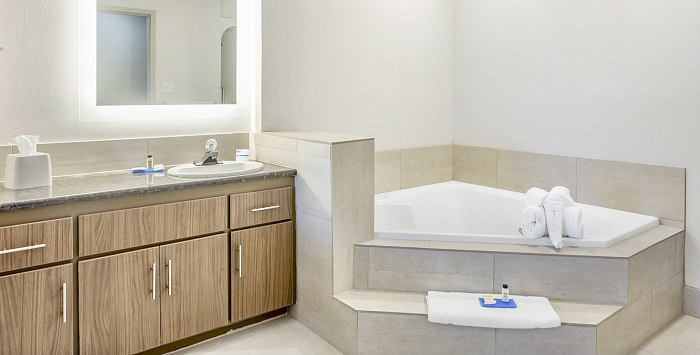 Spacious JACUZZI® Tub for 2 - Holiday Inn Express Branson
Holiday Inn Express Branson Green Mountain Drive - close to Grand Village shopping and Thousand Hills Golf, with free breakfast and free Wi-Fi throughout the hotel. When it comes to JACUZZI® Tubs, they've got them in both King Suites and 2-Room King Bed Suites. 2022 ERV Rating*: 94% - Excellent. (2801 Green Mountain Dr, Branson MO 417-336-2100) 
3. Best Western Branson Inn
Hot Tub Suite - Best Western Branson Inn
Best Western Branson Inn - located next door to Silver Dollar City, and close to golf and Table Rock Lake boat rentals. Amenities include free breakfast and free shuttle to nearby attractions. Book their Jetted Tub or Hot Tub Suite with King Bed for a great stay in Branson West. 2022 ERV Rating*: 92% - Excellent. (8514 East State Hwy 76, Branson West MO 417-338-2141)
4.Stone Castle Hotel & Conference Center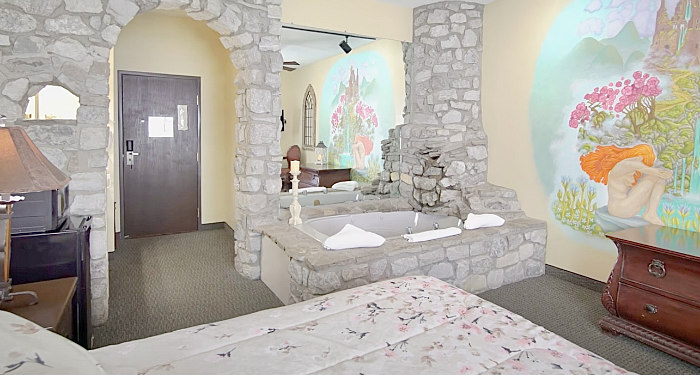 Theme Suite with Oversize Jetted Tub - Stone Castle Hotel, Branson MO
Stone Castle Hotel & Conference Center - home to no less than 36 themed suites with oversized jetted tubs! Besides the bubbly bliss, you'll enjoy a free hot breakfast, 2 indoor pools, gazebo area and games room. 2022 ERV Rating*: 90% - Excellent. (3050 Green Mountain Dr, Branson MO 417-335-4700)
5. Barrington Hotel & Suites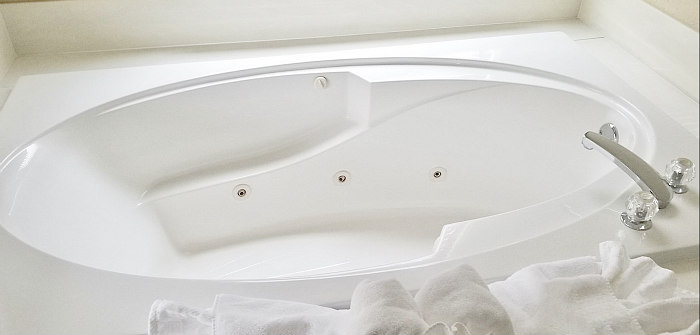 Spa Tub Suite - Barrington Hotel & Suites, Branson
Barrington Hotel & Suites - features at this Branson hotel include free Wi-Fi, a very complete hot breakfast with scrambled eggs, waffles, sausage and biscuits, and Deluxe Suites with extra-deep spa bath tubs. If your stay includes a Saturday night, you're in luck: they serve free soft ice cream at Reception! 2022 ERV Rating*: 90% - Excellent. (263 Shepherd of the Hills Expressway, Branson MO 417-334-8866) 
6. radisson Hotel Branson
King Whirlpool Tub Suite - Radisson Hotel Branson
Radisson Hotel Branson - adjacent to the Andy Williams Performing Arts Center, with amenities like heated indoor/outdoor pool, on-site Bistro restaurant, lounge and room service. For a fine jetted tub experience, book the One Bedroom King or Presidential King with Whirlpool Tub. 2022 ERV Rating*: 88% - Very Good. (120 South Wildwood Dr, Branson MO 417-335-5767)
7. Grand Oaks Hotel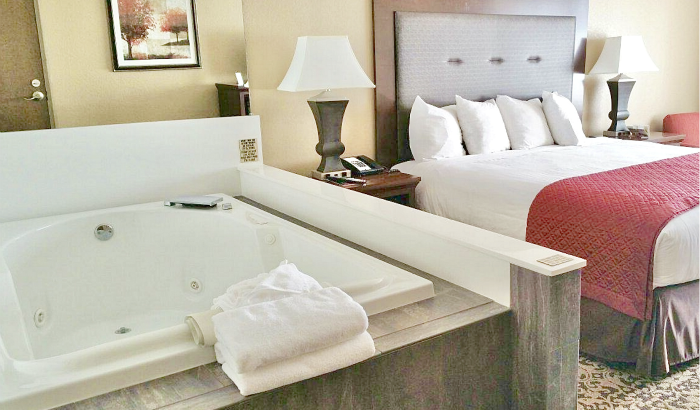 Oversized In-Room Hot Tub at the Grand Oaks Hotel in Branson
Grand Oaks Hotel - King Rooms with Spa Bath at this Branson hotel are highly rated by couples for their large size jetted tub, HDTV and Wi-Fi. You'll also find indoor and outdoor pools, sun deck, free breakfast and eateries like Denny's and Krispy Kreme less than a mile away. 2022 ERV Rating*: 88% - Very Good. (2315 Green Mountain Dr, Branson MO 800-553-6423)
---
more Branson missouri jetted Tubs:
8. Seven Gables Inn
JACUZZI® Tub Suite - Seven Gables Branson ©TripAdvisor
Seven Gables Inn - their King Rooms with JACUZZI® Tubs are clean, spacious, recently refreshed, and include mini-fridge and free wireless internet. Free hot breakfast, handy location close to attractions, and the front desk can book any show tickets you might like. 2022 ERV Rating*: 86% - Very Good. (305 Hwy 165 S, Branson MO 417-334-7077)
9. Hotel Grand Victorian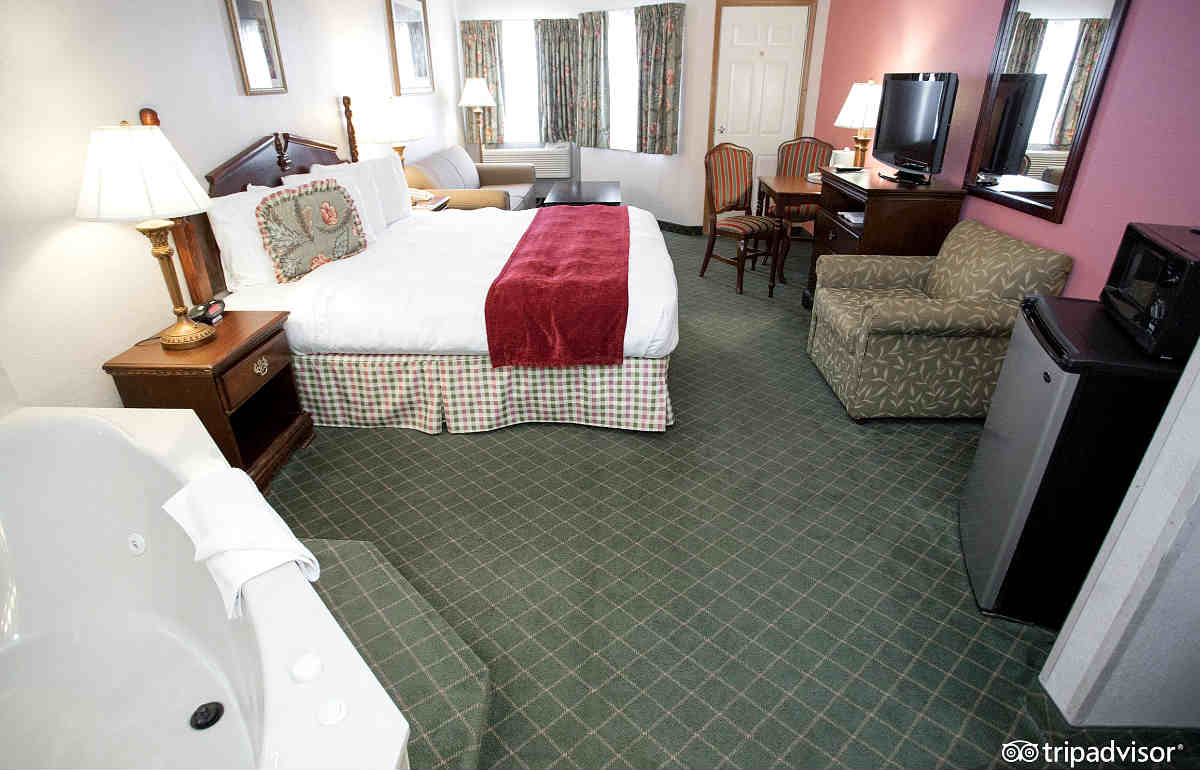 Grand Victorian Whirlpool Suite ©TripAdvisor
Hotel Grand Victorian - for those that like to walk to Branson shows and restaurants, the Grand Victorian is an excellent choice. Both Queen and King Rooms are available with oversized 2-person Whirlpool Tubs and private balconies with mountain or highway views. Don't miss their pool house in the gazebo with it's fireplace and large hot tub. 2022 ERV Rating*: 86% - Very Good. (2325 State Hwy 76, Branson, MO 417-336-2935)
10. Lodge of the Ozarks
Lodge of the Ozarks - on the strip in Branson, and close to dining, attractions and shows. Get into a King Room with Spa Bath and enjoy HDTV and free Wi-Fi. There's lots of free parking, and the Lodge also has on-site laundry and an indoor pool. 2022 ERV Rating*: 84% - Very Good. (3431 West 76 Country Blvd, Branson, MO 417-334-7535)
11. super 8 branson shepherd of the hills exwy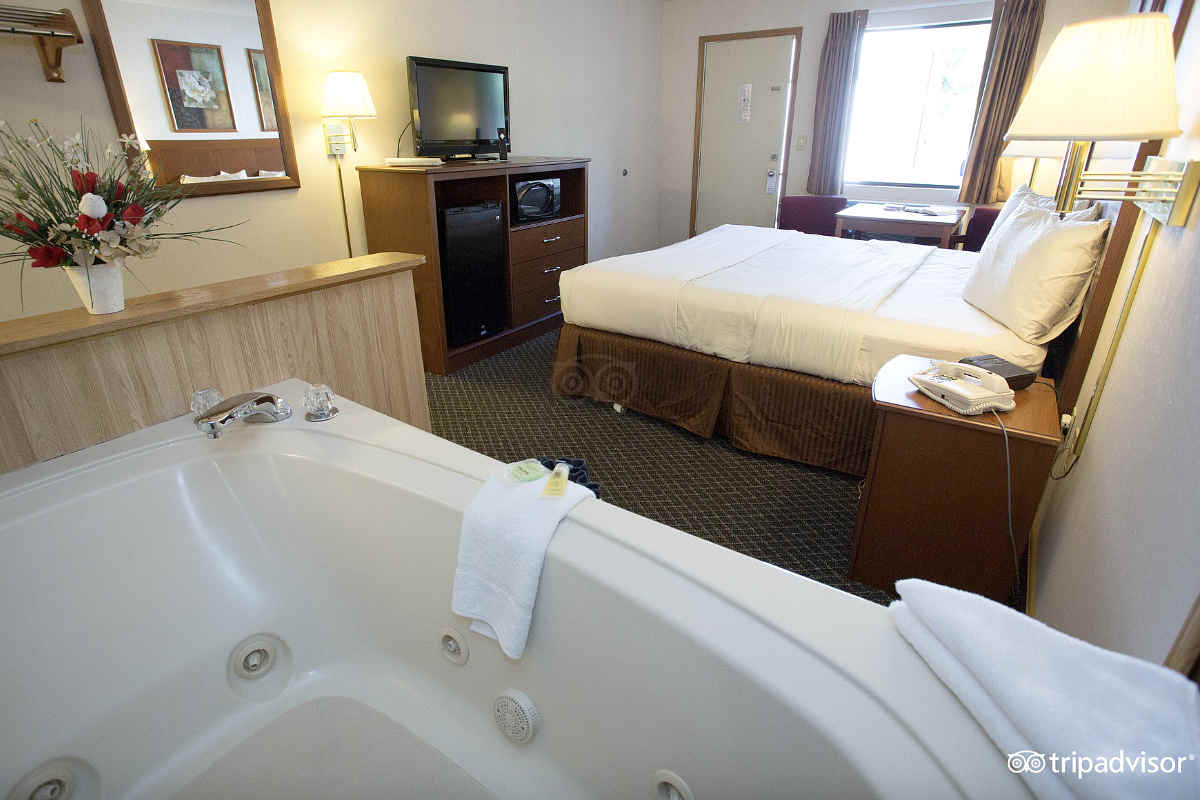 King Suite with JACUZZI® Tub - Super 8, Branson MO ©TripAdvisor
Super 8 Branson Shepherd of the Hills Exwy

 - just a mile from the Strip, with 2 types of jetted tub rooms: Double Queen with JACUZZI® Tub, and King Room with JACUZZI® Tub. There's all kinds of restaurants within a 5-minute drive from the hotel, and their complimentary deluxe continental breakfast includes hot items like waffles and biscuits with gravy. 2022 ERV Rating*: 84% - Very Good. (2772 Shepherd of the Hills Expressway, Branson MO 417-335-2277)
12. Comfort Inn at Thousand Hills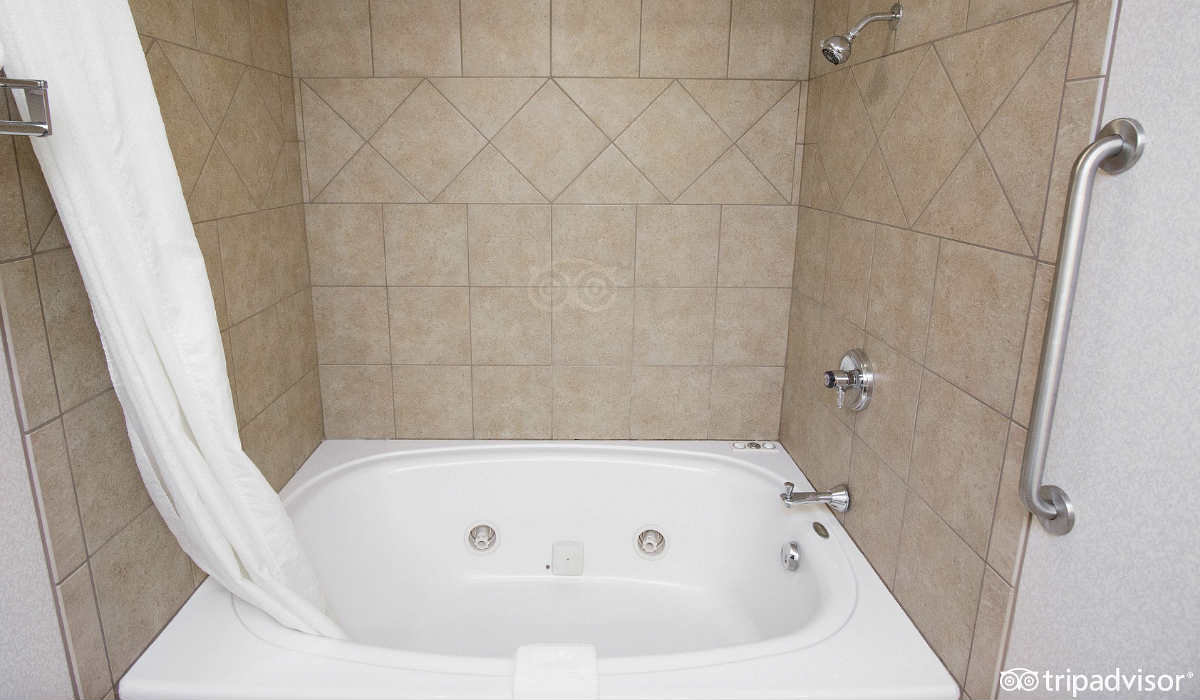 Jetted Spa Tub - Comfort Inn, Branson MO ©TripAdvisor
Comfort Inn at Thousand Hills - OK, you know Comfort Inns are affordable, but this one punches way above it's weight with indoor pool, hot tub, sauna, fitness and games room, and souvenir shop. Book a King Room or Suite with 2-Person Whirlpool Tub, and check out Tanger Mall and Branson Landing, both within a 5-minute drive. 2022 ERV Rating*: 84% - Very Good. (203 South Wildwood Dr, Branson MO 417-335-4727)
13. Carriage House Inn
Carriage House Inn -  relax in style at this Victorian-themed hotel, conveniently close to 50+ restaurants and things to see in Branson. Enjoy all the amenities of their King Rooms with Spa Bath, go for a dip in their heated pool, and in the morning load up on their generous continental breakfast which includes oatmeal, bagels, cereal and fruit. 2022 ERV Rating*: 82% - Very Good. (3015 Green Mountain Drive, Branson MO 417 335 4248)
More Getaways for 2 near Branson MO:
14. Branson Towers Hotel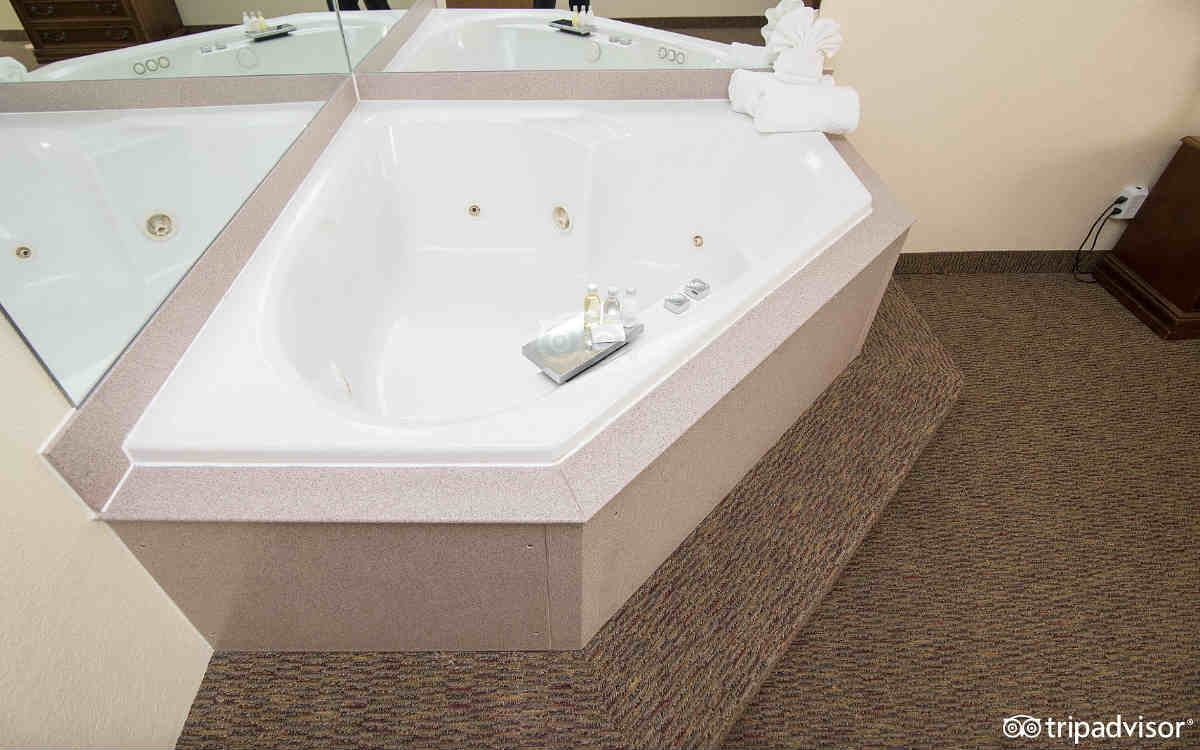 2 Person In-Room Jetted Tub at Branson Towers Hotel ©TripAdvisor
Branson Towers Hotel

- the magic bubbles of a 2-person JACUZZI® Tub in their King Rooms and Suites are waiting for you in this 200 room Branson hotel. Their lobby offers complimentary 24-hour coffee, there's a free breakfast with hot and cold items, as well as A/C and pillowtop mattresses for a superb night's sleep. 2022 ERV Rating*: 80% - Very Good. (236 Shepherd of the Hills Expressway, Branson MO 417-336-4500)
15. Angel inn Near Imax
Angel Inn Near IMAX

- winner of theTripAdvisor Excellence Award, this Angel Inn emphasis is on value for your dollar. All stays include a hot buffet breakfast and access to their outdoor pool. Suite-wise, it's the King Room with JACUZZI® Tub that's the star here, with its 2-person tub, fridge, microwave and free Wi-Fi. 2022 ERV Rating*: 78% - Good. (3311 Shepherd of the Hills Expressway, Branson MO 417-334-2300)
*ERV Rating: our unique, non-scientific ratings for romantic accommodation include:
Amenities: including Whirlpool bath or 

JACUZZI

®

Tub

,

scenic view, fireplace, lounge, etc
Location: proximity of hotel to restaurants, pubs, downtown, etc
Clientele: demographic the hotel attracts (couples, families, business travelers, etc)
Popularity: based on social media & crowd-sourced reviews 
Value: product offered compared to room rate 
Please Note: percentage ratings are not absolute but for comparative use only  
top hotels, getaways & packages on ERV
---