arkansas hot tub suites in Hot springs, Eureka springs & more
Arkansas
FTC: This page uses affiliate links. More. 

By: Maureen Mattson, ERV Staff Writer - Posted June 23, 2021
Here are some ideas for romantic Whirlpool suite hotels and inns from all corners of Arkansas. Travel through the Natural State on your next romantic excursion and revel in the lakes, rivers and mountain vistas of historic small towns. Connect with nature and each other. 
Disclaimer: JACUZZI® is a registered trademark owned by Jacuzzi Inc. The use of the JACUZZI® trademark on this website is for informational purposes only. There is no relationship, connection or affiliation between this website and Jacuzzi Inc. or its related companies. As hotel rooms and amenities can change, please check with each individual accommodation property before making travel plans. Please Note: rooms and tubs described may not be exactly as shown.
---
Little Rock, AR Spa Tub Suites: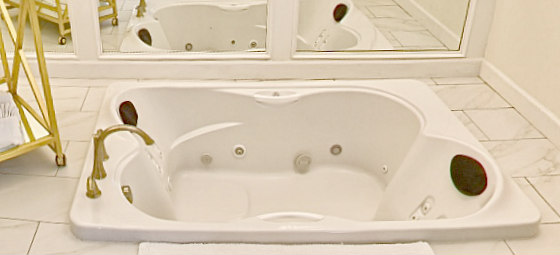 Romantic Suite with Jetted Tub - Burgundy Hotel
Empress of Little Rock

- A luxurious mansion turned boutique hotel with candlelight breakfasts. Hemmingway, Chatelaine, and Majestic Spa Suites take the romance up another notch. 2021 ERV Rating*: 94% - Excellent. (2120 Louisiana St, Little Rock AR 501-374-7966) 
---
eureka Springs, AR
JACUZZI® Tub - King Suite, New Orleans Hotel
The New Orleans Hotel

- Make the most of your romantic stay in the Ozarks. Book a King Suite here and enjoy a relaxing JACUZZI

® 

Tub. Original woodwork, a grand staircase, and period furnishings take you back to the late 1800s. All rooms have balcony access and views of charming Victorian downtown Eureka Springs. 

2021 ERV Rating for Eureka Springs Hotels with JACUZZI® 

Tubs

*: 92%

- Excellent.

(63 Spring St, Eureka Springs AR 800-243-8630)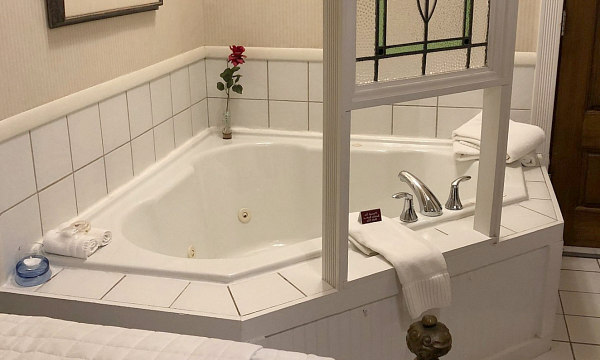 Eureka Springs Honeymoon Suite with Hot Tub - Arsenic & Old Lace Inn
Arsenic and Old Lace Bed & Breakfast Inn

- Four of the five unique luxury suites at this Eureka Springs honeymoon B&B feature jetted tubs. (The Treetop Suite is a must-see!) Ideally located just 2 blocks from the historic district, and including off-street parking and gourmet breakfast, this inn defines old-world elegance. Wrap around veranda, stained glass windows and crystal chandeliers adorn the Queen Anne Victorian architecture. 2021 ERV Rating*: 96% - Excellent. (60 Hillside Ave, Eureka Springs AR 479-253-5454)
Best Western Inn of the Ozarks

- Less than a mile away from the historic downtown of Eureka Springs, this Best Western Inn offers the usual comps: Wi-Fi, free parking and 24-hr front desk. There's a pool and onsite restaurant as well as 122 rooms on 35 acres of the stunning Ozark Mountain setting. Some of the King Suites come with jetted tubs. It's also on the historic Eureka Springs Trolley route. 2021 ERV Rating*: 88% - Very Good. (207 W Van Buren Highway 62 West, Eureka Springs AR 479-253-9768)
1886 Crescent Hotel & Spa

- Just like a palace! Part of the national Trust for Historic Preservation, and sitting high above Eureka Springs, this landmark hotel features 72 rooms and 4 luxury cottages. Both have suites with Whirlpool Tubs and upscale amenities. Swimming pool, spa, dining room, and 15 acres of beautifully manicured gardens and walking trails await you. 2021 ERV Rating*: 80% - Very Good. (75 Prospect Ave, Eureka Springs AR  855-725-5720)
1905 Basin Park Hotel

- Try out a jetted tub specialty suite at 1905 Basin Park Hotel. You might even indulge in a spaDuet Massage for couples at their Spa1905. Make use of the sundeck, share a cocktail or two and explore the natural springs and park areas. You're right in the thick of things at this full-service hotel. (NOTE: guests receive 2 FREE tickets to the Downtown-N-Underground Tour.) 2021 ERV Rating*: 78% - Good. (12 Spring St, Eureka Springs AR 479-253-7837)
Brydan Suites

- Right in the heart of the stunning Ozarks, you'll be surrounded by natural beauty and the historic charm of Eureka Springs. Great option for a cheap getaway, and King Suites with jetted tubs are available. 2021 ERV Rating*: 72% - Good. (139 Huntsville Rd, Eureka Springs AR 479-253-7711)
---
hot springs, ARkansas whirlpool suites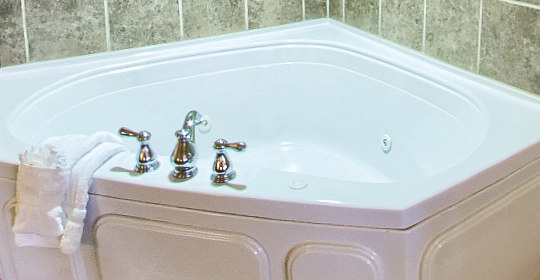 Whirlpool Suite - Comfort Suites, Hot Springs AR
Comfort Suites Hot Springs

- Explore nature at Hot Springs National Park, Lake Hamilton and Magic Springs during the day, then return to your suite before checking out the nearby downtown area. Fitness center, breakfast, Wi-Fi, parking, and indoor heated pool are included. Splurge on a suite with 2-person Whirlpool tub, and you're all set! 2021 ERV Rating*: 90% - Excellent. (320 Nash St, Hot Springs AR 501-642-3800)
Near Hot Springs: 
Mountain Harbor Resort & Spa

- Lake Ouachita, at Hickory Nut Mountain (just a half-hour's drive west of Hot Springs) is home to this premiere resort. You'll find luxurious cabins, lake-view rooms, houseboat rentals, fantastic dining as well as three swimming pools, all in the heart of some of the best mountain hiking trails. Be sure to check out their Couple's Cottage with an amazing jetted tub! 2021 ERV Rating*: 92% - Excellent. (994 Mountain Harbor Rd, Mount Ida AR  870-867-2191)
Baymont by Wyndham Caddo Valley/Arkadelphia

- If you're planning to visit DeGray Lake or hike the DeSoto Bluff Trail, why not enjoy the small-town hospitality of the Baymont By Wyndham? Free breakfast and Wi-Fi, parking, fitness centre and outdoor pool are standard, and the King Bed Studio Suite adds a jetted tub, mini-refrigerator, microwave and more. 2021 ERV Rating*: 76% - Good. (100 Crystal Palace Dr, Arkadelphia AR 870-246-3800)
---
Fort Smith, AR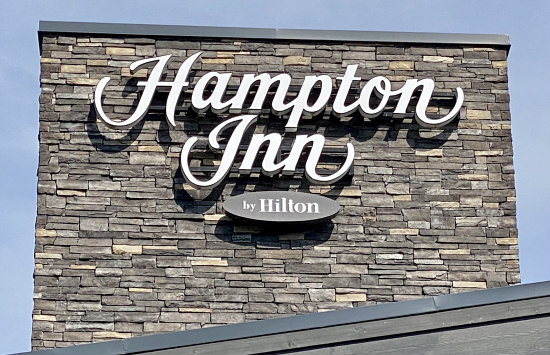 Book a Hampton Inn Hot Tub Getaway
Hampton Inn Fort Smith

- Right off the 540 Interstate, this place is 15 minutes from the. Fort Smith Natural Historic Site, the Museum of History (find out about the "Wild West"!) and Parrot Island Waterpark. Book the King Suite with Spa Bath, and enjoy free Breakfast, WiFi and shuttle service. Pets are welcome too. 2021 ERV Rating*: 92% - Excellent. (6201 Rogers Ave Ste C, Fort Smith AR 479-452-2000)
Homewood Suites has Comfortable Spa Tubs
Homewood Suites Fort Smith

- Not just complimentary breakfast each day, but evening dinner and drinks from Monday to Thursday make Homewood Suites one of our favorites. Only 10 minutes from Fort Smith city centre, and the Whirlpool suites are spacious with fully equipped kitchen, dining area, king-sized bed and living room. 2021 ERV Rating for Fort Smith, Arkansas Spa Tub Suites*: 92% - Excellent. (7300 Phoenix Ave, Fort Smith AR 479-452-7100)
Near Fort Smith - Van Buren, AR:
Holiday Inn Express Hotel & Suites Van Buren-Ft Smith Area

- All the comforts of home! Free breakfast, high speed WiFi, guest laundry, and convenient to shopping and downtown. There's an indoor pool, fitness centre, and Whirlpool tubs are available in select suites. 2021 ERV Rating*: 82% - Very Good. (1637 N 12th Ct, Van Buren AR 479-471-7300)
---
see also:
---
Fayetteville
Dickson Street Inn

- Nestled in the heart of downtown Fayetteville, The Dickson Street Inn is an historic boutique hotel conveniently close to entertainment venues, shopping and restaurants. With just 10 suites it's an intimate and quiet refuge. King Room 6 has an extra large Whirlpool tub, high ceilings, chandeliers and a private balcony. Executive King Room 7, at the back of the house, also features a jetted tub and shared deck with rocking chairs. 2021 ERV Rating*: 84% - Very Good. (301 W Dickson St, Fayetteville AR 479-695-2100)
Best Western Windsor Suites

- If you're visiting "the Athens of the Ozarks", this Best Western will make sure you've got free Wi-Fi, breakfast, and parking. Use the indoor pool and fitness room as well as guest laundry. You'll also be close to several well-known attractions and entertainment areas. Their King Bed Suite with Jetted Tub also includes microwave and refrigerator. 2021 ERV Rating*: 74% - Good. (1122 S Futrall Dr, Fayetteville AR 479-301-2882)
Near Fayetteville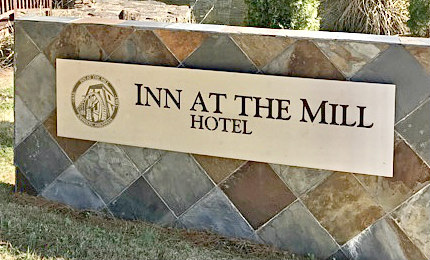 Inn at the Mill, Springdale AR
Inn At The Mill

- An early 1800s grist mill has been transformed into a charming boutique hotel. Close to all the lakes, state parks, and natural beauty that is northwest Arkansas. Queen and King suites available with 2-person whirlpools so that you can relax after biking the amazing Razorback Greenway. 2021 ERV Rating*: 90% - Excellent. (3906 Johnson Mill Blvd, Springdale AR 479-443-1800)
Hampton Inn Near Fayettville, AR
Hampton Inn Siloam Springs

- Right on the Oklahoma border, the lovely historic town of Siloam Springs has a gorgeous little downtown and lovely creek that winds its way through town. See it all before retiring to your Whirlpool suite. Free parking, Wi-Fi, breakfast and newspapers. 2021 ERV Rating*: 94% - Excellent. (2171 Ravenwood Plaza, Siloam Springs AR 479-215-1000)
Embassy Suites Northwest Arkansas

- Great location with easy access to Rogers, Bentonville, Springdale, and Fayetteville, means you have a good home base for many attractions. An onsite spa and pool help you relax and breakfast is free. Choose a two-room suite with whirlpool for added romance. 2021 ERV Rating*: 84% - Very Good. (3303 S Pinnacle Hills Pkwy, Rogers AR 479-254-8400)
Country Inn & Suites by Radisson, Bentonville South

- The usual: free breakfast, newspaper, parking and bag storage. The unusual: Indulgent Whirlpool Suite with 2-person jetted tub! Walk to nearby restaurants and visit several local museums or the famous Peel Mansion. Microwave and refrigerator are conveniently included in your suite. 2021 ERV Rating*: 88% - Very Good. (4304 W Walnut St, Rogers AR 479-633-0055)
---
more Central Arkansas Jetted Tub suites
Best Western Benton Inn

- It's easy to enjoy the best of Benton when you stay at this Best Western. Pool and 24 hour front desk as well as free parking, Wi-Fi and breakfast are nice perks and you'll be near several classic American diners as well as the Gann Museum. Suites come equipped with 

JACUZZI

® Tubs. 

2021 ERV Rating*: 74%

- Good.

(17036 Interstate 30 N, Benton AR 501-778-9695)
La Quinta Inn & Suites by Wyndham Little Rock-Bryant

- You're just a short drive away from Hot Springs National Resort when you stay at this new La Quinta Inn and Suites. Walk to dining and entertainment from here, and check out the nearby zoo. Deluxe suites come with jetted tubs, free breakfast and Wi-Fi. 

2021 ERV Rating*: 92%

- Excellent.

(408 W Commerce Dr, Bryant AR 501-847-949)
Country Inn & Suites by Radisson, Conway

 - If you're checking out scenic Conway, you'll want to check in to this Country Inn and Suites where you get free high-speed internet, parking and breakfast. The stylish Whirlpool Suite includes a 2-person jetted tub, comfy chair and ottoman, DIRECTV, refrigerator and microwave. 

2021 ERV Rating*: 86%

- Very Good.

(750 Amity Rd, Conway AR 501-932-0500)
Best Western Plus Searcy Inn

- This Governor's Award Winning hotel welcomes you with complimentary hot breakfast, high-speed internet access, swimming pool and much more. Rooms with whirlpool suites are available for that special getaway, and are conveniently equipped with microwave and refrigerator. 2021 ERV Rating*: 90%

- Excellent.

(501 Willow St, Searcy AR 501-279-9191)
Hampton Inn and Suites Pine Bluff

- Your King Studio Suite with Whirlpool awaits at this Hampton Inn just 10 minutes from the Arkansas Entertainer's Hall of Fame. Check in and enjoy free Wi-Fi and hot breakfast, explore the Murals of Pine Bluff and indulge in a warm and bubbly romantic break. 

2021 ERV Rating*: 88%

- Very Good.

(511 Mallard Loop, Pine Bluff AR  855-605-0317)
Days Inn & Suites by Wyndham Russellville

- Close to Lake Dardanelle and Mount Nebo State Parks, this Central Arkansas Days Inn has an indoor pool, fitness centre and onsite laundry. A hot breakfast, parking and Wi-Fi are included in your stay. The King Bed Deluxe Studio Suite has a jetted tub, mini-refrigerator and microwave. 2021 ERV Rating*: 80% - Very Good. (109 E Harrell Dr, Russellville AR 479-225-3297)
---
East Arkansas Hot Tub Suites
Comfort Suites, Forrest City AR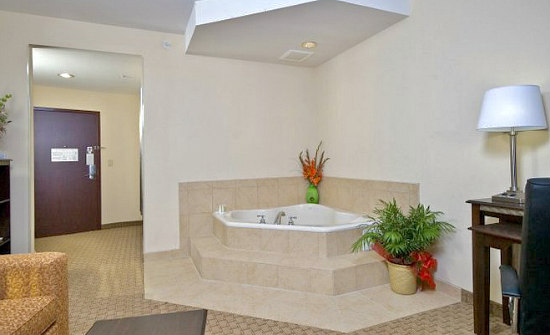 Comfort Suites Spa Tub Suite
Comfort Suites Forrest City

- Just off I-40, this Comfort Suites in Forrest City puts you near part of the Arkansas Heritage Trail System, and just 15 miles away from Village Creek State Park. The King Whirlpool Suite is great for that romantic element, plus you'll get free Wi-Fi, breakfast, parking as well as fitness centre and indoor pool. 2021 ERV Rating*: 92% - Excellent. (320 Holiday Dr, Forrest City AR 870-633-2300)
Comfort Suites Jonesboro University Area

- Relaxing rooms with guest Wi-Fi, an indoor pool and free breakfast and parking are a few of the reasons this Comfort Suites location is popular with tourists. And its proximity to Craighead Forest Park means you you can easily enjoy the great outdoors. King rooms with Whirlpool will get the kinks out when you head back. 2021 ERV Rating*: 74% - Good. (3404 Access Rd, Jonesboro AR 870-336-2280)
Quality Inn West Memphis I-40

- Graceland is just 15 minutes away from this budget-friendly hotel close to the Tennessee border. Take advantage of the pool, free breakfast, parking and Wi-Fi, as well as refrigerator in each room. Their "Suite with Added Amenities" includes a jetted tub. 2021 ERV Rating*: 60% - Fair. (1009 East Service Road, West Memphis AR 870-702-9000)
---
SW Arkansas private spa tubs suites
Book a Holiday Inn Arkansas Hot Tub Getaway
Holiday Inn Texarkana Arkansas Convention Center

- Discover the best of Texarkana AR with its historic Main Street, photogenic courthouse, museums and parks. At the Holiday Inn, you're just steps from the Holiday Springs Waterpark, and attached to the convention centre. Whirlpool tubs are found in certain guest rooms and suites. 2021 ERV Rating*: 90% - Excellent. (5200 Convention Plaza Dr, Texarkana AR 870-216-2000)
Country Inn & Suites by Radisson, El Dorado AR

 - Close to popular El Dorado attractions, this Country Inn and suites offers free WiFi, air conditioning, plus microwaves and refrigerators in each room. Pool and free breakfast and parking make your stay even more comfortable. If you're celebrating a special occasion, opt for the Whirlpool Suite with a jetted tub big enough for two. 2021 ERV Rating*: 74% - Good. (2413 W Hillsboro St, El Dorado AR 870-522-8891)
*ERV Rating: our unique, non-scientific ratings for romantic accommodation include:
Amenities: including Whirlpool bath or 

JACUZZI

®

Tub

,

scenic view, fireplace, lounge, etc
Location: proximity of hotel to restaurants, pubs, downtown, etc
Clientele: demographic the hotel attracts (couples, families, business travelers, etc)
Popularity: based on social media & crowd-sourced reviews 
Value: product offered compared to room rate 
Please Note: percentage ratings are not absolute but for comparative use only.  
Excellent Romantic Vacations - Top Pages
---