Oklahoma City
oklahoma city hot tub suites - book an OKC hotel spa tub getaway from $80/night
---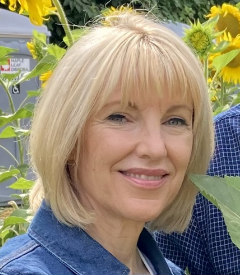 By: Maureen Mattson, ERV Asst Editor - Posted Oct 12, 2022
---
FTC: This page uses affiliate links. More. 

When you step back in time and visit Oklahoma City, you can indulge in a little bit of the cowboy culture and chill at one of the romantic hotel Whirlpool suites we've hand-picked for you below... 
Disclaimer: JACUZZI® is a registered trademark owned by Jacuzzi Inc. The use of the JACUZZI® trademark on this website is for informational purposes only. There is no relationship, connection or affiliation between this website and Jacuzzi Inc. or its related companies. Rates shown are approximate only and subject to change. Hotel rooms, jetted tubs and amenities can change, and may not be exactly as shown, so please contact the hotel or inn before making travel plans.
Spa Tub suites in/near downtown Okc
hampton inn & suites OKC Bricktown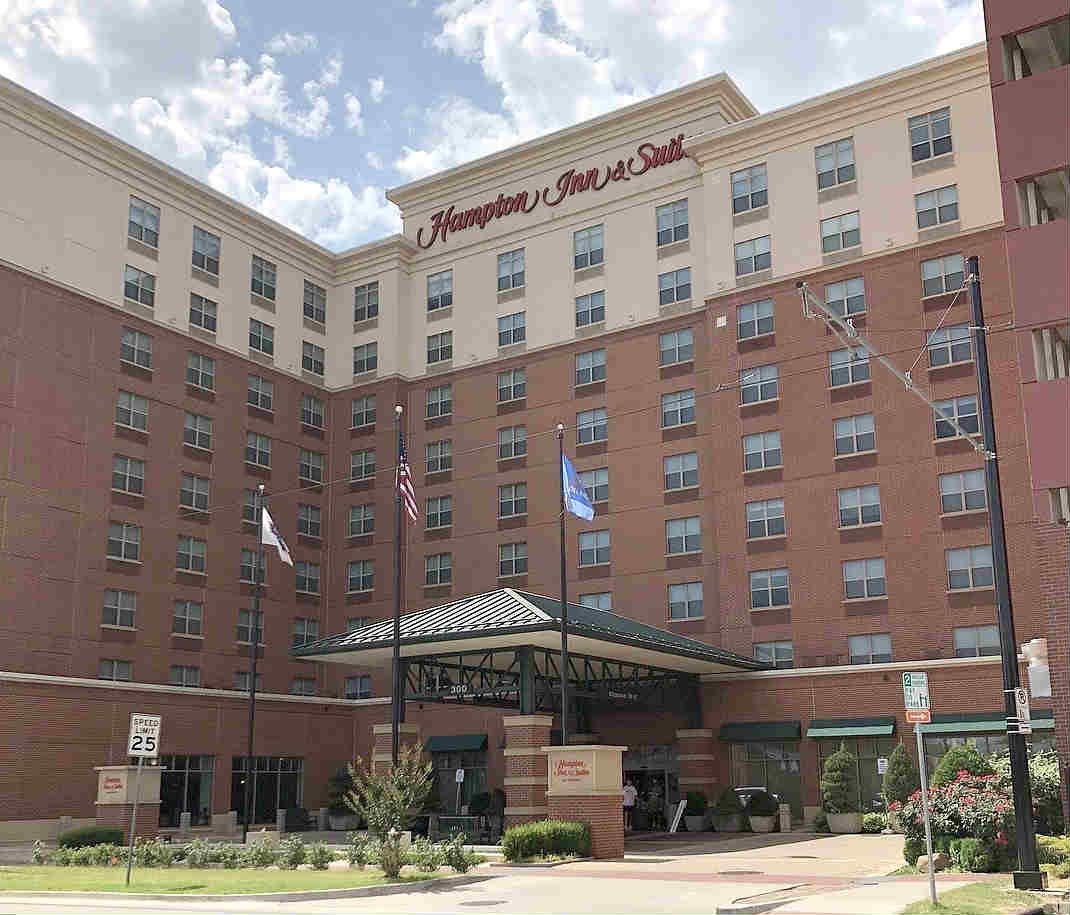 Hampton Inn & Suites OKC Bricktown
Hampton Inn & Suites Oklahoma City Bricktown

- In the heart of OKC's vibrant Brockton Entertainment District, you'll be within walking distance of all kinds of fascinating things to see and do. Amenities include complimentary daily hot breakfast, an indoor "cool pool", free Wi-Fi, and an onsite fitness centre. Rooms include coffeemakers and small refrigerators for your convenience, and the King Whirlpool Studio suite is a luxurious and romantic upgrade. Enjoy views of the Chickasaw Bricktown Ballpark and a king-sized bed in addition to the large jetted tub and shower with Waterpik shower-head. What Other Guests Liked: Pool with mini waterpark, noon checkout. Worth Knowing: Parking charge of $20/day. 2022 ERV Rating*: 88% - Very Good. Whirlpool Tub Size: 2 Persons. Whirlpool Suite Price: From $157/night. (300 East Sheridan, Oklahoma City OK 405-232-3600)
hampton inn & Suites OKC South
Hampton Inn OKC South Has Whirlpool Suites
Hampton Inn & Suites Oklahoma City South

- You'll be nice and close to the airport at this Hampton Inn and Suites located off I-240. Guest rooms are comfortable and breakfast is on the house. The spacious King Whirlpool Suite adds a living area and comes equipped with microwave, refrigerator, tea/coffee maker, and sofa with recliner in addition to the large jetted tub. Make use of the indoor heated pool and fitness centre during your stay. What Other Guests Liked: Free parking and Wi-Fi. Worth Knowing: The front entrance is locked at night so you have to be buzzed in. 2022 ERV Rating*: 82% - Very Good. Whirlpool Tub Size: 2 Persons. Whirlpool Suite Price: From $131/night. (920 SW 77th St, Oklahoma City OK 405-602-3400)
the grandison at maney park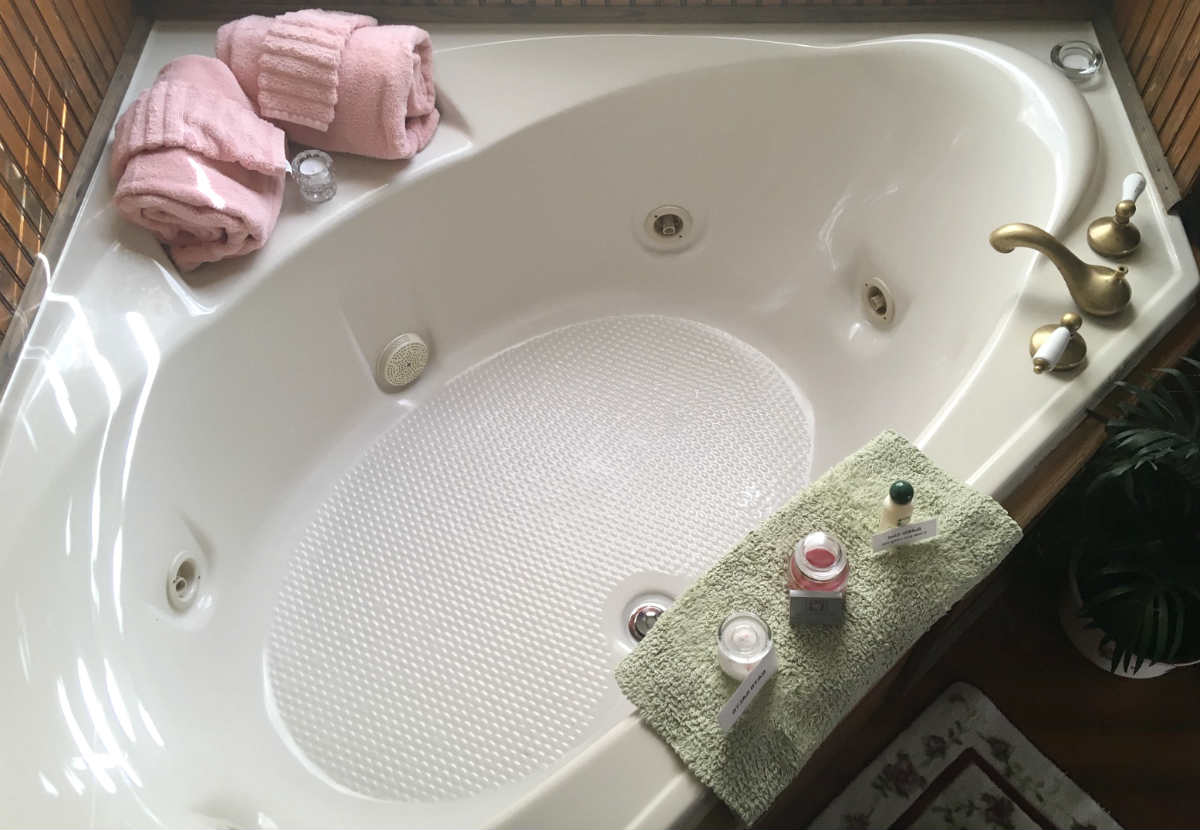 Grandison at Maney Park Jetted Tub Suite
The Grandison at Maney Park

- Check out this romantic B&B close to the Paseo Arts District. Built in 1904, the beautifully restored Victorian-style building boasts original stained glass, mahogany woodwork, and maple hardwood floors. It offers eight guest rooms, six of which feature jetted tubs, and are also equipped with TVs, cable and DVD players. Breakfast is included, and can be upgraded on weekends for an additional charge. What Other Guests Liked: Massage and spa services can be arranged and romantic add-ons are available. Worth Knowing: Regular breakfast is pastries and cold cereal or yogurt. 2022 ERV Rating*: 64% - Fair. Whirlpool Tub Size: 2 Persons. Whirlpool Suite Prices: From $110/night. (1200 N Shartel Ave, Oklahoma City OK 405-232-8778

)
more oklahoma city whirlpool suites
best western plus memorial inn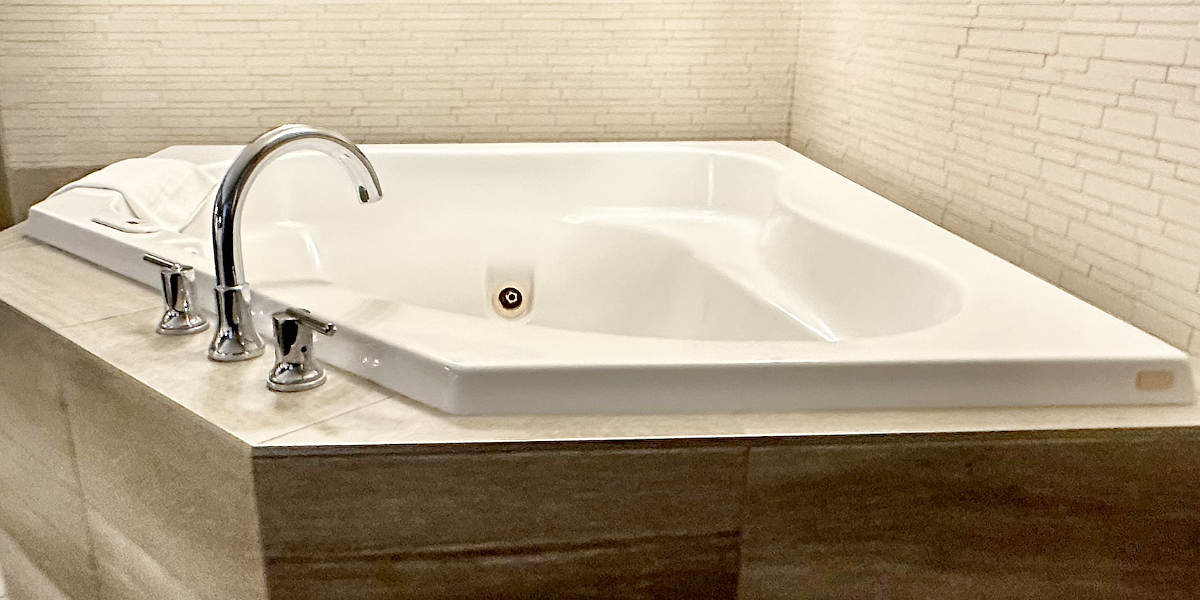 Book a Best Western OKC Jetted Tub Suite
Best Western Plus Memorial Inn & Suites - A conveniently located hotel providing complimentary hot breakfast, free internet and mini-fridges as well as microwaves in every room. There's a heated indoor pool, fitness room and guest laundry as well. King Jetted Tub Suites include king-sized beds and spacious tubs. What Other Guests Liked: Great location just off the highway, and close to shopping, the zoo and an amusement park. Worth Knowing: Not all guests find the beds comfortable. 2022 ERV Rating*: 88% - Very Good. Whirlpool Tub Size: 2 Persons. Whirlpool Suite Price: From $97/night. (1301 W Memorial Rd, Oklahoma City OK 405-286-5199) 
la quinta Inn OKC North Quail Springs
La Quinta Inn & Suites OKC North Quail Springs

- There's free breakfast, free parking and free Wi-Fi at this pet-friendly hotel just north of downtown OKC. Try out the indoor pool and fitness centre, or catch a show on your room's flat-screen HDTV. It's also just a short walk to Quail Springs Mall for a bit of retail therapy during your stay. Reserve the Presidential Suite for its jetted tub and all the little upgrades. What Other Guests Liked: Convenient to several restaurants. Worth Knowing: Could be updated in certain areas. 2022 ERV Rating*: 74% - Good. Whirlpool Tub Size: 2 Persons. Whirlpool Suite Price: From $173/night. (3003 W Memorial Rd, Oklahoma City OK 405-755-7000)
country Inn & Suites
Whirlpool Suite - Country Inn & Suites OKC
Country Inn & Suites Oklahoma City Airport

- The Whirlpool Suite at this Country Inn features a large jetted tub, king-sized bed, microwave and mini fridge, sleeper sofa and LCD TV. It's a great option for your romantic getaway. Other things to love about this hotel include complimentary parking, breakfast, and airport shuttle. Onsite fitness room and indoor pool are great too. What Other Guests Liked: Located near Frontier City Amusement Park, the Science Museum and the OKC Zoo. Worth Knowing: Some complaints about the air conditioning units. 2022 ERV Rating*: 76% - Good. Whirlpool Tub Size: Price: From $130/night. (2415 S Meridian Ave, Oklahoma City OK 405-669-9728)
sleep Inn & Suites
Sleep Inn Suites Jetted Tub
Sleep Inn & Suites Oklahoma City North

- The free breakfast here includes sausage, eggs and waffles, so bring your appetite! All rooms include a refrigerator, a microwave, coffee maker and 37-inch TV. Make the most of the indoor heated pool and fitness centre during your stay, and be sure to choose the King One Room Suite with Whirlpool Bath. What Other Guests Liked: Well maintained rooms, guest laundry facilities. Worth Knowing: smoke-free hotel, however some guests still report a slight cigarette smell. 2022 ERV Rating*: 90% - Excellent. Whirlpool Tub Size: 1 Person. Whirlpool Suite Price: From $110/night. (12024 North I-35 Service Rd Exit 137, Oklahoma City OK 405-478-9898)
comfort inn nw expressway
King 2-Person Hot Tub Room, Comfort Inn NW Expressway, OKC
Comfort Inn at Northwest Expressway

- This Comfort Inn is located near one of the most well-known landmarks in the city skyline: Founders Tower. It's also convenient to parks, shopping and plenty of restaurants. Rooms include air conditioning, refrigerator, microwave, desk and complimentary Wi-Fi. Parking and breakfast are complimentary, and guest laundry is available for a fee. A Whirlpool Suite is available for those wanting a romantic upgrade. What Other Guests Liked: Close to Pole Position Raceway and the Western Avenue District. Worth Knowing: Some guests find the rooms a bit dark. 2022 ERV Rating*: 66% - Fair. Whirlpool Tub Size: 2 Persons. Whirlpool Suite Price: From $125/night. (5704 Mosteller Dr, Oklahoma City OK 405-810-1100

)
courtyard Oklahoma City North
Courtyard by Marriott Oklahoma City North/Quail Springs

- Your entertainment needs are well covered here as rooms feature 32" flat screen internet connected HDTVs with Netflix, and there is an AMC-24 movie theatre within walking distance of the hotel. There's a heated indoor pool and exercise room as well. As for food and drink, an onsite restaurant, bar, and Starbucks are at your service. If you prefer to eat in, rooms come equipped with microwaves and mini fridges. Four different styles of Whirlpool Suite are available, so choose the one that suits you best. What Other Guests Liked: Noon checkout, free parking, outdoor courtyard. Worth Knowing: Onsite restaurant temporarily closed. 2022 ERV Rating*: 66% - Fair. Whirlpool Tub Size: 2 Persons. Whirlpool Suite Prices: From $141/night. (13511 Highland Park Blvd., Oklahoma City OK 405-418-4000

)
hawthorn suites OKC airport
Hawthorn Suites by Wyndham Oklahoma City Airport Fairground

- Convenient location just off I-40 and close to the airport, fairgrounds and downtown OKC. Breakfast and parking are free, and rooms include kitchenettes with refrigerators, microwaves, stoves, toasters, coffee/tea makers, and dishwashers. Whirlpool Suites feature king-sized beds, kitchenettes, and spacious jetted tubs. What Other Guests Liked: complimentary airport shuttle and proximity to restaurants and gas stations. Worth Knowing: Limited number of parking spaces available, no pool. 2022 ERV Rating*: 72% - Good. Whirlpool Tub Size: 2 Persons. Whirlpool Suite Price: From $107/night. (417 S Meridian Ave, Oklahoma City OK 405-768-4991)
wangshi palace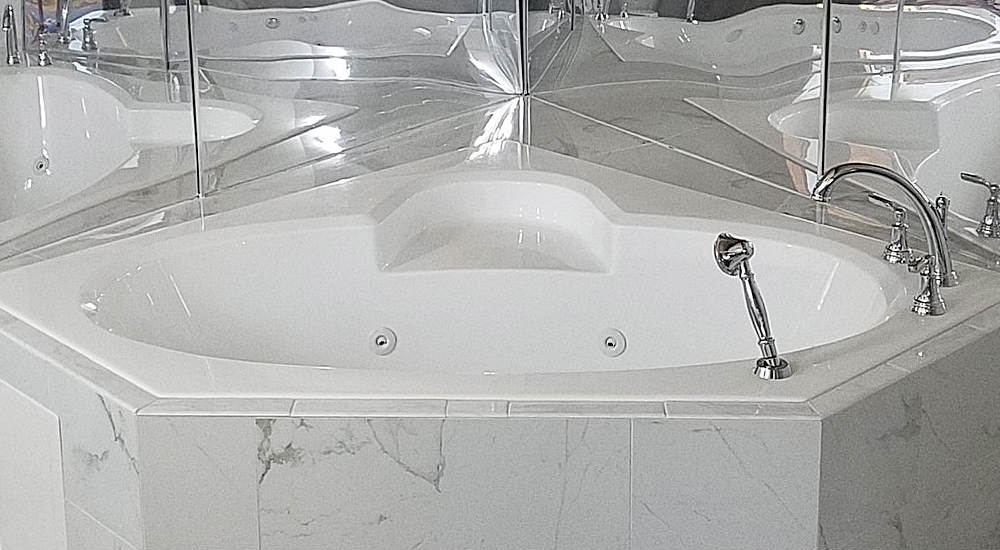 JACUZZI® Tub Suite - WangShi Palace
WangShi Palace

- What a hidden gem! This luxurious B&B is nestled on 5-acres with walking trails, gazebo, heated indoor pool and picnic area. It's located 2 miles from the I-35 and 1 mile from Frontier City. Inspired by Asian decor, all rooms include mini-fridges and coffee makers, and certain suites have patios with fire pits or porch swings. Romantic indeed! Many suites feature JACUZZI® Tubs, but be sure to book room type 1 or 2 for the most romantic getaway. What Other Guests Liked: Breakfast served in a dining area with indoor and outdoor seating. Free limo service and airport shuttle. Worth Knowing: Extra fee for parking. Area is a bit secluded. 2022 ERV Rating*: 90% - Excellent. Whirlpool Tub Size: 2 Persons. Whirlpool Suite Price: From $181/night. (3108 E Hefner Rd, Oklahoma City OK 405-548-1035

)
---
norman, oklahoma
montford inn B&B
Heart-Shaped Jetted Tub - Montford Inn, Norman
Montford Inn

- Near the University of Oklahoma, this charming B&B is made up of a 9-room inn and 6 cottages, and is just a 20-minute drive from downtown OKC. Both romantic and relaxing, the award-winning accommodations features gourmet breakfasts, (delivered to your door!) freshly baked cookies, and decorating that reflects the history of this area. Walk to the Historic District, or to many restaurants and parks. All cottages include jetted tubs (some are even heart-shaped!) and the Yesteryear room has a balcony with hot tub. What Other Guests Liked: On-site library has books, magazines and games. Select rooms include canopied beds and walk-in showers. Worth Knowing: There is no pool. 2022 ERV Rating*: 96% - Excellent. Whirlpool Tub Size: 2 Persons. Whirlpool Suite/Cottage Prices: From $239/night. (322 W Tonhawa St, Norman OK  405-321-2200)
comfort inn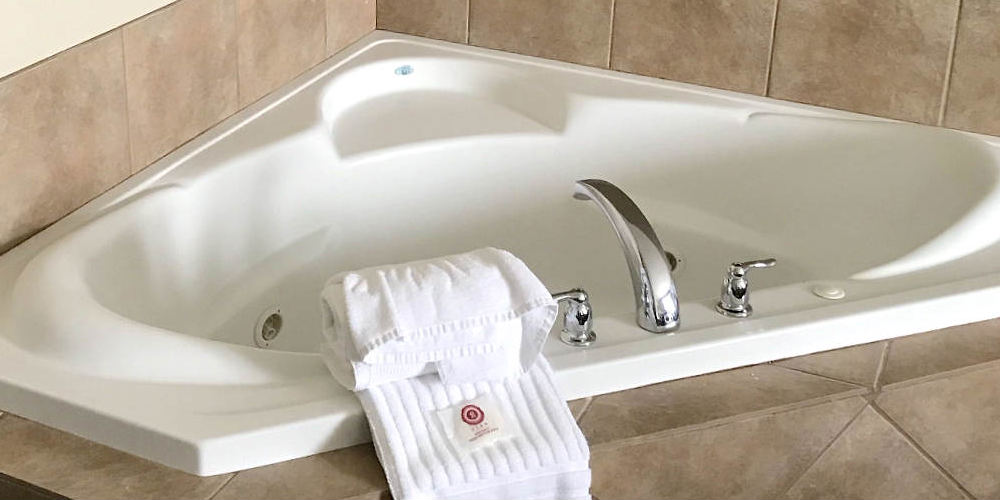 Comfort Inn Whirlpool Suite, Norman OK
Comfort Inn & Suites Norman Near University

- The Whirlpool Suite features a large jetted tub along with microwave and refrigerator. Breakfast is included, and the pool is most inviting. Tribes Gallery and the Firehouse Art Center are located close by. And if you're a Rockford Files fan, the James Garner Statue is just 4 km from the door. What Other Guests Liked: Free parking, guest laundry available. Worth Knowing: Some minor maintenance issues have been reported. 2022 ERV Rating*: 74% - Good. Whirlpool Tub Size: 2 Persons. Whirlpool Suite Price: From $113/night. (840 Copperfield Dr, Norman OK 405-217-0776)
whispering Pines B&B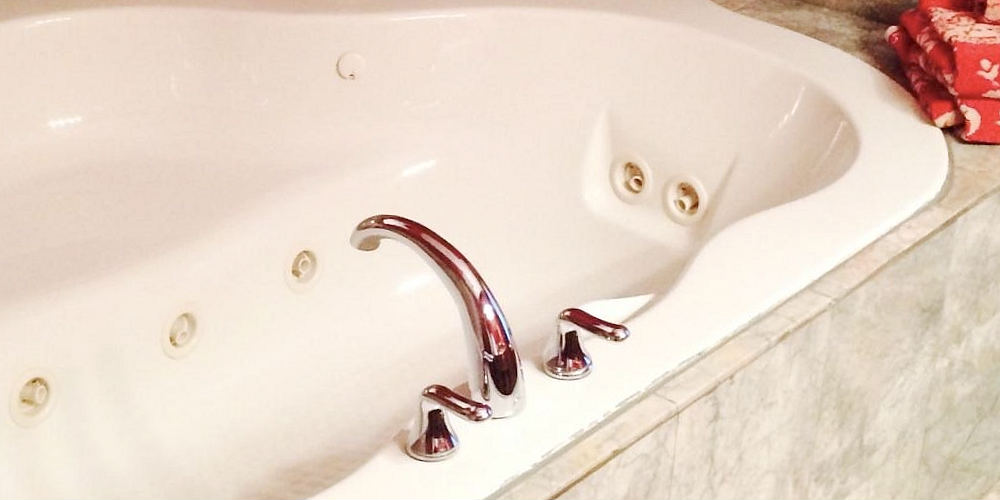 Whispering Pines B&B Hot Tub Suite
Whispering Pines Bed and Breakfast

- Wrap-around porch, gazebo and a grand staircase make this elegant yet budget-friendly B&B feel like a mansion from the 1900's. A Koi pond and dock encourage relaxation and serenity, and the onsite restaurant serves up great food. Both rooms and private cottages are available, and feature marble bathrooms and kitchenettes. Many include whirlpool tubs. What Other Guests Liked: Breakfast delivered to your room. Worth Knowing: Restaurant requires reservations. 2022 ERV Rating*: 78% - Good. Whirlpool Tub Size: 1 and 2 Persons. Whirlpool Suite/cottage Prices: From $80/night. (7820 E State Highway 9, Norman OK 405-447-0202)
embassy suites norman
Embassy Suites by Hilton Norman Hotel & Conference Center - Everyone loves the atrium and complimentary evening manager's reception here. Other draws include foosball and pool tables, game room and movie area. A cooked-to-order hot breakfast is included in your stay, and there's a heated indoor pool and fitness room. Go ahead and splurge on the 2-Room Presidential Suite with wet bar, two large-screen TVs, separate living room, microwave and refrigerator. The Whirlpool Tub is a great way to relax. What Other Guests Liked: Onsite restaurant and lounge, Starbucks coffee. Worth Knowing: $12/night parking fee. 2022 ERV Rating*: 84% - Very Good. Whirlpool Tub Size: 1 Person. Whirlpool Suite Price: From $236/night. (2501 Conference Drive, Norman OK 405-364-8040)
more spa tub suiteness near OKC:
---
edmond OK
two hearts inn
Two Hearts Inn

 - The Two Hearts Inn offers a variety of rooms, each with a unique old-world theme. Most feature jetted tubs and things like private decks, fireplaces, and fantastic views . Breakfast is included at a coffee house located on the same property, and on Sundays, it's served to you in your room. Romantic add-ons, such as red roses, charcuterie boards, and chocolate strawberries can be arranged in advance. What Other Guests Liked: Lovely manicured grounds with walking trails. Great breakfasts! Worth Knowing: Continental breakfast only served on Mondays. 2022 ERV Rating*: 96% - Excellent. Whirlpool Tub Size: 2 Persons. Whirlpool Suite Prices: From $199/night. (2118 W Edmond Rd, Edmond OK 405-715-2525)
holiday inn express edmond
Holiday Inn Express & Suites Edmond

- There's plenty to do around this area just off historic Route 66 and I-35. The Whirlpool Suite at this Holiday Inn Express features a corner jetted tub and kitchenette, and you'll find a 24-hour workout room and heated indoor pool. Parking, breakfast and Wi-Fi are on the house, and guest laundry facilities are available. What Other Guests Liked: 12:00 PM checkout lets you sleep in a little on departure day. Worth Knowing: No onsite restaurant. 2022 ERV Rating*: 68% - Fair. Whirlpool Tub Size: 2 Persons. Whirlpool Suite Price: From $110/night. (3840 East 2nd Street, Edmond OK 405-844-3700)
surestay plus edmond
SureStay Plus Hotel By Best Western Edmond

- Comfortable accommodation that's reasonably priced and only 18km from the Oklahoma City Zoo. Breakfast is included, and you might also appreciate the free parking, guest laundry, convenience store, gym and indoor pool with sun loungers. The Whirlpool Suite is also known as a "honeymoon suite" and is spacious and relaxing. What Other Guests Liked: Walking distance to restaurant next door, quiet location, helpful staff. Worth Knowing: No elevator to the second floor. 2022 ERV Rating*: 70% - Good. Whirlpool Tub Size: N/A. Whirlpool Suite Price: From $106/night. (2700 E 2nd St, Edmond OK 405-216-0300)
fairfield inn & suites edmond
Fairfield Inn & Suites Edmond

- The Executive Suite here has a king-sized bed, sofa bed and large jetted tub for two. There's also a fridge, microwave and coffee/tea maker. Guest room furniture was recently replaced and updated, so you're sure to be comfortable. The indoor heated pool, fitness room and guest laundry will make you feel right at a home, and free high speed wireless internet will keep you happily online. What Other Guests Liked: 12:00 pm checkout time. Complimentary breakfast. Worth Knowing: Hotel could use an update in a few places. 2022 ERV Rating*: 76% - Good. Whirlpool Tub Size: 2 Persons. Whirlpool Suite Price: From $126/night. (301 Meline Dr, Edmond OK 405-341-4818)
---
More hot tub suites close to okc
comfort suites moore - OKC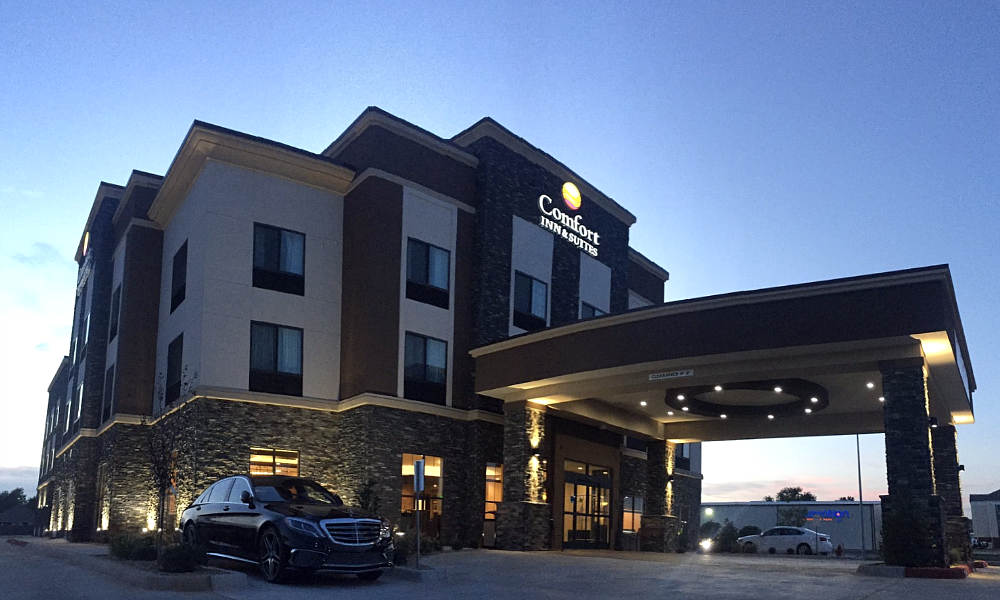 Comfort Suites Moore OK
Corner Jetted Tub - Comfort Inn, Moore OK
Comfort Inn & Suites Moore/Oklahoma City - You'll find several great restaurants in close proximity to this Comfort Inn just off I-35. Warmly decorated and welcoming, with the usual conveniences including an indoor pool, and modern workout room. Free hot breakfast is served in the dining room, and Wi-Fi is also complimentary. Rooms have small refrigerators and microwaves, as well as tea and coffee makers. The Whirlpool Suite offers a nice sitting area, and large corner jetted tub. What Other Guests Liked: Good location if you want to see OKC but not have the hassle and expense of staying right downtown. Worth Knowing: Bathrooms could use improved lighting. 2022 ERV Rating*: 90% - Excellent. Whirlpool Tub Size: 2 Persons. Whirlpool Suite Price: From $170/night. (1401 N Moore Ave, Moore, OK 405-735-6200)
la quinta inn OKC/Moore
La Quinta Inn & Suites Oklahoma City/Moore

- You're just 12 miles from central OKC and 6 miles from shopping at Plaza Mayor at the Crossroads. Rooms and suites are well-equipped for your comfort and there's an indoor pool, fitness room, on-site pantry, and guest laundry. Breakfast and parking are complimentary. You'll want to choose the 1 King Bed DeluxeStudio Suite for its jetted tub. It also features a mini-refrigerator, microwave, coffee/tea maker and air conditioning. What Other Guests Liked: Friendly staff. Worth Knowing: When you turn off the light at the entry of the room, it shuts off all lights and the TV. 2022 ERV Rating*: 84% - Good. Whirlpool Tub Size: 2 Persons. Whirlpool Suite Price: From $101/night. (2140 Riverwalk Dr, Moore OK 405-378-4367)
best western plus midwest city
Whirlpool Suite - BW Plus Midwest City Inn, OK
Best Western Plus Midwest City Inn & Suites

- Each room has cable satellite TV with HBO  and free high speed wireless internet. Microwaves and refrigerators are also found in all rooms, and there is an indoor pool, workout room, and guest laundry facility. Breakfast and parking are included. The Whirlpool Suite features a large jetted tub big enough for two. What Other Guests Liked: Location is just 4 miles from Joe B. Barnes Regional Park with it's walking paths and golf course. Worth Knowing: A few guests report traffic noise from the nearby highway. Hotel is 8 miles from OKC. 2022 ERV Rating*: 84% - Very Good. Whirlpool Tub Size: 2 Persons. Whirlpool Suite Price: From $139/night. (6701 Tinker Diagonal, Midwest City OK 405-737-6060)
comfort suites yukon
Comfort Suites Yukon

 - One and two bedroom suites here feature coffee makers, microwaves and mini-fridges, and most offer wet bars. Heated indoor pool, gym and guest laundry are available for your stay, and a hot breakfast is complimentary. The spacious Whirlpool Suite includes a large jetted tub and three - yes, three TVs! What Other Guests Liked: Free parking, outdoor picnic area with barbecue grills. Worth Knowing: Small parking lot can fill up quickly. 2022 ERV Rating*: 72% - Good. Whirlpool Tub Size: 2 Person. Whirlpool Suite Price: From $93/night. (11424 NW 4th St, Yukon OK 405-577-6500)
guthrie, OK
dominion house
Luxurious Dominion House Boutique Hotel
Dominion House

- A lovely 14-room boutique hotel located just a half hour north of OKC. The luxurious 1139 square-foot Royal Room includes a jetted tub and walk-in shower. You'll sleep on a king-sized bed and enjoy nightly turndown service and complimentary chef-prepared breakfast. What Other Guests Liked: Provides a beautiful backdrop for photographs. Worth Knowing: No elevator between first and second floor rooms. About 33 miles north of OKC. 2-night minimum stay on holiday weekends. 2022 ERV Rating*: 96% - Excellent. Whirlpool Tub Size: 2 Persons. Whirlpool Suite Price: From $340/night. (602 E College Ave, Guthrie OK 405-282-7789

)
la quinta inn guthrie
La Quinta Inn & Suites Guthrie

- Guthrie offers a scenic trolley ride through downtown, and you might also want to catch a romantic movie under the stars at Beacon Drive-In. You'll enjoy a comfortable room at the La Quinta Inn and Suites during your stay in historic Guthrie. If you're looking for the in-room hot tub experience, their King Bed Whirlpool Suite also includes a microwave, refrigerator and coffee/tea maker. Stay for the free breakfast, and take some time to swim in the pool or have a workout in the gym. What Other Guests Liked: Free parking; friendly staff. Worth Knowing: Breakfast gets mixed reviews, weak coffee. 2022 ERV Rating*: 74% - Good. Whirlpool Tub Size: 1 Person. Whirlpool Suite Price: From $112/night. (406 Heather Rd, Guthrie OK 405-293-6000)
holiday inn express guthrie north edmond
Holiday Inn Express & Suites Guthrie North Edmond

 - Located close to the shops of historic downtown Guthrie and the Oklahoma Territorial Museum, this Holiday Inn Express could be just what you're looking for when visiting the OKC area. Rooms include conveniences such as microwaves, mini fridges and coffee makers, and parking, breakfast, and Wi-Fi are on the house. Indoor pool and fitness room are great additions to enhance your stay. The King Bed Suite with Jetted Tub will help you relax in bubbly bliss. What Other Guests Liked: Right off I-35 with quick access to Lazy E. Arena. Worth Knowing: Limited parking in front of the hotel. Shares a parking lot with other businesses. 2022 ERV Rating*: 64% - Fair. Whirlpool Tub Size: 2 Persons. Whirlpool Suite Price: From $148/night. (2227 E Oklahoma Ave, Guthrie OK 405-293-6464

)
*ERV Rating: our unique, non-scientific ratings for romantic accommodation include:
Amenities: including Whirlpool bath or 

JACUZZI

®

Tub

,

scenic view, fireplace, lounge, etc
Location: proximity of hotel to restaurants, pubs, downtown, etc
Clientele: demographic the hotel attracts (couples, families, business travelers, etc)
Popularity: based on social media & crowd-sourced reviews 
Value: product offered compared to room rate 
Please Note: percentage ratings are not absolute but for comparative use only  
top hotels, getaways & packages on ERV
---