Dallas
dallas-fort worth hot tub suites - hotels with private in-room jetted tubs
FTC: This page uses affiliate links. More. 

---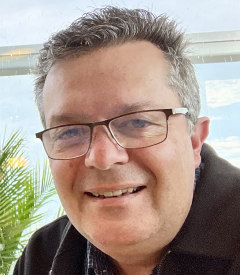 By: Greg Mattson, ERV Editor - Updated: Aug 8, 2023
It's time to add a soothing hotel room hot tub soak to your Dallas-Fort Worth getaway. These private in-room jetted Whirlpool and JACUZZI® tubs are some of the nicest in North Texas.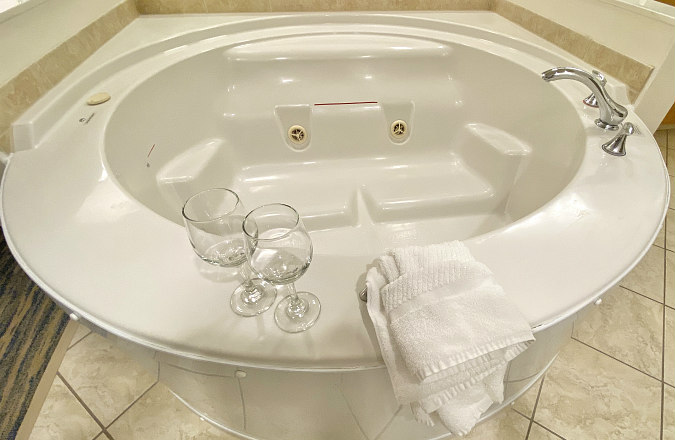 Check into a Romantic Spa Tub Suite in the Dallas-Fort Worth Area
So whether you're booking for a weekend away or honeymoon, check out our up-to-date listings below and get set to start up the jets...

Why This Dallas Hot Tub Suites Collection is Best - You'll be glad to know we only list hotel suites with a jetted tub or JACUZZI® Brand Tub. And they're all in-room, because we focus on romance and privacy.
Disclaimer: JACUZZI® is a registered trademark owned by Jacuzzi Inc. The use of the JACUZZI® trademark on this website is for informational purposes only. There is no relationship, connection or affiliation between this website and Jacuzzi Inc. or its related companies. Rates shown are approximate only and subject to change. Hotel rooms, jetted tubs and amenities can change, and may not be exactly as shown, so please contact the hotel or inn before making travel plans.
dallas texas whirlpool suites
the highland dallas
Highland Hotel, Dallas TX ©TripAdvisor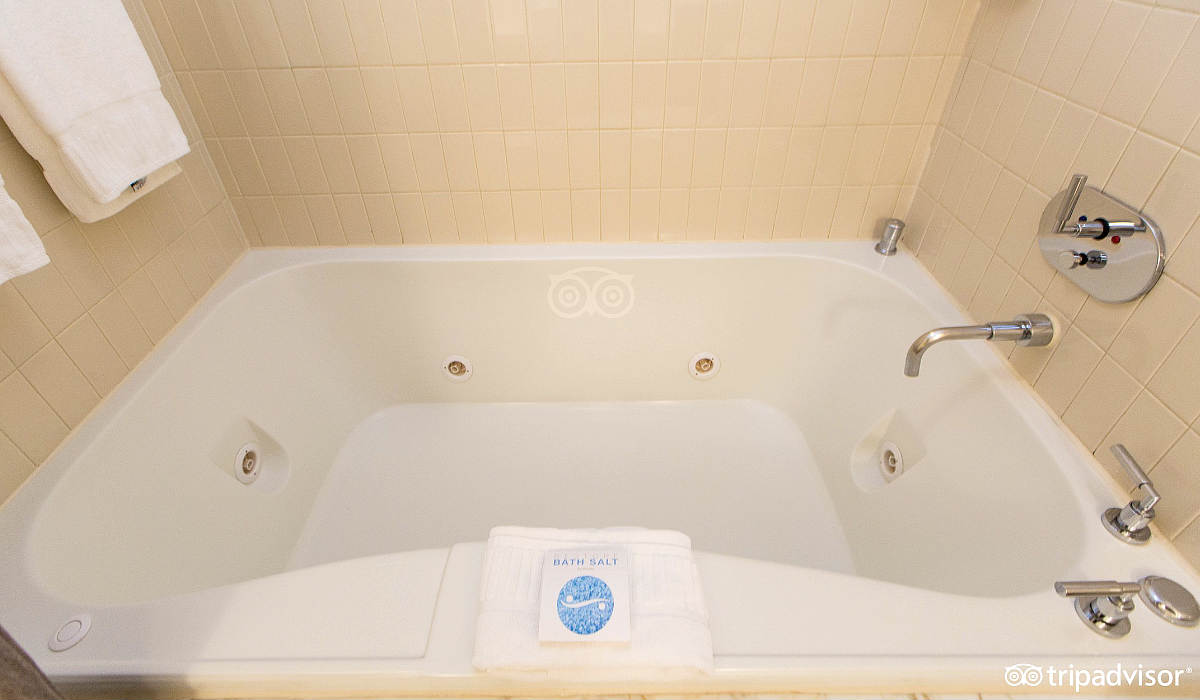 Highland Hotel Jetted Tub Suite ©TripAdvisor
The Highland Dallas

- There's nothing better than collecting HHonors points while soaking in a beautiful jetted tub! You can do both at this Park Cities Hilton boutique hotel. You're looking to book their King Spa Room, which, besides a comfy King bed, includes an oversized jetted spa tub for 2, luxury linens, and a great corner location at the end each hallway for excellent privacy. Walk to Mockingbird Station shops & restaurants across the street, or take an easy drive or Uber to downtown and Deep Ellum entertainment district. What Other Guests Liked: On-site Knife Restaurant...Outdoor pool great on hot summer days. Worth Knowing: Self parking not available; valet parking $38/night. 2023 ERV Rating*: 80% - Very Good. Whirlpool Suite Rates from $265/night. (5300 East Mockingbird Lane, Dallas TX 214-520-7969)
comfort suites north dallas in-room jetted tubs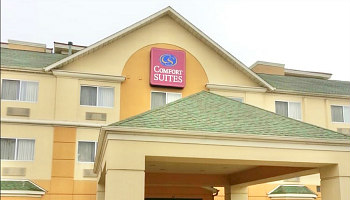 Comfort Suites, North Dallas TX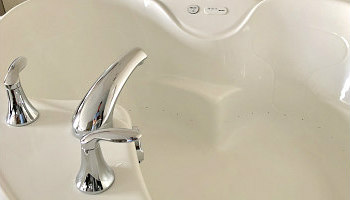 Comfort Suites Whirlpool Tub for 2
Comfort Suites North Dallas - Enjoy air-conditioned comfort in one of their 1-Bedroom King Suites with a Whirlpool Tub for 2. Free parking and free breakfast are also available at this budget-friendly Comfort Hotel in North Dallas. What Other Guests Liked: Good value, good service. Worth Knowing: Some guests reported the parking lot not being safe at night. 2023 ERV Rating*: 64% - Fair. Whirlpool Tub Size: 2 persons. King Suite prices from $94/night. (13165 N. Central Expressway, Dallas TX 972-699-7400)
best western Plus Addison/dallas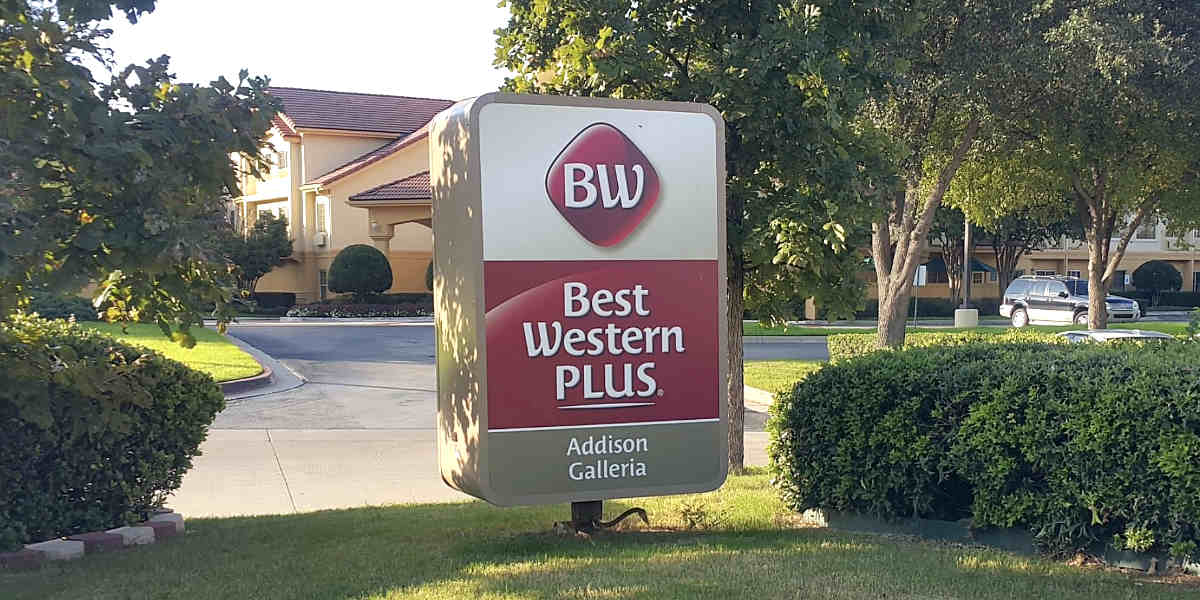 Book a BW Plus Whirlpool Suite in Dallas
Best Western Plus Addison/Dallas

- Nicely located close to over 180 restaurants and the Galleria Mall. Check into their King Whirlpool Suite for a relaxing and fun stay, and enjoy a full breakfast in the morning. What Other Guests Liked: Free parking and in-room microwave and mini-fridge. Worth Knowing: Rooms are a bit dated. 2023 ERV Rating* for Dallas Whirlpool Suites: 70% - Good. Whirlpool Tub Size: 2 Persons. Whirlpool Suite Price: From $97/night. (14975 Landmark Blvd, Dallas TX 972-701-0881)
comfort inn dallas spa bath suites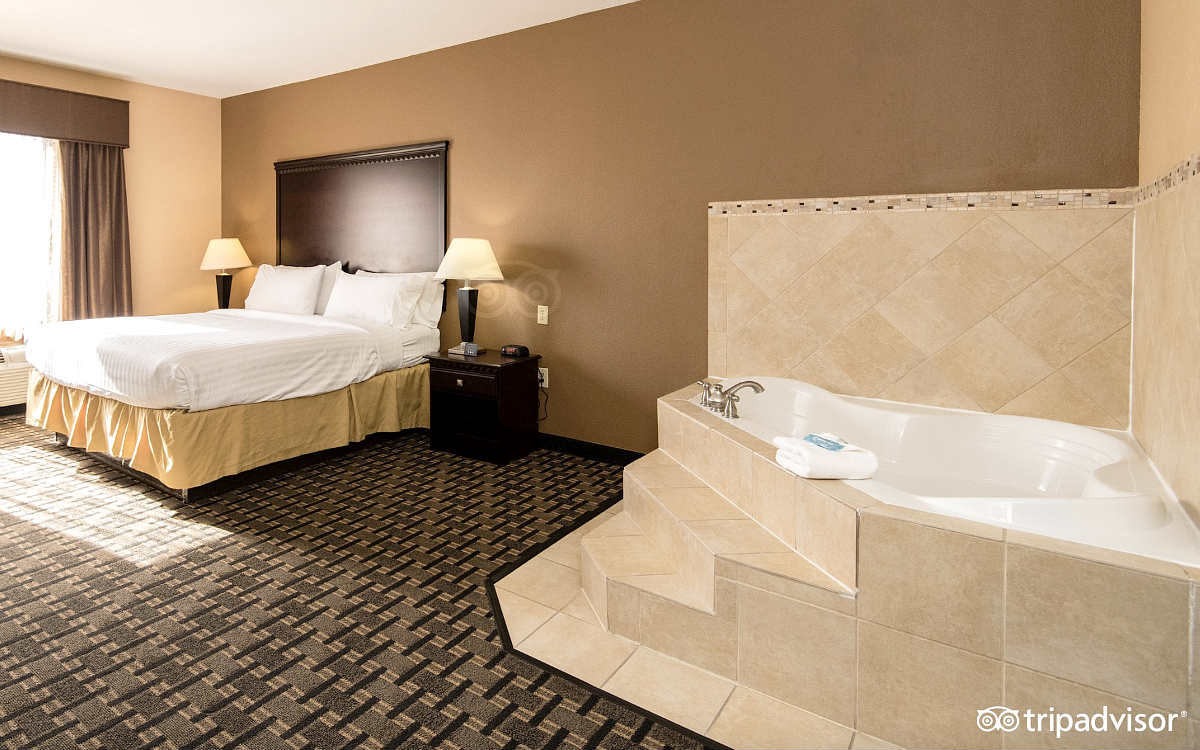 Comfort Suites Market Center Dallas In-Room Spa Tub ©TripAdvisor
Comfort Inn & Suites Dallas Market Center - Close to Market Center, with free hot breakfast, indoor pool, and King Rooms with a Jetted Spa Bath. What Other Guests Liked: In-room microwave and fridge, indoor pool and fitness centre, free parking. Worth Knowing: Located near a busy intersection. 2023 ERV Rating* for Affordable Dallas TX Spa Tub Suites: 60% - Fair. Whirlpool Tub Size: 2 Persons. Whirlpool Suite Price: From $87/night. (1521 Inwood Rd, Dallas TX 214-905-1400)
More Romantic texas getaways:
---
spa tub suites in fort worth, tx
the ashton Hotel
Romantic Ashton Hotel, Ft. Worth TX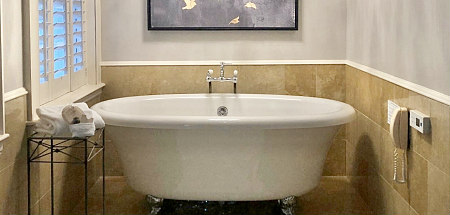 Ashton Claw-Foot Jetted Spa Tub
The Ashton Hotel

- A downtown Fort Worth boutique hotel perfect for getaways and special occasions. You're going to love their Spa Suite: it includes a beautiful claw-foot jetted spa tub big enough for two, King bed and walk-in shower. What Other Guests Liked: Weekend High Tea For Two, complimentary shoe-shine, fitness centre with Peloton bikes. Worth Knowing: Valet parking is $32/night. No pool. 2023 ERV Rating* for Fort Worth Spa Tub Suites: 86% - Very Good. Whirlpool Tub Size: 2 Persons. Whirlpool Suite Price: From $229/night. (610 Main St, Fort Worth TX 817-332-0100) 
Country Inn & Suites Fort Worth West whirlpool suites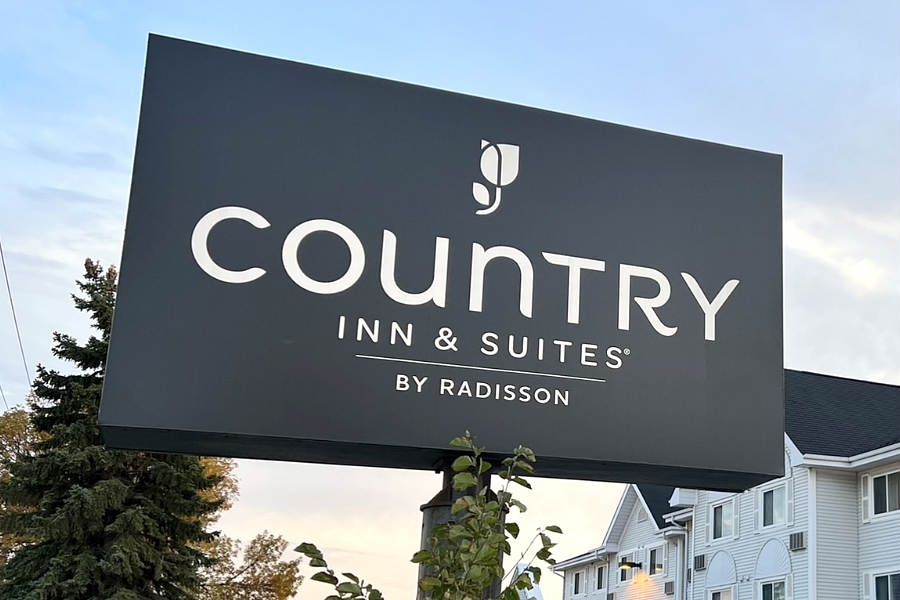 Find an Affordable In-Room Jetted Tub at Country Inn & Suites Fort Worth West
Country Inn & Suites Fort Worth West

- You'll find this affordable inn just off of I-30, and within easy reach of the Ft Worth Cultural District and the Stockyards. When you book, look for the 1 Bedroom Suite with a King Bed and Whirlpool tub for 2. It includes microwave and mini-fridge. What Other Guests Liked: outdoor pool, complimentary cookies and free hot breakfast. Worth Knowing: No stores or restaurants within walking distance. 2023 ERV Rating*: 76% - Good. Whirlpool Tub Size: 2 Persons. Whirlpool Suite Price: From $78/night. (2730 South Cherry Lane, Fort Worth TX 817-560-4200)
embassy suites downtown fort worth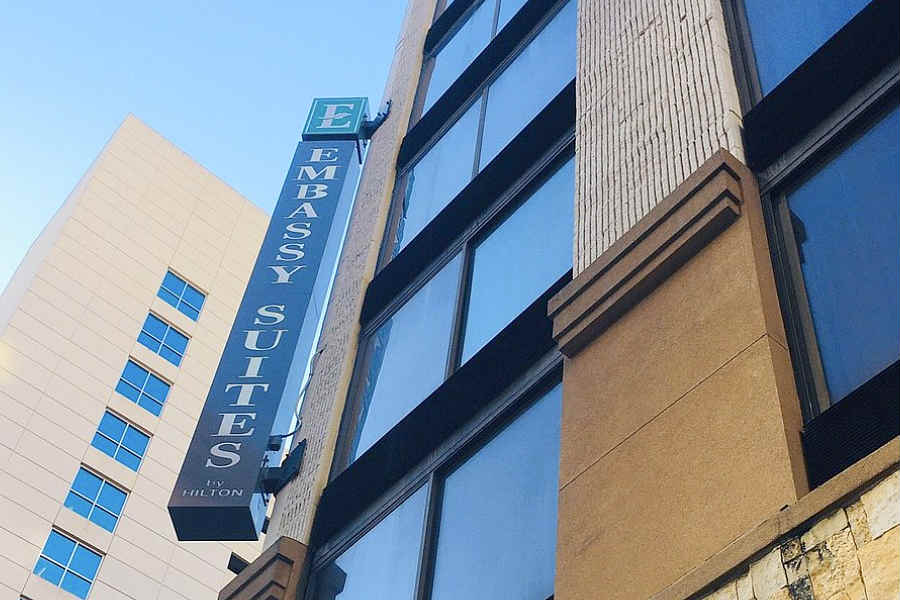 Embassy Suites Has Hot Tub Rooms in Fort Worth TX
Embassy Suites by Hilton Downtown Fort Worth

- Excellent downtown location near Sundance Square, Bass Hall, with a free trolley that stops just outside the front door. Inside, relax in spacious 2 Room Suites with Whirlpool tubs and city views. What Other Guests Liked: onsite restaurant, indoor pool, complimentary evening reception. Worth Knowing: $50 Daily Mandatory Charge added to the room rate. Parking is valet-only and costs $32/night. 2023 ERV Rating*: 86% - Very Good. Whirlpool Tub Size: N/A. Whirlpool Suite Price: From $249/night. (600 Commerce St, Fort Worth TX 817-332-6900)
Bw plus fort worth forest hill inn & suites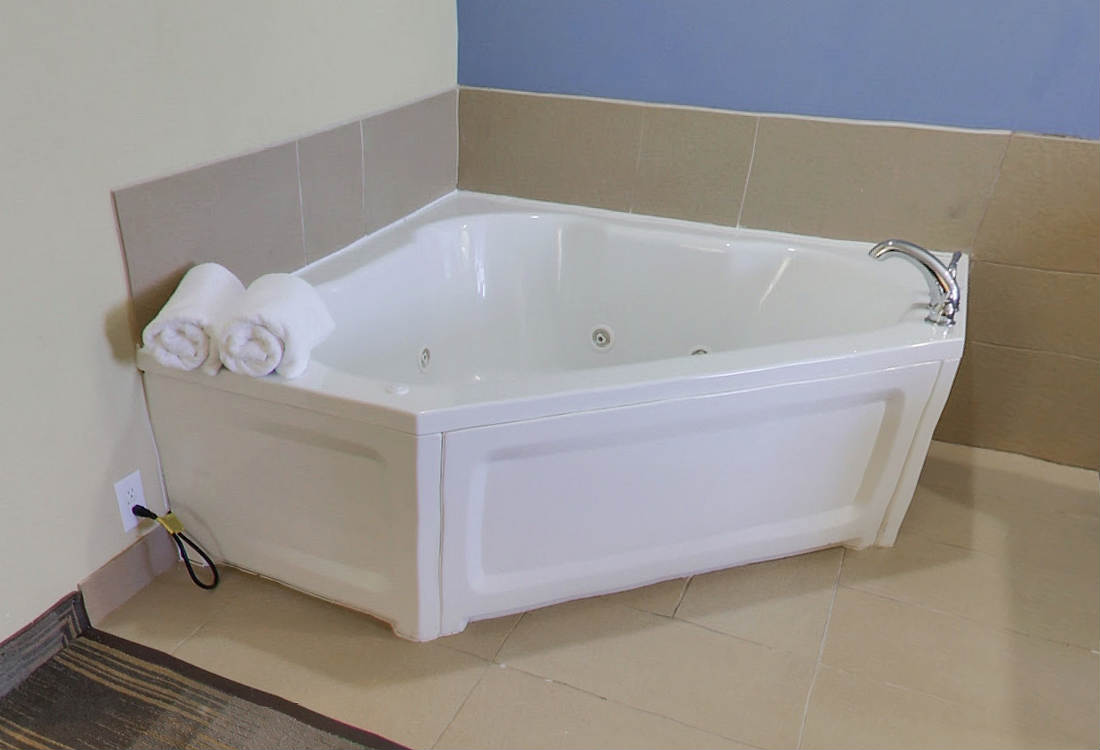 Spa Tub Suite at Best Western Plus, Fort Worth TX
Best Western Plus Fort Worth Forest Hill Inn & Suites

- Handy location close to 6 Flags Over Texas and American Airlines Arena. Breakfast is included, and there's Whirlpool suites with a King bed all ready to help you have a relaxing and budget-friendly stay. What Other Guests Liked: In-room microwave and fridge, outdoor pool, free parking, guest laundry. Worth Knowing: Several guests have noted trash in the parking lot. 2023 ERV Rating*: 70% - Good. Whirlpool Tub Size: 2 Persons. Whirlpool Suite Price: From $175/night. (3230 Forest Hill Circle, Fort Worth TX 817-293-1667)
---
more jetted tubs in the dfw area
Arlington, tx - sanford house
Sanford House Romantic B&B
JACUZZI® Tub - Sanford House, Arlington TX
Sanford House

- Book one of their Cottage Suites with a 2-person JACUZZI® Tub for a great getaway. A full service spa and romantic dining at these Restaurant506 are just a few of the amenities at this beautiful B&B. What Other Guests Liked: Homemade cookies, full breakfast, convenient location. Worth Knowing: If you arrive during a wedding at the venue, parking may be difficult. 2023 ERV Rating* for Arlington TX B&B Suites with a JACUZZI® Tub: 92% - Excellent. Whirlpool Tub Size: 2 Persons. Whirlpool Suite Prices: From $219/night. (506 N Center St, Arlington TX 817-861-2129)
plano, tx - Cambria hotel Whirlpool suites
2-Person Whirlpool Tub Suite, Cambria Hotel in Plano TX
Cambria Hotel Plano Frisco

- There's plenty of classic Texas charm at this Plano hotel: pool, shuttle service, fitness centre and restaurant. The King Suite with Whirlpool makes your stay even more romantic. What Other Guests Liked: Upscale shopping and cultural district nearby. EV charging stations. Worth Knowing: Limited hours for restaurant and bar. 2023 ERV Rating*: 88% - Very Good. Whirlpool Tub Size: 2 Persons. Whirlpool Suite Price: From $190/night. (7500 Parkwood Blvd, Plano TX 469-463-2796)
magnuson hotel suites with Jacuzzi® Tub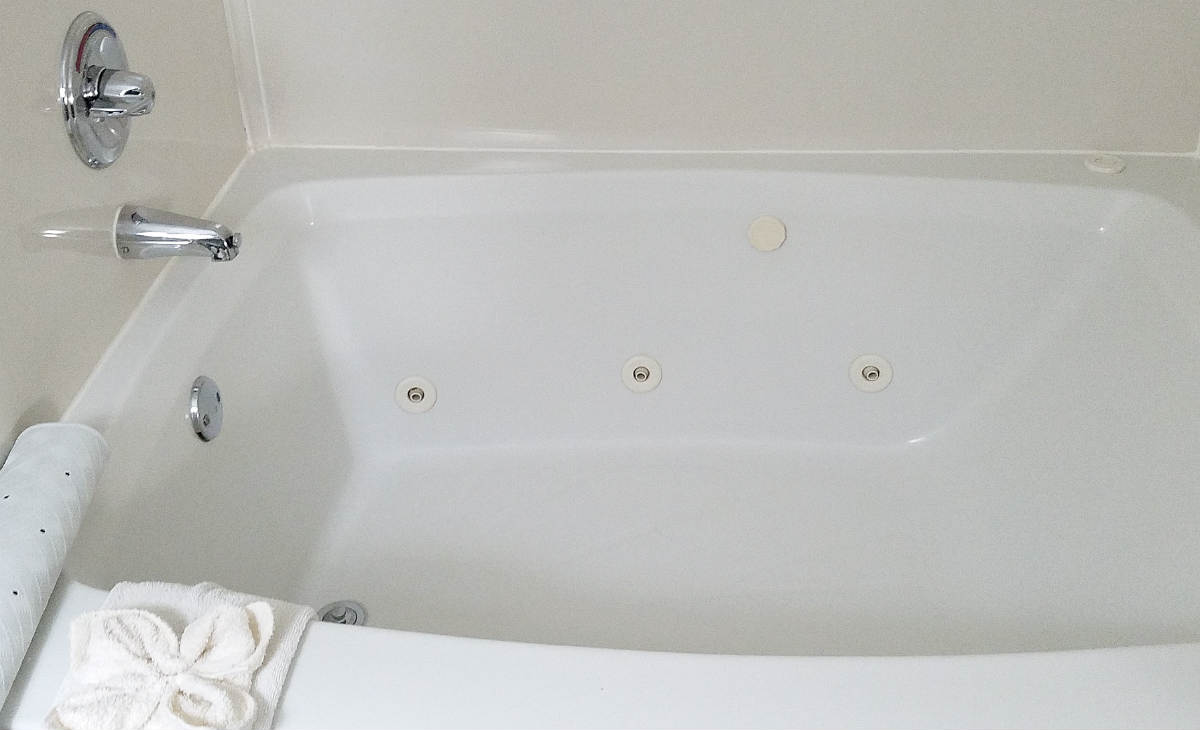 JACUZZI® Tub - Sure Stay Plus, Plano TX
Sure Stay Plus Best Western Plano

 - Just 1 mile from the light rail station and close to both shopping, and Six Flags Amusement Park. You're all set for romance with the King Suite With JACUZZI® Tub. What Other Guests Liked: This hotel offers free hot breakfast and afternoon cookies, as well as parking and outdoor pool with patio. Worth Knowing: Tax Recovery Charge and Service Fee added to daily rate. 2023 ERV Rating*: 78% - Good. Whirlpool Tub Size: 1 Person. Whirlpool Suite Price: From $103/night + $15 Service Fee. (640 E Park Blvd, Plano TX 972-578-2243)
duncanville, TX - Best Western Plus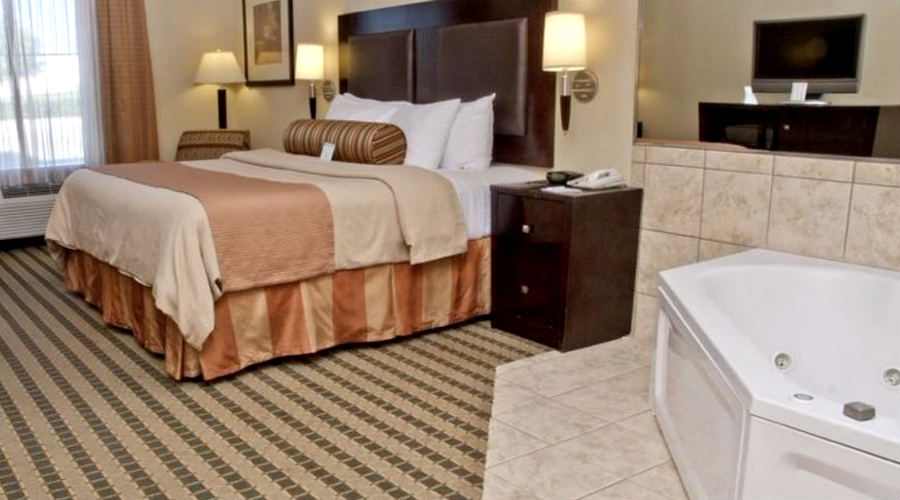 King Whirlpool Suite - BW Plus, Duncanville TX
Best Western Plus Duncanville/Dallas

- Designed for business travellers, but equally ready to accommodate a romantic stay in one of their King Whirlpool Suites. What Other Guests Liked: Free parking, outdoor pool and optional late checkout (for an extra fee) are available. Worth Knowing: A few noise complaints. 2023 ERV Rating*: 90% - Excellent. Whirlpool Tub Size: 2 Persons. Whirlpool Suite Price: From $148/night. (922 E Hwy 67, Duncanville TX 972-283-3000)
hilton garden inn duncanville
Hilton Garden Inn Hot Tub Suite Hotel in Duncanville, TX
Hilton Garden Inn Dallas/Duncanville

- Enjoy a romantic stay in one of the King Bed Rooms with Whirlpool at this mid-range Hilton hotel just 12 miles southwest of downtown Dallas. Fridge, microwave and coffee/tea maker are included. What Other Guests Liked: Enjoy the outdoor pool, fitness centre their American Grill restaurant which can bring dinner right to your room. Worth Knowing: Some reliability issues with elevators. 2023 ERV Rating*: 70% - Good. Whirlpool Tub Size: 1 Person. Whirlpool Suite Price: From $139/night. (800 North Main St, Duncanville TX 972-283-9777)
*ERV Rating: our unique, non-scientific ratings for romantic accommodation include:
Amenities: including Whirlpool bath or 

JACUZZI

®

Tub

,

scenic view, fireplace, lounge, etc
Location: proximity of hotel to restaurants, pubs, downtown, etc
Clientele: demographic the hotel attracts (couples, families, business travelers, etc)
Popularity: based on social media & crowd-sourced reviews 
Value: product offered compared to room rate 
Please Note: percentage ratings are not absolute but for comparative use only  
top hotels, getaways & packages on ERV
---