Houston
houston Hot tub suites - hotels with Private in-room jetted Tubs
FTC: This page uses affiliate links. More. 

---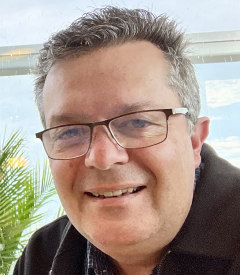 By: Greg Mattson, ERV Editor - Updated Jun 6, 2023
Headed to Houston, Texas? You need a stay in a hotel hot tub suite!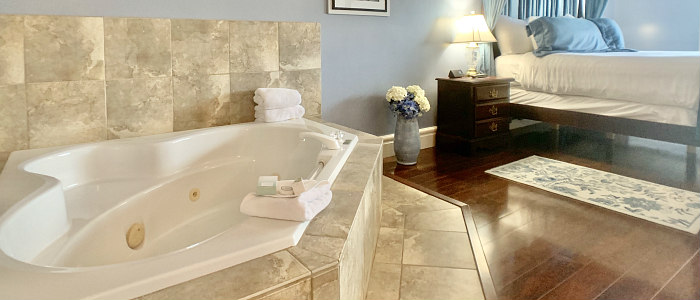 Add Some Romance to Your Houston Getaway with a Jetted Tub Hotel Suite
And we've got what you need, with this carefully crafted selection of romantic suites with in-room JACUZZI® Tubs and jetted spa tubs in Houston hotels and inns.
Why Our Houston Jetted Tub Suites Guide is Better - that's easy: we don't use automated lists. Instead, we both stay in and completely research all kinds of romantic hot tub rooms that are perfect for getaways and honeymoons. And, we only show you suites that are outfitted with a spa tub right inside the room.
Disclaimer: JACUZZI® is a registered trademark owned by Jacuzzi Inc. The use of the JACUZZI® trademark on this website is for informational purposes only. There is no relationship, connection or affiliation between this website and Jacuzzi Inc. or its related companies. Rates shown are approximate only and subject to change. Hotel rooms, jetted tubs and amenities can change, and may not be exactly as shown, so please contact the hotel or inn before making travel plans.
---
Spa tub suites in downtown houston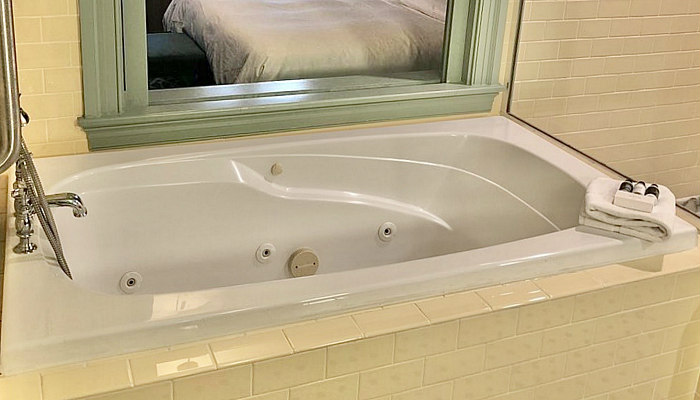 Jetted Tub Suite at Downtown Houston's Romantic Hotel ICON
Hotel ICON Autograph Houston Spa Tub Suites - A former bank, built in 1911, the romantic ICON hotel is a beautifully restored building that also offers a spa and restaurant. Deluxe King Rooms feature jetted tubs, luxury bath products, separate living area, mini-fridge and Keurig coffee makers. What Other Guests Liked: Free shuttle downtown, optional turn-down service, and later check-out (12:00 noon) Worth Knowing: No pool, and valet parking is $40/night. 2023 ERV Rating* for Downtown Houston Hot Tub Suites: 86% - Very Good. Whirlpool Tub Size: 2 Persons. Rate for Whirlpool Suite: From $229/night. (220 Main St, Houston TX 281-326-9040) √ COVID Safety Plan: Yes
video: ERV's Top 5 Houston Spa Tub suites
Check out our choices for the 5 best Houston hotel in-room Whirlpool tubs!
La Maison Midtown - Combining European decor with Southern charm, the La Maison offers a choice of 3 unique hot tub suites. Room 203 catches our eye, with it's veranda, four-poster bed and large spa tub. What Other Guests Liked: It's within walking distance of great restaurants and entertainment options. Beautiful common areas, including parlour and kitchen. Full hot breakfast included daily. Worth Knowing: A minimum stay may be required for reservations during certain special events. 2022 ERV Rating* for Houston B&B's with Private Jetted Tubs: 96% - Excellent. Whirlpool Tub Size: 1 Person. Rate for Whirlpool Rooms: From $169/night. (2800 Brazos St, Houston TX 713-529-3600) √ COVID Safety Plan: Yes
More Houston-Area Jetted Tub suites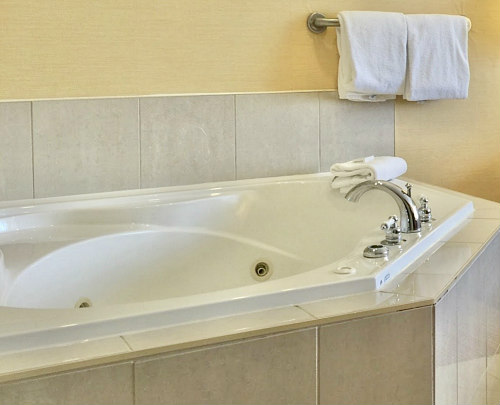 Book a Clarion Inn Whirlpool Suite
Clarion Inn Channelview

 - brand new and just waiting to welcome you for a great hot tub stay! They've got an attractive on-site bar and grill, and the King Bed Suites with large Whirlpool tubs include plush bedding and a pillow menu too for a great night sleep. What Other Guests Liked: Indoor salt water pool and guest sauna, onsite bar and grill, free parking. Worth Knowing: Pets are not allowed; no shuttle. 2022 ERV Rating*: 80% - Very Good. Whirlpool Tub Size: 1 Person. Rate for Jetted Tub Suite: From $169/night. (16311 East Fwy, Channelview TX  281-864-7457) √ COVID Safety Plan: Yes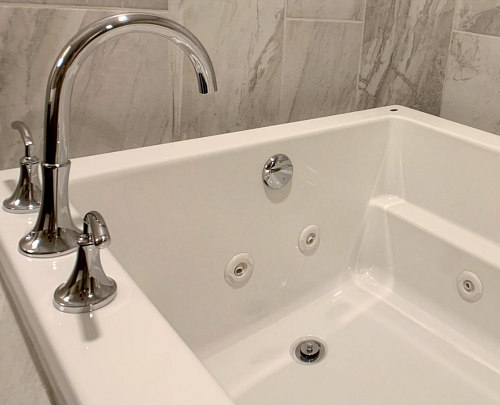 Northwest Houston Spa Tub Getaway
Country Inn & Suites by Radisson Houston NW - there's a spacious Whirlpool Suite with King Bed, wet bar, microwave, and mini-fridge. What Other Guests Liked: Free hot breakfast, outdoor pool and fire pit, and tons of shopping nearby. Worth Knowing: Hotel could use a refresh; no airport shuttle. 2022 ERV Rating*: 80% - Very Good. Whirlpool Tub Size: 2 Persons. Rate for Whirlpool Suite: From $158/night. (12915 FM 1960 Road W, Houston TX 832-478-9937) √ COVID Safety Plan: Yes
Houston Hilton Whirlpool Suites
Hilton Garden Inn Houston Westbelt
Hilton Garden Inn Houston Westbelt - Dependable Hilton quality is made even better with this Inn's 3 room/suite options that feature Whirlpool Tubs. What Other Guests Liked: The hotel is close to Chinatown shops and dining, and there's an outdoor pool and Pavillion Lounge. Parking is free. Worth Knowing: full room cleaning is done every fourth night/fifth day. 2022 ERV Rating*: 82% - Very Good. Whirlpool Tub Size: 1 Person. Rate for Whirlpool rooms and suite: From $127/night. (6855 West Sam Houston Pkwy South, Houston TX 713-270-6100) √ COVID Safety Plan: Yes
La Quinta Inn houston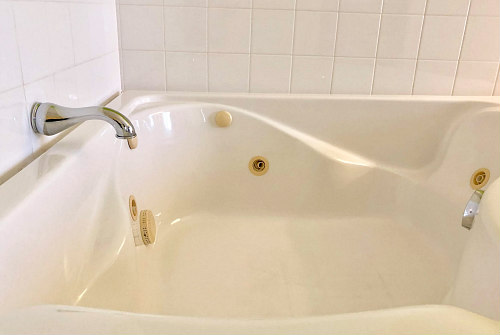 Reserve a La Quinta Jetted Tub Hotel Suite
La Quinta by Wyndham Houston Kingswood Airport - budget-friendly inn just 20 min north of downtown Houston, with King Bed Suites outfitted with hot tubs, mini-fridge and microwave. What Other Guests Liked: free hot breakfast, indoor pool and gym. Guest laundry facilities. Worth Knowing: Indoor pool not heated, some find it too cold. 2022 ERV Rating*: 86% - Very Good. Whirlpool Tub Size: 2 Persons. Rate for Whirlpool Tub Suite: From $110/night. (22790 Highway 59 N Kingwood, TX  281-359-6611) √ COVID Safety Plan: Yes
BW Galleria Spa Tubs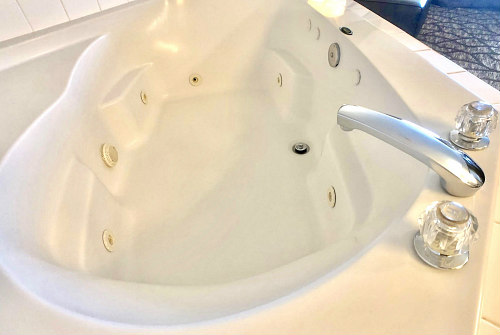 Best Western has Houston Whirlpool Suites
Best Western Galleria Inn & Suites - midtown Houston hotel close to many attractions. The King Bed Suites with a JACUZZI® Tub also includes a microwave, refrigerator, and full breakfast. What Other Guests Liked: located just across the street from the Gallery Wedding Venue, making it a highly convenient and excellent choice for affordable wedding night accommodation. Worth Knowing: No smoking allowed anywhere on premises, and no pets permitted. 2022 ERV Rating*: 74% - Good. JACUZZI® Tub Size: 2 Persons. Rate for Whirlpool Suite: From $136/night. (6229 Richmond Ave, Houston TX  713-783-8388) √ COVID Safety Plan: Yes
Comfort Suites Houston NW Vintage Park

- another good choice for couples looking for a cheap yet romantic hotel with private in-room jetted tubs in the NW Houston area. What Other Guests Liked: Outdoor pool & hot tub, fitness centre, free breakfast and Wi-Fi included. Worth Knowing: Some issues with cleaning have been reported. 2023 ERV Rating*: 74% - Good. Whirlpool Tub Size: 2 Persons. Rate for Whirlpool Suite: From $114/night. (21222 Tomball Pkwy, Houston, TX  281-370-2727) √ COVID Safety Plan: Yes
Comfort Suites Near Texas Medical Center-NRG Stadium

 - head on over to this inexpensive Comfort Suites for a relaxing stay, with Hot Tub Suites, outdoor pool and fitness center and complimentary hot breakfast. What Other Guests Liked: Shopping, Astros games, and the Houston Zoo are easy to get to. Worth Knowing: Swimming pool on the small side. 2022 ERV Rating*: 68% - Fair. Size of Whirlpool Tub: 2 Persons. Rate for Whirlpool Suite: From $146/night. (1055 McNee Road east of Main St, Houston TX 713-936-6712) √ COVID Safety Plan: Yes
More spa tub getaways In & Near Texas:
---
Whirlpool suites near houston airports
Best Western Plus Hobby Airport Inn & Suites
Best Western Plus Hobby Airport Inn & Suites

 - an "airport hotel without the airport hotel feel" is how this Best Western is described. And what better way to start (or end) a trip from HOU Airport than with an overnight in one of the King Whirlpool Suites here? What Other Guests Liked: Free hot breakfast and complimentary airport shuttle. Worth Knowing: No restaurants within walking distance. 2022 ERV Rating*: 82% - Very Good. Whirlpool Tub Size: Unavailable. Whirlpool Suites Rates From: $99/night. (8778 Airport Boulevard, Houston TX 713-943-2700) √ COVID Safety Plan: Yes
Book a Country Inn & Suites Jetted Tub Room Near IAH Airport
Country Inn & Suites by Radisson, Houston Intercontinental Airport East

- inside the King Bed Whirlpool Suites at this Radisson-chain hotel close to IAH Airport, you'll find complimentary HBO and a jetted spa tub big enough for 2 people. Free airport shuttle here as well. What Other Guests Liked: free breakfasts quite good, very good value for the price. Worth Knowing: some issues with Wi-Fi reliability. 2022 ERV Rating* for Spa Tub Suites Near Houston IAH Airport: 80% - Very Good. Whirlpool Tub Size: 2 Persons. Whirlpool Suite Rates: From $107/night. (20611 US 59 North, Humble TX 281-446-4977) √ COVID Safety Plan: Yes
---
budget houston motels with in-room hot tubs
Winchester Inn & Suites

 - basic budget-style motel offering King Bed rooms that come with a JACUZZI® Tub, microwave and refrigerator. What Other Guests Liked: Free breakfast and parking, guest laundry facilities. And just 20 minutes from downtown Houston. Worth Knowing: Whirlpool Tub can take a long time to fill. 2022 ERV Rating*: 78% - Good. Whirlpool Tub Size: 2 Persons. Rate for King with JACUZZI® Tub: From $85/night. (15625 US 59, Humble TX 281-441-3500) √ COVID Safety Plan: Yes
Regency Inn & Suites - newer motor-inn style accommodation with the emphasis on value. Reserve their King Suite with Spa Bath for a comfortable and affordable stay. What Other Guests Liked: Convenient access to museums, parks and professional sports, free parking. Worth Knowing: Only Walmart is within walking distance. 2022 ERV Rating*: N/A. Whirlpool Tub Size: 2 Persons. Rate for Whirlpool Suite: N/A (12349 FM 1960 West, Houston TX 832-688-8526) 
*ERV Rating: our unique, non-scientific ratings for romantic accommodation include:
Amenities: including Whirlpool bath or 

JACUZZI

®

Tub

,

scenic view, fireplace, lounge, etc
Location: proximity of hotel to restaurants, pubs, downtown, etc
Clientele: demographic the hotel attracts (couples, families, business travelers, etc)
Popularity: based on social media & crowd-sourced reviews 
Value: product offered compared to room rate 
Please Note: percentage ratings are not absolute but for comparative use only  
top hotels, getaways & packages on ERV
---