Texas Hill Country
Texas hill country hot tub suites - best hotel spa tub rooms for 2 
FTC: This page uses affiliate links. More. 

---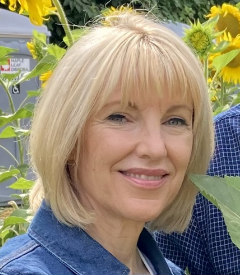 By: Maureen Mattson, ERV Asst Editor - Posted: Dec 18, 2022
Take your romantic Texas Hill Country getaway to the next level with these quality inns, hotels, and B&Bs that feature private in-room Whirlpool jetted tubs. From north of San Antonio to the western portions of Austin, the spa tubs in these accommodation picks will have you soaking your cares away in some of the most scenic spots of the state.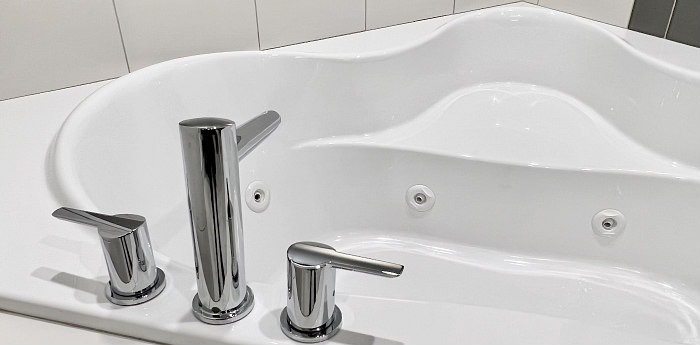 Start Planning Your Hot Tub Getaway Now in Texas Hill Country
Please Note: We only feature hotels, inns and cottages with jetted spa tubs right inside the room for your privacy and relaxation.
Disclaimer: JACUZZI® is a registered trademark owned by Jacuzzi Inc. The use of the JACUZZI® trademark on this website is for informational purposes only. There is no relationship, connection or affiliation between this website and Jacuzzi Inc. or its related companies. Rates shown are approximate only and subject to change. Hotel rooms, jetted tubs and amenities can change, and may not be exactly as shown, so please contact the hotel or inn before making travel plans.
fredericksburg, TX Suites with JACUZZI® Tubs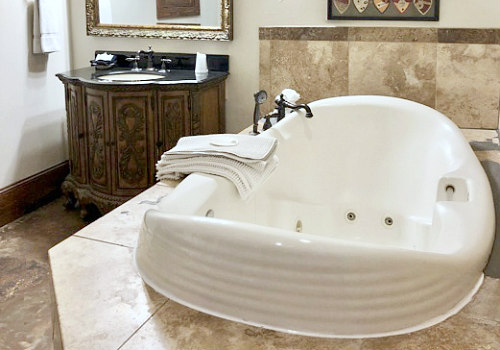 JACUZZI® Tub - Lodge Above Town Creek
The Winchester Lodge - Set on 2 acres just a block off Main Street, this creekside property offers guests a pool, fireplace, covered patio areas, and 24-hour lounge. All suites include coffee maker, microwave and refrigerator, and 10 of the 16 suites have JACUZZI® Tubs. 2021 ERV Rating*: 84% - Very Good. (415 E Austin St, Fredericksburg TX 830-997-1615)
Country Inn & Cottages
Country Inn & Cottages - Most of the 38 private cottages at this property feature JACUZZI® Tubs and fireplaces, plus kitchens and other conveniences. Breakfast vouchers for local eateries are included, and there is a seasonal outdoor pool. It's all set on a beautiful 200-acre ranch only 5 miles from the centre of Fredericksburg. 2021 ERV Rating*: 92% - Excellent. (1644 W US Highway 290, Fredericksburg TX 830-997-2185)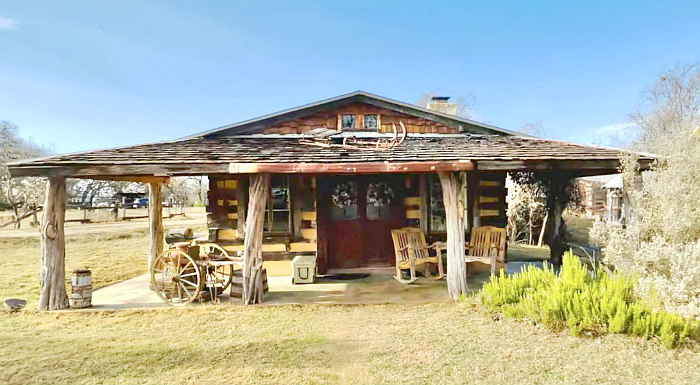 Cabin at Barons Creekside Resort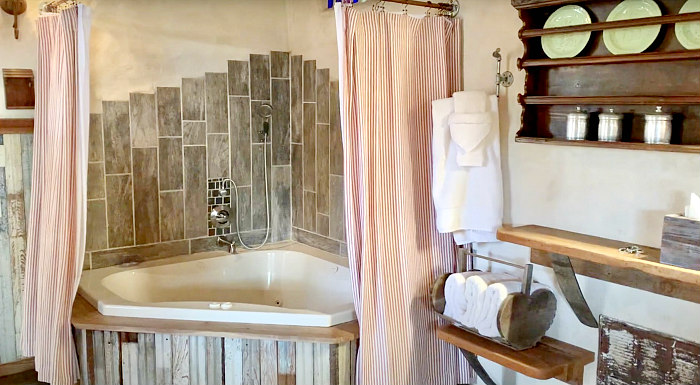 JACUZZI® Tub - Barons Resort, Fredericksburg
Barons CreekSide Cabin Resort - A vineyard and resort in the city of Fredericksburg with 2 creeks running amidst historic Swiss-style log cabins. You'll also find a hilltop chalet and 26 acres of trees and wildlife. Wine bar, bistro and live music included. Each cabin features 2-person JACUZZI® Tubs, wood-burning fireplaces and private porches with rocking chairs. 2021 ERV Rating*: 96% - Excellent. (316 Goehmann Ln, Fredericksburg TX 830-990-4048) 
---
new braunfels, tx spa tub suites
Cottage with In-Suite JACUZZI® Tub at the Comal Inn
Comal Inn - This lovely inn is just across the street from the Comal River and not far from the Main Plaza of downtown New Braunfels. It's also just minutes away from lovely Gruene, Texas. Cypress, Juniper, and Mountain Laurel Cottages feature JACUZZI® Tubs. 2021 ERV Rating*: 96% - Excellent. (424 Comal Ave, New Braunfels TX 830-629-6060)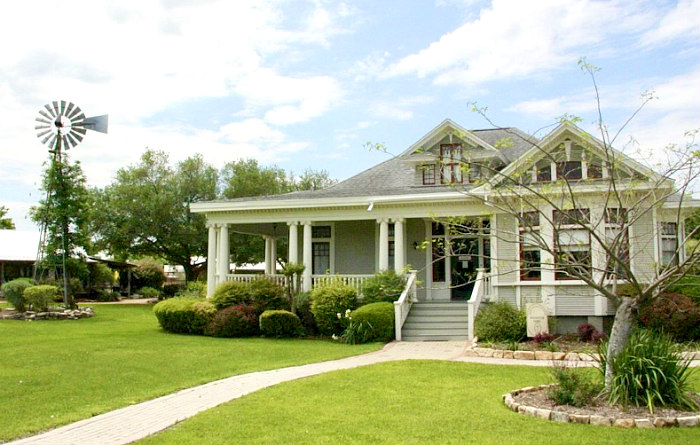 Gruene Homestead Inn
Jetted Tub Suite in New Braunfels, TX
Gruene Homestead Inn

- A lovely collection of historic houses dating from the 1850's that have been thoughtfully renovated to become a distinctive B&B. Ten buildings house twenty guest rooms on eight acres of land near the Guadalupe and Comal rivers. Ten suites offer jetted tubs. 2021 ERV Rating*: 94% - Excellent. (832 Gruene Rd, New Braunfels TX 830-606-0216) 
JACUZZI® TUBS & Views of Hill country
Gruene River Inn - Located on the banks of the Guadalupe River, and just 1 mile from the historic Gruene Hall, this inn is also close to some great shopping and dining opportunities for your romantic getaway. All 14 suites have JACUZZI® Tubs and panoramic views. 2021 ERV Rating*: 90% - Excellent. (1111 Gruene Rd, New Braunfels TX 830-627-1600)
Kuebler Waldrip Haus and Danville School Bed and Breakfast

- Ten romantic rooms located in three different, restored historic buildings. Daily breakfast, drinks, cookies, toffee and ice cream are complimentary. Choose the Hillside Hideaway (Honeymoon Suite) Or Katherine's Attic Room for their white marble JACUZZI® Tubs. 2021 ERV Rating*: 94% - Excellent. (1620 Hueco Springs Loop Rd., New Braunfels TX 830-625-8300) 
---
wimberley, tx In-room jetted tubs 
Blair House Inn - Situated on 22 acres of gorgeous Texas Hill Country land, the Blair House Inn offers spectacular views, complimentary breakfast, access to special Saturday dinners, a spa, and cooking school. All 5 of the luxury suites in the B&B include 2-person Whirlpool baths and romantic features like stone fireplaces and canopy beds. Private cottages with jetted tubs are also available. 2021 ERV Rating*: 94% - Excellent. (100 W Spoke Hill Dr, Wimberley TX 512-847-1111)
Creekhaven Inn & Spa- With private access to Cypress Creek and next to the famous Blue Hole swimming hole, this is truly the heart of Texas Hill County. In the main house, Wild Honeysuckle and Bluebonnet Rooms feature jetted tubs. In the Garden House, 7 of the 8 rooms have them, and in the "suites," Tree House and Water Lily are fully equipped for that romantic stay. 2021 ERV Rating*: 94% - Excellent. (400 Mill Race Ln, Wimberley TX 512-847-9344) 
Cypress Creek Cottages

- Pet-friendly romantic rentals with great views and access to Cypress Creek. Twelve spacious cabins and cottages, all offering private hot tubs on the decks, fireplaces and more. 2021 ERV Rating*: 96% - Excellent. (Scudder Lane, Wimberley TX 512-847-5950)
---
San Marcos, TX whirlpool suites
Crystal River Inn

- A real classic at the gateway to Texas Hill Country! This boutique hotel has 9 designer guest rooms in 2 historic buildings, plus a romantic garden and day spa. Walk a few blocks to the San Marcos River and indulge in a seated gourmet breakfast. The Barton Springs Room in the Thomas House building features a jetted tub. 2021 ERV Rating*: 74% - Good. (326 W Hopkins St, San Marcos TX 512-396-3739)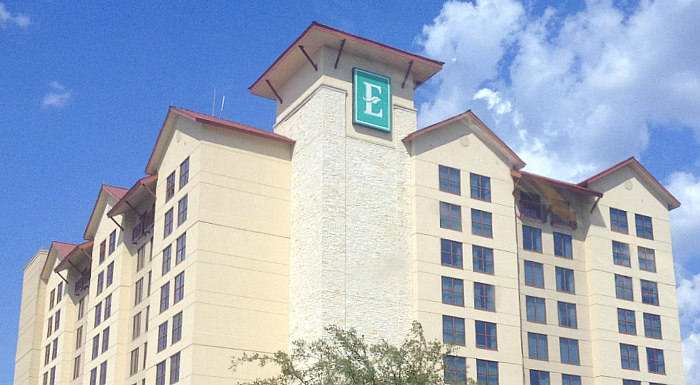 Embassy Suites San Marcos TX
Embassy Suites by Hilton San Marcos Hotel Conference Center & Spa - Close to the centre of downtown, and offering free breakfast, as well as in-room refrigerators, microwaves, and coffee makers, this Embassy Suites is a good option for your Texas Hill Country getaway. Splurge a bit on the Presidential Suite for the romantic Whirlpool Tub! 2021 ERV Rating*: 74% - Good. (1001 E McCarty Ln, San Marcos TX 512-392-6450)
Kyle tx jetted tub suites: 
Luxury Spa Tub Suite at the Sage Hill Inn & Spa
Sage Hill Inn & Spa - Set on 88 acres, this 16-room luxury inn has everything you need for a romantic and relaxing stay. The Garden Spa entrance and patio is integrated right into the main garden. For private in-room tubs, selected King Rooms, Suites and Cottages are equipped with Whirlpool Spa baths. Located in Kyle, TX, just 20 minutes from San Marcos. 2021 ERV Rating*: 96% - Excellent. (4444 W Fm 150, Kyle TX 512-268-1617)
medina, TX
Medina Highpoint Resort

-  Nestled on a countryside plateau, this scenic resort has plenty of outdoor activities to keep you entertained and in awe of your natural surroundings. The Comanche Suite in the Ranch House features a view of the landscaped back yard, a sun room, and the all-important jetted tub! 2021 ERV Rating*: 84% - Very Good. (23233 State Highway 16 N, Medina TX 800-225-0991)
blanco, TX Best western hot tub suite hotel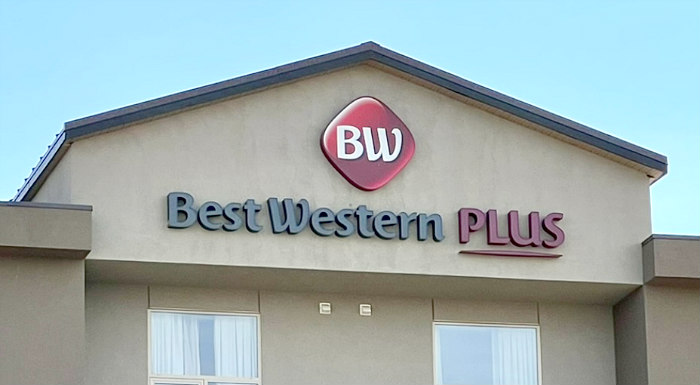 The BW Plus Blanco has a Honeymoon Suite with Jetted Tub
Best Western Plus Blanco Luxury Inn & Suites - Guests are conveniently close to wineries, brewing companies, golfing and many other outdoor adventures and attractions. Plenty of good shopping and dining options are nearby too. The Honeymoon Room is equipped with a jetted tub. 2021 ERV Rating*: 88% - Very Good. (2218 N US Highway 281, Blanco TX 830-833-5697)
Blanco Riverside Cottages - Get away to the riverside in a cottage or villa. Spectacular views of Blanco State Park and River, fun activities on the water, quaint shops and eateries nearby. Each cottage includes kitchenette, terrace, private parking, and…you guessed it: jetted spa tubs! King-bed villas have 2-person jetted tubs with stone showers. 2021 ERV Rating*: 92% - Excellent. (20 Main St, Blanco TX 830-330-4324)
lakeway, tx
Hampton Inn & Suites Austin Lakeway - Just minutes from Austin, the Hampton Inn and Suites in Lakeway is a great base for all your lake Travis fun. Free hot breakfast, a pool, and refrigerators, microwaves and coffee makers in every room make things convenient. The King Suite with Spa Tub is spacious and romantic. 2021 ERV Rating*: 92% - Excellent. (2013 Ranch Road 620 S, Lakeway TX 512-263-7474)
*ERV Rating: our unique, non-scientific ratings for romantic accommodation include:
Amenities: including Whirlpool bath or 

JACUZZI

®

Tub

,

scenic view, fireplace, lounge, etc
Location: proximity of hotel to restaurants, pubs, downtown, etc
Clientele: demographic the hotel attracts (couples, families, business travelers, etc)
Popularity: based on social media & crowd-sourced reviews 
Value: product offered compared to room rate 
Please Note: percentage ratings are not absolute but for comparative use only  
top hotels, getaways & packages on ERV
---