San Antonio Hot Tub Suites - Romantic in-room Spa Tub getaways
San Antonio, TX
FTC: This page uses affiliate links. More. 

By: Maureen Mattson, ERV Asst Editor - Updated: Aug 21, 2021
San Antonio has some wonderful hotels and inns with Whirlpool suites perfect for your romantic sojourn in this part of Texas. From the heart of downtown to the world-famous Riverwalk, many areas of the city can play host to you and yours for a most memorable jetted or JACUZZI® Tub getaway. 
Go for a Whirlpool Suite on Your San Antonio Getaway
Check out our picks below, and get started on a great hot tub getaway in South Central Texas... 

Disclaimer: JACUZZI® is a registered trademark owned by Jacuzzi Inc. The use of the JACUZZI® trademark on this website is for informational purposes only. There is no relationship, connection or affiliation between this website and Jacuzzi Inc. or its related companies. Rates shown are approximate only. Hotel rooms, jetted tubs and amenities can change, and may not be exactly as shown, so please contact the hotel or inn before making travel plans.
---
Whirlpool Suites - San Antonio Riverwalk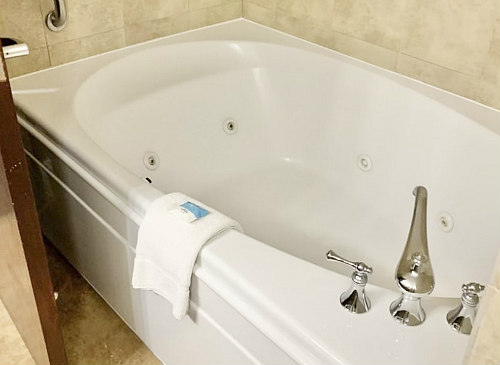 Jetted Tub - Drury Plaza, San Antonio
Drury Plaza Hotel San Antonio Riverwalk - Gotta love the 50-foot ceilings, stained glass windows and natural stone floors here.  Located right on the San Antonio River, you'll be walking distance from everything. Enjoy the rooftop pool, free breakfast, WiFi, snacks and soft drinks, plus microwaves and refrigerators. But it's the Jetted Tub Suites that make this place romantic. 2021 ERV Rating*: 90% - Excellent. (105 South Saint Mary's Street, San Antonio, TX 210-270-7799) √ COVID Safety Plan: Yes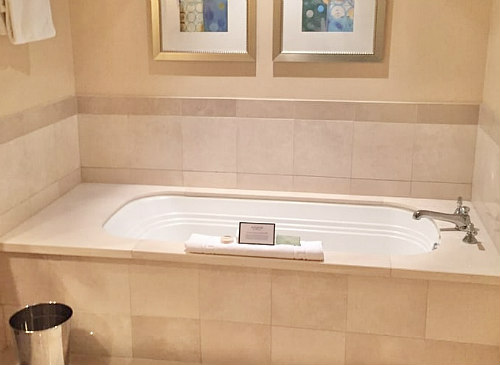 Riverwalk Hot Tub Suite - Mokara Hotel
Mokara Hotel and Spa - Ooolala! Here's a four-star romantic retreat on San Antonio's famous River Walk. Heated rooftop pool, full-service spa, and fine dining…  Guest rooms with high ceilings and marble finishes put you in the lap of luxury. Best of all, the Spa Rooms With Private Balcony have oversized jetted tubs for two, hardwood floors, and huge arched windows overlooking the River Walk. 2021 ERV Rating*: 92% - Excellent. (212 W. Crockett, San Antonio, TX 210-396-5800) √ COVID Safety Plan: Yes
more San Antonio Suites with JACUZZI® Tubs:
Inn on the Riverwalk

- Yup! Right on the famous San Antonio Riverwalk. Free parking, Wi-Fi and breakfast, plus snacks, tea, coffee and juice. In the main house, the Lonestar, Pearl and Yellow Rose Penthouse Suites all have JACUZZI® Tubs as well as 

shower facilities. In the Cottage House, The Alamo, Concepcion and Espada suites all have jetted tubs. 

2021 ERV Rating*: 86%

- Very Good.

(129 Woodward Place, San Antonio, TX 210-361-9673) √ COVID Safety Plan: Yes
---
downtown san Antonio hot tub suites
La Quinta by Wyndham San Antonio Downtown

- Want to be close to the Riverwalk while not right on it? This La Quinta is just south of the River Walk, and eight miles from the International Airport. Outdoor pool, fitness center, convenience market and gift shop are some of the perks. Breakfast, WiFi and parking? They've got you covered. Some King Suites have hot tubs for a more relaxing and romantic stay. 2021 ERV Rating*: 80% - Very Good. (100 W Cesar E Chavez Blvd, San Antonio 800-753-3757) √ COVID Safety Plan: Yes
Book a Romantic San Antonio B&B with Jetted Tub
More texas jetted tub getaways:
---
More San Antonio Jetted & JACUZZI® Tubs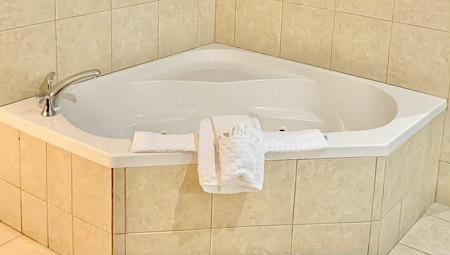 Whirlpool Tub - BW Plus San Antonio East
Best Western Plus San Antonio East Inn & Suites

- Just because you want a hot tub hotel getaway in San Antonio doesn't mean you have to spend a fortune. This Best Western Plus includes complimentary breakfast, indoor and outdoor pool, exercise facility, and free Wi-Fi. Comfortable King Suites have large Whirlpool Tubs. 2021 ERV Rating*: 88% - Very Good. (8669 I-10 E, San Antonio TX 210-661-8669) √ COVID Safety Plan: Yes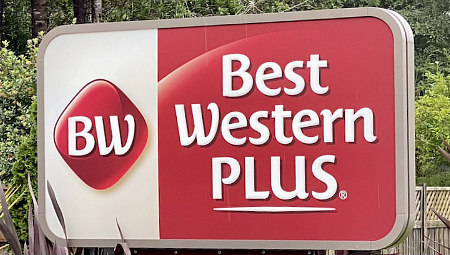 Book Your Stay at BW Plus Hill Country Suites
Best Western Plus Hill Country Suites

- If the heart of a big city is not your cup of tea, this Best Western is just 20 minutes north of downtown San Antonio. Take advantage of the usual Best Western freebies, plus comfortable Jetted Tub Suites which are great for a romantic getaway at this Hill Country location. 2021 ERV Rating*: 74% - Good. (18555 US Highway 281 N, San Antonio TX 210-490-9191) √ COVID Safety Plan: Yes
Drury Plaza Hotel San Antonio North Stone Oak

- Ah, the San Antonio Skyline! The Drury's rooftop pool and hot tub overlooking this beauty. Breakfast, Wi-Fi, snacks, and soft drinks are included, and you'll find a microwave and refrigerator in every room. For you romantics, The Whirlpool Suites with their oversized jetted tubs are just for you. 2021 ERV Rating*: 94% - Excellent. (823 North Loop 1604 East, San Antonio, TX 210-494-2420) √ COVID Safety Plan: Yes
Hyatt Residence Club San Antonio, Wild Oak Ranch

- Looking for the perfect Texas Hill Country getaway experience? This Hyatt hotel offers a lush landscape, hiking trails, unique indoor/outdoor pool, and a winding lazy river to keep you active. Play golf onsite and watch a movie under the stars. One, two and three bedroom suites all have spa-tubs as well as kitchenettes and refrigerators. 2021 ERV Rating*: 86% - Very Good. (9700 W Military Dr, San Antonio, TX 210-647-9300) √ COVID Safety Plan: Yes
Comfort Suites Near SeaWorld

- After a fun day at SeaWorld, head back to the Comfort Suites that is also just 14 km from the River Walk. Free hot breakfast, pool with hot tub, fitness centre, guest laundry and WiFi are added conveniences. Rooms include microwaves and refrigerators. Some King Bedroom Suites have 2-person whirlpool tubs and a more romantic vibe. 2021 ERV Rating*: 66% - Fair. (8021 Alamo Downs Pkwy, San Antonio, TX 877-424-6423) √ COVID Safety Plan: Yes
Fairfield Inn & Suites San Antonio North/Stone Oak

- Amuse yourselves at Six Flags, then come home to this Fairfield Inn's  indoor pool or fitness centre. Rooms are equipped with coffee facilities, WiFi and free HBO. Breakfast is included and some King guest rooms include whirlpool tubs to soothe your overworked sight-seeing muscles. 2021 ERV Rating*: 56% - Fair. (80 Trailcrest St, San Antonio, TX 210-491-9595) √ COVID Safety Plan: Yes
*ERV Rating: our unique, non-scientific ratings for romantic accommodation include:
Amenities: including Whirlpool bath or 

JACUZZI

®

Tub

,

scenic view, fireplace, lounge, etc
Location: proximity of hotel to restaurants, pubs, downtown, etc
Clientele: demographic the hotel attracts (couples, families, business travelers, etc)
Popularity: based on social media & crowd-sourced reviews 
Value: product offered compared to room rate 
Please Note: percentage ratings are not absolute but for comparative use only  
√ COVID Safety Plan: identifies hotels and inns that clearly indicate they are taking measures to prevent the spread of COVID-19.
Excellent Romantic Vacations - Top Pages
---