New Orleans Hot Tub Suites - Romantic hotel In-Room Spa Tubs in NOLA
New Orleans
By: Maureen Mattson, ERV Asst Editor - Updated: Jun 17, 2022
FTC: This page uses affiliate links. More. 

The perfect ending to a day of sight-seeing on Bourbon Street is a relaxing soak in a spacious Whirlpool or JACUZZI® Tub in a romantic New Orleans hotel or inn. Whether it's the French Quarter, the Garden District, or other popular areas, we've got some great suggestions for romantic jetted tubs in NOLA. 
Make Sure Your New Orleans Hotel Includes an In-Room Jetted Spa Tub
Disclaimer: JACUZZI® is a registered trademark owned by Jacuzzi Inc. The use of the JACUZZI® trademark on this website is for informational purposes only. There is no relationship, connection or affiliation between this website and Jacuzzi Inc. or its related companies. Rates shown are approximate only and subject to change. Hotel rooms, jetted tubs and amenities can change, and may not be exactly as shown, so please contact the hotel or inn before making travel plans.
Hampton inn spa Tub Suites in Downtown New Orleans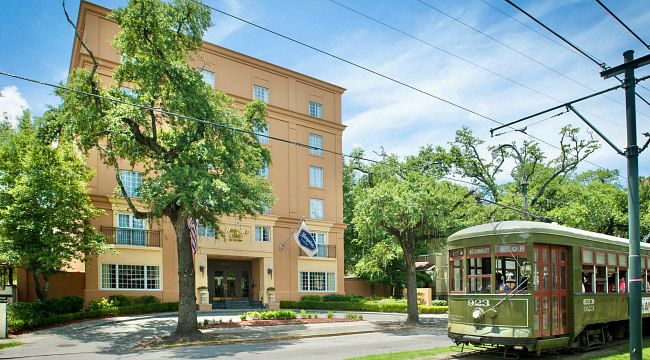 Hampton Inn Hot Tub Hotel, New Orleans
Hampton Inn New Orleans St Charles Ave/Garden District

- Savour the beauty of The Garden District as you walk amidst historic mansions and tree-lined streets. Swim a couple of laps in the pool. Internet is free, as is breakfast, and a "tea and cheese reception" each evening. The spacious King Studio Suite with Whirlpool includes a small kitchen. What Other Guests Liked: Good location close to the Zoo, city centre and a golf course. Trolley pick up right in front of the hotel takes you to Bourbon Street. Worth Knowing: Self-parking is an additional $20/night. No airport shuttle. 2022 ERV Rating for New Orleans Whirlpool Suites*: 90% - Excellent. Whirlpool Tub Size: Whirlpool Suite Price from $211/night (3626 Saint Charles Ave, New Orleans, LA 504-899-9990) √ COVID Safety Plan: Yes
Royal sonesta suites with JACUZZI® Tubs 
Whirlpool Tub - Royal Sonesta, New Orleans
Royal Sonesta New Orleans - Get an authentic French Quarter Experience on world-famous Bourbon Street! Marble, fountains, and chandeliers plus a tropical courtyard, outdoor pool and unique restaurants give you all the Southern charm you're looking for. The Club Junior Suite with JACUZZI

® 

Tub awaits your booking. What Other Guests Liked: All of the action of Bourbon Street right out the front door. Worth Knowing: Street and pool view rooms tend to experience more noise complaints. 2022 ERV Rating* for Hotel Suites with JACUZZI® 

Tub in New Orleans

: 84% - Very Good. JACUZZI® Tub Size: 2 Persons. Junior Suite Prices from $364/night. (300 Bourbon Street, New Orleans LA 1-504-586-0300) √ COVID Safety Plan: Yes
1896 O'Malley House
1896 O'Malley House

- From this historic Colonial home, you're a short streetcar ride away from the attractions you want to see in NOLA. Most of the eight unique rooms feature jetted tubs and granite countertops, and many have fireplaces and/or 4-poster beds.  Wireless DSL and snacks are included, and a full breakfast is served in an elegant dining room with marble fireplace and chandelier. Check out the grand piano and private courtyard with fountain! What Other Guests Liked: Rooms are iPad equipped. Great breakfast and friendly staff. Worth Knowing: 2-night minimum stay. Rooms are on the second and third floor and there is no elevator. 2022 ERV Rating*: 96% - Excellent. Whirlpool Tub Size: 1 Person. Whirlpool Suite Prices from $187/night (120 S Pierce St, New Orleans LA 504-380-9455)
canal street inn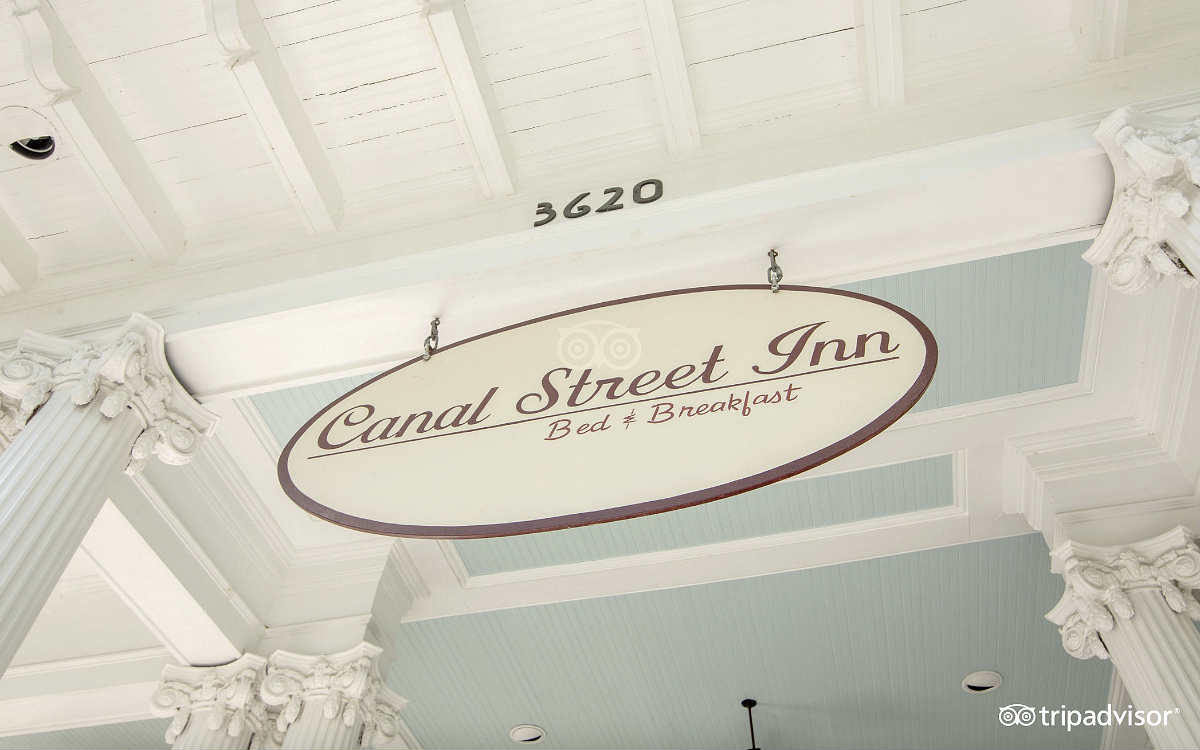 Canal Street Inn, New Orleans ©TripAdvisor
Spa Tub Suite - Canal Street Inn ©TripAdvisor
Canal Street Inn

- Right in the heart of The Big Easy, on world-famous Canal Street, this 1912 Greek Revival mansion nestles under Oak trees that are hundreds of years old. Relax in the beautiful garden or on the stately porch as you watch the streetcars roll by. Endymion Queen, Audubon King, and Canal Street King are all suites with spa tubs and truly romantic ambience. What Other Guests Liked: Less than 2 miles from the Botanical Gardens. Beautiful stained glass and antiques, communal fridge and microwave. Worth Knowing: Limited onsite parking; no pets. 2022 ERV Rating*: 96% - Excellent. Whirlpool Tub Size: N/A. Whirlpool Suite Prices from $175/night (3620 Canal St, New Orleans LA 504-483-3033) √ COVID Safety Plan: Yes
drury plaza new orleans jetted tub rooms
Book a King Suite w/Spa Bath at the Drury Plaza Hotel
Drury Plaza Hotel New Orleans Spa Tub Suites

- Ready to experience some Cajun culture? The Drury Plaza Hotel is located in the historic Cumberland Phone Building and is just a block from the St. Charles Trolley. After touring the nearby Garden District and French Quarter, return for a soak in your Jetted Tub Suite with King Bed. What Other Guests Liked: Free breakfast and Happy Hour drinks and food. Outdoor pool. Worth Knowing: Parking fee of $28/night. 2022 ERV Rating*: 94% - Excellent. Whirlpool Suite Size: 2 Persons. Whirlpool Suite Prices from $257/night. (820 Poydras Street, New Orleans LA 504-529-7800) √ COVID Safety Plan: Yes
w new orleans french quarter
W New Orleans French Quarter

- "W" is for Wonderful! Right in the heart of the French Quarter and adjacent to historic Jackson Square, W New Orleans' One Bedroom Studio Suite With Courtyard View has a gigantic Whirlpool and much more to tempt the romantic traveler. Courtyard architecture, picturesque views and private balconies….perfection. What Other Guests Liked: Picturesque views and great food at the restaurant. Worth Knowing: Pool is quite small. Parking is $49/night. 2022 ERV Rating*: 82% - Very Good. Whirlpool Tub Size: 2+ people. Whirlpool Suite Prices from $1079/night (316 Chartres St, New Orleans LA 504-581-1200) √ COVID Safety Plan: Yes
omni hotel new orleans
Omni Royal Orleans

- Looking for a luxury NOLA honeymoon suite in the heart of the French Quarter? The Omni Royal is an award-winning property with fine dining, wrought-iron balconies, poolside bar, and rooftop terrace. For the full private Whirlpool tub experience, ask about Premier Rooms with Jetted Tub, or the Petite and Penthouse Suites. What Other Guests Liked: Rooftop, heated saltwater pool has great views of the city and river below. Worth Knowing: Parking is valet-only for $50/night. 2022 ERV Rating*: 88% - Very Good. Whirlpool Tub Size: 1 Person. Whirlpool Suite Prices from $296/night (621 St. Louis Street, New Orleans LA 504-529-5333) √ COVID Safety Plan: Yes
More Spa Tub Suites in the South/southWest USA:
nola Best western Jacuzzi® tub suites:
Best Western Plus French Quarter Courtyard Hotel

-  The best of New Orleans is at your fingertips! Check out nearby Magazine Street and the Garden District, Bourbon Street and the popular French Market. Free Wi-Fi and breakfast; enjoy the pool and 24-hour front desk. The suites with a JACUZZI® Tub come with king-sized bed, microwave and refrigerator. What Other Guests Liked: Tropical courtyard, friendly helpful staff, great location. Worth Knowing: Garage parking is $39/night; elevator is very small. 2022 ERV Rating*: 80% - Very Good. Whirlpool Tub Size: 2 Persons. Whirlpool Suite Prices from $354/night (920 N Rampart St New Orleans 504-524-3333) √ COVID Safety Plan: Yes
edgar degas house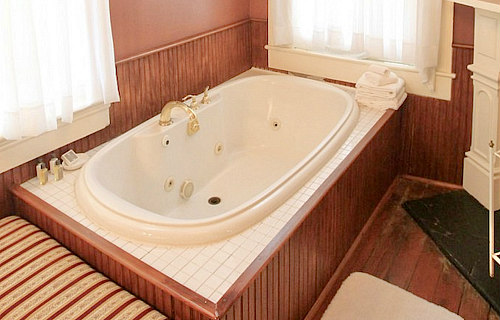 Edgar Degas House - Jetted Tub
Edgar Degas House Historic Home & Museum

- Degas House serves as a Museum to the French Impressionist and a charming B&B. Book the William Bell, Mathilde, or Desiree Suites for the full jetted tub experience. Private balconies, 4-poster beds, grand parlours, and serene views enhance your unforgettable experience. What Other Guests Liked: Later checkout (12:00 noon), free tour of the home guided by Degas' great grand nieces. Worth Knowing: minimum stay is 2 nights. 2022 ERV Rating*: 82% - Very Good. Whirlpool Tub Size: 1 Person. Whirlpool Suite Prices from $250/night (2306 Esplanade Ave, New Orleans LA 504-821-5009)
loews new orleans spa tub suites
Loews New Orleans - Spa Tub Suite
Loews New Orleans Hotel

- Every room has a view of the Mississippi River and the New Orleans skyline at this Travel + Leisure's "World's Best Hotels" winner. And it's within walking distance of so much of what you want to see in NOLA.  The Grand King Suite and Presidential Suite boast Whirlpool tubs and much more. What Other Guests Liked: Beautiful stained glass in the lobby; indoor salt water lap pool on the 8th floor; checkout is at 12:00 noon. Worth Knowing: $15/day resort fee. Parking: $49/night. Some weekends require a minimum stay of 2 to 3 nights. 2022 ERV Rating*: 88% - Very Good. Whirlpool Tub Size: 1 Person. Whirlpool Suite Prices from $445/night. (300 Poydras St, New Orleans LA 504-595-3300) √ COVID Safety Plan: Yes
hotel st. pierre
Hotel St. Pierre

- Hotel St. Pierre originated as authentic French Colonial cottages of the 1700's. It's now comprised of several historic buildings on both sides of the street. Nestled in a quiet residential section of the French Quarter, the tropical courtyards, balconies and fountains transport you to a more charming and romantic time.  Select rooms and suites feature JACUZZI® Tubs, and private balconies overlooking the French Quarter. What Other Guests Liked: Mini fridge and microwave available upon request. Great restaurants are just a few steps away. Worth Knowing: Parking is limited and is $40/night ($46 during special events) 2022 ERV Rating*: 74% - Good. Whirlpool Tub Size: 1 Person. Whirlpool Suite Prices from $233/night.(911 Burgundy St French Quarter New Orleans, LA 504-524-4401) √ COVID Safety Plan: Yes
maison St. Charles
Maison St.Charles Hotel, New Orleans ©TripAdvisor
Maison St. Charles Hotel

 - Close to the famous French Quarter, this hotel is located in the charming Garden District of New Orleans. The historic Charles Streetcar is right outside the front door, and you will be close to the aquarium, zoo, river cruises and other popular attractions. The Whirlpool Suite opens up onto a lovely courtyard and is perfect for honeymooners. What Other Guests Liked: Outdoor pool, onsite restaurant, fitness centre. Beautiful courtyard, lots of character. Worth Knowing: Limited parking available at a fee of $25/night. 2022 ERV Rating*: 60% - Fair.  Whirlpool Tub Size: N/A Whirlpool Suite Price from $237/night (1319 Saint Charles Ave, New Orleans, LA 504-522-0187) √ COVID Safety Plan: Yes
*ERV Rating: our unique, non-scientific ratings for romantic accommodation include:
Amenities: including Whirlpool bath or 

JACUZZI

®

Tub

,

scenic view, fireplace, lounge, etc
Location: proximity of hotel to restaurants, pubs, downtown, etc
Clientele: demographic the hotel attracts (couples, families, business travelers, etc)
Popularity: based on social media & crowd-sourced reviews 
Value: product offered compared to room rate 
Please Note: percentage ratings are not absolute but for comparative use only  
top hotels, getaways & packages on ERV
---