A Honeymoon in Alaska - Hotels, Packages, glaciers and more
Alaska
FTC: This page uses affiliate links. More.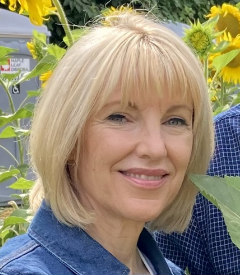 By: Maureen Mattson, ERV Asst Editor - Updated: Nov 25, 2021   

Celebrating your new life together in the grandeur and seclusion of Alaska could be an unforgettable experience! If you're a couple looking for a fresh air and wilderness after your big day, this is it.
Honeymooners Love Alaska's Glaciers, Mountains and Fresh Air!
And while we focus on an Alaska honeymoon vacation, these ideas are helpful to any couple looking at a romantic getaway in Alaska. We've chosen activities and hotel, inn and lodge accommodation in or near Anchorage, Fairbanks and Juneau, AK.

The Best Time to Visit Alaska - summer time. May to September brings mild to warm weather, and over 19 hours of daylight. But don't rule out a romantic winter vacation in Alaska - it's cold but there are great activities and spectacular sights, including the northern lights!

Here's proof that a honeymoon in Alaska doesn't have to mean "he fishes while she stays in the lodge!"
---
Romantic Places to Stay in Alaska - Resorts, Lodges and B&B's
Pearson's Pond Luxury Inn and Adventure Spa

 - you won't find a more luxurious Alaskan resort than Pearson's. This four-diamond romantic lodge is located in the rain forest surrounding Juneau, AK, and has romantic honeymoon suites with water views and Whirlpool tubs. Added luxury touches include robes, spa bath amenities, and en-suite dining. 2021 ERV Rating* for Alaska Honeymoon Inns: 96% - Excellent. (4541 Sawa Cir, Juneau AK  907-789-3771)
Sadie Cove Secluded Alaska Wilderness Lodge - grab a pair of fishing rods, go kayaking, view all kinds of wildlife, or just relax in the sauna and plunge pool at this romantic Eco Lodge. In a secluded spot 10 miles by boat from Homer, AK, the lodge has all-inclusive rates for your honeymoon that include private wood cabin accommodation, water taxi transfers, and all meals. 2021 ERV Rating* for Alaska Honeymoon Lodges: 86% - Very Good. (Kachemak Bay State Park, Homer AK  907-299-3001)
Juneau, AK Romantic Vacation Rentals
Waterfront Alaska Vacation Rental
Alaska Vacation Rental Bedroom
Juneau, Alaska Romantic Short-Term Vacation Rentals - for an affordable honeymoon in Alaska, these vacation rental guest houses, apartments and suites come with a full range of amenities and convenience. Some even offer jetted tubs and spa showers, and spectacular views! Check out these romantic places to stay in Juneau, AK at VRBO.com.  
More Romantic Alaska Hotels & B&B's
For an Inexpensive Alaska Honeymoon, Try the Fairfield Inn & Suites Anchorage Midtown
Fairfield Inn & Suites Anchorage Midtown - an inexpensive yet romantic Marriott hotel located in Anchorage. Suites have Wi-Fi, and the larger guest rooms even include a romantic Whirlpool tub. There's an indoor pool, free hot breakfast and complimentary airport shuttle. 2021 ERV Rating* for Anchorage AK Hotels: 72% - Good. (5060 A St, Anchorage AK 907-222-9000)
Harbor 360 Hotel - located in Seward, Alaska, this waterfront hotel offers it's guests panoramic harbor & mountain views, indoor pool & hot tub, plus free breakfast and Wi-Fi. 2021 ERV Rating* for Romantic Seaward Alaska Hotels: 84% - Very Good. (1412 4th Ave, Seaward AK  907-224-2550) 
The Sheraton Anchorage Hotel & Spa - home to one of the most popular Alaska spa resorts, this Sheraton is close to Anchorage Museum and the Alaska Railroad, and has water & mountain view rooms. 2021 ERV Rating*: 64% - Fair. (401 East 6th Ave, Anchorage AK  907-276-8700)
---
Alaska Honeymoon Packages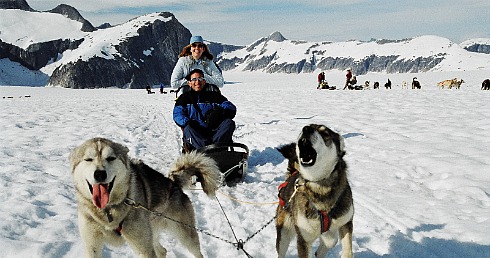 A Romantic Dogsled Ride For Your Alaska Honeymoon!
Honeymoon Adventures in Juneau -

as Alaska's most frequent cruise ship destination, Juneau offers a myriad of adventures and  excursions including hiking, glacier cruising, helicopter & float plane flight seeing, dog sledding, whale watching, fishing, kayaking and zip lining. Find out more about Juneau honeymoon excursions & packages, weddings, trails and travel tips

.   
Summer Honeymoons in Alaska
Here's a brief roundup of some of the most romantic spots to see during summer in Alaska:
Day trips from Anchorage - Denali National Park is one of the must-see Alaska sights, and is accessible from Anchorage by scenic flights.
Scenic Drive in Alaska - the Seward Highway south of Anchorage to Kenai Fjords National Park is one of the most scenic road journeys in Alaska. You'll can pass through gold rush towns, view icebergs and glaciers, see moose, elk or even bears at the Alaska Wildlife Conservation Center, or enjoy some whale watching at the Beluga Point Interpretive Site.
Fun Things for Couples to Do in Alaska - Newlyweds looking for an Alaska adventure vacation should not miss out on a romantic Alaska dogsled ride from Sled Dog Adventures in Fairbanks, AK.
Alaska Honeymoons in the Winter
Alaska is one of the Best Places for Viewing the Romantic Northern Lights
Romantic Alaska Northern Lights Viewing - imagine cuddling up together under a dazzling display of the Aurora Borealis! One of the best times of the year to see the Northern Lights in Alaska is around February and March, so if you can plan a winter honeymoon in Alaska then, you'll probably see an amazing performance.
Romantic Places to Stay & See the Northern Lights:
Aurora Borealis Lodge - the name says it all! Romantic lodge close to Fairbanks, yet in a secluded location away from the city lights. One of the best spots for viewing the spectacular Alaska Northern Lights. 2021 ERV Rating*: 96% - Excellent. (Cleary Summit Rd, 1906 Ridge Run Rd, Fairbanks AK 907-389-2812)
Pikes Waterfront Lodge

- comfortable and romantic lodge loaded with amenities like lounge room with billiard table, 14-seat theater, and an aromatherapy steam room and dry sauna. Room features include river views, fireplaces and jetted tubs. 2021 ERV Rating*: 84% - Very Good. (17600 Chena Hot Springs Road, Fairbanks AK  907-451-8104) 
Travel to Alaska
Flights to Alaska: Anchorage (ANC) is the main gateway to Alaska. Alaska Airlines has some of the cheapest airfare deals to Alaska, with direct flights to Anchorage from Seattle and several other cities. Distance and travel time from Seattle to Alaska are reasonable (1420 miles, 3.5 hrs flight time).
American, United and Delta also fly to Alaska from several of their main hubs, although it's mostly seasonal for the summer vacation and cruise period. Air Canada has seasonal direct flights to Anchorage from Vancouver.
top hotels, getaways & packages on ERV
---