Super Romantic BC Getaways in the Okanagan for Every Budget
Romantic Vacations Home › Canada › BC Getaways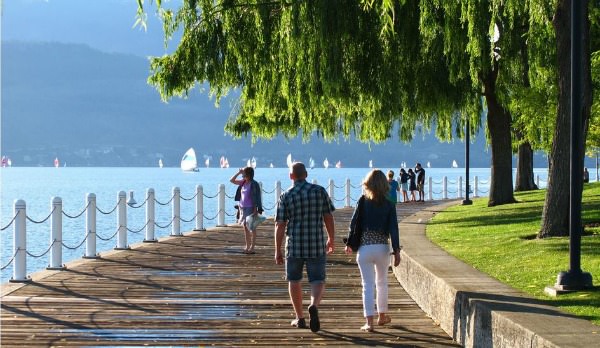 Kelowna and it's Waterfront are a Highlight of any Romantic BC Getaway
By Greg Mattson, ERV Editor - Updated: Apr 14, 2017
This page of weekend getaways in British Columbia's beautiful Okanagan features Kelowna, Penticton and Osoyoos. For many traveling couples from BC, Alberta and the Pacific Northwest, this attractive strip of vineyards and orchards along the lakes are the perfect spot for a romantic getaway in Western Canada.
The Best Time for Romantic BC Getaways: From June to September, the sun shines, the water's warm, and the orchards are bursting with fruit. Summer getaways in the BC interior are also the best time to explore fun little Okanagan communities, usually surrounded by a handful of small, friendly wineries anxious to have you sample the best of their vineyards.
Romantic Kelowna, BC Hotels & Inns 
Delta Grand Okanagan Resort
Summer Sunshine by the Pool at the Delta Grand Okanagan Resort in Kelowna, BC
Room at the Delta Grand Okanagan Resort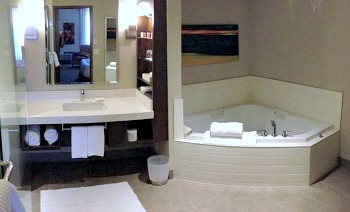 Jetted Tub Suite, Delta Grand Resort
The Delta Grand Okanagan Resort

-

 a luxury Okanagan resort with honeymoon and wine packages, on-site spa and Caribbean-themed casino. We booked a 3-night weekend getaway here in 

one of the ModeDeluxe rooms, with a King bed, jetted tub and spacious living area. The resort has a large outdoor pool, hot tub and Cabana Bar serving drinks. Just beyond the resort is the beautiful Waterfront Park with scenic views and a walkway along the shore of Okanagan Lake. 

What Other Couples Said:"Best Date Night"..."Spectacular Setting on the Lake"..."Room Upgrade & Bottle of Wine on our Anniversary". 2017 Rating* for Romantic Okanagan Resorts: 84%

 of Couples Rate It Excellent/Very Good. 

(1310 Water Street, Kelowna BC 250-763-4500)
Penticton BC Romantic Places to Stay
King Hot Tub Suite at the Ramada Penticton Hotel & Suites
Ramada Penticton Hotel & Suites - we can easily recommend this Ramada as an affordable and romantic resort in the Okanagan for any getaway or honeymoon. The King Bed Hot Tub Suites are the ones you want here, with fireplace and 2-person in-room Jacuzzi tubs. The pool area is spacious, and in the heat of summer, soaking up the sun poolside with a cocktail in your hand, you'll feel like you're in an all-inclusive in Hawaii or Mexico! What Other Couples Said: "Resort Atmosphere, Motel Prices"..."THE romantic place to stay in Penticton"..."Great pool & outdoor patio restaurant with fire pits". 2017 Rating* for Romantic Penticton BC Resorts:76% of Couples Rate It Excellent/Very Good. (1050 Eckhardt Ave West, Penticton BC  250-492-8926)
E'laysa Guesthouse & Vineyard Retreat - lovely Italian-inspired B&B overlooking the Lake and Naramatta Bench Wine Country. What Other Couples Said: "Wonderful Hosts, Gorgeous Grounds, Peaceful Vineyard"..."Gourmet Breakfast in the Garden"..."Stunning View of Lake Okanagan". 2017 Rating* for Romantic Penticton BC Bed & Breakfasts: 94% of Couples Rate It Excellent/Very Good. (1056 Corbishley Ave, Penticton BC  236-422-2122)
Romantic Getaways in Osoyoos, BC
Osoyoos, BC - Only 5 minutes from the Canada/USA border, this desert-like town along the lake is pretty much surrounded by vineyards, and is another great spot for a hot & sunny getaway in British Columbia.

Watermark Beach Resort Bedroom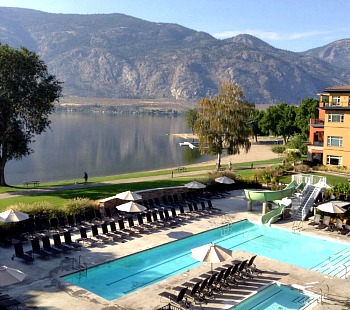 Watermark Beach Resort -Pool & Waterfront
Watermark Beach Resort - if you're romantic getaway brings you to the Southern Okanagan and the attractive center of Osoyoos, check out this waterfront resort near downtown. What Other Couples Said: "Grounds are Made for Walking Along the Beach"..."Comfortable, Clean and Well Stocked Condo"..."Wonderful Tapas at the Wine Bar". 2017 Rating* for Romantic Osoyoos BC Resorts: 88% of Couples Rate It Excellent/Very Good. (15 Park Pl, Osoyoos BC  888-755-3480)
Spirit Ridge at NK'MIP Resort

 - a new hotel with spacious "vineyard villas" and "desert suites". Just steps away from golf and a winery, with a pool, full spa, dining room and roof top terrace. 

What Other Couples Said:

"Great Wine, Horseback Riding, Soaker Tub!

"..."2 Pools, Quiet and Restful, We'll Be Back"..."Villa With a Great View of the Vineyard". 

2017 Rating* for Romantic Southern Okanagan Resorts: 82% of Couples Rate It Excellent/Very Good. (1200 Rancher Creek Rd, Osoyoos BC 844-755-4622)
---
Romantic Things to Do in BC's Okanagan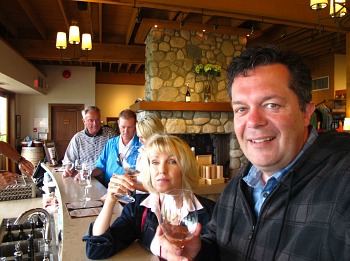 Sipping Some Riesling at Quail's Gate Winery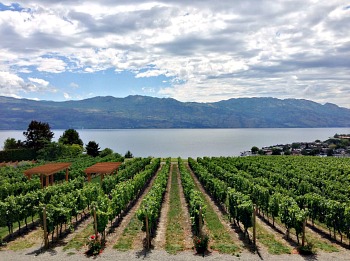 BC Wine Country Near Kelowna, BC
1. Okanagan Winery Tours - the number of wineries in Kelowna & the Okanagan valley has grown by leaps and bounds in recent years. One experience that really stood out was the tasting and bistro lunch we enjoyed at the Summerhill Winery in Kelowna. We found a very nice bottle of Gewurztraminer, and a fantastic lunch on the patio with a million-dollar view of Lake Okanagan! 
Okanagan wineries also take part in several wine festivals throughout the seasons which showcase wine tasting, culinary displays and live performances of music and theatre.
2. Sun & Fun at the Best Okanagan Beaches - there's a good supply of sandy and relaxing waterfront areas in the Okanagan. A couple of Okanagan beaches we really enjoyed were Skaha Lake in Penticton and Gyro Park in Kelowna.
Couple Floating Down the Okanagan River Channel in Penticton, BC
3. Tube Down the Penticton River Channel - this was Maureen's idea, and it was awesome. You can rent an inner tube and peacefully float down the river one way, and a bus picks you up for the return home. (215 Riverside Drive, Penticton, BC)
4. Kettle Valley Steam Railway - board the historic steam train for a beautiful ride and views of the Okanagan mountains, lakes, valleys and vineyards. They also combine the rail tour with wine tastings! (18404 Bathville Rd, Summerland, BC)  
5. Scenic Drives - south of Oliver, BC, highway 97 winds through a glorious region of fruit trees, vineyards and valleys. The Similkameen Valley is especially scenic, and you can easily loop back to Penticton through Keremeos, BC.
Other fun things to do on romantic BC getaways: water slides, mini-golf, and all kinds of water activities like boating, water skiing, and para sailing.
More Romantic Getaways in Western Canada:
Poolside Drinks at the Ramada Penticton Resort
Relaxing by the Lake in Summerland, BC
Okanagan Honeymoon & Romance Packages
Planning a weeding or honeymoon in Kelowna, Penticton or another part of the Okanagan?
The Hopeless Romantic BC Getaways & Romance Packages - for 2017, there's no less than 6 different romantic packages to choose from at this Kelowna B&B! Custom made for anniversary vacations, honeymoons and weekend getaways to the BC Interior, and priced as inexpensive add-ons from $99 to $149.
Kelowna BC Honeymoon Packages - A Vista Villa in Kelowna can make your wedding, anniversary or elopement in BC something special. Check into one of their in-room Jacuzzi® Suites, and enjoy evenings from their panoramic lake- view dining terrace.
Travel to the Okanagan
There are direct flights to Kelowna from Vancouver, Edmonton, Calgary and Toronto, Ontario (as well as from a few smaller cities in Western Canada). Penticton has scheduled flights from Vancouver only.
You can fly to the Okanagan on Air Canada and WestJet - they both have cheap flights to Kelowna from Calgary, Edmonton and Vancouver.
You can also drive to the Okanagan, as Kelowna is at the crossroads of several major highways. Here are some driving times and distances from several different cities:
Distance from Vancouver to Kelowna: 500 km (312 miles), driving time 4.5 hours.
Distance from Edmonton to Kelowna: 895 km (559 miles), driving time 8 hours.
Distance from Calgary to Kelowna: 600 km (374 miles), driving time 5.5 hours.
Distance from Banff to Kelowna: 475 km (296 miles), driving time 4 hours.
Distance from Toronto to Kelowna: 2775 km (1725 miles), flying time 4 hours.

*Based on Tripadvisor.com Ratings & Reviews from Couples as of April 2017.
Excellent Romantic Vacations - Top Pages
---