Toronto Hot Tub Suites - Hotel Spa Tub Rooms in Toronto, Brampton & More
Toronto, ON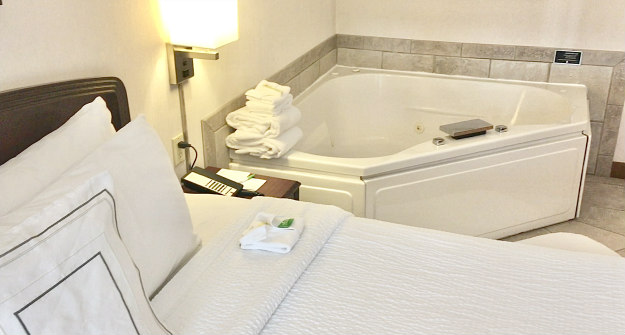 Find the Perfect Jetted Tub Suite in Toronto & the GTA
FTC: This page uses affiliate links. More. 

By: Maureen Mattson, ERV Staff Writer - Posted Mar 10, 2021
Find just the right romantic hotel with in-room Whirlpool in Downtown Toronto and the surrounding area. Whether your priority is a view of the famous CN Tower, being close to YYZ airport, or just cozying up and ordering room service, our list has you covered.

Disclaimer: JACUZZI® is a registered trademark owned by Jacuzzi Inc. The use of the JACUZZI® trademark on this website is for informational purposes only. There is no relationship, connection or affiliation between this website and Jacuzzi Inc. or its related companies. As hotel rooms and amenities can change, please check with each individual accommodation property before making travel plans. Please Note: rooms and tubs described may not be exactly as shown.
Hot Tub Suites in Downtown Toronto
Whirlpool Tub at the Hilton Garden Inn, Downtown Toronto
Hilton Garden Inn Toronto Downtown

 - Close to Toronto's main attractions and within walking distance of restaurants and entertainment venues, The Hilton Garden Inn offers a fitness center, indoor pool, onsite restaurant and more. Large rooms with a Whirlpool spa tub and fireplace are perfect for romantic travellers. 2021 ERV Rating* for Downtown Toronto ON Whirlpool Suites: 88% - Very Good. (92 Peter St, Toronto ON 416-593-9200)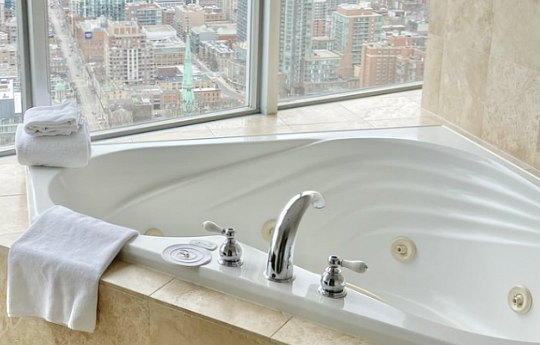 JACUZZI® Tub in a Downtown Toronto Suite - One King West
More Toronto Whirlpool Suites:
Best Western Plus Toronto North York Hotel & Suites

- Deluxe King suites have in-room hot tubs here, and all guests have access to 24-hour front desk, room service and newspaper. Wi-Fi and parking are free, and there's a pool, fitness center and onsite restaurant. It's all just minutes from both the airport and Downtown Toronto. 2021 ERV Rating*: 76% - Good. (50 Norfinch Dr, Toronto ON 905-760-9960)
Old Mill Toronto

 - This charming heritage building from 1914 set in a serene river ravine has become an elegant hotel. Features include a Tea Garden, fine restaurant, outdoor green spaces, wedding chapel and spa. Guest rooms include romantic touches like all-season fireplaces and 2-person JACUZZI® Tubs. 2021 ERV Rating* for Toronto, Ontario Suites With a JACUZZI®Tub: 90% - Excellent. (21 Old Mill Rd, Toronto ON  416-236-2641) 
Canada's Best Value Inn Toronto

- A variety of guest rooms are available at this location, which is close to local attractions and just minutes from Downtown Toronto. Kitchenettes and a spacious suite with a JACUZZI® Tub are two of the options. Light breakfast, movies, parking, Wi-Fi and 24-hr coffee/tea service are included. 2021 ERV Rating*: 62% - Fair. (650 Evans Ave, Toronto ON 416-255-5500)
---
Toronto Whirlpool Suites Near YYZ
The Westin Toronto Airport

- Offering a free shuttle service to and from the nearby airport, the Westin features a fitness studio, heated indoor pool, onsite restaurants and scenic outdoor spaces. Splurge on the Prime Minister Suite for a special occasion and indulge in a Whirlpool bath. 2021 ERV Rating*: 80% - Very Good. (950 Dixon Rd, Toronto ON 416-675-9444)
Best Western Plus Travel Hotel Toronto Airport

 - Here's a spacious airport hotel with free shuttle and parking, breakfast and Wi-Fi. Use the onsite restaurant and exercise room and enjoy the refrigerator and microwave found in every guest room. Book a Whirlpool Suite for a little more romance. 2021 ERV Rating*: 84% - Very Good. (5503 Eglinton Ave West, Toronto ON 416-620-1234)
More to See on ERV:
Brampton, ON Jetted Tub Hotel Suites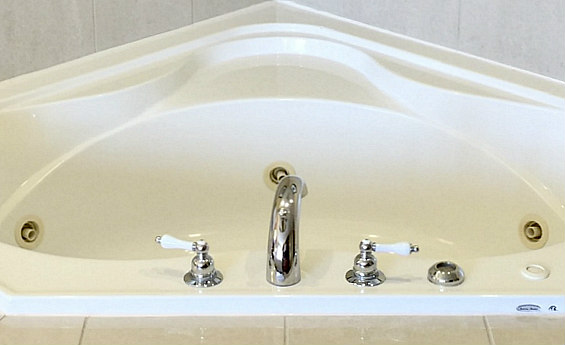 The Hampton Inn has Spa Tubs Suites in Brampton, ON
Hampton Inn by Hilton Brampton Toronto

- Just 20 minutes from Toronto's museums, galleries and entertainment, this hotel is just off Highway 107 and in close proximity to numerous restaurants. Flat screen TV, refrigerator, and free Wi-Fi available in-room. Parking and breakfast are complimentary as well. Whirlpool suites with King beds available. 2021 ERV Rating*: 92% - Very Good. (8710 The Gore Rd, Brampton ON 905-488-4888)
Fairfield Inn & Suites by Marriott Toronto Brampton

- The pool here has a waterslide, breakfast, Wi-Fi and parking are free, and there are several restaurants within walking distance. Whirlpools for two available in selected suites. Just 18 km from Toronto/Pearson Airport. 2021 ERV Rating*: 76% - Good. (150 Westcreek Blvd, Brampton ON 905-874-7177)
Hilton Garden Inn Toronto/Brampton

- Modern decor and innovative design greet you at this new Hilton Garden Inn. Onsite restaurant and nearby shopping are convenient, and the pool & fitness centre will keep you active. Parking and Wi-Fi are free. Whirlpool suites make it even more romantic. 2021 ERV Rating*: 84% - Very Good. (648 Steeles Ave E, Brampton ON 905-595-5151)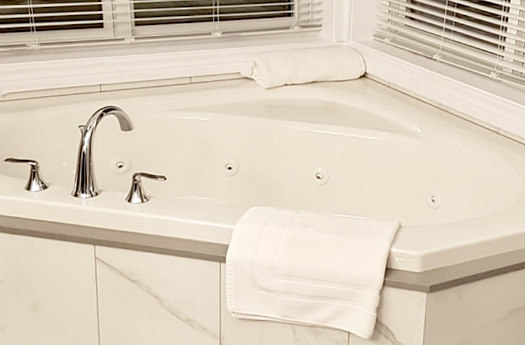 Whirlpool Tub - Newton Villa Honeymoon Suite, Brampton ON
Newton Villa Brampton Honeymoon Suite

- A luxury Bed and Breakfast located in a serene residential are. Enjoy a fun outdoor experience with patio and pool available to guests. Shared access to dining room and quiet reading lounge. House cleaning is provided and parking is available. The Honeymoon Suite boasts a corner 2-person jetted tub. 2021 ERV Rating*: 96% - Excellent. (8 Merrydale Court, Brampton ON 905-497-1007)
Comfort Inn

- Close to two of Ontario's largest shopping malls, the Comfort Inn has lots to 

offer. Free hot breakfast, Wi-Fi and parking, plus a currency exchange and 

valet cleaning service are available. The Deluxe King Bed Suite with 

Whirlpool Bath is the room of choice here. 2021 ERV Rating*: 64% - Fair. (5 Rutherford Rd S, Brampton ON 905-452-0600)
Holiday Inn Express Hotel & Suites Brampton

- Upgrade to a suite with King bed and Whirlpool Tub where you'll enjoy at 42-inch flat-screen HDTV, free Wi-Fi, newspaper, parking and breakfast. The suite also has a workstation, mini-fridge and Keurig coffee maker. Ask about purchasing an in-room amenity basket. 2021 ERV Rating*: 76% - Very Good. (10 Nevets Rd, Brampton ON 905-791-7433)
Monte Carlo Inn Brampton Suites

- Four types of jetted tub suites here at the Monte Carlo; each with complimentary internet, LCD TVs, refrigerator, microwave, coffee 

maker and of course, a JACUZZI

® 

Tub. Choose a Queen or King-sized bed; some suites come with extra living room space. (Deluxe Mezzanine Suite with the JACUZZI

® 

Tub is a two-storey room) 2021 ERV Rating*: 54% - Fair. (45 Coventry Rd, Brampton ON 289-203-1800)
---
Markham Hotel Hot Tub Suites
Whirlpool Suite at the Monte Carlo Inn & Suites, Markham ON
Monte Carlo Inn & Suites Downtown Markham

- A boutique hotel in a great location. Guests love the heated indoor saltwater pool and onsite Mediterranean restaurant. There are 6 types of Whirlpool suites, but the "Deluxe Mezanine' looks particularly attractive. 2021 ERV Rating*: 78% - Good. (7255 Warden Ave, Markham ON 905-752-2700)
Homewood Suites by Hilton Toronto-Markham

- Book a room at this all-suite hotel and enjoy the full kitchen, living area and bedroom. Breakfast and internet are complimentary and there's a free evening social Monday to Thursday. Whirlpool suites are spacious and comfortable. 2021 ERV Rating*: 82% - Very Good. (50 Bodrington Crt, Markham ON 905-477-4663)
Monte Carlo Inn Toronto Markham

- A sister property to the Monte Carlo Inn on Warden Ave. Close to shopping, golfing, restaurants and attractions. There are several styles of Whirlpool suites available, and the Romantic Gourmet Getaway Package is worth consideration. 2021 ERV Rating*: 64% - Fair. (8900 Woodbine Ave, Markham ON 905-513-8100)
---
Vaughn, On Spa Tub Suites
SpringHill Suites by Marriott Toronto Vaughan

- Spa suites here have Whirlpool Tubs for two! Luxury bedding, 43-inch TV, microwave and mini-fridge, pool and fitness centre clinch the deal. Free Wi-Fi and hot breakfast too. Plus, you're near some of the top Southern Ontario attractions. 2021 ERV Rating*: 86% - Very Good. (612 Applewood Cres, Vaughan ON 905-760-9960)
Holiday Inn Express & Suites Vaughan Southwest

- Eating: Complimentary hot breakfast and nearby dining options. Sleeping: Triple-sheeted, comfortable beds. Amenities: Indoor heated pool, fitness centre. Parking: free. Relaxing: Suites with Whirlpool Tub, king-sized bed and free Wi-Fi. 2021 ERV Rating*: 86% - Very Good. (6100 Highway 7, Vaughan ON 905-851-1510)
Hilton Garden Inn Toronto/Vaughan

- Just off the highway and close to shopping and outdoor adventures, you'll love the convenience and amenities. Free Wi-Fi and parking are available and there's a pool and restaurant onsite. Whirlpool suite and room service make a great romantic escape. 2021 ERV Rating*: 74% - Good. (3201 Highway 7, Vaughan ON 905-660-4700)
Monte Carlo Inn Vaughan Suites

- There are 6 styles of Whirlpool Suites here, but why not go all-out on the 2-storey Romeo and Juliet Suite? Have a great Italian meal at onsite Botticelli Ristorante. And since the hotel is just minutes away from the TTC Metro Station, Downtown Toronto is easily accessible. 2021 ERV Rating*: 70% - Good. (705 Applewood Cres, Vaughan ON 905-761-7170)
*ERV Rating: our unique, non-scientific ratings for romantic accommodation include:
Amenities: including Whirlpool bath or 

JACUZZI

®

Tub

,

scenic view, fireplace, lounge, etc
Location: proximity of hotel to restaurants, pubs, downtown, etc
Clientele: demographic the hotel attracts (couples, families, business travelers, etc)
Popularity: based on social media & crowd-sourced reviews 
Value: product offered compared to room rate 
Please Note: percentage ratings are not absolute but for comparative use only.  
Excellent Romantic Vacations - Top Pages
---