Ontario Hot Tub Suites & Whirlpool Hotel Rooms - Toronto, Ottawa, Niagara Falls & more
Ontario
FTC: This page uses affiliate links. More. 

By: Greg Mattson, ERV Editor - Updated: May 10, 2021   

An in-room JACUZZI® Tub or jetted spa tub is a great addition to any romantic getaway in Ontario. And with our unique guide to spa tub suites in the Heartland province, no matter where your holiday takes you, you'll be booking not just any hot tub room, but the nicest Whirlpool suites you'll find in cities all across Ontario.
The Romantic Getaway Suite at the Swiss Hotel in Ottawa, Ontario With a Jetted Spa Bath
Why Our Guide to Ontario Hot Tub Suites is Better: At Excellent Romantic Vacations we've carefully put together this listing after much research, so you can be sure that this is not simply a list of places to stay with outdoor hot tubs, but only hotel rooms and B&B's in Ontario with a private hot tub right inside the room.
Disclaimer: JACUZZI® is a registered trademark owned by Jacuzzi Inc. The use of the JACUZZI® trademark on this website is for informational purposes only. There is no relationship, connection or affiliation between this website and Jacuzzi Inc. or its related companies. As hotel rooms and amenities can change, please check with each individual accommodation property before making travel plans. Please Note: rooms and tubs described may not be exactly as shown.
---
Toronto, ON Suites With a JACUZZI
®

 Tub:
Suite With a JACUZZI® Tub - Old Mill, Toronto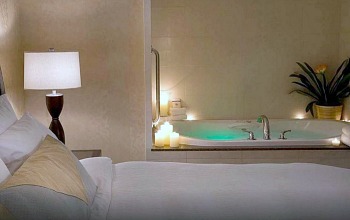 Hilton Garden Inn Toronto Spa Tub Suite
Old Mill Toronto 

-

frequently chosen as one of Toronto's most romantic hotels, the award-winning Old Mill is ready for your honeymoon, anniversary or getaway with a suite featuring a JACUZZI

® tub

. Each is elegantly themed and bestowed with additional amenities such as hardwood floors, panoramic views, four poster beds and separate showers. 

2021 ERV Rating* for Toronto, Ontario Suites With a JACUZZI®

Tub:

90% - Excellent. (21 Old Mill Rd, Toronto ON  

416-236

-2641

)
Hilton Garden Inn Whirlpool Suites - Toronto Downtown - adjustable Sleep System beds, Keurig coffee makers, fireplace, and romantic Whirlpool tubs with chromotherapy lighting await at this affordable Hilton In Toronto's downtown entertainment district. 

2021 ERV Rating*:

 80% - Very Good. (92 Peter St, Toronto ON 416-593-9200)
More Whirlpool Suites in the Greater Toronto Area: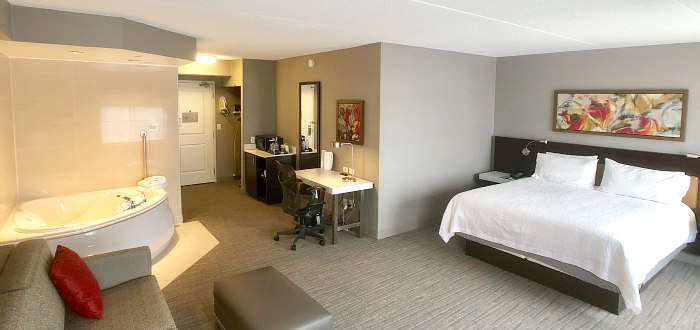 Whirlpool Suite at the Hilton Garden Inn Toronto Airport West - Mississauga
Toronto Airport/Mississauga, ON:

Hilton Garden Inn Toronto Airport West/Mississauga - we enjoyed 2 nights at this Mississauga Hilton hotel recently in one of their King Whirlpool Suites, and it was great. You're also going to love their pool and location, with restaurants and shopping just minutes away. 2021 ERV Rating* for Mississauga, Ontario Whirlpool Suites: 90% - Excellent. (1870 Matheson Blvd, Mississauga ON 905-361-6300)
Courtyard Mississauga Airport Corporate Centre West - who said airport hotels can't be romantic? This Marriott chain inn can check you into a beautiful room with a spacious Whirlpool tub in the corner. You can grab a cocktail or even dinner at the on-site Bistro Restaurant, and there's several romantic dining possibilities within 3 km's of the hotel. 2021 ERV Rating*: 78% - Good. (5050 Creekbank Rd, Mississauga ON 905-625-3555)
Burlington, ON:

Hilton Garden Inn Toronto/Burlington - this attractive suburb of Toronto is home to a Hilton Garden Inn with spacious King bed rooms (over 400 sq ft) that have amenities like Keurig coffee makers, flat screen TV, and a Whirlpool Tub near the bed. 2021 ERV Rating* for Burlington, ON Jetted Tub Suites: 82% - Very Good. (985 Syscon Rd, Burlington ON 855-277-5057)
---
Niagara Falls In-Room Whirlpool Suites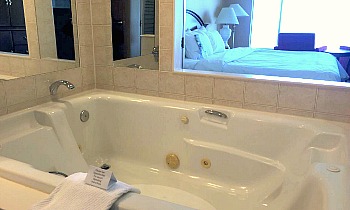 Whirlpool Tub with View of Niagara Falls!
Fallsview King Room with View
Niagara Falls Marriott Fallsview Whirlpool Suites - experience your dream Niagara Falls romantic stay at the Marriott Fallsview in one of their Whirlpool suites. From the Fallsview King and Junior Suites all the way to their exquisite Grand Niagara Suite with Fireplace, you can enjoy a deluxe view of the falls and a jetted tub for 2. 2021 ERV Rating* for Niagara Falls ON Hot Tub Suites: 82% - Very Good. (6740 Fallsview Blvd, Niagara Falls ON 905-357-7300)  See More of this Niagara Falls Honeymoon Suite here.
Niagara-on-the-Lake Spa Tub Suites
Whirlpool Tub, Hilton Niagara on the Lake
Large Whirlpool Tub, Harbour House Hotel
Hilton Garden Inn Niagara-on-the-Lake - enjoy all the attractions of the Niagara Wine Region, and then come home to this inexpensive Hilton hotel with in-room 2-person Whirlpool tubs. Indoor pool, fitness center and on-site dining are just a few more of the amenities here. 2021 ERV Rating* for Niagara-on-the-Lake Whirlpool Suites: 84% - Very Good. (500 York Rd, Niagara-on-the-Lake, ON 905-984-4200)
Harbour House Hotel - a destination as romantic as the Niagara Peninsula requires a great couples inn, and the Harbour House meets the grade with afternoon wine & cheese reception, as well as King suites with fireplace and in-room Whirlpool tubs. 2021 ERV Rating*: 94% - Excellent. (85 Melville St, Niagara-on-the-Lake, ON 866-277-6677)
---
More Southern Ontario In-Room Hot Tub Suites
Attractive & Affordable Whirlpool Hotel Suite in London, ON: Marriott Courtyard
London, Ontario:

Marriott Courtyard London - check into this sparkling clean Courtyard Hotel in London, and you'll soon be soaking in their spacious King Room with Spa Bath. Their Bistro Restaurant serves up hot meals as well as Starbucks coffee, and there's numerous romantic restaurants and brew pubs within 2 km's of the hotel.

 2021 ERV Rating* for London ON Whirlpool Suites:

 80% - Very Good. (864 Exeter Rd, London ON  519-680-0077)
hamilton, ON hot tub suites
Best Western Hamilton Whirlpool Suite
Best Western Premier C - very attractive boutique hotel in Hamilton with romantic Italian theme rooms. Choose the King Suite with Whirlpool Tub, and dine at the on-site Baci Ristorante for a wonderful getaway or honeymoon experience. 2021 ERV Rating*: 94% - Excellent. (1530 Stone Church Rd E, Hamilton ON 855-205-4638)
Jetted Spa Tub - Staybridge Suites, Hamilton
Windsor, ON:

Holiday Inn & Suites Windsor

 - located close to both downtown Windsor and Detroit, this Holiday Inn has suites available with Whirlpool tubs in the bath. Fitness center, heated indoor pool and on-site dining are some of the amenities you'll find here as well.

 2021 ERV Rating*: 72%

 - Good. 

(1855 Huron Church Rd, Windsor ON 519-966-1200)
Kitchener, ON: 

Kitchener Inn & Suites - this hotel has been the first choice for many couples for honeymoons and anniversary getaways in Kitchener, and in the bathroom of the King Suites you'll find a nice n' bubbly Whirlpool tub big enough for 2 people. 

2021 ERV Rating*:

 88% - Very Good. (4355 King St East, Kitchener ON  519-650-6090)
Oshawa, ON:

Holiday Inn Express Whitby Oshawa - if your getaway needs a romantic overnight in a hotel in or near Oshawa, try this Holiday Inn. Besides the usual IHG perks like free buffet breakfast and complimentary Wi-Fi, you'll thoroughly enjoy the large in-suite hot

 

tubs. Lots of great dining options nearby too. 2021 ERV Rating* for Oshawa ON Hot Tub Suites: 70% - Good. (180 Consumers Drive, Whitby ON 877-859-5095)
Belleville, ON:

Fairfield Inn & Suites Belleville - located near Hwy 401 and lots of shopping, dining and entertainment, this Marriott Fairfield Inn offers their guests comfortable rooms, free breakfast and an indoor pool. Their Spa Suites are outfitted with bubbly romantic jetted tubs big enough for the 2 of you. 2021 ERV Rating* for Belleville ON Jetted Tub Suites: 76% - Good. (407 N. Front St, Belleville ON 613-962-9211)
Guelph, ON:

Hampton Inn & Suites Guelph - couples visiting Guelph will appreciate this Hampton Inn's King Bed rooms with corner Whirlpool tubs. Plus, there's complimentary beverages, hot breakfast, Wi-Fi and an indoor pool for your year-round enjoyment. 2021 ERV Rating* for Guelph, Ontario Jetted Tub Suites: 80% - Very Good. (725 Imperial Rd North, Guelph ON 519-821-2166)
Woodstock, ON:

Best Western Plus Woodstock Inn & Suites - this new Woodstock Hotel is very up-to-date (they even have Tesla electric car chargers!), and their Queen rooms have a nicely located corner Whirlpool tub. 2021 ERV Rating* for Woodstock, Ontario Whirlpool Suites: 88% - Very Good. (811 Athlone Ave, Woodstock ON 519-537-2320)
More Travel + Romance in Ontario on ERV:
---
Eastern Ontario Honeymoon Suite With a Jetted Spa
 

Tub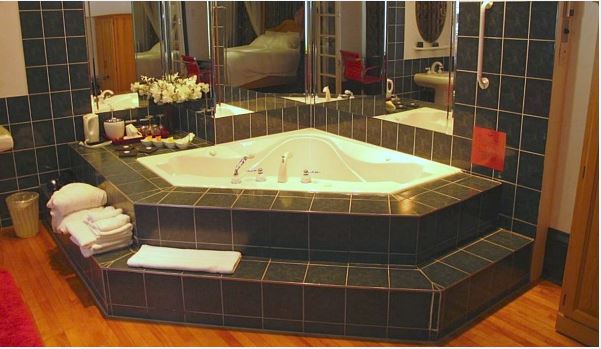 Super-Romantic Jetted Spa Tub at the Swiss Hotel's Honeymoon Suite in Ottawa, Ontario
Swiss Hotel Ottawa - we had the pleasure of a 2-night stay at the Swiss Hotel's Romantic Getaway Suite, and can highly recommend it as one of the most romantic honeymoon suites we've seen in Ottawa or anywhere in Ontario. You'll find a gorgeous double heart-shaped jetted spa bath

 

tub along with a very romantic four poster bed. This hot tub hotel is located close to downtown Ottawa with plenty of restaurants and shops nearby. 2021 ERV Rating* for Ottawa ON Hotel Suites With a Hot Tub: 84% - Very Good. (89 Daly Ave, Ottawa ON  613-237-0335) 
Kingston, ON
Best Western Fireside Inn - 

Every room has a fireplace, free internet and complimentary breakfast at this charming hotel near Thousand Islands. Outdoor pool, onsite restaurant and cocktail lounge are convenient, and three specialty suites feature Whirlpool Tubs. 

2021 ERV Rating*: 86% - Very Good. (1217 Princess St, Kingston ON 613-549-2211)
---
Central Ontario Hot Tub Suites
Peterborough, ON:

Comfort Inn Suites - an award-winning and inexpensive hotel in NW Ontario, with honeymoon suites outfitted with comfortable Spa Tubs and a fireplace. Free breakfast and Wi-Fi are included. 2021 ERV Rating* for Peterborough ON Spa Tub Suites: 68% - Fair. (1209 Lansdowne St W, Peterborough ON 855-973-7216)
Northern Ontario Hotel Rooms with Jetted Tubs
Sault Ste. Marie, ON:

Holiday Inn Express - Sault Ste. Marie - newly renovated and ready to welcome you with a hot breakfast and free parking. Located close to the waterfront, with the highlight of the rooms of course being the comfortable Whirlpool tubs. 2018 ERV Rating* for Sault Ste. Marie ON Whirlpool Suites: 88% - Very Good. (320 Bay St, Sault Ste. Marie ON 877-859-5095)
Sudbury, ON:

Hampton Inn Sudbury - look for the King Deluxe Whirlpool suites when booking here. This Hilton-chain hotel has a good location close to major highways, and also includes a fitness room and indoor pool. 2021 ERV Rating* for Sudbury ON Hot Tub Suites: 84%

 - Very Good.

(2280 Regent St, Sudbury ON 705-523-5200)
Thunder Bay, ON:

Days Inn & Suites by Wyndham Thunder Bay - an award-winning hotel perfect for your next NW Ontario getaway. They have King bed suites nicely outfitted with a jetted tub, fireplace and small fridge.

2021 ERV Rating* for Thunder Bay, Ontario Spa Tub Suites:

88% - Very Good. (645 Sibley Dr, Thunder Bay ON 807-622-3297)
*ERV Rating: our unique, non-scientific ratings for romantic accommodation include:
Amenities: including Whirlpool bath or 

JACUZZI

®

Tub

,

scenic view, fireplace, lounge, etc
Location: proximity of hotel to restaurants, pubs, downtown, etc
Clientele: demographic the hotel attracts (couples, families, business travelers, etc)
Popularity: based on social media & crowd-sourced reviews 
Value: product offered compared to room rate 
Please Note: percentage ratings are not absolute but for comparative use only.  
Excellent Romantic Vacations - Top Pages
---