Top 10 Romantic Hotels in San Francisco - New Survey Results for 2015 
Romantic Vacations Home › Romantic Hotels › San Francisco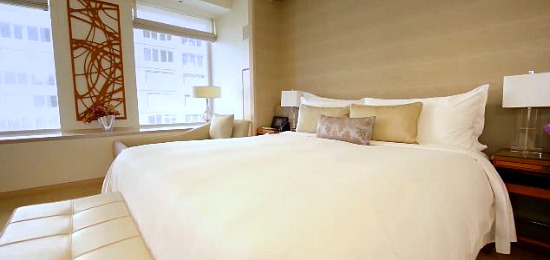 Room at the St Regis, No.8 on our List of Top 10 Romantic Hotels in San Francisco
By Greg Mattson, ERV Editor - Updated: June 24, 2014
Here's our choices for the best San Francisco romantic hotels. The most romantic places to stay in "San Fran" each have an atmosphere and experience all their own. A big part of your romantic vacation is where you stay!
We created this unique listing by combining Excellent Romantic Vacations own San Francisco hotel listings with research we conducted in 2014 that compiled the top 10 romantic hotel ratings from several other hotel review sites and web pages:
"Crowdsource" sites including TripAdvisor.com, Yelp.com and Raveable.com
Hotel sites like Hotels.com and Five Star Alliance.com 
The Top 10 Romance Hotels in San Francisco:
1. The Huntington Hotel – a family-owned property atop Nob Hill. The spacious rooms hearken back to it's days as a luxury apartment house, and the hotel has a beautiful spa. The California Street Cable car makes it's way past the front door, a fitting reminder of the Huntington's stately past.
Room Price/night: $195+ (1075 California Street, San Francisco, CA 800-227-4683) 
2. Mandarin Oriental – right in the heart of the city. San Francisco's 3rd tallest building, so the panoramic views of the city and Bay are some of the best you'll find anywhere. Rooms feature Egyptian cotton sheets, minibar, binoculars (did we mention the view?), and twice-daily maid service. 
Room Price/night: $450+ (222 Sansome Street, San Francisco, CA 800-622-0404)
3. Hotel Drisco – a real Pacific Heights beauty. Elegant setting with nice views of the Bay and the city skyline. Close to the wharf and Union Square. Nice little extras like plush robe & slippers, evening wine social, and continental breakfast included.
Room Price/night: $330+ (2901 Pacific Avenue, San Francisco, CA 800-634-7277)
| | | |
| --- | --- | --- |
| Huntington Hotel, San Francisco | Fairmont Hotel - 20th Floor View | Mandarin Oriental Hotel |
4. Hotel Monaco – grand but "chic" at the same time! An eclectic boutique hotel with canopy beds, whirlpool tubs, bath amenities, turn-down service, and lots more. Evening wine and cheese, and an on-site health club and "Roman-bath" style spa.
Room Price/night: $225+ (501 Geary Street, San Francisco, CA 866- 622-5284)
5. The Ritz-Carlton – not just a place to stay, but a destination in itself! A landmark San Francisco inn, and the only hotel in North America to receive both the Mobil Travel Guide's 5 Stars and AAA's 5 Diamonds award. Even dining here is an experience. Certainly one of the most luxurious places to stay in Northern California.
Room Price/night: $290+ (600 Stockton Street at California Street, San Francisco, CA 800-241-3333)
6. The Fairmont San Francisco - marble baths, vaulted ceilings and extra-long mattress are a few of the amenities in this fully restored classic. Contemporary King Tower Building Rooms have great views of the city. Romantic Rendezvous Packages available.
Room Price/night: $260+ (950 Mason Street, San Francisco, CA 866-540-4491)
Deals on San Francisco Hotels:
San Francisco Hotels from $99/night - Compare Best Deals at Top Romantic Inns
Petite Auberge from $152, Huntington Hotel from $185, Ritz Carlton from $259
7. Petite Auberge - add a touch of French flair to your romantic getaway in San Francisco. It will definitely feel European, as the rooms are on the smaller side, and many couples report that the best rooms are on the quieter top floor. Lots of free amenities make it an excellent value: buffet breakfast, afternoon cookies, evening wine and appetizers, tea & coffee and newspaper. 
Room Price/night: $155+ (863 Bush St, San Francisco, CA  800-365-3004)  
8. St. Regis San Francisco - pure downtown luxury (as you can tell by the cost!), with sparkling views of the city from many rooms. Spacious suites are ideal for honeymoons or an anniversary splurge, and the hotel offers the full resort experience with a spa, fitness center and heated lap pool. The stellar staff get high marks, and couples staying at the St. Regis can collect SPG member points. One negative to report: daily fee charged for WiFi (why do luxury hotels do this??). 
Room Price/night: $510+ (125 3rd St, San Francisco, CA  415-284-4000)
9. Four Seasons -  when you check into a Four Seasons, you expect the best, and their San Francisco property delivers. Rooms here have floor-to-ceiling windows facing the city, with deep soaker tubs and marble bathrooms. Same Negative as the St. Regis though: another top-end chain hotel with pay-for WiFi.  
Room Price/night: $475+ (125 3rd St, San Francisco, CA  415-284-4000)
10. Hotel Vitale - if you like views, you'll love the Vitale. Their panoramic suites serve up 180 degree views of the city and harbor, including the Golden Gate Bridge. You can get really comfortable here - they've got amenities like a rooftop spa with soaking tubs and a "pillow library". Another plus is the location, right across the street from the Ferry Building Marketplace, an epicenter of gourmet food. Note: beware of steep valet parking rates of $50/night.  
Room Price/night: $300+  (8 Mission St, San Francisco, CA  415-278-3700)  
*Room prices are an estimate only based on averages obtained online from both the hotel itself and leading hotel supply sites. 
Excellent Romantic Vacations - Top Pages
---