Kentucky Whirlpool Suites
kentucky hot tub suites - hotel in-room spa tubs starting at $98/Night
FTC: This page uses affiliate links. More.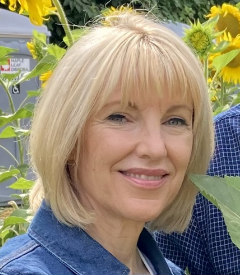 By: Maureen Mattson, ERV Asst Editor. Posted: Jun 4, 2023
Kentucky has a lot to offer: from Bourbon Country, to horse farms, to beautiful national parks. You're going to need a romantic and peaceful place to rest your head as you traverse the the countryside, so... 

Book a Luxurious & Romantic Spa Tub Getaway in Kentucky
Here are our choices for romantic Kentucky hotels and inns with in-room hot tubs in the cities and towns of the Bluegrass State. 
Disclaimer: JACUZZI® is a registered trademark owned by Jacuzzi Inc. The use of the JACUZZI® trademark on this website is for informational purposes only. There is no relationship, connection or affiliation between this website and Jacuzzi Inc. or its related companies. Rates shown are approximate only and subject to change. Hotel rooms, jetted tubs and amenities can change, and may not be exactly as shown, so please contact the hotel or inn before making travel plans.
louisville kentucky hot tub suites
inn at woodhaven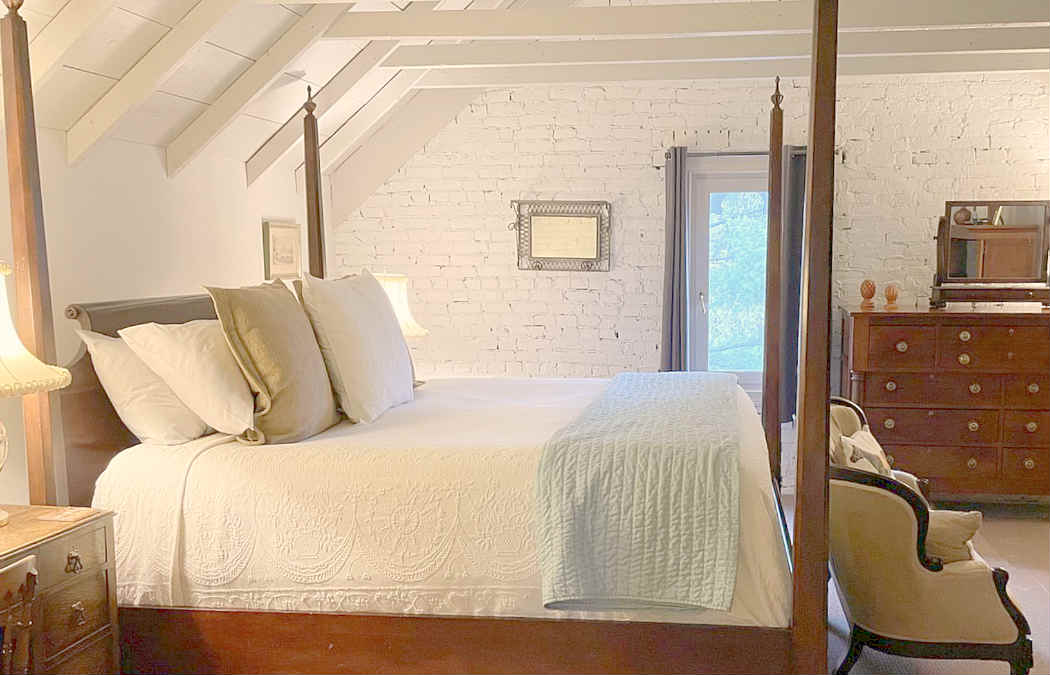 Romantic Room at the Inn at Woodhaven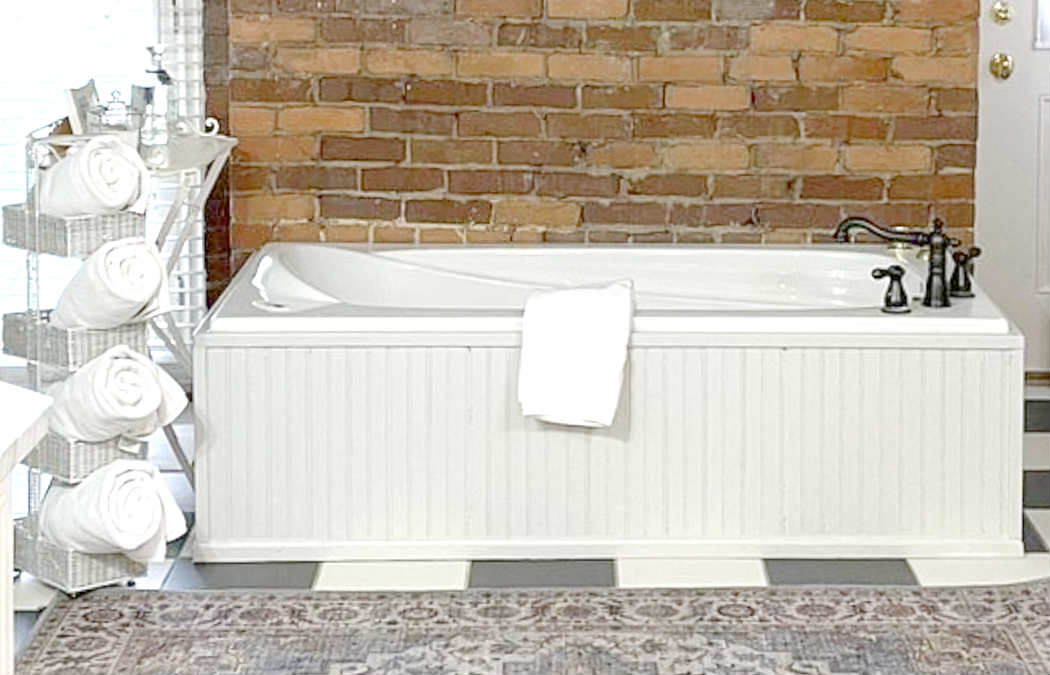 Jetted Spa Tub - Inn at Woodhaven
Inn at Woodhaven

- This B&B accommodation consists of the Main House, and Carriage House, which date to 1853, as well as a romantic cottage. Six of the eight suites in the main house feature Whirlpool tubs, and some include fireplaces, sleigh or canopy beds, high ceilings, and other charming additions. Breakfast is served in the formal dining room or can be delivered right to your room. Complimentary soft drinks, tea, coffee and snacks are provided. Be sure to stroll the gardens, have a drink on the porch or visit the nearby park or nature preserve. What Other Guests Liked: Complimentary sherry. Worth Knowing: No elevator. 2023 ERV Rating*: 94% - Excellent. Whirlpool Tub Size: 1 and 2 Person. Whirlpool Suite Prices: From $159/Night. (401 S Hubbards Ln, Louisville KY 502-895-1011)
wingate louisville east
Wingate by Wyndham Louisville East

  - An "unpretentious" hotel that has a one-bedroom suite with jetted tub might be just what you're looking for when visiting Louisville. Freebies include a hot buffet breakfast, parking, and Wi-Fi. Gift shop, fitness center, pool and lobby bar are great additions, and your Whirlpool suite also includes mini fridge, microwave, coffee maker and flat-screen TV. The location is close to Blackacre State nature Preserve, Renaissance Fun park, EP Tom Sawyer State park and Beckley Creek Park, so there is no shortage of things to do. What Other Guests Liked: Many restaurants in this area. Worth Knowing: Some customer service complaints. 2023 ERV Rating*: 74% - Good. Whirlpool Tub Size: N/A Whirlpool Suite Price: From $172/Night. (12301 Alliant Ct, Louisville KY 502-785-0850)
comfort suites airport
Book a Comfort Suites Room with Jetted Tub Near Louisville Airport
Comfort Suites Airport - Reserve the King 1 Room Suite with Whirlpool Tub at this straightforward Comfort Suites near the airport. You'll get a coffee maker, mini fridge and microwave in the room, and can use the fitness center, indoor pool and on-site guest laundry. A full hot breakfast is complimentary each morning and you can read the free weekday newspaper provided. There's even a free airport shuttle. What Other Guests Liked: Good customer service; great gym. Worth Knowing: Furniture is a bit dated. 2023 ERV Rating*: 68% - Fair. Whirlpool Tub Size: 2 Persons. Whirlpool Suite Price: From $99/Night. (6535 Paramount Park Dr, Louisville KY 502-315-8058)
la quinta inn & suites louisville
La Quinta Inn & Suites Louisville

- A budget-friendly accommodation close to the interstate that also offers suites with Whirlpool tubs. Located only minutes from several attractions in the city, and surrounding area. Rooms include microwaves, mini fridges and coffee makers. Wi-Fi is free, and so is breakfast and parking. Make use of the indoor pool, fitness center, guest laundry facility, and convenience market. What Other Guests Liked: EP Tom Sawyer State Park is just a 7 mile drive away. Worth Knowing: Not everyone is a fan of the breakfast. 2023 ERV Rating*: 66% - Fair. Whirlpool Size: N/A. Whirlpool Suite Price: From $156/Night. (1501 Alliant Ave, Louisville KY 502-438-9021)
---
lexington hotel jetted tub suites
The Lexington KY Country Inn Has In-Room Jetted Tubs
Country Inn & Suites by Radisson, Lexington, KY - All rooms here provide free Wi-Fi, microwaves and mini fridges, as well as coffee makers and pull-out sofas. Upgrade to get a roomy jetted spa tub and make things a bit more romantic. Breakfast and parking are free, and you also get access to the indoor pool and fitness room. It's all located close to Blue Grass Airport, Kentucky Horse Park and museums, and historic Ashland Estate. What Other Guests Liked: You can request hypoallergenic pillows; convenient to places to eat. Worth Knowing: This older building could use some updates. 2023 ERV Rating*: 84% - Very Good. Whirlpool Tub Size: 2 Persons. Whirlpool Suite Price: From $198/Night. (2297 Executive Dr, Lexington KY 859-299-8844)
DoubleTree Suites by Hilton Hotel Lexington

- This one is uniquely styled like a New Orleans French-Quarter hotel. Each unit is a suite with 2 rooms that feature satellite TV with premium channels, mini refrigerators and coffee makers. The romantic Honeymoon Suite has a French partition, living room, Whirlpool tub at the foot of the bed and 2 HDTVs. Building amenities include an outdoor pool, fitness center, casual dining restaurant, gazebo lounge, and complimentary airport shuttle. What Other Guests Liked: Located away from the busy areas of Lexington, but just an 8-minute drive from downtown. Worth Knowing: Suites facing the atrium might experience noise from people gathered below. 2023 ERV Rating*: 84% - Very Good. Whirlpool Tub Size: 2 Persons. Whirlpool Suite Price: From $214/Night. (2601 Richmond Road, Lexington KY 859-268-0060)
Bluegrass Extended Stay Hotel

- An affordable place to stay with all the basics. The spacious Whirlpool suite has a jetted tub, kitchenette, fridge, microwave and coffee maker. And all rooms include 32-inch flat screen TVs with HD channels. There's free parking, WiFi, gym passes and coffee/tea with doughnuts. Guest laundry and 24-hour front desk are convenient additions. It's located just a mile from Lexington Ice Center and close to the University of Kentucky. What Other Guests Liked: Many restaurants nearby. Worth Knowing: Nothing fancy here with decor or bedding. 2023 ERV Rating*: 68% - Fair. Whirlpool Tub Size: 2 Persons. Whirlpool Suite Price: From $100/Night. (2753 Richmond Rd, Lexington KY 859-269-4999)
more spa tub suites near lexington:
georgetown KY: Best Western JACUZZI® Tub suite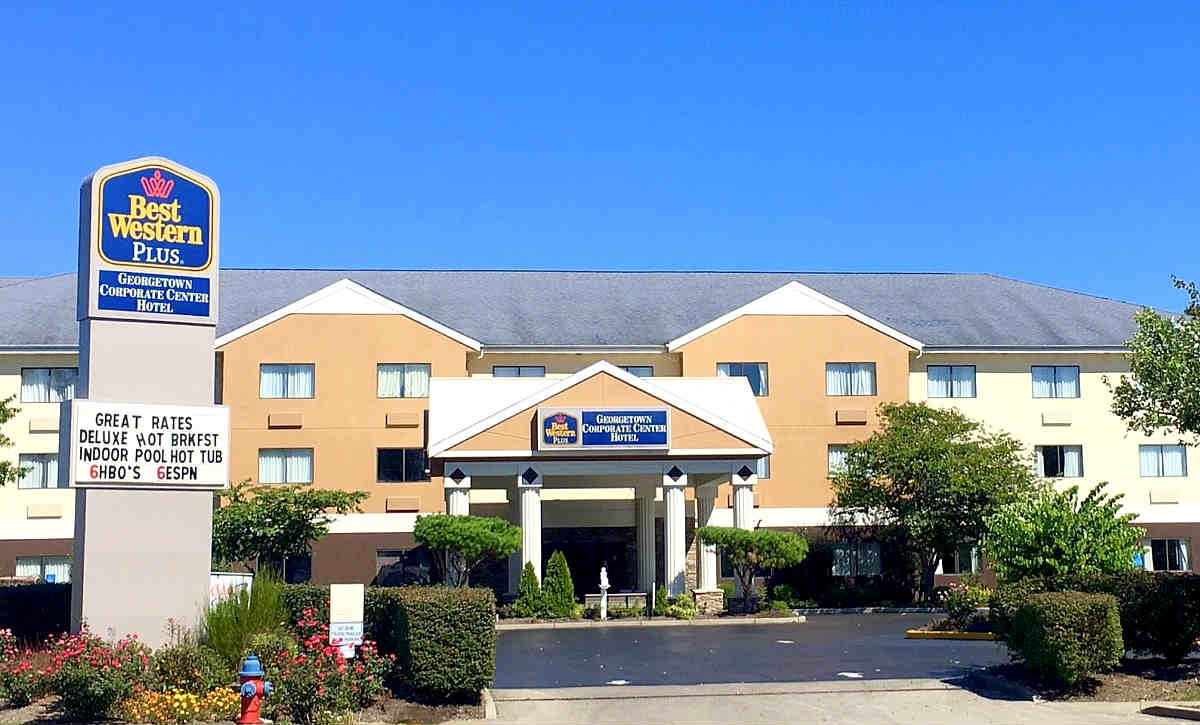 The Best Western In Georgetown KY has Suites with JACUZZI® Tubs
Best Western Plus Georgetown Corporate Center Hotel

  - You'll want the King JACUZZI® Tub Suite at this comfortable Best Western. It includes a microwave and refrigerator, coffee maker and king-sized bed, plus Wi-Fi, breakfast and parking are complimentary. There's an indoor pool, gym, game room, business center and guest laundry as well. There's plenty to see and do in this area: Antique shopping in Georgetown, watching the races at Kentucky House Park, Keeneland Horse Race Track or the Kentucky Derby. There's a golf course, museum and botanical gardens nearby and Factory Stores of America is just a mile away. What Other Guests Liked: Convenient to restaurants and I-75. Worth Knowing: Furnishings a bit old and tired. 2023 ERV Rating*: 88% - Very Good. JACUZZI® Tub Size: 2 Persons. Hot Tub Suite Price: From $114/Night. (132 Darby Dr, Georgetown KY 502-868-0055)
country inn & Suites
Book a Spa Tub Suite at the Country Inn & Suites Georgetown KY
Country Inn & Suites by Radisson, Georgetown, KY

- Located close to Royal Spring Park, Kentucky Horse Park and the Mary Todd Lincoln House, this hotel is a great choice for seeing the sites in Kentucky's horse country. Rooms provide mini fridges, microwaves and tea/coffee makers as well as complimentary Wi-Fi and flat-screen TVs. Whirlpool Suites feature  king-sized beds and large jetted tubs. Breakfast and parking are included, and there's a heated indoor pool, fitness room, library, and guest laundry. What Other Guests Liked: Complimentary coffee and cookies in the lobby. Your choice of goose-down or hypoallergenic pillows. Worth Knowing: Mattresses are quite firm. 2023 ERV Rating*: 88% - Very Good. Whirlpool Tub Size: 2 Persons. Whirlpool Suite Price: From $147/Night. (131 Darby Dr, Georgetown KY 502-868-6800)
versailles, KY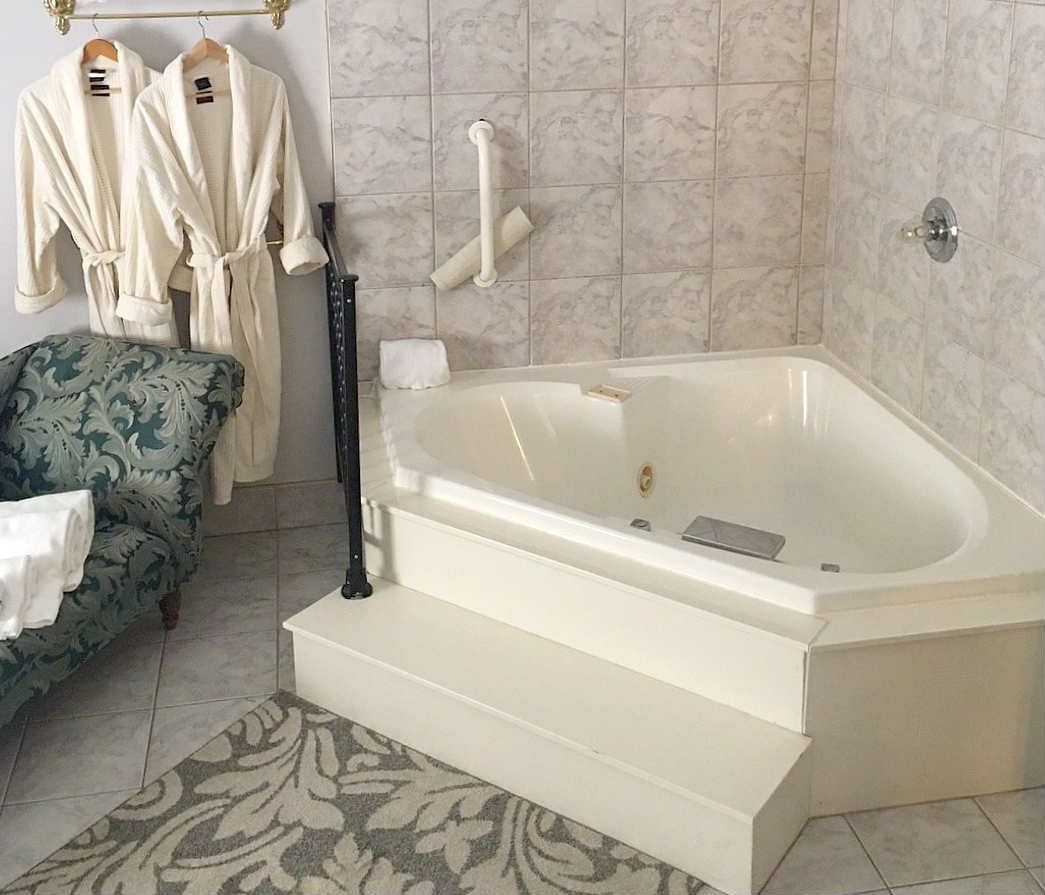 Beautiful Whirlpool Suite at the Montgomery Inn B&B
Montgomery Inn B&B

- An adorable 100-year old B&B located on a residential street in the heart of bourbon country! Each of the  11 guest suites feature a romantic jetted spa tub, thick oversize cotton towels, and plush robes. Electric fireplaces or wood burning stoves add some ambience, and mini fridges, plus tea and coffee making paraphernalia make you feel right at home. Some suites feature private entrances, 4-poster beds, and verandahs, plus there's a wrap-around porch with a swing, a library and cozy lounge. Daily full gourmet breakfast is included, and it's served in the vintage "Club Car Dining Room"...What Other Guests Liked: Dinner can also be arranged onsite for a special occasion. Towel warmers are a nice touch. Worth Knowing: Rooms are well worn and showing their age. 2023 ERV Rating*: 76% - Good. Whirlpool Tub Size: 2 Persons. Whirlpool Suite Prices: From $198/Night. (270 Montgomery Ave, Versailles KY 859-251-4103)
berea, ky
Boone Tavern Hotel

- Berea is known for its art festivals, historic buildings and liberal arts college. The stately Boone Tavern Hotel is set on the grounds of Berea college and close to the Kentucky Artisan Center. Handcrafted wooden furniture, crown molding, high ceilings and lots of southern charm make this a great choice. The Executive King Suite includes a JACUZZI® tub and separate shower, handcrafted woven blankets, and cozy robes and slippers. Loaner bikes are available, and there's an award-winning restaurant and access to a nearby fitness center. What Other Guests Liked: Great views of the town and charming campus. Short drive to Indian Fort Mountain. Worth Knowing: If you're sensitive to noise, request a room at the back of the hotel and away from the elevator. 2023 ERV Rating: 88% - Very Good. Whirlpool Tub Size: 2 Persons. Whirlpool Suite Price: From $244/Night. (100 Main St N, Berea KY 800-366-9358)
Wilmore, KY
Check out the VIP Whirlpool Suite at the Asbury Inn, Wilmore KY
Asbury Inn & Suites

- This hidden gem is on the campus of a seminary, and close to the university in Wilmore.  Perks include free coffee, fitness center, daily housekeeping, and guest laundry. All guest rooms feature microwaves and refrigerators, coffee makers and granite bathroom fixtures. The VIP Suite, located behind the main building, boasts a large jetted tub, 4-poster bed, breakfast nook, and reclining chair. What Other Guests Liked: Airport shuttle (by reservation); great breakfast bar. Worth Knowing: Not everyone loves the firm beds. 2023 ERV Rating*: 96% - Excellent. Whirlpool Tub Size: 2 Persons. Whirlpool Suite Price: from $165/Night. (1 June Ryan Circle, Wilmore KY 859-858-2156)
bowling green ky whirlpool suites
hilton garden inn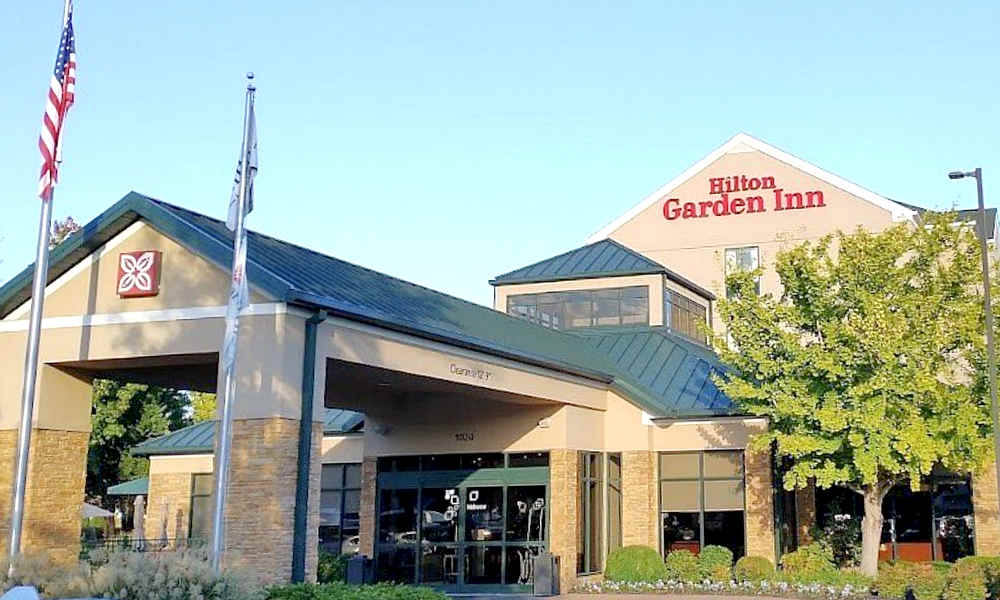 Hilton Garden Inn, Bowling Green KY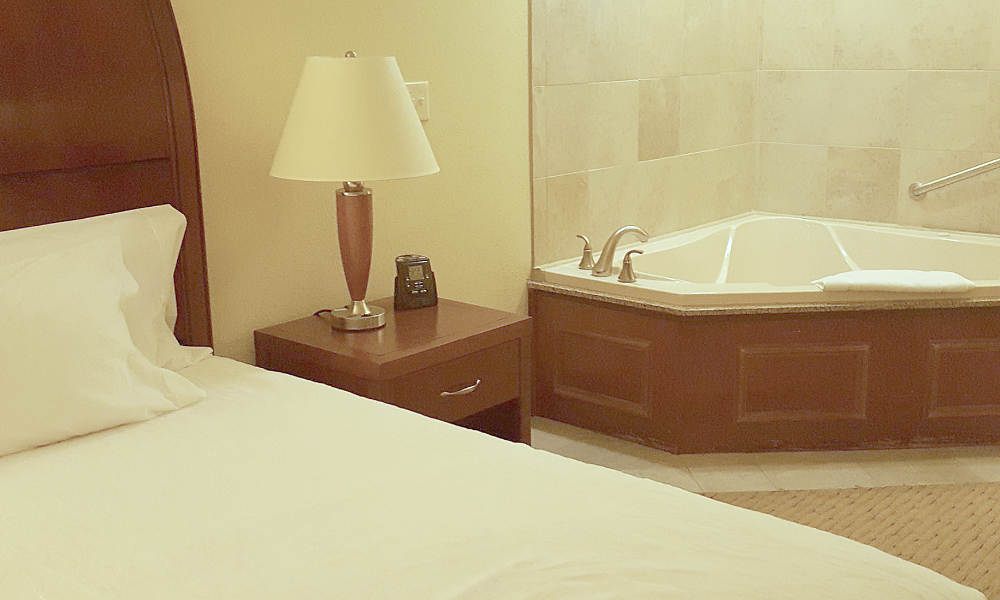 Hilton Bowling Green KY Spa Tub Suite
Hilton Garden Inn Bowling Green

- Located across from a golf course, and in walking distance of area restaurants, this accommodation is also just a 3-minute drive from the airport. Rooms provide mini fridges, microwaves and coffee makers, and Wi-Fi is complimentary. There's a lobby lounge, outdoor patio and convenience store, as well as fitness center, indoor pool and free parking. The Whirlpool Suite features a large corner tub and king-sized Serta Pillow-top bed. What Other Guests Liked: Easy access to I-65 highway. Worth Knowing: Onsite restaurant but no free breakfast. 2023 ERV Rating*: 84% - Very Good. Whirlpool Tub Size: 2 Persons. Whirlpool Suite Price: From $140/Night. (1020 Wilkinson Trce, Bowling Green KY 270-781-6778)
wingate by Wyndham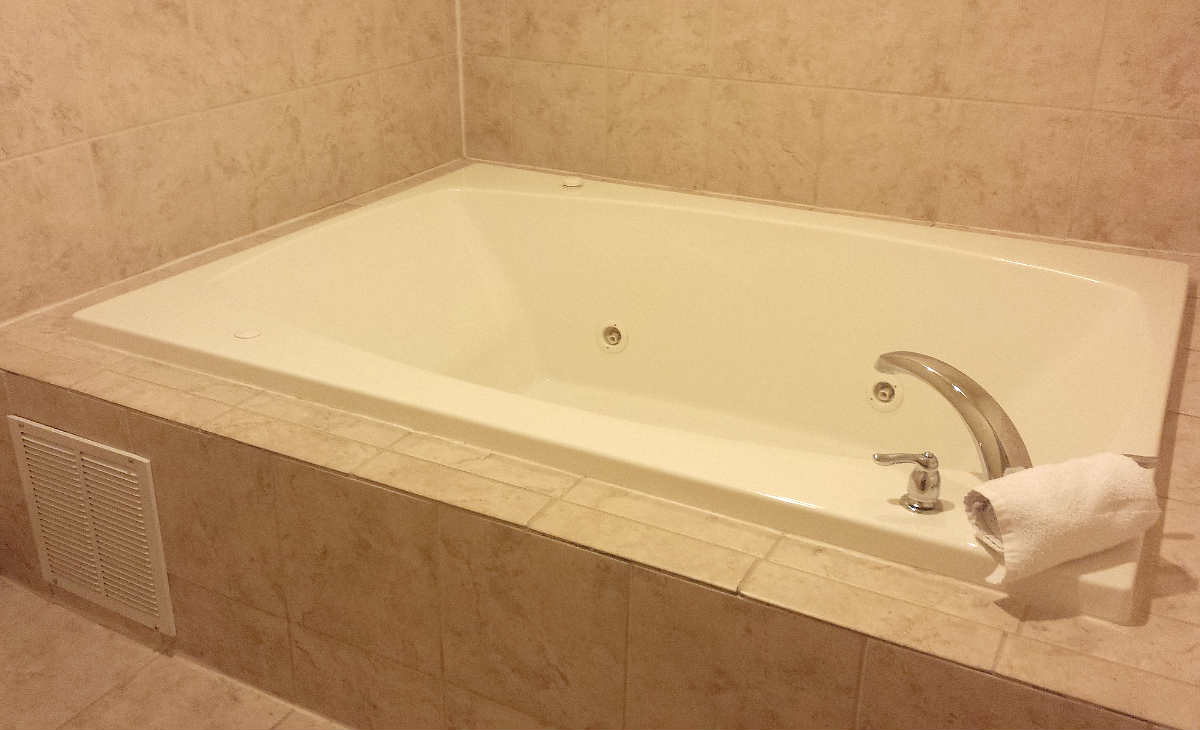 Whirlpool Tub for 2 at the Wingate Bowling Green, KY
Wingate Bowling Green KY Spa Tub Suites

- Free parking, breakfast and Wi-Fi are definite draws for this laid-back hotel that is near the Bowling Green Airport. Rooms come with mini fridges, microwaves and coffee makers, and suites add kitchenettes and separate living areas. The King Bed Studio Suite and King Bed Deluxe Studio Suite both feature in-room hot tubs for romance or relaxation. There's also a pool, gym and coin-operated guest laundry. What Other Guests Liked: Good for the budget! Worth Knowing: Only 1 elevator and it's a bit slow. 2023 ERV Rating*: 72% - Good. Whirlpool Tub Size: 2 Persons. Whirlpool Suite Price: From $98/Night. (185 Greenwood Ln, Bowling Green KY 270-936-8166)
baymont by wyndham
In-Room Hot Tub at the Baymont in Bowling Green, KY
Baymont by Wyndham Bowling Green

- This relaxed hotel offers room with mini fridges, microwaves, tea/coffee makers, and HDTVs with 75 channels. The King Bed Studio Suite adds a Whirlpool tub and living area. Parking, breakfast, daily newspaper, and WiFi are included, and there is a convenient guest laundry facility and a pool. It's located on a quiet road near Western Kentucky University and the National Corvette Museum. What Other Guests Liked: Easy access to main highways and places to eat. Worth Knowing: No elevator, no fitness room. 2023 ERV Rating*: 68% - Fair. Whirlpool Tub Size: 2 Persons. Whirlpool Suite Price: From $137/Night. (1919 Mel Browning Street, Bowling Green KY 270-846-4588)
check out honeymoon hot tub suites near ky:
southern kentucky whirlpool suites
columbia, KY
Best Western Columbia

- Columbia is known as a photographer's paradise, and this Best Western is the place to stay. Free internet access, cable TV, refrigerators and coffee makers are provided in each room, and suites with jetted tubs are available. Breakfast and parking are on the house, and there's an outdoor pool to guest use. It's located off the Cumberland Parkway and just a few minute's drive from Green River Lake State Park. What Other Guests Liked: Friendly, helpful staff; good breakfast. Worth Knowing: No elevators. 2023 ERV Rating*: 90% - Excellent. Whirlpool Tub Size: 2 Persons. Whirlpool Suite Price: From $102/Night. (710 Bomar Heights, Columbia KY 270-384-9744)
london, ky
In-Suite Jetted Tub, Hampton Inn, London KY
Hampton Inn London North

- Located 70 miles south of Lexington and less than 100 miles north of Knoxville, Tennessee, this is a great stopover point for visiting regional attractions in southeastern Kentucky. The King Bed with Whirlpool Suite and King Bed One Bedroom With Whirlpool Suite provide additional relaxation and romance, with the One Bedroom Suite also including a small kitchen. Parking, Wi-Fi, and breakfast are complimentary. Make use of the indoor pool and gym or guest laundry facility. What Other Guests Liked: Just 8 miles from Wood Creek Lake and a 15-minute drive to Levi Jackson State Park and Daniel Boone National Forest. Worth Knowing: A bit dated. 2023 ERV Rating*: 92% - Excellent. Whirlpool Tub Size: 1 Person. Whirlpool Suite Prices: From $162/Night. (200 Alamo Dr, London KY 606-864-0011)
barbourville, KY
Best Western Wilderness Trail Inn

- This Best Western is located close to a waterpark, a country club and the Dr. Thomas Walker State Historic Site. Traditional rooms provide microwaves, mini fridges and comfortable beds. There's also an outdoor pool, and several eateries nearby. Wi-Fi, breakfast, and parking are included in your stay. Be sure to look for their JACUZZI® Tub Suite, where you can bubble your way to relaxation. What Other Guests Liked: Friendly, helpful staff; good location for shopping. Worth Knowing: Some road noise in certain rooms. 2023 ERV Rating*: 82% - Very Good. Whirlpool Tub Size: 2 Persons. Whirlpool Suite Price: From $153/Night. (1476 S US Highway 25E, Barbourville KY 606-546-8500)
more kentucky spa tub suites:
western kentucky: country inn paducah
In-Room Whirlpool Tub - Country Inn & Suites Paducah, KY
Country Inn & Suites by Radisson, Paducah, KY

- When in Paducah, stay at this comfortable Country Inn just minutes from Kentucky Oaks Mall. Enjoy free breakfast, (waffles!) parking and Wi-Fi, as well as an exercise room, heated indoor pool, library and laundry facility. All rooms provide mini fridges, microwaves and tea/coffee makers, and suites include sitting areas, kitchenettes and whirlpool tubs or pull-out sofas. People love Paducah for its historic architecture, public art displays and multicultural vibe. What Other Guests Liked: Several restaurants within walking distance; great customer service. Worth Knowing: Could use some updating. 2023 ERV Rating*: 74% - Good. Whirlpool Tub Size: 2 Persons. Whirlpool Suite Price: From $196/Night. (145 McBride Lane, Paducah KY 270-744-5117)
western ky: Hampton Inn Maysville
Hampton Inn Maysville

- Located just off Highway 9 and 62, and 4 miles from downtown Maysville, this Hampton Inn is located in the Market Place Shopping area, and within walking distance of several restaurants. All rooms include free Wi-Fi and custom-designed beds, as well as HDTVs and coffee makers. In-room jetted tubs are also available in select rooms. Complimentary hot breakfast, indoor heated pool, fitness room, and guest laundry are nice additions. What Other Guests Liked: Lovely landscaped grounds; granite and marble decor; friendly staff members. Worth Knowing: A little bit dated. 2023 ERV Rating*: 92% - Excellent. Whirlpool Tub Size: 2 Persons. Whirlpool Suite Price: From $101/Night. (503 Market Place Drive, Maysville KY 606-759-0600)
eastern KY: Best western plus Louisa
Best Western Plus

- Tiny Louisa is just 9 miles from Yatesville Lake State Park. If your golf, boating, fishing, hiking and swimming plans have you in this area, the Best Western Plus is just the place to stay. Whirlpool Suites feature king-sized beds, large jetted tubs, microwaves and mini refrigerators. Breakfast is complimentary, and there's an indoor pool, fitness room, and guest laundry. Located close to food, gas and the highway, with a Walmart nearby. What Other Guests Liked: Very clean! Worth Knowing: Fast food nearby but few sit-down restaurants. 2023 ERV Rating*: 86% - Very Good. Whirlpool Tub Size: 2 Persons. Whirlpool Suite Price: From $114/Night. (18199 Highway 23, Louisa KY 606-638-3418)
central kentucky: wildflower ranch inn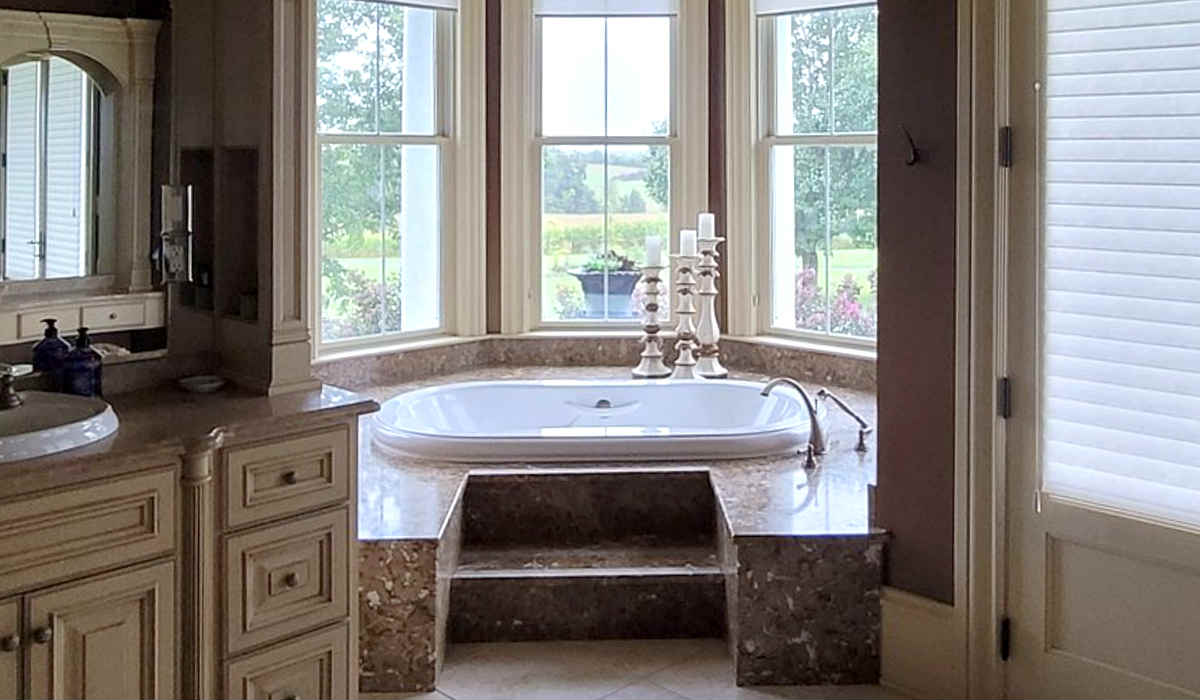 Honeymoon-Ready Whirlpool Suite at the Wildflower Ranch Inn
Wildflower Ranch Inn Bed & Breakfast

- A restored 1871 manor house, turned luxurious boutique B&B set on 6 acres in Bluegrass country. There's an outdoor seasonal pool and art gallery, and it's located at the mid-point of the Bourbon Trail. With only four rooms, this intimate accommodation is perfect for a Central Kentucky honeymoon or other special romantic occasion. Delicious gourmet breakfasts are prepared from scratch, and organic cotton bedding and towels make you feel pampered. The Blackberry Blossom Room! Just…..wow….It's over 1200 square feet fairy-tale that includes a fireplace and jetted tub. What Other Guests Liked: You can take a pecan bourbon ball making class. Elopement packages are available. Worth Knowing: No TVs in the rooms. 2023 ERV Rating*: 96% - Excellent. Whirlpool Tub Size: 2 Persons. Whirlpool Suite Price: From $369/Night. (3200 Lebanon Rd, Springfield KY 859-974-0028)
*ERV Rating: our unique, non-scientific ratings for romantic accommodation include:
Amenities: including Whirlpool bath or 

JACUZZI

®

Tub

,

scenic view, fireplace, lounge, etc
Location: proximity of hotel to restaurants, pubs, downtown, etc
Clientele: demographic the hotel attracts (couples, families, business travelers, etc)
Popularity: based on social media & crowd-sourced reviews 
Value: product offered compared to room rate 
Please Note: percentage ratings are not absolute but for comparative use only  
top hotels, getaways & packages on ERV
---