San Diego
san diego hot tub suites & Hotel In-Room jacuzzi® tubs
FTC: This page uses affiliate links. More. 

---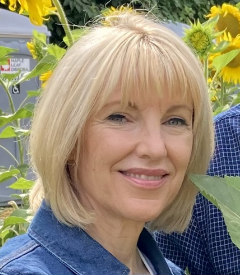 By: Maureen Mattson, ERV Asst Editor - Updated Feb 25, 2023
Jetted and JACUZZI® Tubs are as popular as ever for travelers looking for a romantic San Diego hotel suite. These in-room jetted tubs can be a bit elusive to locate however, so if you are planning a trip with your significant other and will be in the San Diego area, we've done the leg work for you. 
Pacific Terrace Hotel Whirlpool Suite in San Diego ©TripAdvisor
About this Guide: as mentioned, we only list hotels and inns with a private jetted spa tub right in the room or suite, so you don't have share your bubbles with strangers… 

Disclaimer: JACUZZI® is a registered trademark owned by Jacuzzi Inc. The use of the JACUZZI® trademark on this website is for informational purposes only. There is no relationship, connection or affiliation between this website and Jacuzzi Inc. or its related companies. Rates shown are approximate only and subject to change. Hotel rooms, jetted tubs and amenities can change, and may not be exactly as shown, so please contact the hotel or inn before making travel plans.
downtown san diego whirlpool suites
hilton san diego gaslamp quarter
Romantic Hilton San Diego ©Tripadvisor
Whirlpool Suite - Hilton San Diego ©TripAdvisor
Hilton San Diego Gaslamp Quarter - Great location in San Diego's historic Gaslamp Quarter. The King Suite with Whirlpool Loft has it all: King-sized Serenity beds, separate seating area with huge TV, and Whirlpool tub. What Other Guests Liked: Fitness room and pool, terrace and restaurant, and exceptional city views of downtown San Diego. Worth Knowing: Self-parking not available, and valet rate is $55/night. $25/day Destination Charge added to all rooms. 2022 ERV Rating* for San Diego Hot Tub Suites: 80% - Very Good. Whirlpool Tub Size: 1 person. Whirlpool Suite Rates from $295/night. (401 K Street, San Diego CA 619-231-4040) √ COVID Safety Plan: Yes
Pool - Hilton Gaslamp San Diego ©TripAdvisor
Hilton San Diego Gaslamp Quarter ©TripAdvsior
video: san Diego's Top 5 spa tub suites
See our new HD Video above highlighting our picks for the top 5 jetted tub suites in San Diego!
San Diego Budget In-Room JACUZZI
® Tubs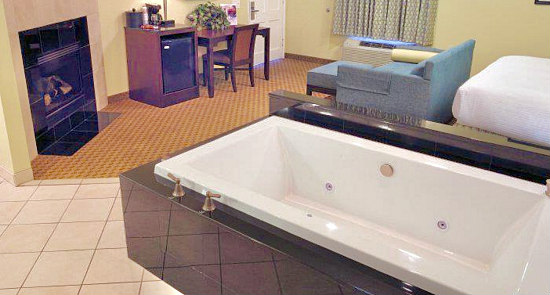 Hotel Iris - Spa Bath Suite
Hotel Iris San Diego 

- 

A family-friendly budget hotel, Iris is conveniently located near several shopping centres, fine dining and all the attractions San Diego is famous for. JACUZZI® Tubs can be found in select spacious suites, along with microwave, refrigerator, and 50-inch HDTV. What Other Guests Liked: Outdoor pool, and Trolly station just a block away. Worth Knowing: $5 service charge per guest per day, a "no frills" hotel. 2022 ERV Rating* for Inexpensive San Diego Suites with JACUZZI® Tubs: 66% - Fair. Jetted Tub Size: 2 persons JACUZZI® Tub Suite rates from $151/night. (625 Hotel Circle South, San Diego CA 619-297-1691) √ COVID Safety Plan: Yes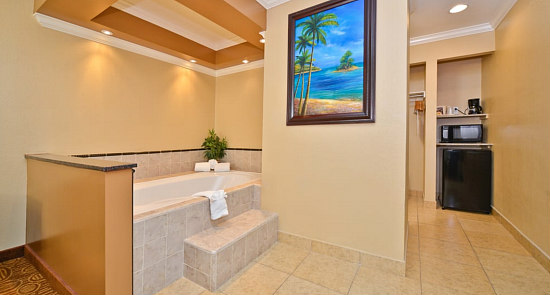 Whirlpool Tub - Rodeway Inn, San Diego
Rodeway Inn San Diego Near Qualcomm Stadium - The King Bed Suite with Whirlpool Tub at this budget-friendly hotel includes a refrigerator and free parking. Breakfast is on the house. What Other Guests Liked: Convenient location, outdoor pool, free hot breakfast and guest laundry. Worth Knowing: No smoking allowed anywhere, and not pet friendly. 2022 ERV Rating*: 68% - Fair. Whirlpool Tub Size: 2 persons. King Bed w/Hot Tub

 Suite rates

 from $161/night. (5399 Adobe Falls Rd, San Diego CA 619-287-8730) √ COVID Safety Plan: Yes
Old Town Inn

 - Homey accommodation in a convenient location. The King Bed Suite with JACUZZI® Tub is over 400 square feet, and includes luxurious granite countertops, walk-in shower with rain shower heads, and a fireplace. What Other Guests Liked: Free breakfast, wireless internet and parking. Worth Knowing: There's only ONE hot tub suite in this hotel, so book early! 2022 ERV Rating*: 92% - Excellent. Whirlpool Tub Size: 1 person. Spa Tub Suite Rate from $205/night. (4444 Pacific Hwy, San Diego CA 844-595-9385) √ COVID Safety Plan: Yes
Whirlpool Suite at the Holiday Inn Express & Suites San Diego-Mission Valley
Holiday Inn Express & Suites San Diego - Mission Valley - The Jetted Tub Suite features a king-sized bed, additional living area, microwave and mini fridge.  Breakfast is complimentary, and there is a fitness room, and guest laundry. What Other Guests Liked: Outdoor sitting area with fireplace, proximity to downtown San Diego, the zoo, SeaWorld, and the airport. Worth Knowing: Self Parking is the only option, and is $20/night. 2022 ERV Rating*: 86% - Very Good. Whirlpool Tub Size: 2 Persons. Whirlpool Suite Rates from $357/night. (635 Hotel Circle S, San Diego CA 877-859-5095) √ COVID Safety Plan: Yes
Hillcrest House B&B JACUZZI® Tub Suite
Hillcrest House Bed & Breakfast - This award-winning B&B is housed in a historic 1910 home full of romantic charm. The lovely La Jolla Suite, which has a 2-person JACUZZI® Tub, also includes a walk-in marble shower, plush robes, and luxury bedding. What Other Guests Liked: 10-minutes from many major attractions, and includes a daily buffet breakfast, off-street parking, Wi-Fi, 24-hour beverages and chocolate chip cookies. Worth Knowing: Minimum stay of 2 nights in the La Jolla Suite. 2022 ERV Rating*: 96% Excellent. Whirlpool Tub Size: 2 persons. Whirlpool Suite Rate from $239/night. (3845 Front St, San Diego CA 619-990-2441) √ COVID Safety Plan: Yes
Jetted Spa Tub - Solamar Hotel, San Diego
See Also:
Porto Vista Hotel

 - The "King Suite with Neighborhood View" at Porto Vista has upgraded amenities, high ceilings, wet bar and a JACUZZI® Tub. What Other Guests Liked: Open-air exterior corridor, rooftop pool, and location in Little Italy. Worth Knowing: Parking is valet only, $35/night. 2022 ERV Rating* for San Diego Hot Tub Suites: 60% - Fair. Jetted Tub Size: 1 person. Rates for JACUZZI® Tub Suite from $112/night. (1835 Columbia St, San Diego CA 619-544-0164) √ COVID Safety Plan: Yes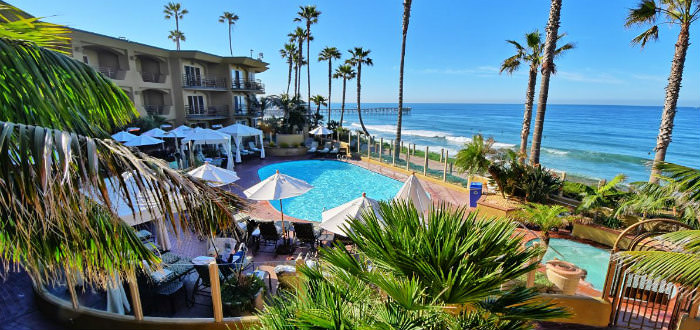 Gorgeous Pool at the Oceanfront Pacific Terrace Hotel, San Diego
Pacific Terrace

- Beachfront accommodation on Pacific Beach boardwalk. Three styles of oceanfront suites include large balcony, dining area, JACUZZI® Tub, wet bar, microwave, fridge, and minibar. What Other Guests Liked: All suites offer wonderful views of the Pacific. Terrific pool area, and warm cookies each afternoon. Worth Knowing: Resort Fee of $18 per room per night. 2022 ERV Rating* for San Diego Oceanfront Spa Tub Suites: 92% - Excellent. JACUZZI® Tub Size:  1 person. Spa Tub Suite Rates from $444 /night. (610 Diamond Street, San Diego CA 844-365-5980) √ COVID Safety Plan: Yes
tower23 San Diego
Sunset at Tower23 Hotel, San Diego
Jetted Tub Suite - Tower23 Hotel
Tower23 Hotel

 - Many of San Diego's most popular attractions are in close proximity to Tower 23. The Partial Oceanview Suites have "chromotherapy" jetted tubs with a very cool fixture that gives the illusion of water falling from above. What Other Guests Liked: Each room features a private balcony and free Wi-Fi, and JRDN Restaurant offers food on a luxurious sun deck complete with fire pit and great ocean views. Worth Knowing: No pool at this hotel. 2022 ERV Rating*: 92% - Excellent. Whirlpool Tub Size: 1 person. Jetted Tub Suite prices from $419 /night. (723 Felspar St, San Diego CA 858-270-2323) √ COVID Safety Plan: Yes
Pool at the San Diego Mission Bay Resort
San Diego Mission Bay Resort

 - Newly updated rooms and suites include the 779 square foot WindAndSea ground floor villa. It features a private, enclosed backyard with wood burning fire pit and the master bath includes a separate Whirlpool tub and walk-in shower. What Other Guests Liked: Waterfront pool, beach access, onsite spa, live music nightly and 3 waterfront dining options. Worth Knowing: There's a resort fee of $36/night, and parking is $42/night. 2022 ERV Rating*: 66% - Fair. Whirlpool Tub Size: 1 person. WindAndSea Villa prices from $809/night. (1775 East Mission Bay Drive, San Diego CA 877-691-0049) √ COVID Safety Plan: Yes
Found Hotel San Diego Spa Tub Suites

 - A restored building from 1910 is now a one-of-a-kind boutique hotel in downtown Little Italy. There are 24 private rooms, including The King Room with Spa Tub, which has a deluxe corner jetted tub in the bathroom. What Other Guests Liked: Complimentary breakfast, and great location for walking to the beach and other attractions, including restaurants and shops. Worth Knowing: No valet or onsite parking. Limited street parking. 2022 ERV Rating*: 84% - Very Good. Whirlpool Tub Size: 2 Persons. Spa King Room prices from 149$/night. (505 Grape Street, San Diego CA 619-230-1600)√ COVID Safety Plan: Yes
---
Spa Tub suites in Coronado & Chula Vista
Coronado Bay, CA
Coronado Bay Resort

- Select sea-inspired suites come equipped with Whirlpool tubs in this waterfront resort oasis. Located on a private 15-acre peninsula, Coronado Bay Resort offers great dining, 3-pools, a spa, fitness centre, tennis courts and sports equipment rentals. 2022 ERV Rating* for San Diego Hot Tub Suites: 84% - Very Good. (4000 Coronado Bay Rd, Coronado CA 619-424-4000) √ COVID Safety Plan: Yes
Jetted Tub for Your Romantic Getaway at the 1906 Lodge
1906 Lodge

- The most luxurious suites offer fireplaces, large jetted tubs, fridge, and private porch or patio. You can also book a massage during your stay or arrange for Champagne, chocolate truffles and the inn's "therapeutic bath bliss set". What Other Guests Liked: 

Walking distance to everything...

Plenty of complimentary perks including: breakfast buffet, "bottomless" mimosas, onsite parking, afternoon wine and snacks, fresh-baked cookies with coffee or tea, loaner beach chairs and towels, use of spa robes and loaner bikes. 

Worth Knowing:

 Take note of varying cancellation policies for holidays and special events.

2022 ERV Rating* for San Diego Hot Tub Suites: 96% - Very Good. Whirlpool Tub Size: 2 Persons. Whirlpool Suite prices from $399/night. (1060 Adella Ave, Coronado CA 855-590-8746) √ COVID Safety Plan: Yes
Chula Vista, ca
Comfort Inn Chula Vista San Diego South - 

The one-bedroom suite with King bed is equipped with a Whirlpool tub and oversized walk-in shower. There's also a fitness centre, and guest laundry. 

What Other Guests Liked:

 

free hot breakfast, parking and Wi-Fi, 

outdoor heated pool. 

Worth Knowing:

 No Room Service. 

2022 ERV Rating*: 86% - Very Good. Whirlpool Tub Size: 2 Persons. Whirlpool Suite prices from $132/night. (91 E Bonita Rd, Chula Vista CA 619-425-9999) √ COVID Safety Plan: Yes
*ERV Rating: our unique, non-scientific ratings for romantic accommodation include:
Amenities: including Whirlpool bath or 

JACUZZI

®

Tub

,

scenic view, fireplace, lounge, etc
Location: proximity of hotel to restaurants, pubs, downtown, etc
Clientele: demographic the hotel attracts (couples, families, business travelers, etc)
Popularity: based on social media & crowd-sourced reviews 
Value: product offered compared to room rate 
Please Note: percentage ratings are not absolute but for comparative use only  
top hotels, getaways & packages on ERV
---