los angeles hot tub suites - hotels & motels in LA with in-room jetted tubs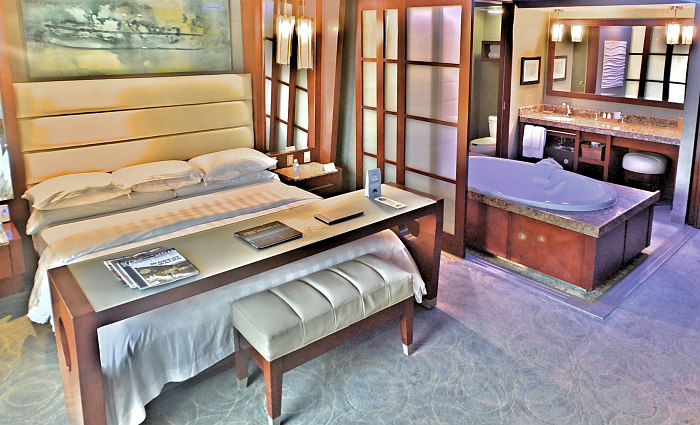 Book a Romantic Hot Tub Suite In or Near Los Angeles, Like the Shade Hotel
By: Greg Mattson, ERV Editor - Posted Oct 18, 2019
FTC: This ERV page uses affiliate links. More. 

Trying to make reservations for a hotel room suite with a jetted or JACUZZI® Tub near you in Los Angeles can be challenging; the city is huge and sprawling, and finding the right room in the location you want and the price you need can take forever. So, here to help is our new guide to romantic LA hotel hot tub suites.
These spa tub rooms in the greater Los Angeles area range from motel-style budget units all the way to B&B's, boutique hotels to luxury high-rises with the ultimate honeymoon suite with hot tub. 
What Makes Our Los Angeles Whirlpool Suites Guide Better? The jetted tubs listed here are private - yes, right inside the room, perfect for a great getaway. Other hotel sites list a hot tub for all guests by the pool, but you won't find that here! 
Disclaimer: JACUZZI® is a registered trademark owned by Jacuzzi Inc. The use of the JACUZZI® trademark on this website is for informational purposes only. There is no relationship, connection or affiliation between this website and Jacuzzi Inc. or its related companies. As hotel rooms and amenities can change, please check with each individual accommodation property before making travel plans to ensure that the hotel room you have booked includes an authentic JACUZZI® brand hot tub. 
---
Jetted Tub Hotel Suites in Los Angeles
Hotel Palomar in Beverly Hills CA
Hotel Palomar Whirlpool Suite, Los Angeles
Kimpton Hotel Palomar Los Angeles Beverly Hills

- Kimpton hotels are loved by couples for their boutique stylings and free evening wine reception each night. This Kimpton in Beverly Hills has the extra perk of spa suites that come with nice and large jetted Fuji soaking tubs. 2019 ERV Rating* for Los Angeles Hotel Hot Tub Suites: 82% - Very Good. (10740 Wilshire Blvd, Los Angeles CA 310-475-8711)
Pool at the BW Sunset Plaza Hotel
West Hollywood Suite with JACUZZI® Tub
Hollywood Hotel

-  Iconic hotel with a rich history in the heart of the city. Getaway couples and honeymooners are going to just love their 

800 square ft Silver Screen Suite with a JACUZZI

® Tub, complete with robes and luxury bath amenities.

 2019 ERV Rating* for Hollywood Hotel Suites with a JACUZZI® Tub 76% - Good. (1160 N. Vermont Ave, Los Angeles CA 323-746-0444) 
Best Western Royal Palace Inn & Suites

- This BW checks the boxes with free hot breakfast, pool, exercise and billiards room, and Queen Suites with a 

JACUZZI

® Tub. 

2019 ERV Rating* for Los Angeles Hotel Rooms with a Private JACUZZI® Tub: 75% - Good. (2528 South Sepulveda Boulevard, Los Angeles, CA 310-477-9066)
Holiday Inn Express & Suites Los Angeles Downtown West

- make your way over to downtown LA for this recently upgraded and inexpensive Holiday Inn, with their free shuttle, complimentary breakfast, and King Bed Suites with a JACUZZI

® Tub

. 2019 ERV Rating* for Los Angeles Hotel Suites with a JACUZZI® Tub: 60% - Fair. (611 South Westlake Ave, Los Angeles CA 213-483-6363) 
Intercontinental Los Angeles Downtown Honeymoon Suites with JACUZZI Tub®

 - book a 1-bedroom suite or Club Intercontinental room here, and you'll be treated to a rooftop bar, floor to ceiling windows with magnificent views, and a large and comfortable 

JACUZZI

® Tub in the master bath. 

2019 ERV Rating* for 

JACUZZI Tub® Suites in Downtown Los Angeles:

 84% - Very Good. (900 Wilshire Blvd, Los Angeles CA 213-688-7777)
---
Oceanfront spa tub suites Near LA
Sunset at the Pool, Hotel Casa Del Mar
Santa Monica Spa Tub Suite - Casa Del Mar
Hotel Casa del Mar

 - experience a Mediterranean vibe in sunny Santa Monica with this romantic oceanfront inn's bright rooms and Italian marble bathrooms outfitted with luxury jetted spa tubs.  2019 ERV Rating* for Santa Monica CA Jetted Tub Suites: 82% - Very Good. (1910 Ocean Way, Santa Monica CA 844-880-1077)
Shutters on the Beach

- Cape Cod-themed sister hotel located on the beachfront next to the Casa del Mar (above), with luxury finishings such as Tibetan rugs, on-site spa, patios or balconies with gorgeous views of the Pacific, and suites with jetted hydrothermal massage tubs. 2019 ERV Rating* for Los Angeles Oceanfront Hotel Hot Tub Suites: 80% - Very Good. (1 Pico Blvd, Santa Monica CA 310-458-0030)
Santa Monica Hotel with a whirlpool balcony
Le Meridien Delfina Santa Monica

- this Marriott-chain hotel is a delightful choice for romantic travelers in Southern California, and offers unique suites with your own private Whirlpool tub out on the balcony!  2019 ERV Rating* for Los Angeles Hotel Hot Tub Suites: 82% - Very Good. (530 Pico Blvd, Santa Monica CA 310-399-9344)
Find More Spa Tub Suites in California:
---
more Hot Tub Suites: near Beaches, LAX
Manhattan Beach, CA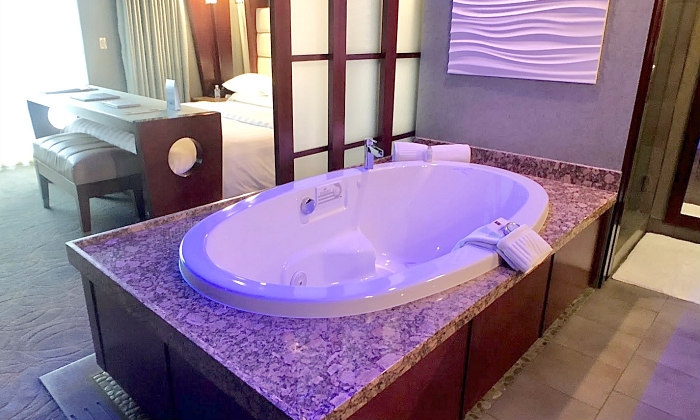 2-Person In-Suite Jetted Spa Tub at the Shade Hotel, Manhattan Beach, CA
Shade Hotel

- a real find! This boutique hotel in the attractive oceanside community of Manhattan Beach will greet you with a welcome glass of champagne, and then it's off to check into one of their Deluxe Spa Rooms or Suites with a 2-person jetted tub beside the bed. Excellent rooftop pool as well. 2019 ERV Rating* for Los Angeles Hotel Hot Tub Suites: 92% - Excellent. (1221 North Valley Dr, Manhattan Beach CA 310-546-4995)
redondo Beach, ca
Jetted Tub Suite - Portofino Hotel
Portofino Hotel

- settle into this Redondo Beach inn with it's excellent oceanfront Jet Tub Rooms, pool, live music, gorgeous great room by the lobby, and fine views of the sunsets and sea lions. 2019 ERV Rating* for Los Angeles Hotel Hot Tub Suites: 80% - Very Good. (260 Portofino Way, Redondo Beach CA 310-379-8481)
Hermosa Beach
Book a Spa Tub Suite at the Hotel Hermosa
Hotel Hermosa

- the appropriately named "Bubble King" Suites come complete with an in-room spa tub beside the bed, and the Presidential Suite with it's jetted tub and ocean views seems like an ideal honeymoon suite in LA County. 2019 ERV Rating* for Hermosa Beach Jetted Tub Suites: 88% - Very Good. (2515 Pacific Coast Hwy, Hermosa Beach CA 310-318-6000)
Inglewood, CA
Crystal Inn Suites & Spas LAX

- only 5 minutes away from LAX airport, with free Wi-Fi, outdoor heated pool, comfortable Whirlpool Suites and a check-out time of 12:00 PM Noon. 2019 ERV Rating* for Jetted Tub Suites Close to LAX: 85% - Very Good. (1163 South Prairie Ave, Inglewood CA 310-412-3888)
Gardena, CA
New Gardena Hotel

- just 15 minutes from LAX, with high-speed Wi-Fi, executive breakfast, and single, double and Presidential Suites all equipped with a 

JACUZZI

® Tub. 

2019 ERV Rating* for Gardena CA Hotels with an In-Room JACUZZI

®

Tub: 80% - Very Good. (1641 West Redondo Beach Blvd, Gardena CA 310-327-5757)
More...
Harbor City, CA
Rodeway Inn & Suites Pacific Coast Highway

- if you need a cheap stay in a Los Angeles-area King Bed Whirlpool Suite, this budget Harbor City inn has reliable quality (part of the Choice Hotel chain) for a very affordable price. 2019 ERV Rating* for Los Angeles Hotel Hot Tub Suites: 85% - Very Good. (1665 Pacific Coast Hwy, Harbor City CA 310-326-9026)
*ERV Rating: our unique, non-scientific rating formula for romantic hotels which includes:
Romantic Amenities: such as an in-room 

JACUZZI

®,

suites with a Whirlpool bath, scenic view, lounge, etc
Location: proximity of hotel to restaurants, pubs, downtown, etc
Clientele: demographic the hotel attracts (couples, families with kids, business travelers, etc)
Popularity with Couples & Honeymooners: based on variety of social media & crowd-sourced reviews.   
Excellent Romantic Vacations - Top Pages
---