Your Romantic Getaway in San Diego - Hotels, Restaurants & Things to Do 
Romantic Vacations Home › California › San Diego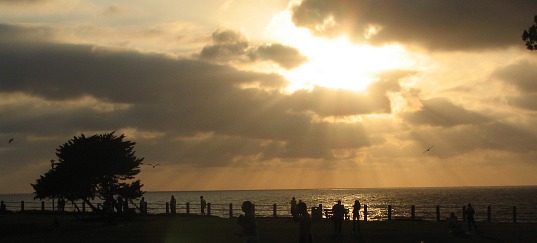 Sunset Over the Ocean in La Jolla, CA, one of San Diego's Best Romantic Destinations
By Greg Mattson, ERV Editor - Updated: May 25, 2014
San Diego is one of our favorite warm and sunny spots on the Southern California coast. This area of the Southern California coast also boasts the best weather in America, with an average daytime high of 70 F, and over 280 days of sunshine a year. And if the traffic in Frisco and L.A. scares you, you'll appreciate the somewhat easier time you'll have on San Diego's freeways and roads.
Here's some help in planning a romantic getaway in San Diego: things to do, places to relax, plus romantic hotels, B&B's and packages.
Best Time to Visit San Diego: July to October is peak for good weather. School holidays can get quite busy. 
Romantic Things to Do in San Diego

Even in San Diego, It Can't be Sunny Every Day - a Romantic Spot at Sunset Cliffs
Sunset Cliffs - absorb the power of the crashing Pacific Ocean below, and stay for the fabulous sunsets. (1253 Sunset Cliffs Blvd, San Diego)
Mission Bay - An ideal place for cycling or picnics, with palm trees, sail boats on the bay, grassy places to stretch out and sandy beaches.
La Jolla - one of the most romantic vacation spots anywhere on the California coast, and a first choice for San Diego weekend getaways. An oceanfront stroll along the cliffs is a must, along with a visit to the upscale shops and eateries along Prospect St. It's not a cheap area to holiday, but if you fall in love with this ultra-attractive spot on the coast and want to stay a few nights longer, see our romantic San Diego hotel reviews below.
Gaslamp Quarter - ride the trolley down in the evening, find a restaurant or pub, enjoy a meal, people watch and go for a stroll and window shop the boutique stores.
Shelter Island Shoreline Park - plan a romantic picnic here (fine views of the bay and city skyline). Later, get right out over the waves with a walk on either Ocean Beach Pier or the Pacific Beach Pier.
Coronado Island - rent a side-by-side cycle (Surrey) and ride around Centenial and Tidelands Park (rentals available at the Ferry Landing). After all the pedaling, save time for a cocktail at the Hotel del Coronado's beach bar and soak up the sunshine and breeze and beach views.
San Diego Beaches

Coronado Island Beach -  chosen as one of the 10 "Best Beaches in America". Sink your toes into the soft sand here and you'll know why. Some beaches aren't worth the busy traffic to get to them, but Coronado certainly is.

North San Diego County - take a day, jump in the car, and go beach hopping along the coast just north of San Diego in Carlsbad, Solana Beach and Del Mar, CA. For dinner, we say pick from one of the ocean front patios in Del Mar Plaza.
Romantic San Diego Hotels & Inns
Hotel La Jolla - naturally, a waterfront hotel is very tempting for a romantic getaway in San Diego. But if you're OK with being close to the coast, the Hotel La Jolla can more than make up for that. It's part of the Kimpton Chain, so of course that means a wine reception every evening at 5 PM. The updated rooms are beautiful (we could see the ocean from our balcony), and the bathrooms luxurious and spacious. And: the valet staff here are truly some of the best and friendliest we have met anywhere!
Head upstairs for romantic dining (Cusp Restaurant with fantastic views of La Jolla and the ocean) or downstairs for appetizers at the Hiatus bar and lounge beside the pool.       
2014 *Rating for Romantic San Diego Hotels: 72% of Couples Rated it Excellent/Very Good. (7955 La Jolla Shores Dr, La Jolla, CA  858-459-0261) 
Video: Hotel La Jolla
Video of our stay at Kimpton's Hotel La Jolla, with a look at an Ocean View Deluxe Room, plus the poolside bar and pool.
Pantai Inn
Pantai Inn - some call this historic boutique inn the perfect romantic oceanfront place to stay in San Diego. Indonesian-themed luxury suites offer fireplaces, robes, full kitchens, rain showers and four-poster beds. Walking distance to La Jolla shops and restaurants. 
2014 *Rating for Romantic San Diego Inns: 98% of Couples Rated it Excellent/Very Good. (1003 Coast Blvd, La Jolla, CA  855-287-2682)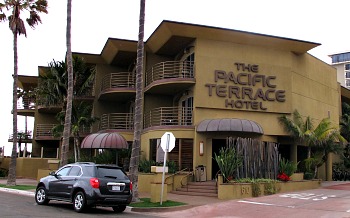 Pacific Terrace Hotel - lots to love at this beachfront hotel, like hand crafted furnishings, marble bathrooms, evening turn down service, and a heated pool outside. AAA room rates get you free wine on arrival, complimentary use of bikes and beach chairs, 1/2 price breakfast, and a late check time out on departure day.
2014 *Rating for Romantic Hotels in San Diego: 93% of Couples Rated it Excellent/Very Good. (610 Diamond St, San Diego, CA  858-581-3500)

Beach Hut B&B - with rates starting at $159/night, the Beach Hut is an affordable start to a romantic getaway in San Diego. Included is complimentary WiFi, flat-screen TV's, luxury linens and an in-room mini-kitchen. You're also gonna love the pool and fire pit in their gorgeous back yard.
2014 *Rating for Romantic Getaway is San Diego Bed and Breakfast: 99% of Couples Rated it Excellent/Very Good. (3761 Riviera Dr, San Diego, CA  858-272-6131)

Glorietta Bay Inn - voted best boutique hotel in Coronado, a charming inn close to the beach and restaurants. Fine choice for an affordable honeymoon hotel in San Diego.

2014 *Rating for Romantic San Diego Inns: 89% of Couples Rated it Excellent/Very Good. (1630 Glorietta Blvd, Coronado, CA  800-283-9383)
Romantic Hotel Packages in San Diego
1906 Lodge Romantic Getaway is San Diego Packages - this romantic Coronado inn has several options for an anniversary or honeymoon in San Diego: romance packages where they will prepare your room with rose petals, candles, roses, music, champagne and chocolates. For proposals in San Diego, they can provide a handwritten romantic message in a small bottle, along with champagne and snacks.   
L'Auberge Del Mar Romantic Packages - especially designed for an engagement near San Diego, this romantic resort can arrange to have your proposal message written in the sky while the two of you dine on your champagne picnic! 
Luxury Digs in San Diego from $139/nt
---
Romantic Restaurants in San Diego - Quiet, Views & more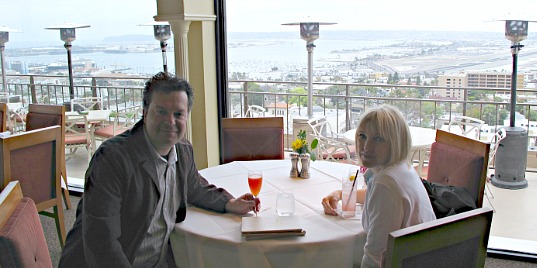 Way Up Top for Happy Hour at Bertrand at Mr. A's, Downtown San Diego, CA
1. Bertrand at Mr. A's - sweeping views of the downtown (watch the airplanes fly right by as they land at San Diego Airport!) and Bay from both inside and outside on the patio. If you want the view but are not quite in the mood to spend a lot on dinner, Bertrand's is a nice spot to come for their mid-afternoon Happy Hour. (2550 5th Ave, San Diego, CA  619-239-1377)  
2. Ilfornaio - enjoy a quiet romantic dinner on a superb waterfront setting on the east side of Coronado Island. (1333 First Street, 619-437-4911)
There are lots of dining rooms with views in La Jolla. Here's 3 very romantic ones:
3. George's at the Cove - one of the best seaside locations in San Diego. Everything from appetizers to soups to main course and desert are delicious works of art. The wine list is superb, and the ocean views from the outdoor dining terrace are terrific. (1250 Prospect St. La Jolla, CA 858-454-4244)
4. Tom Ham's Lighthouse - outstanding views of downtown skyline and Coronado Bridge. (2150 Harbor Island Dr, 619-291-9110)
5. Crab Catcher Restaurant & Seaside Grill - a quiet corner table on the outdoor patio would be one of the best places to propose in San Diego! (1298 Prospect St, 858-454-9587)
Cheap and Fun Romantic Lunch/Dinner in San Diego:
You're so close to Mexico, so why not go for a little south-of-the-border fare at the Old Town Mexican Café (2489 San Diego Ave, San Diego). Or you can find lots of affordable small eateries in the Gaslamp district – Indian, Thai, Spanish, Irish pubs and more (downtown San Diego, Broadway to Harbor Drive between 4th and 6th Avenue).
---
San Diego Travel Info:
Here's some travel info to help you plan your romantic getaway in San Diego CA...
Distance from San Diego to Los Angeles: 125 miles (200 km)
Distance from San Diego to San Francisco: 505 miles (812 km)
Distance from San Diego to Palm Springs: 139 miles (225 km)
Distance from San Diego to Phoenix, AZ: 355 miles (570 km)
The location of San Diego International Airport is convenient, just northwest of the city center. The distance from the airport to downtown San Diego is about 3 miles. There is bus, shuttle bus, taxi and car rental available.
*Based on TripAdvisor.com Ratings & Reviews from Couples as of Sep 2013.
Excellent Romantic Vacations - Top Pages: