Texas
Texas Honeymoon Packages & Getaways in Romantic Hotels, Resorts & Cabins
FTC: This page uses affiliate links. More. 

---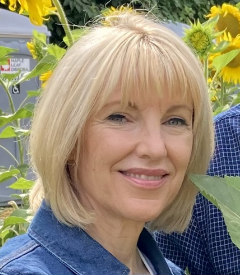 By: Maureen Mattson, ERV Asst Editor - Updated: Sep 30, 2016  

Texas is more than romantic enough for a great honeymoon!

San Antonio, Austin, Dallas, Texas Hill Country, and the Gulf Coast are all destinations worthy of any special newlywed getaway. Let's find out some more...
(Please Note: Honeymoon packages described on this page are subject to availability and may change without notice. Prices listed are also subject to change; please contact the hotel or inn directly before making firm travel or honeymoon arrangements.) 
---
San Antonio TX Honeymoon Resorts, Hotels & Packages 
Romantic Room at the JW Marriott San Antonio
San Antonio Honeymoon B&B - Oge House Inn
JW Marriott San Antonio Hill Country Resort and Spa

 - this Texas resort has got it all: Golf course, infinity pool, spa, (try the "inhalation room"), 

water park with Lazy River, 

separate

 Adult Pool & Hot Tub, seven restaurants, and a super-romantic outdoor patio and waterfall. 

Luxury suites include Juliette balconies, jetted tubs, and plush robes. The resort is about a half-hour drive from San Antonio, but still close enough to attractions such as Natural Bridge Cavern, Sea World, and Hill Country wineries. 

2016 Rating* for Texas Honeymoon Resorts: 86% of Couples Rate It Excellent/Very Good. (23808 Resort Pkwy, San Antonio TX  210-276-2500)
Honeymoon B&B's in San Antonio:
Near the famous San Antonio River Walk, in the historic King William District, you will find two unique and utterly romantic bed and breakfast properties all set for Hill Country honeymooners. Both are walking distance to many of the best parts of San Antonio with great dining and lots of romantic activities. 
Oge House Inn on the River Walk - 19 romantic suites, including The Oge Riverview which offers a private balcony and crystal chandelier in the bathroom. 2016 Rating* for San Antonio Honeymoon B&B's: 87% of Couples Rate It Excellent/Very Good. (209 Washington St, San Antonio TX  800-242-2770)
Jackson House - with indoor spa pool, plus gas fireplaces, 2-person hot tubs and four-poster beds. 2016 Rating* for San Antonio Romantic Inns: 82% of Couples Rate It Excellent/Very Good. (107 Madison St, San Antonio TX  210-223-2353)
San Antonio, Texas Honeymoon Packages - be sure to check out Noble Inn's Ultimate Romance Package, which includes champagne, chocolates, and a horse and carriage tour San Antonio's Historic District.
Romantic Ideas for Your Honeymoon in San Antonio:
1. River Walk - lined with great shops and restaurants that stay open late. Take a boat cruise or river taxi for two to learn about the historic landmarks. While there, be sure to sneak a kiss on Selena's Bridge, which crosses the River Walk between the Omni La Mansion Del Rio and The Watermark Hotel, and is particularly romantic at night. And visit tiny Marriage Island with its Montezuma Cypress tree and stone benches.
2. Market Square - shop for imported goods from Latin America and sample great Tex-Mex food.
3. Singing Water Vineyards - every Texas Hill Country honeymoon needs some wine tasting! Check for music and arts events as well. 51 miles NW of San Antonio via Interstate 10.
---
Houston, Texas Honeymoons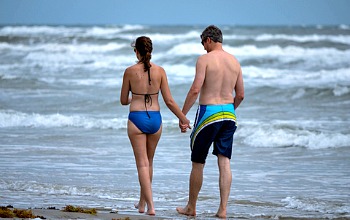 Newlyweds on a Texas Beach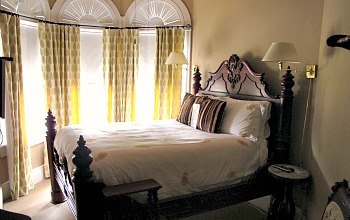 Sara's B&B - Romantic Houston Honeymoon Inn
The Lancaster Hotel - originally built in 1926, this boutique hotel is a Houston landmark, and member of Historic Hotels of America. Marble finishes in the bathrooms, along with oversize showers, tubs and luxurious bedding make the rooms comfortable and inviting. A complimentary breakfast buffet of hot and cold food is offered on the second floor. The Worth Theater Center is only a block away and hosts some great performances throughout the year. If you prefer to go farther afield, a free shuttle service is available in a 15-block area. 2016 Rating* for Houston, Texas Honeymoon Hotels: 95% of Couples Rate It Excellent/Very Good. (701 Texas Ave, Houston TX  800-231-0336) 
Houston Honeymoon B&B's and Packages:
Sarah's Inn

 - t

his romantic bed and breakfast just cannot be described without using the words "adorable" and "charming". Sarah's location in the beautiful tree-lined Houston Heights neighborhood makes an ideal romantic getaway location. 

Originally a Victorian cottage from the late 1800s, i

t's close to parks, bike trails, shops award-winning restaurants, and other Houston attractions. 

There's 11 unique rooms with en-suite bathrooms, some with Whirlpool tub, and in the morning delicious breakfasts, plus complimentary snacks and drinks during the daytime. Parking and 

WiFi are free, but minimum stays are required. 2016 Rating* for Houston, TX Romantic B&B's: 97% of Couples Rate It Excellent/Very Good. (941 Heights Boulevard, Houston TX  713-868-1130)
BlissWood Romantic Texas Packages - just 1 hour west of Houston, this romantic B&B ranch has got a fine choice of packages for honeymoons and romantic escapes. Romantic dinners, picnic lunches, horseback riding and much more.
Romantic Things to Do on Your Houston Honeymoon:
1. FantaSea Sunset Cruise - sunset, dinner and themed cruises around Galveston Bay.
2. Water Wall - a 64 story "Urban Waterfall" in the Galleria area of Houston. Try to visit at night!
3. Carriage Rides - head to Bagby Street for romantic rides for 2.
4. JP Morgan Chase Tower - the Observation deck on the 60th floor has panoramic views of Houston. It's free, but only open during business hours.
---
Honeymoon Cabins in Texas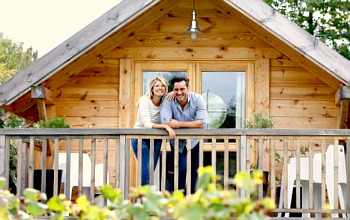 Romantic Cabin for Your Texas Honeymoon!
A Vacation Rental Log Cabin Bedroom in Texas
See Also - More Romantic Texas Trips:
Romantic Getaways in Texas - even more ideas and tips for making your time to gether in the Lone Star State extra-romantic.
Texas Hill Country Romantic Bed & Breakfasts - there's some very romantic B&B inns in this great part of the state. 
---
Honeymoons in Dallas, Texas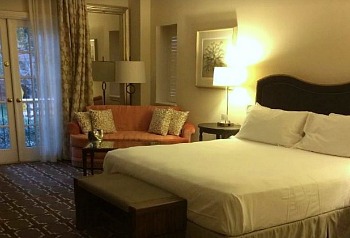 Bedroom at the Rosewood Mansion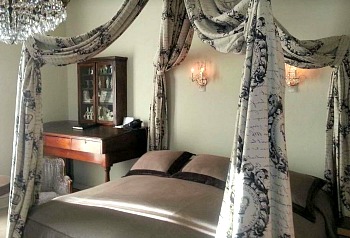 Romantic Honeymoon at a Suite at the St. Germain
Rosewood Mansion on Turtle Creek -

beautifully restored, and now a romantic icon among Dallas's boutique hotels. Located in the fashionable neighborhood of Turtle Creek, a quiet and secluded area with beautiful homes and walking trails, but still close to downtown attractions and great restaurants. Their Mansion Restaurant is both romantic and relaxed, and why not ask about Al fresco dining on their terrace. 

2016 Rating* for Dallas, Texas Honeymoon Hotels: 92% of Couples Rate It Excellent/Very Good. (2821 Turtle Creek Blvd, Dallas TX 214-559-2100)
Honeymoon in a Romantic Dallas Boutique Hotel:
Hotel St. Germain - t

his seven-suite boutique inn offers up brick fireplaces, canopy beds and 12-foot ceilings join with modern amenities. Whirlpool or soaker tubs, wonderful views of the courtyard and fountain or city, and private balconies are among the options when choosing a suite. In their award-winning dining room, you'll discover candlelight dining with tuxedoed waiters on Friday and Saturday evenings (by reservation). Breakfast, in-room champagne, cheese and fruit upon arrival, and valet parking are included.

Turn-down service includes rose petals and chocolates. 2016 Rating* for Dallas, TX Honeymoon Hotels: 100% of Couples Rate It Excellent/Very Good. (2516 Maple Ave, Dallas TX  214-871-2516)
Romantic Dallas Honeymoon Ideas:
1. Gondola Adventures - sunset, serenading gondolier and chocolates for your ride together on Mandalay Canal in nearby Irving TX. 855-466-3652
2. Texas Discovery Gardens – ten themed areas to meander together. Be sure to check out the butterfly arboretum.
3. King Spa, Sauna and Waterpark - ask about the couple's room and movie room at this Korean-inspired spa.
---
Galveston TX Honeymoon Hotels & Attractions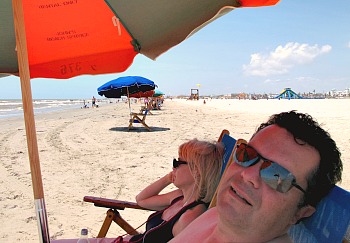 Relaxing on the Beach in Galveston, TX
Galveston's Romantic Tremont House Hotel
The Tremont House Wyndham Grand - i

n the heart of the Strand District, and within walking distance of many Galveston attractions, including the cruise ship terminal, this beach hotel is a romantic option for your Texas honeymoon. There are 119 guest rooms and suites, decorated with 19th Century charm. Some have hardwood floors and high ceilings, and all have complimentary Wi-Fi. 

Be sure to check out the rooftop bar, and take advantage of the pool and spa at their sister property, Hotel Galvez (free shuttle provided). 

2016 Rating* for Galveston, TX Honeymoon Hotels: 88% of Couples Rate It Excellent/Very Good. (2300 Ships Mechanic Row, Galveston TX  409-763-0300)
Lasker Inn, Galveston Island - a gorgeous Colonial Victorian building with loads of historical charm. Once a home for orphans, it's now both an event venue and bed and breakfast located just a few blocks from the beach. Don't miss the rooftop observation deck, home to some gorgeous sunsets. The six guest rooms come with sleigh beds, wrap around porches, elegant tapestries and lovely views of the garden and surrounding area. A gourmet breakfast is served each morning in the dining room, and there is a complimentary beverage bar available 24-hours. 2016 Rating* for Galveston, TX Romantic Inns: 98% of Couples Rate It Excellent/Very Good. (1019 16th St, Galveston Island TX  409-497-4318)
Make Sure Your Honeymoon In Galveston Includes:
1. Galveston Island - boasts some of the most spectacular sunrises in the world! Pack a picnic breakfast and head to the quieter western end of the beach.
2. Moody Gardens Hotel - for a great view of the sunset (or any time of day), take the elevator to the 9th floor. Have a drink together at Shearn's Lounge and look out over Moody Gardens Pyramids and the waterfront. (You can also tour Moody Gardens and learn about conservation and wildlife.)
3. Explore the Harbor - book a Pier 21 tour or take a sunset cruise on the "Cruise-N-Time" open-air twin engine boat. (Tip: Bring your own champagne and make sure it's not in a glass container)
---
Romantic Honeymoons in Austin, Texas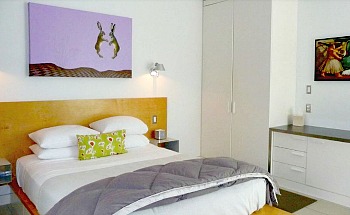 The Kimber -Boutique Honeymoon Hotel in Austin TX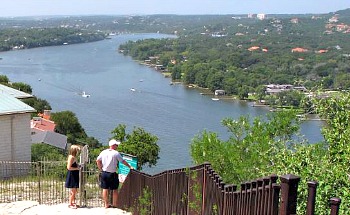 Mt. Bonnell is a Scenic & Romantic Spot in Austin
Kimber Modern Hotel - 

this boutique hotel in the hip "SoCo" (South Congress) area of Austin is a work of art in itself! Brightly-colored and wonderfully decorated, with complimentary breakfast, beverages, parking and WiFi. Only seven rooms in total, and an inviting 600-square foot common room where you can make your own breakfast or grab an Italian soda or beer and chat awhile. The outdoor courtyard has a 100-year old giant Oak tree and multi-level deck with private seating, hammocks and a 20-foot water feature. Honeymoon Tip: 

The Red Suite offers a frosted glass bathroom with walk-in shower and soaking tub, while the White Suite has all that plus a private deck.

2016 Rating* for Austin, TX Honeymoon Hotels: 98% of Couples Rate It Excellent/Very Good. (110 The Circle, Austin TX  512-912-1046)
Travaasa Austin Resort - 

located on the edge of the Canyon Lands Preserve, The Travaasa is great for those who love an active Texas honeymoon. Experience the true secluded beauty of Texas Hill Country while learning to ride a mechanical bull, master an obstacle course or do the two-step. Take a guided hike or farm tour, even a romantic sunset horseback ride. Try some wine tasting or share a cooking or chocolate class. How about learning to play the harmonica? 

Full and half-day spa packages are available, and there's a couple's suite with secluded vitality pool, couple's shower, steam room, outdoor courtyard and daybed. 

2016 Rating* for Austin, Texas Honeymoon Resorts: 91% of Couples Rate It Excellent/Very Good. (13500 Farm to Market Rd, Austin TX  877-714-3685)
Inexpensive Austin, TX Romantic Hotel Packages - perfect for honeymoons is the affordable Lone Star Court Hotel. You get champagne and strawberries on arrival, accommodation in one of their romantic "retro" rooms, a $100 spa credit, continental breakfast and a later check-out at 2 PM. Prices start at $269/night. 
Romantic Things to Do in Austin, Texas on Your Honeymoon:
1. Scenic Views - make the short hike up to Mt. Bonnell for a panoramic look at Austin and the Colorado River.
2. The Blue Starlight - an old-fashioned drive with space for only space for 50 cars, so it's not too crowded. They play classics and childhood favorites.
3. Capital Cruises - take along a picnic lunch and rent a swan pedal boat for a look around Ladybird Lake. The sunset Bat Cruise is interesting too.  
4. Horse and Carriage Ride - a perfect way to see downtown Austin on your honeymoon.
---
Honeymoon Getaways in South Padre Island, TX
Couple Out for a Romantic Stroll by the Waves on South Padre Island, Texas
Hilton Garden Inn South Padre Island - this romantic beachfront hotel has an oceanfront pool and large deck/gazebo area close to where you can purchase food and drinks. Rooms include a fridge and microwave, free Wi-Fi and parking, three-jet body showers, private balconies and great views of the Gulf of Mexico. Honeymooners will love the part or full beach view rooms. 2016 Rating* for South Padre Island Honeymoon Hotels: 81% of Couples Rate It Excellent/Very Good. (7010 Padre Blvd, South Padre Island TX  956-761-8700)
La Copa Inn - another excellent beachfront hotel with beach-side

 pool area serviced by Copa Cabana Bar and Grill.  Book a tour from the lobby's concierge desk, or just stay in and order room service. The King room with ocean view, balcony and hot tub is the perfect South Padre honeymoon suite.  For an additional $10 each, you can get a hot breakfast (we're talking omelet stations!) plus free parking and Wi-Fi. Direct beach access is through a walkway and a few stairs. 

Ask about the free island shuttle that stops in front of the hotel. 

2016 Rating for Texas Gulf Coast Honeymoon Inns: 72% of Couples Rate It Excellent/Very Good. (350 Padre Blvd, South Padre Island TX  956-825-2878)
South Padre Island Honeymoon Package - the Pearl South Padre Oceanfront Resort has put together something just for couples, and includes a stay in a romantic room, sparkling wine, chocolate strawberries, breakfast for 2 and a late check-out. 
Romantic Things to Do on South Padre Island:

1. Shop - Visit the many specialty stores at Lighthouse Square Mercado
2. Wildlife Watching - take a Sea Life Safari and watch the dolphins, or tour the Sea Turtle Rescue Center
3. Sand - contact Sandy Feet Sand Castle Services and learn how to build a killer castle!
*ERV Rating: our unique, non-scientific ratings for romantic accommodation include:
Amenities: including Whirlpool bath or 

JACUZZI

®

Tub

,

scenic view, fireplace, lounge, etc
Location: proximity of hotel to restaurants, pubs, downtown, etc
Clientele: demographic the hotel attracts (couples, families, business travelers, etc)
Popularity: based on social media & crowd-sourced reviews 
Value: product offered compared to room rate 
Please Note: percentage ratings are not absolute but for comparative use only  
√ COVID Safety Plan: identifies hotels and inns that clearly indicate they are taking measures to prevent the spread of COVID-19.
top hotels, getaways & packages on ERV
---