California Honeymoon Hotels, Suites & Itinerary Ideas for a Great Newlywed Escape
FTC Disclosure: If you make a purchase through a link on this page, we receive a small commission at no cost to you. We only recommend hotels we have used ourselves or researched thoroughly.
Romantic Vacations Home › Honeymoon Spots › California
By Greg Mattson, ERV Editor - Posted: Sep 13, 2015
California certainly ranks near the top for honeymoon destinations in the continental U.S. Perhaps you have your heart set on the Golden State for your first trip together as newlyweds, but can't narrow it down to which part of the state you'd like to travel too. Here's some ideas on romantic places, honeymoon hotels and suites in California to help you decide...  
Northern California Honeymoon Ideas - San Francisco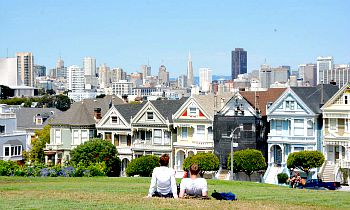 Honeymooners at Alamao Square in San Francisco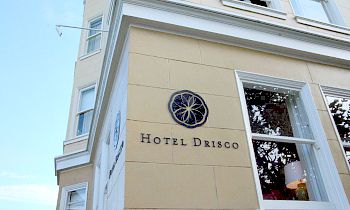 Romantic Hotel Drisco in San Francisco, CA
Hotel Drisco - this small honeymoon hotel is located in San Francisco's Pacific Heights Neighborhood. Just a short walk from here, and you'll be treated to sweeping views of the Golden Gate Bridge as well as access to shops, boutiques and restaurants along the famous Sacramento, Fillmore and Union Streets. Grab some home-made granola or meat and cheese at their complimentary continental breakfast, and then come back after the day's activities for the evening wine reception and sip California wines in a candlelit corner. 

We think the City-View One Bedroom Suite is just right for honeymooners, but there are plenty of rooms to choose from. There's a Romance Package that includes sparkling wine, chocolates, (silk) rose petal turn down service and a late checkout at 2 PM.  You can reserve bikes for a day of cycling (ask about it when booking), and a complimentary chauffeured car service is also available to several destinations around the city.
What Other Couples Said: "In one of the Most Beautiful Spots in Pacific Heights"..."Can't Wait to Come Back for Our Anniversary"..."Boutique Hotel with First Class Amenities".

2015 Rating* for San Francisco Honeymoon Hotels:

96% of Couples Rate It Excellent/Very Good. (2901 Pacific Ave, San Francisco CA  800-634-7277) 
Romantic Things to Do On Your San Francisco Honeymoon:
Go to the Filbert Street Stairs (at Filbert and Sansome) and climb the two steep sets of stairs to the top of Telegraph Hill. The views from the hill are amazing & romantic!  
Explore the Garden of Shakespeare's Flowers at Golden Gate State Park. 
Enjoy a romantic walk across the Golden Gate Bridge.
Watch the sunset from a catamaran cruise on the Bay.
Rent a pedal boat for two on Stowe Lake.
---
Napa Valley, CA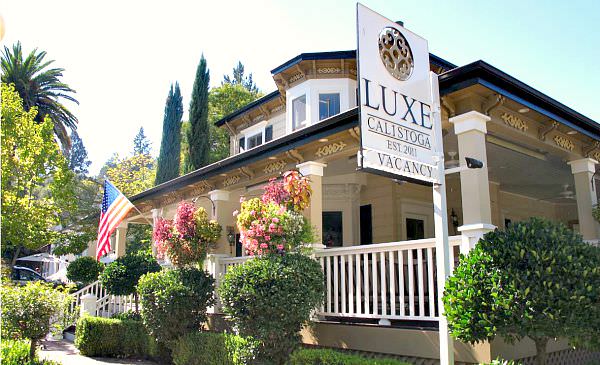 The Luxe Calistoga - A Top Rated B&B for Luxury Honeymoon Stays in Napa Valley
Luxe Calistoga - if you plan to honeymoon in Napa Valley, this luxurious California wine country inn might be the place for you. It's a European-style luxury inn right in the heart of this historic town. There's five romantic rooms, each with gas fireplace, marble bathroom and cozy robes. For true privacy, we recommend the King Suite on the first floor, which has a private entrance and garden view. Daily breakfast can be enjoyed in the dining room or at a private table on the porch. They provide snacks for you to take along on your wine-tasting adventure, but be sure to return for the evening wine and cheese reception.  
What Other Couples Said: "Everything Was First Class"..."Innkeepers Are a Wealth of Local Knowledge"..."Immaculate Rooms, and Breakfast is Second to None".

2015 Rating* for Napa Valley, California Honeymoon B&B's:

99% of Couples Rate It Excellent/Very Good. (1139 Lincoln Ave, Calistoga CA  707-942-9797) 
Romantic Activities for Newlyweds in Napa Valley:
Take a hot air balloon ride complete with post-flight champagne from Balloons Above the Valley (800-464-6824).
Dinner at Travigne (on Charter Oak Avenue) is SO romantic! Eat outdoors in the courtyard near a tree with sparkling white lights or by indoors by candlelight. 
In Saint Helena, hike up Mount Helena and share a glass of wine as you take in the view from the top.
Napa Valley Wine Trolley

:

jump aboard a replica 1890's San Francisco trolley car and stop at four different wineries. Complementary beverages and gourmet food are included in the deal.
---
Sonoma Valley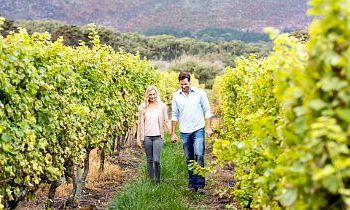 Honeymoon in the Vineyards, Sonoma, CA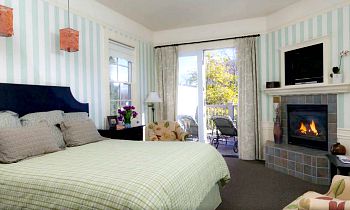 Romantic Suite with Fireplace at the Inn at Sonoma
Inn at Sonoma - Sonoma Valley is another great honeymoon area in Northern California, and the Inn at Sonoma is a perfect location from which to explore it. The main building has 19 guest rooms, with the adjacent Vinter's Cottage accommodating eight. Luxury perks include fireplaces and private decks, and if you stay in one of the four new King Guestrooms at Vinter's Cottage, a romantic jetted spa tub awaits! Outdoors, there's a hot tub, and bikes you can borrow for a ride along the nearby bike path (stopping at wineries along the way of course). A full breakfast buffet and evening wine and hors d'oeuvres reception are included. Add-on packages, which include little things like a bottle of wine, breakfast in bed, and a box of chocolate truffles can also be purchased. 
What Other Couples Said: "Beautiful and Comfortable Inn"..."Homemade Cookies in the Lobby All Day"..."Quaint Inn Within Walking Distance to Town".

2015 Rating* for Romantic Small Inns in Sonoma, CA:

90% of Couples Rate It Excellent/Very Good. (630 Broadway, Sonoma CA  888-568-9818) 
For Your California Wine Country Honeymoon: 
Take a picnic lunch to Sunset Beach River Park on River Road in Forrestville.
Take a guided walking Sonoma Food Tour within the downtown area. Regular or private tours can be arranged by calling 866-736-6343.
---
Monterey, CA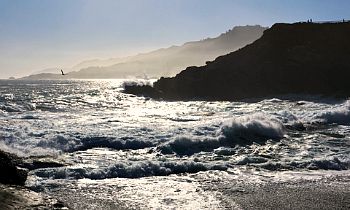 Rugged & Romantic Monterey, CA Coastline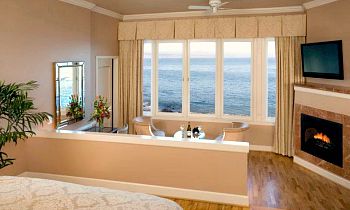 Ocean View Honeymoon Suites at the Spindrift Inn
Spindrift Inn - this lovely boutique hotel on the shores of Monterey Bay has 45 rooms, each with king-sized canopy beds, hardwood floors, and marble bathrooms. Most have very romantic ocean-view window seats and wood-burning or gas fireplaces, so be sure to look for them when you book. Your complimentary breakfast will be delivered to your room… on a silver tray! There's a wine and cheese reception and sweeping views of the Bay and McAbee Beach each evening from the rooftop garden. You may decide to reserve an in-room couple's massage before or after dining at the Sardine Factory Restaurant. Of course there are plenty of other award-winning restaurants within walking distance of the hotel. Check out the Romance Package offered online. 
What Other Couples Said: "Cozy Fire, Beautiful View, Friendly Service"..."Breakfast Delivered While We Watched TV in Bed"..."Seagulls, Dolphins and Whales".

2015 Rating* for Romantic Monterey CA Hotels:

94% of Couples Rate It Excellent/Very Good. (652 Cannery Row, Monterrey CA  831-646-8900) 
Honeymoon Spots In & Near Monterey California:
Spend some time shopping, dining and wine tasting along Monterey's Cannery Row.
Explore the charming seaside community of Carmel.
Drive Highway 1 along Spectacular Big Sur for some of the most amazing coastline in America.
Beach Hotels for California Honeymoons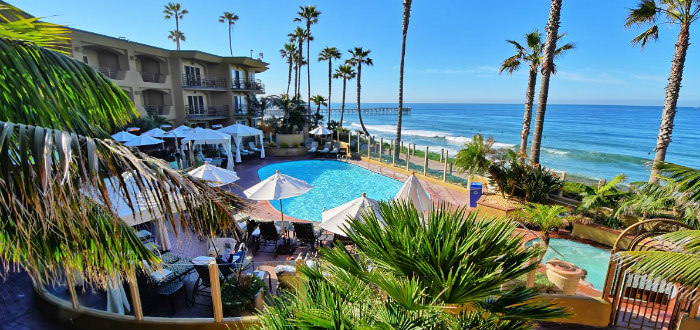 Great Spot for Your California Beach Honeymoon - Pacific Terrace Hotel in San Diego, CA
California's Best Beach Hotels - our special selection of romantic hotels, resorts and inns along the coast in great places like Redondo Beach, Santa Monica, Laguna Beach, Monterey, Mendocino and Del Mar, California.
---
Honeymoons in Southern California: Redondo Beach

Beautiful Great Room at the Portofino Hotel in Redondo Beach, CA
Portofino Hotel - we highly recommend this nautical-themed hotel, which is uniquely set on its own little peninsula with ocean views about 20 miles southwest of downtown LA. Watch the sea lions play, take a short walk to Redondo Beach, or grab a complimentary beach cruiser bike and cycle along the oceanfront path. BALLEENkitchen is an award-winning onsite restaurant inside the hotel, so be sure and try it. (On weekends, they have a "Make Your Own - All You Can Drink Bloody Mary" Bar Menu!)
The Portofino has Ocean Side or Marina Side guestrooms, and luxury honeymoon suites with fireplace, private balcony, four-post wrought iron bed, and claw foot tub. The Romance Package includes things like rose petals sprinkled in the jet tub and turn down service at night, a bottle of champagne and a gift certificate for dining at BALLEEN Kitchen. Ask about details and book in advance. 
One Note: the wonderful sea lions and birds life can be a bit surprising if you are not used to the sounds of nature. Earplugs are provided in each room, but we found it wasn't really an issue. 
What Other Couples Said: "Ask About the Courtesy Bikes"..."Upgraded for our Honeymoon to a Seaside Spa Tub Room"..."2nd Floor Room with Views of Seals and Passing Boats".

2015 Rating* for LA Area Honeymoon Hotels:

82% of Couples Rate It Excellent/Very Good. (260 Portofino Way, Redondo Beach CA  310-379-8481) 
For Romantic Honeymoons in the Los Angeles Area:
Take an hour-long "Grand Excursion" helicopter tour of Long Beach and LA to see everything from UCLA campus to Beverley Hills. 
Ride the reliably romantic Ferris wheel at Santa Monica Pier.
Walk the deck of the 1936 Queen Mary ocean liner located at the end of the 710 Freeway in Long Beach. You can't beat the starboard view of Long Beach, especially at sunset.
Go to the casual Wolfgang Puck restaurant called Café At the End of the Universe, located at the Griffith Observatory. Gaze in awe at the panoramic view of everything from the Hollywood sign to downtown LA, and maybe even Catalina Island if it's clear enough.

---
Newport Beach, CA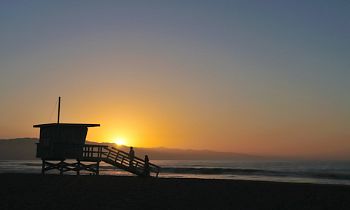 Romantic Sunset in Newport Beach, CA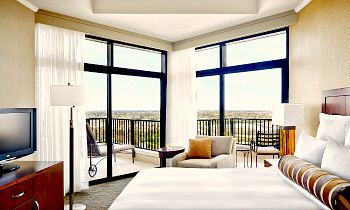 Room with a View at the Newport Beach Marriott Hotel
Newport Beach Marriott Hotel And Spa - this romantic Marriott offers easy access to local Southern California beaches and attractions that are perfect for honeymoons. The one bedroom Luxury Penthouse Suite with ocean view and private balcony looks very nice, and comes with an evening turndown service and lots of little extras. Indulge in some spa treatments and dine at Sam And Harry's Restaurant. There's a nearby nature preserve, golfing and cool shops and restaurants at Fashion Island.
What Other Couples Said: "Beautiful Upgraded Rooms, Amazing Spa"..."Ask for A Room in the New Wing"..."AAA Discount Through Marriott Website".

2015 Rating* for Newport Beach, California Honeymoon Hotels:

70% of Couples Rate It Excellent/Very Good. (900 Newport Center Dr, Newport Beach CA  949-640-4000) 
Newport Beach, CA Honeymoon Things to Do:
Tour the beaches either on your own (rent a deluxe car!), or take a guided tour and check out the coastline views. 
Catch the sunset at Lookout Point Park or Inspiration Point.
---
San Diego, CA: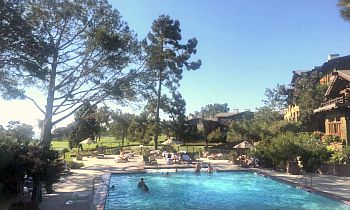 Pool at the Lodge at Torrey Pines, La Jolla CA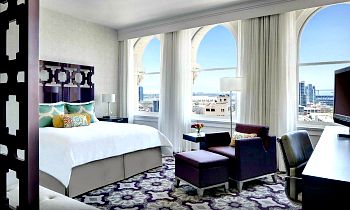 Lodge at Torrey Pines Honeymoon Accommodation
The Lodge At Torrey Pines - Let's start with La Jolla. This fabulous Southern California honeymoon lodge is only a short drive from San Diego and is located on top of the cliffs of Torrey Pines State Beach. It also overlooks the famous golf course of the same name, where the 2008 US Open was held. There's a spa offering a variety of treatments, and a romantic restaurant serving farm-to-table cuisine. Most of the 169 suites or rooms, ranging in size from 500 to 2500 square feet, have views of the golf course and Pacific Ocean. We think the Thorsen Suite is a great choice for honeymooners since it overlooks the 18th hole, and has a fireplace, balcony and in-room hot tub. Take the free chauffeured car service to downtown La Jolla or Del Mar as well as to other nearby attractions.
What Other Couples Said: "Relaxing in Lounge Chairs at the Pool Overlooking the Golf Course and Ocean"..."Already Planning Our 1st Year Anniversary Here"..."Watched the Evening Fireworks at Sea World From Our Balcony".

2015 Rating* for Southern California Honeymoon Resorts:

92% of Couples Rate It Excellent/Very Good. (11480 N. Torrey Pines Rd, La Jolla CA  858-453-4420)
Courtyard San Diego Downtown - another great place to stay for honeymooning couples in Southern California, especially those on a budget! The famous Gaslamp District of San Diego is a 16-block historic area known for exciting festivals and great nightlife. And the Marriott is located in a 1920's bank building right in the heart of it all. There's a restaurant, a Starbucks, free Wi-Fi, and a fitness center. We think the King rooms with water views are fit for this special occasion, and since they include a mini-fridge and microwave, you don't have to leave your oasis until you are good and ready! You might even splurge on the Presidential Suite. Drive or take a taxi to nearby Balboa Park or the San Diego Zoo. Fun Tip: Check out the old bank vault and old-style phone booths in the basement.
What Other Couples Said: "Love the Architecture, Style and History"..."Walk to Nightlife and Seaport Village"..."Chocolate Covered Strawberries and Champagne for Our 10 Year Anniversary".

2015 Rating* for Romantic San Diego Hotels:

92% of Couples Rate It Excellent/Very Good. (530 Broadway, San Diego CA  619-446-3000) 
What To Do on San Diego Honeymoons:
A company called Another Side of San Diego Tours can help you book almost anything from hot air balloon rides to shopping trips, horseback riding and Segway tours.
Watch gliders take off and land at the Torrey Pines Gliderport. It's free and you can bring a picnic along.
Bertrand at Mr. A's is a 12th-floor restaurant near Balboa Park that has amazing views of the city. You can just have a drink at the bar if you're not ready for dinner and enjoy the scenery.
Take a horse-drawn carriage ride around the waterfront. Contact Always & Forever Carriage Company at 619-322-0586.

---
Santa Barbara, CA: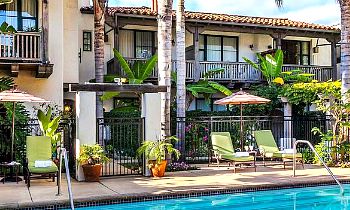 Spanish Garden Inn, Santa Barbara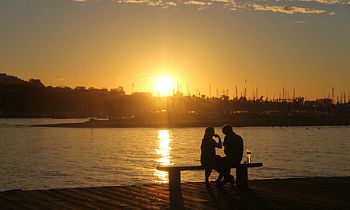 Honeymooners at Sunset in Santa Barbara, CA
The Spanish Garden Inn - If your California honeymoon takes you close to Santa Barbara, check out The Spanish Garden Inn. An enclave of tranquility right in the heart of downtown, this small romantic inn is a fantastic place to unwind from wedding stress. They offer a complimentary deluxe continental breakfast, an outdoor heated pool, private gardens, a variety of in-room spa treatments and free parking in the underground garage. At the end of the day, take part in the evening wine bar or grab something from the DVD library and watch a romantic movie in your room. There are 23 rooms and suites, all of which include private garden patios or balconies, fireplace, French press coffee maker and much more. The suites include deep soaking tubs, and The Majestic Suite even has a private entrance with elevator access, two balconies and wonderful views overlooking Santa Barbara's historic Presidio District. A short walk takes you to some great places to eat as well as theatres, museums and wineries.

Hint: There's year-round whale watching opportunities in this area. Boat and helicopter tours are also available.
What Other Couples Said: "Quaint and Romantic, the Best Hotel in Santa Barbara"..."Stunning Boutique Hotel"..."Rose Petals, Bubble Bath and a Glowing Fireplace ". 2015 Rating* for Santa Barbara, California Honeymoon Hotels: 96% of Couples Rate It Excellent/Very Good. (915 Garden St, Santa Barbara CA  805-564-4700) 
Santa Barbara, California Honeymoon Activities:
Take a picnic lunch to the Sunken Gardens at the Santa Barbara Courthouse or the Alice Keck Memorial Garden.
Check out Stern's Warf, which is one of the area's oldest wooden piers. There are some interesting shops and places to eat. Be sure to find the dolphin statue and fountain near the entrance and get a photo along with everyone else.
Visit the Coronado Butterfly Preserve. Even in the off-season, there's lots to see at this "by-donation" area.
Watch a classic film at the elegantly restored 1931 Arlington Theatre on State Street. The architecture alone is worth seeing.
*ERV Rating for Couples: our unique, non-scientific rating formula for romantic hotels which includes:
Romantic Amenities: such as an in-suite 

JACUZZI

®

tub or Whirlpool bath, scenic view, lounge, etc
Location: proximity of hotel to restaurants, pubs, downtown, etc
Clientele: demographic the hotel attracts (couples, families with kids, business travelers, etc)
Popularity with Couples & Honeymooners: based on variety of social media & crowd-sourced reviews.   
Excellent Romantic Vacations - Top Pages
---