Detroit Hot Tub Suites & hotel In-room JACUZZI® Tubs
Detroit, MI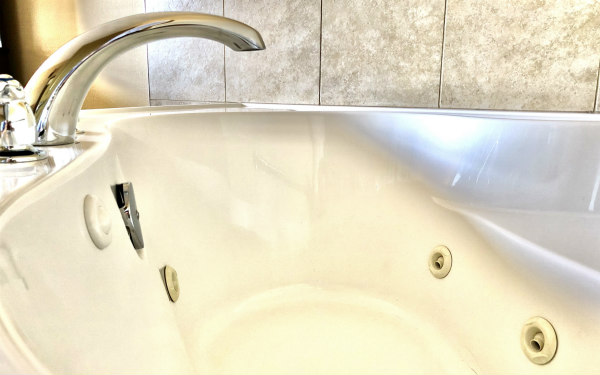 Add a Romantic Hot Tub Suite to Your Detroit Getaway or Honeymoon
FTC: This page uses affiliate links. More. 

By: Greg Mattson, ERV Editor - Posted Feb 11, 2020
Roll into the Motor City for your honeymoon or weekend getaway, and give it a romantic touch by booking a night or 2 in one of these hotel suites with a jetted Whirlpool or JACUZZI® Tub.
About These Detroit Hot Tub Suites: as usual, we research carefully and only list hotel rooms with an in-room spa tub. This means you get privacy - and not having to settle for a hot tub everyone uses by the pool.
Disclaimer: JACUZZI® is a registered trademark owned by Jacuzzi Inc. The use of the JACUZZI® trademark on this website is for informational purposes only. There is no relationship, connection or affiliation between this website and Jacuzzi Inc. or its related companies. As hotel rooms and amenities can change, please check with each individual accommodation property before making travel plans. Please Note: rooms and tubs described may not be exactly as shown.
downtown detroit Whirlpool suites
Comfort Inn Downtown - great location downtown, close to waterfront walking trails, Greektown and restaurants. Book the King Bed with 2-person Whirlpool room, and your rate includes free parking, a free buffet breakfast, free Wi-Fi, and a convenient weekend downtown shuttle. 2020 ERV Rating* for Downtown Detroit Whirlpool Suites: 60% - Fair. (1999 East Jefferson Ave, Detroit MI  313-567-8888)
---
Detroit - greektown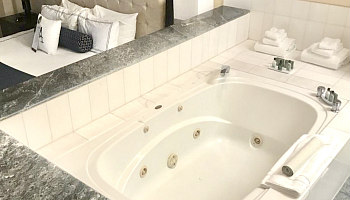 Atheneum Suite Hotel Spa Tub Suite
Atheneum Suite Hotel

- luxury 4-diamond hotel in Greektown. Perfect for a Detroit anniversary or honeymoon. Marble bathrooms have spacious jetted tubs, and higher-floor rooms enjoy great views of the city. 2020 ERV Rating* for Detroit Jetted Spa Tub Suites: 68% - Good. (1000 Brush St, Detroit MI 800-772-2323)
Detroit's Romantic Trumbull & Porter Hotel
Trumbull & Porter - newly updated Boutique hotel offers suites with a King Bed and Whirlpool tub, plus an excellent location in Detroit's Corktown neighborhood. 2020 ERV Rating* for Detroit, Michigan Whirlpool Suites: 86% - Very Good. (1331 Trumbull St, Detroit MI 313-496-1400)
---
Jetted spa tubs - detroit suburbs
detroit metro airport
Whirlpool Suite at the Comfort Inn, Detroit Metro Airport
Comfort Inn Metro Airport - the Deluxe King Room with Whirlpool Tub is the most romantic suite here. Free breakfast and airport shuttle are just some of the amenities, and their on-site Hollywood Bar & Grill with Happy Hour every afternoon Mon-Thursday is popular with guests. 2020 ERV Rating* for In-Room Hot Tub Suites Close to Detroit Airport: 88% - Very Good. (31800 Wick Rd, Romulus MI  734-326-9020)
More jetted Tub Suite hotels near detroit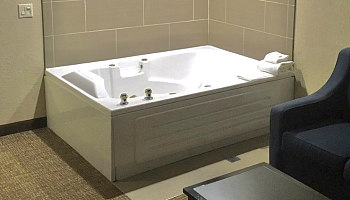 Comfort Inn Allen Park MI Whirlpool Tub
Comfort Inn & Suites Allen Park Dearborn - enjoy a cozy in-room Whirlpool tub AND fireplace at this budget-friendly Allen Park Comfort Inn. Close to Greenfield Village and the Ford Museum. 2020 ERV Rating* for Detroit, MI Hot Tub Suites: 90% - Excellent. (3600 Enterprise Dr, Allen Park MI 313-323-3500)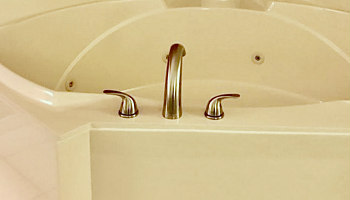 Spa Tub - Hampton Inn Detroit Southgate
Hampton Inn Detroit Southgate

- this Hampton's King Whirlpool rooms include not only a spacious jetted tub, but the famous & ultra-comfortable Hampton bed, as well as a mini-fridge and microwave. Enjoy these along with the usual Hampton amenities like free Wi-Fi and breakfast. Location: about 20 minutes drive SW of downtown Detroit. 2020 ERV Rating* for Dearborn, MI Whirlpool Suites: 78% - Good. (13555 Prechter Blvd, Southport MI  734-574-4000)
Best Western Greenfield Inn

- both the 1 King Bed and 2 Queen Bed suites at the BW Greenfield Inn have Whirlpool tubs (with some even having a fireplace). You'll appreciate extras like non on-site restaurant and lounge, Keurig® coffee makers, and indoor pool at this Victorian-themed hotel. 2020 ERV Rating* for Best Western Spa Tub Hotel Rooms Close to Detroit: 82% - Very Good. (3000 Enterprise Dr, Allen Park MI 313-271-1600)
Country Inn & Suites Dearborn

- budget-friendly choice, offering King Bed Whirlpool Suites along with an indoor pool, complimentary hot breakfast and free airport shuttle. Located in Dearborn MI, about 1/2 hr drive west of downtown Detroit. 2020 ERV Rating* for Dearborn, MI Whirlpool Suites: 62% - Fair. (24555 Michigan Ave, Dearborn MI  313-562-8900)
Hampton Inn & Suites Detroit Canton

- 28 miles north of downtown Detroit, with free Wi-Fi and hot breakfast. For a touch of relaxation and romance, choose one of their King Bed Whirlpool Studio Suites (non-smoking). 2020 ERV Rating* for Whirlpool Suites in Canton, MI: 84%

 

- Very Good.

 

(1950 Haggerty Rd, Canton MI  3734-844-1111)
Holiday Inn Express Detroit/Warren

- located 25 minutes drive north of downtown Detroit, with jetted Whirlpool tubs, complimentary breakfast, fitness centre, and friendly staff ready to welcome you. 2020 ERV Rating* for Detroit Jetted Tub Suites: 70% - Good. (11500 Eleven Mile Rd, Warren, MI  877-508-1786)
Springhill Suites Detroit Auburn Hills

- stay at this Marriott hotel and enjoy the comfort of their Studio Whirlpool King rooms with a jetted tub. Wake up to a hot and healthy hot breakfast buffet, and don't forget to take a dip in the indoor pool. 2020 ERV Rating* for Dearborn, MI Whirlpool Suites: 72% - Good. (4919 Interpark Dr, Orion Township MI 248-475-4700)
Hampton Inn Shelby

- book a weekend into this attractive Hilton hotel, enjoy a free hot breakfast (fresh-baked waffles are great!), and relax in a King Bed Studio Whirlpool Suite. Distances: Shelby Creek shops and restaurants 3 miles away, downtown Detroit 30 miles. 2020 ERV Rating* for Dearborn, MI Whirlpool Suites: 92% - Good. (51620 Shelby Pkwy, Shelby Township MI 586–731-4267)
Fairfield Inn & Suites Detroit Farmington Hills

- King Whirlpool rooms here at this Marriott hotel have a spacious jetted tub in the corner near the bed. There's a free continental breakfast each morning, and location is approximately 30 minute drive NW of downtown Detroit. 2020 ERV Rating* for Detroit Area Hotel Spa Tub Suites: 76% - Good. (27777 Stansbury Blvd, Farmington Hills MI 248-442-9800)  
*ERV Rating: our unique, non-scientific ratings for romantic accommodation include:
Amenities: including Whirlpool bath or 

JACUZZI

®

Tub

,

scenic view, fireplace, lounge, etc
Location: proximity of hotel to restaurants, pubs, downtown, etc
Clientele: demographic the hotel attracts (couples, families, business travelers, etc)
Popularity: based on social media & crowd-sourced reviews 
Value: product offered compared to room rate 
Please Note: percentage ratings are not absolute but for comparative use only.  
Excellent Romantic Vacations - Top Pages
---